Croatia, along with all of its Balkan brothers, has had a history as checkered as the red and white emblem on their flag. As part of the former Yugoslavia, this region underwent radical and aggressive change during the wars of independence in the early 90s.
But prior to this, the former communist state was popular among holidaymakers as a sun-kissed alternative to Italy, France and Spain. Thankfully, now the dust is slowly beginning to settle, this is a tradition that it is set to return.
While it might take years for the war wounds to truly heal, Croatia and its neighbors have been attracting record numbers of tourists as people rediscover just how beautiful this corner of the planet really is. In fact, Croatia is surely up there with the very best Europe has to offer – if not the world. With so much to see and do amidst stunning natural wonders and ancient stones and streets – it's hard to pick the best. Agness and Cez from eTramping are here to highlight the most popular destinations – and why you need to make them your next holiday choice.
Dubrovnik
English poet Lord Byron coined the term "the pearl of the Adriatic" and bestowed it upon Dubrovnik, one of the most beautiful and historical cities one could ever hope to visit. And well it deserves the title, rapidly growing to become Croatia's pride and joy in its tourist portfolio. Starring as a film and TV location hasn't hurt either, as the city has achieved global fame as an iconic setting in HBO's hit show Game of Thrones and Star Wars – The Last Jedi.
The 16th-Century walls of the old town are the highlight here, but simply wandering through all these limestone paved streets is akin to stepping back in time. It joined the UNESCO heritage list in 1979 for its extremely well-preserved city center. Words can't do Dubrovnik justice – it really is one of the best destinations on the planet.
Plitvice Lakes National Park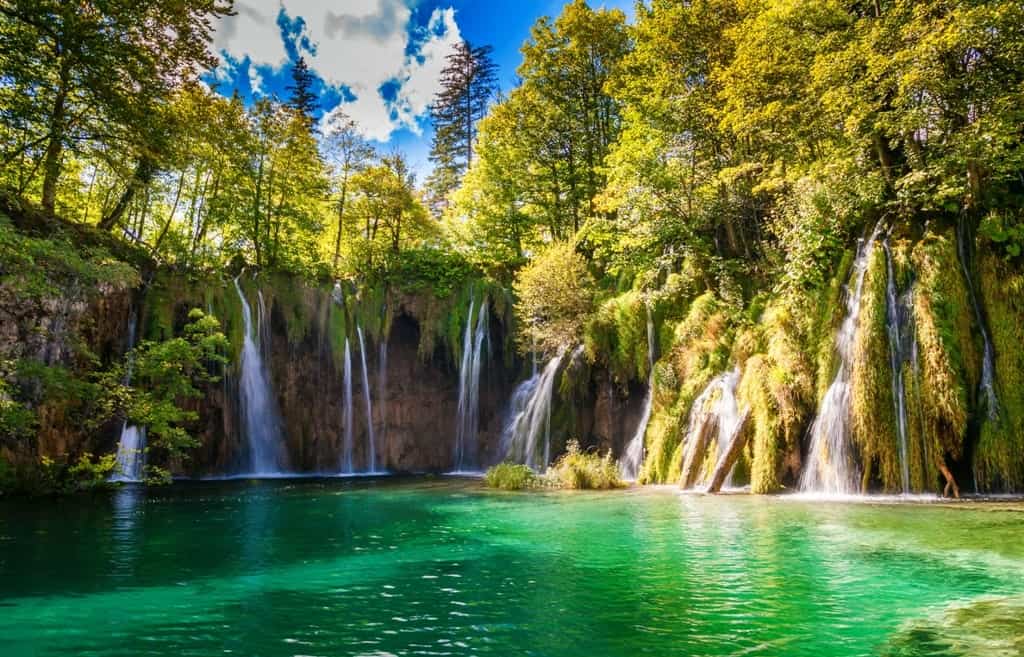 Croatia's top tourist attraction WILL become one of the most stunningly beautiful landscapes you'll ever see in your lifetime. Yes, it really is of that caliber. The Plitvice Lakes National Park is a geological wonder that is millions of years old, carved from limestone rock and consisting of several "falling" lakes connected by walkways and dramatic waterfalls. It's like somewhere you could only imagine in your dreams, a fairytale world that actually does exist on earth.
Set in a gorge some two hours from the capital of Zagreb, it draws in over 2 million visitors annually and is a joy to behold during any month of the year. However, we heartily recommend visiting in either autumn or winter. The colors are incredible during the fall, and the snow on the ground and frozen waterfalls in colder climes is simply magical. Oh – and there's nobody else around, which is a huge bonus.
Split
Just up the road from Dubrovnik (the entire length of the Croatian coast is to die for) is the medieval town of Split. From its port, you'll access many of the country's idyllic and breathtaking island getaways, including Hvar, Vis and Brac – or travel further afield to Italy. But the old town here is not to be missed either, with a delightful harbor promenade and nightlife that can rival anywhere else in the Med.
A UNESCO heritage site – like most destinations in the country – Split is home to the Diocletian's Palace, a sumptuously preserved Roman fortress built at the end of the 4th Century AD. The old town is a shoppers and foodies delight, with hundreds of boutiques, cafes, bars and restaurants in which to while away a lazy sunny afternoon. Spend 24 hours in Split and you'll see what all the fuss is about.
Rovinj
Bordered on three sides by the Adriatic Sea, Rovinj is a charming little fishing town in the north of the country. It might have a smaller center than other coastal towns, but that makes it every bit as intriguing and accessible. The St. Euphemia Cathedral dominates the skyline from everywhere you look, and it doesn't get better than climbing through the labyrinthine backstreets, exploring the narrow passageways while enjoying the finest ice cream.
But perhaps the best activity you can do where takes a boat tour out and enjoy the view from the water. It's a magical experience, particularly if you go at sunset. Make sure to arrive early though, the boats will get crowded in peak season. And when you're all done, this region has arguably the best seafood, wine, cheese and olive oil in the whole country. You could be here for some time.
Zadar
Of all the coastal towns in Croatia, there's something about Zadar that will just keep pulling you back. Whether it's the ancient old town on the peninsula, the delightful coastal walk from the town gate, some of the country's best hostels, or its proximity to Croatia's most beautiful national parks – there's little doubt that Zadar is extra special.
Aside from this, Zadar is home to two, truly wonderful attractions. The Sea Organ (one of only three in the world that plays music through the waves) and the Greeting to the Sun – a large solar panel that lights up when the sun goes down to become a giant disco floor. And with such a laid back vibe, if you're either in a group or on your own, there are incredible and unforgettable memories to be made in this little town. It's hard to describe – you really just have to go.
BIO: Agness and Cez are best friends from Poland who decided that the nine to five grind wasn't for them all the way back in 2011. Together they set up eTramping – their popular adventure travel blog, and they've been globetrotting ever since while striving to bring you the best tips, advice and guides for every destination and experience. Specializing in more energetic activities and advocates for healthy living, the duo can be followed on Facebook, Instagram and Pinterest. Give them a like and check out what crazy shenanigans they're going to be getting up to next.