The diversity that Italy offers the tourist is remarkable. While the history of Rome dates back to the Empire that ruled so much of the known world, there is much more on offer. The Venetians were a powerful force in the Eastern Mediterranean centuries ago, while the Renaissance was a period of art and learning. Florence has so much to reveal to lovers of art, as well as history.
Italy is a country of color, a lovely natural environment where rural life and lovely cuisine feature within its borders. This 2 week Italy itinerary gets a flavor of four of the Country's most important cities. After arriving in Rome, you will head off to Naples before returning back to the Capital. After seeing the highlights of Rome, you head for Florence to satisfy your love of art. The fourth city is unique, Venice and its canals. Finally, you head west to Milan before flying back home after a memorable holiday.
Don't forget to check: my Italy packing list.
Disclaimer: This post contains affiliate links. This means that should you click on certain links, and then subsequently purchase a product, I will receive a small commission.
Two weeks in  Itinerary: Rome – Amalfi Coast – Rome – Florence – Venice – Milan

2 weeks in Italy: Day 1 Arrive Rome to Naples
How to get from and to the airport of Rome
Rome is served by two airports, Fiumicino and Ciampino.
From/to Fiumicino airport:
Fiumicino airport is only 26 km away from Rome.
Train:
The Leonardo Express, a direct train connecting Fiumicino Airport and Termini Station in Rome and taking 30 minutes. Tickets are 14 euros one way. Your ticket must be validated in the machine before you get on the train. Tickets have a validity of 90 minutes.
Regional FL1 Train connects the airport with other Roman stations such as Tiburtina but not to Termini. You can take a metro from Tiburtina to the center. Tickets are 8 euros and then you will need to buy another ticket for the metro costing 1,50 euros. You should validate your ticket in the machine before getting in the train. Tickets remain valid for 90 minutes.
Shuttle Bus:
The cheapest way to travel from Fiumicino airport to the city center is to use the shuttle bus which makes 2 stops at Termini Station and Piazza Cavour (close to the Vatican). The journey takes around 55 minutes dependent on the traffic.
Tickets which are 6 € one way can be bought online.
Book your shuttle bus from and to Fiumicino airport here.
Taxi:
There are taxi stands outside the terminals. Be sure to use the official taxi services and avoid offers from drivers from within the terminal. The fixed price is 48 € each way.
Private Airport Transfer with Welcome Pick Ups
The easiest and most comfortable way to get to the city centre is by a private transfer service like Welcome Pick Ups. It costs exactly the same as a regular taxi, only now you will have already prepaid for it, your driver will be waiting for you at the arrivals hall holding a sign with your name on it, a bottle of water and a city map. You will not have to worry at all about the language as all drivers speak English. There is a fixed price of 48 € each way.
Click here for more information and to book your private transfer.
From/to Ciampino airport:
Shuttle Bus:
A shuttle bus links Ciampino airport and city center stopping at Termini Station. The journey will take 40 minutes dependent on traffic.
Tickets bought online if you wish cost 5 € one way.
Book your shuttle bus tickets to and the Ciampino airport here.
Private Airport Transfer with Welcome Pick Ups
The easiest and most comfortable way to get to the city centre is by a private transfer service like Welcome Pick Ups. It costs exactly the same as a regular taxi, only now you will have already prepaid for it, your driver will be waiting for you at the arrivals hall holding a sign with your name on it, a bottle of water and a city map. You will not have to worry at all about the language as all drivers speak English. There is a fixed price of 46 € each way.
Click here for more information and to book your private transfer.
At this point, you are only passing through Rome. The first part of this 2 week Italy itinerary involves immediately catching a train down to Naples. Train travel throughout the day taking just over an hour and departing from Termini. You should consider this when deciding on the best way to get in from the airport. The cost of a single ticket starts at around 14 € one way. You will have four nights in Naples with day trips to other nearby highlights.
Alternatively, you can base yourself in Sorrento or one of the villages of the Amalfi and do the same day trips in the surrounding area.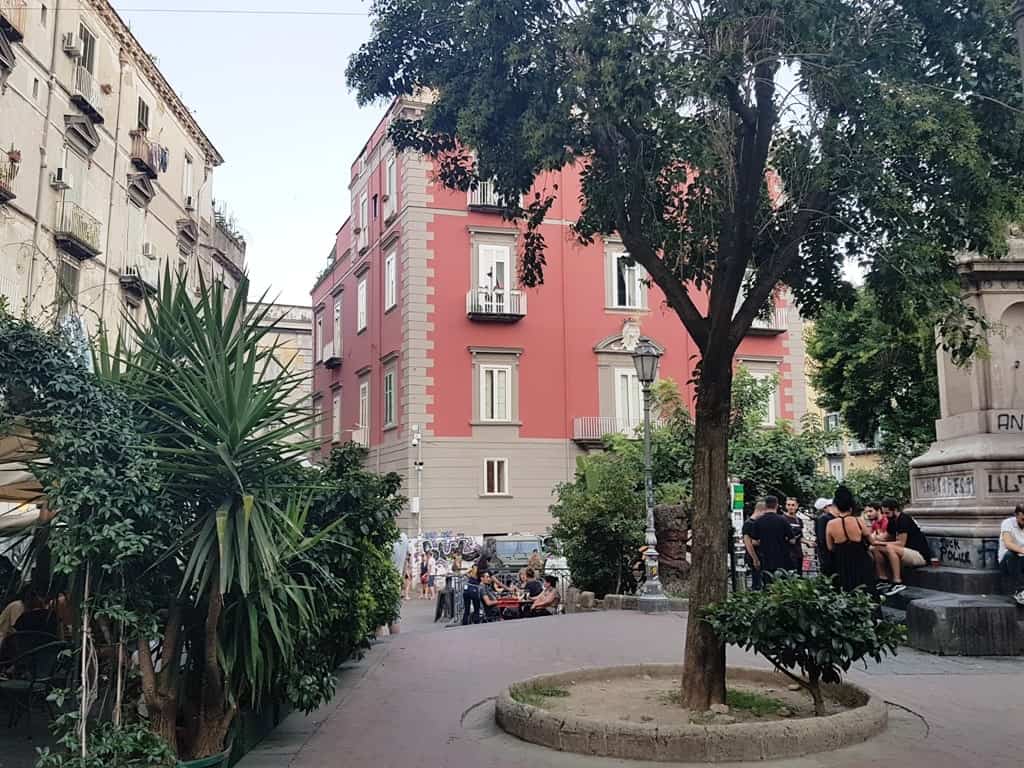 Where to stay in Naples
Renaissance Naples Hotel Mediterraneo
This 4-star hotel, a member of the Marriott Group, is located centrally close to the main attractions of Naples and the ferry terminal. Rooms are comfortable and modern while the rooftop where breakfast is served has lovely views of the Bay, Castel Nuovo, and Mount Vesuvius.
Click here for more information and to check the latest prices.
Grand Hotel Europa – Sea Hotels Group
Located near the main station, this hotel is an excellent choice for those thinking about visiting Pompeii or the Amalfi Coast. It provides excellent 3-star value with comfortable rooms including Wi-Fi, satellite TV, air-con and safe.
Click here for more information and to book the Grand Hotel Europa.
As the third-largest city in Italy, Naples is brimming with culture, history, archaeology, and food. Here are 5 things you must do when you visit:
Eat Pizza
Naples is the birthplace to the original Neapolitan pizza. If you're on a tight schedule and only have time to do one thing, it needs to involve pizza. Try Naples' signature wood-fired dish at the city's oldest pizzeria, Antica Pizzeria Port'Alba.
Naples National Archaeological Museum
Even if you are visiting Pompeii and Herculaneum, go to the National Archaeological Museum. The museum is home to one of the best Roman art and artifact collections in the world. including mosaics, massive frescos, and even sculptures taken from Pompeii and Herculaneum.
Click here to book your museum ticket with an audio guide.
Visit the Capella Sansevero to see the Veiled Christ
Legends of alchemy surround one of the most famous and impressive pieces of art in the world, Giuseppe Sammartino's The Veiled Christ. The awe-inspiring Christ, carved from a single block of marble, sits in the center nave of the Capella Sansevero.
You might be interested in: 3 days in Naples.
2 weeks in Italy – Day 2 Pompeii & Sorrento
Morning: Pompeii
A day trip to Pompeii which was buried when Mount Vesuvius erupted in 79ADis most rewarding. There are 2 or 3 trains an hour throughout the day. Some trains are quicker than others because of the number of scheduled stops. The journey should not take longer than 45 minutes.
You can buy a map and try to see Pompeii on your own but you are likely to get a far better understanding of the place by getting a guided tour. The highlights include the Roman Forum, Theatre, Cemetery, ancient fast-food restaurants, bakery, and supermarket. The plaster casts of those who died get your imagination racing. If you have an expert archaeologist with you, not only will you learn more but you can ask questions.
There will be queues so booking in advance allows you to get in quickly and not waste your time otherwise be there as soon as the archaeological site opens.
From 1 April to 31 October, Pompeii Excavations: 9:00 – 19:30 (opening at 8:30 on Saturday and Sunday – last entrance at 18:00)
From the 1 November to 31 March, Pompeii Excavations: 09:00 – 17:00 (last entrance at 15:30) – (opening at 8:30 on Saturday and Sunday)
An organized tour will take around 2- 3 hours, but armed with the knowledge already gained, you may want to spend more time there on your own before returning moving on.
Here are a few options that I recommend:
No matter how you choose to visit the site, know that it is very busy especially through May to October. Bring a hat and a sunscreen, wear comfortable shoes and drink plenty of water.
Afternoon: Sorrento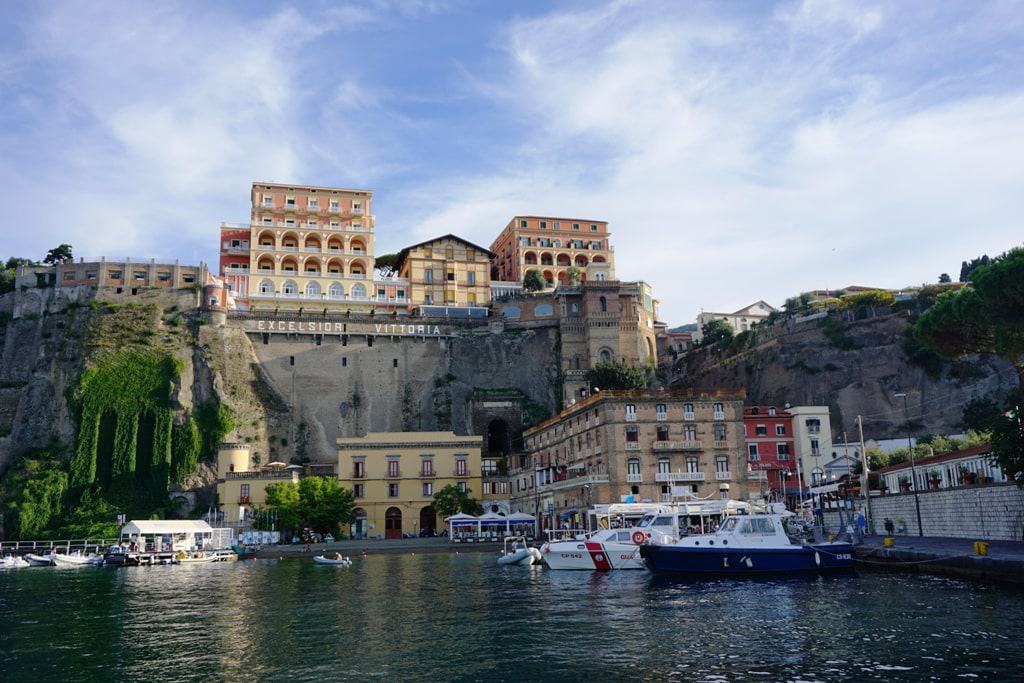 The popular seaside resort of Sorrento is just half an hour away by train. It's time to take a look at this town that sits on top of cliffs on a peninsula looking out over the Bay of Naples. The old town is filled with narrow alleyways with the 14th Century Chiesa di San Francesco a very interesting site which hosts weddings, concerts and exhibitions.
Sit down with a coffee in one of the cafes in the Piazza Tasso to absorb the local atmosphere or perhaps go down to Grande Marina to sample the fresh seafood brought in each day by the colorful fishing boats.
Sorrento has established itself as a romantic getaway for couples for a few days. You haven't got that long but if you can squeeze in the sunset before heading back to Naples, it is certainly worth it.
2 weeks in Italy: Day 3 Positano and Amalfi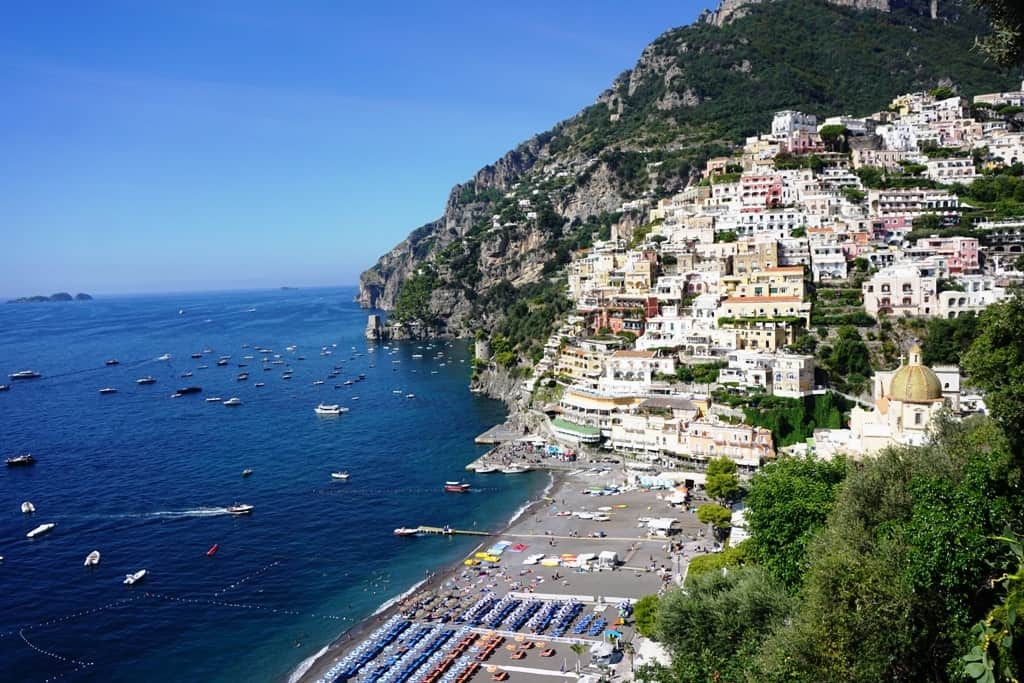 Another lovely day trip from Naples, either by land or sea, provides you with the chance to see some of the famous Amalfi Coast.
The two main stops are at the coastal fishing villages of Positano and Amalfi. The former is on cliffs with stunning views across the waters. It is a medieval place with architecture going back many centuries. Amalfi is even older and set below dramatic cliffs.
Alternatively, take a bus tour which heads to ''downtown'' Positano for lunch. You will touch on both Sorrento and Amalfi as well. There are periods of free time allocated on this full day tour.
Click here for more information and to book a day trip from Naples to the Amalfi Coast.
It is very easy to do this day trip on your own as well. You just need to catch a train to Sorrento from Naples. There are about 3 trains per hour depending on the season and the journey is about an hour depending on the type of train. As soon as you exit the train station there is a kiosk where you can buy a bus ticket to either Positano or Amalfi. The buses are in front of the station and tickets cost 2-3 euros one way. It takes around an hour to get to Positano by bus as the road is small and there is huge traffic especially during the summer and you need even more time to get to the Amalfi village because it is further away. Also, during the high season, the queues to take the bus are huge and you might have to ride standing. Also, the road is very curvy and a lot of people get sick.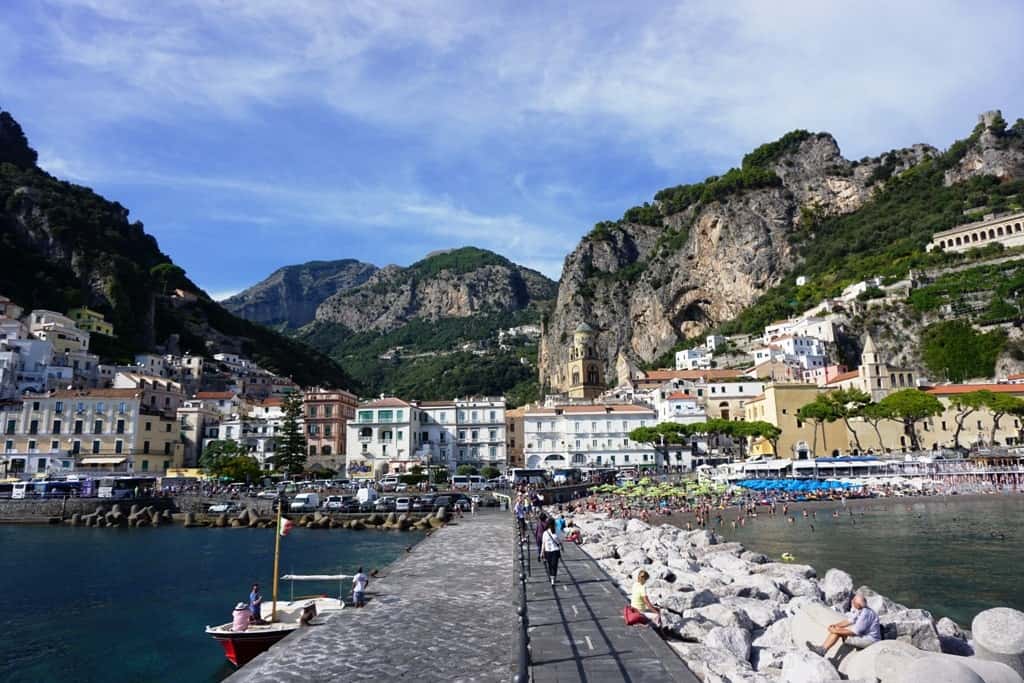 There is an alternative way to get to the villages, which is by ferry from Sorrento. You can get the ferry from the port. It is a 10- minute walk from the train station. From Sorrento to Amalfi it is one hour by ferry and the ticket was 16 euros in September that I visited. The ferry makes also a stop in Positano before arriving in Amalfi. There are many small boats connecting Positano with Amalfi and the other villages of the Amalfi Coast. Tickets can be bought at each port.
At the end of a busy day, you will have to relax because there is much more to see and do over the coming days.
You might also be interested in: 11 Amalfi towns to visit.
You might be interested in: A guide to Positano
2 weeks in Italy: Day 4 Capri
Although Naples has been your base since the first day of this two-week itinerary, you may not have had time to see much of the City itself. Then, of course, there is the Isle of Capri offshore. On balance, with time to stroll around the nice parts of Naples in the evening, why not have some hours on Capri? It is a small 10 square kilometer island just 5 kilometers offshore in the Bay of Naples, only 40 minutes by boat at a cost of around 16 euros.
Its rich history dates back to the Roman times; even Emperors used it as a holiday resort and Tiberius was said to hold orgies on Capri. The town of Capri is set on high above the main harbor. You can walk up the steps but there is a funicular.
To get to Capri is very easy. You can get a ferry from Naples port or even Sorrento if you are based there. The fast ferry takes 50 minutes to Capri from Naples and tickets cost around 21,50 euros one way.
Alternatively, you can book a full day tour to Capri from Naples.
It is nice just to generally explore the Island while there are a few interesting things you should see:
Blue Grotto
 This beautiful cave was formerly used by the Romans as a bath. It is revealed at low tide and boats from the main harbor will take you to see it at a cost of 9 euros. However, the only way in most of the time is on a small rowing boat which costs a further 12.5 euros. The trip can be from an hour to 3 hours.
 Church of San Arcangelo
 This church in Anacapri is lovely with the highlight being the mosaic floor illustrating the expulsion of Adam and Eve from paradise. Visitors walk on elevated boards to protect the floor. There are four buses an hour between Capri and Anacapri
 Villa Jovis
 Villa Jovis was home to Emperor Tiberius. It was a place where he held many orgies while it is said that many of Tiberius' enemies were often thrown off Capri's cliffs.
Certosa di San Giacomo
Founded in 1363, the Certosa di San Giacomo is a monastery that exemplifies the region's architecture. The complex is rife with history ranging from pirates to plague.
Gardens of Augustus
Located on the island of Capri, the Gardens of Augustus is a natural paradise. Enjoy a beautiful collection of the Capri's flora and breathtaking views across the island.
Click here for my post: Things to do in Capri
2 weeks in Italy: Day 5 Naples to Rome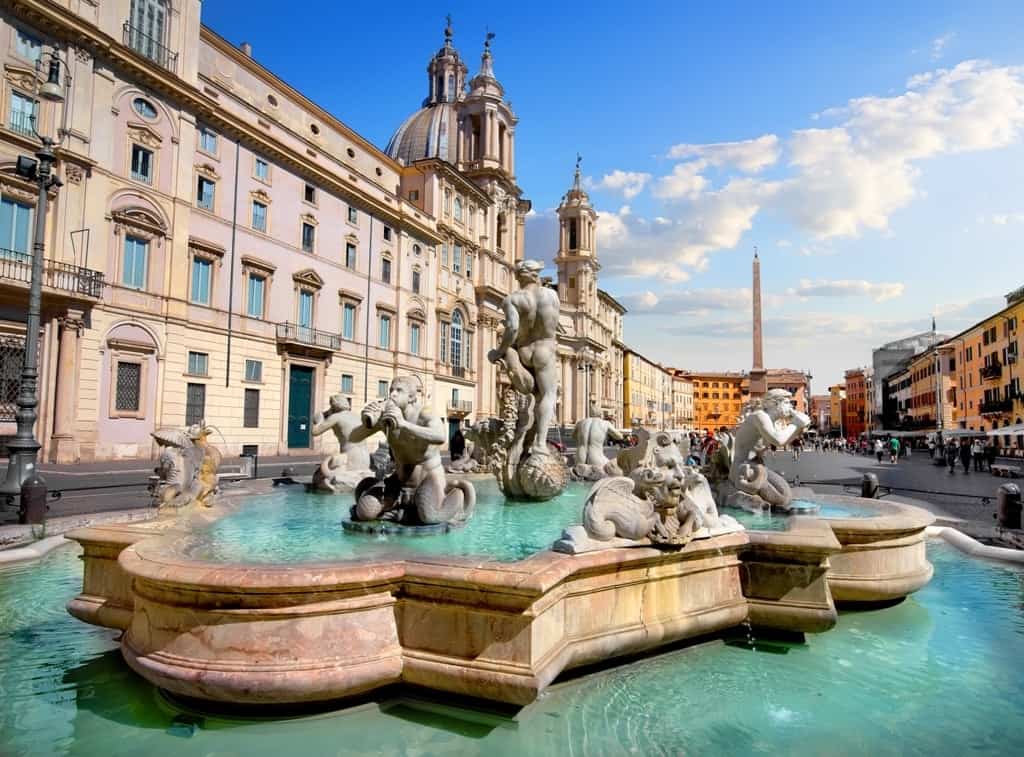 After four nights in Naples, it is time to move on. With the rail journey little over an hour, there is time to see a few things in Rome on Day 5 of your 2 weeks in Italy after booking into your hotel.
Where to stay in Rome
Royal Rooms – Via Del Corso
The Royal Rooms are just 200 meters from Via Margutta and many amenities are in the immediate vicinity. They include shopping, piazzas, and cafes. Within the Royal Rooms, you will find everything you need for comfortable accommodation.
Click here for more information and to check the latest prices.
Palazzo Medusa
Palazzo Medusa is regularly selected by its guests as one of the best in the whole city. Comfortable accommodation includes large TV, an en-suite bathroom and hairdryer. You can even rent a bike if you wish. Palazzo Medusa has gained a reputation for its fine cuisine; enjoy it!
Click here for more information and to check the latest prices.
Navona Colors Hotel
This hotel is a popular place for visitors to Rome. Located less than 200 meters from Piazza Navona, its situation is ideal for visitors wanting to walk or cycle around. The food is good and the bedrooms are comfortable in this beautiful Baroque building.
Click here for more information and to check the latest prices.
Piazza Del Gesu Luxury Suites
These Suites are situated on the Piazza Navona, a 5-minute walk from one of Rome's highlights, the Pantheon. Facilities you will enjoy include free WI-FI, lovely furnishings, and modern bathroom. The views over the City are stunning.
Click here for more information and to check the latest prices.
You can also check a local's guide on where to stay in Rome.
Piazza Navona is a wonderful piazza filled with history; Baroque palaces and elaborate fountains dominate the Piazza which has plenty of shops and cafes. The Egyptian Obelisk is a unique feature.
Head over to Piazza di Spagna
Next stop is the charming Piazza di Spagna with its ''golden'' buildings, romantic steps and fountains. Join the bustle without feeling you are overwhelmed by the people.
Fontana di Trevi
The Fontana di Trevi is one of Italy's most famous attractions. It will be busy but that should not put you off. Add your coins to the water as you look at the lovely fountains typical of Baroque art, and the sculptures.
Piazza del Popolo
The Piazza del Popolo is a real mix, blending Egyptian, Spanish and Italian architecture in one place.  Few piazzas anywhere have such variety and as well as the architecture already mentioned, there are the remains of a Roman church.
2 weeks in Italy: Day 6 Rome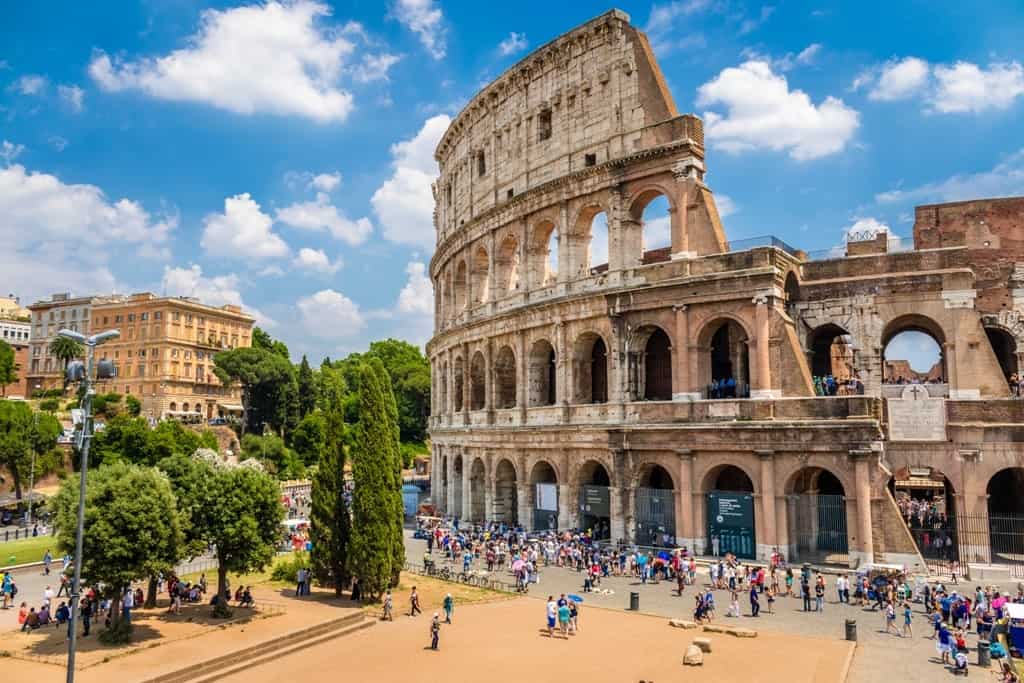 Colosseum
Few images of Rome, or indeed Italy are seen more frequently than that of the Colosseum. It reflects the grandeur of what was the all-conquering Roman Empire. As you approach this magnificent structure, you cannot help but think back to the days when all forms of contest took place in front of huge crowds.
Opening hours: Every day: 8:30am until one hour before sunset, 25 December and 1 January: closed
Tickets:
Combined ticket to visit the Colosseum, the Roman Forum and the Palatine:
Adults: 12€
European Union members (18 – 24): 7.50€
Children (ages less than 17) and seniors (over 65) members of the EU: free entrance
The Roman Forum
The Forum was the heart of discussions during the Roman Empire. Nowhere in the known world was debate more important. Life revolved around the Forum which is surrounded by palaces, temples and busy stalls.
Opening hours: Every day: 8:30am until one hour before sunset, 25 December and 1 January: closed
Tickets:
Combined ticket to visit the Colosseum, the Roman Forum and the Palatine:
Adults: 12€
European Union members (18 – 24): 7.50€
Children (ages less than 17) and seniors (over 65) members of the EU: free entrance
Tip: The Roman Forum and the Colosseum were incredible places to visit, and the most important monuments in Rome, so needless to say, the lines were massive. Luckily, we bought skip the line tickets that helped make our tour so much easier and convenient.
Find here more information about the skip the line tour to the Colosseum and Ancient Rome.
The Pantheon
Arguably, the best preserved of the many historical monuments in Rome is the Pantheon. It was built in 125 AD. Once inside you will be in a place where even Leonardo Da Vinci studied. You will be impressed at every turn while if you look up, you will wonder at the magnificence of the Dome.
Opening hours: Mon – Sat: 9 am – 6.30 pm and Sun: 9 am –1 pm.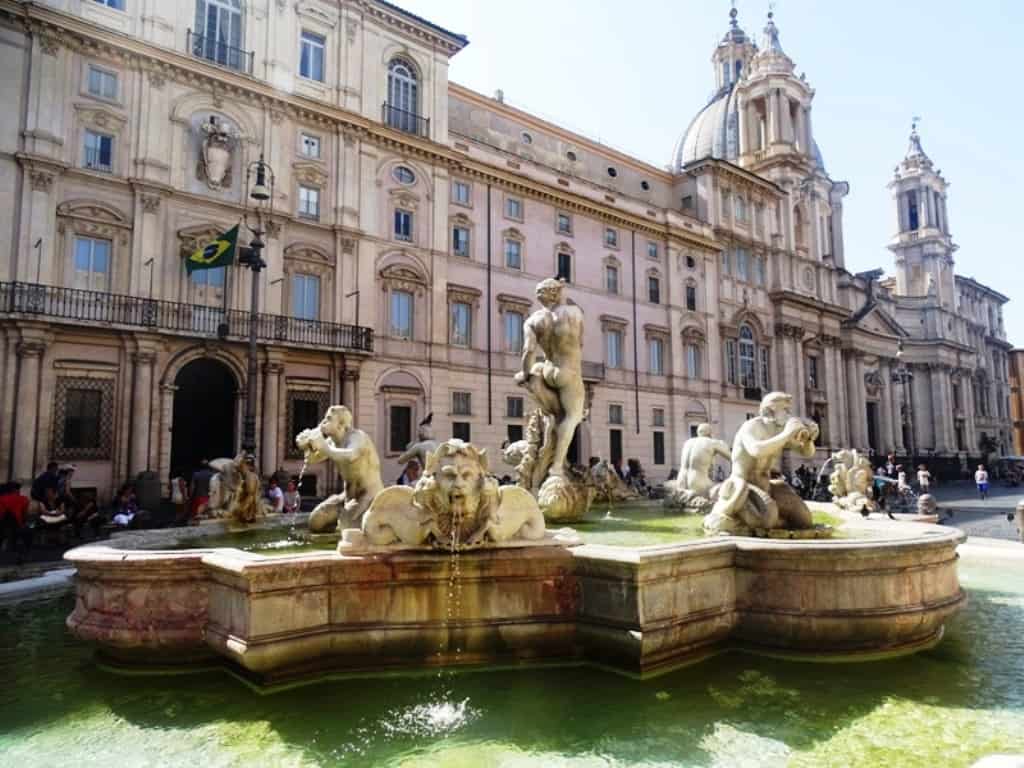 It is time for a break to just enjoy a coffee and watch the world go by. You can sit at a sidewalk café in the Piazza and reflect on the things you have seen and look forward to seeing those things still on the itinerary. If you feel hungry, grab a snack before you continue.
You might also be interested in: 5 days in Rome.
2 weeks in Italy: Day 7 Rome
The Vatican is a place that every Christian person in the world should see, Roman Catholic or not. It is a miniature City with a huge number of highlights. It is extremely busy so you should consider ways to try to avoid the queues. They include a variety of Passes and Cards which include priority entry. Turning up early helps in a small way as well.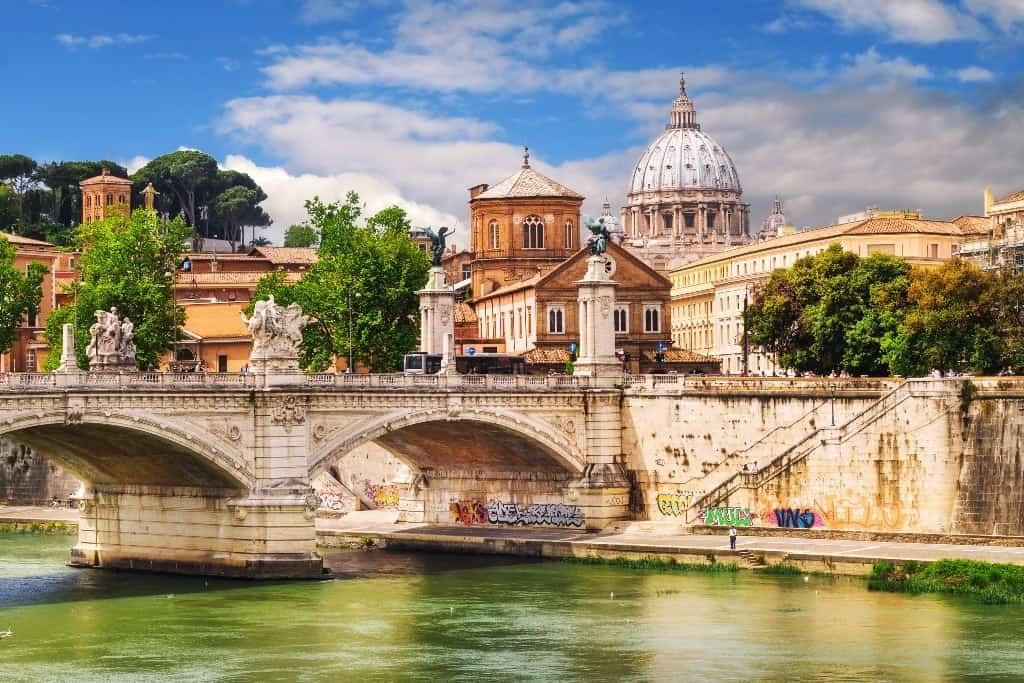 Vatican Museum
The Vatican Museum has few equals anywhere in the world; more than 1400 rooms containing art over the centuries, some of the exhibits being over 4,000 years old.
Sistine Chapel
Michelangelo's work in this Chapel makes it the highlight of many highlights of your time in Vatican City. No one over time has ever captured biblical scenes as Michelangelo did.
Opening hours: Monday – Saturday: 9am – 6pm (Ticket office closes at 4pm).
Sunday: Closed except the last Sunday of each month: 9am – 2pm. (Ticket office closes at midday, 12:30pm).
1, 6 January, 11 February, 22 February, 19, 28 February, 29 June, 15 August, 1 November, 8, 26 December: closed
Tickets: Adults: 16€. Children (ages 6 – 18): 8€. Students (ages 19 – 26): 8€.
The entrance is free the last Sunday of every month.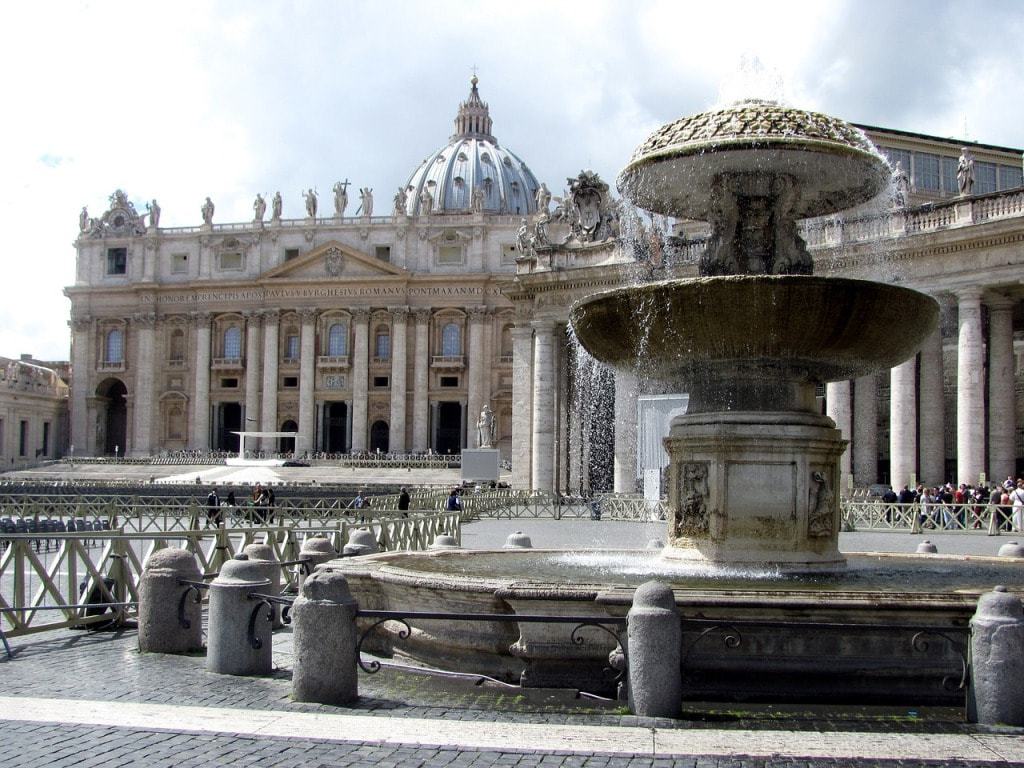 St Peter's Basilica
This Basilica is one of the largest churches in the world. It is lavishly decorated as you will find as you join the crowds marveling at its décor and interior.
Opening hours: October – March: 7am – 6:30pm, April – September: 7am – 7pm
Free entrance
Visiting the Vatican is an essential Rome experience, and it will be quite overwhelming! Before anything, you should know that the queues are huge. No matter how much you think you can wait, you can't. The queues go on for seemingly forever, so I recommend a skip a line tour or an 8-am skip-the-line tour. Both times I've been there were with the skip the line guided tour, and it added to the overall comfort and convenience of my entire visit there.
If you're not really into tours, you can wander on your own and skip the lines.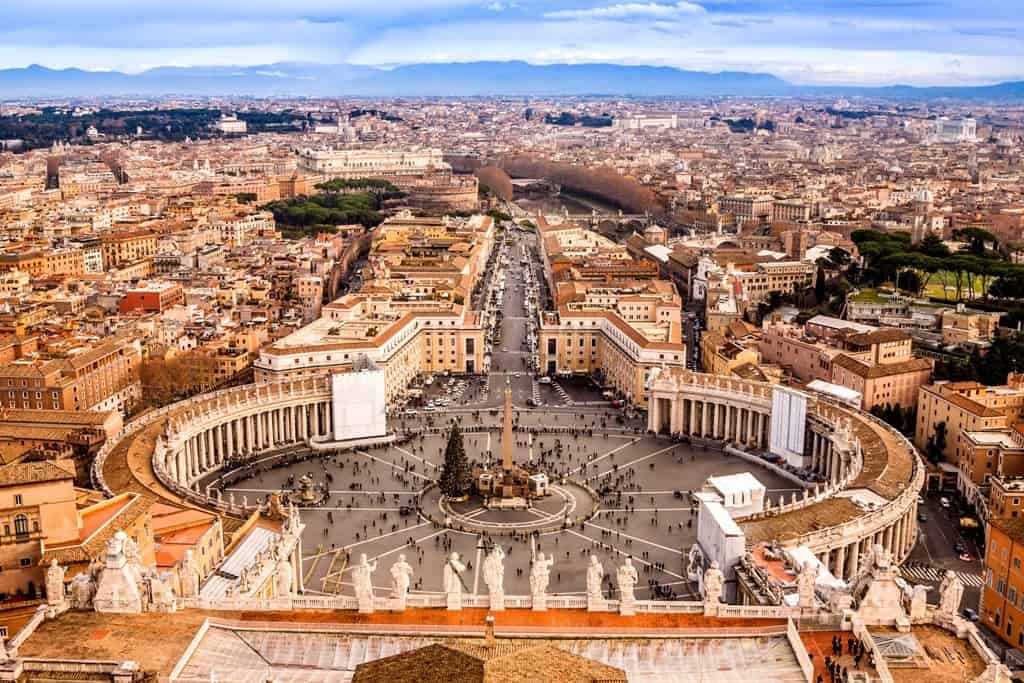 Climbing the Dome
The dome in the Basilica offers the chance of great views over Rome. Don't worry; the 320 steps are not compulsory. Take the elevator as an alternative. The scenes that await you will give you a different perspective on this magnificent city, from its historic buildings to the narrow streets and wonderful piazzas.
Opening hours: The dome opens at 8am and closes one hour before the Basilica.
Tickets: Lift to the terrace plus 320 steps: 8€. Climbing 551 steps by foot: 6€.
Check out some great tours of the Vatican:
Skip the Line: Vatican Museums, Sistine Chapel & St. Peter's
Exclusive Early Morning Vatican Tour with Secret Rooms
Vatican Museums & Sistine Chapel Fast-Track Entry
Castel San Angelo
There's just enough time for a quick visit to the Castel San Angelo. There are lovely views from the Upper Terrace.
Opening hours: Tuesday – Sunday: 9 am – 7 pm
Tickets: Adults: 10,50€, EU citizens (aged 18 – 24): 7€
Book here your ticket to Castel San Angelo.
Vila Borghese
Art lovers will adore the Vila Borghese. It contains one of the biggest private art collections in the world. The Renaissance is wonderfully represented and there is also work by such as Bernini and Raphael. It is set in lovely gardens and you will enjoy the colour, the fountains and small temples in one of Rome's leading gardens.
I bought skip the line tickets that made the entire ordeal much easier since the lines were discouraging!
Opening hours: Tuesday – Sunday: 8:30am – 7:30pm, Monday: closed
Tickets: Adults: 11 €, EU citizens (ages 18 – 25): 6,50 €, Youth (less than 18) and Seniors ((over 65): 2 €
Find here more information about the Skip the Line: Borghese Gallery and Gardens Half-Day Tour.
2 weeks in Italy Day 8 Rome – Florence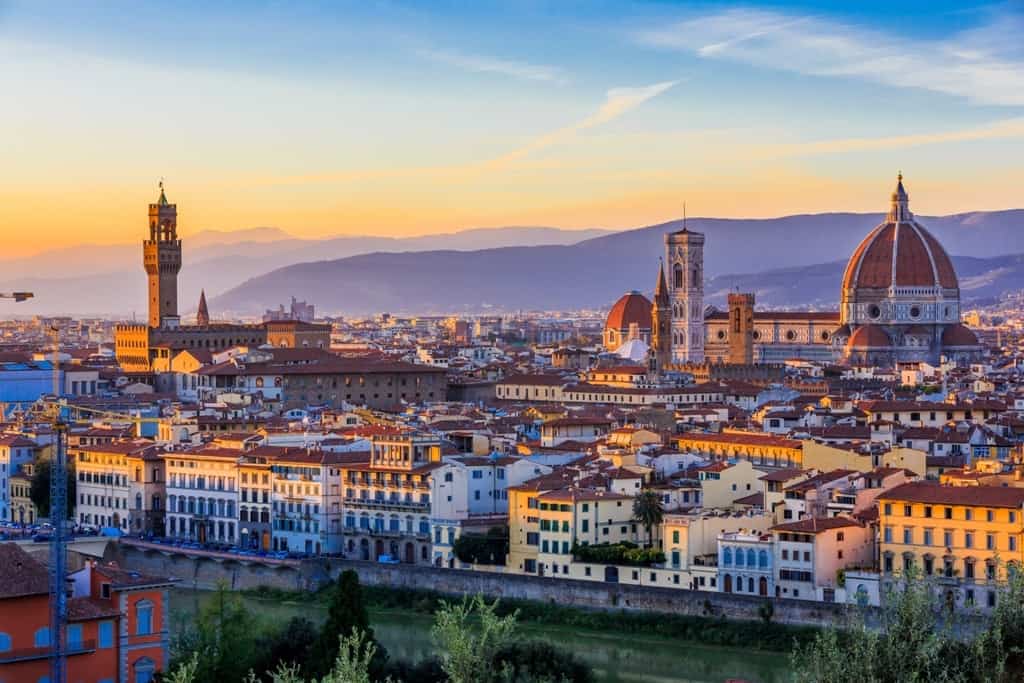 As if Rome will not already have your mind spinning with the quality of Italy's history and culture, you are destined for more. Florence stands among the most beautiful cities in Europe, if not the world and Florence is your next destination on this 2 week Italy itinerary.
The train departs from Termini with the fast one taking around 90 minutes. Prices vary and you will certainly get a better price by purchasing your ticket in advance.
Where to stay in Florence
Tourist House Battistero
This accommodation in a 15th Century building is close to the Ponte Vecchio and the Scudieri Café. You will get a comfortable room with lovely views over the City.
Click here for more information and to check the latest prices.
C-Hotels Ambasciatori
You will be close to Florence's main attractions if you stay at this 4-star hotel. It is a chic, modern hotel surrounded by a wonderful history.
Click here for more information and to check the latest prices.
Plaza Hotel Lucchesi
Built in 1860, this is 4-star accommodation situated close to the Arno River. You will have lovely views of Florence during your stay.
Click here for more information and to check the latest prices.
C-Hotels Joy
C-Hotels Joy close to the Santa Maria Novella and the train station is a mix of modern and traditional. Needless to say, the modern includes the bathroom and other amenities.
Click here for more information and to check the latest prices.
Whichever hotel you select, settle in for an hour before going out to explore one of the most beautiful cities you will ever visit.
Duomo Complex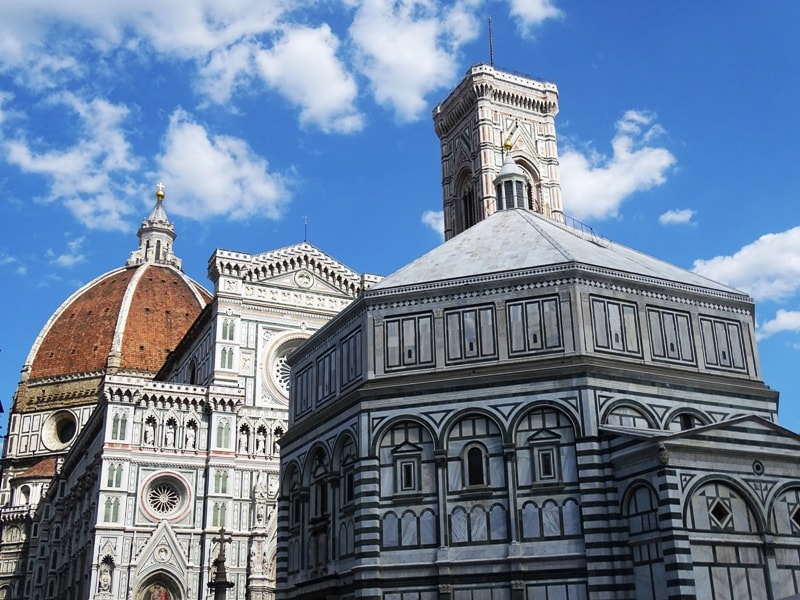 The Renaissance Dome of the Duomo Complex dominates the skyline of Florence. You are seeing one of the world's largest churches, a mixture of Gothic and Renaissance architecture. The wonderful detail is enthralling; spires, sculptures and more.
Tip: There is a dress code to enter the church. Women must wear clothes covering their knees and their elbows. Men must wear long trousers.
Tip: The queues to enter the Duomo and to climb the Cupola are long and you might have to wait for hours to enter. A great way to skip the lines is by taking a guided tour or if you are using the Firenze Card (The Firenze Card works like a three-day fast pass to your favorite attractions. This is a great option for visitors trying to pack as much sightseeing into a Florence vacation as it lets them skip the long queue lines at most of the most popular sites. It is a great buy if you are staying in Firenze for 3 days).
Here are some recommended tours of the Duomo:
Duomo Guided Tour & Reserved Cupola Access
Guided Tour of the Duomo Including the Rooftop and View the Terraces
Piazza del Republica
There was once an ancient Roman forum and military encampment here. Add the neoclassical pieces and you are in a lovely spot where you can enjoy outdoor cafes or explore the immediate district.
Fontana del Porcellino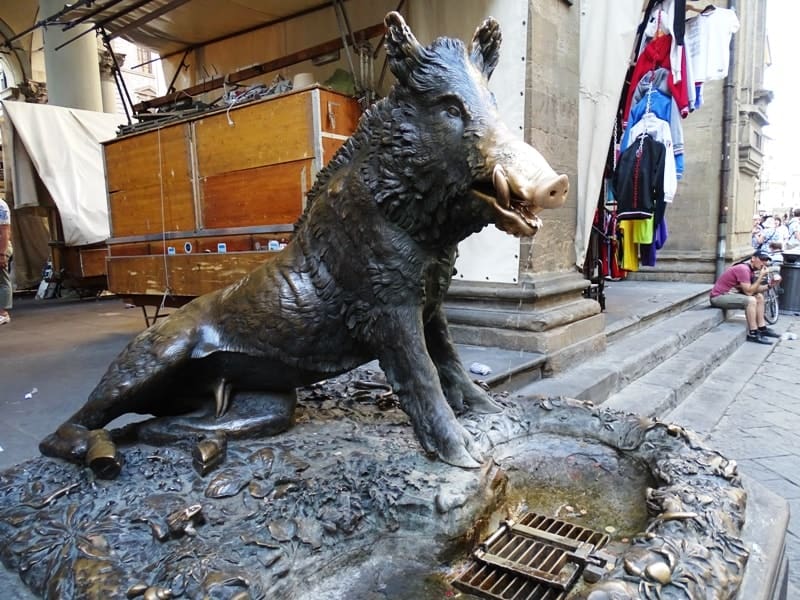 The Wild Boar statue made in bronze, Fontana del Porcellino, makes a great photograph. Legend said it had magical powers; who knows?
Piazza della Signoria
Piazza della Signoria is a lovely square to spend some free time. There is a host of statues, many representing myths from the past. Before you move on make sure you see the Neptune Fountain as well as the copies of Michelangelo statues.
Ponte Vecchio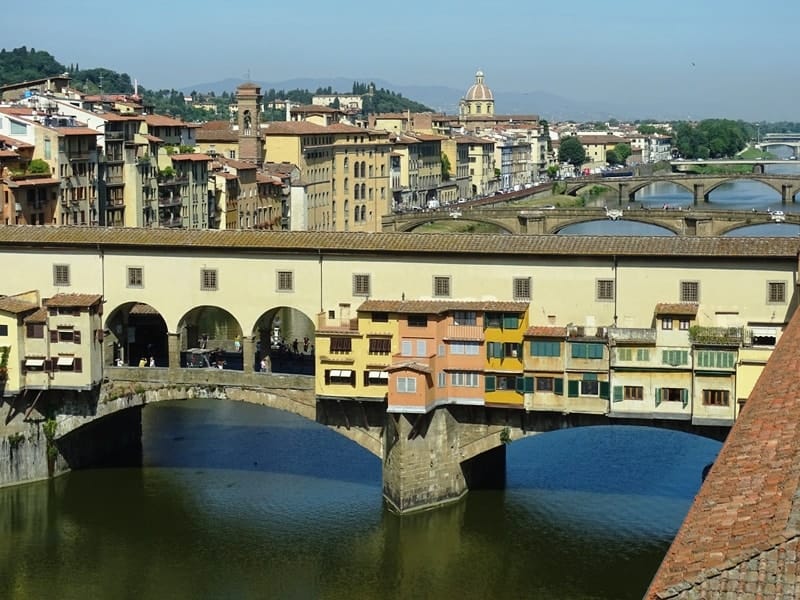 Despite the fact that the Ponte Vecchio is just a bridge, it has been a means of crossing the Arno for many centuries. The stories it could tell? It makes a lovely photograph even in the beautiful surroundings of Florence. The original was built in Roman times and was the only crossing until 1218. It was rebuilt in the following century and was the only bridge over the Arno that the Germans did not destroy as they retreated.
Basilica di Santa Croce
This is as much a work of art as a church. With a Neo-Gothic façade and Franciscan architecture, using plenty of marble, it is the final resting place of Galileo Galilei, Michelangelo, and Ghiberti. The frescoes of Giotto are truly wonderful!
2 weeks in Italy Day 9: Explore Florence
Florence is famous for its art collections. To date, you have seen many of its magnificent buildings. It is now time for art and culture.
Galleria dell' Accademia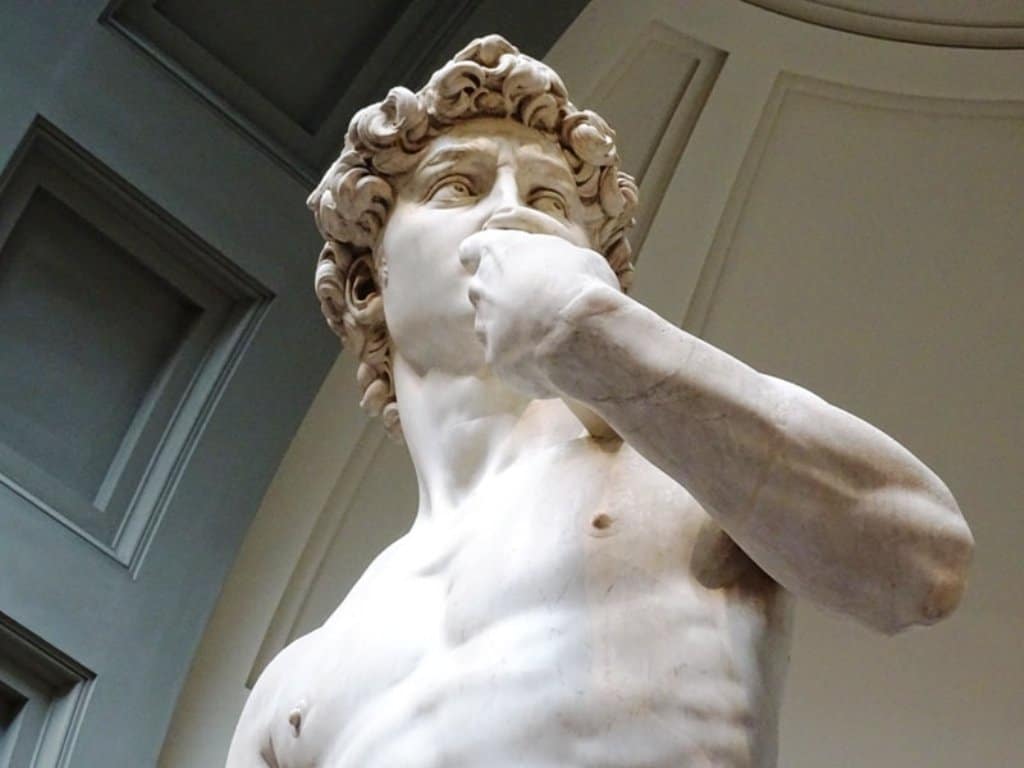 This gallery covers the art of Florence from the 13th Century right up until the 18th. Some of the frescoes in this gallery were originally destined for Michelangelo's tomb. In addition to frescoes, there are some impressive statues and sculptures.
Tip: There are usually long queues for the Accademia. To save time you can either buy a timed entrance ticket beforehand or book a guided tour.
Here are some suggestions:
Timed Entrance Ticket to the Accademia
Skip the Long Queue with a Guided Tour of the Accademia
Uffizi
You will already have been close to the Uffizi Gallery when you visited Piazza della Signoria. You could spend hours here admiring its richness and diversity within almost 50 halls. Renaissance art and the work of Michelangelo are included.
Tip: The queues for the Uffizi are long. To save time you can either buy a timed entrance ticket beforehand or book a guided tour.
Here are some great options:
Timed Entrance Ticket to the Uffizi
Skip the long queue with a guided tour of the Uffizi
Palazzo Pitti
The biggest museum in Florence is Palazzo Pitti. It is the next stop after Uffizi and it would be a mistake to think you've had enough art, especially because of its Renaissance pieces.
Watch the sunset from Piazza Michelangelo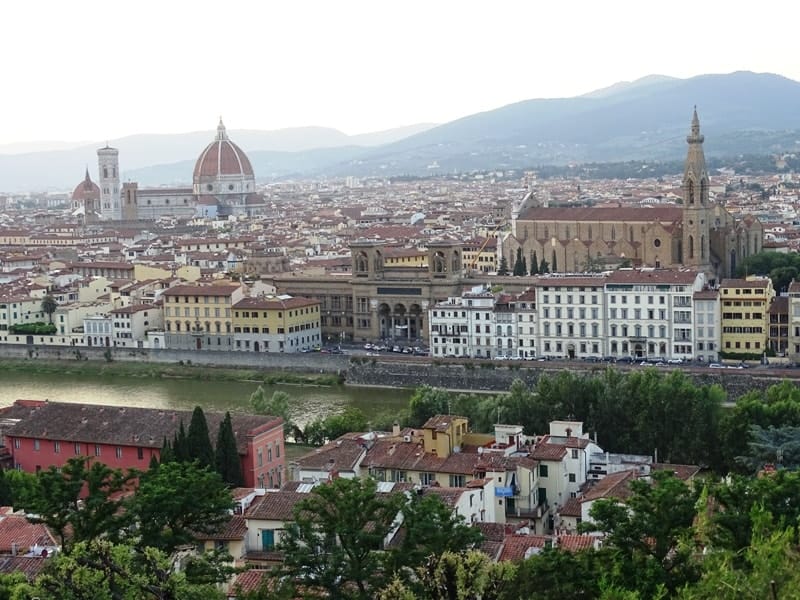 The Piazzale Michelangelo has become famous because of its wonderful views of Florence and the neighbouring areas. It is equally impressive by night with its flickering lights or as the sun sets.
2 weeks in Italy – Day 10 Tuscany Villages or Cinque Terre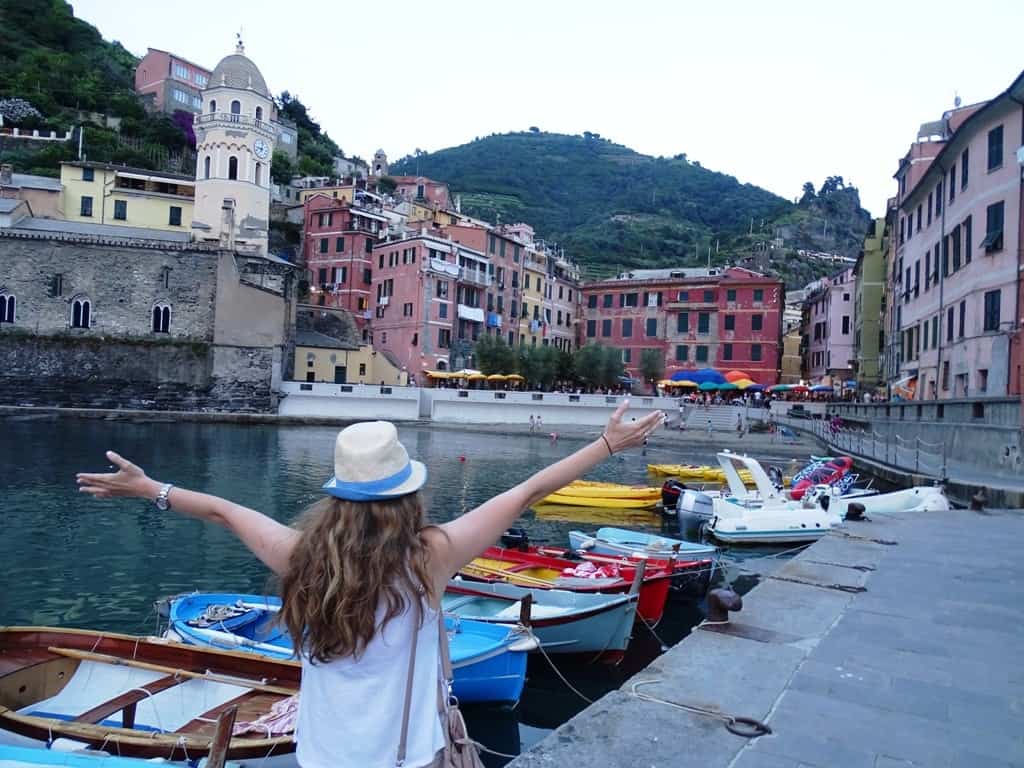 There are interesting day trips from Florence to see the larger region. The choice is yours from a few alternatives:
San Gimignano and Siena and Chianti are medieval towns within a famous wine region of Italy. It is a lovely region of rolling hills so even the journeys there and back are fun.
Lucca and Pisa are another alternative and friends who know you have spent some time in Italy will probably expect you to have seen the Leaning Tower of Pisa.
Cinque Terre is a region of lovely small villages that can be done by train from Florence or with an organized group..
You might like: How to spend one day in Cinque Terre.
You might also be interested: The most beautiful hilltop village in Tuscany.
2 weeks in Italy: Day 11 Florence to Venice
The next stop is the unique city of Venice with its vast network of canals. The City State was an important political player a few centuries ago when Venetians sailed the Adriatic, the Aegean and the Mediterranean itself.  The train journey from Florence to Venice takes just over 2 hours and you should book in advance for the best prices.
There is certainly time to book into your Venice hotel and still see some of the City on Day 11.
Where to stay in Venice
Hotel Al Codega
This comfortable hotel has regularly received positive reviews from its guests. That is because of its location close to some of Venice's top attractions as well as the facilities they have found within their accommodation.
Click here for more information and to check the latest prices.
Hotel Rio
Hotel Rio is central within Venice so that you will find attractions close by including the Rialto Bridge. The Venezia Santa Lucia Train Station is near and so it is convenient for arrivals and departures. You can expect every modern amenity including satellite TV and Wi-Fi.
Click here for more information and to check the latest prices.
B&B Bloom Settimo Cielo
This beautiful and impressive piece of architecture has been popular with travelers for some time. Its amenities are all that guests would expect of accommodation which, by the way, is located on Campiello Santo Stefano.
Click here for more information and to check the latest prices.
Hotel Ai Reali – Small Luxury Hotels of the World
An eclectic mix of Baroque and Neoclassical Architecture with plenty of marble, this hotel is among the top tourist selections in Venice.  St. Mark's Basilica is just a short walk away; perhaps the first major attraction you will see in Venice if you book here?
Click here for more information and to check the latest prices.
Piazza San Marco
This piazza is the true heart of Venice. It is hundreds of years old, a busy place where you can take in Venice's atmosphere immediately. There are towers, beautiful buildings, and impressive bridges.
Companile di San Marco
One of those towers is Companile di San March and the views from the top are truly stunning.
Tip: Book your skip the line ticket in advance to avoid the long queues.
St Mark's Cathedral
This impressiveBasilica has stood in all its glory for many centuries. There is enormous detail in its façade. Its designers have created a masterpiece and internally there are golden altars, a treasury, mosaics and a whole lot more.
Tip: To avoid the long queues book a skip the line guided tour to St Mark's Cathedral and its treasures.
Doge's Palace
If there is a single sign of extravagance in Venice, it is the Palace of the Doge. Designed with aByzantine-style façade, there are thousands of masterpieces inside; paintings, lacy patterns, sculptures and architecture. After walking over the Bridge of Sighs, you will find the Hall of the Great Council!
Tip: Another place with long queues in Venice. To avoid them you can either buy a priority admission ticket or book a skip the line guided tour to the palace.
If you are planning to visit both St. Mark's Cathedral and the Doge's Palace this skip the line 2 hour walking tour will save you both time and money.
Rialto Bridge
The Rialto Bridge is an iconic symbol of Venice precisely because the City is known for its canals. It has been photographed many times, and just as many photographs have been taken from it.
2 weeks in Italy: Day 12 Explore Venice
Accademia Galleries
Venice is yet another Italian City with a huge amount of art. The wonderful collection in here dates back to the 14th Century. There is a huge variety with the collection, representing many different influences.
Take a tour around the Venetian Lagoon
The Lagoon is a great setting and has seen many famous people arrive and depart over the centuries. Cruises amongst the islands are available when you can sit back to absorb everything from the scenery to the traditions and history.
Find here more information and book a cruise to Murano, Burano and Torcello islands.
Get lost in Venice
Venice has many canals but also small alleys all of which could tell you a story. Why not just wander around the cobbled streets, crossing bridges over canals, and imagine how life in Venice has been over the centuries?
Gondola Ride
Gondolas and romance go hand in hand. Even if you are a single traveller you must take a gondola ride while you are in Venice.
Find here more information and book a 30-minute gondola ride.
Check out my detailed post about 2 days in Venice.
2 weeks in Italy Day 13: Venice to Milan
 The quickest way for you to get to Milan, the city from which you will finally end this holiday, is to go by train. The distance involved is 280 kilometers so a road trip will exceed 3 hours. The average train time is 2.5 hours but quicker trains will knock 20 minutes off this time. There is a range of prices starting from 25 euros one way.
If you depart mid-morning, you can book into your hotel and spend half a day seeing Milan, one of the fashion capitals of the world.
Where to stay in Milan
NYX Hotel Milan
This 299-room hotel near the Central Station is close to a number of the City's attractions; "La Scala" Opera House, the Sforzesco Castle and"Golden Triangle" (Quadrilatero Della Moda). There is a bar, restaurant, gym, and Wi-Fi.
Click here for more information and to check the latest prices.
Mandarin Oriental Milano
This 104-room hotel takes up four 18th Century buildings in Quadrilatero della Moda. Its elegant décor, spa, pool and gym, and excellent service combine with a Michelin-starred restaurant, one of two in the hotel, to provide a memorable stay in Milan, no matter how brief.
Click here for more information and to check the latest prices.
There should be time to see at least some of Milan. There are Hop-On, Hop-Off tourist buses that run throughout the day with the last full journey of the 30 or so points of interest starting at 1645 in the summer. The price starts around 22 euros. Unless you have decided on the places you definitely want to see before you even arrive in Milan, catching a bus once you have checked into your hotel makes sense. Once you have finished, you should still have time to take a closer look at a few before heading off to dinner, or perhaps a performance at La Scala?
Santa Maria Nascente ''Il Duomo'' (Milan Cathedral)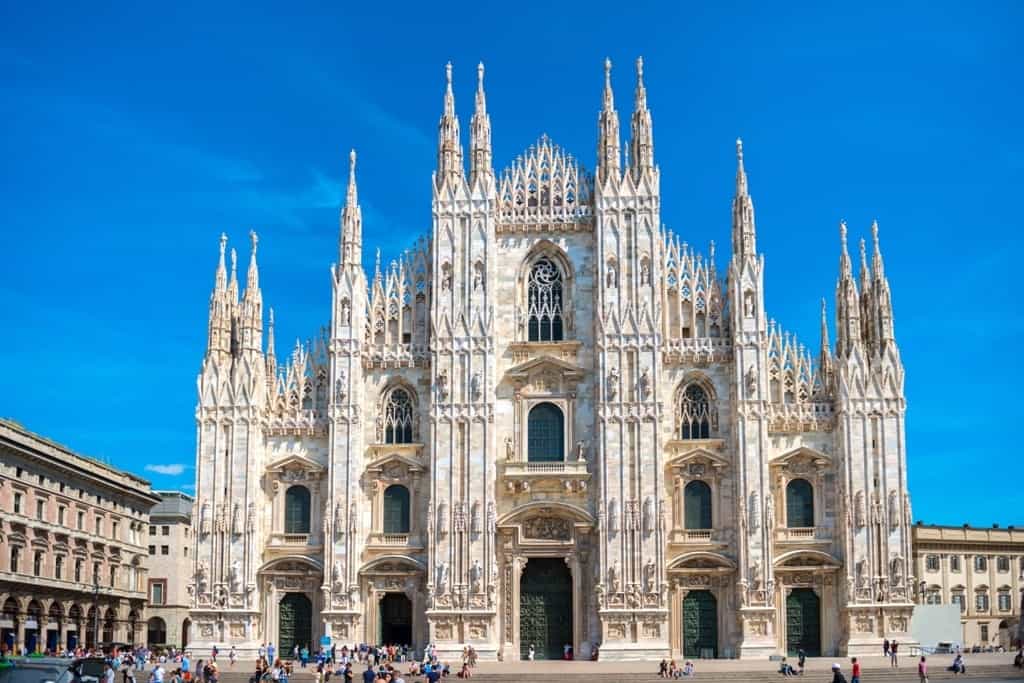 This stunning cathedral is amongst the largest in the world, capacity 40,000. It is located in Piazza Duomo which is a lovely place for visitors to take in the City's atmosphere, even if time is tight for seeing much of the Cathedral.
You can book your Milan Cathedral and Rooftop ticket here.
Castello Sforza
This castle dates back to the 14th Century and was then rebuilt in the middle of the 15th. There are a number of museums within the Castle housing some classic art, sculptures, antiquities and military exhibits.
Teatro Alla Scala
Perhaps you can enjoy a show at this Opera House, but at least you should see the building while you are in Milan. The season runs from December to May and if you want a ticket, you will have to purchase it a long way in advance.
You can also check my one day Milan itinerary.
2 weeks in Italy Itinerary – Day 14 Fly Home
 It is time to say goodbye armed with some lovely memories and a camera full of wonderful photographs.
Malpensa Airport is 50 kilometers from the center of Milan. Taxis are expensive at around 90 euros but there is a good rail service which takes 50 minutes from the Central Station with stops, but only 30 minutes from Piazza Cadorna which is on the metro line.
Looking to extend your trip to Italy? Check out the following
20 Northern Italy cities you should visit.