A trip to Italy has something for everyone: artistic masterpieces, ancient history, amazing food, fabulous landscapes and local folklore.
A 14-day itinerary allows you to discover all the facets of this unique country, from its main cities to some of its most fascinating villages.
Are you ready to spend 2 weeks in Italy?
There are two ways to travel, by car a do an Italy road trip or by train as described below.
Don't forget to check: my Italy packing list.
Disclaimer: This post contains affiliate links. This means that should you click on certain links, and then subsequently purchase a product, I will receive a small commission.
How to Spend 14 Days in Italy – 2 Week Itinerary
Day 1: Flight to Rome and Transfer To Naples
Fly to Rome, which is not only the Italian capital but also one of its main transportation hubs allowing you to easily reach any other large city.
To find the cheapest flight options from your city, you can use the search form below
Catch a high-speed train to reach Naples in about 1h. Try to be there around lunchtime to be able to spend a few hours visiting the city.
But first, enjoy a real Neapolitan pizza and a well-deserved lunchbreak!
In the afternoon, you can choose between:
In the evening, take a stroll in the trendy Chiaia neighborhood and have a drink outdoor like a local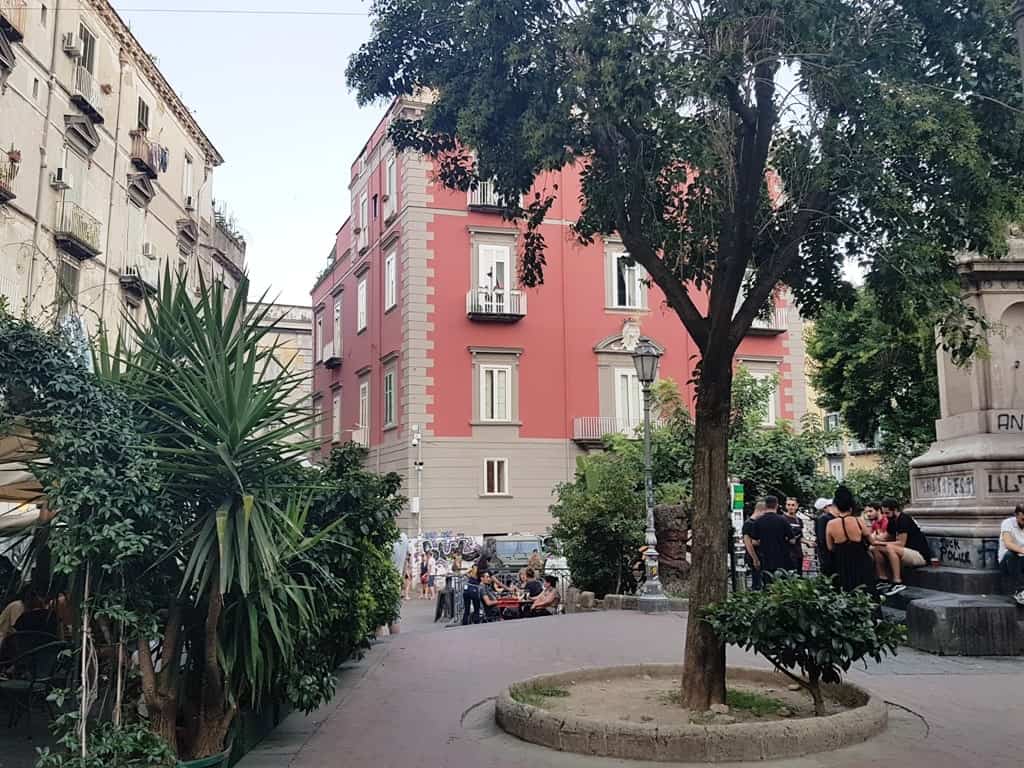 Where to stay in Naples
Check out my guide on where to stay in Naples here.
Renaissance Naples Hotel Mediterraneo: This 4-star hotel, a member of the Marriott Group, is located centrally close to the main attractions of Naples and the ferry terminal. Rooms are comfortable and modern while the rooftop where breakfast is served has lovely views of the Bay, Castel Nuovo, and Mount Vesuvius. Click here for more information and to check the latest prices.

Grand Hotel Europa – Sea Hotels Group: Located near the main station, this hotel is an excellent choice for those thinking about visiting Pompeii or the Amalfi Coast. It provides excellent 3-star value with comfortable rooms including Wi-Fi, satellite TV, air-con, and safe. Click here for more information and to book the Grand Hotel Europa.
You might be interested in: 3 days in Naples.
Day 2 Pompeii & Sorrento
Visiting Pompei is a must and you cannot miss this stop during your 2week stay in Italy! You can easily reach Pompei by train and it will surely be an emotional visit making you feel like an ancient inhabitant of these places. To see the main points of interest and make the best of your time, join a guided tour (Pompeii: Small-Group Tour with an Archeologist). As an alternative, get a fast-track ticket (Pompeii Fast Track Entry Ticket).
An organized tour will take around 2- 3 hours, but armed with the knowledge already gained, you may want to spend more time there on your own before returning moving on.
No matter how you choose to visit the site, know that it is very busy especially from May to October. Bring a hat and sunscreen, wear comfortable shoes and drink plenty of water.
In the afternoon, head to the lovely town of Sorrento. How can you spend a few hours?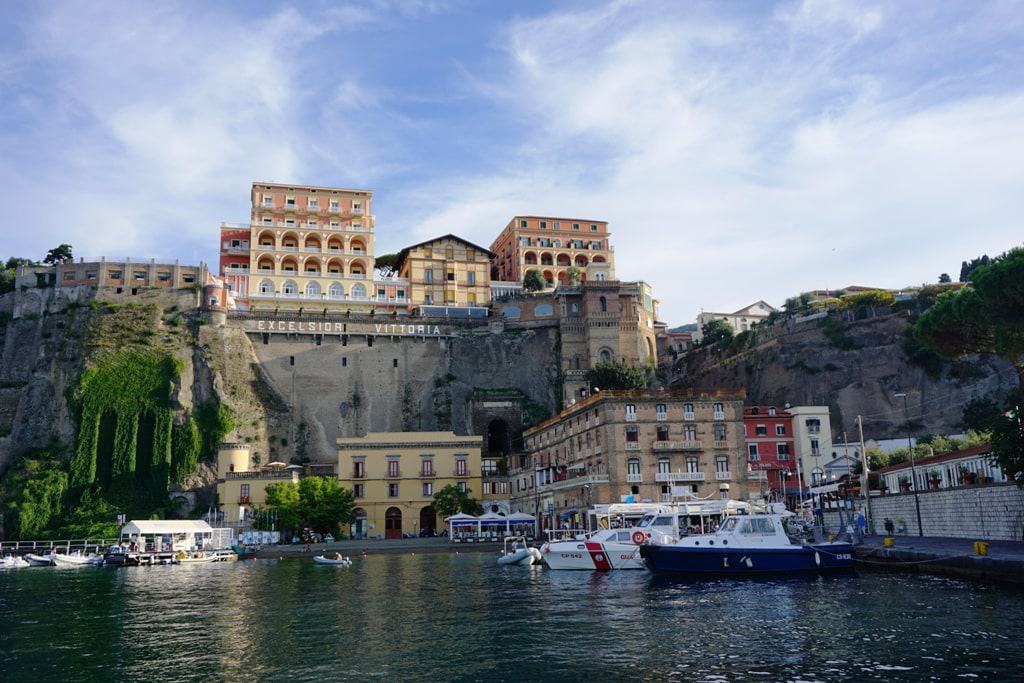 take a stroll in the picturesque alleyways of the Old Town
visit the beautiful S. Francesco Cloister
linger in a café in Piazza Tasso
meet local fishermen in Marina Grande village
watch the sunset from the panoramic terrace of Villa Comunale
As an alternative, you can join a walking tour.

If you are looking for an organised skip the line guided tour starting from Naples I suggest this full day guided tour that combines a visit to the Pompeii ruins and the mount Vesuvious.
Day 3 Amalfi Coast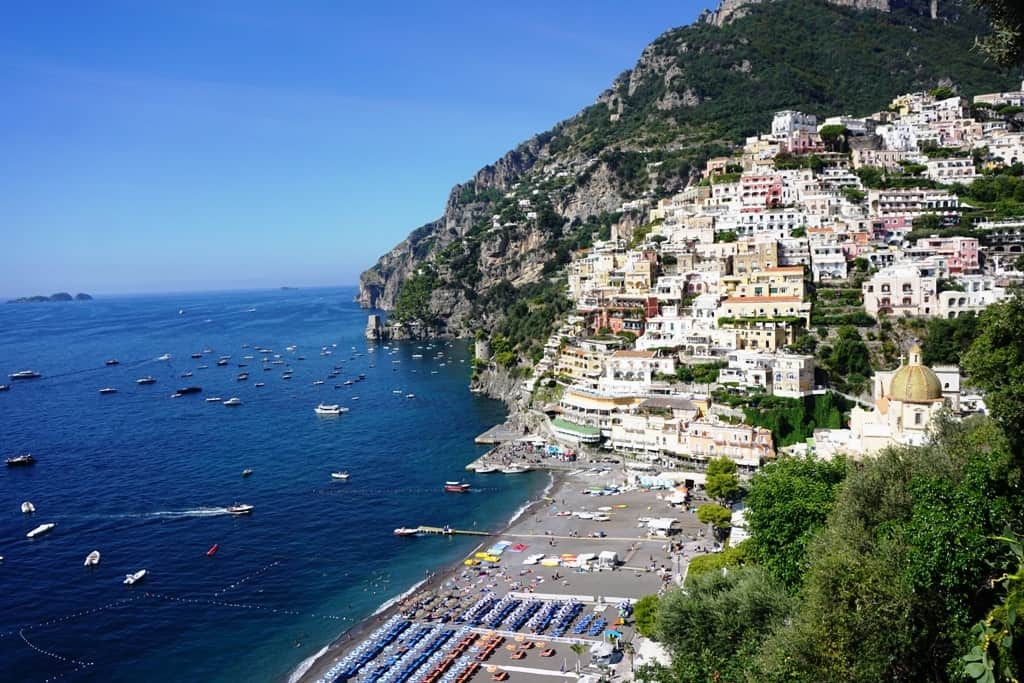 Option 1: rent a car and spend your day driving around to explore all the picturesque villages along the coast. A few tips?
Positano: winding alleys, a medieval flair, and some wonderful views. If you feel like being active, don't miss the Path of the Gods.
Amalfi: the main and largest town on the coast, full of historical buildings and monuments. Visit at least S. Andrea Cathedral and the Cloister of Paradise.
Ravello: up in the Lattari Mountains and overlooking the Mediterranean Sea. Visit the Gardens of Villa Cimbrone to take the most amazing pictures!
Cetara: a lovely fisherman village where you can taste a local gastronomic specialty named "colatura di alici" (anchovy extract)
Option 2: a guided tour from Naples to the Amalfi Coast.
Option 3: It is very easy to do this day trip on your own as well. You just need to catch a train to Sorrento from Naples. There are about 3 trains per hour depending on the season and the journey is about an hour depending on the type of train. As soon as you exit the train station there is a kiosk where you can buy a bus ticket to either Positano or Amalfi. The buses are in front of the station and tickets cost 2-3 euros one way.
It takes around an hour to get to Positano by bus as the road is small and there is huge traffic especially during the summer and you need even more time to get to the Amalfi village because it is further away. Also, during the high season, the queues to take the bus are huge and you might have to ride standing. Also, the road is very curvy and a lot of people get sick.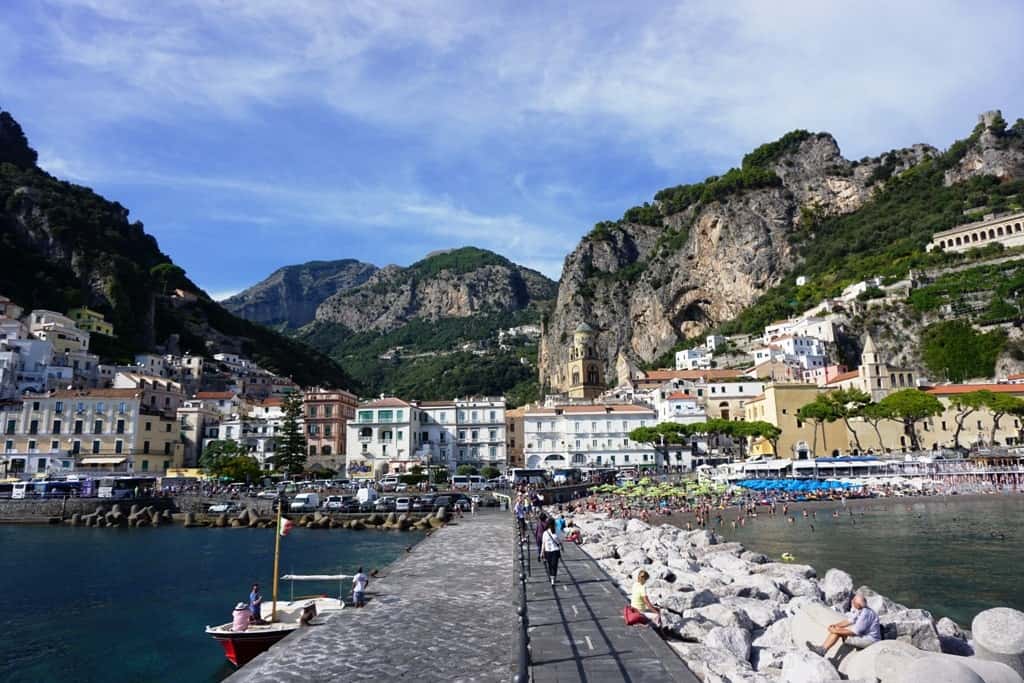 Option 4: There is an alternative way to get to the villages, which is by ferry from Sorrento. You can get the ferry from the port. It is a 10- minute walk from the train station. From Sorrento to Amalfi it is one hour by ferry and the ticket was 16 euros in September that I visited. The ferry makes also a stop in Positano before arriving in Amalfi. There are many small boats connecting Positano with Amalfi and the other villages of the Amalfi Coast. Tickets can be bought at each port.
You might also be interested in:

11 Amalfi towns to visit.
An Amalfi Coast itinerary and a guide on where to stay in the Amalfi Coast.
A guide to Positano
Day 4 Capri
Take a ferry from Naples to reach Capri island in about 40 minutes. The fast ferry takes 50 minutes to Capri from Naples and tickets cost around 21,50 euros one way.
Start your visit with a boat tour taking you to the wonderful Blue Grotto (Capri Boat Tour With Stop by the Blue Grotto)
Catch a bus and reach the village of Anacapri. Its highlight is the beautiful S. Michele Arcangelo church with its precious majolica floor (Chiesa di San Michele (chiesa-san-michele.com))
Now you can either take the chairlift and reach the top of Mount Solaro (The Chair Lift Monte Solaro (capriseggiovia.it)) or go back to Capri to visit its Old Town and the medieval Certosa di San Giacomo
Don't miss a visit to the Gardens of Augustus to enjoy some local nature
If you still have some time to spend on Capri island, reach Villa Jovis on Mount Tiberius
Alternatively, you can book a full-day tour to Capri from Naples.
Click here for my post: Things to do in Capri
Day 5 Naples to Rome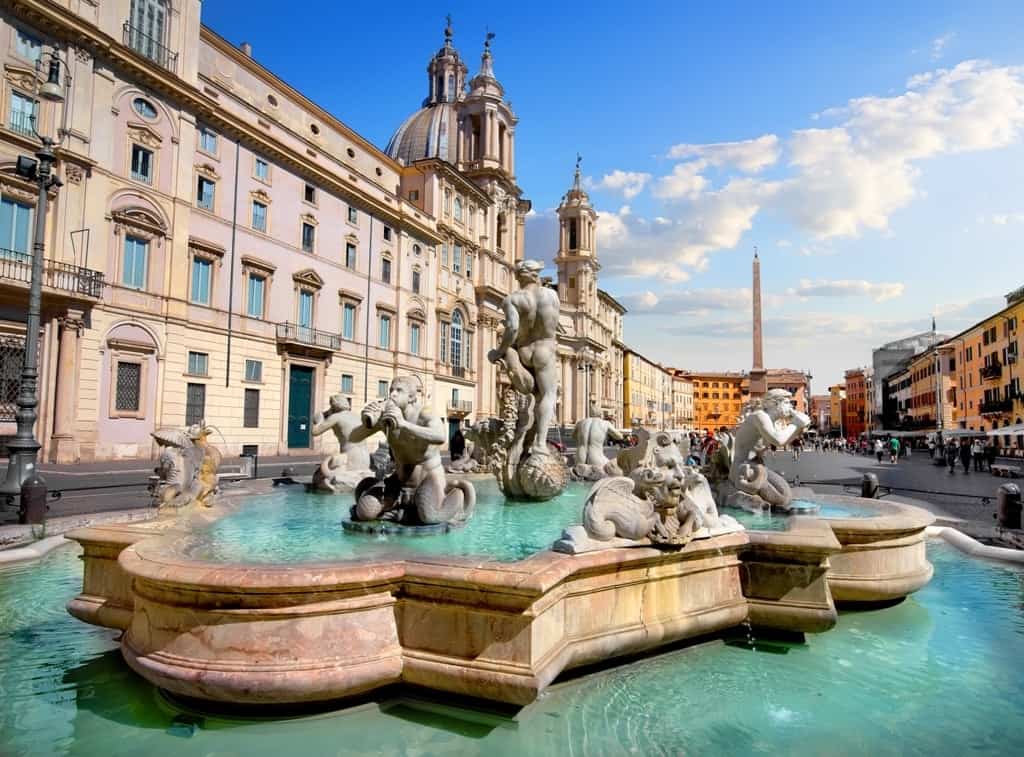 Spend your last hours in Naples taking the Underground Tour to learn more about some important archeological findings (Naples Underground (napolisotterranea.org))
Catch a high-speed train to reach the second stop of your 14day itinerary in Italy: Rome!
Spend the afternoon walking around the city center. Start from Piazza Navona and take a moment to admire the Fountain of the Four Rivers by Bernini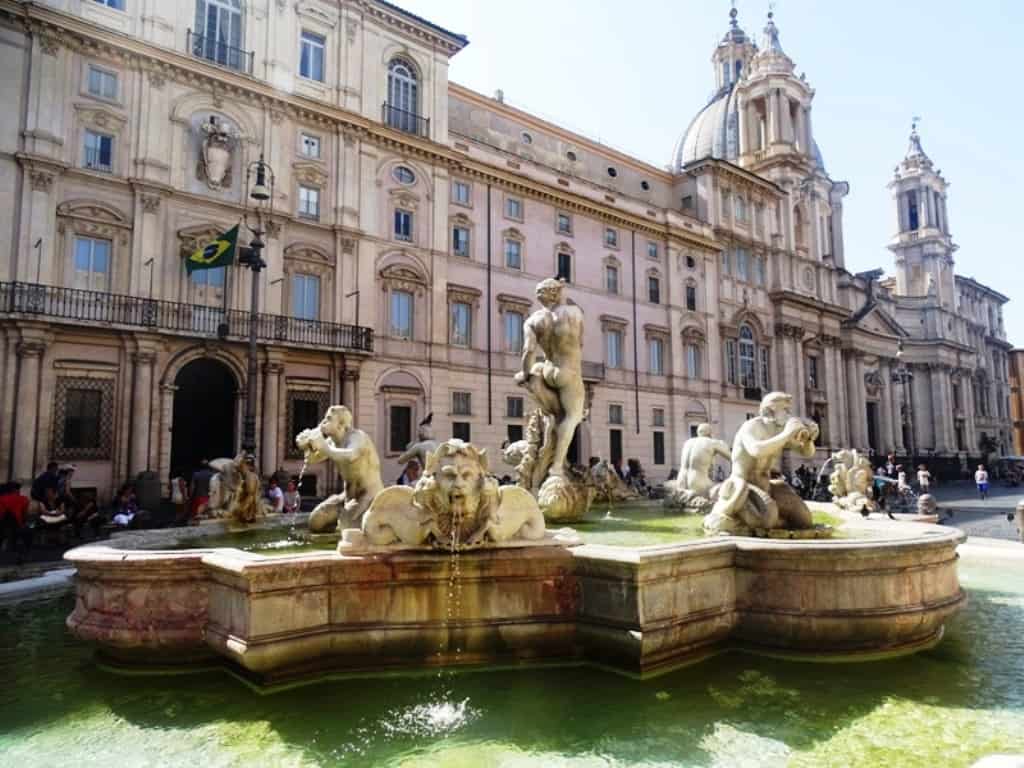 Reach Piazza di Spagna and climb its iconic stairs to reach the panoramic terrace in front of the church of Trinità dei Monti
Admire the neoclassical beauty of Piazza del Popolo with its Egyptian obelisk and its twin churches
Reach the Trevi Fountain and wait in line to throw a coin into the basin!
If you still have some time, enjoy some shopping in via Condotti and via del Corso
Where to stay in Rome
Royal Rooms – Via Del Corso: The Royal Rooms are just 200 meters from Via Margutta and many amenities are in the immediate vicinity. They include shopping, piazzas, and cafes. Within the Royal Rooms, you will find everything you need for comfortable accommodation. Click here for more information and to check the latest prices.

Palazzo Medusa: Palazzo Medusa is regularly selected by its guests as one of the best in the whole city. Comfortable accommodation includes a large TV, an en-suite bathroom, and a hairdryer. You can even rent a bike if you wish. Palazzo Medusa has gained a reputation for its fine cuisine; enjoy it! Click here for more information and to check the latest prices.

Navona Colors Hotel: Located less than 200 meters from Piazza Navona, its situation is ideal for visitors wanting to walk or cycle around. The food is good and the bedrooms are comfortable in this beautiful Baroque building. Click here for more information and to check the latest prices.

Piazza Del Gesu Luxury Suites: Situated on the Piazza Navona, a 5-minute walk from one of Rome's highlights, the Pantheon. Facilities you will enjoy include free WI-FI, lovely furnishings, and a modern bathroom. The views over the City are stunning. Click here for more information and to check the latest prices.
You can also check a local's guide on where to stay in Rome.
Day 6 Rome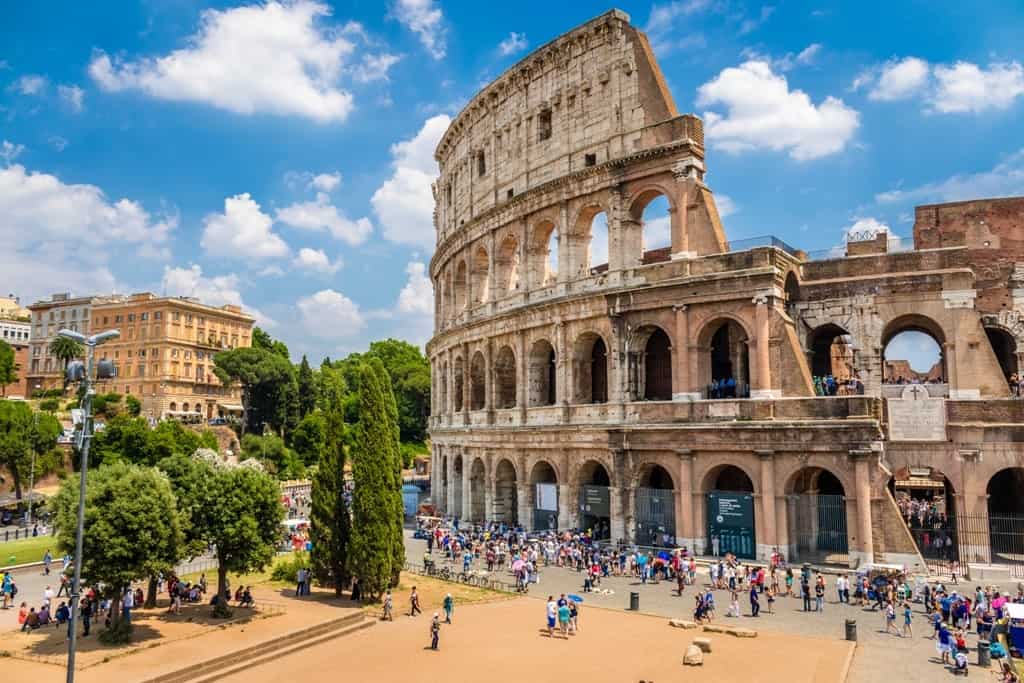 What's best than starting off the day with a visit to the Colosseum?
Dive into ancient times by also visiting the Roman Forum and the Palatine Hill. You can also take a guided tour with skip the line tickets to make the best of your time as lines are huge.
In the afternoon, head to the Pantheon and watch the light entering from the hole in its dome.
Enjoy some nature in Villa Borghese Park, but not before taking a tour of the beautiful Villa Borghese Gallery housing some famous statues by Canova. Book your skip the line tickets here to avoid the queues.
Tonight, taste some typical Roman dishes in Trastevere!
You might also be interested in: 5 days in Rome.
Day 7 Rome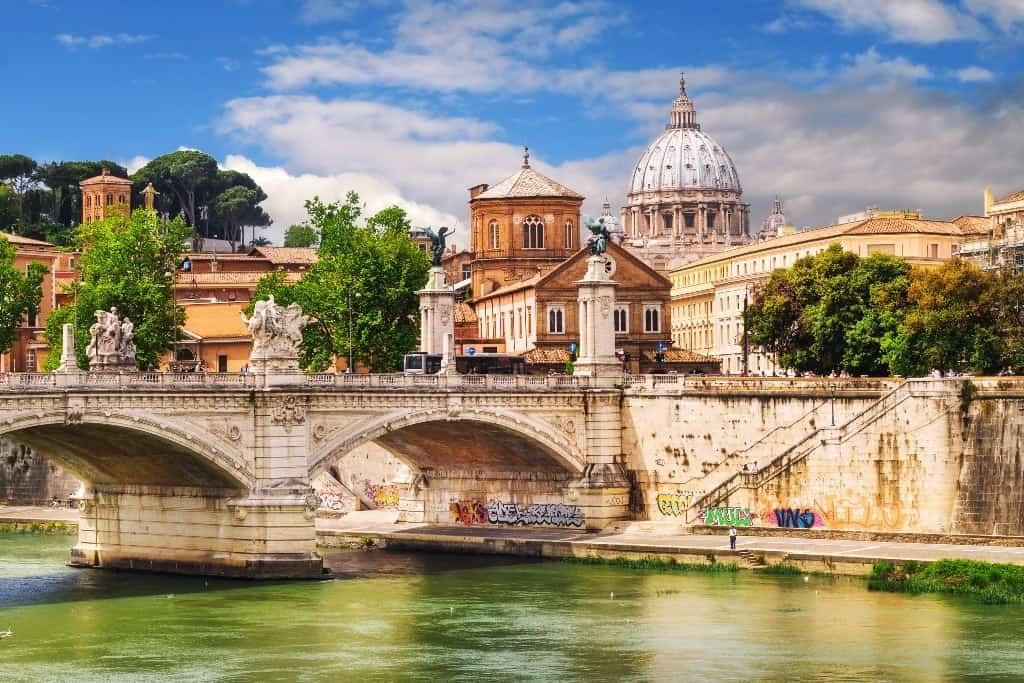 During your 2week stay in Italy, you should absolutely spend a whole day visiting the Vatican. Start from the Vatican Museums and save enough time for the Sistine Chapel, the Galleries, and Raffaello's Room.
Tip: Visiting the Vatican is an essential Rome experience, and it will be quite overwhelming! Before anything, you should know that the queues are huge. No matter how much you think you can wait, you can't. The queues go on for seemingly forever, so I recommend a skip a line tour.

Another way to enjoy the Vatican if you don't have much time is by this Pristine Sistine, early entrance small group Vatican tour. The reason I like this tour is that you get inside the Vatican one hour before it opens, the group is small and you get to see the Vatican in under 4 hours.

All 3 times I've been there were with the skip-the-line guided tour, and it added to the overall comfort and convenience of my entire visit there.
Visit St. Peter's Basilica and get lost among its many artistic masterpieces and stunning architectural features like the dome.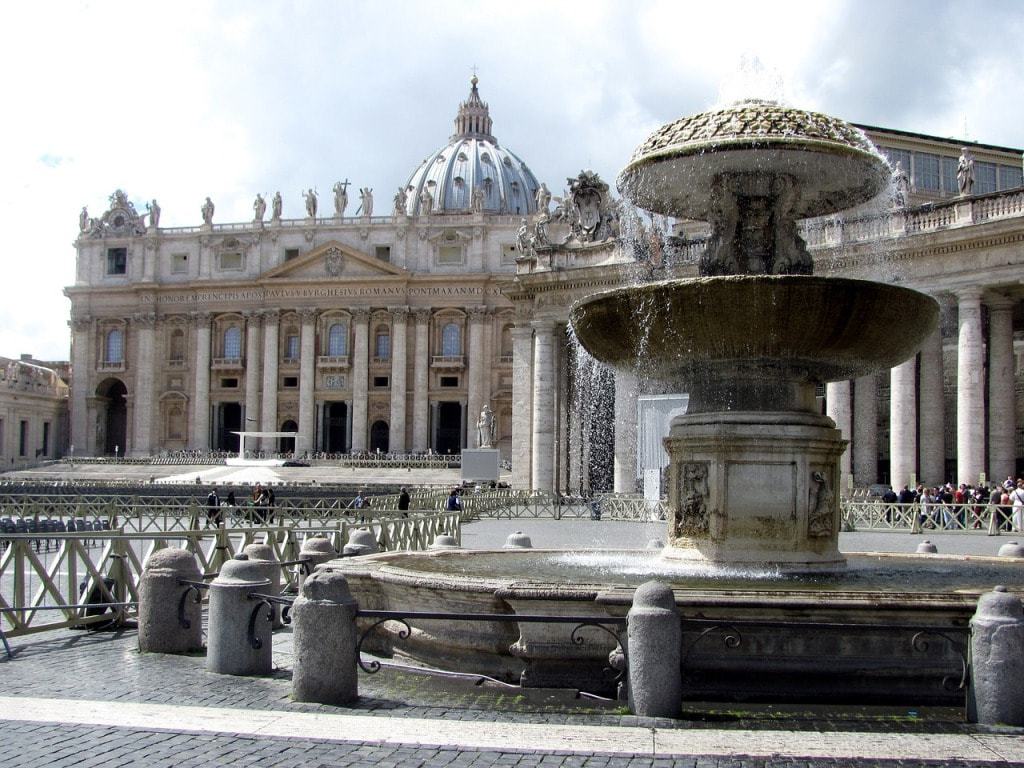 Leave the Vatican by walking along the majestic via della Conciliazione and take one last picture of the Basilica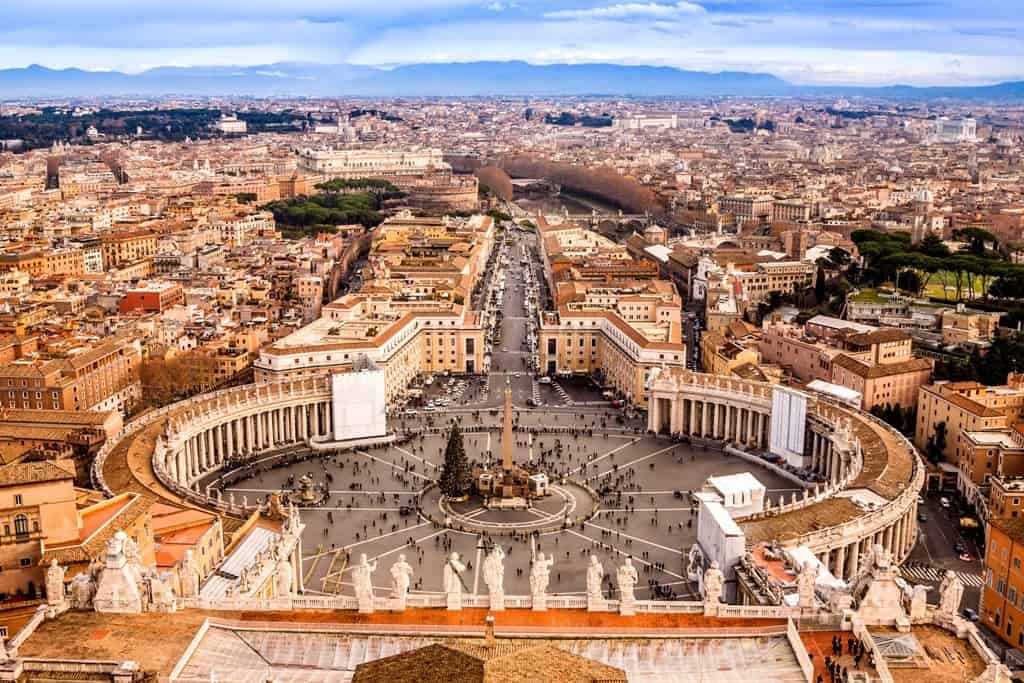 Reach S. Angelo Castle and watch the Tevere river from the homonymous bridge lined with huge stone Angels. Book here your fast-track ticket to Castel San Angelo or a guided tour.
Spend a romantic evening walking along the Tiber river.
Day 8 Rome to Florence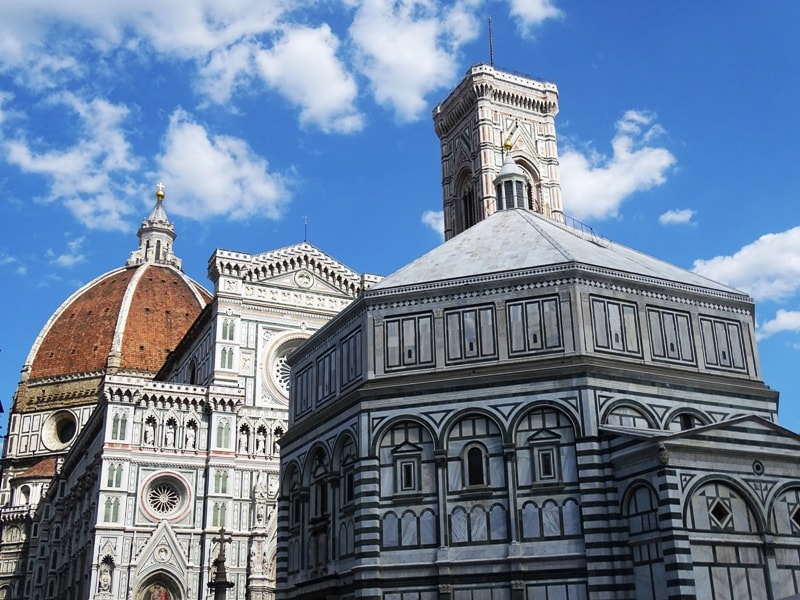 Get up early and catch a high-speed train to reach Florence in about 1h30.
Start your tour from the Duomo Complex, the beating heart of Florence. It consists of: Santa Maria del Fiore (Cathedral), Brunelleschi Dome (belonging to the cathedral), Baptistery, and Giotto Tower. A guided tour of the Cathedral is always a great idea.
Tip: There is a dress code to enter the church. Women must wear clothes covering their knees and their elbows. Men must wear long trousers.

Tip: The queues to enter the Duomo and to climb the Cupola are long and you might have to wait for hours to enter. A great way to skip the lines is by taking a guided tour or if you are using the Firenze Card (The Firenze Card works like a three-day fast pass to your favorite attractions. This is a great option for visitors trying to pack as much sightseeing into a Florence vacation as it lets them skip the long queue lines at most of the most popular sites. It is a great buy if you are staying in Firenze for 3 days).

Here are some recommended tours of the Duomo:

Duomo skip the line guided tour.

Guided Tour of the Duomo Including the Rooftop and View the Terraces
Head to the elegant Piazza della Repubblica with its beautiful Triumphal Arch and the ancient Column of Abundance
Now reach Piazza della Signoria with the iconic Palazzo Vecchio and the famous Loggia dei Lanzi.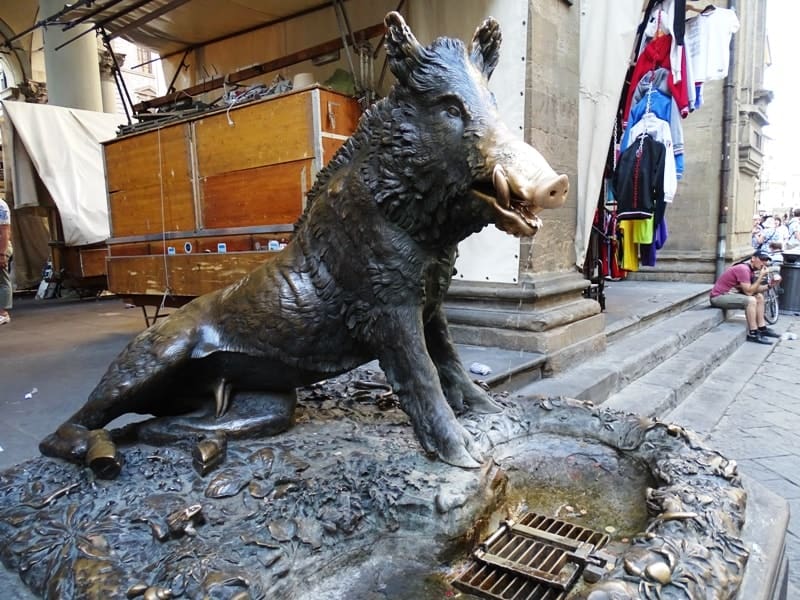 Cross the picturesque Ponte Vecchio, but not before having touched the nose of the wild boar decorating a small fountain nearby (it brings good luck!)
Your last stop will be Santa Croce Basilica, with its marble façade, its frescoes, and the tombs of some famous people like Galileo Galilei and Michelangelo.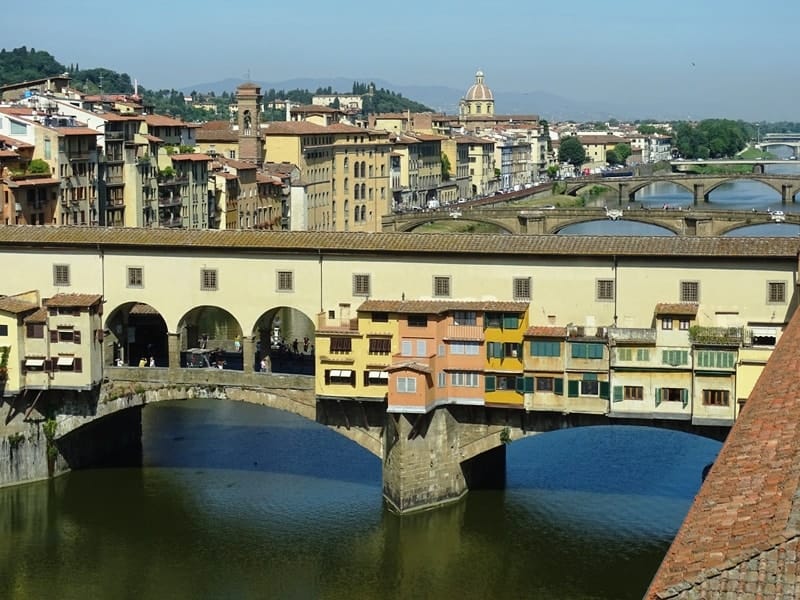 Taste the famous Fiorentina Steak for dinner!
Where to stay in Florence
Tourist House Battistero: This accommodation in a 15th Century building is close to the Ponte Vecchio and the Scudieri Café. You will get a comfortable room with lovely views over the City. Click here for more information and to check the latest prices.

C-Hotels Ambasciatori: You will be close to Florence's main attractions if you stay at this 4-star hotel. It is a chic, modern hotel surrounded by a wonderful history. Click here for more information and to check the latest prices.

Plaza Hotel Lucchesi: Built in 1860, this is 4-star accommodation situated close to the Arno River. You will have lovely views of Florence during your stay.

Click here for more information and to check the latest prices.
Day 9 Florence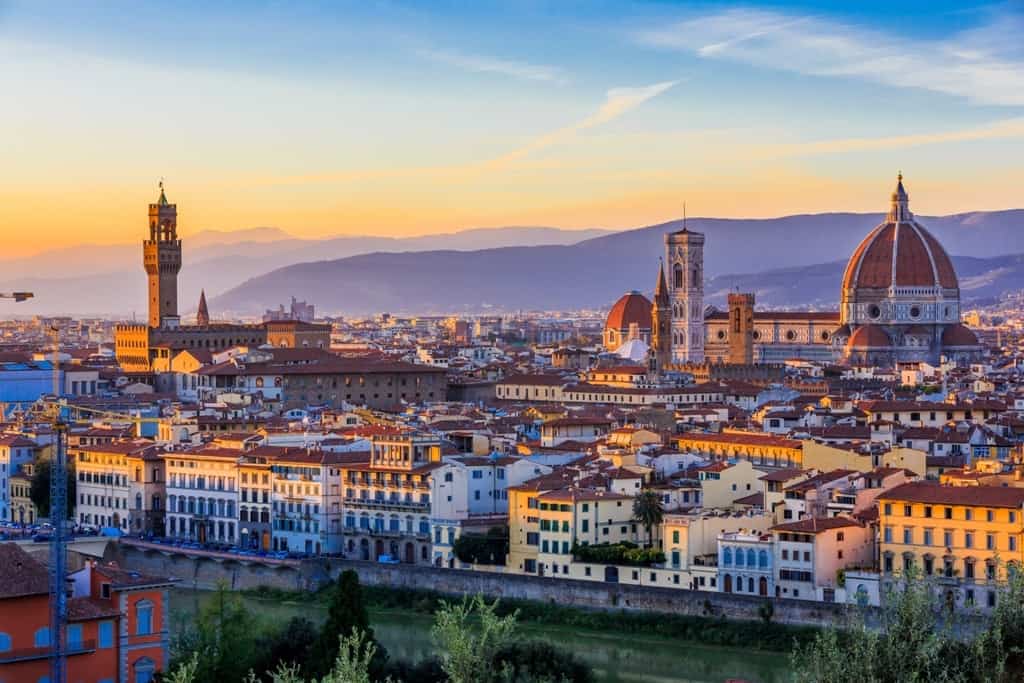 Spend the whole day admiring some of the most famous artistic masterpieces in the world! An example? The iconic David by Michelangelo! Where to find it? In the Galleria Dell' Accademia.
Tip: There are usually long queues for the Accademia. To save time you can either buy a timed entrance ticket beforehand or book a guided tour.

Skip the line entrance ticket to the Accademia

Another great option is to book a skip-the-line half-day tour to both the Accademia and Uffizi.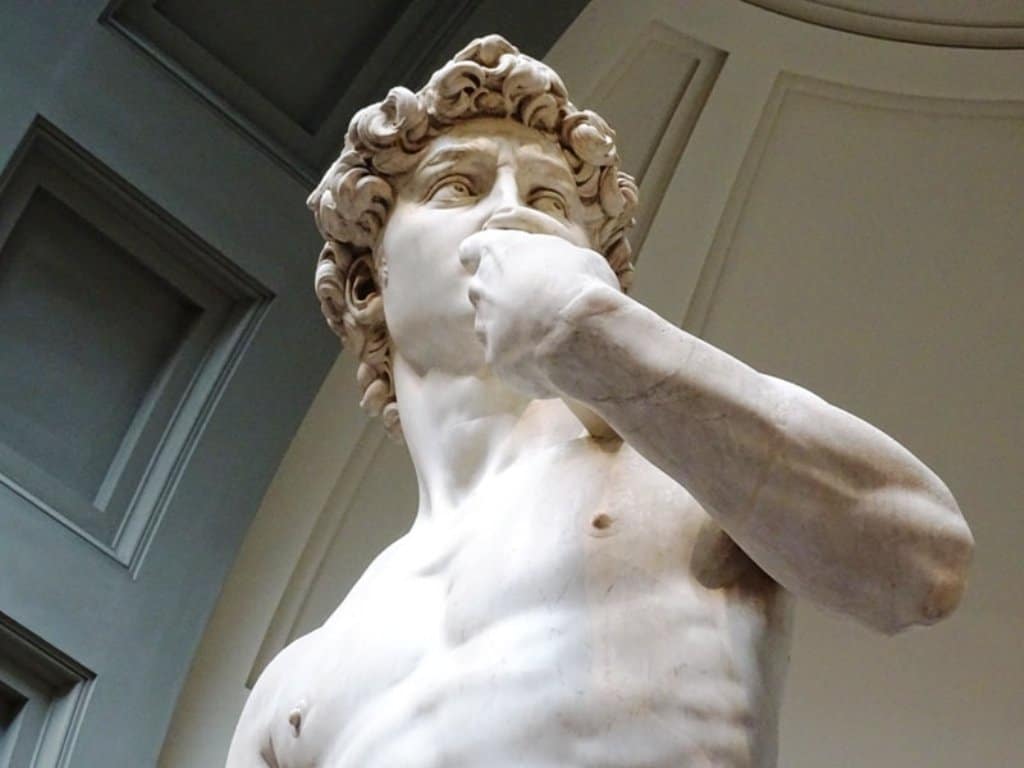 Another iconic museum is waiting for you: the Uffizi. Skipping the endless line at the entrance is a must, but a guided tour is what you really need to see everything without spending the whole day wandering around and getting lost!
Tip: The queues for the Uffizi are long. To save time you can either buy a timed entrance ticket beforehand or book a guided tour.

Here are some great options:

Skip the line Ticket to the Uffizi
Skip the long queue with a guided tour of the Uffizi
As an alternative, you can replace one of these visits with Palazzo Pitti, especially if you love Renaissance art. If you go there, step outside and visit the beautiful Boboli Gardens!
Don't miss the sunset from Piazzale Michelangelo and remember to take a picture of the iconic city's skyline
The Piazzale Michelangelo has become famous because of its wonderful views of Florence and the neighbouring areas. It is equally impressive by night with its flickering lights or as the sunsets.
Check out here my 2 day Florence itinerary.
Day 10 Tuscany Tour or Cinque Terre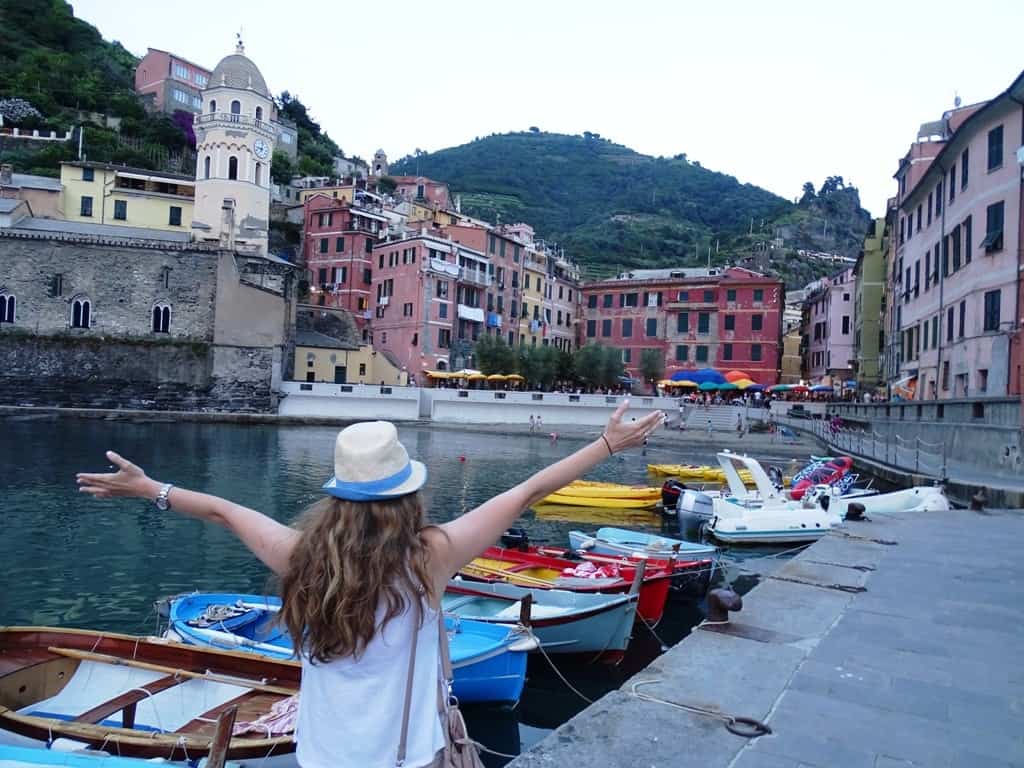 There are interesting day trips from Florence to see the larger region. The choice is yours from a few alternatives:
You might like: How to spend one day in Cinque Terre.
How to get from Florence to Cinque Terre.
The most beautiful hilltop village in Tuscany.
Day 11 Florence to Venice
Get up early and take a high-speed train to reach the third stop of your 14day itinerary in Italy: Venice! Try to be there as early as you can to be able to spend the whole day exploring the city.
Start from Piazza San Marco. Enter the majestic San Marco Basilica and enjoy its golden decorations and its byzantine vibes. It's always extremely crowded, so it's best to skip the line.
Visit also Palazzo Ducale (Doge's Palace) and learn who the famous Doge was
Recommended: Skip the line tour to Doge's Palace & St Mark's Basilica.
Learn something more about the other two landmarks of San Marco Square: San Marco Tower and the Clock Tower. You can enjoy a complete visit to the Square and its monuments by taking a guided tour.
In the afternoon, relax and slowly stroll along the canals. Cross Rialto Bridge and don't forget to take a picture of the Canal Grande!
Your first night out in Venice shall involve some "cicchetti" and an "ombra" in a local "bacaro" (meaning tasting some local tapas and a glass of wine in one of the typical taverns of Venice!)
Where to stay in Venice
Hotel Al Codega: This comfortable hotel has regularly received positive reviews from its guests. That is because of its location close to some of Venice's top attractions as well as the facilities they have found within their accommodation. Click here for more information and to check the latest prices.

Hotel Rio: Hotel Rio is central within Venice so that you will find attractions close by including the Rialto Bridge. The Venezia Santa Lucia Train Station is near and so it is convenient for arrivals and departures. You can expect every modern amenity including satellite TV and Wi-Fi. Click here for more information and to check the latest prices.

Hotel Ai Reali – Small Luxury Hotels of the World: An eclectic mix of Baroque and Neoclassical architecture with plenty of marble, this hotel is among the top tourist selections in Venice. St. Mark's Basilica is just a short walk away; perhaps the first major attraction you will see in Venice if you book here? Click here for more information and to check the latest prices.
Day 12 Venice
Start your day with some Venetian art at the Accademia Galleries. Save at least 2h30 for this visit!
If you love modern and contemporary art, replace this visit with a tour of the Peggy Guggenheim Collection. Click here to book your skip-the-line tickets.
Spend the afternoon visiting the smaller islands of the Venetian Lagoon: Murano, Burano, and Torcello. They are well connected to Venice by water taxi, but you can also choose a combined tour Find here more information and book a cruise to Murano, Burano, and Torcello islands.
The perfect Venetian night? It shall start with a romantic gondola ride. Find here more information and book a 30-minute gondola ride.
Check out my detailed post about 2 days in Venice.
Day 13 Venice to Milan
Today, you'll reach the last stop of your14day itinerary: Milan! You can reach it in about 3h by high-speed train
Since you only have 1 day left, focus on the city center and start with the symbol of the city: the Cathedral in Piazza Duomo. This gothic masterpiece deserves a thorough visit and you should absolutely climb up to the rooftop to take in a breathtaking view of the Alps and to see the golden Madonnina (a golden statue of the Virgin Mary protecting the city).
To make the best of your time, choose a fast-track Milan Cathedral and Terraces Guided Tour.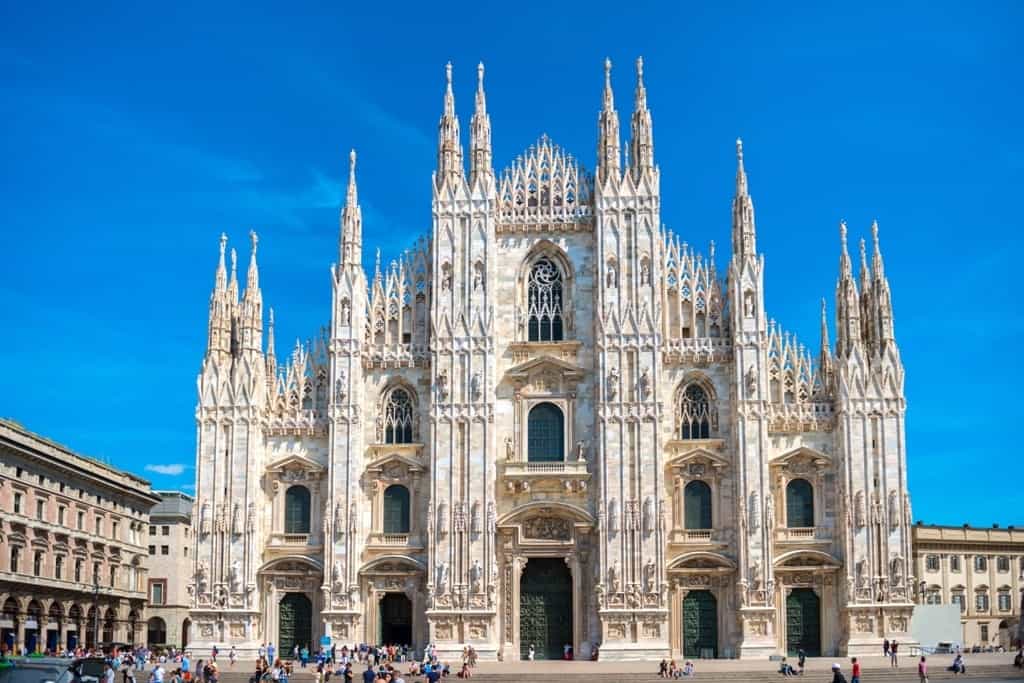 You won't probably have enough time for a visit, but you should spend a moment to watch the medieval Sforza Castle.
Take a moment to also enjoy some nature and get out of Milan's crazy traffic in the lovely Sempione Park!
How to spend your last night in Italy? At La Scala Theater of course! It doesn't need to be super expensive, just have a look at the discounted shows offered by ScalAperta – Teatro alla Scala. Check the regular schedule at Teatro alla Scala
Where to stay in Milan
NYX Hotel Milan: This 299-room hotel near the Central Station is close to a number of the City's attractions; "La Scala" Opera House, the Sforzesco Castle and"Golden Triangle" (Quadrilatero Della Moda). There is a bar, restaurant, gym, and Wi-Fi. Click here for more information and to check the latest prices.

Mandarin Oriental Milano: This 104-room hotel takes up four 18th Century buildings in Quadrilatero della Moda. Its elegant décor, spa, pool and gym, and excellent service combine with a Michelin-starred restaurant, one of two in the hotel, to provide a memorable stay in Milan, no matter how brief. Click here for more information and to check the latest prices.
You can also check my one day Milan itinerary.
Day 14 Fly Home
Book your flight in the afternoon to be able to enjoy an unmissable artistic masterpiece also included in the UNESCO's World Heritage List: The Last Supper by Leonardo da Vinci. It is kept in the Cenacolo Vinciano, which is part of the monastery of Santa Maria delle Grazie. Visitors are admitted a few days a week and in small groups, so plan your visit in advance (Last Supper, Leonardo Da Vinci | Cenacolo Vinciano Official Website). As an alternative, take a guided tour.
Time to fly home! Reach Malpensa international airport by bus (By Coach | Milan Malpensa Airport (milanomalpensa-airport.com)) or by train (By Train | Milan Malpensa Airport (milanomalpensa-airport.com)) and say bye to Italy…or better, see you soon!
TRAVEL TIPS
🚗 Rent your car in advance
with Rentalcars and make your trip as convenient as possible
✈️ Book your flight in advance
To find the cheapest flights and most suitable option, use WayAway
🧾 Get your tickets and tours
with Viator and get the most out of your journey
Looking to extend your trip to Italy? Check out the following

20 Northern Italy cities you should visit.

One day in Verona.

Best Towns on Lake Como.

Things to do in Lake Garda.

Best towns in Lake Garda.