Lake Garda, situated in Northern Italy, is a quaint part of the country known for its rugged landscape and translucent water. Besides its natural wonders, it's also filled with historic palaces and ancient archeological sites. You'll find that Lake Garda is surrounded by charming towns that each have their own personality. This article will explore more behind the best towns in Lake Garda, Italy and what you can experience while visiting there.
The Best Towns in Lake Garda
Sirmione
This resort town rests on the southern edge of Lake Garda. It is known for its ancient structures, and impressive natural landscapes. When here, you can visit many of the archeological sites on the island, like the Grottoes of Catullus. This ancient Roman villa was built in the 1st century B.C. and you can still see part of it with the few ruins remaining. It is believed to have been the villa of Roman poet Catullus.
Another popular place to visit in the town is Scaligero Castle. This 13th-century structure is considered to one of Italy's best preserved castles. It towers over the town and offers stunning views of Sirmione and the lake from its tower.
You might also like: Lake Como, or Lake Garda?
In addition to this, this town offers stunning beaches you can relax on, like Jamaica Beach. This beach is one of the most popular in the town thanks to its cliffs and tranquil water. It also has healing thermal waters at the many spas located around the town you can relax in.
Malcesine
Malcesine is located on the eastern part of Lake Garda and is well-known for its collection of medieval structures. The town is filled with cobblestone streets that wind around various shops and homes in the area.
This town also offers a variety of outdoor activities you can enjoy. You can take a cable car up to its highest point, Monte Baldo, where you can get panoramic views of the town and lake. If you're feeling a bit more adventurous, you can rent a bike and ride up the hill yourself.
If you're looking for some interesting things to view while here, you can stop by Porto Vecchio, which is known for its sculptures and restaurants. There's also the Sanctuary of Madonna Della Corona, a church built into the edge of a mountain during the 1600s.
After touring the town, you can stop by a local bakery to try Malcesine's famous limoncello. It's also a great spot in Italy to try some fresh pasta and local spremuta.
Riva del Garda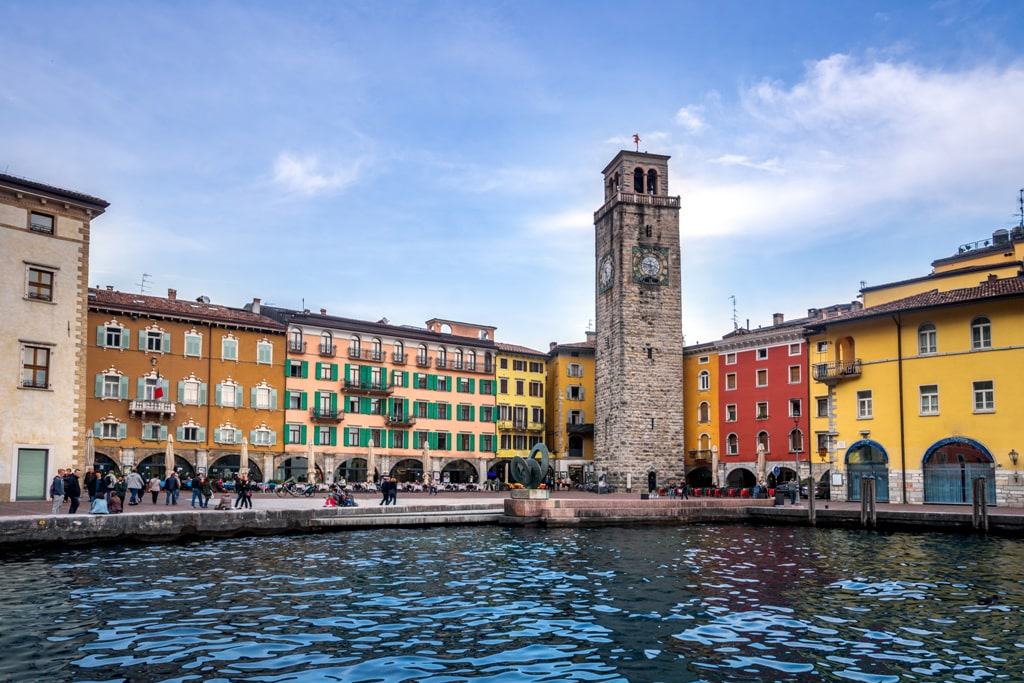 Riva del Garda is a charming little town known for its strong winds due to it resting at the end of Lake Garda. Because of this heavy wind, it's a popular spot for windsurfing. Riva del Garda is also home to many beautiful sights, like the Torre Apponale, a 13th-century clock tower. There's also the Rocca which is a local museum that tells the history of this Lake Garda town.
Another interesting place to see while in the town is the Hydro-Electric Power Station. This structure was built in the 1920s as a way to help send electricity through the town. Riva del Garda is also home to some stunning churches, like the Church of S. Maria Assunta, which is known for its Baroque architecture. After touring the town, you can also stop by one of the town's many cafes to try some homemade gelato.
Bardolino
This town is known for its colorful houses that are covered in fragrant wisteria vines. At one point, it was one of the top areas in Italy for wine thanks to its unique tasting grapes. You can still view many of the local vineyards scattered around the town and take a tour of the land while trying some of this delicious wine yourself.
Besides wine, Bardolino is also packed with ancient churches you can wander through. One in particular is the Church of San Severo. Built in 893 A.D., it is known for its faded frescos and carved columns. After touring the church, you can head over to the Piazza Matteotti which is just a few steps away. Here, you'll find a handful of shops you can browse through that sell everything from clothing to ceramics.
Lazise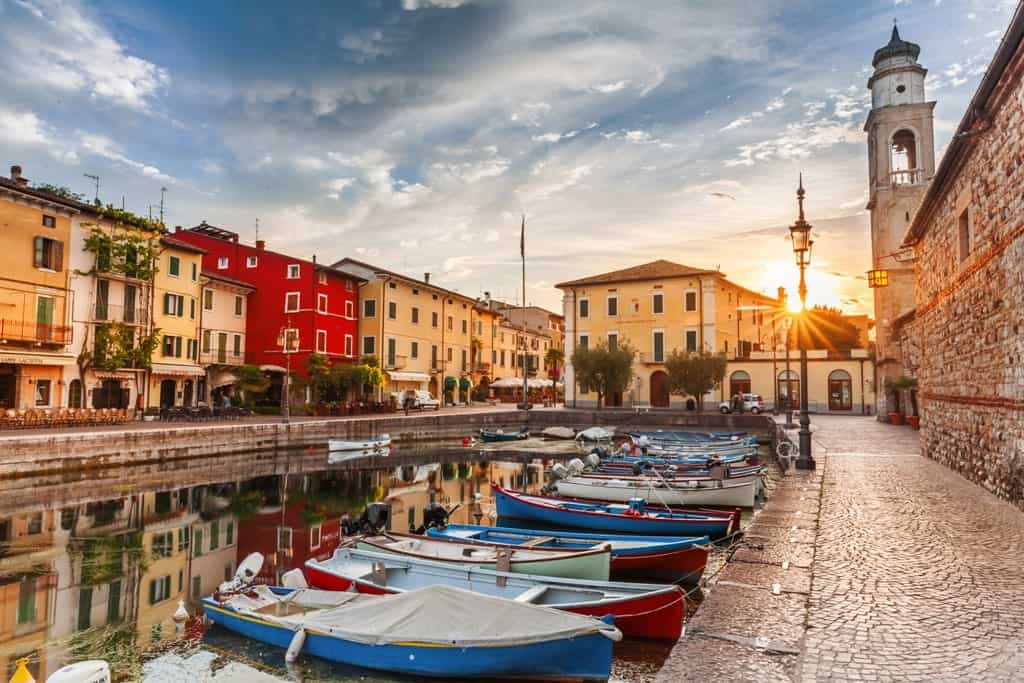 Lazise might be a small town, but it's filled with numerous things to do and see. Situated on the eastern side of Lake Garda, Lazise is known for its old town which is filled with narrow alleyways and stunning piazzas. You'll also be able to catch a glimpse of ancient villas that line the streets, many of which date back to the 14th-century.
One of the best places to visit while in Lazise is the Garda Thermal Park. This picturesque place is surrounded by lush vegetation and steaming water that you can swim around in. When you're done swimming, you can relax in the chairs lined around the thermal pool or head over to its Winter Garden Pavilion which gives stunning views over the park. After touring this park, you can stop by the Church of San Niccolò. This church features old frescos, including one from the 13th-century.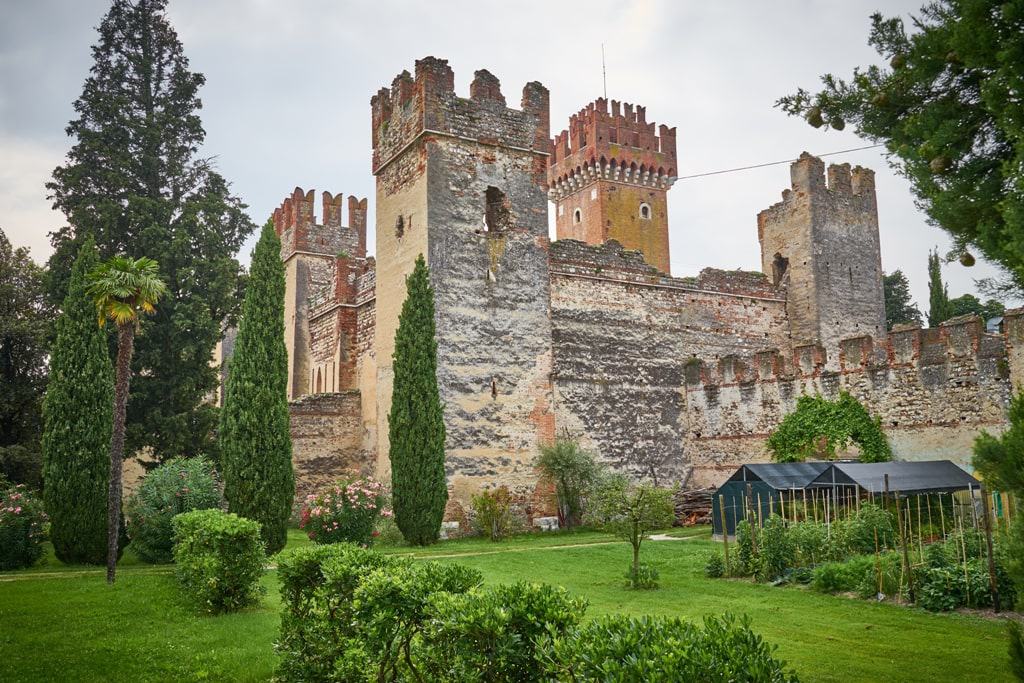 When in this town, you'll also want to be sure to try some of its culinary delicacies. Some of the most popular being its fresh olive oil and grilled fish.
Garda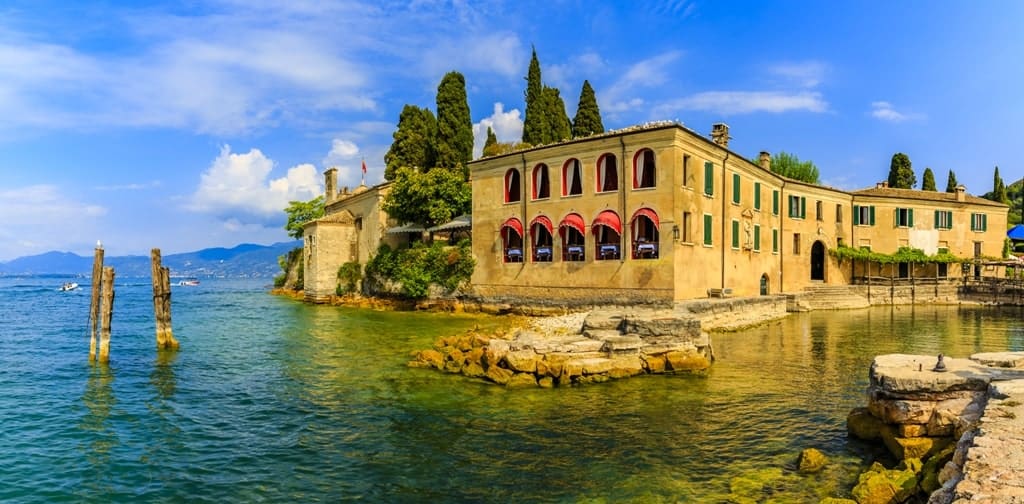 This resort town is filled with old Venetian villas and even ancient rock etchings that are carved into various boulders around the town. A popular villa to visit while here is the Palazzo del Capitani which features a large courtyard and massive archways.
Location within the town is the famous Punta San Vigilio. This peninsula stretches into Lake Garda and is filled with small chapels and villas. It's situated near the legendary Sirens Bay which features large pebbles resting beneath clear water. Garda is also known for its weekly market that sells a variety of local products you can try, like olives and wine.
You might also be interested in: Things to do in Lake Garda.
Desenzano del Garda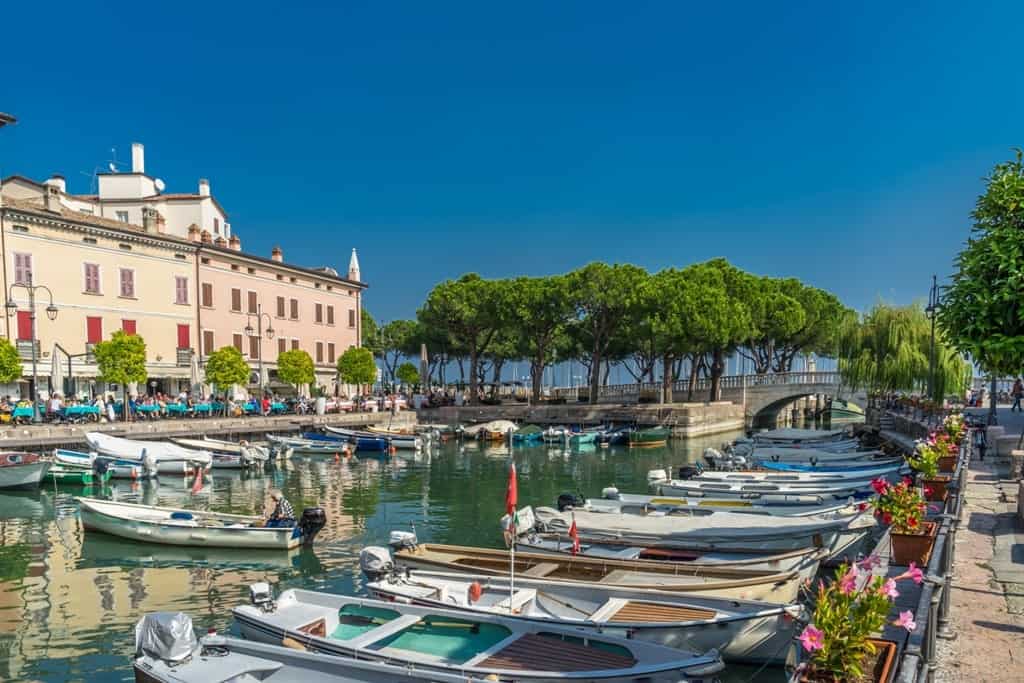 Situated on the southern edge of the lake, Desenzano del Garda is known for its churches that are filled with vibrant mosaics. One church to check out while here is Duomo Di Santa Maria Maddalena which offers an incredible array of paintings and intricate architecture.
You can view many of the artifacts found around the town during archeological digs in the Antiquarium. Inside this museum, you'll find exhibits that showcase items found throughout the town and their history. Many of the large items in this museum feature small walkways you can take so you can get close to the mosaics and frescos to see them even better.
After exploring Desenzano del Garda, you can hop on a local ferry boat for a ride out on Lake Garda. It not only provides spectacular views of the area but is a fun way to get around.
Limone sul Garda
Limone sul Garda is built beneath large cliffs that provide a stunning backdrop to the town's colorful houses. This town is known mainly for its lemon groves. While not as popular as they once were, the town still has many of these lemon groves you can explore. A great one to visit is at the Limonaia del Castèl which features lemons growing on terraces and roofs. It's quite a romantic spot to visit.
After touring the town's lemon groves, you can take a short trip over to Limone's oldest church, the Chiesa di San Pietro. This 12th-century church is extremely small but will give you anintriguing history lesson with its ancient architecture and courtyard.
Peschiera del Garda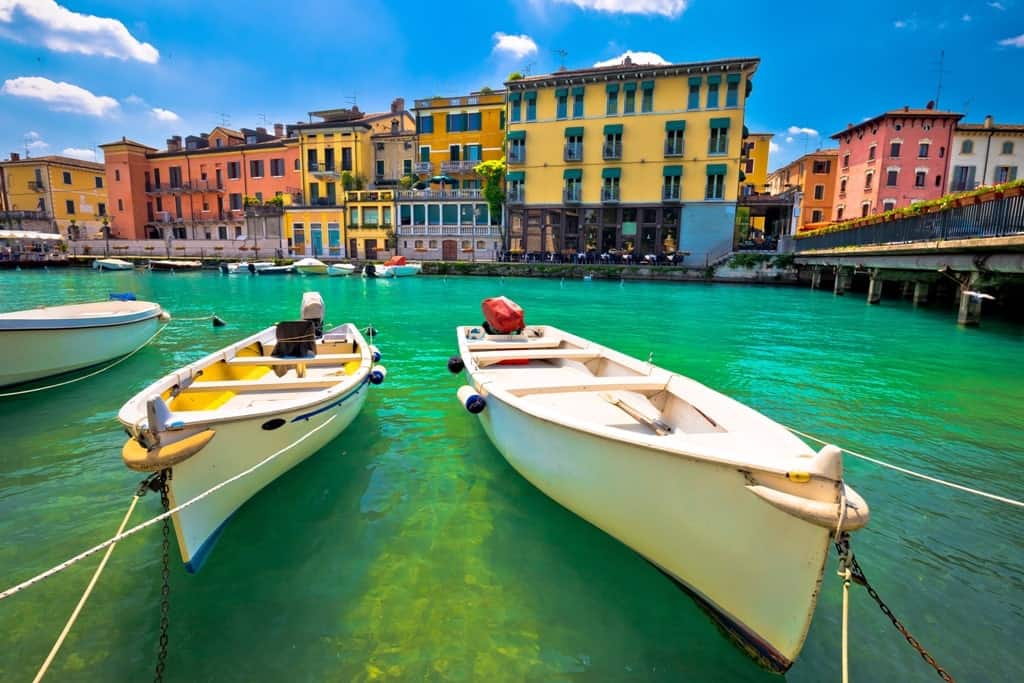 This town lies on the southern edge of Lake Garda and is known worldwide for its Porta Verona. This 16th-century structure welcomed guests to the town with its massive walls. You'll find many other architectural marvels in the town you can explore, like the Madonna del Frassino Sanctuarywhich is known for its ancient cloisters.
Peschiera del Garda is also home to a nature reserve called the Lago del Frassino which is a popular spot with many migratory birds when they stop by for the winter. While here you'll also want to stop by Bracco Baldo Beach, an animal-friendly area that has stunning views of the lake.
Torri del Benaco
If you're looking for a tranquil getaway, Torri del Benaco is a town to check out. The town consists of mainly medieval structures that overlook the nearby lake. It also is home to a historic lemon grove called Limonaia which started in 1760. In addition to this, you can also stop by Santi Pietro e Paolo, a church known for its historic organ.
There's also the Grotta Tanella which are caves filled with various types of stalagmites. The town is also known for its agritourism and you can stop by old farmhouses to learn more about traditional farming methods and even try out some handpicked olives and lemons.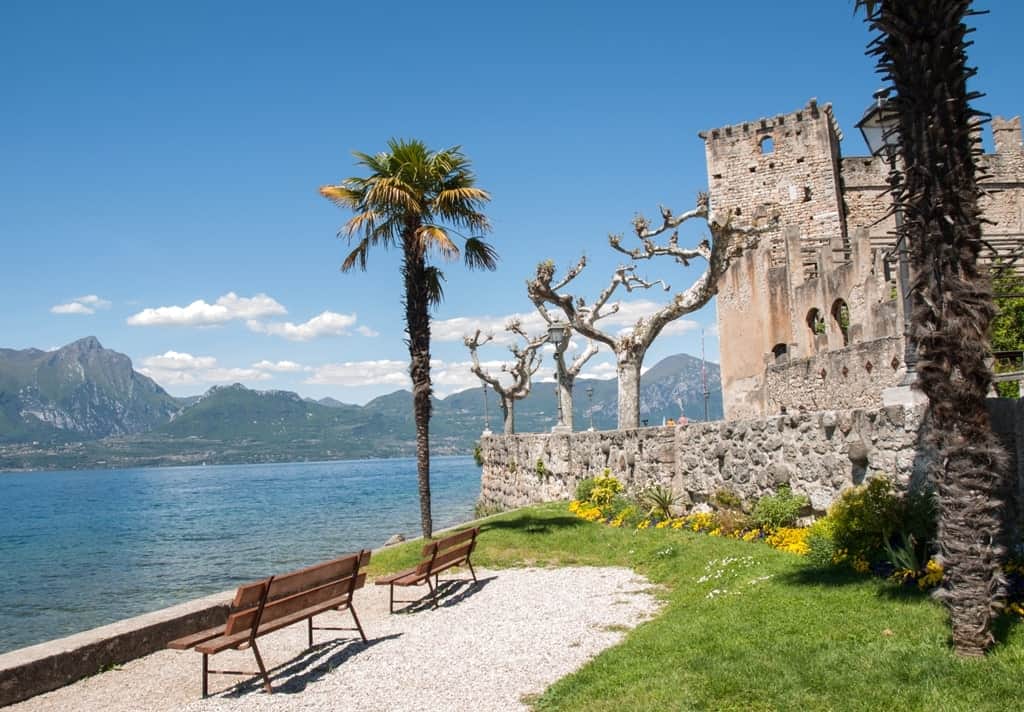 Do you want to extend your trip to Northern Italy? Check out the best cities to visit in Northern Italy.
If you're planning to venture to Lake Garda, definitely be sure to check out some of the local towns while here. They are each unique in their own way and will be an incredible adventure for you to explore. You'll be taken away by their breathtaking views and historic structures that are sure to dazzle you.