As the largest lake in Italy, Lake Garda is one of the top destinations in the country for many reasons. It not only is filled with charming little towns but features stunning landscapes and unique cultural activities you can partake in. If you're planning a trip to this beautiful section in Italy, you can find some of the best things to do in Lake Garda below.
The Best Things to Do in Lake Garda
Tour the Scaligero Castle in Sirmione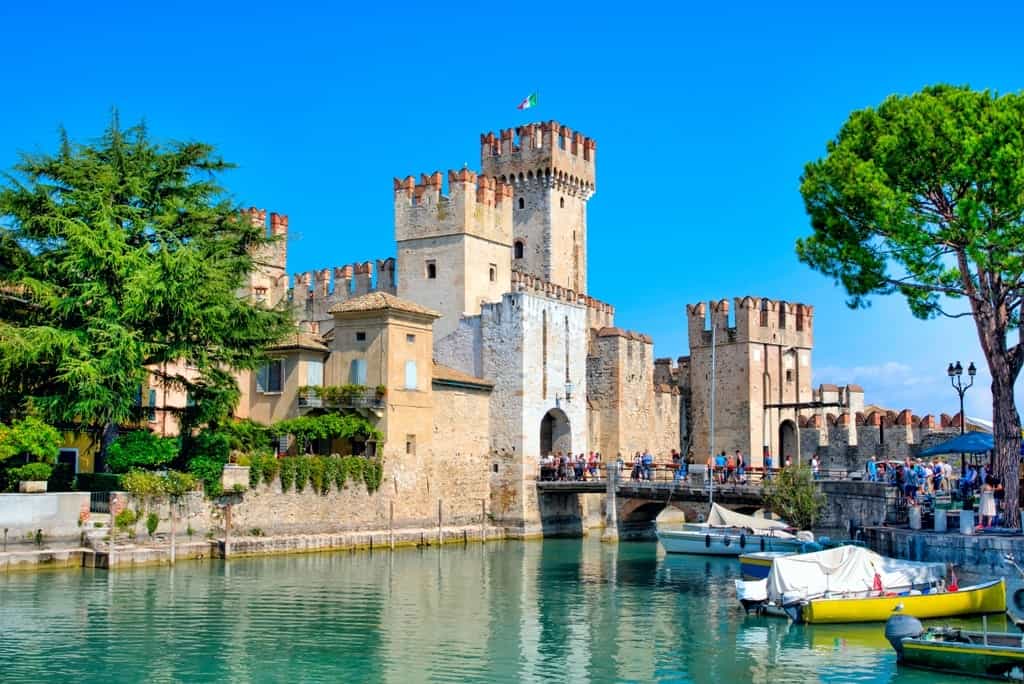 The Scaligero Castle in Sirmione is a former fortress that is considered to be one of Italy's best-preserved castles. Built in the 13th-century, this castle features many rooms and areas you can explore, like the dungeon tower and drawbridge. The drawbridge features a staircase on the side which you can climb up to get panoramic views of the town below you.
You can also check out the doors of the castle which are known for their intricate locks and metal gates. This castle is also surrounded by water, so you'll see a few boats lazily float by while exploring it.  You might also catch a glimpse of a few swans enjoying a swim in its waters.
Explore the Grotte di Catullo in Sirmione
These Roman ruins were first built in the 1st-century B.C. and now serve as an archeological park. As the former part of a villa, it is located on the edge of the Sirmione peninsula, so while exploring the beautiful ruins, you'll also get incredible views of the nearby lake. When you're done touring the grounds you can stop by the nearby museum which houses many of the artifacts found during excavations at the Grotte di Catullo as well as other places around Lake Garda.
Take a Ride on the Malcesine Monte Baldo Cable Car
If you're looking to get incredible views while in Lake Garda, you can take a ride up the Malcesine Monte Baldo Cable Car. Open for 10 months during the year (mainly spring to fall), the cable car is created with a circular design and is covered in glass you can get views at all angles. Each ride takes about 30 minutes and will take you to the edge of Monte Baldo which is part of the Italian Alps.
Once you arrive at the top, you can exit the cable car to take a hike through the mountain, or stay on the cable car to be brought back down. Keep in mind that tickets are required in order to enter the cable car and prices range depending on the section of the mountain you plan to get out at. If you plan to bring a bike with you, there is also an extra fee.
Wander Around Vittoriale Degli Italiani – The Italian Vittoriale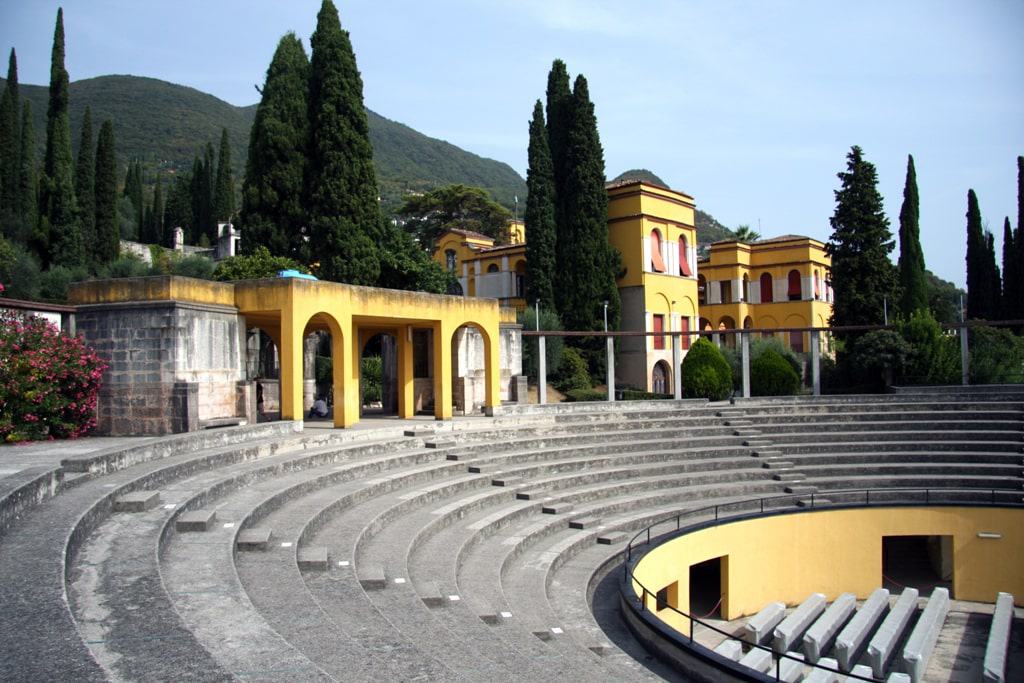 This breathtaking estate overlooking Lake Garda was once home to Gabriele D'Annunzio, an Italian writer. This writer was known for his eccentric tastes which can be seen with the various decorations and garden designs around the home. You can tour the various structures on the property, like The Prioria and The Amphitheatre.
There's also the Puglia, an old boat that sticks out from the hillside. You can even see Gabriele D'Annunzio's photographic collection which contains vintage photos of the Vittoriale Degli Italiani being built. After touring the home, you can wander through its many outdoor terraces which are surrounded by cypress trees and other native plants.
See the Scaliger Castle in Malcesine
The Scaliger Castle in Malcesine is a towering medieval structure that overlooks Lake Garda. The castle has been destroyed many times throughout history due to fires and has been a fortress for many different countries, such as France and the Republic of Venice, when they once ruled over the land.
You can take a tour of the castle to learn more about its history and to see its various rooms inside. You can tour the Casermetta, which is where the guards once lived, and even climb up to a gunpowder magazine area that has been converted into a room dedicated to Goethe. You can also stop inside the chapel which is located on the lower portion of the castle and features a few faded frescos inside.
There's also the tower which you can climb up to get amazing panoramic views of the lake and castle courtyards. Besides the historical rooms, the castle is also home to the Museum of the Venetian Galleys and the National History Museum of Mount Baldo and Lake Garda.
Take a Tour of Isola del Garda
This island is the biggest island on Lake Garda. It's known for its untouched natural landscape that's dotted with historic homes. One of the most popular structures to visit is an Italian villa that features neo-gothic architecture and was built during the early 1900s.
After walking through the villa, you can explore its fragrant gardens which feature colorful peonies, olive, and lemon trees, and the stunning Lady Hillingdon rose. There's also a park you can visit on the island which is home to numerous types of trees and known for its hidden lakes and streams.
If you want to make sure you don't miss anything while here, you can sign up for a guided tour of the island. However, tickets are required for this and the tours start at various times throughout the day.
Explore Marmitte dei Giganti
These massive glacier potholes were created due to extreme rock erosion over time, although a local legend says they were a popular place for giants to get their water. You can view these massive rocks and see the strange twisting design carved into them due to the erosion. You can also see its main wells which have been found to hide many ancient arrows and ceramic pieces.
See Arco Castle
Arco Castle soars above Lake Garda and overlooks the lake and nearby Sarca Valley. This medieval castle was once home to the Arco Counts and features an intricate architecture. You'll find a few paths you can take to climb up to the castle, all of which offer amazing views. You might even pass by some ancient olive groves on your way up.
While in Arco Castle, you can explore its rooms inside, like the Prato della Lizza, a balcony that offers panoramic views of the area, and the Torre Grande which has beautifully preserved frescos on its walls. You can also climb up to the top of the castle to seethe Torre Renghera which is home to some bells that once rang out through the town to call the locals to prayer.
Enjoy a Boat Tour on the Lake
When in Lake Garda, one shouldn't forget to explore the lake itself. You can hop on one of the many boats that offer tours around the lake. Many boat tours will also take you to a few towns located beside the lake so you can experience each place for yourself.
See Parco Natura Viva
The Parco Natura Viva is a safari park known for helping to protect many different types of endangered animals. This large park is divided into different sections, like Oceania and Europa, which cater specifically to animals that live in those environments. In addition to the animals, the park offers a variety of restaurants you can grab a bite to eat at. There are also peaceful picnic areas located around the grounds which allow you to sit in the grass and eat your meal while watching the animals.
Have Fun at Canevaworld
Canevaworld is another fun amusement park located in Lake Garda. It offers a variety of water rides you can enjoy, like a lazy river and massive waterslides you can cruise down. The park is divided up into various sections so you'll find something that perfectly matches your preferences. For instance, there's Playa de Coco which is designed to mimic a serene tropical beach and the Relaxing Geiser which contains numerous Jacuzzis you can enjoy.
Visit the Gardaland Amusement Park
This amusement park first opened in 1975 and is known for its wild rides and fun themed atmosphere. When you're done enjoying its many rides, you can stop by one of the restaurants scattered around the park.
Besides its rides, this park is also home to an aquarium that features over 5,000 different sea creatures. The park is also home to many fun activities throughout the year, like a winter wonderland for Christmas and spooky Halloween party during October. There's also a Blue Lagoon which is a spa getaway for guests featuring things like a hydromassage and peaceful waterfall. You'll also find some hotels you can stay in while here, like the Gardaland Magic Hotel which is designed with various magical themes and creatures.
Spend the Day at Movieland Studios
Movieland Studios is a family-friendly theme park that is designed to look like a movie studio. You'll find many fun attractions here, like the Kitj Superjet which will take you on a wild boat ride. You can even test your acting skills by taking part in a live movie shoot that mimics a 1970s police drama. Besides thrilling rides, the park also offers a variety of shows you can watch. You'll find everything from magic shows to one that takes on the Wild West.
When you're done exploring the park, you can stop by one of its themed restaurants for a meal. Tickets are required in order to enter the park, all of which vary in their prices.
Tour the Giardino Botanico Fondazione André Heller
This botanical garden is home to many unique species of plants. It features lush vegetation and is divided up into different types of gardens, like Alpine and Zen. The park is filled with numerous pathways you can wander down which will take you by bubbling streams and fragrant flowers. Hidden within the landscape, you'll also find pieces of artwork created by artists around the globe.
Take a Day Trip to Verona
Located next to Lake Garda is Verona, a charming city in Italy known for its rich culture. You can take a quick day trip to this city to see things such as the 14th-century house that is believed to have inspired Shakespeare to write Romeo and Juliet. You can also stop by the Piazza delle Erbe which is one of the many squares in Verona and known for its variety of shops and cafes.
Click here for more information and to book this tour.
You might be interested in: How to spend one day in Verona.
Do a Wine and Grappa Tasting
Lake Garda is home to many vineyards, and one of the best places to try some of its exquisite wine and Grappa is at the Marzadro Distillery. You'll be taken on a five-hour tour of the grounds and get to try a few types of wine and Grappa during it. You'll even be given a tour of the wine cellar and learn more about how they make their wine.
Click here for more information and to book this tour.
Take a Day Trip to Venice
Not far away from Lake Garda is Venice making it the perfect spot for a day trip. This romantic city is about two hours away from Lake Garda and is full of charm and history. While here, you can take a gondola ride down its winding canals or visit one of its many art museums. You can also stop by St. Mark's Basilica which is considered to be one of the best examples of Italo-Byzantine architecture in the world.
Click here for more information and to book this tour.
You might want to check out my post: 2 days in Venice.
Take a Day Trip to the Dolomites
Another great day trip to take while in Lake Garda is to the Dolomites. These stunning mountains tower over the nearby village called Ortisei. You can visit this village to learn more about its unique woodcarving traditions and see its stunning wooden homes. You can sign up for tours of this area so you can fully experience this village to the fullest.
If you want more information on this beautiful area of Italy, check out this Dolomites Guide.
Click here for more information and to book this tour.
If you want to extend your trip to the area you can check my post: The most beautiful towns in Northern Italy.
A trip to Lake Garda will help you to experience Italy in a unique way and dive into its culture even more. You'll find many things to do here, like exploring castles and taking hikes through well-preserved parks. No matter what you plan to do in Lake Garda, you can be sure it will be an unforgettable experience.
You might also like:

Most Beautiful Towns in Lake Garda

Lake Como or Lake Garda

Most beautiful towns in Lake Como