This post is also available in: French
From Juliet's famous balcony to museums and archeological sites, there is so much to explore in Verona, Italy. Don't worry if you're short on time – with this guide of things to do in Verona in one day; you'll be able to fit in all the highlights and still have time to relax at a local cafe. 
What Is So Special About Verona, Italy?
A stop in Verona, in the northeastern part of Italy, is a must while traveling through this incredible country. This lovely medieval town is well known for its many archaeological sites and famous opera. It is even said to be where Shakespeare's Romeo and Juliet is to have taken place.
It is easy to spend a day in Verona exploring the museums and churches and taking in the culture of this interesting city. I have been to Verona twice, and I would love to go back, so if you find yourself having a day to spend in this beautiful town, here are some things you'll want to check out:
Is 1 Day in Verona Enough?
Since the city is so walkable and many attractions are close to each other, you can certainly see a lot within a day in Verona. Of course, it's nice to have 2 or 3 days but if you're on a whirlwind trip and one day in Verona is all you have, take advantage of it!
You can easily cross off the major bucket list items, appreciate the architecture, and sample local food and wine in a day in Verona.
Or you may see just enough of the city to fall in love and want to return!
Where to stay in Verona
If you decide to spend the night in Verona, I recommend the following hotels.

Hotel San Luca: Conveniently located in the historical center of Verona, and just steps from the Arena of Verona, friendly staff and an abundant breakfast make this hotel great!

Click here for more information and to check the latest prices.

Hotel Giulietta e Romeo: Beautiful rooms make this 3-star hotel feel like a 4-star! Its central location in the heart of Verona and easy access to sites and shops make it a fantastic choice.

Click here for more information and to check the latest prices.

SHG Hotel Verona: Enjoy the peace and quiet outside of the city center with free on-site parking. A 5-minute drive or excellent public transportation makes getting to the heart of Verona a breeze.

Click here for more information and to check the latest prices.
What to see in Verona in one day
After visiting Verona a few times myself, here's what I would choose to do with just one day in the city. 
Be in Awe of the Roman Arena in the Piazza Bra
The Piazza bra is the largest piazza in the country and a perfect place to visit the many cafes and restaurants while strolling under the shade of pine and cedar trees. The great Arena di Verona (aka the Roman Arena) can be found here. This grand amphitheater is where famous gladiators once battled, and hunts of dangerous exotic animals took place.
Though built in the 1st century, it is still commonly used today for many famous operas. This massive, impressive structure is one of the best-preserved ancient buildings of its time and something you won't want to miss while exploring Verona.
Fall in Love at Juliet's House
Romantics and William Shakespeare fans worldwide have made pilgrimages to this brick and stone building with ivy-covered walls. The famous balcony where the lovers, Romeo and Juliet, declared their love for one another can be found here. Love is truly in the air in this romantic location, where love letters cover the entrance to the courtyard.
Tip: Head to Juliet's House as early as possible to avoid the crowds
Enjoy Some Italian Culture in the Piazza delle Erbe
This lively square is surrounded by historical buildings, great restaurants, and bars. It is the perfect site to enjoy a lovely glass of wine and soak in the Italian culture.
Selected Tours in Verona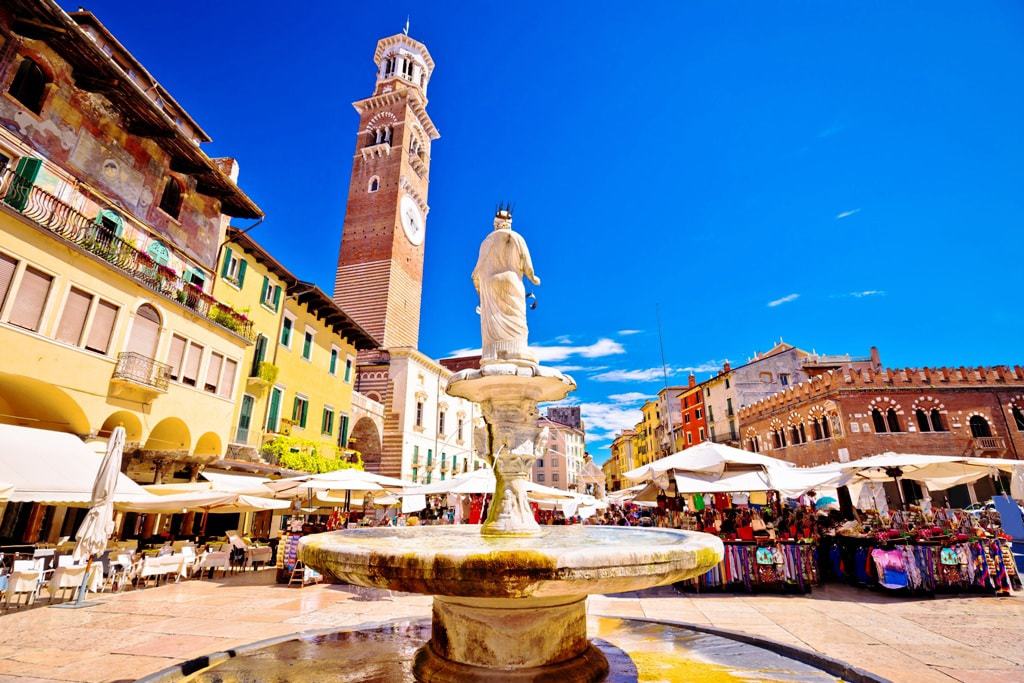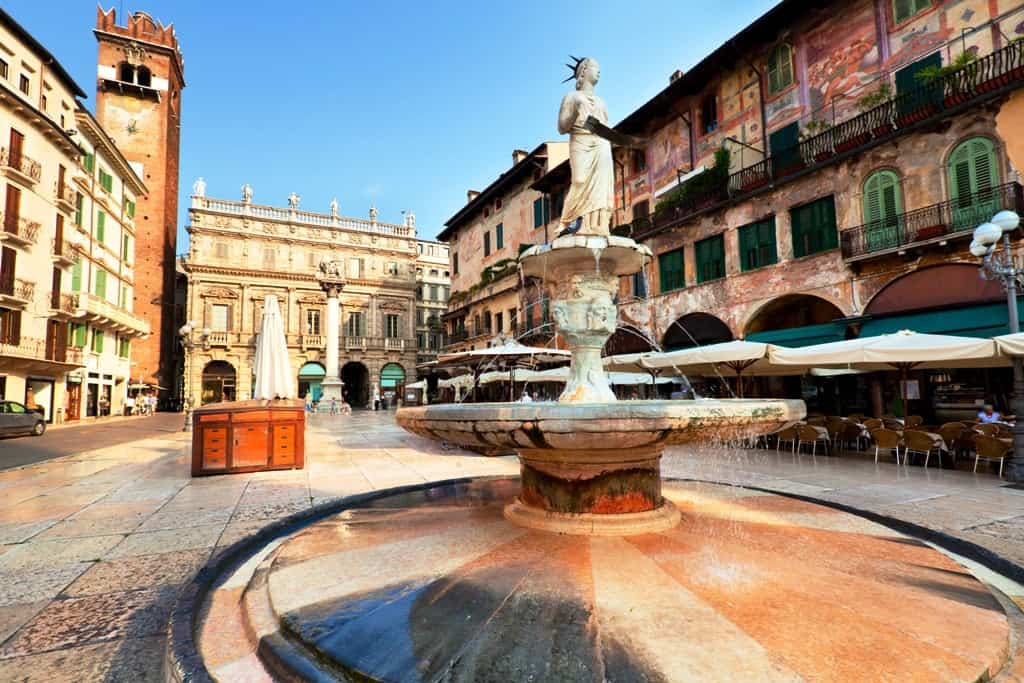 View Verona From the Top of the Torre dei Lamberti
The tower, Torre dei Lamberti, stands tall on the skyline and cannot be missed while visiting the Piazza delle Erbe. This tower was once a residence of the Lamberti family and was built in 1172. Aristocrats once built these towers to show off their wealth and power; however, the Torre dei Lamberti is the tallest.
Covered with bands of brick and marble with an octagonal bell keep perched on the top, it is a sight to see. The tower is open daily from 8:30 AM-7:30 PM, allowing you to ascend to the top to get an incredible view of the city. You can book your skip-the-line tickets here. 
Visit the Piazza dei Signori
This piazza used to be the centre of power in Verona. Bordering this charming square are buildings that once housed the former government. The Scaligeri family's seat of power and the court can both be found here.
Admire the Tombs of the Scaligeri Family
The Scaligeri family once lorded over Verona from the 13th to the late 14th century. The tombs these family members can be found outside the small church of Santa Maria Antica behind a wall with iron grilles. Their Gothic-style, intricately stone-carved sarcophagi are a must-see while visiting the town they once ruled over.
Explore the Majestic Duomo di Verona
This complex is a beautiful and elaborate example of Romanesque and Gothic architecture. The complex is made up of the Chapter Library, the Cloister of the Canons, the Baptistery, the Church St Helena, and the Bishop's Palace. It is located in one of the oldest parts of the city and is an artistic complex you won't want to miss.
The Verona cathedral is called the Duomo Cattedrale di Santa Maria Matricolare. It's located between two bridges on Piazza Vescovado, on the Adige River. Inside, you'll find stunning wall paintings by Titian that have been preserved since the 16th century. 
See the Grand Basilica di Santa Anastasia
If you're not over-admiring the architecture of religious buildings, take a quick 5-minute walk to the Basilica di Santa Anastasia. The 13th-century basilica is home to the famous Pisanello fresco, "St. George and the Princess." 
Enjoy the View from Castel San Pietro
Thought to be one of the most spectacular viewpoints in the city, this is a must-see location in Verona. This breathtaking viewpoint can be reached by hiking or by car and offers an incredible 180-degree view overlooking the town, river, and bridge.
Go Shopping on Corso Porta Borsari
The Corso Porta Borsari is a sacred road into the Roman city of Verona, although today it is also a famous shopping street. The Porta Borsari, a 3rd-century gate, can be found here along with some marvelous wine bars, gourmet bistros, and cafes.
Sample Verona 1 Day Itinerary
Trying to figure out how to fit in all the things to do in Verona in a day? Here's a sample itinerary to help you see everything you hope to see in a day.
And note, you don't have to do EVERYTHING on this list. If you're a traveler who likes to go-go-go and sees as many things as quickly as possible – go for it. But don't feel guilty if you decide just to pick a few things and take your time wandering the medieval streets.
8 am – Visit Juliet's balcony (and try not to say, "wherefore art thou Romeo?") as you're transported into the famous love story.
9 am – Spend the next several hours exploring other nearby attractions – Torre dei Lamberti, Piazza dei Signori, Scaligeri Tombs, etc.
Lunch – Find a cute cafe in Piazza delle Erbe
2 pm – Head to the Duomo di Verona and the Basilica
4pm – Visit Castel San Pietro for the view
6 pm – Head back to the center and shop til you drop at Corso Porta Borsari
Take Advantage of the Verona City Card
To maximize your day in Verona, I recommend taking advantage of the Verona City Card.
The card, which you can buy in advance for under $30, allows you to skip the line at the Arena (which is a huge time saver) and provides free entry to many of the museums and attractions, including Casa di Giuletta and Juliet's Balcony, plus reduced entry fees to a few others.
The city card also gives you free transportation the Urban Line buses within the city.
If you plan on paying to enter a few of the sites, the city card is definitely worth it!
Click here for more information and buy the Verona City Card.
How to Get Around Verona
Verona, Italy, is a very walkable city, and you can get to pretty much all activities on this list on foot. While there are taxis, most of the activities are in the historic centre which has limited traffic. Instead, you can take advantage of the local buses. 
To maximize your day and not do as much walking, you can join the hop-on-hop-off bus, which starts at the Central Train Station and goes to the historic centre. 
For those who love tours, consider a walking tour that not only takes you to the most popular sites but also explains the history and significance. This historical walking tour is great, and this 3-hour tour takes you to the Arena (with a skip-the-line ticket!), Juliet's balcony, and more. 
How to Get to Verona
You can get to Verona by bus, car, and plane.
The Valerio Catullo Airport (also known as Villafranca Airport) is just 10 kilometers from Verona. Flights from North America and Europe fly into VRN on a regular basis. There is a shuttle that runs every 20 minutes and takes you straight to the Porta Nuova station in just 15 minutes.
Verona Porta Nuova is the central train station and is just a 15-minute walk from the historic centre of Verona. Note that there is another station in Verona – the Verona Porta Vescovo – which is not within walking distance of any major attractions. You can check the train schedules here. 
While much of Verona is a limited traffic zone, particularly the historic centre, you can still drive to your hotel from other regions in Italy. If you're not staying at a hotel, you can park at Piazzale Olimpia Parking, though it's best to get there early to ensure a spot.
You can also visit Verona on a day tour from nearby cities. This is a great option if you're pressed for time; though not, you won't have as much flexibility in your one-day Verona itinerary, as the tour will likely have specified stops (though you may get some free time). 
Day tours are available from Milan, Bergamo, and Venice.  
What's The Best Time to Visit Verona In One Day?
Verona is a fabulous city to visit year-round. However, the best times are late spring and early autumn, with mild temperatures and fewer crowds.
July and August are the hottest, busiest months, and I recommend avoiding them if possible, especially if all you have is one day in Verona. You'll find that the lines to the attractions are longer, so you may not be able to see everything. (This would be a great time to buy skip-the-line tickets!) 
June to August is the opera season, and you can visit the Verona Arena Opera when they perform in the amphitheater. 
December is also a great time to visit, as you'll be able to visit the magical Venice Christmas markets!
Verona, Italy, is the perfect city to visit to get your fill of Italian culture. The old roads, elaborate churches, and many piazzas give off the authentic Italian feel you're looking for while traveling through this rich country. If you find yourself traveling through the northeast part of Italy, it is a must to spend a day in Verona.
Did you like this post? Pin it!