Do you feel like exploring Italian lakes?
Are you between Lake Como or Lake Garda?
Italy is more than just cities of art and seaside resorts: discover its beautiful lakes, especially those located in the Northern Regions of the Country! Among the most popular lakeside destinations you can find: Braies Lake (in Trentino Alto Adige), Maggiore Lake (in Piemonte, Lombardia and Switzerland), Fusine Lake (in Friuli Venezia Giulia), Iseo Lake (in Lombardia), other than Como Lake and Garda Lake, of course, which are popular among international tourists too!
Como & Garda Lakes are especially appreciated for some common features like beautiful landscapes, mild climate and picturesque villages, but they also have some specific elements that can help you choose which one to prefer for your Italian vacation.
Lake Como or Lake Garda? Which one is for you and why.
Como Lake. Why should you choose it?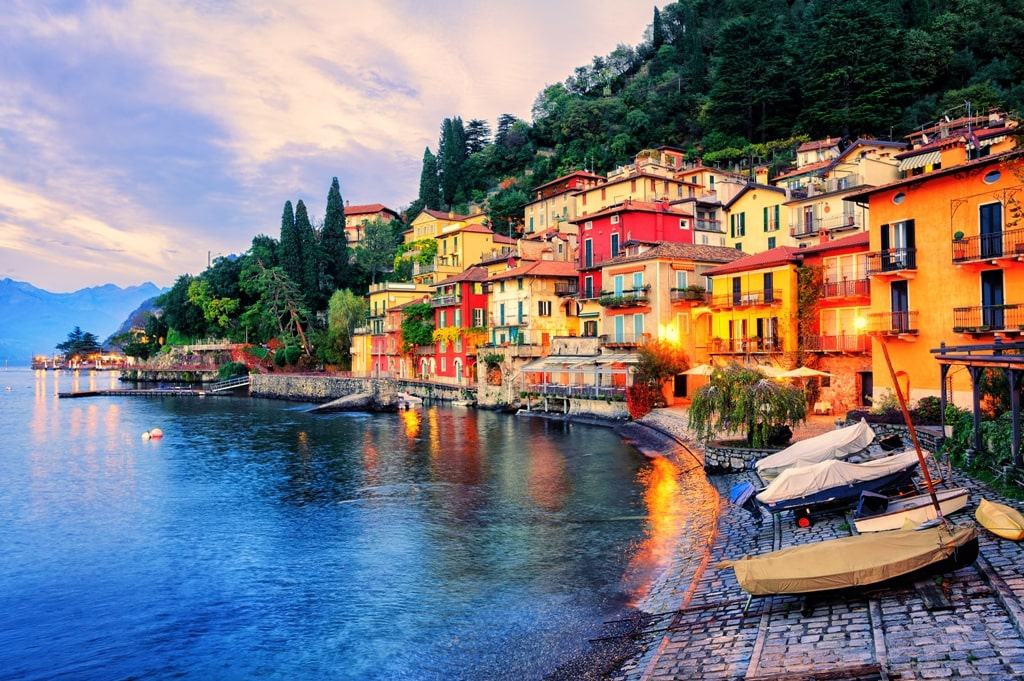 Como Lake is located in Lombardia and it is just 50 Km away from Milan. For this reason, it is one of the most common weekend destinations for locals. Many famous people choose to spend their vacations here and its shores are dotted by luxurious villas. This is an ancient habit and you can see many historic mansions too, from different historical periods (from Roman villas to the residencies of XVIIIth century nobles!). Como Lake is also known for being the setting of one of the most important Italian novels of all times: "I Promessi Sposi" by Alessandro Manzoni.
3 adjectives to describe it:
Glamorous: beautiful parks, luxurious villas and pieces of art. These features have been popular among famous people of all times and nationalities. It's also a common choice for filming and photo-shooting.
Romantic: sunset and dinner along the lake, the colors of flowers and water on a sunny day, beautiful gardens and parks…everything here reminds of a romantic vacation. Choose small villages, far from mass tourism, and enjoy a peaceful weekend with your loved one!
Expensive: Como Lake destinations are quite expensive in comparison to other lakeside resorts. This is due to the beautiful scenery of course, but also to the fact that Lombardia is one of the most expensive Regions in Italy.
What to see in Lake Como:
Brunate: a small village hosting plenty of mansions built in Liberty style. It is located uphill and you can reach the shore by a cable railway offering a beautiful view of both Lake Como and the Alps behind. This place is called "the balcony over the Alps" to indicate its amazing scenery.
Cernobbio: it is one of the most popular resorts of Como Lake and it also hosts many important business meetings, events and scientific and cultural conventions. It is located only 5 Km away from the city of Como. Not to be missed: a stroll along the lakeside and an easy trail in the mountains called Via dei Monti Lariani (from 600 to 1200 m high).
Laglio: this small village became famous when George Clooney chose it as the residence for his summer vacations. Here you can admire some ancient mansions and an historical Roman tower. The surrounding area is dedicated to vineyards and olive groves and in the mountains (about 600 m high) there is a famous cave (il Buco dell'Orso) containing fossils.
Comacina Island: a tiny island (just 2 square kilometer) belonging to the town of Tremezzina. It is famous for the celebrations taking place on June 24th, that is St John's Day: a boat procession, an open-air Mass and an open-air dinner based on polenta and snails. The shells of the snails are then turned into little candles to be released on the lake surface at night.
Lenno: it is famous for its olive groves and it is an ancient town whose origins date back to the Roman Age. It overlooks a portion of the lake called "Venus' Gulf", to indicate its beauty. Not to be missed: historic Villa del Balbianello, an ancient villa.
Check out: The best towns to visit in Lake Como.
Como Lake is for you if…
You hope to meet someone famous
You like a luxurious and refined atmosphere
You are a couple searching for a romantic vacation
Lake Garda. Why should you choose it?
Garda Lake is the largest Italian lake and its shores are split over 3 Regions: Lombardia, Veneto and Trentino Alto Adige. Its mild climate and its ample mirror of blue and calm water make it look like the sea and its shores are similar to the ones you can find in some seaside resorts, hosting a lush Mediterranean scrub. The strange thing is the view of the Alps just behind!
3 adjectives to describe it:
Wild: trekking, sailing, climbing, swimming, paragliding…these are some of the activities you can do there while enjoying nature.
Kids-friendly: the best of a seaside and a mountain resort all in one place. Here your kids won't risk to get bored and the mild climate is perfect for them all year long.
Mediterranean: olive groves, lemon-houses, vineyards, brooms and all the colors and scents of a Mediterranean landscape, even far away from the sea
What to see in Lake Garda:
Sirmione: it is located on the Southern bank of the lake and it is a popular tourist destination. Here you can find some archeological remains (Grotte di Catullo), a medieval castle (Scaligero), a well-known spa center and a beautiful natural landscape.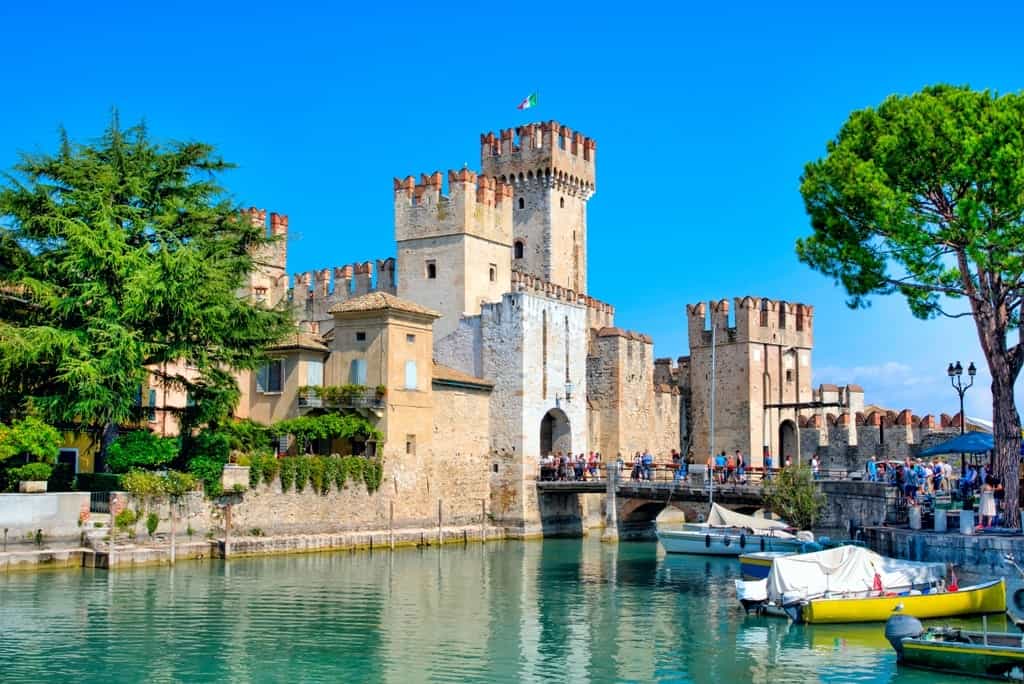 Garda Island: it is located in front of Porto San Fermo (Western bank of Garda Lake) and it is only 1 square kilometer wide. It's a private property and you have to ask for a permission to visit it. Nearby, you can see Scogli dell'Altare (Altar cliffs), which were once the place where a marine Mass took place for local fishermen, and the Rabbits' Island, that is a tiny island where lots of bunnies leave freely.
Riva del Garda: it is located in Trentino Alto Adige and its Mediterranean scenery contrasts with the surrounding Alpine landscape and climate. Here you can find beautiful white shores and you can sun bath, swim, sail or kayak along the sandy coast.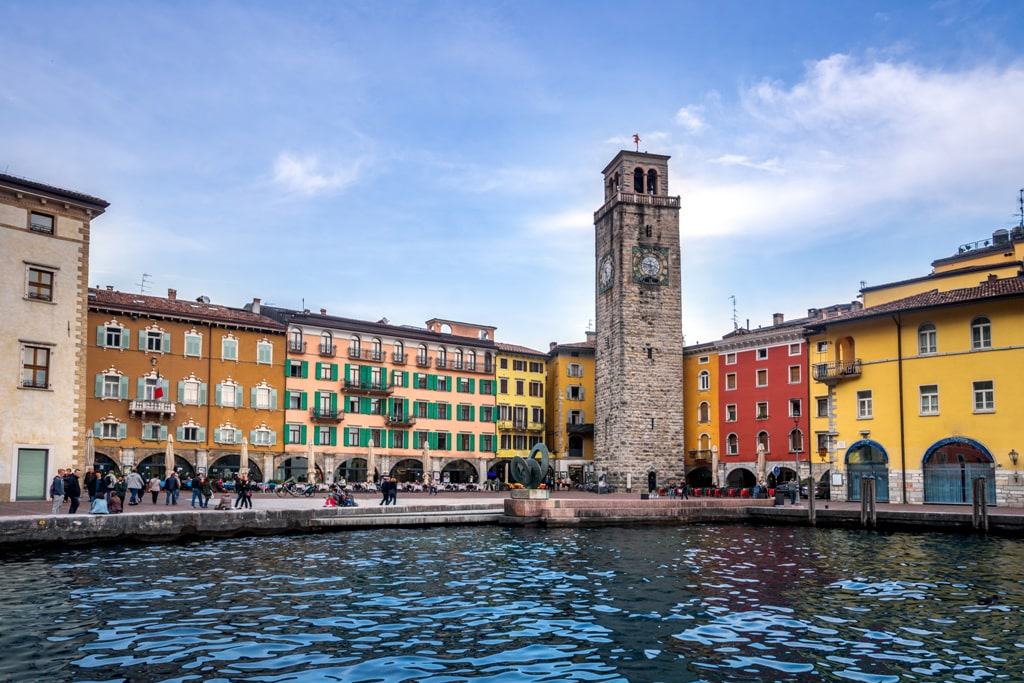 Vittoriale degli Italiani: a monumental complex built near Gardone Riviera, on the Western bank of Garda Lake. Here the famous Italian poet Gabriele D'Annunzio lived and died and you can visit both his house and tomb, other than parks, gardens and some monuments dedicated to the Italian heroes of World War I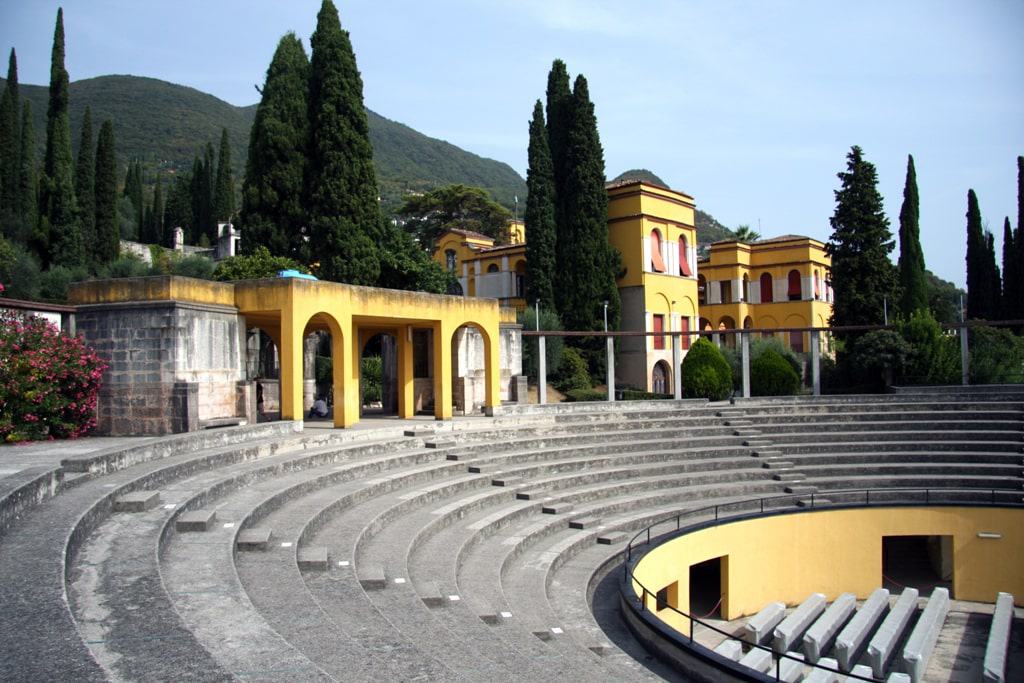 Limone sul Garda: one of the most popular tourist destinations of Garda Lake. It is famous for its lemon-houses, that is special greenhouses built in XVIII century with stone and wood to protect citrus plants.
You might also would like to check:
Lake Garda is for you if…
You like sports and outdoor activities
You like history and ancient buildings
You cannot choose between seaside and mountain: here you can have the best of both!
For an original vacation choose a lakeside resort and discover Northern Italy lakes and their amazing locations!
Looking to extent your trip to Northern Italy? Check out the following for more inspiration:
What's your favourite one, Lake Como or Lake Garda?