This post is also available in: French
With just 2 days in Venice, you can see the best of the city's top highlights and experience the culture and cuisine, including a gondola ride through the famous canals and sites like Doge's Palace and St. Mark's Basilica. This 2 day Venice itinerary will help you make the most of your short trip to the incredible city.
Venice is one of the most picturesque places in the world, thanks to its colorful buildings and winding canals. It's also rich in history, culture, and cuisine, which makes this city one of the most sought-after places in the world to venture to. The City of Canals has so much to offer, from a bucket list gondola ride to Doge's Palace and the famous Piazza San Marco.
Disclaimer: This post contains affiliate links. This means that should you click on certain links, and then subsequently purchase a product, I will receive a small commission. It costs nothing extra to you but helps keep my site running. Thank you for supporting me in this way.
Two Days in Venice: Where to stay
For this Venice 2-day itinerary, you'll want to spend at least one night in the city – though I recommend staying for two nights to take advantage of two full days. Here are a few of the best hotels to stay at. Each one is centrally located, so you can make the most of your two days in Venice.
Hotel Al Codega: This hotel has been rated as one of the best over and over again and it's a great choice if you want to immerse yourself in a little bit of art and culture. This hotel has one of the best locations in Venice and also offers normal amenities – heaters, flat-screen TV, and much more. Check out the latest prices and more details here.

Hotel Rio: Hotel Rio is right in the center of Venice, so of course, you're in extreme proximity to attractions like the Rialto Bridge and Venezia Santa Lucia Train Station. This is a perfect place to stay in if you're in Venice to shop and the hotel has a satellite TV, WiFi, toiletries, and a hairdryer. Check out the latest prices and more details here.

B&B Bloom Settimo Cielo: Romantically beautiful and architecturally impressive, this hotel is dubbed as one of the top picks of Venice. The hotel enjoys some of the best hotel architecture in Venice and you also get all the amenities you might need at a hotel. As for the local location, the hotel is on Campiello Santo Stefano. Check out the latest prices and more details here.

Hotel Ai Reali – Small Luxury Hotels of the World: Enjoying incredible Baroque and neoclassical architecture and adorned with marbles, this hotel is also another pick for Venice. Apart from the restaurant on-site, the hotel is a 3-minute walk away from St. Mark's Basilica and all rooms come with every amenity you may need.: Check out the latest prices and more details here.
Are 2 Days In Venice Enough?
Venice is truly a magical city that feels straight from a movie (or fairytale). And while there's so much to do in the City of Canals, 2 days is just enough time to experience the best of Venice.
With two full days, you can climb to see epic views over Venice, see sites lke St. Mark's Basilica and Doge's Palace, stroll through Piazza San Marco, appreciate incredible art, take a gondola ride, and much more.
How To Spend 2 Days in Venice Things To Do and See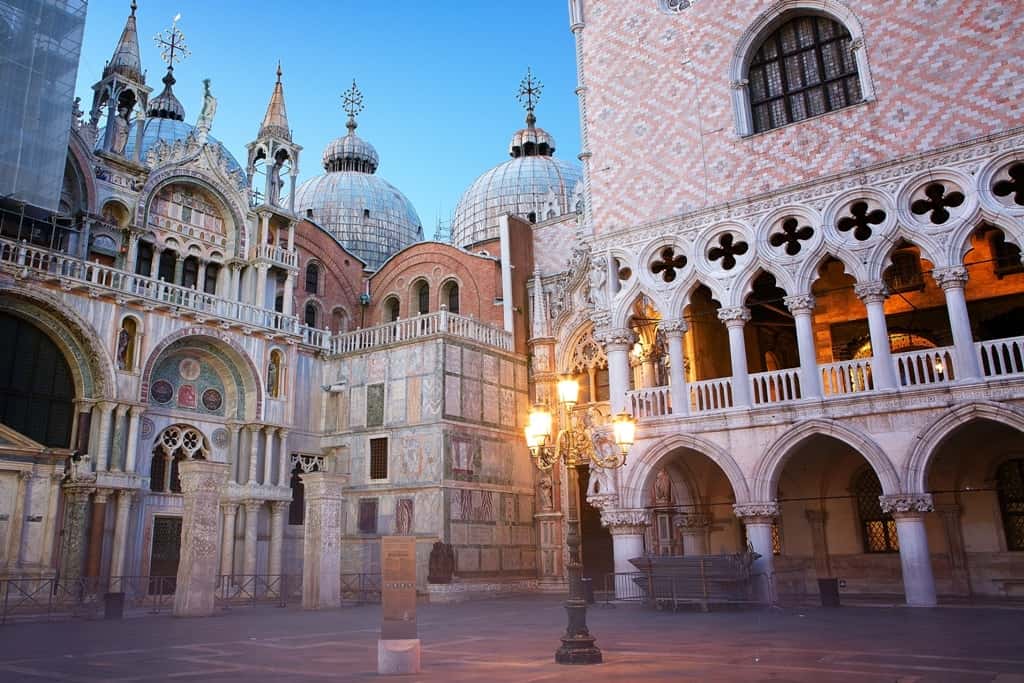 Map for Your 2-Day Venice Itinerary
2 Days in Venice: Day One
Climb Up the Campanile di San Marco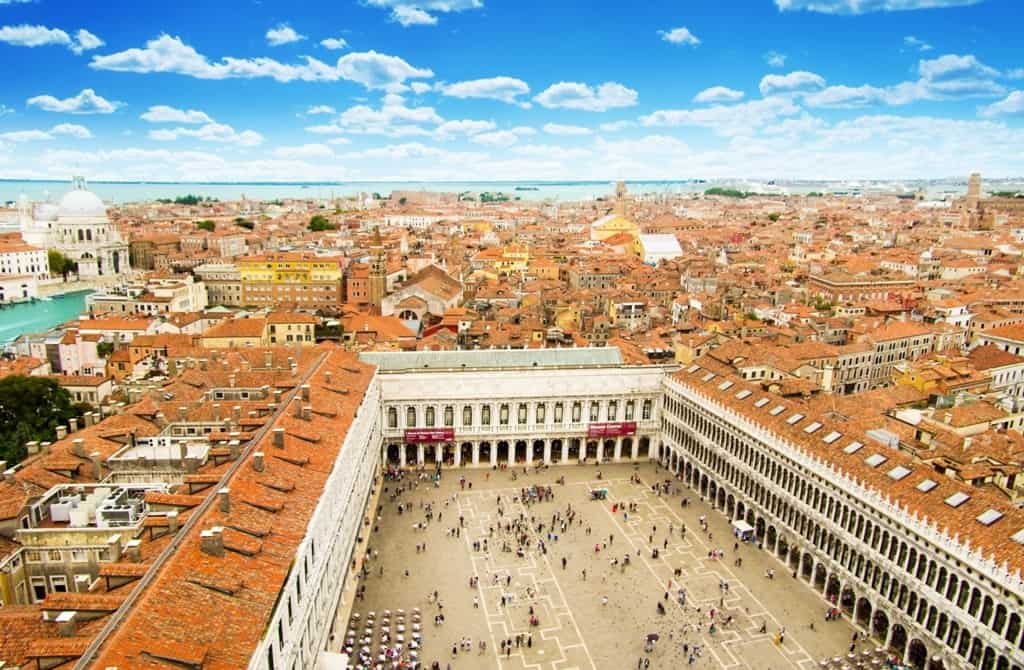 The Campanile di San Marco (St. Mark's Campanile) stands 325 feet tall and towers over the Piazza San Marco. Built in the 12th century, this tower is believed to have once served as a watchtower for the city. On top of this tower is the iconic Gabriel weathervane that shows the direction of the wind flying over the lagoon and piazza. To get a fantastic view of the piazza, you can climb up to the top of this tower.
A short walk away from St. Mark's Campanile is the historic St. Mark's Basilica. This incredible cathedral was first built back in the 9th century and has gone through various renovations throughout the centuries. Serving as Venice's official cathedral since 1807, this building is designed with stunning domes, carved marble, and mosaics, some of which feature 24-carat gold-encrusted into them.
As you walk around the interior of the cathedral, you'll be able to view beautiful frescos, artifacts, and the Cupola of the Prophets, which is St. Mark's tomb. While it's free to enter, if you want to see certain artifacts, like the dazzling Pala d'Oro (a golden altar with rare gems carved into it), you'll have to pay.
Tip: You might like this 3 hour guided tour that includes a visit to St Mark's Basilica and its terraces and the Doge's Palace.
Stroll Through the Piazza San Marco
The Piazza San Marco is the main square in Venice, Italy, and is packed with history. This was where prominent Venetians once gathered when the city was a major maritime force to discuss trade and politics. You can gaze around at the exteriors of historic buildings that line the square, like Doge's Palace, and look out at gondolas in the lagoon.
The piazza also offers numerous cafes, like the Gran Caffè Lavena. This historic café offers many different meals, cocktails, coffees, and sweet treats you can enjoy while listening to the sounds of pigeons cooing or the bells chiming from the nearby bell tower.
Known locally as the Palazzo Ducale, Doge's Palace was built back in the 14th century. This structure features incredible Gothic architecture and now serves as a local museum. You'll find many art tours and exhibitions you can view inside it. There's even a special tour that will allow you to explore the secret parts of the Palace, like its attic, courtyards, and hidden chambers.
If you are planning to visit both St. Mark's Cathedral and the Doge's Palace this skip-the-line 3-hour walking tour will save you both time and money.
Browse Through the Gallerie dell'Accademia
Situated in a former church, the Accademia Galleries is home to many pieces of pre-19th century art and paintings created by local artists like Tintoretto and Guardi. You can browse through its collection of these historic artworks or view a few of the other exhibitions they offer.
When you're done, you can visit its bookstore, where you can buy books that tell more about the history of the paintings you saw. Reservations are needed to get in, so it's a good idea to plan in advance if you want to visit this museum.
Visit the Rialto Bridge and Market
As your first day in Venice winds down, you can end it with a beautiful walk across one of Venice's oldest bridges. The Rialto Bridge was built back in 1588 and features 3 different walkways on it you can take to get various views of the canal and city. After crossing it, you can stop by the nearby Rialto Market, which sells fresh fruits, vegetables, and fish.
2 Days in Venice: Day Two
Explore the Peggy Guggenheim Museum
Situated on the edge of the Grand Canal, this museum was once a former Palace and home to Peggy Guggenheim, a lover of modern art. Inside you'll find a wide collection of modern art pieces and interesting collections you can browse through like The Sculpture Garden.
Click here to book your skip the line museum tickets.
A Grand Canal cruise to the lagoon islands of Murano, Burano, and Torcello will be a magnificent trip to take. You can buy a ticket at a local Vaporetto (waterbus) and then hop on board where you'll then be escorted to view these beautiful islands. At Murano, you'll be able to view their glass-making skills and even see the church where it's believed the bones of a slain dragon are buried.
As you float along to Burano, you'll be able to see the vibrant fishermen's houses that are scattered throughout it and see firsthand this island's love for seafood and lacemaking. Torcello is a little bit of a more tranquil island compared to the others and you'll be able to view some mosaics and ancient structures here.
Find here more information and book a cruise to Murano, Burano, and Torcello islands.
Visit the Campo Santa Maria Formosa to see the Basilica dei Santi Giovanni e Paolo
The Campo Santa Maria Formosa is another city square in Venice, Italy, and is home to this magnificent church. Known locally as San Zanipolo, the Basilica dei Santi Giovanni e Paolo was finished in 1430 and is one of the largest churches in Venice.
You can walk inside to view its stunning architecture, pillars, and remarkable mosaics and frescos. You might also be able to view the urn where it's believed the skin of a 15th-century Venetian general Marco Antonio Bragadin is kept.
Take a Gondola Ride or a 1 Hour Boat Tour to the Grand Canal
Depending on your preferences, you can take either a gondola ride or a one-hour boat tour to the Grand Canal. A gondola ride is a very romantic way to see the city, as a gondolier will take you through the winding canals so you can experience the city in a unique way.
How much does a gondola ride cost? You can have either a private or shared gondola and can even pay a little extra to have a gondolier sing for you as you cruise through the canals. These rides last about 30 minutes, but you can pay for a ticket that lets you have a longer ride. Keep in mind that if you want to have a ride at night, it will also cost a little more due to its popularity.

The city does set rates at 80 euros per 40 minutes and 100 euros per 40 minutes after 7 pm, but that doesn't necessarily translate directly to the consumer.

I recommend booking a gondola ride in advance with a set rate, like this one, but if you decide to do it spur of the moment, always negotiate and settle on a price before the ride.
A boat tour of the Grand Canal lasts about an hour, and you'll be taken out on a small boat to see the various attractions this city offers. You'll be able to see the bridges and other historic structures while learning about their history from your guide.
Stroll the Streets
Before your trip comes to an end in this city, you'll want to take a quick stroll around the many meandering streets this city has. You'll be able to find shops, beautiful bridges, and incredible views of the city by doing so.
There are also plenty of out-of-the-way shops and restaurants you can stop in to grab a bite to eat or some fresh gelato. Keep in mind that the streets can be a little tricky to navigate, so pay close attention to the signs posted around them.
You might also like the following: How many days do you need in Venice?
Practical tips for your 2-day Venice Itinerary
How to Get to Venice
Venice is easily accessible by air, train, and car.
The train station is Stazione di Venezia Santa Lucia and you can get direct trains here from most major Italian cities, including Rome, Milan, Naples, Bologna, and Florence.
If you are driving, you'll need to park your car at the edge of the city. Tronchetto Parking is a large parking garage located at Santa Croce. It holds 4500 vehicles, so it almost always has space.
If you're flying from an international destination, you'll likely land at the Venice Marco Polo Airport.
How to get to and from the airport
If you're flying straight to the city, you'll land at the Venice Marco Polo Airport. This International airport is just 6 miles from the city, and there are several different options for transportation from the airport.
By bus: the fastest and cheapest way to reach the city center. You have 2 options:
Venice Airport Bus Shuttle (ATVO Company): the journey takes 20 minutes, and the cost is 8 euros. Rides are very frequent (one every 20 minutes). Have a look at this option here.
Aerobus N° 5 (ACTV Company): it belongs to the local urban bus network, and the journey takes 25 minutes. The cost is 8 euros, and you'll find a ride every 15 minutes.
By steamboat ("Vaporetto"): a 100% authentically local experience. Alilaguna Company offers a service connecting the airport to the city center and the islands. There are 3 lines (blue, orange, and red) according to the final destination. The only downside is the 10-minute walk from the airport to the dock. The cost is between 8 and 15 euros, according to your destination. An interesting option is a 24h or a 72h ticket costing respectively 30 or 65 euros.
By water taxi: several local companies offer this service, including pick-up from the arrival hall of the airport, shuttle transfer to the dock, and a private ride to your final destination. The cost is about 100 euro and the journey takes about 30 minutes. A cheaper option is a shared water taxi costing about 30 euro, like this one here.
By a traditional taxi: ask for the flat fee of 40 euros allowing you to reach Piazzale Roma!
From another airport: you can choose to land in Treviso, which is close to Venice. From there, you can take a shared bus to reach Venice in less than 1 hour! The cost is 12 euros.
You might also like: How to get to Venice from Marco Polo Airport.
How to get around Venice
The best way to explore the city is to walk your way through its narrow alleys (named "calli") and enjoy the views and the unique architectural feature of this city. If you prefer to use public transport, the best ways to move around are tramways and steamboats.
Tramways: T1 line is the most useful one for tourists, and you can find a map here. The ticket costs 1,50 euros, and you can buy a cumulative ticket valid for 10 rides (14 euros) or a 24h, 48h, or 72h ticket too.
Steamboat: it's the most popular way of getting around, and it has many stops in every area of the city. The most useful lines are 1 and 2, and the cost is 7,50 euros per ride. Although it's a bit expensive, a steamboat ride will allow you to take some amazing pictures from the canals. To save some money, choose a 24h, 48h, or 72h ticket or this option here. Here you'll find the map of the steamboat lines here.
Safety Tips for Visiting Venice
Chances are you'll have no problems at all during your two days in Venice, but there are a few safety tips I want to share.
Wear comfortable shoes. Yes, this is a safety tip because Venice is full of bridges which means stairs and sometimes slippery surfaces. You'll likely be walking quite a bit, so you want to make sure you have the proper footwear to avoid falling.
Keep an eye out for pickpockets. Like any city, the most common crime is petty theft. Be sure to keep your purse zipped and pulled in front of you, and never flaunt your phone or other electronics around. Pay extra close attention near the Piazza San Marco and Rialto Bridge.
Avoid "The Rose Scam." As you walk down the street, you'll likely have someone attempt to hand you a rose "for free" (especially if you're a woman). They'll then turn to your partner and ask for payment. If you see this, just keep walking and refuse the rose – even if they're persistent on saying it's "free."
The best periods to visit Venice are:
December & early January to enjoy the Christmas Holidays and the festive atmosphere of the city.
April & May to find perfect weather, bright sunny days, and a cheerful spring atmosphere
October & November to admire the fog on the canals and the lagoon and visit Venice at your own pace without the usual crowds of tourists
The absolute worst time of the year to visit Venice is during the summer, especially during July and August. It's hot, and it's crowded because that's when "everyone" heads to the city. Of course, if the summer months are your only chance to visit, then you should go – but try to aim for the shoulder season months mentioned above if possible.
Venice does see a bit of rain during the spring and fall, so be sure to pack an umbrella! One thing to note is acqua alta ("high water") when rains cause the Venetian Lagoon to rise and flood St. Mark's Square. This usually happens between October and January and lasts for a few days. It's hard to predict when, as it depends on rainfall, but just something to be aware of!
You might also like: A guide to Venice in winter.
More Things To See & Do In Venice
Spending an extra night in Venice? Or maybe you want to pack some off-the-beaten-path activities into your Venice two-day itinerary instead of sticking to the highlights? Here are a few other recommendations for things to do in Venice.
Jewish Ghetto: the old Jewish Ghetto is not a popular tourist attraction, but it's a nice and picturesque place telling the story of the former Jewish community. Jews lived there from the 14th century to World War II, and they were about 5000. The entire district is located on an island connected by a few bridges to the rest of the city, and it also includes an interesting historical museum.
Ca' Dario Palace: this noble mansion overlooking the Canal Grande is said to be under a malefic spell because all its inhabitants had to face some tragedies, going from bankruptcy to assassination. Address: Campiello Barbaro 352
Fondamenta delle Zattere: it is a nice walk along the Giudecca canal, and you won't find too many tourists there, so it's a perfect place to relax and take some pictures of the lagoon. Address: Southern tip of Dorsoduro district.
Tomb of Canova: if you love art, you shall definitely visit the tomb of these famous artists. It is located in the Basilica dei Frari, and you'll immediately recognize it because it's a marble pyramid. On its doorstep, you'll see the crying statues of Painting and Architecture and a sad lion (the symbol of Venice). Address: San Polo 307
Acqua Alta ("high tide") Bookshop: you'll find this iconic bookshop in a narrow alley close to S. Marco Square. The owner decided to place all his books into a few small boats, gondolas, and even a bathtub in order to protect them from the damages deriving from the frequent floods and high tides. Address: Calle Lunga Santa Maria Formosa 5176b
Gardens of Scuola Vecchia della Misericordia: this beautiful garden is hidden inside the ancient gothic cloister of Madonna dell'Orto church. Here you'll find many roses, wisteria, cypresses, laurel, and oleanders. Address: Northern tip of Cannaregio district.
Calletta Varisco: the narrowest alley in Venice is just 53cm wide! Address: close to Campo San Canciano
Ponte dei Pugni ("punching bridge"): two local rival gangs used to fight on this bridge in the 17th century. The winners used to throw the losers into the canal below. In 1705, the governor of the city abolished these fights because they were getting too violent, but you can still see the footprints indicating where the rivals used to position themselves to start their fight. Address: Rio di San Barnaba
San Giorgio Maggiore. San Giorgio Maggiore is one of the islands of Venice, set away from the hustle and bustle of the city and full of history. You can take a 1-hour tour to learn more about the island's history.
Libreria Acqua Alta. Booklovers won't want to miss this spot! Libreria Acqua Alta is Venice's most famous bookstore, known for storing and displaying their books in everything from bathtubs to gondolas. You can also get a great view of the canal from the porch!
Check out: Best day trips from Venice.
Venice, or Venezia, is a remarkable place in the world. While 2 days in Venice certainly isn't enough time to fully explore everything it has to offer, with this itinerary, you'll be able to experience the overall essence of the "City of Canals."