When planning a trip, one of the first questions you ask yourself is: "How many days shall I spend in this place?" With an average of 30 million visitors per year, Venice reaches the first places among the most visited European cities.
Thanks to its special location in the lagoon and its amazing landscapes and picturesque views, Venice is one of a kind! Moreover, international events like its Carnival and the Film Festival attract numbers of visitors of any kind all year round.
How many days you are going to spend in Venice depends on the time you have available. For me, 3 days in Venice is the perfect time to explore the city and truly enjoy it. Below you will find some amazing Venice itineraries depending on how many days you have available.
Disclaimer: This post contains affiliate links. This means that should you click on certain links, and then subsequently purchase a product, I will receive a small commission.
How Many Days in Venice Do You Need?
How to spend one day in Venice
A short visit will allow you to get a glimpse of the main monuments but not to fully grab the essence of the city. Anyway, it could be a good idea in case you're planning a long trip to Italy and you'll be visiting many cities. To make the best of your time, reach Venice by train and plan a walking tour to avoid wasting time on water buses and water taxis.
Arrival at S. Lucia Train Station.
Watch the Canal Grande just outside the station.
Visit Cannaregio district starting from the oldest Jewish Ghetto in the world. Visit the Old and New Ghetto and watch the 5 synagogues from the outside.
Reach Piazza San Marco and visit the Basilica with a guided tour like this one Skip-the-Line Golden Basilica Tour.
An even better solution is taking a guided tour combining both S. Marco Basilica and the Doge's Palace: Doge's Palace & St. Mark's Basilica with Terrace Access Tour.
Don't miss the iconic views of the Bridge of Sighs and Rialto Bridge.
Cross Accademia Bridge and visit Dorsoduro district.
Start from the Basilica of Santa Maria della Salute to admire some works of art by Tintoretto and Tiziano.
Spend the afternoon watching some contemporary art at the Peggy Guggenheim Foundation.
As an alternative, visit San Polo district starting from the homonymous square.
Visit the beautiful Basilica of Santa Maria Gloriosa dei Frari and the famous Scuola Grande di San Rocco.
How to spend 2 days in Venice
A weekend for two to celebrate a birthday, and anniversary or St. Valentine's Day. Or even an escape from everyday life in a magical place! Plan your arrival on Friday night in order to enjoy two full days of sightseeing in Venice!
Day 1
On Saturday morning, head to Piazza San Marco and visit both the Basilica and the Doge's Palace at your own pace. Check this great skip the line tour that visits both places: Doge's Palace & St. Mark's Basilica with Terrace Access Tour.
Climb to the top of S. Marco Tower to enjoy the view and take some pictures.
Reach Rialto Bridge and stop at the vibrant Rialto Market. You can also book a cooking class: Rialto Market Tour, Hands-On Cooking Class & Lunch.
In the afternoon, you can spend a few hours in the Accademia Galleries, especially in winter or in case of bad weather.
As an alternative, reach the Basilica of Santa Maria della Salute.
End your day with an unmissable gondola ride.
Day 2
Check out my detailed 2 day Venice itinerary.
How to spend 3 days in Venice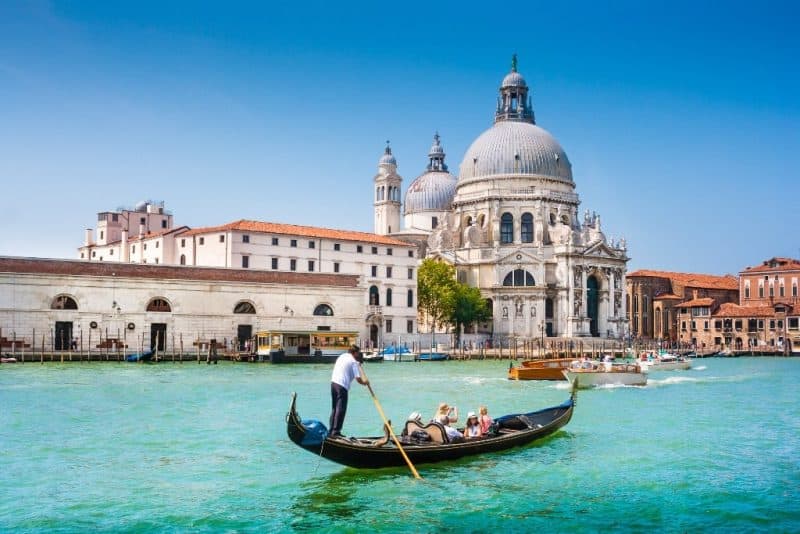 You'll have enough time to see all the main landmarks and points of interest and to get a deeper insight into local history and culture. Since Venice is really expensive, choose low season to find lower fees!
Day 1
Day 2
Visit San Marco district and start your tour from Campo Santo Stefano, another central square that's definitely different than Piazza San Marco! Visit also the nice gothic church of Santo Stefano to admire some works by Tintoretto.
Cross Accademia Bridge and visit Dorsoduro district.
Reach the Basilica of Santa Maria della Salute and spend some time strolling along the banks to watch numbers of gondolas and boats passing by.
Spend the afternoon visiting a museum. You can choose one of these iconic places:
Accademia Galleries to see some Venetian art from the XIV-XVIII centuries
Peggy Guggenheim Foundation for some European and American contemporary art
Scuola Grande di San Rocco to see the best of Tintoretto's production.
End your day with a romantic gondola ride at sunset.
Day 3
Start from the Jewish Ghetto. Visit also the Jewish Museum and the 5 synagogues.
Spend the afternoon in Castello district. Visit Arsenale and the interesting Naval History Museum to learn more about the time when Venice was a maritime powerhouse
As an alternative, enjoy a guided tour of Castello district like this one: Castello District Private Walking Tour.
Before heading back to the train station, enjoy some shopping to buy your souvenirs! One of the best destinations is via Garibaldi, where there are a few craft shops selling the original Carnival masks.
How to spend 4 days in Venice
Venice will have no secrets and you'll be able to explore it far and wide! That's the best option for visiting such a special city!
Day 1
Day 2
Enjoy a day trip to the islands! You can reach them by waterbus or join a guided tour like this: Murano, Burano & Torcello Boat Tour.
Learn more about the local glass blowing technique on Murano island and don't miss a practical demonstration.
Take plenty of pictures of the colorful houses of Burano! Discover its most picturesque and hidden corners.
Enjoy some peace and solitude on Torcello island but get ready to hear some mysterious and dark legends!
Day 3
Spend the whole morning visiting the Accademia Galleries. Save plenty of time to visit these collections at your own pace!
If you're not too tired, take also a short visit to the Scuola Grande di San Rocco
In the afternoon, explore Cannaregio district and the Jewish Ghetto. A guided tour is a good idea not to get lost in the small alleyways of this neighborhood: Private Cannaregio and Jewish Quarter Tour.
Day 4
In the morning, head to Castello district by waterbus ("vaporetto"). It's a nice green area of Venice which is perfect for a lazy stroll and some pictures. Don't miss the view from Riva degli Schiavoni!
Spend your last few hours in Venice searching for the perfect souvenir in via Garibaldi! If you have a medium to high budget, take a look at the boutiques in Fondaco dei Tedeschi and in Calle XXIII Marzo
If you can stay longer, you'll also be able to enjoy one or more day trips to some interesting places nearby! Veneto has plenty of other beautiful and historical cities that are just a little less famous than Venice but definitely worth a visit!
A few ideas:
Check out: The best day trips from Venice.
To fully enjoy Venice and its surroundings, 4-5 days are what you need! This area of Northern Italy is so rich in artistic, historical, and natural heritage that it surely deserves a thorough visit. It's also a great idea to plan a weekend by the sea or in the mountains to relax after some sightseeing. A few relaxing destinations? Chioggia, Caorle, Euganei Hills, Vittorio Veneto or Belluno.
Planning a trip to Venice? Check out my posts?

A guide to Venice in Winter

Interesting Facts about Venice

Rome or Venice? Which one to visit.