Germany in winter is a magical icy wonderland with cities coated in snow and mountain ranges just begging to be explored. The rugged natural landscapes that in summer are perfect for hiking, are transformed into picture-perfect icescapes and an adrenaline junkie's dream.
While Germany's cities such as Berlin and Cologne are great to visit all year round, some of the best places to visit in Germany in winter are arguably up in the Alps and across Bavaria. Garmisch Partenkirchen, Goslar and the Harz Mountains all feature snow and blue skies making them perfect for skiing, snowboarding and ice-skating.
Baden-Baden and Baiersbronn in the Black Forest are also beautiful in winter, with their quaint houses and church steeples being dusted with a coating of snow.
Another highlight of Germany in winter is, of course, the Christmas Markets that grace the streets of towns and cities across the country from October to January. These traditional markets were the original place to stock up on handmade Christmas gifts and to drinking steaming cups of warm glugwein!
While Christmas Markets have now taken off in countries all across Europe, Germany's markets will always be the original and the best!
Disclaimer: This post contains affiliate links. This means that should you click on certain links, and then subsequently purchase a product, I will receive a small commission.
#1 Nuremberg
Contributed by Jenny of TraveLynn Family
A city often associated with it's dark history and the war trials, Nuremberg is a city steeped in elegance and charm, boasting medieval architecture, numerous museums, and characterful beer cellars, which are a perfect escape from the cold in the winter months. And if you're visiting in December, you have timed your visit nicely with the magical Christmas markets.
It's compact old town makes it easy to walk between sights, and the public transport is efficient and affordable if venturing further afield. Start your visit with a stroll around the old town and make your way to the impressive Imperial Castle, which boasts stunning rooftop views over the city.
There are also some great museums including the DB Railway Museum and Toy Museum, and a visit to the Nazi Party Rally Grounds is certainly thought-provoking.
If you get peckish, make sure you try a Nuremberg Bratwurst; apparently the way to ask is "Drei im Weggla" ("Three in a bun"), a bit different to your standard one-sausage in a finger bun, and arguably tastier.
If you're visiting 
Nuremberg with kids
, an absolute must is the Zoo and Playmobil Park (which has an large indoor play area open in the winter months, but get there early as it gets very busy).
#2 Baden Baden
Contributed by Carol of WanderingCarol.com
What makes 
Baden-Baden
 such a great winter destination? The hot steamy springs, guaranteed to keep you warm in the coldest of temperatures. This grand spa town in Germany's Black Forest region has two public baths where you can sink into the thermal waters: the historic Friedrichsbad, a clothing-free circuit of steam, scrubs and soaks; and the elegant Caracalla Therme, a white-columned water complex with indoor and outdoor thermal pools and every kind of sauna you could dream of.
Those who want to stay warm in style can check into the lavish Brenners Park Hotel, a luxury property with a superlative spa, or hole up at the Casino Baden-Baden, a Belle Epoque beauty that Marlene Dietrich referred to as 'the most beautiful casino in the world'.
#3 Rothenburg ob der Tauber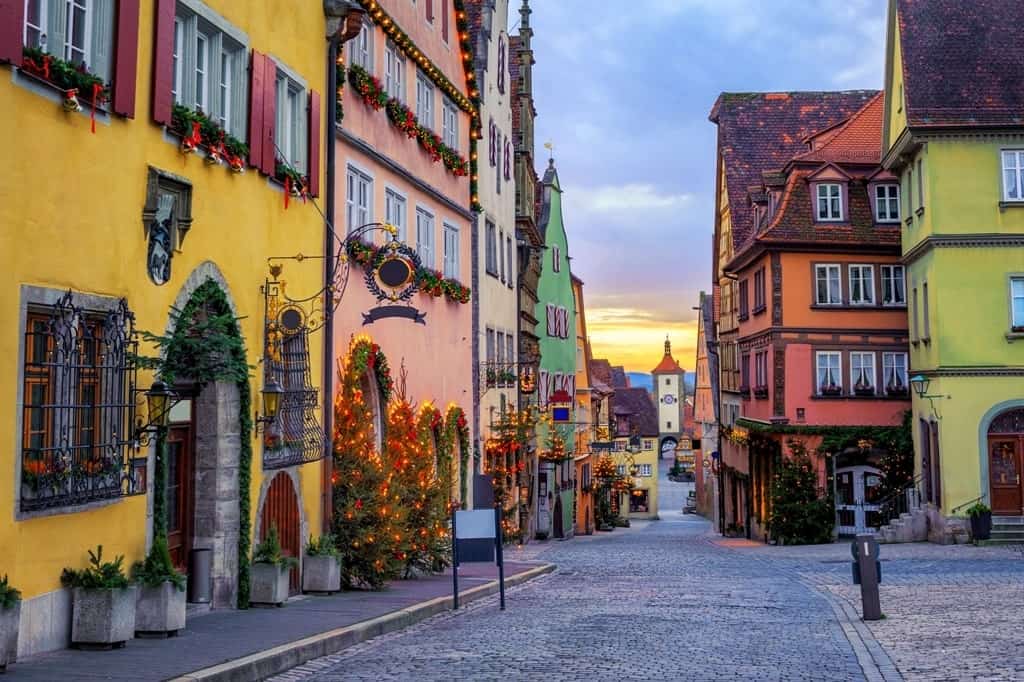 Contributed by Carolyn of Holidays to Europe
For a great winter getaway in Germany, why not visit Rothenburg ob der Tauber?  This fairytale town is one of the most photographed in Germany and it is even prettier in winter when it is blanketed in snow.
One of the main attractions in Rothenburg during winter is Reiterlesmarkt, the town's Christmas market which dates back to the 15th century.  Held in the main square, this is where locals and visitors gather to chat, enjoy traditional Christmas specialties like mulled wine and roasted chestnuts, and browse the market stalls.
The Christmas market is held from 29 November until 23 December but if you can't visit Rothenburg during this time, don't despair.  There are plenty of other things to enjoy during your winter visit. One must-do is a visit to the Kathe Wohlfahrt Christmas Village and German Christmas Museum.
This is the perfect place to purchase a unique souvenir to remind you of Rothenburg and to add to your Christmas ornament collection.
A great way to learn more about the history of Rothenburg ob der Tauber whilst being entertained at the same time is by joining the Nightwatchman's tour.  Each evening (mid-March to early January), the Nightwatchman conducts a one-hour walking tour of the tour.
For great views of the town, its fortified walls and the surrounding Tauber Valley, climb the 220 steps up the City Tower, and make sure time to visit St. Jacob's Cathedral to see its impressive wooden altar. Before you leave town, be sure to head to Plonlein.
This small square near the Kobolzeller Gate is Rothenburg's most famous site and, with snow dusting the rooftops, it makes a charming winter scene.
#4 Mosel Valley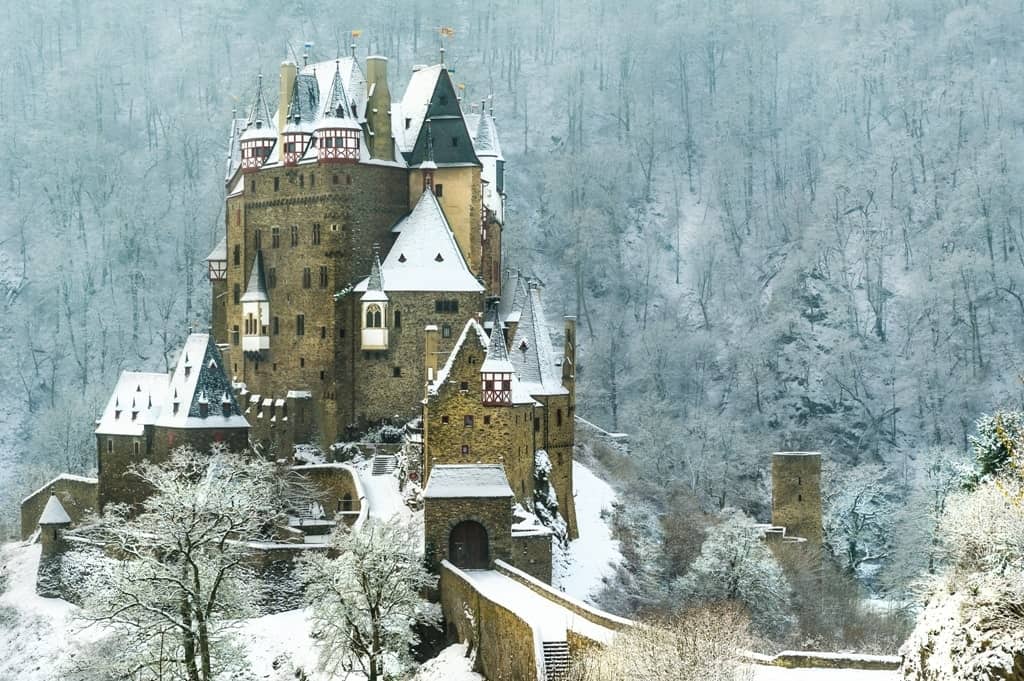 Contributed by Paulina of Paulina on the Road
The Mosel Valley is one of the prettiest destinations in Germany especially in winter. Not only will there by plenty of Christmas Markets, but the snow covered hills, the castles and vineyards will be a great place to explore.
One of the highlights of the Mosel Valley is definitely the Burg Eltz. Whereas the site is very crowded during summer and spring, winter season is perfect to visit one of the prettiest castles in
Germany
. Not only will there be no crowds, but on top, the snow will add a magic touch to the enchanting castle.
The
Mosel Valley
is also a great place for foodies. During winter mostly hearty, comfort food is served. The region is famous for its Riesling wine which are the perfect match with your meal.
Along the Mosel river you'll find plenty of quaint villages. Not only are they great photo motives, but they host some of the most picturesque Christmas Markets in the region. Probably the most famous ones are in Bernkastel-Kues, Zell an der Mosel and Enkirch.
Cochem
is one of the major towns in the region and boasts one of the most impressive castles. It is a great winter getaway as Cochem has plenty of restaurants where you can indulge in
German
food.
#5 Franconia Switzerland
Contributed by Lena of Lena on the move
The region of Franconia Switzerland in northern Bavaria is a favorite among both locals and tourists all year round. While most people love activities like rock climbing, hiking or exploring caves in summer, this region has a lot to offer in winter as well.
Outdoor lovers can enjoy winter hiking on well-groomed trails and may even go on one of the famous beer trails leading from one brewery to the next. Culture enthusiasts and photographers alike will love spending time in either some of the charming villages in Franconia Switzerland or the UNESCO city of Bamberg.
Bamberg is part of the Franconian Switzerland region and probably one of the most romantic towns in Bavaria. With its medieval Old Town, traditional breweries and gorgeous river branches surrounded by public parks and forests, Bamberg is the perfect getaway destination.
Especially in winter, the snowy cobbled alleys and white snow-coated roofs of the century-old buildings will make for an excellent photo destination.
After a bit of sightseeing, you can warm up with some hot chocolate or coffee in one of the cozy cafés, followed by a few pints of Franconian beer in one of Bamberg's nine unique breweries right in the city center.
By the way, if you come during December, a traditional Christmas market with various stands of hot punch, ginger bread and Christmas gifts takes over Maxplatz (Max Square) in the heart of the Old Town and will make your winter getaway in Bamberg unforgettable.
#6 Bergpark Wilhelmshöhe, Kassel
Contributed by Shandos of Travelnuity
The Bergpark Wilhelmshöhe on the outskirts of Kassel is one of the most amazing parks in Germany, inscribed on the UNESCO World Heritage list. A mixture of baroque and English garden landscaping, the park is constructed on a steep hillside meaning that a series of water cascades and fountains are included in its design.
During summertime, the cascades are switched on for shows twice a week. But after visiting both in the middle of summer and early winter, I must admit the park has a certain charm during wintertime that isn't apparent when you are visiting as part of the crowds during summer.
Ideally visit in winter when snow has already fallen, lending a magical atmosphere to the park. And thanks to its higher elevation there is likely to be a dusting of snow in the park even when down below in Kassel the streets are snow-free.
Highlights include the artificial ruins of the Roman aqueduct and the Teufelsbrücke (Devil's Bridge), especially when they are encrusted with icicles. Just be careful if you plan to walk up the stairs of the giant cascades, which can be icy.
Don't miss stopping at the biergarten of the Kaskadenwirtschaft Grischäfer near the bottom of the giant cascades, if it is open. During the lead up to Christmas naturally it offers warming mugs of glühwein.
#7 Tübingen
Contributed by Kristin of Be My Travel Muse
One of my favorite things to do in Germany in the winter is visiting the Christmas markets. Out of all of the German Christmas markets I've been, Tübingen Market is one of my favorites. Brace yourselves and don your stretchiest pair of pants because this Christmas market is all about chocolate!
Expect to find chocolate in every form imaginable – hot chocolate, spicy chocolate, vegan chocolate (yay!), chocolate cake, chocolate spread, chocolate covered fruit, and chocolate booze. If you can imagine it, you can find it there.
This is a popular Christmas market that begins the week leading into the second weekend of December. To get there, you can take the train to Tübingen Hbf, and walk about 10 minutes across the bridge to your left.
Entrance is free, and I highly recommend getting there early and staying until the lights come on at night in the town square, projecting designs onto each of the adorable buildings. I adore this little town at any time of year but at Christmas, it really comes alive.
#8 Garmisch-Partenkirchen
Contributed by Elisa of France Bucket List
Garmisch-Partenkirchen is a fantastic winter getaway in Germany for nature lovers. Located at 94 km from Munich (1.5 hours by train), one of the main hubs in Germany, Garmisch-Partenkirchen is very easy to reach from many German cities but also people visiting France can travel to Garmisch-Partenkirchen for a weekend getaway thanks to the fast TGV connection Paris – Munich.
Garmisch-Partenkirchen was originally two small towns in the Bavarian Alps, Garmisch, and Partenkirchen, which were united in 1935 for the Olympic Games following the wishes of Hitler.
The result is two cute historical centers, each one with a different character. Garmisch-Partenkirchen is one of the best places for skiing in Germany, and its fancy ski station, not far from the town center, has ski slopes for all levels.
Non-skiers can enjoy beautiful hikes, also in the winter, and admire the Zugspitze, the highest mountain in Germany. The Zugspitze is very easy to reach from Garmisch-Partenkirchen thanks to the centenary Zahnradbahn (cable railway), a special train designed to climb big slopes.
At sunset, when the ski area is closed, it is possible to enjoy the last hours of the town's spa, with indoor pools (also a waves pool!), sauna and different body treatments. Finally, visitors will be happy to have a stroll downtown with a colorful architecture, and cute cafes and bars perfect for a hot chocolate or a gluhwein.
#9 Konstanz
Contributed by Wendy of the Nomadic Vegan
Konstanz and its namesake lake are often thought of as a summer destination, but it's great in the winter too! Especially in December, when the Konstanz Christmas market is in full swing.
There are lots of Christmas markets in 
Germany
, of course, but this one is so special that people come from neighboring countries like Austria, Liechtenstein and Switzerland to see it.
The market is made up of more than 130 stalls, which are set up right in the Old Town and stretch all the way down to the harbor … and even out into the lake itself! A unique feature of the 
Konstanz Christmas market
is the Christmas Ship, which is moored at the quay wall in the harbor.
Most of the stall vendors are from the region and sell locally made handicrafts as well as local delicacies. These are best washed down with a hot mug of glühwein — hot mulled wine mixed with spices.
Once you've finished your Christmas shopping, head to Stephanskeller for a traditional meal. It's a lovely old-style, wood-paneled 
German
 tavern with a very cozy atmosphere.
The house specialty is pfannengerichte, which translates as "pan meals" and are essentially hot iron skillets filled with a number of meat and vegetable combinations. They have vegetarian and vegan options too.
#10 Cologne
Contributed by Sabrina of Moon & Honey Travel 
The best time to visit Cologne is in winter. I recommend timing your visit with either the Christmas holiday season or Karneval festivities. During the Christmas season (late November – December 25), Cologne hosts seven Christmas Markets (Weihnachtsmärkte) throughout the city.
Each market has a unique theme and vibe. The most impressive markets are located at the Cologne Cathedral, Alter Market, Neumarkt and Rudolfplatz. If you're looking for a more offbeat neighborhood market, head to Stadtgarten Christmas Market. There's also an LGTBQ-themed Weihnachtsmarkt.
Another amazing time to visit Germany's fourth largest city is during Karneval. While Karneval technically lasts from November 11th to Shrove Tuesday (Fat Tuesday), the best time to visit is during the "Crazy Days," which is the climax of the Karneval season.
The whole city turns into one big street party. People dress in costume, sing Karneval Lieder (songs about Cologne's Carnival), and drink more Kölsch than advisable.
Definitely prioritize seeing the Rosenmontag (Carnival Monday) parade and Nubbelverbrennung (The burning of the Nubbel) on Fat Tuesday. Read this
Cologne Travel Guide
to help plan your trip.
#11 Goslar and Harz Mountains
Contributed by Vicki of Vicki Viaja
Most people that visit 
Germany
 during the winter months will probably go to Bavaria. However, what they don't know is that you can find amazingly beautiful winter paradise places in the northern part of 
Germany
 as well.
Goslar is a little town, near the Harz mountains
and with its medieval charm, it makes you think this town is cut out straight out off your old childhood fairytale book. With its narrow streets and half-timbered houses, this town is simply gorgeous.
But the best part about it is its Christmas market which usually gets voted in the Top 5 Christmas markets in 
Germany
 every year. Just have a stroll around, drink some hot mulled wine and enjoy some middle age snacks.
But not only the city itself is an amazing destination during the winter months, but also the surrounding Harz Mountains make for the perfect winter break destination.
Whether you enjoy walks or you are looking for winter sports – The Harz Mountains offer opportunities to do both. You can find ski slopes all over the Harz Mountains, especially in the higher parts.
But even if you don't feel like walking or skiing, you can have a ride with the Harz narrow-gauge railway, which leads you through the stunning snowy nature of the mountains.
#12 Füssen
Contributed by Cazzy of Dream Big, Travel Far
If you're looking for a winter getaway in Germany that's magical, peaceful and beautiful, then Fussen should be on top of your list. Fussen is located in Bavaria and is home to the stunning Neuwachstein castle, which is said to have been the castle which inspired the famous Sleeping Beauty Castle of Disney.
It's a stunning castle in which you can explore both inside and outside and learn all about King Ludwig. It's also got another brilliant castle known as Hohenschwangau castle next to it and they're both possible to see in one day.
But the castles aren't the only reason to visit Fussen. The town of Fussen itself is a beautiful, quaint town, and during winter the streets are lit up with beautiful fairy lights. The roads are lined with local restaurants, and the local bakeries serve up the famous Schneeball dessert in a whole host of flavours.
There is even a random Irish bar in this little small town that plays music on certain nights. When the snow falls in Fussen, the whole place comes alive, and there is no more perfect place to stay than one of the log cabins in the area.
Winter is also the perfect time in Fussen to explore the Tegelberg ski lift. Even if you are not skiing or parasailing (another popular activity), a trip up to walk along the snow on the mountain top is worth it.
You can have snowball fights, follow the snow trails, then stop for a German beer (or coffee) at the restaurant on top with stunning panoramic views on offer. Fussen is truly one of the best places to visit in Germany for a winter getaway and you'll find yourself wanting to return.
#13 Berlin
Contributed by Stephanie Craig of History Fangirl
Berlin is a fabulous winter destination because so many of the great things to do are indoors or winter themed. Obviously, the Berlin Christmas markets are famous and make the city a great place to visit at the end of November through December. Some are even open until New Years (though not all).
The city is also a great place to shop, whether's your looking for local
Berlin souvenirs
 or want to enjoy high-end international shopping. Other great indoor activities include touring Charlottenburg Palace, enjoying the art museums on Museum Island, and touring inside the city's many beautiful churches.
Additionally, public transportation is great and well-connected, so you can easily get from place to place without having to spend too much time outside in the cold.
The city is also a beer city, so you can spend a good amount of time learning about the city by exploring the wealth of pubs, bars, and up-and-coming brew pubs spread across Berlin's different neighborhoods.
Finally, in a city known for its amazing local and international cuisine, you'll find there are fabulous restaurants all over the city where you can escape the cold and enjoy truly great dining experiences. This is true for every price point, and for almost every kind of cuisine you might desire.
#14 Winter hiking at the Hornisgrinde
Contributed by Gloria Apara of  Nomadicchica
The Black Forest or Schwarzwälder Schinken as in German, is one of the most visited areas in Germany not only for its worldwide famous cuckoo clocks producers, but also for the delicious food and outdoor activities.
Being the region with the highest mountains, it was here where hiking was created as we know it today, when first hiking maps where published at the end of the 19th century.
This region located on the East side of the border with France and the Rhine river is one of the most beautiful places to visit during the whole year. Especially charming during winter, when the beautiful mountains with dense forests and great panoramic views turns into an enchanted white territory and as you walk around the winter decorated traditional villages making you feel you are walking into a fairytale town.
Visiting during winter is a great idea! It's when they are less rainy days in this region, being February the driest month, what it makes it perfect to do a day trip and do a little hike in the Hornisgrinde.
The Hornisgrinde, with 1,164 m (3,820 ft) is the highest mountain in the Northern Black Forest in Germany. Parts of its plateau area are part of a 95 hectares Hornisgrinde-Biberkessel Natural Reserve since 1992, it's the wetlands area, naturally treeless and covered by low vegetation and you find a wooden path for those wanting to do a leisure walk, and there's also paths for more challenging mountain bike tours and intense hikes.
#15 Hamburg
contributed by Inma of A World to Travel
The majority of German cities enjoy a special atmosphere with the arrival of Christmas. Hamburg is one of them, and has a colorful Christmas market in the town hall square. But visiting
Hamburg
in winter is much more than drinking glühwein (mulled wine) and eating stollen (fruit cake). Here are some of the excellent plans that the city offers in the coldest season:
– Ice skating in the Planten un Blomen park. Also, every Friday and Saturday night it becomes an icy disco!
– Attending one of the many advent concerts in various churches and concert halls in the city.
– Eating a fish sandwich and drink an Astra beer in one of the shops in Landungsbrücken pier, a lively area no matter the season.
– If there's no rain on the weather forecast, taking a ride on one of the boats that regularly depart from the aforementioned pier.
– Otherwise, going for a minigolf afternoon at Schwarzlichtviertel and checking some great indoor attractions such as Dialogue in Silence and the great Internationales Maritimes Museum Hamburg.
There are just so many 
things to do in Hamburg
 that make visiting this Northern German city a great idea in Winter. Enjoy!
#16 Bamberg
Contributed by Elaine & David of Show Them The Globe
Located in central Germany, the World Heritage town of Bamberg is a perfect option for a winter getaway. Despite being relatively small, there are many fun things to see and do in the quintessential German medieval town. Bamberg is easily explored on foot and we loved wandering through the maze of streets and alleys.
One of the best reasons for visiting Bamberg in the winter is the amazing Christmas market that is held in the Maxplatz Square in the centre of the town. With a stunning nativity scene and plentiful arts, crafts, food and drinks, Bamberg is the perfect spot to get into the holiday spirit.
Bamberg is steeped in history and the magnificent buildings date back hundreds of years with much of the town declared a UNESCO World Heritage. The most iconic building is the Old Town Hall, Altes Rathaus, which sits in the middle of the Regnitz River and has stunning baroque architecture.
The 11th Century Bamberg Cathedral is another highlight due to its medieval design and extensive art collection.  A tour of the Neue Residenz, a 17th-century palace with stunning tapestries and ornate frescoes, is a must and its marvellous Imperial Hall is wonderful to see.
Bamberg is famous for its beer and has the highest concentration of breweries of any town in the world! Our favourite was the tavern Klosterbräu which serves its own brews together with several of Bamberg's best-known beers.
#17 Bremen
Contributed by Katie of  Two Wandering Soles
Located just an hour and a half from Hamburg by train, Bremen is a great stop on a winter tour of Germany. Famous as the birthplace of the Bremen Town Musicians, a Brother's Grimm fairytale, this charming town comes alive in the winter months.
With not one – but two – Christmas Markets in town, you'll find no shortage of Christmas cheer. The market in the Town Square is not to be missed. Take a break and warm up with a mug of gluhwein, hot mulled wine, tasty pastries, and hearty sausages. And don't miss the view from above from the windows of the historic town hall.
It's not just the view over the town square that has earned this building, called the Rathaus, the honor of being named a UNESCO World Heritage Site. The woodcarvings and historic architecture you'll find inside are truly impressive and well worth a look.
And if you want a different spin on Christmas Markets, head near the water where you'll find a Medieval Christmas Market.
Stroll the narrow and charming streets of the Schnoor neighborhood and admire the centuries-old houses dusted with snow. When your fingers and toes start to get cold, step inside one of the many quaint cafes and warm up with some local fare or a pot of tea. Teestuebchen im Schnoor is a good choice for a cozy atmosphere and a good selection of hot drinks and baked goods.
#18 Baiersbronn
Contributed by Yulia of That's what she had
A little town of Baiersbronn is an amazing destination all year round, but winter makes this place truly special. The town is located in the northern part of the Black Forrest, in between hills, surrounded by grand trees. In winter, when trees are covered in snow, the village looks straight out of a brothers Grimm's fairy tale.
Visiting Baiersbronn in winter means you can indulge in activities like cross-country skiing, snow-shoeing, tobogganing, and hiking. The region features 550 kilometers of hiking trails. While some of them might be closed off due to the amount of snow, you are still bound to hike for hours and hours on end before you'll have to turn around.
After hours of hiking and skiing, visit one of the spa resorts near Baiersbronn that feature steam rooms, massage, and relaxation therapies. Take it from a Russian girl, there's nothing better than a steam room followed by a cup of hot herbal tea when it's cold outside.
On top of all that, Baiersbronn is a great destination for food lovers. A town of only 15 000 people boasts three restaurants with Michelin stars (eight stars in total!). Torsten Michel, Claus-Peter Lumpp, and Jörg Sackmann, the Michelin-starred chefs, are well-known far beyond Baiesbronn and Bavaria. If a day of hiking, spa, and Michelin-starred meals doesn't make you excited about winter, I don't know what will!
These destinations are just a selection of the best places to visit in Germany in winter and your choice will depend on whether you want to hit the slopes or to enjoy the cozy comforts of the Christmas Markets. Even when not covered in snow, Germany's towns are peaceful and picturesque in winter, with crisp, clear days making for ideal photographic conditions.
The cold temperatures of Germany in winter shouldn't put you off though as the Germans certainly know how to help you warm up, with mulled wine and hearty stews being the order of the day.
Did you like it? Pin it!