Cochem is a small medieval town of Roman origin dominated by a famous castle and rich in history and traditions. But this lovely town is not only a picturesque destination perfect for a day trip: its many wineries and scenic surroundings make it a great base to explore the Moselle Valley and enjoy a vacation in nature.
Even if the Rhine River Valley is internationally famous as one of the most renowned German tourist destinations, the Moselle Valley is equally rich in hidden gems and picturesque locations suitable for a romantic getaway or an active family holiday. Cochem offers many trekking and sightseeing opportunities, and it's one of the main stops of any Moselle River cruise!
Disclaimer: This post contains affiliate links. This means I will receive a small commission if you click on certain links and subsequently purchase a product.
When to visit Cochem
The best season to find sunny and warm days and fully enjoy some outdoor activities in the countryside is summer! Anyway, Cochem is a great destination all year round. Choose fall to admire some foliage and taste the best wines; spring is the best time to embark on a river cruise and explore the Moselle and Rhine River valleys; winter is more suitable if you like to immerse yourself in local folklore. Cochem can be visited in one weekend, but it's so rich in attractions that you can easily spend 4 or 5 days in town without getting bored!
How to get to Cochem
By plane: if you're planning to fly to Germany, choose Cologne as your base.
By train: there are daily direct connections with Trier (45 minutes), Koblenz (50 minutes), Bonn (1h30), and Cologne (1h50)
By car: you can easily reach Cochem in 40 minutes from Koblenz and 1h15 from Trier.
By ferry: if you're planning to take a Moselle River cruise, check this website for more information; click here.
Where to stay in Cochem
Hotel La Baia: this typical hotel overlooking the river is close to the old town and the local railway station. It also has a restaurant.

Hotel Zehnthof: this small hotel is located across the river, offering a quieter environment and a less touristy location. Anyway, you can reach the old town in just 10 minutes.
Things to do in Cochem
Learn the story of the famous Reichsburg Castle
It dominates the small town from the top of a wooden hill, and its view is impressive. Anyway, its Gothic appearance is not original: the former castle dating back to the XII century was destroyed by King Louis XIV. It was never restored until the XIX century when a German businessman decided to turn the ruins into a luxury holiday home for his family.
Despite being so elegant and beautifully decorated, some dark legends make it a mysterious place: it was said that several women accused of witchcraft were thrown from a window of the castle in the XV century. From that moment on, a part of the castle was surnamed "Hexenturm," meaning "Witches' Tower." You can visit the castle by joining a 40minute guided tour at 6 euros. If you feel like walking uphill, just take the paved trail starting in the old town. Or simply take the shuttle bus!
Enjoy a stroll in the Altstadt (Old Town)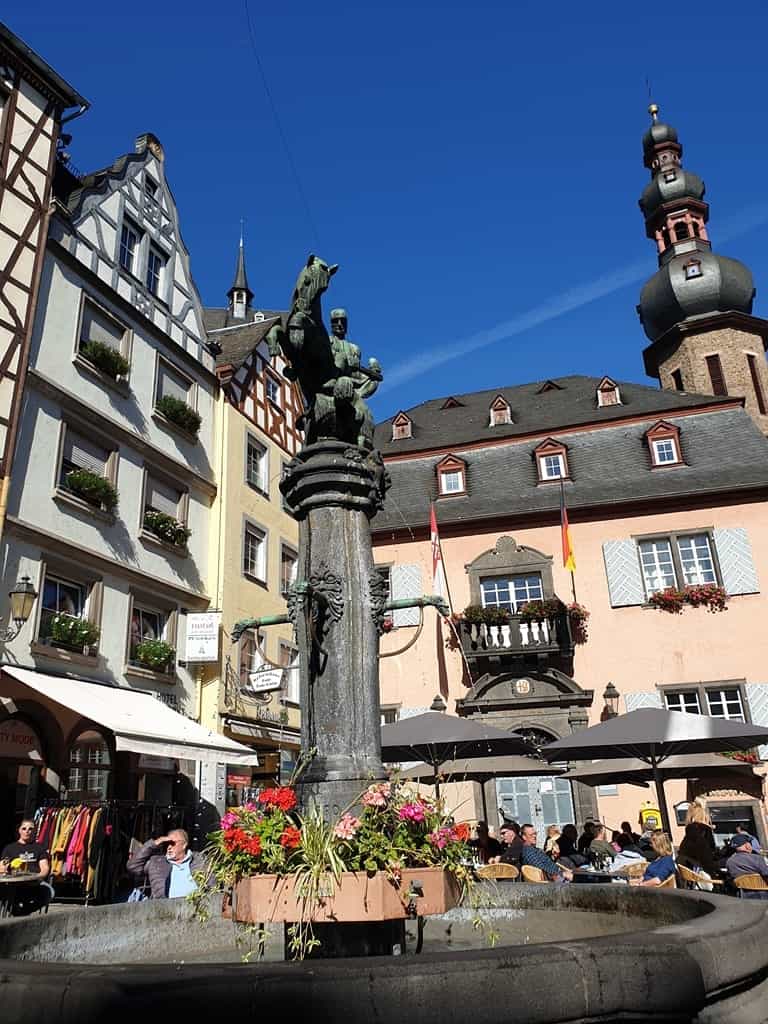 Step back in time to the narrow alleyways and the picturesque small squares of Cochem's old town! Several half-timbered buildings have been turned into typical restaurants, wineries, and gift shops, creating a lively atmosphere.
One of the best-preserved traditional buildings is the Rathaus (Town Hall), dating back to 1739 and located in the vibrant Market Square.
Enjoy the river view from the Moselpromenade.
Have a stroll along this elegant promenade running along the Moselle River. Flowers, elegant mansions, and swans make it a romantic and peaceful stroll.
Learn something more about medieval Cochem
Traces of the medieval town can be seen in the three gates of Cochem. St. Martin's Gate dates back to 1352, and it belonged to a toll house where every passing ship had to stop to pay its due. A long chain connected to the other bank of the Moselle prevented the ships from going further unless they paid the due amount!
Endert Gate dates back to 1332 and was named after the Endert Valley (from where frequent invasions used to threaten the town). Balduin's Gate was named after the Archbishop of Trier, who ordered the construction of the fortified walls in the XIV century.
Don't miss a ride on the Cochemer Sesselbahn.
This chair lift is a must unless you suffer from vertigo! It offers a unique view of the river and the valley from its chairs, leading you up to 255m above sea level on a panoramic terrace named Pinnerkreuz.
Once there, you can take pictures, have a break at a scenic café, and enjoy nature and outdoor activities. For more information, visit here.
Unveil a secret in the Bundesbank-Bunker
This unique location was kept secret until 1988, but it's now open for visitors. It was a bunker belonging to the German Bundesbank and built to hide a huge amount of German currency to be used in case some fake money was illegally introduced into the Country during the Cold War.
The building was said to be a training center for the bank's employees, and nobody knew it was a storage facility. Moreover, it looked like a couple of innocent traditional buildings on the surface, but it was way larger in the undergrounds! For more information, visit here.
Save some time for a Moselle River Cruise.
Explore the river banks, medieval castles, and vineyards while comfortably sitting on a ferryboat! There are short cruises taking just 1 hour, longer ones taking you to the villages and towns nearby, or real multi-day cruises offering a journey through the entire Region. If you're planning a day trip from Cochem, take the daily cruise to Koblenz to see where the Moselle flows into the Rhine River.
Enjoy some wine tasting.
Cochem is rich in wineries, wine bars, and typical restaurants offering a wide range of local wines, especially the renowned German Riesling. Some of the most recommended places are Winemaker J. Koll & Cie, Weingut Kloster Ebernach and Weingut Haxel.
Visit the Mustard Mill
The Senfmühle has been one of the main attractions of Cochem since 2001. This old mustard mill by the river has been producing nine flavors of this local product for many years, and it's been working since the XV century!
Its closely guarded recipes have already won several international awards, and you can buy some souvenirs in the mill's gift shop after learning more about the production techniques and the history of this typical German ingredient. Don't forget to taste it on bratwurst at the end of your tour! For more information, click here.
Hike to the top of the Brauselay Rock
This rock overlooking the river is sometimes referred to as "the Loreley of the Moselle" due to its resemblance with the more popular rocky formation by the Rhine River. It's a great hike and one of the best destinations for a day trip if you're staying in Cochem. You can take the Apolloweg passing through the tiny village of Valwig and reaching Valwigerberg and its forest.
Visit St. Martin's Church
The main Catholic church of Cochem is nice and picturesque, both inside and outside. Its colorful stained-glass windows create some beautiful light effects that are worth the detour. Even if it was almost destroyed during WWII, it still shows some original XV century architecture in the choir.
Soak up the Christmas spirit
From mid-November on, Cochem is all dressed up for Christmas: lights, decorations, fireplaces, mulled wine, Christmas markets, and an impressive living Nativity scene with real animals and customed figures. It is held in the courtyard of Reichsburg Castle, and it will surely charm both adults and kids.
Plan a day trip to Beilstein
Enjoy a scenic hike through the vineyards and reach Beilstein, a tiny but picturesque village by the Moselle River. The trail connecting Cochem to Beilstein is quite challenging, and it takes about 4h to reach the village, but the view is worth the trip!
Planning a trip on the Rhine? You might also like:

Ultimate Guide to Bacharach, Germany

Ultimate Guide to Braubach, Germany

Ultimate Guide to Boppard Germany

The Best Rhine River Castles and Towns to Visit