This post is also available in: French
Rising from the Mediterranean Sea, in the seductive corner of the Italian Riviera, lie the Cinque Terre, a string of colorful seaside villages at the foot of terraced hills that brim with a remote authenticity, a delicate ruggedness, and an enchanting appeal. Cinque Terre is an iconic tourist destination in Italy, and it's one of those postcard-perfect towns, with dramatic scenery, seaside villages, candy-colored houses, and cliffs that overlook the Ligurian sea.
No matter the type of traveler you are, the foodie, the backpacker, the adventurer, or the beach lover – Cinque Terre will blow your mind. The image of the multicolored houses nestled into cliffs, the pristine blue waters and the wonderful hikes will leave you a satisfied traveler. If you're traveling around Italy, or around Europe, you'll be able to relish the feeling of escaping the hustle and bustle of the cities and alternating that with breathtaking scenery, cheap food, fun activities, and an array of activities like kayaking, boat rides, swimming, and sunbathing.
Spending one day in Cinque Terre is very doable, even though it's worth staying a lot more there to really take in the beauty, a one-day trip to Cinque Terre will still give you quite a general gist of the villages. There are no traditional museums, churches, palaces or plazas; it's all about natural attractions, olive groves, vineyards, and exquisite views.
So here's how to see the best of Cinque Terre in one day!
Disclaimer: This post contains affiliate links. This means that should you click on certain links, and then subsequently purchase a product, I will receive a small commission. It costs nothing extra to you but helps keep my site running. Thank you for supporting me in this way.
Cinque Terre in One Day Itinerary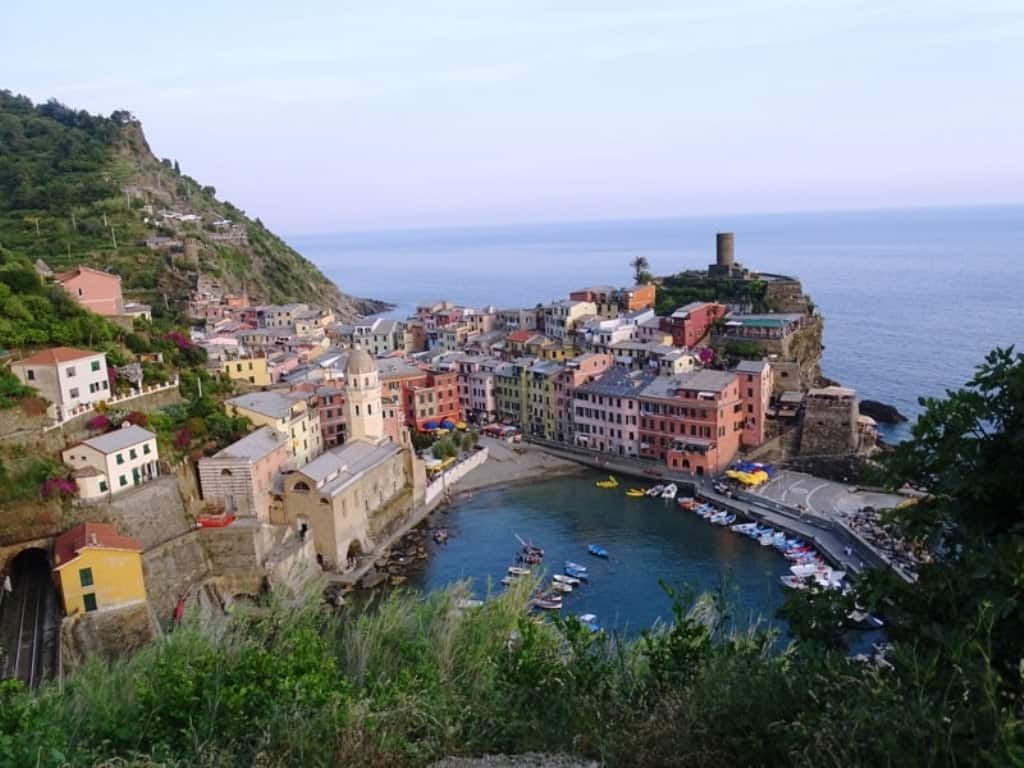 How To Get to Cinque Terre
Before planning how you're going to go to Cinque Terre, it's important to know that joining a day group tour from any of the cities in Italy would relieve you from the stress of booking plane tickets, changing train stations, or finding the right boats. There are dozens of tour options all over Italy, and they mostly operate by bus, they offer faster transportation, and you'll be able to get more free time to explore if you're on a tight schedule. Consider a tour if you want a hassle-free experience of the Cinque Terre in one day.
Here are some popular one day tours to Cinque Terre:
From Florence:
Cinque Terre: Full-Day Train & Boat Tour from Florence
From Milan:
Cinque Terre Day Tour from Milan
From Pisa:
Cinque Terre Small-Group Tour by Minivan from Pisa
From Lucca:
Cinque Terre Small Group by Minivan from Lucca
If you are looking for a shore excursion from Livorno:
Cinque Terre by Minivan Shore Excursion from Livorno
Train:
Getting to Cinque Terre by train is the most convenient of all the different means of transportation. You'll also get to enjoy unparalleled views of the Ligurian landscape.
The fastest trains are usually Eurostar, Intercity or Direct.
From Florence
You can buy a local train ticket from Florence to Cinque Terre that will take you to Pisa and then La Spezia (and then you have to switch there to get to one of the five villages) or one that will take you directly to La Spezia. It will take you three hours from Florence.
From Genoa, Rome, and Milan
You can also take the local trains from there directly to La Spezia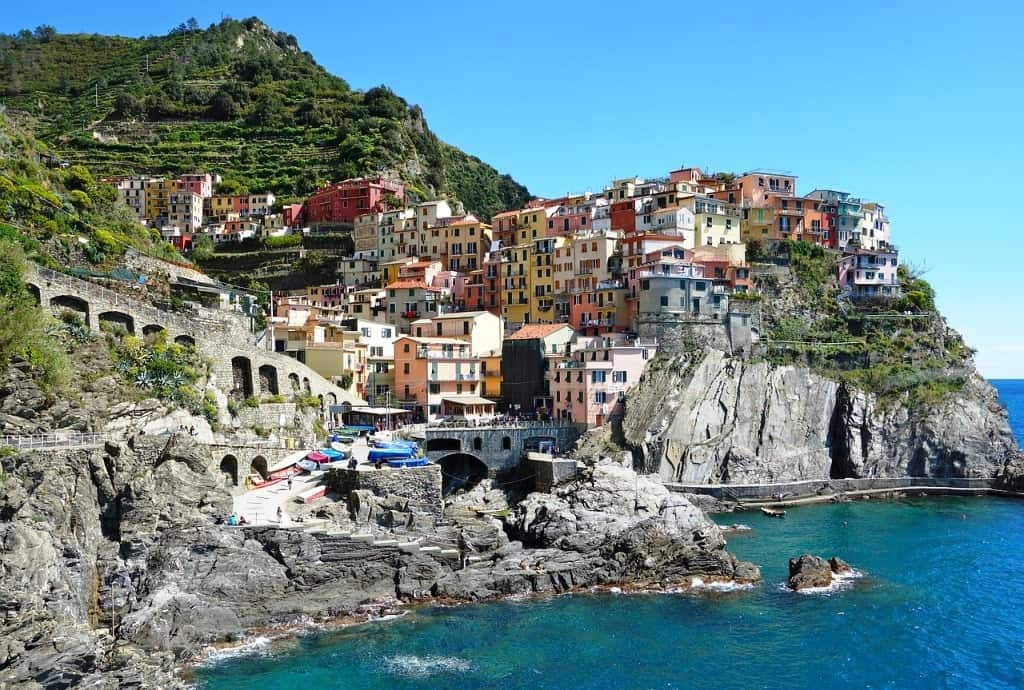 From La Spezia to the Cinque Terre Villages
The five Cinque Terre villages are all connected, and the train stops from La Spezia are Riomaggiore, Manarola, Corniglia, Vernazza, Monterosso, and Levanto. They're all 5 to 10 minutes away from each other. It takes about 15 minutes to get from La Spezia to Riomaggiore.
Approximate times:
From Milan to Cinque Terre – 3 hours (from Milano Centrale to Monterosso and costs about 30 euros)
From Rome to Cinque Terre – 4.5 hours
From Pisa to Cinque Terre – 2 hours
From Florence to Cinque Terre –3 hours
From Genoa – 1 hour 32 minutes, and costs from 6 to 26 euros.
From La Spezia to Cinque Terre – 15-30 minutes.
Plane:
You can also get there by plane, and the two nearest airports are the international airport Cristoforo Colombo in Genoa or Galileo Galilei in Pisa and then take a train from there.
Boat:
For a more dramatic entrance, you can take the train to La Spezia and then take a boat to Cinque Terre.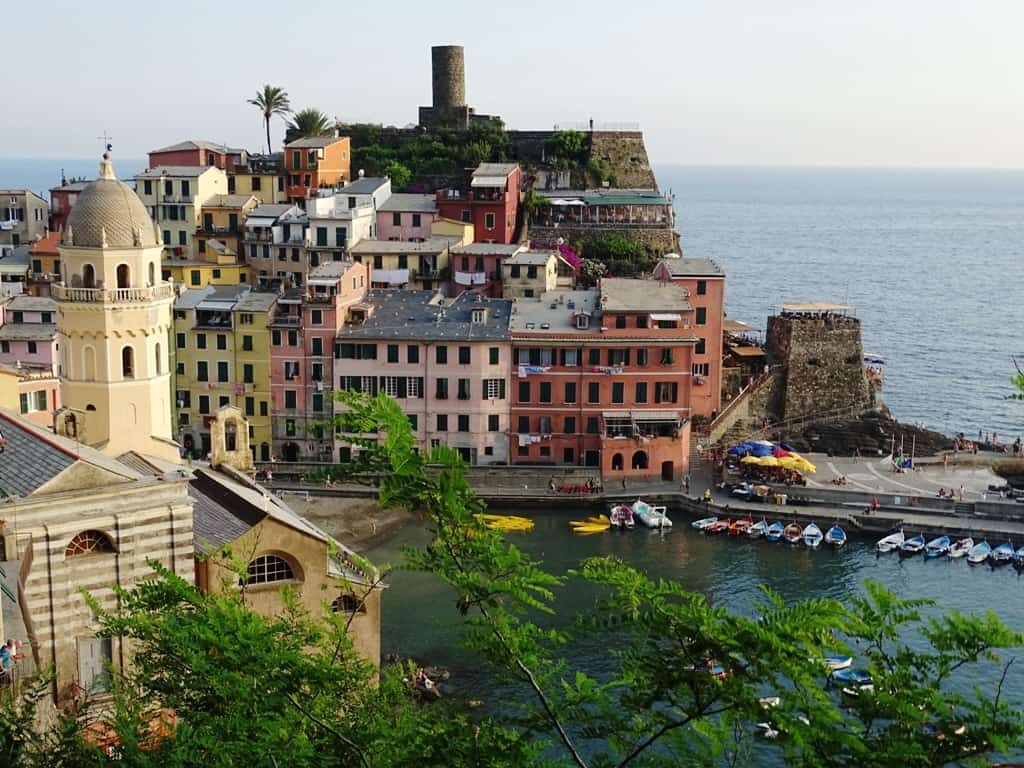 How to get around the Cinque Terre:
Train
The easiest way to get around Cinque Terre is without a doubt by train, and each station is only 5 to 10 minutes away from each other, making it very convenient and fast. Exploring the Cinque Terre in one day by train will be the most efficient use of your time.
Tips:
The trains run in each direction 1 to 2 times per hour.
Purchase the Cinque Terre Train Card, which will cost you about 13 euros, but will offer you unlimited train rides. This is the perfect option if you're going to spend one day in Cinque Terre.
One-way fares are 4 euros each way.
Be careful of pickpockets inside the trains. They are everywhere.
Boat
You can hop on the local ferry and get to see the towns from the ocean while immersing yourself in the beautiful views around you as you watch the mountains and the waves interlock together.
You can get:
An all-day pass: 25 euros.
If you just want a quick boat ride, it will cost you about 5 euros.
Hiking
The best way to take in all of Cinque Terre's beauty is through hiking the trails! You can get a €1.80 ticket that will let you pass from village to village or get the Cinque Terre Trekking Pass which costs 12 euros for one day and will allow you unlimited train journeys and access to all walking trails. Some trails are still closed from the floods of 2011.
The villages of Cinque Terre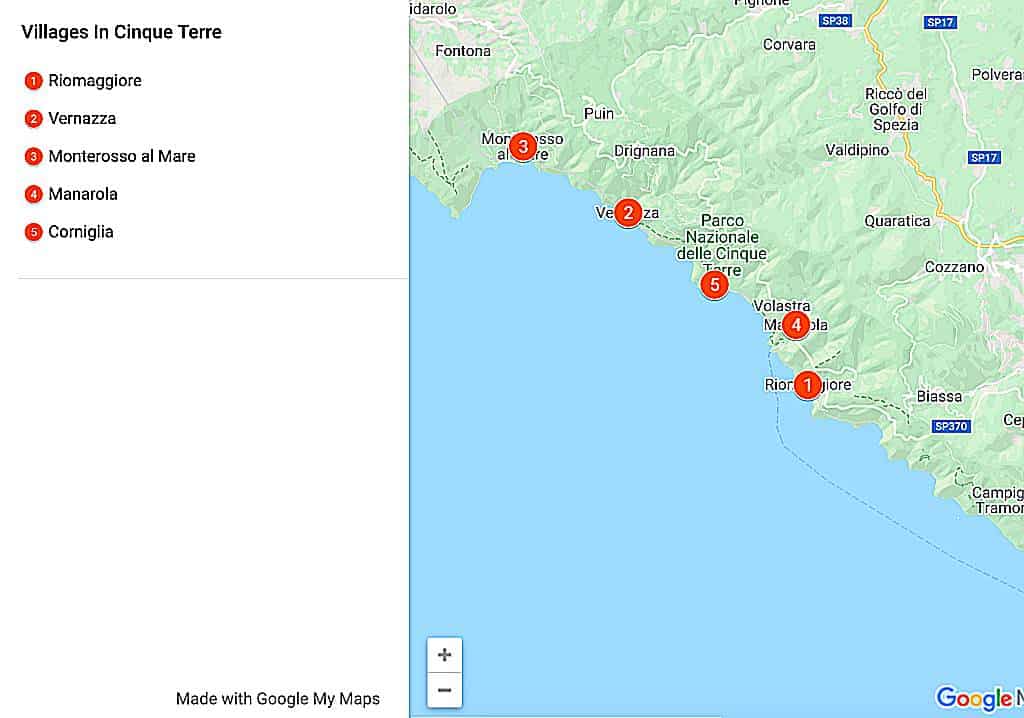 Cinque Terre (Five Lands) is basically made of five villages that are perched in rocky coves, hidden in dramatic cliffs with terraced vineyards, and plenty of scenic views. You should know by now that going to Cinque Terre will not satisfy you fully if you're looking for sights or monuments, it's more of a slow-paced vacation where you get a chance to take in the views, appreciate the beauty, sip on some wine and eat fresh seafood by the sea with the backdrop of cliffs in the distance. You go to Cinque Terre to sunbathe, to swim, rent a kayak, snorkel, cliff-dive, and explore the coast, you can even hike the trail between Vernazza and Monterosso which is considered one of the best hikes in Italy.
If you're going to spend one day in Cinque Terre, the top three villages you should visit are Monterosso al Mare, Vernazza, and Riomaggiore. The other two, Manarola and Corniglia, are equally as beautiful but should not be your priority if you're tight on time.
Riomaggiore
If you're arriving by train from La Spezia, this is the first village you'll stop by. A beautiful village with tightly packed buildings that sit atop the bluest, most vivid waters you will ever see. You'll also find that Riomaggiore has a livelier nightlife than most of the other villages if you're in the mood for some partying. Riomaggiore has one street, a harbor, its beach and a few other attractions you should check out.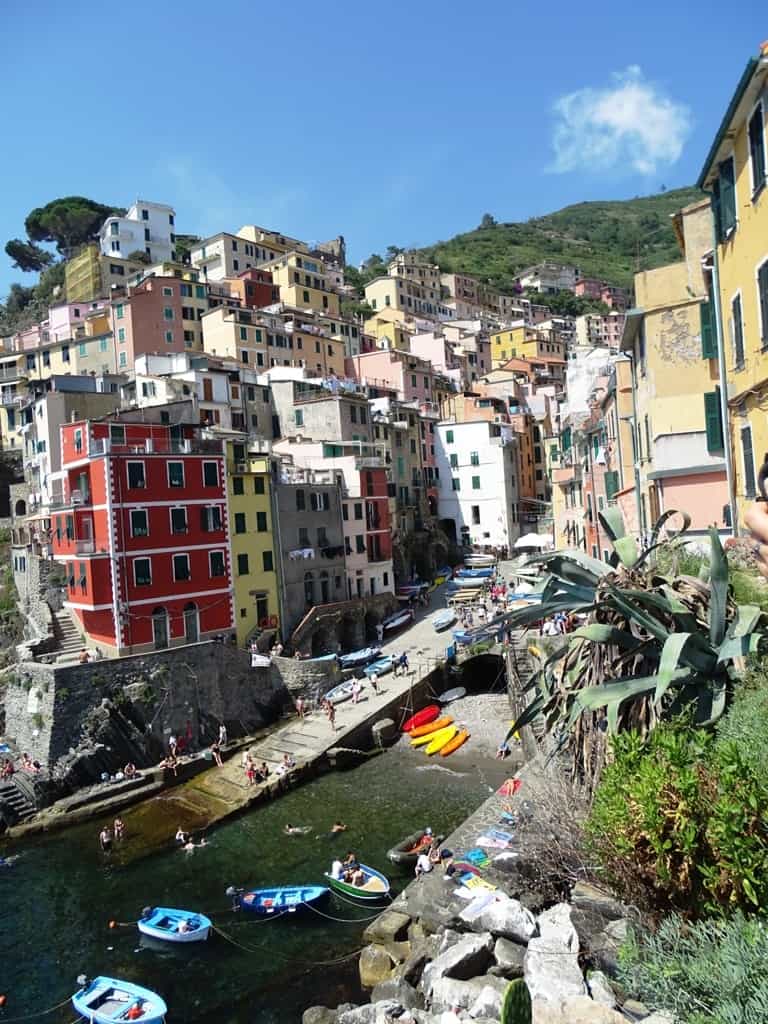 Top attractions:
Walking around Riomaggiore and getting lost in its steeped cliffs is the perfect way to spend your time there as you walk through the terraced grapevines and enjoy the views.
The Church of San Giovanni Battista – This church was constructed in the 14th century and boasts gorgeous Gothic architecture, the wooden crucifix of Margliano, and the "Baptist's Preaching."
The Sanctuary of our Lady of Montenero- The official building here dates back to the 8th century and has gorgeous panoramic views all the way back to Monterosso.
The Castle – You can also get great views from the castle. The interesting thing about this castle as this it was first used a protection fort, then a cemetery and then an educational center now.
Selected Tours in Cinque Terre
Vernazza
This is the most photogenic, picturesque and beautiful of all the villages. It is even deemed as one of the most beautiful towns in all of Italy, but it's also the most overrun by tourists. You'll find a natural port, one main street from the train to the harbor, a castle, and a Piazza Marconi. Back then, it was the wealthiest of all five villages due to its harbor.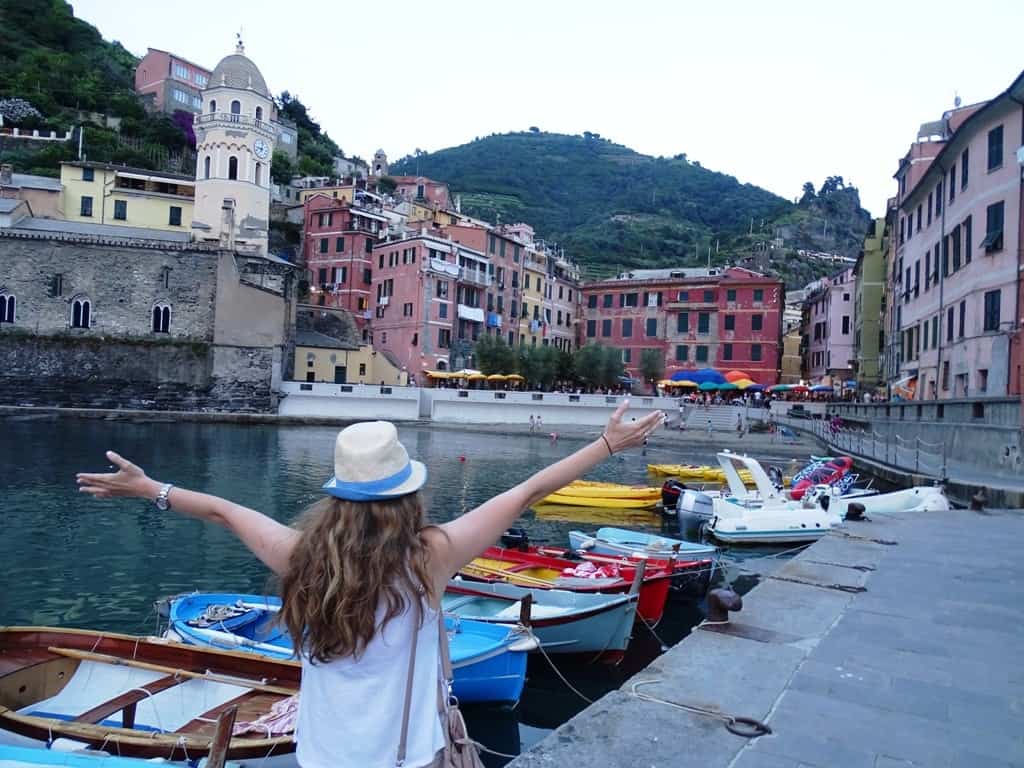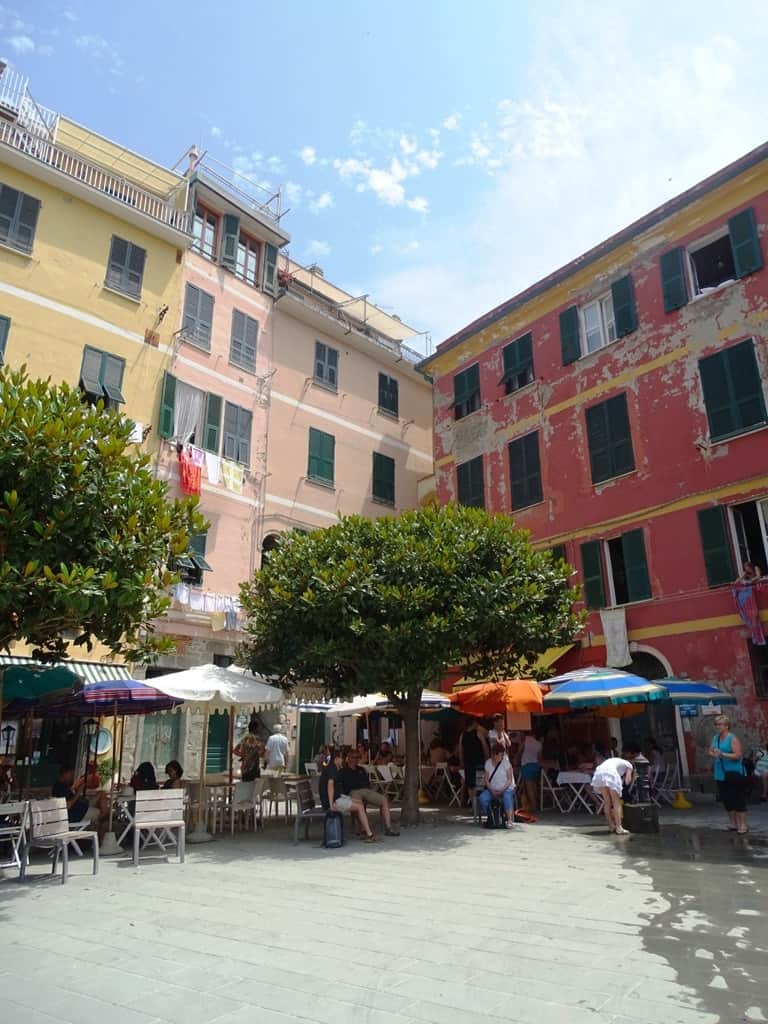 Top attractions:
The Caruggi – Those are the narrow lanes with stairs, terraces, little houses and beautiful views of the blue sea.
The Castello- Go to the watchtower and enjoy the views of the city.
Church of Santa Margherita d'Antiochia – A beautiful church that stands majestically in the middle of the village.
The two beaches in Vernazza.
Monterosso al Mare
This is the biggest of all five villages and one of the most visited due to its long seaside promenade and huge sandy beaches. The city itself is divided into the Old Town and the New Town. On one side you will side the Old Town called Centro Storico, and the New Town called the Fegina separated by the medieval Torre Aurora.
In the new town, you will find hotels, and high-quality restaurants while the Old Town is the more picturesque medieval part of town. Monterosso is also the flattest of the five towns making it very accessible (and packed with tourists), and also making it a great option for you if you have any mobility issues.
Another thing about Monterosso Al Mare is that it is usually the starting point for hikers who want to start exploring Cinque Terre by foot.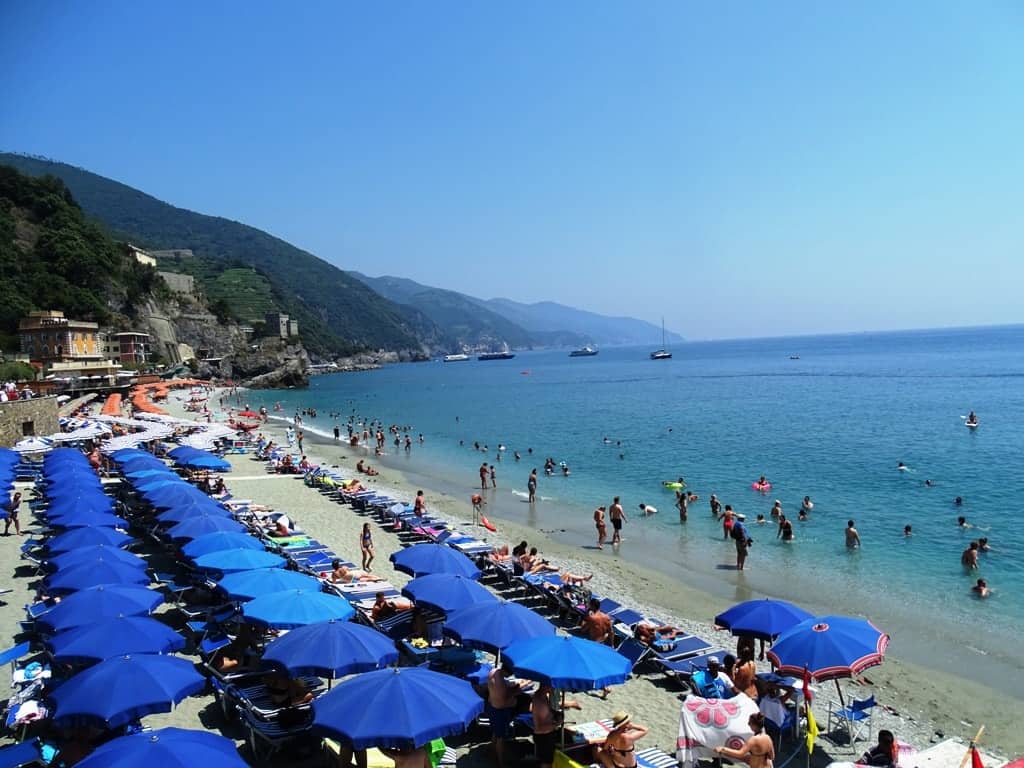 Top attractions:
The "Giant Structure" – The statue of Neptune emerging from the stone is considered a symbol of Monterosso right now.
Covento di Monterosso al Mare – A convent that is visible from all parts of the village.
San Francesco Church – It was built in the 17th century, and it has important paintings by Van Dyck, and you should check out the St Francis and the Wolf statue which will reward you with magnificent views of the villages.
The beaches – The beaches of Monterosso Al Mare are considered the loveliest in all of Cinque Terre thanks to their long stretches of sand.
The Church of San Giovanni Battista – A church with a beautiful façade made from marble, a medieval bell tower, and a watchtower.
Manarola
Spending one day in Cinque Terre can be quite hectic, and you will need time to fully take in the different villages. If you still have some time, head over to Manarola. There is a small harbor, picturesque parts where you can take beautiful pictures, colorful houses, and the city is considered the most "romantic" of them all. If you hike from Riomaggiore to Manarola, you'll be met with vineyards and wine trails and the best sunset views you will ever encounter in your entire life. Manarola is all about its cozy cobbled streets, its cozy trails, and its Sciacchetrá, its known sweet dessert wine. Also make sure to check out the Natività di Maria Vergine, the bell tower, and the watch-tower.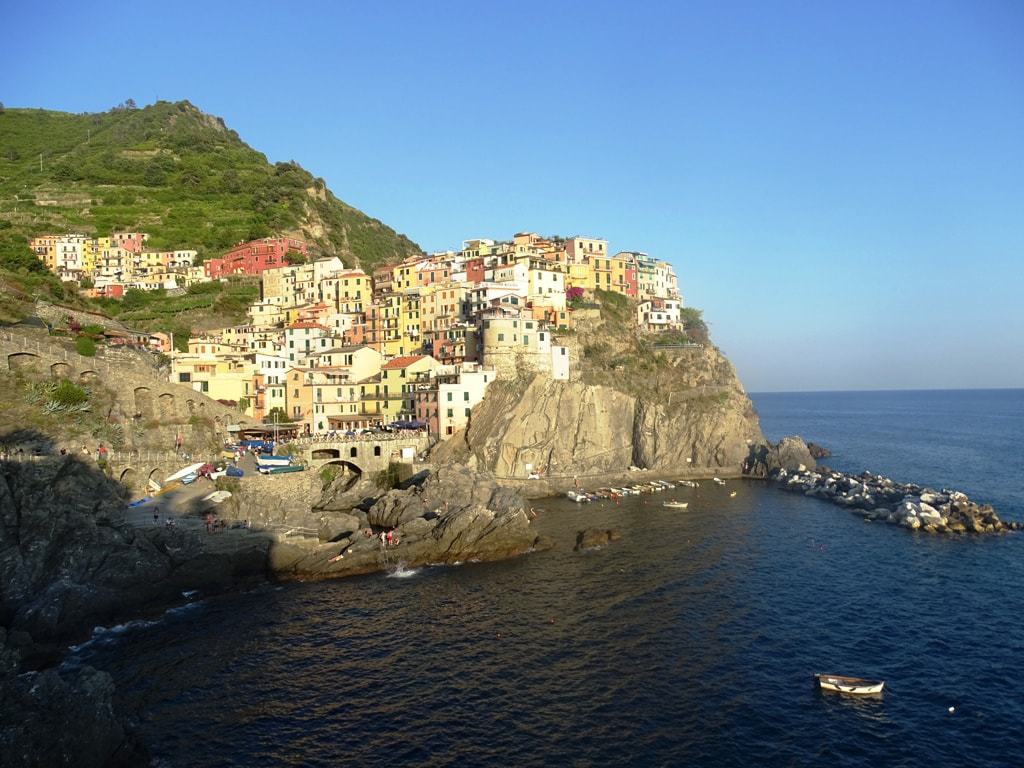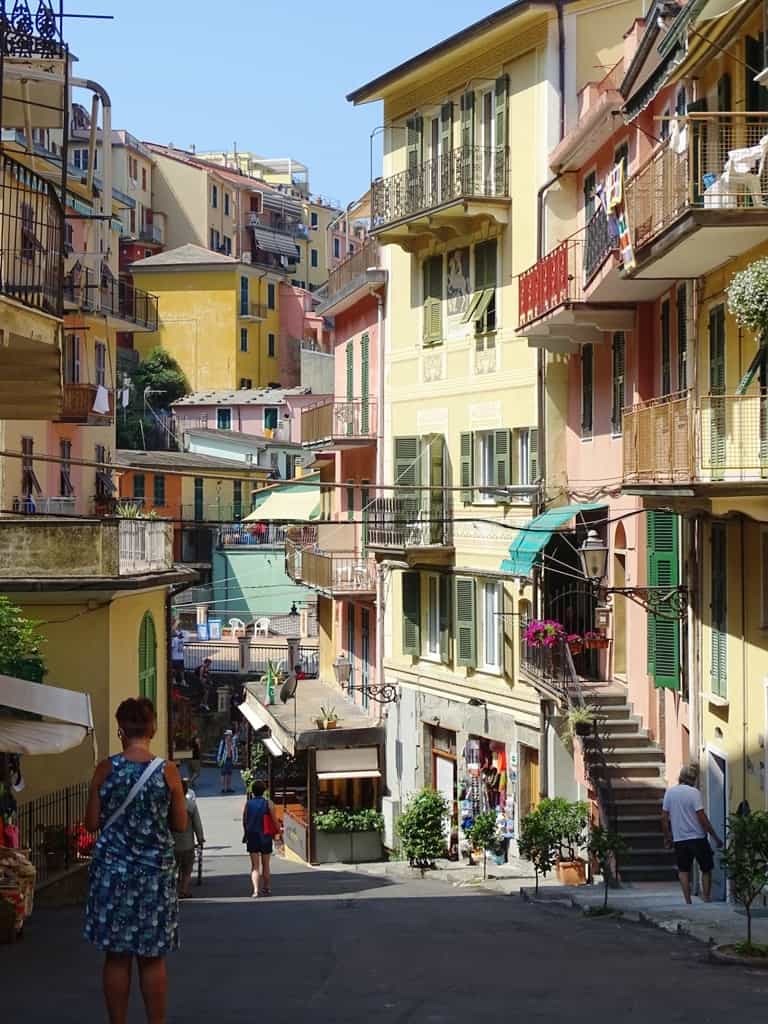 Tip: There are no beaches in Manarola, there are only rocky "beaches" where people go to sunbathe or cliff dive.
Also if you want to take the perfect photo of Manarola get there in the afternoon during the summer months to have the sun on the back.
Corniglia
Corniglia is the only town that can't be reached by boat and doesn't have a harbor. You also have to get up the 365 steps to reach the center of the town, and for these reasons, you'll find it's the most relaxed of all the cities since it is the least accessible position. There is a bus that goes from the train station to town and its free with the Cinque Terre Train Card.
Top Attractions:
The Church of San Giovanni Battista
The Guardiola Tower
The Centre for Environmental Education and Naturalistic Observation
Best time to visit Cinque Terre
Winter: not too many tourists choose to visit Liguria in winter because this area is mostly associated with summer and its lush Mediterranean scrub, but the view is worth a visit in every season! Winter is relatively mild (the temperature rarely goes below 10-9 degrees), so that you can still spend some time in the open air. If you are interested in trekking, beware of the maintenance period of many trails.
Spring: a weekend by the sea to enjoy the spring sun and the countryside in bloom is always a good idea! Cinque Terre won't be so crowded as in summer, so you'll have the chance to visit the villages at your own pace and take some beautiful pictures in peace. While there are frequent rainfalls in March and April, May is usually warmer and sunnier.
Summer: the typical season to visit Cinque Terre and Liguria in general. It's the most crowded and hot period of the year, so it's not ideal for a first visit to the villages nor for some trekking. Anyway, you can still enjoy a beach holiday in a scenic place.
Autumn: from the second week of September on, the area gets much quieter, since the start of the school year marks the end of the Italian holiday period. Autumn is mild and sunny at least until November and you might be able to spend some hours on the beach until the first week of October.
Best months to visit Cinque Terre: May and September
Typical Food to try in Cinque Terre
Farinata: a sort of crêpe made with chickpea flour, which is popular in every part of Liguria Region
Focaccia: local flat bread similar to pizza dough, which is popular in every part of Liguria Region
Fried zucchini flowers: a typical summer snack or appetizer
Tagliatelle with pesto sauce: in other parts of Liguria you'll find trofie, but here using tagliatelle is more common. Pesto is the famous sauce made of basil, pine nuts, parmesan, garlic, and olive oil.
Fish soup: fish is the most typical food you'll find in every local restaurant. Local bluefish is very common, especially anchovies or other "poor" fishes, together with mussels (here they are called "muscles")
Rice Cake: a savory pie typical of Monterosso and made with puff pastry filled with rice, egg, parmesan, mushrooms and possibly some tomato sauce to give it its reddish color.
One day Cinque Terre itinerary by train and train
When: mid-September
What you need:
Cinque Terre Card Train Ms (https://www.cinqueterre.com/en/the-cinque-terre-card) to have access to the regional trains on the La Spezia-Levanto line, to access the trails and take part in the guided tours locally organized in the chosen period. Cost: 16 euro.
Comfortable shoes
Camera
Beach towel
H 8.15 a.m – catch a train in La Spezia and reach Riomaggiore at 8.23
You can now explore the village and take some pictures reaching the cliffs overlooking the sea. Take your time to wander around and stop at a local café to enjoy your breakfast by the sea.
Trains from Riomaggiore to Manarola are not very frequent, so you can take advantage of this early morning to experience some local trekking and reach Manarola on foot!
H 10.30 – arrival in Manarola
Explore the old town and the lookouts and reach Punta Bonfiglio for the best pictures
H 11.27 – catch a train and reach Corniglia (it just takes 2 minutes)
The village is located above the train station and you can catch a shuttle whose price is included in the Cinque Terre Card
Now you can have a typical lunch in a peaceful environment
H 2.40 p.m. – catch a train to reach Vernazza (it just takes 3 minutes)
Spend at least 1 hour here and don't miss the belvedere in front of S. Margherita Church. At the base of the church, you'll also find a small beach to relax and sunbathe.
H 4.34 – catch a train to reach Monterosso al Mare (it just takes 4 minutes)
Take your time to explore the village and to enjoy an aperitivo by the sea
H 6.19 – catch a train to go back to La Spezia (it takes about 30 minutes)
One day Cinque Terre itinerary by boat and train
When: late May
What you need:
H 8.47 – catch a train in Levanto to reach Monterosso (it just takes 4 minutes)
Take your time to admire the early morning landscape and wander around the old town.
H 10.30 – take the ferry to Vernazza (it will take 10 minutes)
Spend about 1 hour exploring the village and taking pictures, especially from the lookout of the S. Margherita church. Have lunch here and enjoy some local street food on the beach.
H 14.40 – take the ferry to reach Manarola (it will take 20 minutes).
On your way to Manarola, you'll see Corniglia up on the hill. This village is not directly by the sea, but its view from the ferry is worth the trip.
H 15 – on your arrival in Manarola, stop at the marina to take some pictures, then head to the old town.
H 16.30 – take the ferry to reach Riomaggiore (it takes 15 minutes)
Visit the village and take your time to immerse yourself in its picturesque atmosphere.
H 18.24 – catch the train to get back to Levanto (it will take 20 minutes)
Seeing Cinque Terre in one day will be a challenge but it will be worth-while as you will be able to see the most important attractions, take the postcard-worthy pictures that you've always dreamed of, sip on wine, and hike the trails. The villages are close to each other if you take the train, and you'll be able to enjoy the dramatic scenery and the laidback lifestyle that Cinque Terre has to offer you in just one day.