When one first thinks of Tuscany, one thinks of the rolling hills and romantic countryside bathed in ethereal light and the copious amounts of wine-tasting to do. For those who decide to visit the hilltop villages in Tuscany, this is a dream come true and more. Located in the central region of Italy, this coveted bucket-list destination is home to a multitude of charming towns that have plenty of pleasant surprises to offer the curious traveler. Here are my favorite hilltop villages and towns to visit on your next road trip to Tuscany. 
Check out my 10 day Italy itinerary for first-time visitors.
The Best Tuscan Hill Towns and Villages
Siena
Siena is known as Italy's medieval city, a place soaring with gothic architecture and steeped in history so that it makes you feel as if you are walking back in time. At its very heart is Piazza del Campo, also known as Il Campo, a square where you can find tourists and locals alike relaxing and having a picnic whilst surrounded by cafes. From there you can visit The Duomo, Siena's inspiring cathedral; Museo Civico, the town's most famous museum which is decorated with rich frescoes; and Pinacoteca Nazionale di Siena, a gallery that is home to incredible masterpieces from the Sienese school.
You might be interested in How to get from Florence to Siena and how to spend one day in Siena.
San Gimignano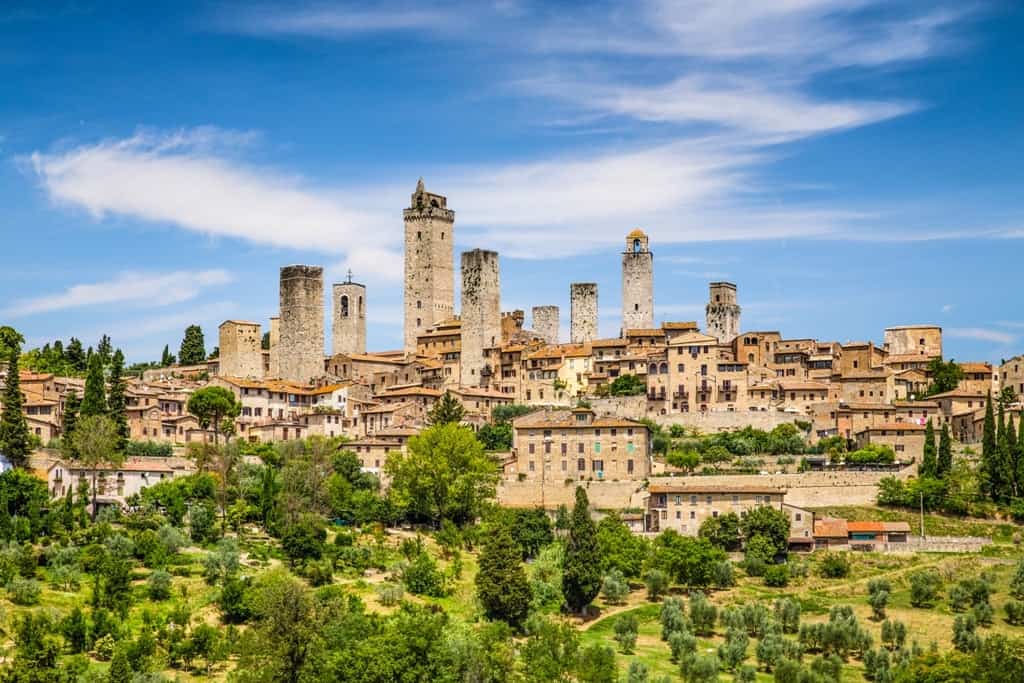 Surrounded by 13th-century walls, San Gimignano is known as the 'Town of Fine Towers' and is famous for its medieval architecture. To get the full experience of such an unforgettable place, one must visit the fresco-covered Collegiate Church of San Gimignano, the Romanesque cathedral built in the 11th century, and the Palazzo Comunale for the medieval art inside. Climb the 218 steps of the tallest tower in town, Torre Grossa, to enjoy an extraordinary view of the village. End your visit by tasting one of the top wines in Tuscany, Vernaccia di San Gimignano, a white wine that is produced especially in San Gimignano.
You might be interested in: The best wine tours in Tuscany.
Check here how to get from Florence to San Gimignano.
For more beautiful destinations to visit in the area check this road trip through Tuscany.
Volterra
This walled mountaintop town of Tuscany is known for its well-preserved Etruscan origins. One of Italy's most impressive range of Etruscan artifacts is housed at Museo Etrusco Guarnacci. While walking through the town, visitors can visit the majestic walls that surround the village which dates back from the 13th to 16th centuries, the oldest being Portia all'Arco.
If you want to see Romanesque architecture and frescoed chapels, pay a visit to the Duomo and Baptistry, where you will also find artwork by renowned Italian artists, and visit the Roman Theatre, built in the 1st century BC and one of Italy's finest. A browse through the hand-made alabaster objects that Volterra is famous for is a must before you leave – it could make for a wonderful souvenir.
Colle di Val d'Elsa
Also known as "Hill of Elsa Valley," this Tuscan town is world renowned for its narrow lanes and crystal glassware which make it a charming village to visit. You can visit the Crystal Museum to learn more about glassware production and on the first Sunday of every month there is an open-air demonstration that takes place close to the Duomo at 3.00pm. While exploring this quaint village, make your way to the Palazzo Campana, where you will the find the entrance to the castle and the oldest part of the town. If you want to get away from the crowds, Colle di Val d'Elsa is the perfect stop between Siena and Florence.
Montepulciano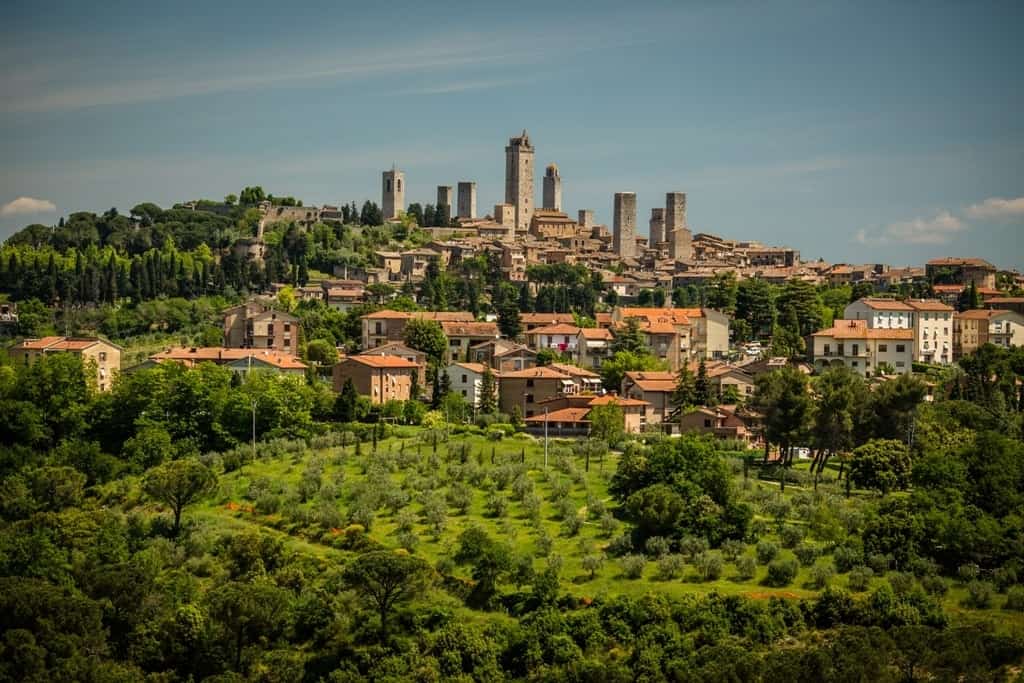 Sitting on a limestone ridge, Montepulciano is known for its food and drink production and for being the filming locations of the Twilight sequel "New Moon." At the very center of this beautiful town is Piazza Grande, and because this town is highly walkable, you can make your way throughout the city from there with ease; the Cathedral of Santa Maria Assunta houses a masterpiece from the Sienese school and the church of Santa Lucia houses an altarpiece. Be sure to visit the stunning surrounding vineyards producing Vino Nobile, one of Italy's classic red wines.
The Hilltop Town of Pienza
Pienza was declared a World Heritage Site by UNESCO and is known as "the ideal city of Renaissance." Standing atop a high hill, the lookout to the surrounding areas is breathtaking. There are a few palazzos in Pienza to visit: the first is Palazzo Piccolomini, which sits to the right of the Duomo and has a lovely garden from where you can get a panoramic view of the Val d'Orcia Valley; the second is Palazzo Vescovile, home to Diocesan Museum, the Museo dellaCattedrale and many important works of art; and the third is Palazzo Comunale, the town hall. It is a picture-perfect and enchanting Tuscan village sure to induce awe from family and friends back home.
Don't forget to check my packing list for Italy.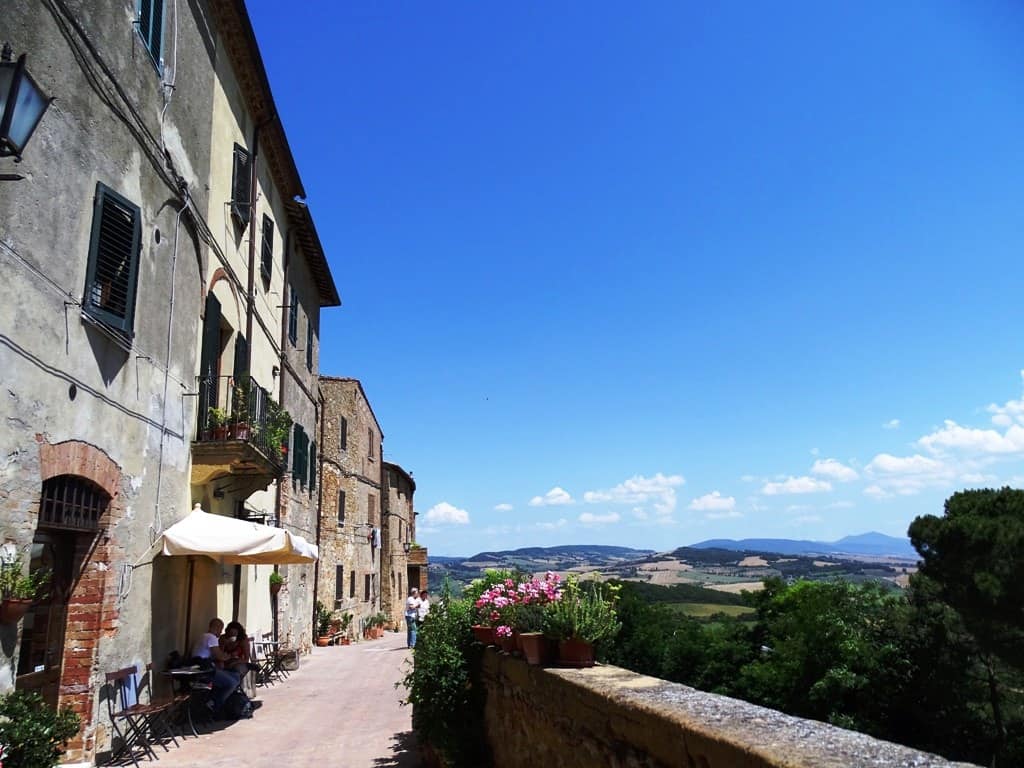 Montalcino
Home to one of the greatest wines, Brunello di Montalcino, this medieval Tuscan village is surrounded by walls which makes it an ethereal hilltop village. In its historic center is a magnificent fortress built in 1361 and the setting for many events that happen in town, including the Jazz & Wine Festival. At the city's town hall, Palazzo dei Priori, you will find the clock tower and below it the Piazza del Popolo, the main square. If you would like to visit a couple of museums, Museo Civico and Diocesano di Arte Sacra houses numerous religious paintings and sculptures, and the Glass Museum provides information about the history of glassmaking.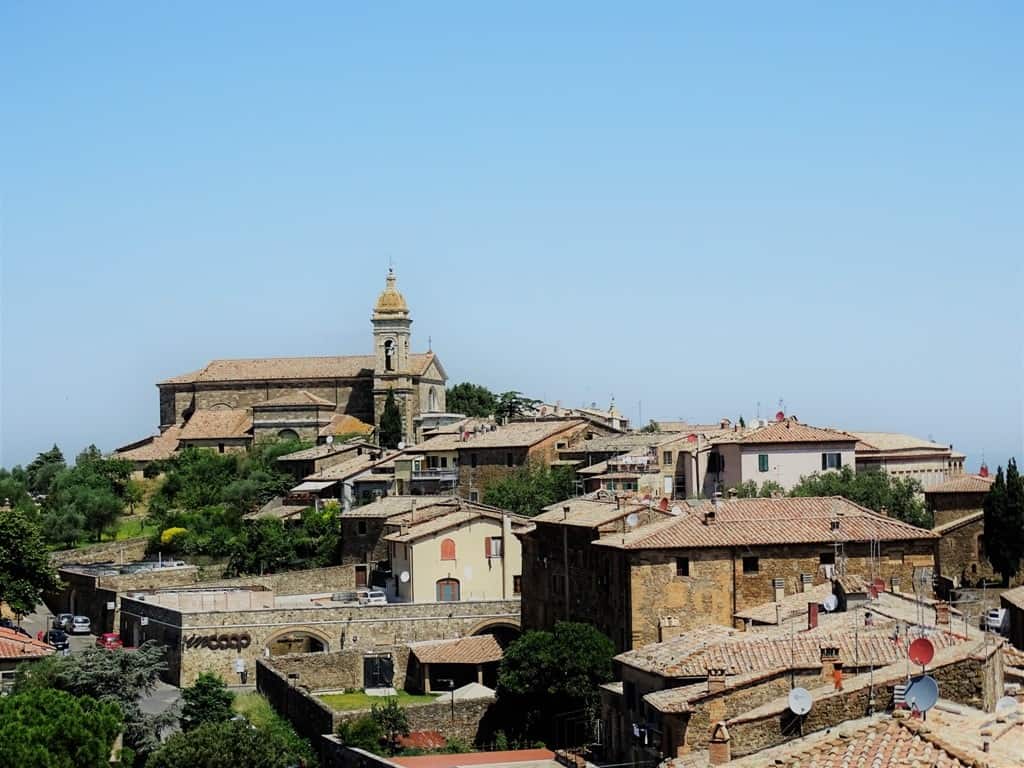 It is not just the extraordinary beauty of the countryside or the fine wines that bring people from all over the world to these hilltop villages in Tuscany. These small towns are home to a wealth of art, including paintings, frescoes, and medieval architecture and is a place where people can immerse themselves in authentic Italian culture and language. Whether you plan to visit just one or all of the hilltop villages in this region, you won't be disappointed if what you are seeking is exquisite beauty, rich food and wines, and a unique historical experience.
You might also like:

45 Things to do in Tuscany

How to spend 2 days in Florence

How to spend one day in Pisa