When you think of stereotypical Italy, you likely imagine lusciously green hills lined with Cypress trees, rolling vineyards, and Medieval architecture; the central Italian region of Tuscany combines all these elements and even more. From the birthplace of the Renaissance, Florence, with its grandeur and romantic charm, to the Gothic intrigue of Siena, Tuscany never ceases to wow its visitors. Because the region has so much to offer, it can become slightly overwhelming, however, with this 4-day Florence and Tuscany itinerary, you will be able to make the most out of your trip.
You might want to check out: My Italy packing list.
Disclaimer: This post contains affiliate links. This means that should you click on certain links, and then subsequently purchase a product, I will receive a small commission.
How to spend 4 days in Florence and Tuscany
4 days in Florence and Tuscany – Day 1 Florence
Florence Cathedral – Duomo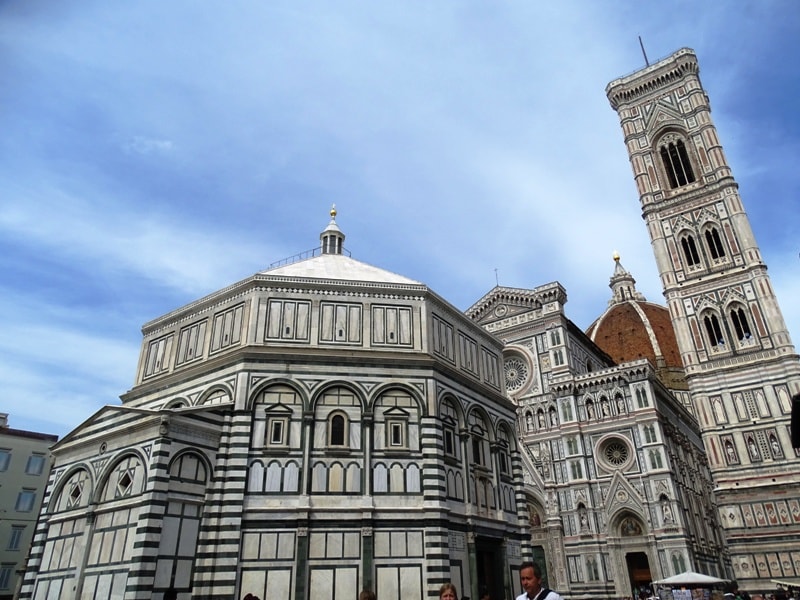 Though a relatively small city, Florence is full of hidden treasures and bold architecture. The best place to start your trip is by visiting Florence Cathedral; with its strikingly golden dome that dominates the city's skyline, it is hard to miss. Built between 1296 and 1436, the Cathedral, and in particular the dome, are symbolic of the city's role in the Italian Renaissance; ensure that you travel inside the Cathedral and discover the beauty of its interior just as much as the exterior.
Tip: There is a dress code to enter the church. Women must wear clothes covering their knees and their elbows. Men must wear long trousers.
Tip: The queues to enter the Duomo and to climb the Cupola are long and you might have to wait for hours to enter. A great way to skip the lines is by taking a guided tour or if you are using the Firenze Card (The Firenze Card works like a three-day fast pass to your favorite attractions. This is a great option for visitors trying to pack as much sightseeing into a Florence vacation as it lets them skip the long queue lines at most of the most popular sites. It is a great buy if you are staying in Firenze for 3 days).
Here are some recommended tours of the Duomo:

Guided Tour of the Duomo Including the Rooftop and View the Terraces

I highly recommend the VIP David & Duomo Tour by Walks of Italy which includes an early access tour to Accademia & Skip the Line Dome Climb with Exclusive Terrace Access.
Piazza della Republica
Afterward, head towards Piazza della Republica, which is one of Florence's largest and most central squares; the Piazza holds an extensive history and has seen many different architectural changes and purposes over the years, such as its Medieval markets, all the way to its dramatic transformation in the eighteenth-century. Today, there are a plethora of street performers, visitors, and stalls, as well as an array of famous cafes, such as Caffe Gilli.
Fontana del Porcellino
Nearby lies the Fontana del Porcellino, a replica of the seventeenth-century figure by Pietro Tacca; visitors visit the statue to drop a coin in the quest for good luck!
Piazza della Signoria
Next, head towards Piazza della Signoria, one of Florence's most famous and iconic squares. The Piazza holds an important political history and has been at the core of such events since the thirteenth century. Today, there are many things to visit in the Piazza, such as Loggia dei Lanzi, which is a free open-air gallery filled with important statues. Another wonderful aspect of the Piazza is Palazzo Vecchio, the town hall of Florence that towers above; there is also a copy of Michelangelo's David, nestled beneath.
Ponte Vecchio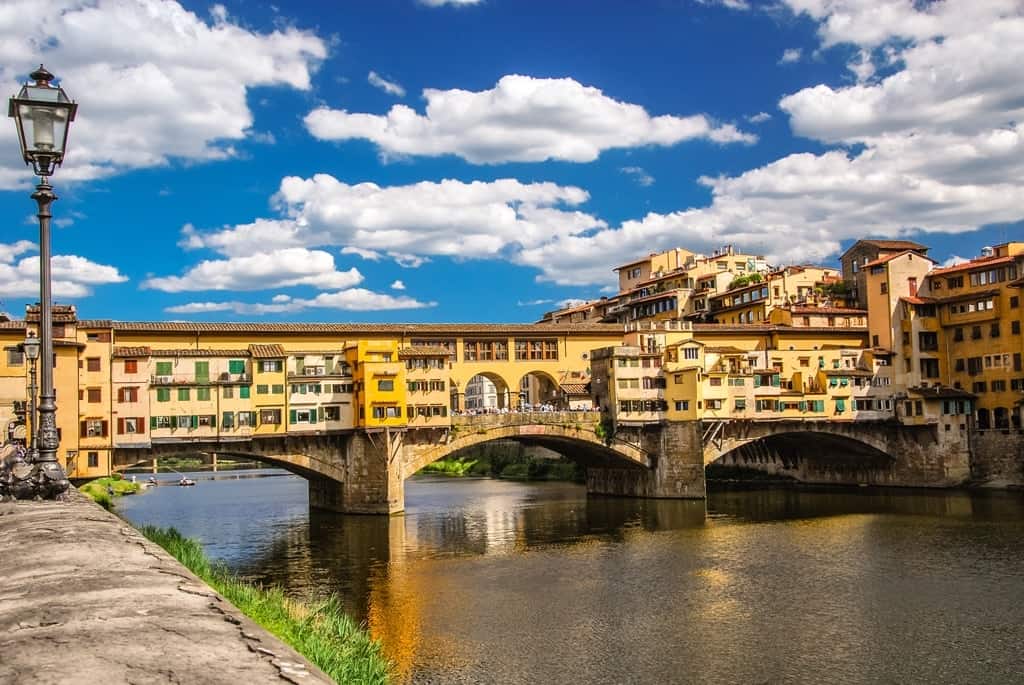 When you have finished exploring every nook and cranny of Piazza della Signoria, head towards Ponte Vecchio, a breathtakingly unique Medieval bridge. Since 1593, the bridge has only housed jewelry shops, a tradition that continues today. The Ponte Vecchio is amazing to walk over, gazing into shop windows and admiring the architecture, but also to be viewed from the river, allowing you to see its unique charm.
Basilica di Santa Croce
Complete your first day in Florence with a visit to the Basilica di Santa Croce, a spectacular thirteenth-century masterpiece with exceptional architectural features, as well as a resting place for famous Italian, including Michelangelo, Machiavelli, and Galileo Galilei. The Basilica is striking, both from the outside and the inside, and houses a plethora of incredible artworks and intimate chapels; there is so much to discover.
4 days in Florence and Tuscany – Day 2 Florence
Galleria dell'Accademia
Begin your second day in Florence with a trip to Galleria dell'Accademia, a world-famous art gallery renowned for housing Michelangelo's David, a Renaissance masterpiece cut from a single piece of marble. As well to this, there are many other artworks that merit great attention, including those by Botticelli and Lippi; aside from the works themselves, the actual building of the Galleria dell'Accademia is beautiful.
Tip: There are usually long queues for the Accademia. To save time you can either buy a timed entrance ticket beforehand or book a guided tour.
Here are some suggestions:

Timed Entrance Ticket to the Accademia

Skip the Long Queue with a Guided Tour of the Accademia

I highly recommend the Best of Florence Walking Tour with David & the Duomo if you want to combine a skip-the-line visit to the Accademia and the Duomo.
Uffizi Gallery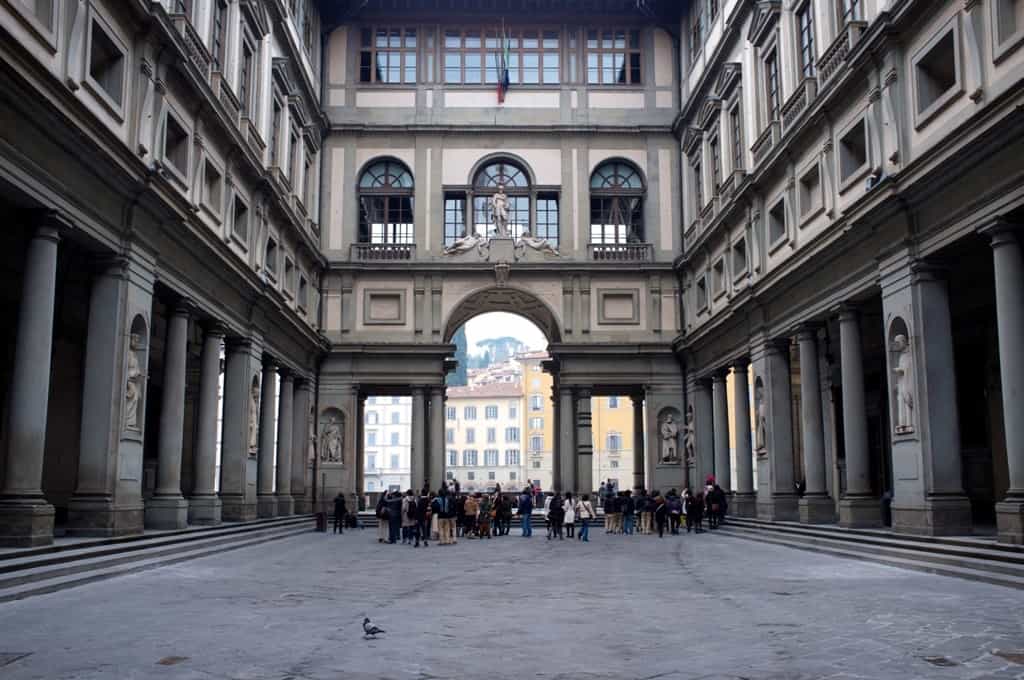 Continuing this artistic endeavor, the Uffizi Gallery is the next logical place of interest to visit; this grand building boasts an astonishing collection of artworks, ranging from the Middle Ages until more recent times. Works by famous artists such as Caravaggio, Leonardo, and Giotto line the walls of the breathtaking sixteenth-century building, designed by Vasari. Much like Galleria dell'Accademia, it is worth considering booking your tickets in advance, as there can be immense queues and crowds once in the Uffizi, ultimately making it less enjoyable and more frustrating.
Tip: The queues for the Uffizi are long. To save time you can either buy a timed entrance ticket beforehand or book a guided tour.
Here are some great options:

Timed Entrance Ticket to the Uffizi

Florence: Skip-the-Line Uffizi Small Group Tour

I highly recommend the Florence in a Day with David, Duomo, Uffizi & Walking Tour by Walks of Italy.
Palazzo Pitti
Moving onwards, another highlight of Florence is Palazzo Pitti, a remarkable building constructed in 1457 and designed by Filippo Brunelleschi. There are many areas of the Palazzo that are open to the public, for example, The Palatine Gallery and the Royal Apartments, which housed the Medici Grand Dukes, and is now a striking gallery featuring artworks by artists such as Rubens and Titian.
If you favor more contemporary art over the Renaissance, visit the Gallery of Modern Art, which is located on the second floor of the Palazzo; here you can find artworks of all forms ranging from the eighteenth century until the First World War.
Sunset in Piazza Michelangelo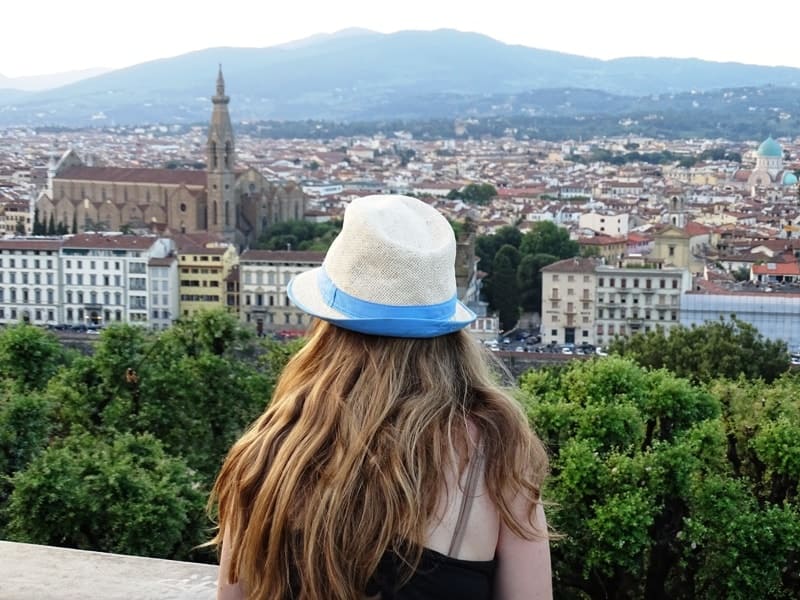 After a day of discovering the city's artistic heritage, the best way to end your time in Florence is by watching the sunset over it from Piazza Michelangelo. From here, you can see all the sights you visited in the previous two days from a glorious height, and with the added benefit of the mountains in the distance. Watching the city turn from day to night, and witnessing the sky turn to a purply hue is unforgettable, and the perfect ending image to leave Florence with.
There are many day trips you can do from Florence, including San Gimignano, Sienna, Chianti, Pisa, and Lucca, which are all top destinations in Tuscany.
4 days in Florence and Tuscany – Day 3 San Gimignano, Chianti & Siena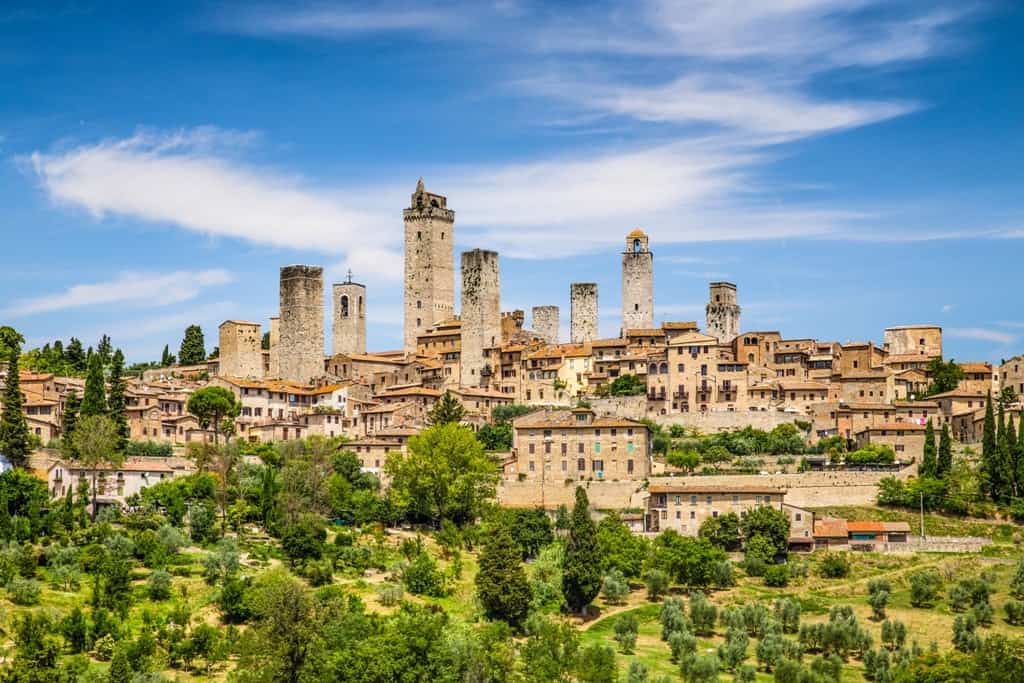 Begin your third day in Tuscany by hopping on a bus to San Gimignano, a UNESCO World Heritage Medieval town just a short distance from Florence. Spurting from the town's skyline are 14 towers that provide it with its own unique charm and authentic Medieval intrigue.
For a relatively small town, there is a lot to see; for instance, the Palazzo Comunale, which is the hub of the local government, and a glorious thirteenth-century building. Also on the list of things to do in San Gimignano is to sample to white wine Vernaccia, which is historically considered one of Italy's finest; you can also do tours of the vineyards to experience the grape first-hand.
But like most places in Italy, particularly Tuscany, one of the most enjoyable things to do is to simply wander the narrow, cobbled streets and discover some hidden gems, such as the gorgeous plethora of authentic bars and cafes, as well as a lovely selection of Trattorias.
After San Gimignano, jump on a bus to the nearby Chianti countryside; when you imagine those rolling Tuscan hills dotted with picturesque vineyards, this is the place you are envisaging. Enjoy a beautiful glass of Chianti wine from its authentic origins, while gazing out at the beautiful surrounding scenery.
Afterward, head towards one of the many traditional restaurants for a bite to eat, as well as another gorgeous glass of Chianti. In the countryside, there is also an abundance of Medieval villas and wineries to explore, so ensure you take your time discovering everything the region has to offer.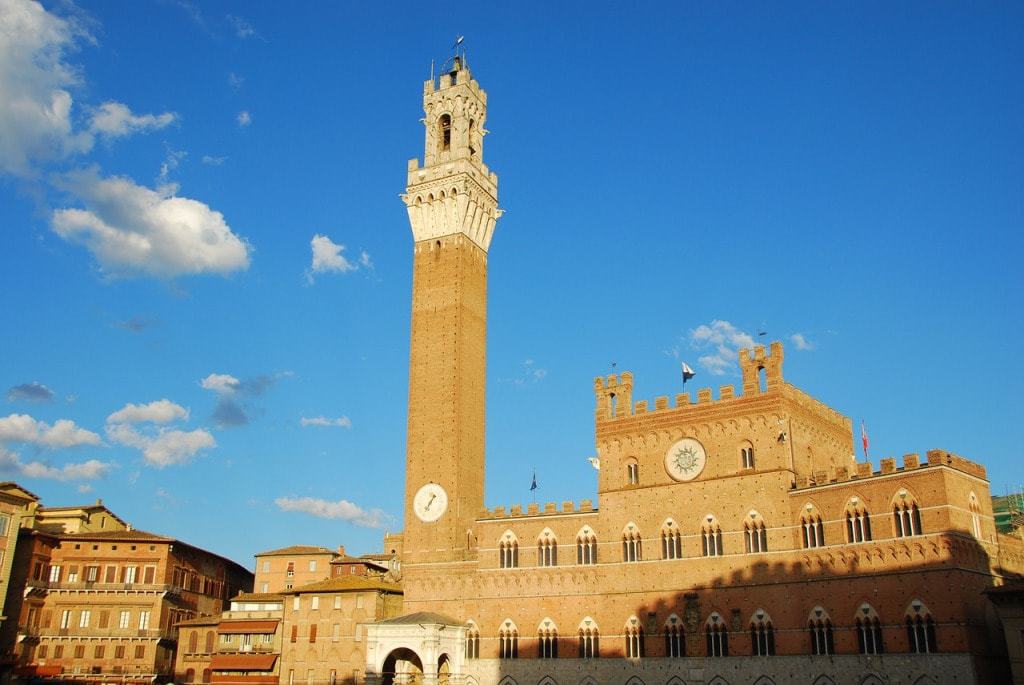 After relaxing in the countryside, hop on another bus to the mesmerizing city of Siena, located slightly further south. A growing tourist destination and an authentic Medieval wonder, this architecturally spectacular city have so much history and charm. Firstly, visit Siena Cathedral, a Renaissance masterpiece constructed during the thirteenth and fourteenth centuries.
The cathedral's exterior is beautifully embellished with Gothic detailing and boasts some extraordinary colors. Secondly, visit the Municipal Building in Piazza del Campo, and discover its remarkable Medieval Charm.
The surrounding slopped Piazza is a hub of social activity and is dotted with great bars and cafes which are perfect for people watching. Much like San Gimignano, Siena is the perfect city to get lost in; allow yourself to wander its Medieval streets and absorb all the concealed treasures of its architecture and heritage.
Click here for more information and to book this tour.
Doing this tour with public transport in a day is not possible. You can rent a car or choose between the places.
You might find these posts helpful:
How to get from Florence to Siena by bus and train.
How to get From Florence to San Gimignano by bus and train.
4 days in Florence and Tuscany – Day 4 Lucca and Pisa
For your third and final day in Tuscany, take a trip to Pisa and the nearby city Lucca. Firstly, hop on a bus and head to Lucca, an artistic location with Renaissance charm, and a step away from the vibrant hustle and bustle of Florence. Begin your visit by strolling along the sixteenth-century walls, that are still near enough in their original condition; at a whopping 2.6 miles, these are the second longest walls in Europe.
Next, explore the city's historic center, starting with Piazza Anfiteatro, otherwise known as the Amphitheatre Square. Essentially, the Piazza was built up in the Middle Ages where a Roman Amphitheatre previously existed, giving it a truly extensive history. Today, bars and cafes are dotted around it, where you can relax and absorb the Piazza's heritage.
Next, head to Torre Guinigi, a stunning red-brick tower with a unique quirk; on top can be found a series of Holm oak trees, making it feel like a concrete jungle. Ensure that you take a trip to the top of the tower, both to experience the trees, and also to discover some great views of Lucca.
Next, head towards Duomo di San Martino, a breath-taking eleventh-century Cathedral nestled in the heart of the historic center of Lucca. The Gothic and Romanesque style of the Cathedral, as well as its striking white color, make it truly mesmerizing, and unique. Make sure you also spend lots of time simply roaming the streets and getting lost in the beauty of Lucca.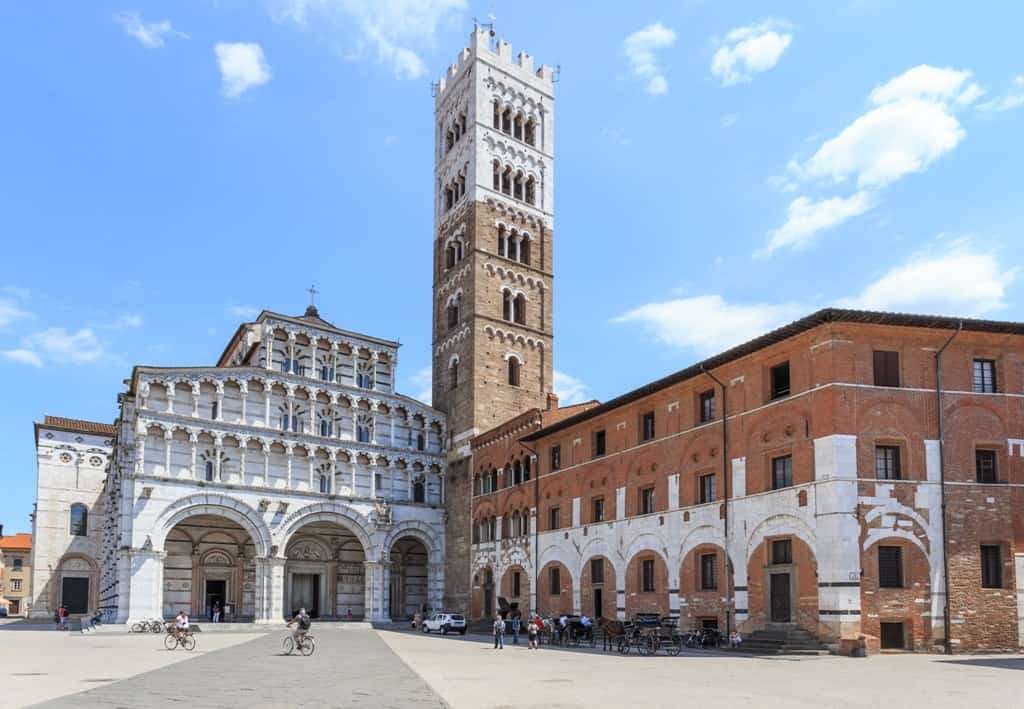 After you are finished in Lucca, head to Pisa. What most of us associate with Pisa is the leaning tower, which is perhaps its most famous sight. Located in Piazza dei Miracoli is the Leaning Tower of Pisa, which interestingly, is unintentionally leaning. Spend some time exploring the Tower, perhaps even go to the top, and of course, it is necessary to take photos of you supposedly holding it up!
Also, the Piazza dei Miracoli in Pisa Cathedral boasts a strikingly white façade and an even more beautiful interior. Inside the Cathedral, you can discover breathtaking artworks and mosaics, as well as Galileo's famous lamp.
End your visit to Pisa by taking an early evening stroll along the river, and admiring the beautiful surrounding architecture and the sense of life in the city. The river is also a beautiful place to watch the sunset over the city.
Click here for more information and to book this tour.
Alternatively, you can do this excursion by public transport although it is more time-consuming.
There are many trains leaving from Florence to Pisa, they take 60 minutes and require no change. The ticket costs around 9 euros one way. From the train station to the leaning tower of Pisa you need to walk for 1,8 km around 25 minutes.
After visiting Pisa (remember to book beforehand the tickets for the leaning tower), you can hop on a train to Lucca. The journey takes 30 minutes and most of the trains going to Lucca require no change. One way ticket cost around 4 euros.
The challenging part is your return to Florence from Lucca as there is no direct train. You will need to change either once (in Pisa) or twice in various locations depending on the train you choose. The train journey lasts around 2 to 2 hours and 30 minutes depending on the train, and tickets can cost from 8 to 20 euros one way depending again on the train.
For more information on the timetable and prices you can check the Trenitalia site here.
Remember that the train station in Florence is Firenze S.M. Novella, in Pisa, Pisa Centrale and in Lucca is Lucca.
You might be interested in One day in Pisa.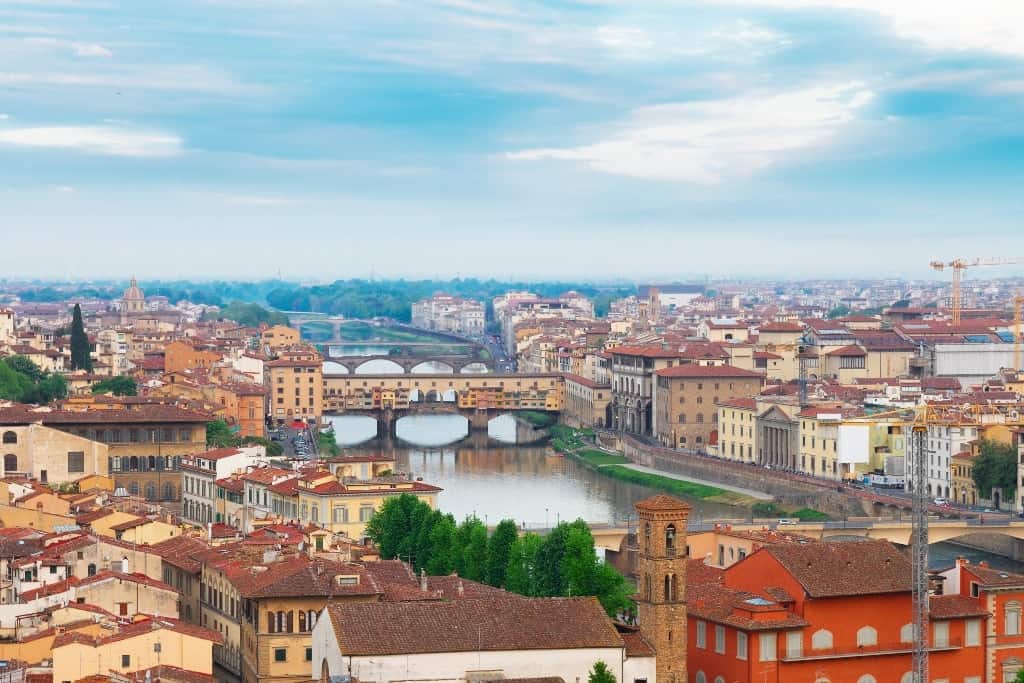 Where to stay in Florence
Tourist House Battistero
This accommodation in a 15th Century building is close to the Ponte Vecchio and the Scudieri Café. You will get a comfortable room with lovely views over the City.
Click here for more information and to check the latest prices.
C-Hotels Ambasciatori
You will be close to Florence's main attractions if you stay at this 4-star hotel. It is a chic, modern hotel surrounded by a wonderful history.
Click here for more information and to check the latest prices.
Plaza Hotel Lucchesi
Built in 1860, this is 4-star accommodation situated close to the Arno River. You will have lovely views of Florence during your stay.
Click here for more information and to check the latest prices.
C-Hotels Joy
C-Hotels Joy close to the Santa Maria Novella and the train station is a mix of modern and traditional. Needless to say, the modern includes the bathroom and other amenities.
Click here for more information and to check the latest prices.
After an adventurous four days exploring Florence and Tuscany, you will undoubtedly be an expert in Tuscan culture. You will have seen more Renaissance masterpieces and Medieval architecture in four compact days than ever before tried more gorgeous wines and food than any holiday ever, and become acquainted with Italian traditions. Once you have delved into the Tuscan way of life, you will find yourself always craving a return visit, and re-discovering the wonders and delights that the region has to offer.