Peak travel season in Latvia starts in mid-June and ends only a couple of months later, in early September. This means most tourists plan a trip to Latvia during the summer season. But, you know what, winter isn't any worse time to visit Latvia. Especially if there's snow then.
Latvia during the snowy winter is beautiful. Especially the nature – trees covered in snow, frozen lakes, even the the Gulf of Riga freezes! A real winter wonderland.
If you're traveling to Latvia in winter but only for a few days, even then you can easily manage to see more than Latvia's charming capital Riga.
There are plenty of places to go and things to do in winter in Riga and near Riga. Here in this article I have included some of my (and my friends') most favorite ones. The places that are located outside of Riga are not more that 1-hour ride away from Riga by train or bus.
Things to do in Riga in winter
Go Ice Skating
In Riga you can enjoy winter even without leaving the city. One of the most popular winter attractions for locals and tourists alike are Riga's many ice rinks. Ice rinks usually open in January when it starts to get significantly colder.
There are several ice rinks in Riga, and some of them are free. This means you'll have to pay only for rental equipment which is usually around 2 EUR.
These two (free) ice rinks are the closest to the city center:
– Ice rink in front of Riga Congress Center, at 5 Krišjāņa Valdemāra iela;
– Ice rink in the Victory Park, at 15 Uzvaras bulvāris.
There are two great ice rinks a few kilometers from the city center:
– Ice rink in Rīgas Sniega Parks, in front of Mežaparks Great Bandstand;
– Ice rink at 42 Pērnavas street.
These two aren't free – you'll have to pay both for rental equipment and entrance. Both of them are located in picturesque neighbourhoods you can explore later.
If you're heading to Mežaparks note that there are other winter sports available in Rīgas Sniega Parks including snow tubing and skiing.
Go Cross-Country Skiing
Ice skating is not the only winter activity you can do in Riga. Cross-country skiing is possible if there's a lot of snow, too. Usually cross-country skiing trails are open from January, until the spring arrives. But, of course, the weather changes, and nowadays no one can really predict when the winter will start. So the safe bet would be to arrive in Riga in January or February if you want to experience real winter.
There are several places for cross-country skiing in Riga, even very close to the city center.
The closest place to the city center is in Uzvaras parks (Victory Park), at 15 Uzvaras bulvāris. The one in Lucavsalas parks is quite close to the center, too. Price for rental equipment in both places is 4.50 EUR per hour.
Other great cross-country skiing place is in Mezaparks, a popular and picturesque neighbourhood in Riga, mere 6.2 miles (10 km) from the city center. Mezaparks is not only great for cross-country skiing and ice skating but also for a leisurely walk. Mezaparks boasts a large park and a beautiful lake (Kisezers) which, by the way, is one of the largest in Latvia.
Windsurf on Ice
Only a couple of years ago I learned that there is such a sport called winter windsurfing on ice. When it has been cold for a few weeks lakes finally are covered in thick ice, and then it's safe to stand and walk on ice. That's also when winter windsurfing on ice is possible.
Ice windsurfing is a good way to learn how to handle the windsurf sail. Winter windsurfing is easier than summer windsurfing because there's no water, no waves, so it's way easier to maintain sail's balance.
Winter windsurfing requires a special board which is different from a regular summer windsurfing board. The sail, however, is the same.
You can try winter windsurfing in Riga, mere 8 km from the city center, at 11 Feldmaņa iela (in Mezaparks)!
Contact guys from vindserfings.com when planning a trip to Riga!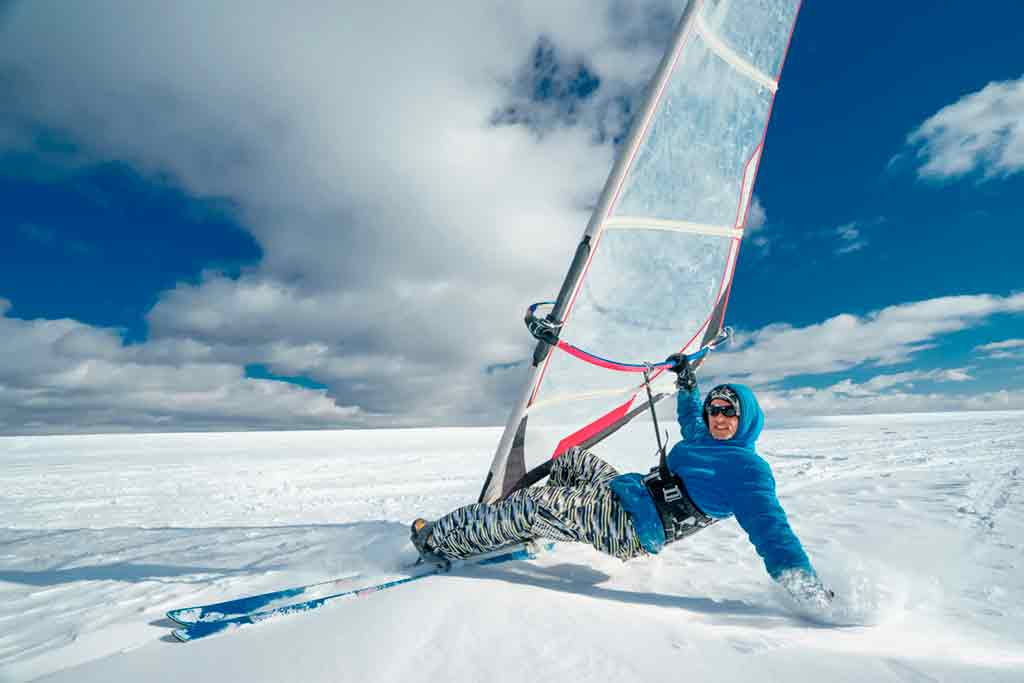 Visit Christmas Markets in Riga
Just like any other European capital or a large city in Europe, Riga also has a Christmas market.
Actually there is more than one Christmas market in Riga. And all of these markets are located in or near Riga Old Town, a part of the city where most of the Riga's best hotels and hostels are situated.
Just like in other European cities, lovely hand made Christmas gifts, decorations and souvenirs can be bought at the Christmas markets in Riga. Hand made gifts include warm knitted shawls, socks, mittens, silver jewellery and woodwork.
At the Christmas markets in Riga you'll also find local foods and snacks, such as grey peas and bacon, gingerbread and wine.
Location:
– Old Town Christmas Fair on Dome Square – open from late November to early January;
– A Christmas market on Livu Square – open from early December to early January;
– A Christmas market in Esplenade Park – open from early December to early January.
Go to the Seaside and Check Out Sea Ice Formations
Usually the ice starts forming in the gulf of Riga in December (in warmer winters – sometime in January), and it reaches its maximum extent in February or March. Around the same time magnificent ice formations start to appear.
As I mentioned before – the climate changes and it can be very hard to predict exactly how cold and snowy the next winter will be. Thus it's hard to predict how thick will be the ice and if there will be any ice formations.
If you are lucky, and have arrived in Latvia when winter is at its finest, head to Vecaki beach to see the beautiful ice formations. You can get to Vecaki by train, from the Central train station. It takes just 40 minutes to get there, and costs less than 1 EUR each way!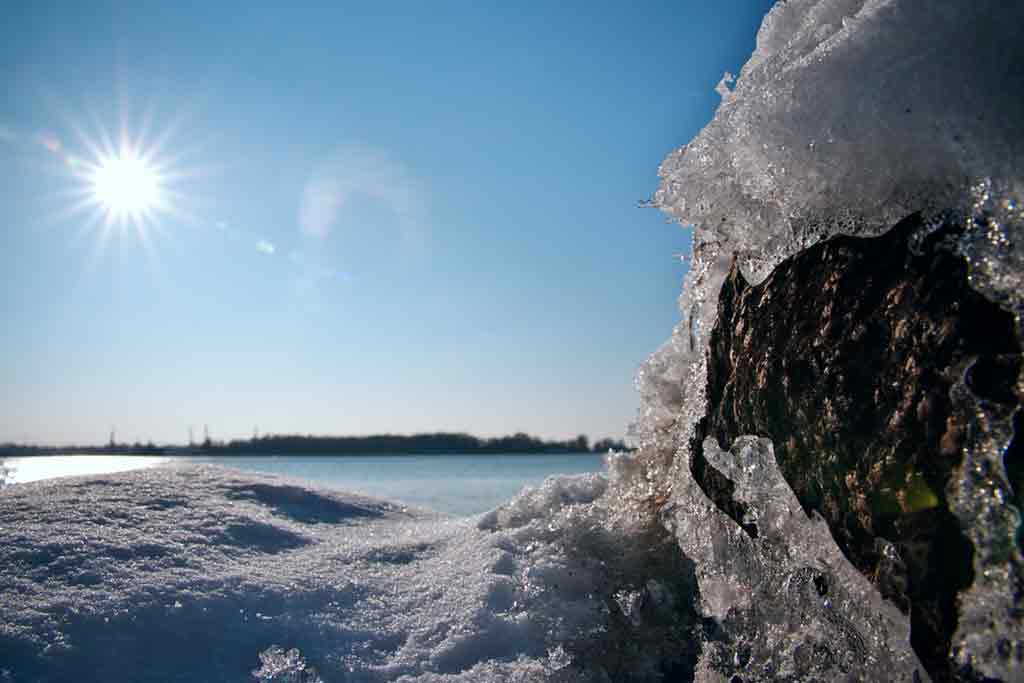 Rent a Snowbike or Go on a Quad Safari Tour
Yes, this is also possible in several places in Latvia, even in Riga!
Contact guys from Jena Motors when planning a trip to Riga! They offer entertainment and different kind of bikes all-year-round, including snowbikes and quad motorcycles!
Going on a quad safari tour is possible also in winter. However, you must be a group of people traveling together if you want to go on a quad safari tour.
Chill at Black Magic
After tiring and eventful day relax at Black Magic, a lovely, medieval themed cafe in Riga Old Town. Riga Black Balsam is an alcoholic drink made with different natural ingredients. It is very popular in Latvia and even can be bought in nearby countries.
In Black Magic cafe not only you can buy black balsam but also try also various cakes and
delicious chocolate truffles with black balsam filling. A perfect place where to spend a cold winter evening (or two)!
Location: Riga Old Town, Kalku iela 10.
Things to do near Riga in winter
Take a Ride on a Dog Sledge
Ever dreamed of taking a ride on a dog sledge? This might be your chance!
The best place to ride on a dog sledge in a company of cute and fluffy dogs (Alaskan malamute and Husky dogs) is in Blue Hills Nature Park (Ogres Zilie Kalni) near Ogre town.
Availability depends on weather conditions. It is possible to ride on a dog sledge even if there is no snow.
You must book a month (or so) in advance, though.
More info: http://www.sniegasuni.lv/article/15 . Unfortunately, information only in Latvian. I suggest you to use Google translate.
Go on a Snowshoe Walking Tour in Vienkocu Park
Vienkocu park is a recreation park located a couple of minute walk away from the river Ligatne. Many entertainment options, as well as walking trails are available in this park.
The park is open all-year-round, and in winter it offers a unique experience – snowshoe walking tours! A snowshoe is special footwear for walking over snow. Snowshoe distributes one's weight, so the feet don't sink in the snow.
After exploring the area on snowshoes visit the Craftwork Museum which also is located in Vienkocu park. There you can learn how various household items were made in the old days, even during the stone age!
Latvian traditional masks are available for rent! If you are traveling with a group, rent different Latvian traditional masks and do a little photo shoot! It will be fun!
More info: https://vienkoci.lv/en/
Visit International Ice Sculpture Festival in Jelgava
International Ice Sculpture Festival is one of the most famous winter events in Latvia. The festival takes place every February in Jelgava.
The festival is held since 1997, and during these years of its existence, it has gained popularity and now every year attracts more than 50 professional sculptors form all over the world!
Ice sculpture park in Jelgava is open from noon till 8 PM, but I recommend you to go there in the evening because the ice sculptures look more spectacular in the dark when they are lit up.
Tickets (only 2 EUR) are sold at the main entrance, or in advance on https://www.bilesuparadize.lv/.
Visit the Great Kemeri Bog and Kemeri Sanatorium Park
Kemeri is popular among both local and international tourists. Tourists go to Kemeri because of the Great Kemeri Bog which is one of the largest and well known bogs in Latvia. But one shouldn't miss also picturesque Kemeri Sanatourim Park!
Is winter a good time to visit Kemeri? Yes, Kemeri is beautiful all-year-round. If you don't have a rental car, take a train from Riga Central Train station heading to Tukums and get off at Kemeri.
Great Kemeri Bog Boardwalk is located 5 km South of Kemeri railway station. You can walk there or take a taxi.
After you have explored the bog head to Kemeri Sanatorium Park which is located 1 km North of Kemeri railway station (and 6 km from the bog). Don't forget to visit the Little Island of Love in Kemeri Sanatorium Park!
Start your day early as it gets dark early during this time of year, and you need some time to get to the bog and back, especially if you decide to walk.
Go on a Peaceful Walk Along the Coast and Have Lunch at the Pub "Kūriņš" ("Kurins")
Head to Kaugurciems for a relaxing stroll. Don't forget to dress warm as it is way more windy by the sea than in the city! Take a bus from Riga Central Bus station heading to Talsi, and get off at Kauguru tirdzniecības centrs (Kauguri Mall). The beach is only a few minute walk away from there.
After a relaxing walk on the beach head to the pub "Kurins" to warm yourself with a hearty meal and a drink.
This pub is specialising in traditional Latvian cuisine. As this is a pub, don't expect restaurant food! Also – keep in mind that Latvian food in general is rustic and plain. But don't be put off by this! In my opinion, despite being plain and simple, Latvian food is rather comforting! No strong flavours and exotic spices. Some people just don't like that.
In "Kurins" helpings are large, so I recommend you to share a meal with your travel partner. If you travel alone (and can't finish your meal), you can ask to pack leftovers in a doggy bag.
Location: Kaugurciema iela 47, Jūrmala.
That's it. These are my favorite things to do in and near Riga during the winter. If you'll be traveling to Latvia during the summer, check out this list of great things you can do in Latvia.
Have you been to Riga during the winter? Is there something you would add?
Authors bio: Una is a long term traveler and a travel blogger from Latvia sharing her travel stories and photography at WeAreFromLatvia.com. Together with her partner they have been traveling extensively since 2012. You can follow their travels on Facebook and Instagram (Una, Kaspars).