Seville is the capital of a Spanish Region called Andalusia and it is the perfect destination to learn something more about the culture and the typical lifestyle of Southern Spain.
After spending a few days visiting the city, you can start exploring the surrounding area which has something for everyone: picturesque towns, beautiful natural landscapes, and golden beaches!
Disclaimer: This post contains affiliate links. This means that should you click on certain links, and then subsequently purchase a product, I will receive a small commission.
The 16 Best Day Trips From Seville
1. Granada
A city of many contrasts starting from the Sierra Nevada mountains to the near coast that is just 80 Km away!
What to see:
Alhambra: it is one of the symbols of the ancient Arab domination and it is part of the UNESCO's World Heritage List thanks to its historic and architectural value.
Mirador de San Nicolas: an unmissable belvedere located in the historic Albaicin district.
Albaicin district: this area is famous for the richness of local Moorish architecture.
Cathedral: it was built at the end of the XVI century in Renaissance style, but it was restored, enlarged and embellished many times throughout the centuries.
Check out my post: How to spend 2 days in Granada.
How to get there:
2. Cordoba
The second most important city in Andalusia after Seville. It was the ancient capital of the Arabian Empire whose domination left many important pieces of heritage.
What to see:
Mezquita Cathedral: the ancient mosque now turned into a catholic cathedral.
Juderia (Jewish Quarter): this area of the city is particularly beautiful thanks to its white houses with flowered balconies. Have a walk through the narrow alleys of this neighborhood to immerse yourself in the authentic Southern atmosphere!
Roman bridge: it crosses the River Guadalquivir and it was built by Emperor Augusto.
Alcazar de los Reyes Cristianos (Castle of the Christian Kings): this fortress was built in 1327 by King Alfonso XI.
Check out my post: Things to do in Cordoba.
How to get there:
3. Cadiz
It is the city hosting the most famous Spanish Carnival celebrations and it is a vibrant and dynamic place all year long.
What to see:
Tavira Tower: this imposing tower stands in the city center and it was built in the XVIII century. If you climb to its top, you'll enjoy an amazing view of the coast.
Central Market: an unmissable stop for any food lover!
Plaza de San Juan de Dios: the main square is really beautiful with its many palms and statues and the large central fountain.
La Caleta Beach: the most popular beach of Cadiz made of 300m of golden sand.
How to get there:
4. Ronda
This nice town is perched above a gorge called "El Tajo". The 160m deep precipice separates the old town from the modern district and the two neighborhoods are only connected by a bridge.
What to see:
Puente Nuevo (New Bridge): it is the symbol of the town and the only connection between the two different areas of Ronda.
Plaza de Toros (Bullring): it is one of the most famous arenas in Spain and the place where the Rondeno style (a particular corrida style) was born. Visit also its interesting museum!
Mirador (Belvedere): come here to enjoy a breathtaking view of the gorge!
Arabian Baths: they are a bit far away from the main tourist areas, but they are worth a visit because they are perfectly preserved and they'll make you travel back in time.
Check out my post: Things to do in Ronda.
How to get there:
By car: approx. 1h50 drive
By bus: Damas Company – approx. 2h
5. Jerez de la Frontera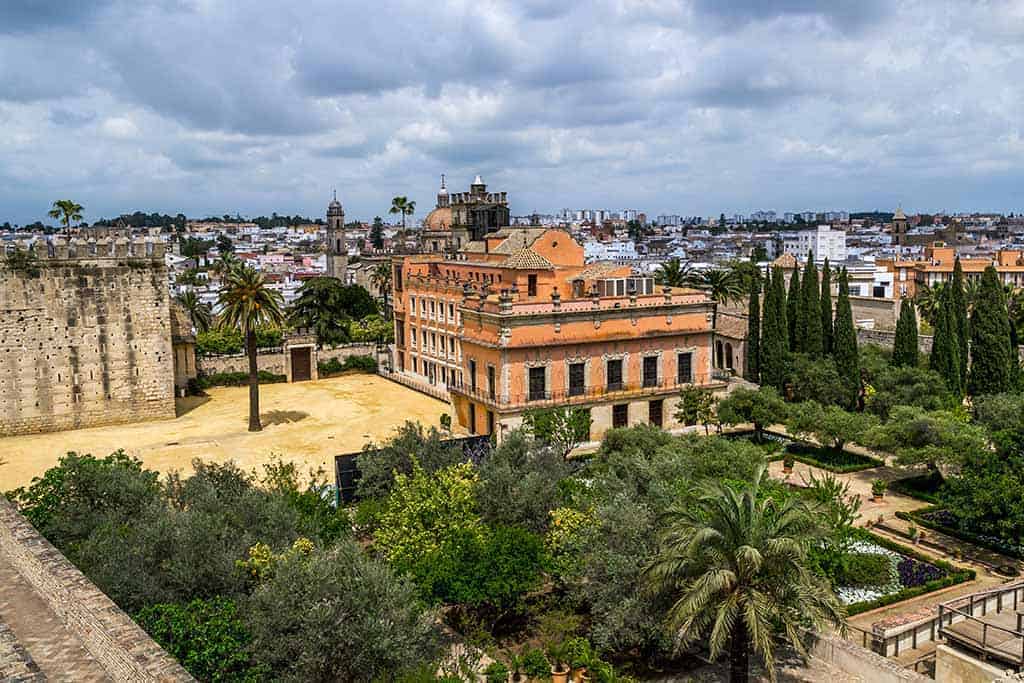 This large city is outside the usual tourist circuits but it's worth a visit thanks to its many monuments and the tradition of sherry, that is a typical Andalusian liquor.
What to see:
Alcazar: it is the old Moorish citadel founded in the XI century. Today, it's also a nice park.
Cathedral: close to the Alcazar, you'll find this impressive Renaissance church built in the XVII century.
Casco Antiguo: this is the most picturesque district of the city and the center of the local nightlife.
Bodegas: you cannot visit this city without having a wine tasting tour of local wineries ("bodegas" in Spanish)!
How to get there:
6. Arcos de la Frontera
It is a medieval town located on top of a rocky hill. Its Arabian atmosphere and its white houses will surely impress you!
What to see:
Castle: it is the most iconic monument of this town and an integral part of its skyline. Website:
Basilica Menor de Santa Maria de la Asuncion: this gothic-baroque church was built upon the remains of an ancient mosque.
Plaza del Cabildo: the heart of the picturesque Old Town.
San Pedro church: it was built in the XVII century upon the remains of an Arab fortress. One of its former towers is still well preserved!
How to get there:
By car: approx. 1h20 drive
7. Aracena
This small town is famous thanks to the cave complex named "The Cave of Wonders", which attracts many tourists each year.
What to see:
The Cave of Wonders: the main Spanish cave complex with many beautiful geological formations and underground lakes.
Castle: located upon a hill overlooking the town, this former fortress was built in the XIII century upon a pre-existent Arab one. Today, you can just see its ruins.
Iglesia Prioral de Nuestra Señora del Mayor Dolor: close to the former castle, you can also see an impressive church on top of the hill.
Museo del Jamon (Ham Museum): local ham is a gastronomic specialty which is exported worldwide. Here you can learn more about local pigs and the process of making Spanish ham.
How to get there:
By car: approx. 1h20 drive
8. Gibraltar
A little piece of England in the far South of Spain. The entire area is a real mix of languages, cultures and natural landscapes.
What to see:
The Rock: you can easily reach the top of this iconic rock by a cable car leaving from the city center.
Michael's Cave: the deepest part of the cave was only discovered in 1942 so that it remained hidden for more than 20.000 years!
Monkeys: the only European monkeys can be found here! A legend says that they arrived in Gibraltar from North Africa through an underground tunnel but they were probably imported by British colonists.
The Great Siege Tunnel: a labyrinth of underground tunnels built on the occasion of the Great Siege (1779-1783).
How to get there:
By car: approx. 2h20 drive
9. Carmona
A picturesque small town immersed in beautiful countryside.
What to see:
Alcazar del Rey Don Pedro (Castle of King Pedro): the former residence of King Pedro I is located in the highest part of the town.
Roman Necropolis: many tombs and mausoleums dating back to the first century B.C were discovered here, together with the remains of an ancient Roman amphitheater.
Church of St. Mary: it closely reminds of the Sevilla Cathedral and it houses the picture of the Virgen de Gracia, which is the patroness of Carmona.
Plaza de Abastos: the main square is really large and beautiful and it is entirely surrounded by arcades.
How to get there:
10. Italica-Santiponce
Italica was the oldest Roman colony in Spain. Today it's an archeological park belonging to the town of Santiponce.
What to see:
Amphitheater: it could host about 25.000 people, which was an impressive number for that time!
Baths: Italica had two baths, which shows how these places were important and popular at that time.
Casa de los Pajaros: its mosaics are definitely worth a visit!
Casa del Planetario: its name derives from some mosaics showing the days of the week represented through their respective god/goddess.
How to get there:
By car: approx. 20 min
By bus: 10 min (urban buses from Seville)
11. Caminito del Rey
Its name means "King's Trail" and it is about 7Km long. About 3Km of this trail are made of wooden walkways and they unwind along a steep rocky gorge named Gaitanes. For more information and for planning your trip check here.
How to get there:
By car: approx. 2h10 drive
12. Tangier (Morocco)
Do you feel like exploring North Africa? It's just a few kilometers away from Seville! Tangier is right in front of the Spanish coast and you can easily visit it in one day!
What to see:
Medina: a labyrinth of narrow alleys with typical shops and bazaars to immerse yourself in the authentic Moroccan atmosphere.
Casbah: it is the fortified area of the medina. Its most important building is the former residence of the sultans (Dar el-Makhzen Palace).
Place de France: it looks like an elegant French square and it is full of nice cafés and shops.
Grand Socco: this large square hosts the central market and it ideally connects the ancient and the modern parts of the city. This place has great historical importance: here King Mohammed V held a speech in favor of Morocco's independence in 1947.
How to get there:
By car: approx. 2h10 drive to get to Tarifa
By ferry: about 1h20 from Tarifa
13. Doñana National Park
If you are a wildlife-lover choose this day trip to discover the main Spanish national park! Here you'll find several different ecosystems and many species of animals and birds. The park covers a surface of 543 square kilometers and it includes a protected area that is not accessible to individuals but just to guided groups. All the other trails are open and suitable for the whole family.
What do to inside the park:
Birdwatching: thanks to its location, the park hosts many species of migratory birds going to and coming from Africa.
Jeep safari: you can observe local animals like deer and the rare lynxes.
Horse riding: an unusual and ecological way of exploring this amazing natural environment.
Biking: the park is equipped with a cycle track for mountain bikes.
How to get there:
14. Osuna
This nice Baroque town is full of charm and it is also well-known for its historic University dating back to the XVI century.
What to see:
Colegiata de Nuestra Señora de la Asuncion: this Renaissance-style church dates back to the XVI century and it is worth a visit thanks to its internal decorations and its Baroque altar.
Monasterio de la Encarnacion (Monastery of the Incarnation): today it's an interesting museum of sacred art.
University: it was founded in 1548 and its buildings are worth a visit thanks to their ancient architectural features.
Calle San Pedro: the most picturesque street in the Old Town.
How to get there:
By car: approx. 1h drive
By train: 1h10
15. Tarifa
It is located in the famous Costa de la Luz and it is a well-known seaside resort. The Mediterranean meets the Atlantic Ocean right in front of its shores.
What to see:
Puerta Jerez: it is the only ancient gate of the city which has been preserved throughout the centuries.
Los Lances Beach: one of the most beautiful beaches of the area, thanks to its white sand and its beautiful and untouched natural landscape.
Punta Paloma: if you like windsurf or kitesurf you shall go there!
Church of San Mateo: the main church of Tarifa was built upon an ancient mosque, which happens very frequently in Andalusia.
How to get there:
By car: approx. 2h10 drive
16. Malaga
A vibrant seaside resort on the Costa del Sol, but also a modern city with an impressive cultural heritage. It is also famous for being the place where Pablo Picasso was born.
What to see:
Alcazaba: the perfect mix of Arab, Roman and Renaissance architecture. This ancient Muslim fortress was built in 1507 close to a perfectly preserved Roman amphitheater.
Picasso Museum: you cannot visit Malaga without a stop at this museum celebrating both the works and the life of this famous Spanish artist.
Cathedral of Nuestra Señora de la Encarnacion: the construction works began in 1528 but they went on for many centuries and the church is still unfinished!
Harbor: it is the heart of the city's nightlife, but also a beautiful place to hang out during the day thanks to the recent renovation works that made it look elegant and modern.
How to get there:
By car: approx. 2h20 drive
By train: 2h
If you are spending your holidays in Sevilla, don't miss the chance to enjoy a day trip in the neighborhood to learn more about Andalusian history and culture!
PIN IT!