Planning to spend 2 days in Seville? The colorful capital of sunny southern Spain's Andalusia region, Seville is the home of flamenco dancing and famous for its orange tree-lined streets. Visit Seville for 2 days and you'll pass through the intoxicating gateway of history as you marvel at all of the Mudejar, Gothic, and Renaissance architecture discovering how this once Moorish city played a vital role in the discovery of the New World all thanks to Christopher Columbus.
Disclaimer: This post contains affiliate links. This means that should you click on certain links, and then subsequently purchase a product, I will receive a small commission.
A Comprehensive 2-Day Seville Itinerary
Map of Seville in 2 Days
Seville in 2 Days: Day One
Built by the Moors in 913 the Royal Alcazar is a treasure chest of architectural styles with Moorish, Gothic, Mudejar, and Renaissance architecture all fighting for your attention as you move through this vast complex that evolved over the centuries. Marvel at all of the stunning ceramic tiles, arches, and sunken garden courtyards that will have you taking picture after picture at this UNESCO site that truly takes you back through time to explore the Moorish and Christian cultures of the past.
Tip: The lines are huge to enter the Alcazar, I had friends they didn't even get in after waiting for hours, so book your tickets and tour in advance. 
Check here for more information and to book your guided tour to the Alcázar.

If you are interested in a guided tour that includes the Alcázar, the Seville Cathedral, and La Giralda I recommend a guided tour of the Alcázar, Seville Cathedral, and La Giralda.
Opening Times: October-March: 9.30am-5pm. April-September 9.30am-7pm.
Cost: €12.50. Guided tour €30.00
Seville Cathedral
Built on the site of a mosque, the Cathedral of Saint Mary of the Sea is the largest Gothic cathedral in the world. Extravagant on the outside but even more so on the inside, step inside the mighty doors to see the longest central nave in Spain measuring 42 metres in length, the renaissance Royal Chapel, Goya's artwork "Santas Justa y Rufina" which is located in 1 of the 80 side chapels, and last but not least, the tomb of Christopher Columbus.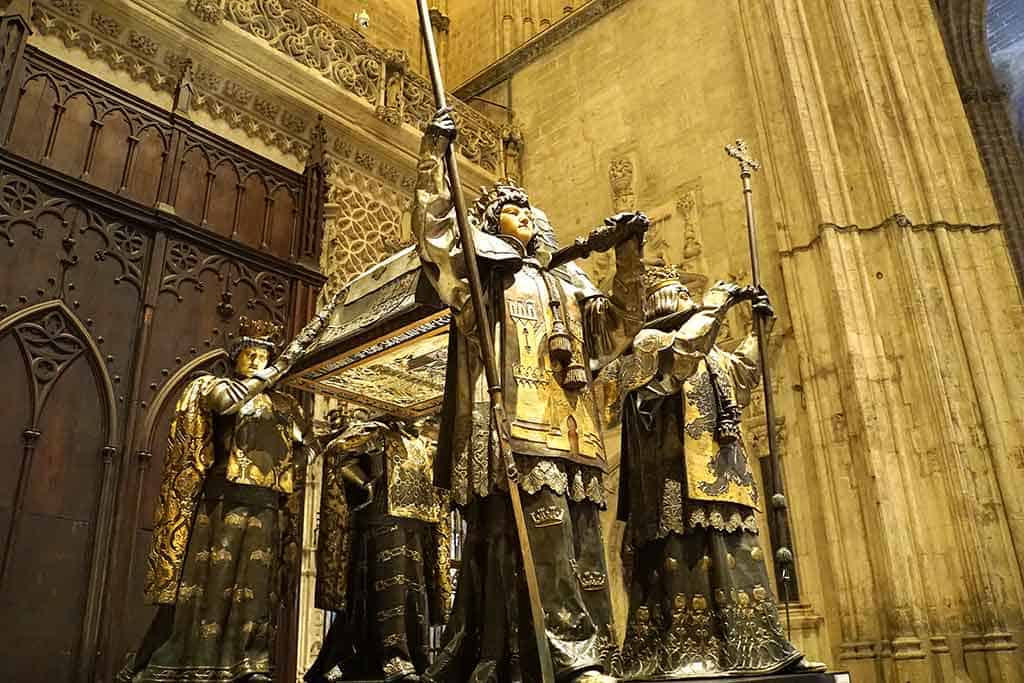 Opening Times: Monday 11am to 3:30pm, Tuesday-Saturday 11am-5pm, Sunday 2:30pm- 6pm. Extended opening hours in July and August until 4 pm Monday, 6 pm Tuesday-Saturday, and until 7 pm Sunday.
Cost: €9 (it includes the entrance to the Giralda)
La Giralda
Walk to the top of the Cathedral Bell Tower, one of the tallest points in the city at 97.5 meters tall (once the tallest tower in the world for 800 years), and admire the panoramic views. Originally the minaret of the central mosque of Seville, the Renaissance bell tower was added to the top of the tower in 1568.
Inside there are 24 bells (6 of which are clappers) making Seville the cathedral with the greatest number of bells in the world. You'll be pleased to hear that access is via 35 gently inclining ramps rather than hundreds of steps like with other towers!
Did you know? – The name of the bell tower, La Giralda, comes from the weathervane located at the very top; Giralda meaning 'she who turns'.
Opening Times: Monday 11am-3.30pm, Tuesday-Saturday 11am-5pm, Sunday 2.30pm-6pm
Cost: €9 + €3 for audio guide. Optional visit to include a visit to the roof and stained glass windows: €12
Archivo de Indias
Located in the 16th century former Merchants' Exchange you'll find the General Archive of the Indies which contains extremely valuable and fascinating archival documents relating to the discovery and colonization of the Spanish Empire in the Americas and the Philippines.
Visit the permanent exhibition to learn why Seville was the only port licensed to trade with the New World and the discoveries of Christopher Columbus and other explorers with maps from the 17th century, a bronze cannon that sunk a galleon in 1622 off Cuba, paintings by Goya, and an ever-changing display of fascinating documents.
Opening Times: Tuesday-Saturday 9.30 am-4.45 pm and Sundays and public holidays 10 am-1.45 pm
Cost: Free
Santa Cruz neighborhood
The Santa Cruz neighborhood, the former Jewish Quarter, is the oldest part of the city, the picturesque area surrounding Seville Cathedral and the Real Alcazar. Squares lined with orange trees, horses and carts, impromptu tango and flamenco performances, narrow lanes with shops selling souvenirs, tapas bars, mansions, synagogues turned into churches, and some of the city's most iconic tourist attractions are all found here.
Don't be afraid to explore, get a little lost, and stumble upon some true gems in this beautiful historic neighborhood – You can always look for the cathedral tower to find your way back again!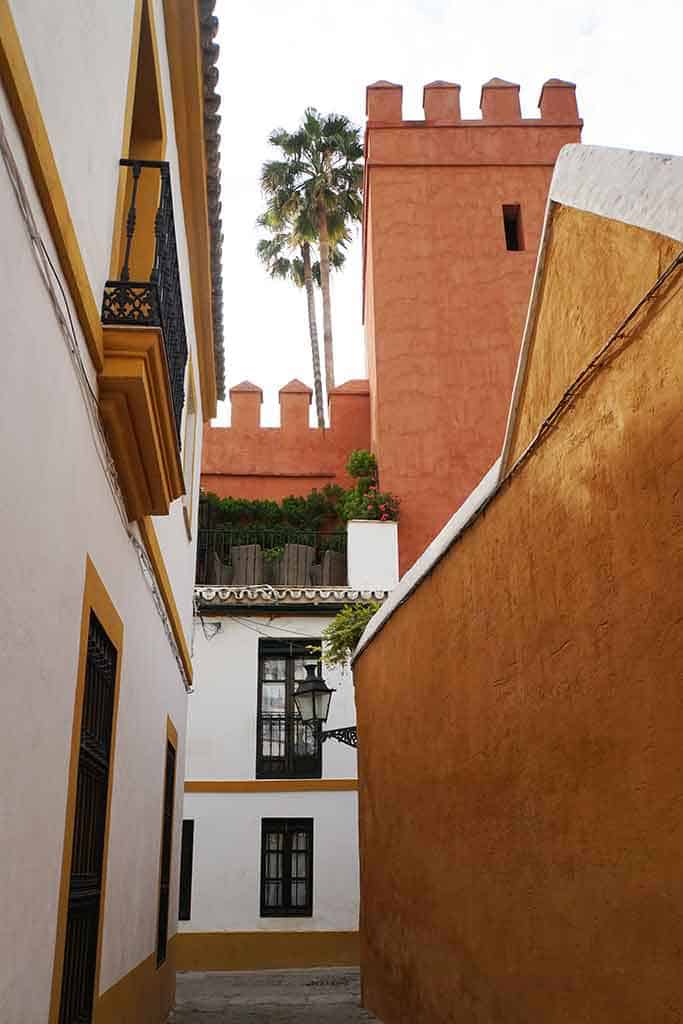 Palacio de San Telmo
This impressive baroque palace was built in 1682 and named after the patron saint of navigators due to it originally being used as a marine academy where ships' pilots and navigators were trained. It became a royal palace in 1849, the home of Antonio de Orleans and Luisa Fernanda de Borbón, Dukes of Montpensier. Admire the impressive red and deep yellow facade with columns, female statues, and the Churrigueresque portal which took 70 years and 3 generations to complete.
Opening Times: Thursdays 4pm-9pm, Saturday 10am-2pm and 4pm-8pm by prior appointment.
Cost: Free
Torre del Oro
Located beside the Guadalquivir River, this 13th century 36 meter high dodecagonal shaped military watchtower was built to guard the city of Seville against possible attacks from the river. Used as a prison during the middle ages, today, it's home to the Naval Museum and provides visitors with stunning views across the river and the city.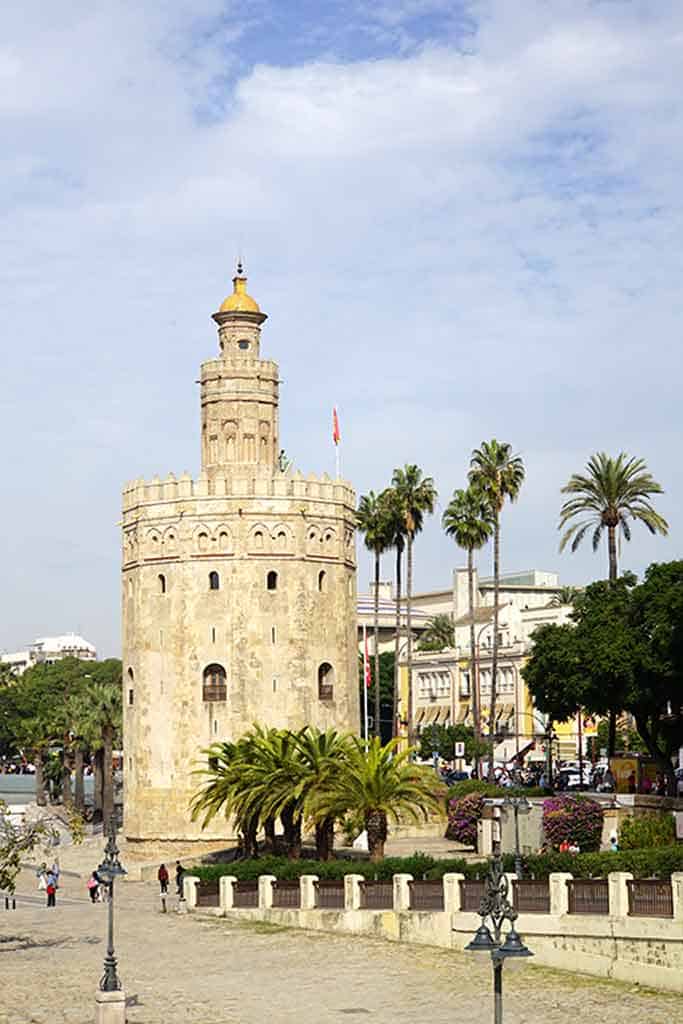 Opening Times: Monday-Friday 9.30am-6.45pm and Saturday-Sunday 10.30am-6.45pm
Cost: €3
Take a Cruise Down the River
See the sights of Seville from the Guadalquivir River on a 15 minute, 35 minute, or 60-minute river cruise with a live guide or audio guide commentary. Departing from the Torre del Oro Wharf cruise under the bridges, past the Triana neighborhood, towards the Monastery of Santa Maria de las Cuevas which is located on a small island in the river, and see Seville from a whole new point of view. Along the way, you'll pass iconic sights such as Plaza de Espana, the bullring, the cathedral, and so much more.
Puente de Isabel II
This charming metal arch bridge, otherwise known as the Triana bridge, is the oldest bridge in Seville and is best admired from sunset into the dark of night when the lights turn on. Built in 1852 the bridge crosses the Guadalquivir river connecting the neighborhood of Triana with El Arenal.
See a Flamenco Show
As the birthplace of flamenco, no evening would be complete without watching a passionate flamenco show – There are plenty of places to choose from including Casa de la Memoria and Casa de la Guitarra where you can watch the highly expressive art form of Southern Spain.
Book a Flamenco Show in Triana.
Seville in 2 Days- Day Two
Las Setas De Sevilla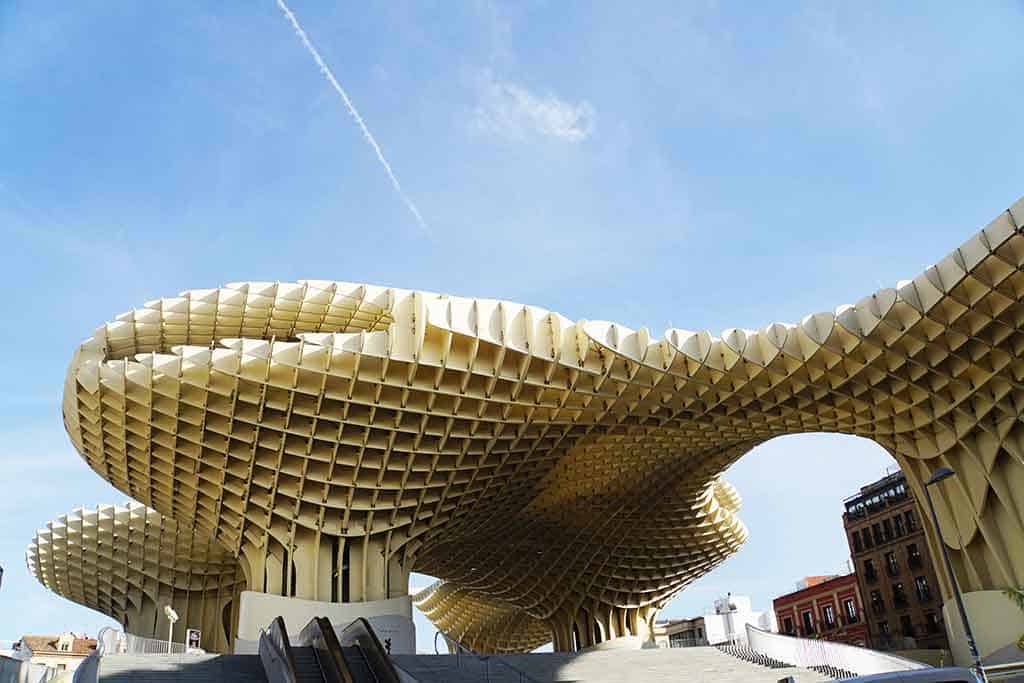 The Metropol Parasol otherwise referred to as the mushroom sculpture, is a huge 26 meter high modern sculptural structure made from wood that has a rooftop walkway with a viewpoint with cafes on street level. It's a must-visit for some unique photo opportunities in the old quarter, decide whether you love it or hate it once you're there!
Opening Times: Sunday-Thursday 10 am-10.30 pm and Friday-Saturday 10 am-11 pm
Cost: €3 for viewpoint and walkways
Food Tour
What better way for a foodie to get to know a city than to taste their way through not 1 but 3 of Seville's neighborhoods passing through some of the city's best squares and tourist attractions en-route. Visit Encarnación Market (housed in the world's largest wooden structure), a coffee shop, and a selection of tapas bars, pastry shops and more on a small group tour lasting 4 hours.
Tour Times: 10.30 am and 11.15 am
Cost: €79
Royal Tobacco Factory
Admire the facade of the historic Royal Tobacco Factory, the first tobacco factory in Europe that was commissioned by King Fernando VI in 1728. Designed in the style of the industrial architecture of the Old Regime, looking very much like a fortified palace rather than a factory building, the huge stone building was the 2nd largest in Spain at the time and today is used by the University of Seville but visitors can still step inside to admire part of this beautiful baroque building.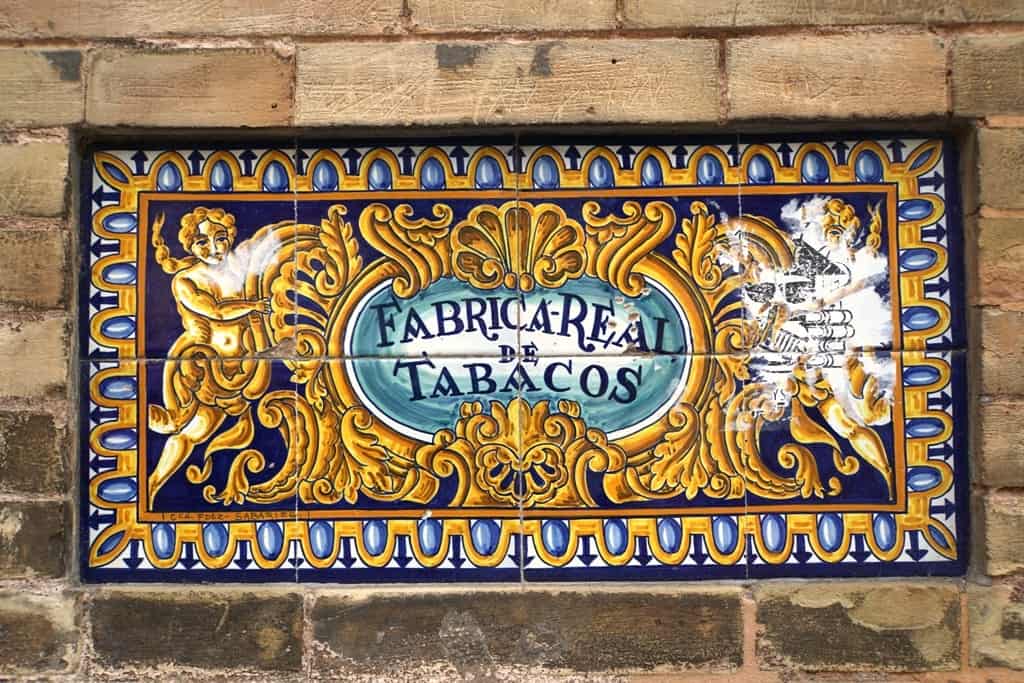 Opening Times: Monday-Friday 8 am-8.30 pm
Cost: Free
Plaza de Espana
Built for the 1929 Ibero-American Exposition, Plaza de Espana is a fine example of Regionalism Architecture, mixing elements of Baroque Revival, Renaissance Revival, and Moorish Revival architecture styles into one. Known as 'the Venice of Seville', marvel at the mosaics as you cross the ornate bridges and wander beneath the arches of the semi-circular building.
For the best photo opportunities visit early, in time for sunrise – It will just be you, a couple of joggers, a street cleaner and perhaps some other keen photographers! But be sure to visit later in the day too, when the city is wide awake and the plaza is buzzing with activity, for then you can take a horse and carriage ride, hop on a boat, or watch an impromptu flamenco performance.
Parque de María Luisa
Escape the crowds at Plaza de Espana and take a stroll through the adjacent Parque de María Luisa located beside the Guadalquivir River. This is the most famous, and greenest, park in the city and was formerly the private gardens of the San Telmo Palace. See the Moorish style fountains, the various sculptures, and statues, and the pavilion of Alfonso XII not forgetting Monte Gurugu – A rocky mound with a waterfall and a viewing platform at the top. Sit on a tiled bench and people watch or feed the ducks and/or doves, and if you want to see more of the park take a cycle ride or splash out on a horse and carriage ride.
Archaeological Museum of Seville
Housed in the neo-Mudejar style Renaissance Pavillion that was built for the 1929 Ibero-American Exposition, the archaeological museum has archaeology and artworks from the Early Paleolithic period, through the Roman Empire to the Middle Ages with Moorish and Mudéjar collections. Spread across 3 floors be sure to see the Carambolo Treasure from the Tartessian period, the Bust of Hadrian (one of the best surviving in the world), and the Hylas Mosaic.
Opening Times: September-June Tuesday-Saturday 9 am-9 pm and Sunday 9 am-3 pm. July-August Tuesday-Saturday 9 am-3 pm.
Cost: €1.50
Plaza de América
Located on the southern edge of Parque de María Luisa, Plaza de America contains beautiful gardens with palm trees and is surrounded by stunning buildings with the neo-Mudejar style Museum of Popular Arts, the neo-renaissance Archaeological Museum, and the neo-gothic style Royal Pavilion.
Triana neighborhood
A colorful old quarter (the former gypsy neighborhood) located across the river from the main tourist attractions, Triana is a down to earth place to explore with its historic streets which have produced some of the most influential flamenco artists and bullfighters over the last couple of centuries. Step inside a traditional tapas bar in Triana and be transported back in time, shop for handmade ceramics, visit the lively market, and get lost in the back streets full of colorful houses to find the soul of Seville.
You might also like my post: How to spend one day in Seville.
Practical Information for your 2 days in Seville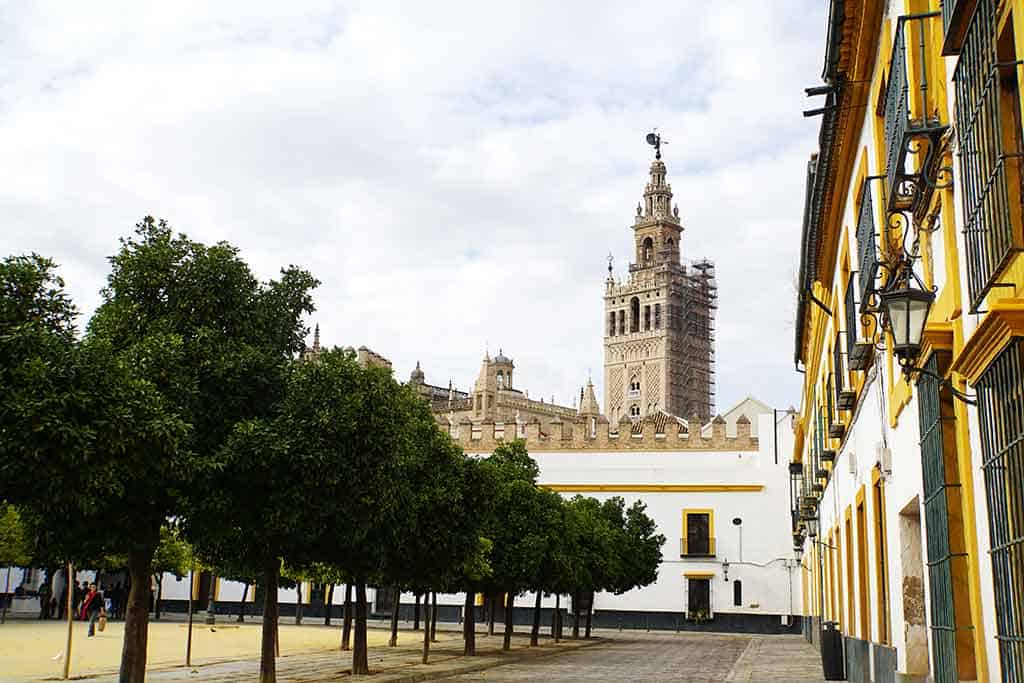 How to Get to Seville
Plane: Seville Airport is only 11km away from the city center and has flights serving 42 destinations around Spain, Europe, and North Africa. Airlines flying into Seville airport include Ryanair, Vueling, Easyjet, Iberia, and other small airlines such as Malta Air, Air Nostrum, and Air Europa amongst others. Tickets for domestic flights from Madrid and Barcelona can be as low as €43 when booked in advance with a flight time of 70 minutes from Madrid and 90minutes from Barcelona, not including check-in times.

Train: The Seville-Santa Justa Railway is the main railway station in Seville with high-speed services from Madrid, Barcelona, Malaga, Granada, Cordoba, Valencia, and other Spanish destinations. From Madrid to Seville there are 20 direct connections each day with a journey time of 2.5 hours. From Barcelona to Seville there are 2 direct connections per day with a journey time of 5.5 hours.

Bus: There are 2 bus stations in Seville, Prado de San Sebastian serves buses from the Andalucia region I.e Ronda, Marbella, whilst the Plaza de Armas bus station links the other regions of Spain and also Portugal. From Madrid to Seville you can expect a journey time of 6.5 hours and from Barcelona to Seville 14-17 hour journeys. You can also get to Seville from Malaga (2.45hours), from Granada (3-4.5hours) and from Faro in Portugal with 4 buses daily and a journey time of 2-3 hours.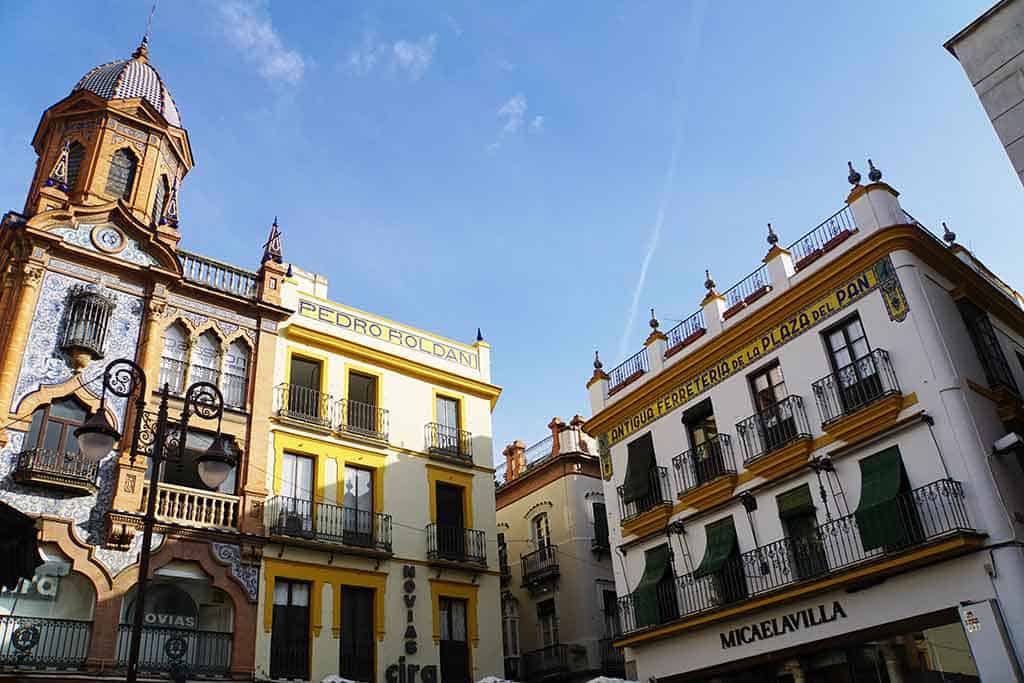 How to get from the airport in Seville to the city center
Private Transfer: Pre-book your transfer with Welcome Pick-Ups and a professional English speaking driver will be waiting for you in the arrivals hall, ready to help wheel your luggage out to the car. Child seats can be selected at the time of booking.

Click here for more information and to book your private transfer.

Bus: The EA City Bus has a regular service to Plaza de Armas bus station in the center of Seville calling at Santa Justa Railway Station, Metro station San Bernado, Carlos V Avenue (for Jardines del Prado), and Paseo Colón (besides the Torre del Oro amongst other stops. Buses run daily between 5.20 am-00.50 am and you can buy tickets direct from the driver.

Taxi: Jump in a licensed taxi outside of the airport terminal and be at your city center destination within 30 minutes, depending on traffic. There is a surcharge for journeys between midnight-7am and on weekends and public holidays with extra surcharges for Easter and Feria de Abril.
Where to stay in Seville
Hotel Fernando: Located right in Seville's historic center, you get the perfect mixture of hotel amenities including free WiFi and modern rooms, along with your perfect dose of history. The hotel also has a rooftop terrace that offers incredible city views, a swimming pool for those hot summer days, and rooms with balconies! Click here for more information and to check the latest prices.

Hotel Posado del Lucero: In this Old Town hotel, you get a swimming pool, a blend of elegance and history, and a great breakfast buffet! Only a 4-minute walk away lies the Duenas Palace, The EncarnacionSquare, and even the Seville Cathedral and the famous Giralda Towers are 6 minutes away. Click here for more information and to check the latest prices.

Hotel Alfonso XIII: Outdoor swimming pool, a gym, garden fountains, and beautiful elegant rooms that boast Arabic designs, this hotel is the personification of Seville's heart and soul. Click here for more information and to check the latest prices.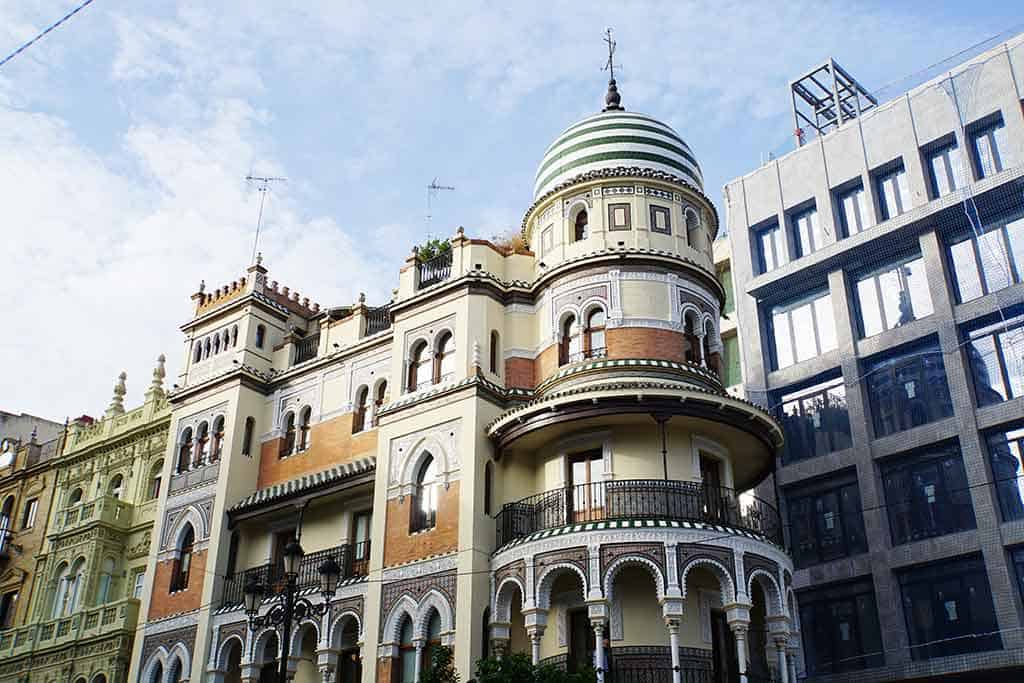 2 days in Seville will allow you to see the main attractions of this stunning city as you go giddy over all the blue and yellow tiles and start clapping your hands and stomping your feet as you watch a flamenco performance yet also allows you enough time to venture off of the tourist trail to find the soul of Seville in Triana. There's only 1 question to ask you, when will you be booking your trip for?
You might also like:

The best day trips from Seville.

Things to do in Seville in October.

A road trip around Andalucia.

Best Places to visit in Andalucia.

Things to do in Ronda.

Two days in Granada.

Things to do in Cordoba.