This post is also available in: French
The region of Chania is located in the beautiful island of Crete in Greece. It offers visitors a variety of things to see and do. Amongst them are some of best beaches that can be found in Crete. Last summer I spent my holidays there and I was amazed by the beauty of the place. I have made a list of the nicest beaches in Chania that include:
Kedrodasos beach
Elafonisi beach
Balos beach
Gramvousa beach
Falassarna beach
Glyka Nera – Sweet Water beach
The best beaches in Chania region – Crete
#1 Kedrodasos Beach
Located 76 km south-west of Chania and 1 km away from another favorite Elafonissi beach. It is a secluded beach with white sand and juniper trees. It is ideal for campers and naturists. The beach is totally unorganised so you should bring a snack, water and an umbrella for the sun. If you are lucky, you will find shade under one of the juniper trees. The easiest way to find the beach is with a GPS. What we did is we found Elafonissi in the GPS and then pressed find interesting places around and there it was. There is a car parking at the end of the road, leave your car, go down the path, and you are there… in paradise.
#2 Elafonissi Beach
Located 76 km south-west of Chania. It is also a Natura 2000 protected area. You can arrive either by car or by bus from Chania. In front of the lagoon, there is a big parking space and a path that takes you the central part of the beach which is organized but very crowded. If you would like more privacy, you can walk along the beach until you find a more secluded spot. Elafonisi is considered one of the Chania beaches.
#3 Balos-Gramvousa Beaches
This famous beach is located 56km north-west of Chania. Balos is the most photographed beach in Crete; it has pristine waters and white sand. It is very crowded in the summer so try to visit it early in the morning if you go by car. It is partly organized, and it has a small restaurant. It is accessible either by car (4×4) or motorbike because the road is very bad or by the ferry that runs from Kissamos port. The advantage of the ferry is that you will visit the island of Gramvousa with a beautiful castle and wonderful beach. You can arrive at Kissamos port by car or bus in the morning and then choose one of the boats that go to Balos – Granvousa or pre-book from one of the travel agencies. I used the following one.
#4 Falassarna Beach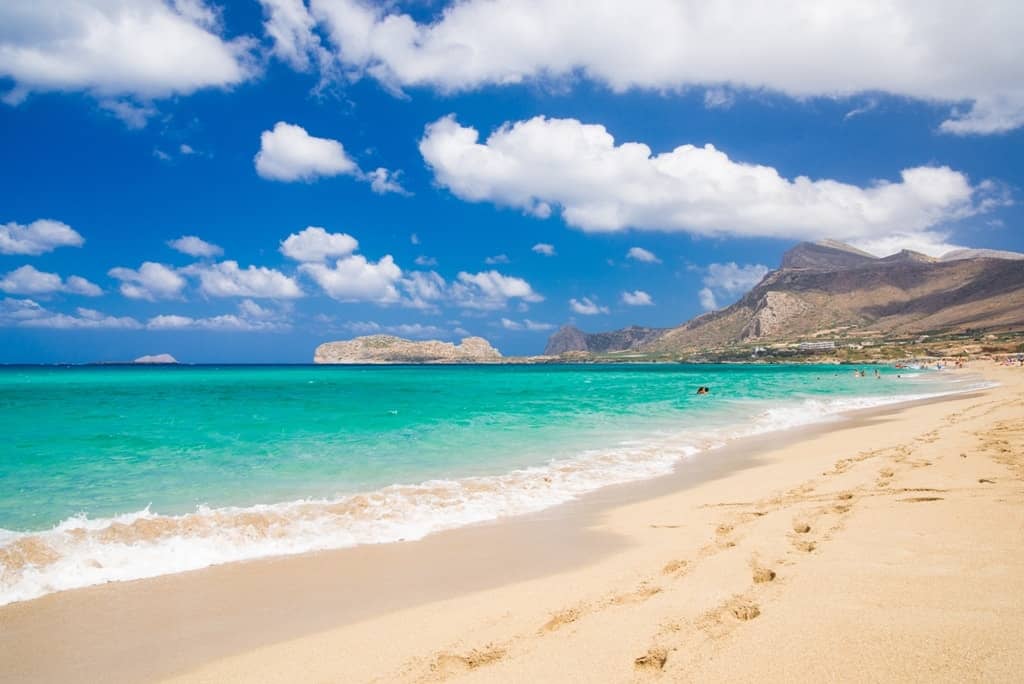 Located 59km west of Chania. The bay of Falasarna consists of 5 consecutive beaches. The most popular one is called Pachia Ammos. The sand is white and the water is turquoise. Most of the time the wind blows and makes this beach ideal for windsurfing. The beach is organized with umbrellas, beach bars and water sports. Also a lot of summer parties take place during the night. It is easily accessible by car or bus from Kissamos and Chania.
#5 Glyka Nera (Sweet Water Beach)
Located 75 km south of Chania this secluded beach took its name from the sweet water that comes from the mountain above and springs through the pebbled beach (it is potable). You will see a lot of Cretan goats coming down from the steep hill to drink water.  The beach has a small taverna (where the boat leaves you) a few sunbeds and umbrellas at the one side and it is totally unspoiled at the other side making it ideal for naturists. It is accessible from Chora Sfakion by boat or on foot from a tough path (it takes around 30 minutes). You can also access it From Loutro by boat or on foot (around 60 minutes). The path is part of the European E4 footpath.
I personally chose to stay in Kissamos since most of the above beaches are closer from there, apart from Glyka Nera. What I did was stay most of the days there and spend 2 days at Chora Sfakion so that I could  discover the southern beaches. Ideally you should avoid Crete in August since it's overcrowded. In order to enjoy your holidays to the fullest it's advisable that you rent a car. There are a lot of options available for car hire in Chania area.
Crete island in Greece offers some of the most amazing beaches that you should definitely visit.
For more information on what to do in Chania town.
Which is your favourite beach near Chania?
Did you like this post? Pin it!
If you are looking for more information about the best beaches in Crete you can have a look at this great article posted by Cretico.
Disclaimer: This post contains  affiliate links. This means that should you click on certain links, and then subsequently purchase a product, I will receive a small commission. It costs nothing extra to you but helps keep my site running. Thank you for supporting me in this way.