As the capital of the Netherlands, Amsterdam is packed with plenty of history and beautiful scenery. Known as the "Venice of the North", Amsterdam is a truly historic city that has given the world people like Vincent van Gogh and stunning tulip gardens. This itinerary will help you organize your 5 days in Amsterdam so you can experience as much as you possibly can in this city on your short trip.
Disclaimer: This post contains affiliate links. This means that should you click on certain links, and then subsequently purchase a product, I will receive a small commission.
Tip: The best way to explore Amsterdam is with a GVB Public Transport Ticket that allows you to travel freely around the city from 1 to 7 days with prices starting at 8,50 €. The card can be used in trams, buses, metros, and ferries. Click here for more information.
Amsterdam Quick Guide
Planning a trip to Amsterdam? Find here everything you need:

Looking for transportation from/to the airport? Click here for more information and to book your private transfer.

Top-Rated Tours and Day Trips to Do in Amsterdam:

– Amsterdam: GVB Public Transport Ticket

– Van Gogh Museum Ticket

– Amsterdam: City Canal Cruise

– Heineken Experience Ticket

– From Amsterdam: Full-Day Keukenhof Entry Ticket w/Transfers


Where to stay in Amsterdam: Mövenpick Hotel Amsterdam City Centre (view on the river), Hotel Park 6 (next to the Vondelpark)
How to Spend 5 Days in Amsterdam, a Comprehensive Itinerary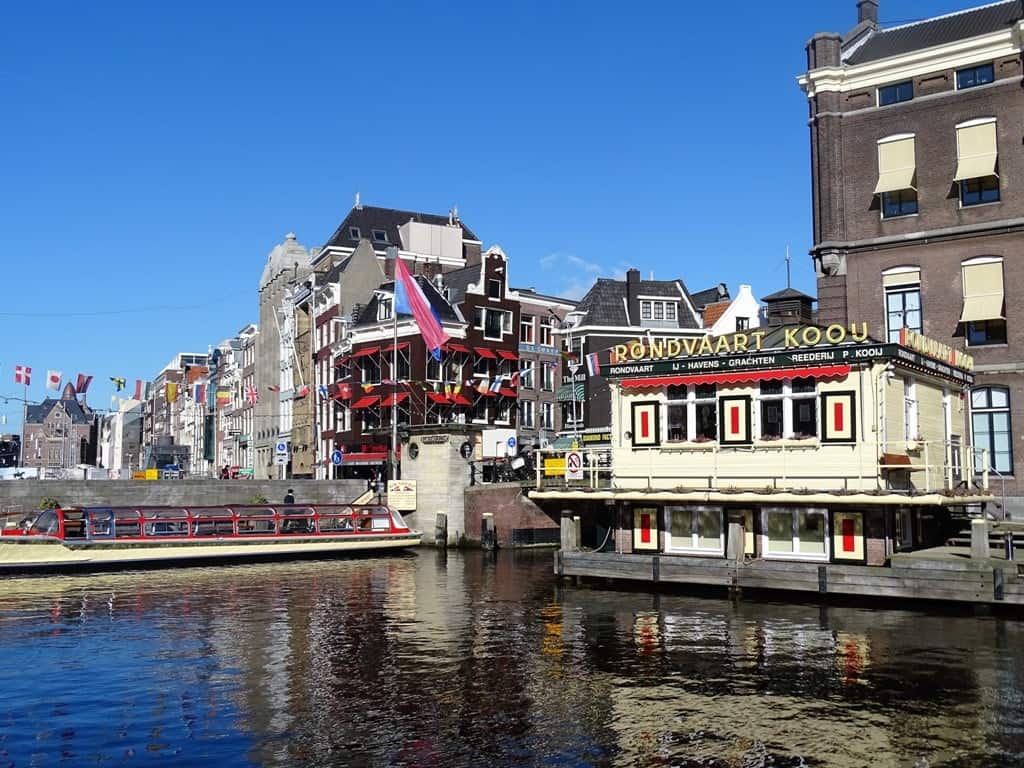 Where to stay in Amsterdam
Mövenpick Hotel Amsterdam City Centre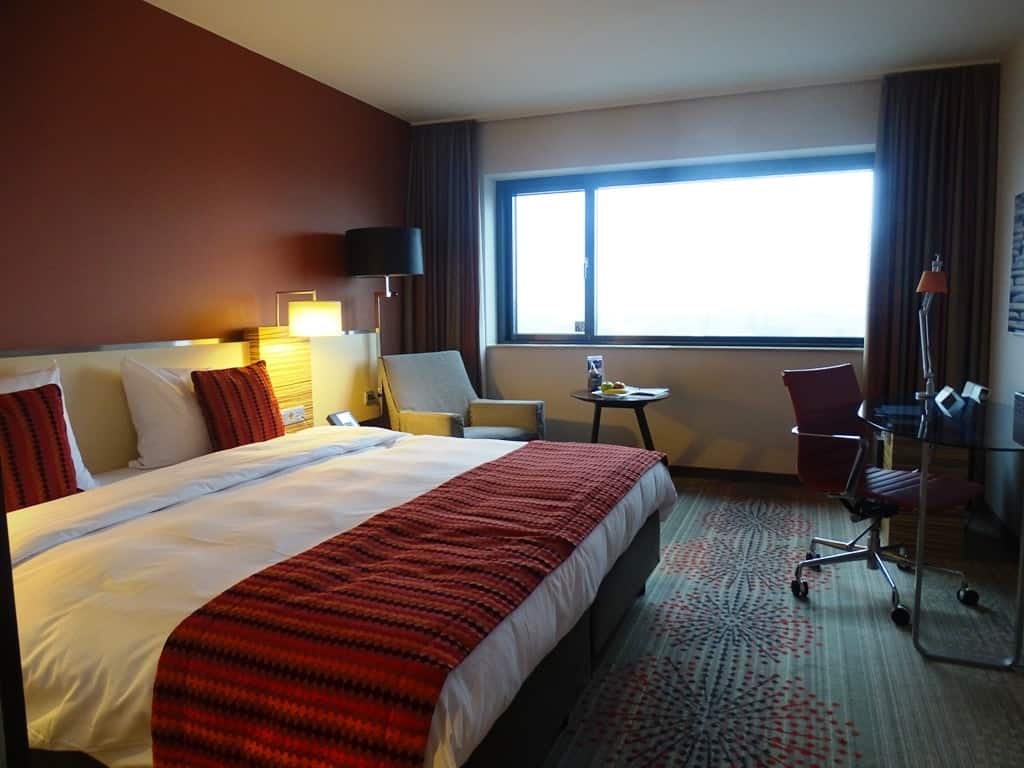 A 4-star luxury hotel offering river views, just 10 minutes on foot from the city centre. It offers spacious rooms with free wi-fi, a minibar, satellite TV and tea and coffee making facilities. Other hotel amenities include a wellness centre with a gym, a restaurant serving international cuisine and a bar. Great location next to the cruise terminal if you start or finish a cruise in Amsterdam.
Find here more information and book the Mövenpick Hotel Amsterdam City Centre.
Hotel Park 6
Located next to the Vondelpark, the hotel has 31 rooms some with a private terrace or French balcony. Other room amenities include a TV, a minibar, tea and coffee making facilities and free Wi-Fi. The hotels is conveniently located close to the Van Gogh Museum and Rijksmuseum.
Find here more information and check the latest prices
Hotel The Exchange
Situated next to Dam square this fashion hotel offers from 1 star to 5-star rooms each one uniquely decorated by students of the fashion school and Dutch designers. Breakfast is served all day at the on-site Stock cafe and Wi-Fi is free of charge.
Find here more information and book Hotel The Exchange.
Art'otel Amsterdam
Located in the heart of the city close to the Central station, this boutique hotel offers modern rooms that feuture art work by Atelier Van Lieshout and free Wi-Fi. Other hotel facilities include an indoor swimming pool and fitness center, and an all-day cafe.
Find here more information and book the Art'otel Amsterdam.
How to get from and to Amsterdam Airport
There are several for getting from Amsterdam Schiphol Airport to the city center and it depends on your budget, group size and personal preference as to which one you choose. It's also worth asking if your hotel offers any transfers from the airport as that will save you the hassle of taking any public transport!
Train: Taking the train is the quickest way to get from Amsterdam Schiphol Airport (AMS) to the city center as you are not dependent on traffic like you are with buses and taxis. The train departs for the city center from Platforms 1 and 2 of the airport station, which is located under the main arrivals' hall, and it arrives at Amsterdam Central Station. The single ticket costs €5.50 (including €1 surcharge for a disposable ticket) and the travel time is 20 minutes.
Train & Metro: You can take the train from Schiphol to Amsterdam Zuid. Single ticket costs €4.00 including €1 surcharge and the travel time is 7 mins and then you can connect onto the metro with the cost of a single ticket from €3.20.
Bus: There are two bus options Amsterdam Airport Express Bus 397 from Schiphol Plaza to Amsterdam Elandsgracht. The single ticket costs €6.50 and the open return €11.25. The average travel time is 30 minutes.
The second option is GVB bus 69 from Schiphol to Amsterdam Sloterdijk. The single ticket costs €3.20 and the average travel time is 40 minutes.
Taxis: If there is a group of you traveling together, a taxi from the airport to the city center can be a great idea. If you take an official taxi from the airport (look out for roof lights and blue number plates) it should cost 45 to 50 EUR one way.
Private Airport Transfer with Welcome Pick-Ups: You can pre-book a car online with Welcome Pick-Ups before you arrive so you don't have to worry about finding a licensed taxi within the airport. Your driver will be waiting for you in the arrivals hall with a welcome name sign and a bag with a bottle of water and a map of the city so you're ready to explore!
There is a flat rate of 43 EUR from Amsterdam Schiphol Airport to the city center and it takes between 15-20 minutes. . Please note there may be additional charges for late-night pick-ups and public holidays. Sometimes if you book early there is a discount.
Click here for more information and to book your airport transfer.
Staying in Amsterdam for just 2 days? Check out this 2 day Amsterdam itinerary.
Amsterdam CityPass
The Amsterdam Go City All-Inclusive Pass allows visitors to some of the city's top attractions (more than 30), including:
Rijksmuseum,
Heineken Experience,
Amsterdam Canal Cruise
Rotterdam, Delft & The Hague Live Guided Tour
If you plan to visit the attractions, this city pass offers almost a 50% discount on admission fees. It is an excellent value!
Click here for more information and to book the Amsterdam Go City All-Inclusive Pass with 30+ Attractions.
5 Days in Amsterdam: Day One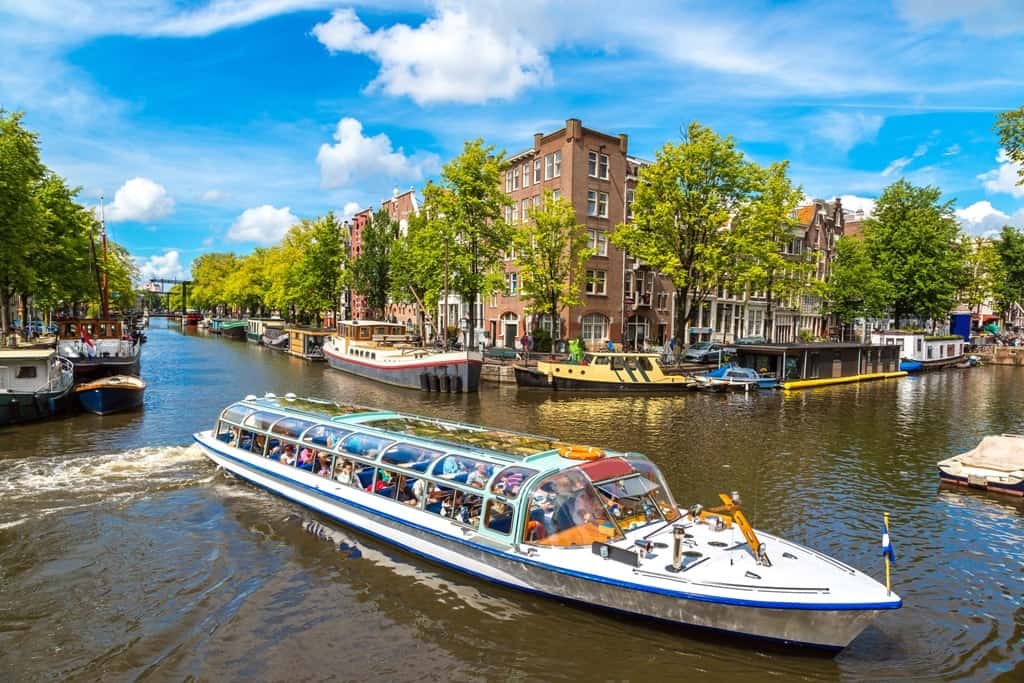 Perhaps the most marked characteristic of Amsterdam is its 165 canals. Recognized as a UNESCO World Heritage site in 2010, it was originally intended to encourage trade and transport and today provides a way for travelers to take in the city's sights and attractions in an unforgettable way.
You can take a canal cruise from one of the many tours that operate on the canal, and they usually take one hour. As well as the opportunity to learn more about the facts and history of the canals, you also have the chance to pick which type of tour will suit you best; they range from candle-lit cruises to hop-on-hop-off services.
Don't forget that platforms like Airbnb offer a range of boathouses to rent so that you can actually live on the canal, too!
Some great Canal Cruises:

The 1.5-Hour Evening Canal Cruise

The classic day canal cruise
Dam Square (National Monument)
Situated in the middle of Dam Square is the National Monument, Netherland's most important World War II memorial. It stands at 22-meters high and every year on the 4th of May, a national Remembrance of the Dead is held at this monument where people gather to pay respects to fallen soldiers.
There is a Latin inscription on the pillar which translates in English to: "Here, where the heart of the fatherland is, may this monument, which citizens carry in their heart, gaze at God's stars." It was designed by Dutch architect J.J.P. Oud and became an official national heritage monument in 2009.
Royal Palace of Amsterdam
One of three palaces in the Netherlands, the Royal Palace was originally built as a city hall and became the palace of King Louis Napoleon, and later on of the Dutch Royal House. The State placed the Royal Palace at the disposal of the King and today it is now used for royal events such as prize-givings, the King's New Year reception, and the welcoming of foreign heads of state. It is situated on Dam Square, in the very heart of Amsterdam. You can take a guided tour throughout the palace's rooms or take a free audio tour.
Click here to book your admission ticket that includes an audio guide.
Staying in Amsterdam less than 5 days? You might want to check this 3-day Amsterdam itinerary.
5 Days in Amsterdam: Day Two
Amsterdam is home to one of the most iconic painters in history, Vincent van Gogh, and this museum is dedicated to telling his life's story as well as showcasing his stunning paintings. The Van Gogh Museum features paintings like Sunflowers (1889) and Self-Portrait with Straw Hat (1887) you can view.
There are also interesting exhibits like The Dutch in Paris which showcases Dutch artists and works they completed in Paris and Zeng Fanzhi, an exhibit done by this famous Chinese artist who creates works inspired by Van Gogh. When you're done exploring this museum you can stop by its quaint gift shop and buy some unique Van Gogh souvenirs.
Keep in mind that photography is not allowed inside the museum.
I recommend buying your tickets in advance to skip the long lines.

Skip the line ticket to the Van Gogh Museum

Skip the line tour to the Van Gogh Museum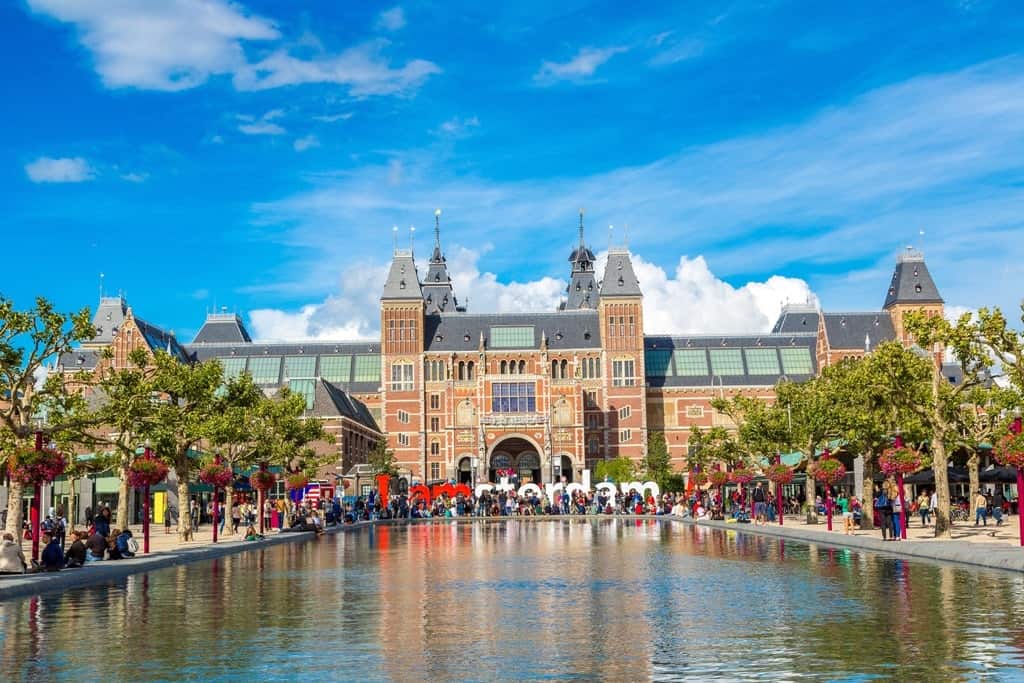 The Rijksmuseum is the national museum of the Netherlands and showcases the history of this country as well as some famous Dutch paintings and art pieces. Inside you'll find paintings from Vermeer and Rembrandt and creative exhibits you can wander through.
For instance, there's the Birds in Art exhibit which highlights art pieces throughout history that depict birds in them. There's also Glorious Food which shows historic still-life paintings of food. You can even browse through a Roaring Twenties exhibit which features photographs and other items from the 1920s in it.
To get the most out of your visit, you have the option to buy your tickets online to skip the queue and book a guided tour. The museum is huge so a guided tour is a must.
Skip the line tickets to the Rijksmuseum
Vondelpark
Existing now for almost 150 years, Vondelpark is the largest park in Amsterdam and the most famous park in the Netherlands. It welcomes 10 million visitors each year and is constantly filled with locals and tourists alike exercising, enjoying the sun or dog-walking.
As well as hosting open-air concerts, people also have the chance to visit the three-meter statue of Dutch poet Vondel, the rose garden, and the music dome. Vondelpark is also home to a selection of restaurants and cafes like Café Vertigo and Groot Melkhuis. You can stroll by leisurely after a visit to the museums as it is close by, or explore it the Dutch way – through a bike tour.
Restaurant Tip: A great place to grab lunch in the area is the Uptown Meat Club. It has a nice menu, great beers, and good service. It is close to the museums and Vondelpark. Van Baerlestraat 7, Museumkwartier.
5 Days in Amsterdam: Day Three
Jordaan Neighborhood
Arguably the most famous neighborhood in Amsterdam is Jordaan. Once a poor district for the working class, years of gentrification means it is now home to a host of young artists, students, and entrepreneurs as well as galleries, restaurants, and boutiques.
Its charming narrow streets and little canals make walking through this neighborhood highly enjoyable; as well as hosting several markets like Noordermarkt which has a flea market on Monday mornings, Jordaan offers hidden courtyards, art studios, and small museums.
It was also once home to several significant figures in history like famous Dutch writer Joost van den Vondel, painter, and photographer Breitner, and artist Rembrandt van Rijn.
The best way to experience Jordaan is through a food tour. Not only you will see the neighborhood and learn its history but you will also have the chance to taste some mouthwatering food. Read about my Jordaan food tour.
Anne Frank House
This museum is the historic site of where Anne Frank and her family hid from the Nazis during World War II. This museum honors her and features many exhibits to help visitors learn more about her life. Inside you'll find exhibits that tell about her family and even one that features the movie star pictures that Anne Frank herself clipped out of magazines and newspapers and hung up on her wall.
You'll also be able to see the bookcase that helped to hide the entrance to her family's hiding place. Toward the end of your trip, you can stop by the Diary Room which contains her famous diary.
Begijnhof
Dating back to the 14th century, this tranquil and enclosed courtyard was originally intended for the Begijntjes, a nun-like Catholic sisterhood. There are beautiful houses surrounding the courtyard and gardens where you will also find the English Church with its original medieval tower, the Begijnhof Chapel, and the Civic Guards Gallery where there is a selection of 17th-century paintings of important men and women from Amsterdam. The wooden house, Houten Huys, is the oldest surviving house in the city and dates back to 1420.
Oude Kerk
The Oude Kerk (old church) is both Amsterdam's oldest building and parish church. It is a 13th century, 800-year-old building towering over the Red Light District, oddly enough.Originally built as a Catholic place of worship, it now is an expression of Dutch Protestantism and frequently hosts exhibitions and concerts.
Inside, the architecture is impressive and beautiful and the windows are high and flooded with light. Other points of attraction inside are Madam Saskia van Uylenberg's grave (number 29), Rembrandt's beloved wife who was buried there, and a 17th-century grand organ. It is typically open seven days a week and you can take guided tours which leave every 30 minutes.
Nieuwe Kerk
The Nieuwe Kerk (new church) is the most important church in the Netherlands. Built in the 15th century, it lies adjacent to the Royal Palace and is used today as an exhibition space. After fire damage many years ago, it was restored to exhibit its original Renaissance features.
Many Dutch monarchs have been inaugurated in NieuweKerk, and it was even a host to the wedding of His Majesty King of the Netherlands Willem-Alexander andPrincessMáxima. Inside is also the tomb of Dutch admiral Michiel de Ruyter and poet and playwright Joost van den Vondel, amongst others. It opens daily apart from Christmas and New Year's Day.
Kalverstraat
A bustling shopping attraction in Amsterdam, Kalverstraat is a 750-meter road that lures crowds of people to make it the city's most commercial street. Major brands will have at least one store here, and you will also find boutiques, department stores, shoe shops, and souvenir stores as well.
Near the end of the street isKalvertoren Building, a historic building turned modern mall occupying three levels. At the very end of Kalverstraat, if you walk through theMunttoren (Mint Tower), you will arrive at Amsterdam's vibrant Flowermarketwhere you will find all kinds of tulips, bulbs, and flowers.
Red Light District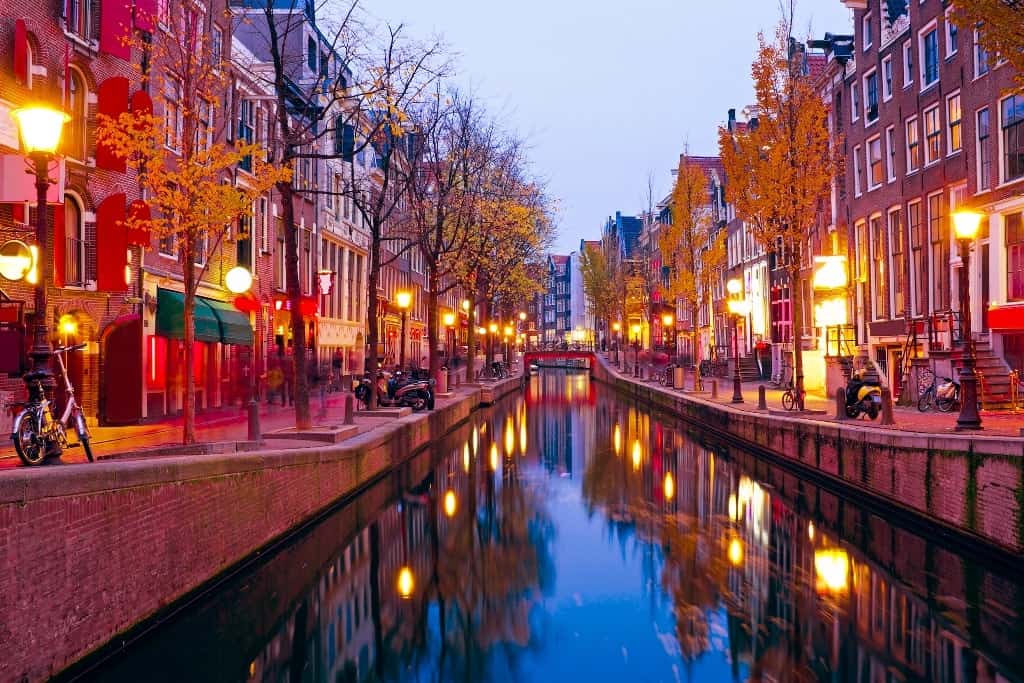 Situated in one of the oldest and most beautiful parts of the city, the infamous Red Light District, also known as Rosse Buurt to the locals, is a network of brothels, sex shops, peep shows, coffee houses, and museums. Women parade their bodies through window parlors and people from all over the world – couples, hen's night groups point and stare as they walk down one of Amsterdam's major tourist attractions.
The main Red Light District is in the Walletjes area, and while it may look dodgy on the outside, it is well-protected with police and private bodyguards patrolling it. It may be interesting to know that prostitution is legal in Holland and that it is at the heart of Amsterdam's nightlife entertainment that they get to enjoy acceptance.
Visit this district from 11 pm onwards, either in a group or in a guided tour, to get the full experience of swarming crowds and blaring neon lights reflecting in the canals.
Want to learn more about the Red Light District? Why not check this tour?
Amsterdam Red Light District 2-Hour Walking Tour
Taking photos of the ladies in the windows is not allowed. For other things you shouldn't do in Amsterdam check my post: Things not to do in Amsterdam.
5 Days in Amsterdam: Day Four
Looking to get away from the bustling city and experience a more serene landscape? If so, you can take a day trip to Volendam. This town is located in the northern part of the Netherlands and is well-known for its colorful houses, fresh seafood, and windmills.
In fact, you can take a peaceful one hour cruise down the canals here to learn more about these historic windmills and houses. The tour will also stop by a local cheese factory where you can enjoy a snack of freshly made cheese.
After your tour you can also visit some museums this town features like the Volendam Museum, which is known for its art collection, or the Paard van Marken, a lighthouse built back in 1839.
Find here more information and book this day trip to Volendam.
or
Depending on when you plan your trip, you might instead want to spend your fourth day in Amsterdam enjoying the massive tulip blooms during the spring, which are the official flower of the Netherlands. Keukenhof is one of the world's largest gardens and is filled with colorful tulips that you can enjoy looking at while strolling down winding paths built in the midst of them.
In addition to tulips, this garden also has plenty of fragrant hyacinths and daffodils which add an extra burst of color to the sea of tulips.
Find here more information and book your skip-the-line tickets and transfer to Keukenhof.
5 Days in Amsterdam: Day Five
This famous beer company started in Amsterdam in 1864 and with the Heineken Experience you'll be able to learn more about this company's history as well as the city it was founded in. This interactive tour will take you through the historic building where this company got started and finish with a special beer tasting. You'll also be able to learn how to draft a Heineken yourself at the end.
Book your Heineken Experience tickets here.
Some Other Sites Worth Seeing Depending on Your Interests
FOAM
FOAM, also known as the Fotografiemuseum, is a place dedicated entirely to the art of photography. Inside you'll be able to gaze at creative photographs by photographers like André Kertész and view unique exhibits like Anouk Kruithof's ¡Aguas! which takes into mind problems like climate change and government surveillance. This museum offers free tours and when you're done you can grab a bite to eat at its chic café.
Book your FOAM admission tickets here.
Amsterdam History Museum
The Amsterdam History Museum is the perfect stop to help learn more about this city. Inside you'll find art, photos, and other objects that help to tell the story of this iconic destination. This museum offers many interesting exhibits you can enjoy like Amsterdam DNA which provides a quick overview of the history of Amsterdam and The Little Orphanage where families can learn more about what life was like in a 17th-century orphanage.
Book your entrance tickets to Amsterdam's History Museum here.
Hermitage Amsterdam
The Hermitage Amsterdam is a museum that offers many interesting exhibits you can enjoy that highlight works by Dutch Masters and modern artists. One unique exhibit this museum has is Panorama Amsterdam which shows the city from the perspective of this museum and tells the unique history of the city.
You'll be able to learn more about how the canals were built and iconic visitors to Amsterdam like Napoleon and the Beatles. This museum also has a special Portrait Gallery of the Golden Age which has 30 massive 17th-century paintings you can gaze at.
Amsterdam is filled with plenty of things to do and see. In these 5 days you'll be able to experience just a small selection of what Amsterdam has to offer. After spending these few days exploring this beautiful city you'll soon find yourself never wanting to leave.
I traveled around Amsterdam using the GVB day passes that allow you to travel freely around the city from 1 to 7 days with prices starting at 8,50 €. The card can be used in trams, buses, and metros.
Book your public transport tickets here.
Wondering what to see after Amsterdam? Check my post: Things to do in Utrecht.
Have you been to Amsterdam?