This post is also available in: French
The charming medieval town of Utrecht has so much to offer. Whether you're taking a day trip from Amsterdam or spending a few nights, you won't want to miss these 18+ things to do in Utrecht!
Situated in the heart of the Netherlands is the charming and medieval town of Utrecht, the capital and most populous city of the province of the same name. Like its sister Amsterdam, it is a city of canals, with historical buildings going back to the Middle Ages and the largest university in the country. To this day, it remains the main religious center of the Netherlands, with Christian monuments scattered throughout the city.
Utrecht may be overlooked when travelling to Amsterdam, but it has been steadily gaining steam for years as a city to watch out for and a hidden gem for those yearning to travel off the beaten path. Utrecht has many interesting things to do that will satisfy every taste.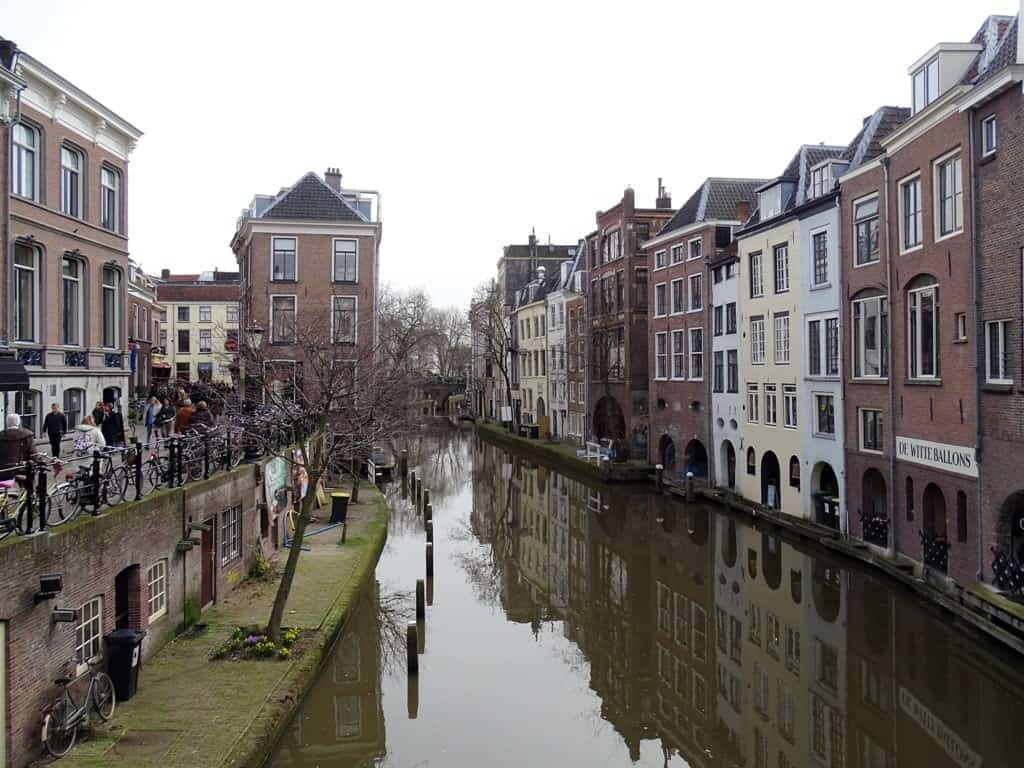 What Is Utrecht Best Known For?
Like Amsterdam, Utrecht is known for its canals, and as one of the oldest cities in the Netherlands, it's also famous for its historic charm. You'll find lots of Medieval architecture and historically significant sites, like the Dom Tower.
Today, Utrecht is home to a major university as well.
How Many Days Do You Need in Utrecht?
I spent 3 days in Utrecht on my first trip. To me, that felt like the perfect amount of time to get to see the city and all of the sites I wanted to, plus check out a few nearby towns and attractions.
Since it's less than an hour from both Amsterdam and Rotterdam, you could also turn Utrecht into an overnight trip or a day trip.
There are guided day trips to Utrecht from Amsterdam, but it's very easy to do it yourself as well.
Interesting things to do in Utrecht
On my first trip to the Netherlands, I had the chance to explore this beautiful town and the surrounding area over the course of three days. Utrecht has a tourist office in the Dom square where you can get all the information you need to make your visit to Utrecht a unique experience.
Climb the Dom Tower
Looming 112 meters high, the Gothic-styled Dom Tower is the tallest church tower in the country and the pride & joy of the town. It was built between 1321 and 1382, designed by John of Hainaut, and stands at the spot where Utrecht originated over 2,000 years ago. By climbing to the top of the tower, you will literally be at the centre of its beginnings.
You can book a guided tour at the ticket shop and be accompanied up all 465 steps to the pinnacle of the Dom Tower, where you will be able to see spectacular views of the town. While it may seem like too much in one go, don't worry – the guide will stop you in between to give you historical information about the tower. On a clear day, you can even see Amsterdam from the top.
For more information: http://www.domtoren.nl/en
Dom Church
Also known as St. Martin's Cathedral, Dom Church is a Gothic building dedicated to Saint Martin of Tours and once served as the cathedral of the Diocese of Utrecht. It sits alongside the Dom Tower, which is the landmark of the town, and visitors can explore the church almost every day free of charge.
Inside are a number of tombs: the Holy Sepulcher of Gherit Splintersz is within the ambulatory, and the preserved internal organs of Emperors Conrad II and Henry IV are located inside a crypt. On the south side of the cathedral is the cloister, which connects the cathedral with the University of Utrecht.
Canal Boat Cruise
To experience the magic of Utrecht's canals and enjoy an unforgettable perspective of the city, visitors can take a canal boat cruise. As well as gliding past historic houses and its impressive trees, you will also notice the wharf cellars, which are a significant and unique defining feature of Utrecht's canals.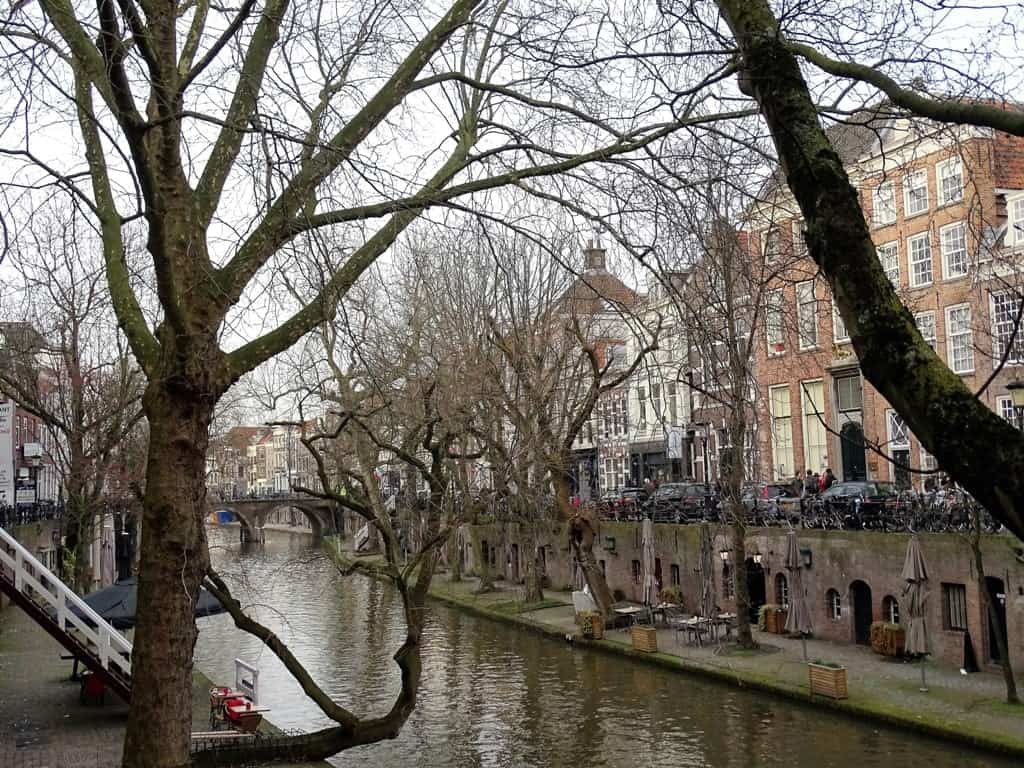 The cellars occupy the spaces underneath the houses and were originally purposed for storage; the wharves in front of it made it easy for boats to drop off and pick up goods. While a few other Dutch cities feature these cellars, nowhere is it more prominent than in Utrecht.
Today, the town is home to 732 of them, which are now mostly used as restaurants, bars, artist studios, or for storage. There is live commentary on the boat tour, so you also get the chance to learn about the history of the city.
For more information: Schuttevaer Boat Excursions
Flora's Hof
A quiet oasis in the heart of Utrecht's medieval center, Flora's Hof is located close to the Dom Tower and is considered one of the most stunning sites in the city. It was once home to an Episcopal palace, then, later on, a nursery where greenhouses, fruit trees, and plants were grown.
In 2008, the garden was restored to its former glory and is now maintained by volunteers who make it a lush and peaceful getaway in the inner city. As well as the pleasant varieties of flowers and plants on display, visitors can enjoy the depiction of the life of St. Martin in the courtyard and browse at their leisure in the house-turned-library.
Pandhof
Between the Dom Church and the Utrecht University Hall is Pandhof, the medieval monastery garden. Blooming with flowers, plants, and herbs, this delightful space is perfect for relaxing and wandering about at your leisure, with a tearoom next door where you can enjoy the idyllic atmosphere with a coffee in hand.
In the heart of the garden, you will also find a fountain with a bronze statue of the priest Hugo Wstinc sitting and writing. Pandhof is known as one of the most beautiful courtyards in the Netherlands and, like Flora's Hof, is maintained by volunteers. It is free of charge to visit and can be accessed through the gate on Dom Square.
Trajectum Lumen Project
Take an exploratory journey of Utrecht after dark and follow an illuminated art trail throughout the city's historical center with Trajectum Lumen. The trail starts off at Vredenburg and guides you along with art installations from renowned light artists.
It is available seven days a week, sunset to midnight, 365 days of the year, and is a unique and spectacular way to enjoy the city's rich past and present. You can do it on your own by downloading a free route map, picking one up from a tourist office, or following the orange lights along the road; the journey takes around one hour and ends at the Mariaplaats.
Otherwise, you can book a group tour where guides are provided in a variety of languages. I did this tour with a guide, and I truly enjoyed it. Not only did we see all these art installations, but we had the chance to see the city's main monuments lit up and learn the history of the city. Our guide was very knowledgeable and polite and answered all our questions.
For more information: http://www.trajectumlumen.nl/en
Rietveld Schrödehuis
Cutting edge and modern in design, this house was built by Dutch architect Gerrit Rietveld for Mrs. Truus Schröder-Schräder and her three children in the year 1924. It was built on the De Stijl principles and features a three-dimensional, asymmetrical design with seamless transitions throughout the home and a changeable and clever use of space and surface.
Within the home are also Rietveld's signature furniture styles. So innovative and creative was its design and execution that it was inscribed as a UNESCO World Heritage Site in 2000. This house was restored after Schröder-Schräder's passing in 1985 and is now a museum open to all visitors.
For more information: http://centraalmuseum.nl/en/visit/locations/rietveld-schroder-house/
Centraal Museum
The most significant museum in Utrecht, Centraal is home to the largest collection of Gerrit Rietveld's designs in the world (almost 3,000 objects!) as well as paintings and illustrations from the Utrecht Caravaggists and Dick Bruna, the local author and illustrator of Miffy.
Alongside some of the most prestigious artifacts in the Netherlands, visitors will also find that Centraal strongly features contemporary art, design, and fashion and is forward-thinking in its approach. If you would like to see a wide and beautiful collection of art that showcases the best of the local talent, a visit to this museum is a must.
For more information: http://centraalmuseum.nl/en/
The Markets
Every day of the week, there is a market to explore in Utrecht. The three largest markets that the city plays host to are the Bloemenmarkt (flower market), Lapjesmarkt (fabric market), and the general market located in Vredenburg.
The flower market is a sea of vibrant colors and smells, and it is where you can buy everything from plants to bulbs at an affordable price. The fabric market is the largest and oldest of its kind in Holland, having been around for 400 years, and is where you can purchase a wide variety of fabrics.
The Vredenburg market is made up of 75 to 125 stalls, held every Wednesday, Friday, and Saturday, and sells everything from cheese to jackets to electronics. Whether you're looking to buy flowers, fabrics, or food, Utrecht has got you covered.
Shopping
Department stores, trendy boutiques, and antique shops make shopping in Utrecht a paradise. Open seven days a week, the shops here cater to your desires, rain or shine, as Utrecht is home to the largest indoor shopping mall in the country, HoogCatharijne, which hosts over 160 shops.
On the Steenweg, you will find on-trend and affordable fashions; second-hand gems can be found on the Oudegracht and in the Museumkwartier; the Voorstraat and the Schoutenstraat are home to the works of young fashion designers; and for those with an affinity for homewares, a walk to the Zadelstraat is a must.
Botanical Gardens
The Urtrecht Botanic Gardens are located on the outskirts of town at the University of Utrecht. The gardens are open seasonally, from April to October, and admission is free.
Within the gardens, you'll find over 6,000 plant species, a rock garden, a butterfly greenhouse, and more. You could easily spend an afternoon (or at least a few hours) wandering the 22-acre property.
This is definitely high on the list of free things to do in Utrecht!
St. Cathrine's Convent Museum
St. Catherine's Convent Museum, aka Catharijneconvent Museum, features art and historical artifacts from the middle ages to the present day. It's said to have the Netherlands' most important collection of medieval artifacts and also houses books, documents, and 16th-century artwork.
The museum is located in a former 13th-century convent, and nuns lived there until the 18th century, so the building itself is full of history.
Dutch National Railway Museum
The railway is important to all of the Netherlands but especially to Utrecht as it's what connected the city to the rest of the country and helped to revive it in the 19th century.
The Dutch National Railway Museum (Spoorwegmuseum) details the history of the railway. With a model railway and actual railcars on site, this is one of the top things to do in Utrecht with families.
You can book your ticket online ahead of time here.
Guided Walking or Biking Tour
Sometimes when you want to learn more about a city, a guided walking tour is the way to go. It's kind of a two-in-one because you get to see some of the top sites in the city while learning some behind-the-scenes info you might not otherwise.
In Utrecht, you have a few options. This guided walking tour takes you to many of the historical sites, including the Dom Church and the canals, while discussing the history of the city and current contemporary issues.
For something a bit different, try a guided night tour of Utrecht. See the city in a different light – literally – while still learning about its history. You can choose between walking or biking for this option.
Fun things to do around Utrecht
Utrecht can be a great place to base yourself and explore the surrounding area. Here are a few things I saw during my stay in Utrecht.
Gouda
Located in the province of South Holland with a population of 70,000 people, Gouda is a town most famous for its gouda cheese and its seasonal cheese market. It is a very popular city for tourists to take a day trip to because of its ancient and beautiful buildings, its winding canals, and its clay pipes, candles, and stroopwafels (syrup waffles.)
Because it is easy to walk the city of Gouda, visitors can stroll around the central market square, explore the back streets where quaint boutiques lie, and marvel at the 15th-century town hall and the glass windows in St. Janskerk with ease. The journey between Utrecht and Gouda by train is 20 minutes, and by bus, number 107, 60 minutes.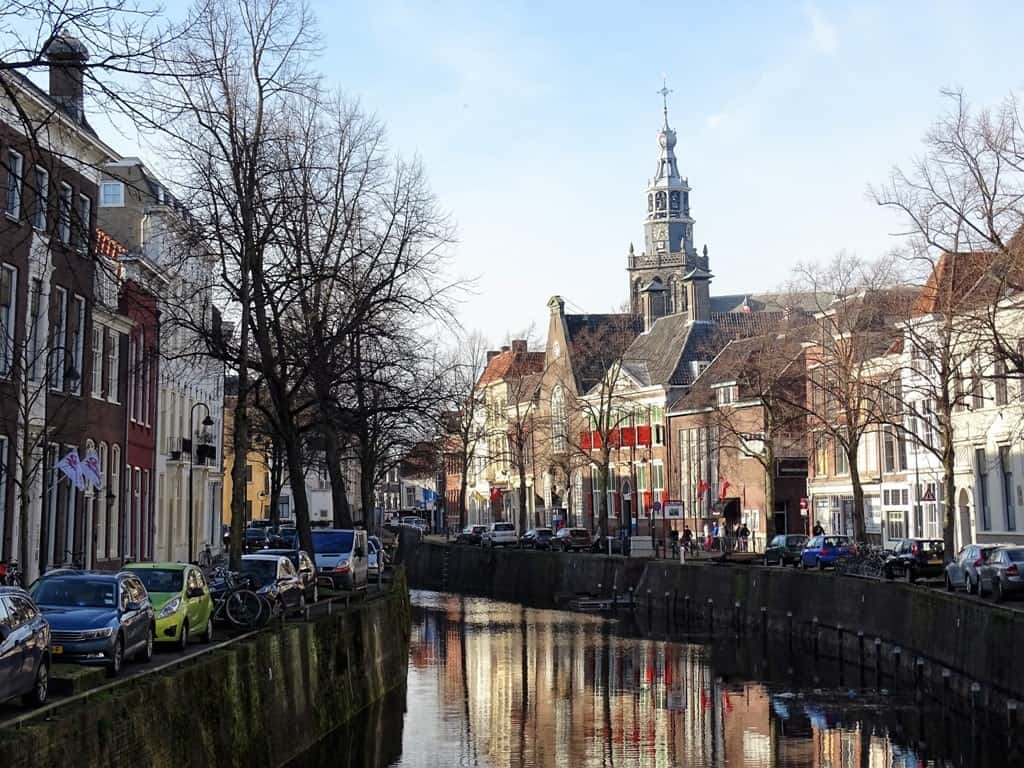 De Haar Castle
Grandiose and luxurious, De Haar Castle sits near Haarzuilens and is the biggest castle in the Netherlands as well as one of the foremost historical houses in Europe. Dating back to the 13th century, it looks like something out of a fairytale due to its moats, fortresses, gates, and drawbridge, as well as its beautifully kept gardens and ponds.
Once belonging to the De Haar family and then to the Van Zuylen family, it is now owned by the foundation Kasteel de Haar; however, for one month a year in September, the Van Zuylen van Nijevelt van de Haar family resides in the castle, a tradition spanning over 100 years.
De Haar Castle was one of the highlights of my trip to Utrecht. You can easily reach the castle by public transport, and the journey lasts around 40 minutes.
For more information: https://www.kasteeldehaar.nl/english
Kinderdijk
In the South Holland province lies the photogenic village of Kinderdijk, known for its world-famous 18th-century windmills. Built in 1740, Its 19 windmills are part of the UNESCO World Heritage Site, and it is there you can learn about how the Dutch have been managing their waters and preventing floods for over 1,000 years.
As well as admiring the waterways, dikes, and mills in the area, visitors can discover more about these iconic structures in the Museum Windmills and the Windmill Workshop. From Utrecht, you can catch bus number 90, which will take you straight to Kinderdijk. The journey takes around 90 minutes and will take you through the scenic Dutch countryside.
For more information: https://www.kinderdijk.com/
Where to stay in Utrecht
During my stay in Utrecht, I stayed at the Park Plaza Hotel. This 4-star modern hotel is a convenient walk away from the Beatrix Theatre and Utrecht Centraal train station and is a short walk away from the central square.
Its 120 contemporary rooms have free wi-fi, minibars and desks, tea and coffee facilities, and flat-screen TVs. As well as a gym and sauna, within the hotel is a restaurant serving international cuisine in an elegant setting with a patio, complemented by their richly decorated Bar & Brasserie; a continental breakfast is also available.
Where to eat in Utrecht
Firma Pickles Burgers & Wines
A trendy restaurant and wine bar that serves amazing burgers.
For more information: http://firmapickles.nl/utrecht/ (sorry, only in Dutch)
Stadskasteel Oudaen
Located in the heart of Utrecht and housed in a castle, Oudaen serves coffee, drinks, delicious lunch and dinner in a medieval environment.
For more information: http://www.oudaen.nl/web/en/1_home.htm
How to get to Utrecht
By air
The Netherlands has two big airports, Amsterdam Schiphol and Eindhoven airport, that servek mostly low-cost flights. From Amsterdam Schiphol, the journey to Utrecht Central station takes 40 minutes, and from the center of Amsterdam, only 30 minutes.
From Eindhoven airport, you can take either the bus heading to Amsterdam and get off in Utrecht, the journey takes 1 hour and 30 minutes, depending on the traffic or take bus number 400 or 401 from the airport to Eindhoven Central station and then take the train to Utrecht. It will take you approximately 1 hour and 40 minutes to get to Utrecht.
By railway
There is a train from Amsterdam to Utrecht every 10 minutes, and the journey takes approximately 26 minutes.
You can also get to Utrecht from Rotterdam, which runs 4x an hour and takes under 40 minutes, and from Eindhoven Central several times an hour as well.
Internationally, the ICE International Train that runs from Frankfort/Cologne/Dusseldorf to Amsterdam also makes a stop in Utrecht, as does the train from Basel, Switzerland.
Is Utrecht Worth Visiting?
After having spent 3 days there (and wishing I had more), I can say – yes! Utrecht is 100% worth adding to your Netherlands itinerary.
Though it is one of the oldest cities in the Netherlands, Utrecht is refreshingly forward-thinking. Juxtaposed against its beautiful and ancient buildings, quiet and historic canals, and delightful and antiquated gardens is an undercurrent of creative energy as shown in its museums, lighted art installations, and interesting use of spaces.
And, because it is home to a venerable university, its 40,000-strong student population creates a colorful and vibrant atmosphere bursting with socializing possibilities. Quaint and lovely, it is no wonder why this medieval yet modern-minded city is considered one of the best-kept secrets of the Netherlands.
Have you been to Utrecht?
Did you like this post? Pin it >>>>>>>>
I was a guest of Visit Utrecht but as always opinions are my own.