A visit to a new country is incomplete without tasting the food. So in order to get a real feel of the food scene each city has to offer I always do a food tour. On my recent trip to Amsterdam with my husband, I didn't know what to expect foodwise. Amsterdam, after all, is known for its canals, museums and Red Light District, not about the food.
I happily discovered that Eating Europe offers food tours in Amsterdam, so my husband and I signed up for the Jordaan Food Tour. You see when I was in London last November I also did a food tour with Eating Europe in Soho that I really enjoyed. I was looking forward to trying the food specialties of Amsterdam.
Our tour started at 11 am on a sunny morning in March. We met our guide Rudolph outside Café de Prins in the lively Jordaan neighbourhood. Jordaan is one of Amsterdam's most popular and buzzing neighbourhoods with a long and fascinating history.
During the early 17th century Amsterdam was one of the wealthiest cities, the population was expanding rapidly, and there was a need for more living spaces for the working class. Jordaan during that time was home to workers and immigrants because of the low rents.
By the time of World War II, the district became a slam, and there were plans to demolish it and new apartments to be built. Due to the effort of a few citizens, the plan was abandoned, and gradually the buildings were renewed.
Nowadays Jordaan is one of the most sought after districts to live with the wind whirled alleys, picturesque canals, a thriving artistic community and trendy shops, bars and restaurants.
Our first stop was Café de Prins
Café de Prins took its name from Prinsengracht street, where it is located, and it is a traditional brown cafe that operates since 1967. Brown cafes are traditional Dutch pubs. Their name comes from the wooden interiors and the nicotine-stained walls, although now smoking is forbidden inside restaurants and cafes. The brown cafes have a laid back atmosphere, and they were the meeting point of workers, artists, students, locals and now tourists. Apart from drinks, they serve lights meals.
In Café de Prins we had the chance to taste some of the best poffertjes, tiny puffy pancakes served with butter, syrup, and powdered sugar which I accompanied with a delicious hot chocolate.
Our second stop was Urker Viswinkel
Urker Viswinkel is considered the best fish shop in Jordaan. The shop is owned by Dirk's family that have been working as fisherman for many generations in a town called Urk, thus the name. Here we tasted herring the Amsterdam way and kibbeling, small pieces of beer-battered, fried white fish. To tell you the truth I was very reluctant about this particular stop and I was seriously thinking not to taste the fish as I am not a big fan of raw fish but at the end, I decided to give it a go. I am glad I did the herring wasn't bad at all accompanied by onions and pickles but what I loved was the Kibbeling, it was delicious. We also had Vodka shots made of tulips.
Our third stop was Patisserie Anesta
This small patisserie shop sells a variety of cakes, chocolates and pastries using seasonal ingredients. Here he had a mouthwatering profiterole filled with Zwarte Kip advocaat liqueur.
Our fourth stop was Café de Blaffende Vis
Café de Blaffende Vis is another brown cafe in Jordaan famous for the funny billboards with members of the Royal family that hang at the front every year on Kings Day. Here we drank a very tasty beer produced on an island at the north of the Netherlands called Texel. We accompanied the beer with a delicious deep – fried snack called Bitterballen.
Our fifth stop was JWO Lekkernijen
JWO Lekkernijen is a delicatessen store that has a great variety of cheese. Here we tried a few different types of Gouda cheese. You cannot come to the Netherlands and not try their famous cheese, can you? Although I consume a lot of Gouda cheese at home, I am afraid it had nothing to do with the ones we tried there. You see the ones that are exported are more industrialised in comparison with the ones we tasted that come from small farms.
Our sixth stop was Butcher Louman
This butcher and delicatessen shop is considered one of the best in the area and operates since 1890. Here we tasted a selection of sausages and hams, all really yummy.

Our Seventh stop was Swieti Sranang
Apart from the Dutch cuisine, we tried a mix of Indonesian – Surinam cuisine in this small take away restaurant. It was my first time trying this particular cuisine, so I didn't know what to expect. In the beginning, we had a sandwich with chicken, vegetables and spicy herbs which I loved and then we tried a kind of dessert.
Our Eighth and final stop was Café Papeneiland
Café Papeneiland is one of the oldest Brown Cafes in Amsterdam and is famous for its apple pie. Seriously it was the best apple pie I have tasted.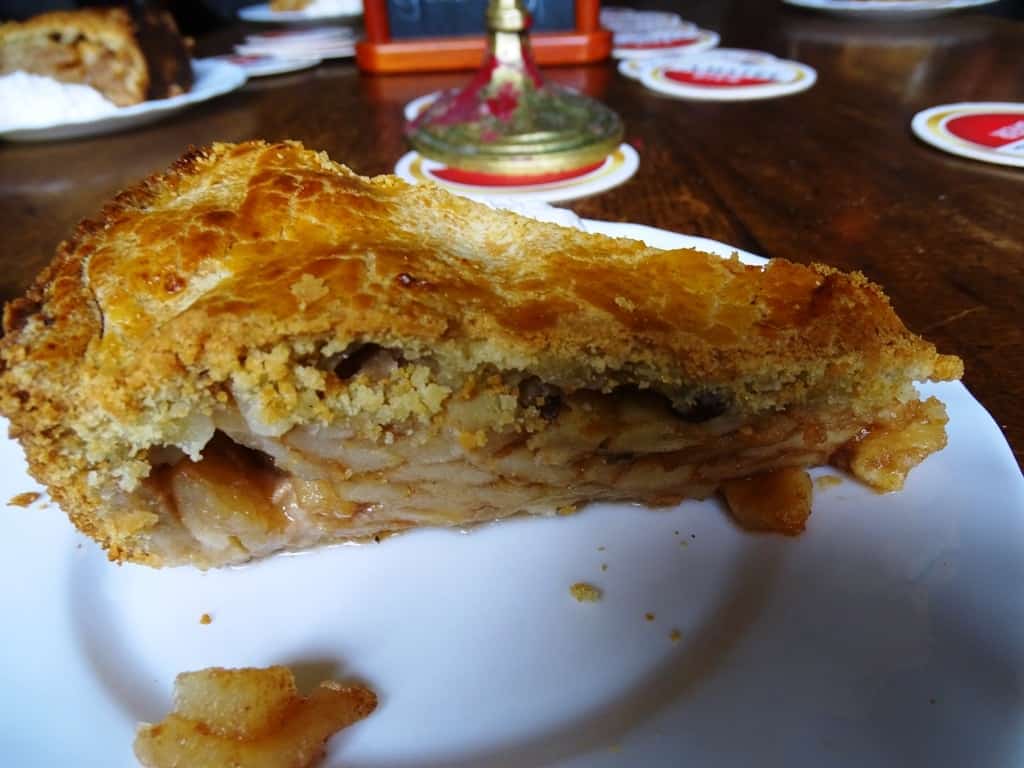 If you are planning to book this tour, I highly recommend that you skip breakfast on that day. The highlight of our tour, though, was our guide, Rudolph. He had a great a knowledge of art, history, food, and the country in general. As a resident of Jordaan, he also knew everything about the neighbourhood. Apart from that, he had a great sense of humour and made our tour fascinating. He also answered all the questions I had and believe me; I had a lot.
What I also enjoyed about the tour is that it wasn't only about food, we learned about the history of the area, how people lived and live nowadays, we also visited enclosed courtyards where widows used to live back in the 17th century and also saw Brad Pitt's house in Jordaan.
So if you are visiting Amsterdam, I recommend that you do the Jordaan Food Tour with Eating Amsterdam. Not only you will taste great Dutch food, but you will also learn about Amsterdam's most attractive districts.
For more information check the Eating Amsterdam Tours 
You might also like:

An Amsterdam itinerary

The best day trips from Amsterdam

Things to do in Utrecht

Things to do in The Hague

Most beautiful villages in the Netherlands
Did you like the post? Pin it>>>>>>>>>>
I was a guest of Eating Amsterdam, but as always opinions are my own.