In truth, it's difficult to go wrong when it comes to selecting a Greek island for its beaches, stick a pin anywhere on the Aegean map and you'll find a piece of paradise but since we're only writing a blog post about the best Greek beaches and not a book, we have to be very discerning. Therefore, we've selected the following Greek islands based on beaches that will make your jaw drop, the beaches that have something extra special about them, that are more than 'just' soft sand and crystal clear water.
10 Greek Islands With Great Beaches
1. Crete
The largest of the Greek islands with a coastline measuring 1,046 meters, Crete has the Aegean sea on its touristic North coast and the Libyan Sea on its more wild and rugged South Coast. You'll need to choose your base carefully if you want to be able to visit all of its most beautiful beaches on one trip as drive time from East to West takes around 6 hours but you'll be rewarded with pink sand, palm beaches, and Crete's very own Caribbean!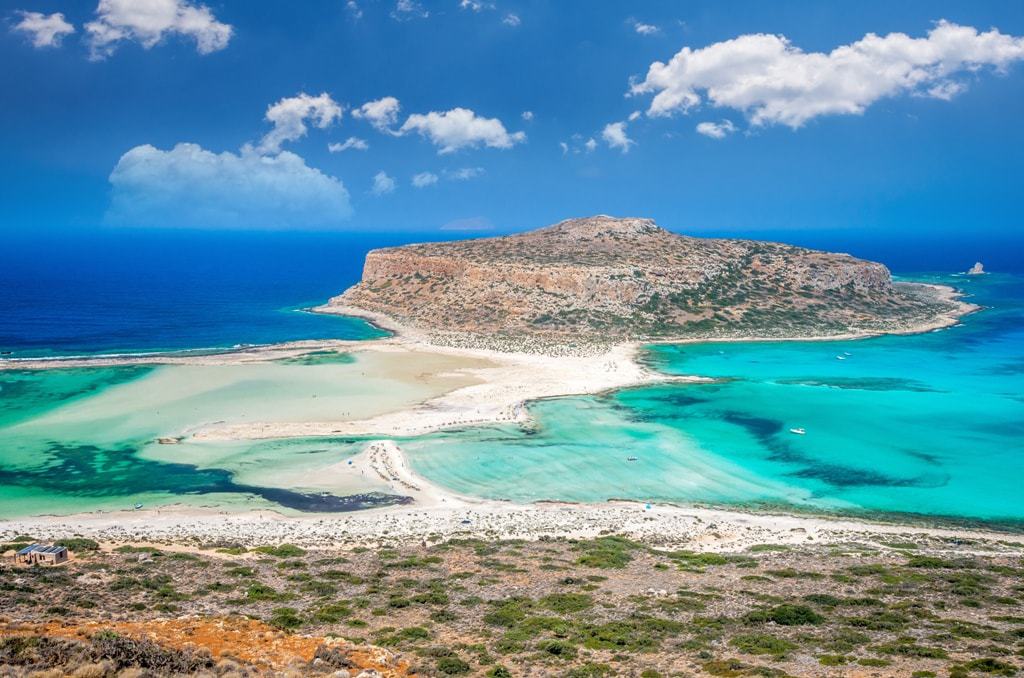 The two most famous beaches on Crete, both haven's for kitesurfers and nature lovers, are Elafonisi aka the pink sand beach, and Balos Lagoon. Both are located at the far West of Crete, Elafonisi on the Southside, Balos on the Northside. Unfortunately, the pink sand that you see on photos has been enhanced greatly thanks to post-processing software but don't let that put you off. Elafonissi is a magical piece of paradise that is a beach, nature reserve, and island all rolled into one with crystal clear waters, sand dunes, and cedar trees.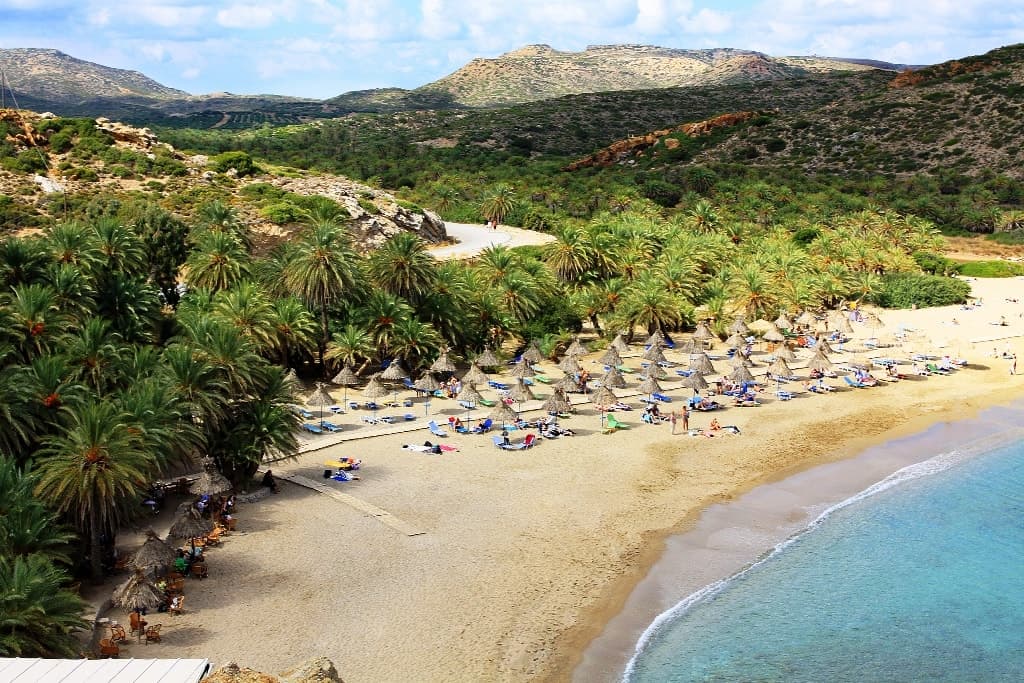 Bowl-shaped Balos Lagoon is also a protected natural area and another piece of paradise. Access is via a long and narrow dirt track or ferry, each method of accessing Balos has it's pro's and con's but the views from the steep stepped-path above are truly breathtaking as you gaze out over the white sand and azure sea wondering how you suddenly ended up in the Caribbean.
Crete also has palm beaches, Vai Beach on the far East is the most well known as it's Europe's largest palm forest but Preveli Beach is a less famous and perhaps more picturesque alternative. Located on the South coast, Preveli Beach is found at the end of Kourtaliotiko Gorge and has a river that flows into the sea.
Sweet Water Beach, or Glyka Nera as it's known in Greek is a secluded beach also located on the South coast. Access is via boat or on foot following the hiking path from Chora Skafion and Loutro.
Another secluded beach, albeit more well known, is Seitan Limania located on the North coast, close to Chania Airport.
You might want to check out:

The best beaches in Crete
The best beaches in Chania.
2. Milos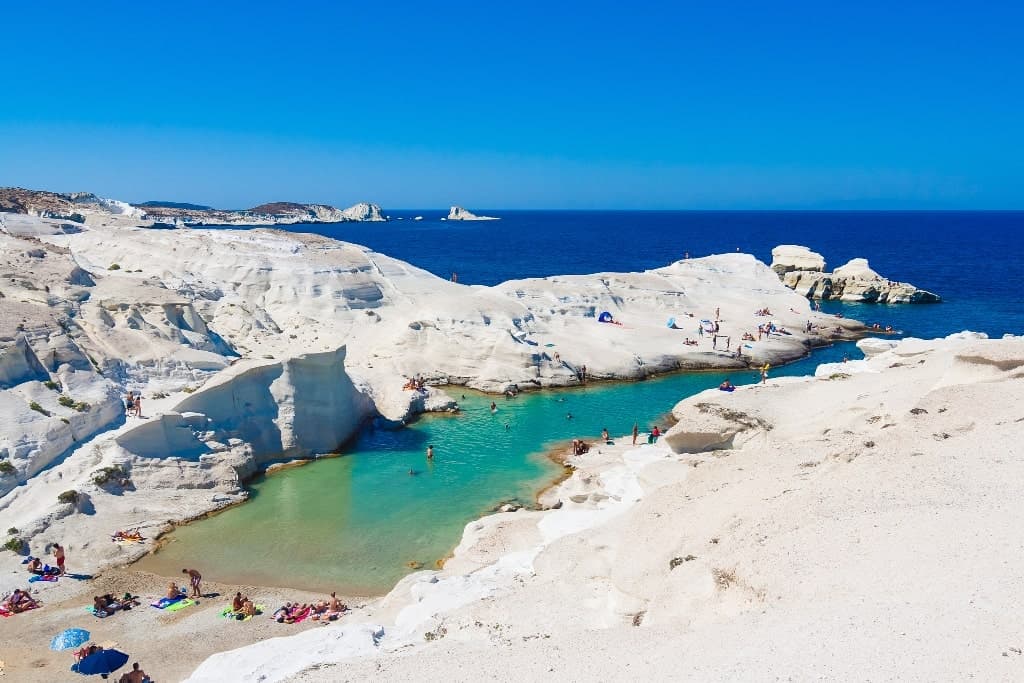 The volcanic history of this island, the most Southwestern in the Cyclades, ensures that there are plenty of picturesque beaches to enjoy all thanks to the lava that once flowed here – Think rock formations, breathtaking cliff backdrops, and of course crystal clear water.
Sarakiniko is the most famous beautiful beach on Milos, the one that everyone will tell you to visit, due to its smooth white rocks that form a long thin inlet that resembles some sort of moonscape. It is beautiful, and ideal if you hate sand getting everywhere when you sunbathe, but to be enjoyed fully should be visited early morning as this beach has become a top tourist attraction on the island.
If you like the sound of picturesque rock formations but prefer your beaches to have fewer people on them, there are alternatives. They don't resemble a moonscape but each has its unique charms… Alogomandra Beach has a small rocky cove, Papagragas Beach will take your breath away with the huge cliffs complete with caves and picturesque sea arch, and the colorful beaches of Kastanas and Tsigrado with cliffs containing hues of red, orange, yellow, and purple are picture-postcard-perfect.
Love being in the sea and/or admiring the coastline but aren't so keen on sunbathing? Take a boat trip out to see the rock formations at Kleftiko where you can snorkel and scuba dive your way around the sea caves and amazing sea arch.
You might also like:

The best beaches in Milos
Things to do in Milos island
Where to stay in Milos.
3. Kefalonia
Located in the Ionian Sea, west of mainland Greece, Kefalonia is awash with sandy coves backed by limestone cliffs along its 237km of mostly blue-flag coastline.
Myrtos Beach is the most famous beach on the island. Large with white sand and pebbles, the award-winning bay is the scene of many postcards and Instagram pics thanks to its enticing turquoise water backed by high cliffs. A less famous alternative yet equally beautiful beach with towering cliffs and crystal clear water is the 850 meters long Petani beach.
If you like your beaches to have some greenery, Antisamos Beach is the place for you. The filming location for some scenes from the movie "Captain Corelli's Mandolin", this beach with its golden sand and shiny white pebbles is a picture-postcard-perfect place of tranquillity thanks to its backdrop of lush green hills blending so beautifully with the clearness of the water. If you seek something smaller and more intimate but still boasting that beautiful greenery Foki Fiskardo or Elblisi Fiskardo are made for you – Just beware of the crowds on Elblisi, particularly on Sundays during peak season.
For complete seclusion, you might opt for the white sands of Platia Ammos or the rock formation beaches of Lagadakia and Kato Lagidi but if you're bored of white or golden sand Xi Beach has your name on it! Famous for its reddish-brown sand set against white cliffs, this is a well-known family-friendly organized beach complete with water sports so if you want to take the best photos of the natural beauty visit early morning. The sand has a high clay content so do as the locals do and slather that sand over your face and body for a free spa treatment!
You might also like:

The best beaches in Kefalonia
Things to do in Kefalonia
Where to stay in Kefalonia
4. Lefkada
One of the lesser-known Greek islands, Lefkada should not be overlooked when seeking some of the best beaches in Greece. Situated in the Ionian sea and connected to mainland Greece by a causeway.
Three of the most well-known beaches are Egremni Beach, Porto Katsiki Beach, and Milos Beach. The first two feature beautiful azure water, white sand/pebble shores, and an impressive white cliff backdrop creating picture-postcard-perfect scenes. They are accessible via 100 or so steps down the cliff or by boat, Porto Katsiki being the busiest beach of the three. Milos beach features granite cliffs on one side and a beautiful woodland on the other with clear turquoise water out as far as the eye can see, it's not as easy to reach but your effort is certainly rewarded.
Agiofili Beach is another clear turquoise jewel of Lefkada, ideal for snorkeling with the option to canoe and windsurf too. Accessible via boat or by walking, photographers and those who appreciate being alone to enjoy the natural beauty will want to arrive early in the morning or late in the afternoon as this small yet incredibly scenic white-pebble beach can get crowded.
You might also like: 

The best beaches in Lefkada
Things to do in Lefkada
5. Zante / Zakynthos
Whether you call it by the Italian name or the Greek name, this popular holiday destination (the third largest of the Ionian Islands) has emerald waters, impressive cliffs, a choice of white, copper, or brown sand and to add to that, is home to endangered sea turtles.
Navagio Beach aka Shipwreck Beach is the most photographed beach on the island – You'll no doubt have seen photos of the white pebble cove with limestone cliffs and 1980's shipwreck half sticking out of the water. Only accessible by boat, this beach gets very crowded during the peak summer months and has no natural shade but really is one of those must-see places.
If you like secluded beaches that are off of the tourist trail, visit Porto Vromi. This narrow white-sand beach has a backdrop of rugged greenery. Find shade below the limestone cliff and soak up the sea view. Another secluded beach is Dafni, well worth the scenic drive along the dirt track, this pristine sandy beach is wide and long. Dafni is part of the National Marine Park, home to loggerhead sea turtles (aka Caretta-Caretta) and has some beautiful coastline walks.
If your sense of smell went years ago, the sulphuric springs found at Xigia Beach aka Ksigia Beach won't phase you and you'll be able to admire the scenery without wrinkling your nose! Covered in white pebbles with patches of therapeutic whitish water due to the sulfur, this beach hidden between the cliff requires a hike down to it but is well worth the effort.
If you want to cool off but aren't one for laying out on the sand, the rocky secluded cove called Porto Limnionas awaits – This narrow inlet of water is not a beach in the regular sense but a place to enjoy diving from the limestone cliff rocks, if you dare. For less of an adrenaline rush, Porto Stenitis is a stunning inlet/fiord with crystal clear water and sea caves – Heaven on earth!
You might also like:

Best beaches in Zante
Things to do in Zante
6. Naxos
The largest of the Cycladic Islands, Naxos has some exceptional beaches on its southeast coast that are surrounded by cedar woods, these being places of pristine natural beauty, mostly untouched by tourism.
Alyko Beach aka Aliko Beach is one of the largest beaches on the island and is made up of cliffs, sand dunes, and cedar woods. It goes on for miles with multiple hidden coves backing onto the clear water which was just made for snorkeling. The further you walk the more secluded it becomes with nudist sunbathing to be expected in the furthest reaching corners.
If you're a windsurfer or kitesurfer, those strong Meltemi winds can be a good thing – Head to the Northern shores of Mikri Vigla Beach if you want to catch the waves or to enjoy the view, head to the protected southern part of this sweeping bay, North and South are separated by a rocky hill offering the best of both worlds for all beachgoers as well as those who love walks along the beach.
You might also want to check out:

The best beaches in Naxos
Things to do in Naxos
Where to stay in Naxos
7. Skiathos
This small island is part of the Sporades archipelago located in the Northwest Aegean. It measures just 12km long and 6km wide but its 44km of coastline provides visitors with some 60 beaches.
Koukounaries Beach is one of the largest and liveliest beaches on Skiathos with its music playing beach bars and water sports but its fragrant pine forest surrounding with protected wetlands, also makes it a place to relax amongst nature
Lalaria is perhaps the most picturesque beach in Skiathos, in a wild kind of way. Located on the North-eastern tip of the island, this secluded beach takes your breath away with its rock formations (including a sea arch) and sea caves – Settle down on the pebbles and take all the photos you can
The golden sands of Kastro Beach allow you to combine beach time with a history lesson as this beach is located below the medieval town called Kastro, the old defense capital of Skiathos. Soak up the sun, sink your toes into the sand, then take a stroll past the ruins and abandoned cannons imagining what Skiathos would have been like back when pirates were a real threat.
You might want to check out: The best beaches in Skiathos.
8. Mykonos
One of the hot-spots in Europe for Summer partying, Mykonos has golden sand party beaches as well as calm coves with crystal-clear turquoise water. The best and most famous beaches for music are in the South called Paradise Beach, Paraga Beach, and Super Paradise Beach, if you want picturesque beach, you have to head North.
Agios Sostis Beach is the furthest you can get from the action. You'll need a car to reach it but the distance from Chora ensures it's never crowded. If you like your beaches wild and rugged, Fokos Beach is the best beach for you, it's not as remote as Agios Sostis yet its wild beauty (thanks to the wind) deters the crowds of typical tourists whilst being a haven for naturalists.
For other peaceful places to relax, try the small coves of Divounia Beach or Agios Stefanos Beach. Ftelia is another beach that you'll often find deserted but this is due to the wind if you're a windsurfer, or a sunbather who goes prepared with a windshield, you'll be able to lap up the picturesque view in relative peace.
If you're experiencing a Goldilocks conundrum and don't want a party beach but also don't want a secluded unorganized beach try Kalafatis Beach as it's picturesque, great for snorkeling, and also has water sports facilities.
You might also want to check out:

The best beaches in Mykonos
Things to do in Mykonos
Where to stay in Mykonos
A 3 day Mykonos itinerary
9. Koufonisia
Measuring just 5.7 square kilometers Koufonisia is a mostly undiscovered Greek paradise close to Naxos. Technically, Koufonisia is made up of 3 islands located in the Lesser Cyclades but only one of these, Ano Koufonisia is inhabited – this is the island that most people refer to when speaking of 'Koufonisia'.
Pori Beach is the biggest beach on Ano Koufonisia stretching for 500 meters with golden-white sand and clear turquoise water, the views looking out to nearby Keros island. Accessible via road, ferry, or on foot making use of the coastal path, this secluded beach could well be deemed paradise on earth. When visiting Pori Beach, be sure to stop off at the sea caves just before, you can dive off the rocks to cool down after your walk!
Koufonisia has other beaches to enjoy but it's actually its non-beaches that are the most Instagram worthy. Gala Beach is not a real beach but an open cave with a tiny patch of pebbles and sand that connects the sea to the shore through a narrow opening. Piscina meanwhile is a deep hole in this patch of rocky coastline. In Greek Piscina means swimming pool and this surely is nature's own version.
10. Paxos and Antipaxos
Paxos island is situated just south of Corfu, and it remains relatively untouched by tourism – even though it has the most amazing beaches. There are numerous small bays and more than 40 sea caves for great scuba diving. Windsurfing is the popular watersport on Paxoi. Monodendri beach is a family-friendly, pebbled beach organized with sunbeds close to Loggos village. Harami Beach is another pebbled beach, organized with umbrellas and sunbeds close to the village of Lakka.
The tiny island of Antipaxos feels exotic like the Caribbean and has beautiful sandy beaches and crystal clear azure water. There is only one way to reach this island paradise – by boat from Gaios, the harbour on Paxoi. The most popular beach on the island is Voutoumi Beach.
You might want to check out: The best things to do in Paxos Island.
As you can see, Greece really does have some of the best beaches! Whether you pick a well known Greek island, visit one that no one around you has heard of before, or go on an island-hopping trip to see all of the best Greek beaches in one epic trip, it's going to be a hard choice to choose your favorite!