This post is also available in: French
Going to Córdoba soon? What a wonderful idea! I did my Erasmus Exchange there and I was amazed by the beauty and the charm of this old and authentic city which was considered as the center of the western world at its peak.
So you just have one day there? That's more than enough to see the main attractions of the city. The city is small and walking is the best option to visit it.
Fair enough, let's discover what you should not miss in Córdoba in one day!
This is a guest post from Bernard, who has done his Erasmus in Córdoba.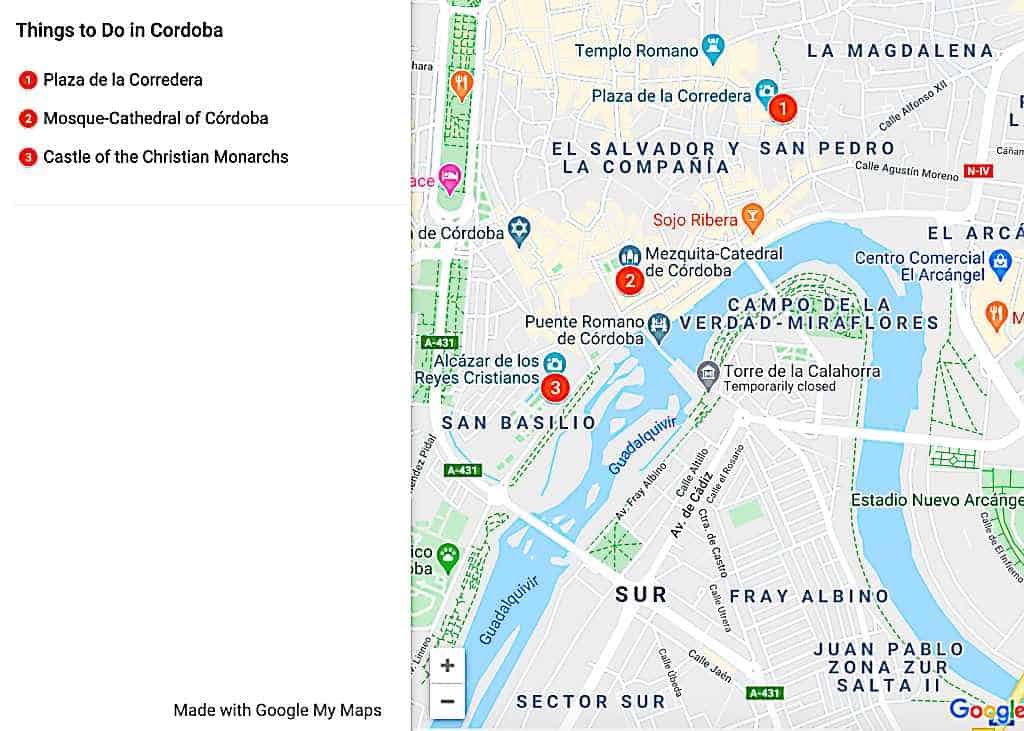 Things to do with one day in Córdoba
Discover the old town (with a Free Walking Tour)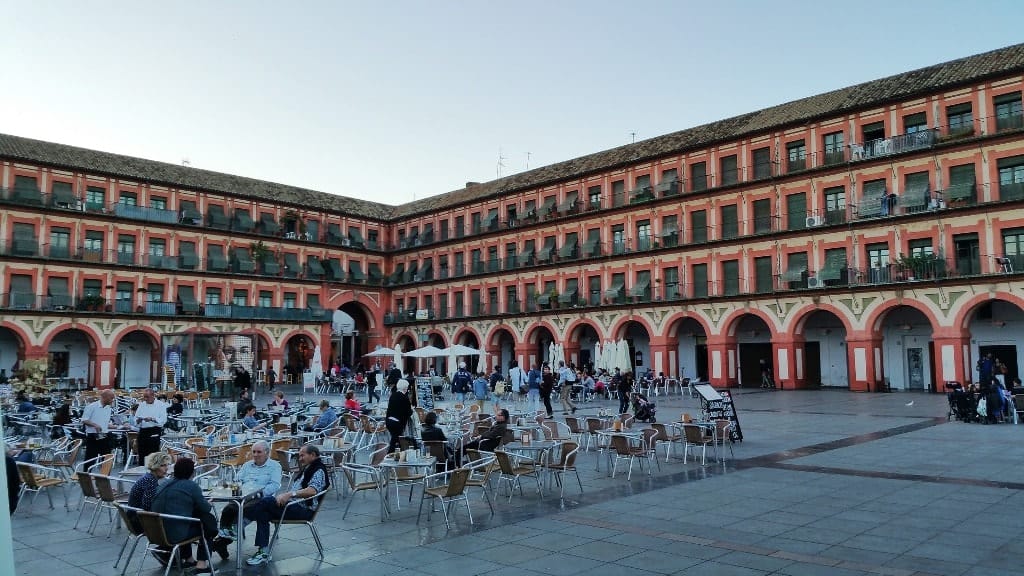 I strongly recommend to start the day with a Free Walking Tour of Córdoba, also called guruwalks. These kinds of tours are quite affordable, very informative but also entertaining as it is based on donations.
In about 2 hours of walking on the old cobblestones streets, you're going to see the most important and beautiful attractions of the old city center of Córdoba such as famous squares (Tendillas, Corredera, Plaza del Potro etc), the roman bridge but also seeing the Jewish Quarter, declared World Heritage Site by UNESCO and one of the largest in Europe. In this area, don't miss a visit of one of the last Synagogue in Spain (free entrance).
While spending time in the city center, don't hesitate to have a quick look when you see a door being opened. You can sometimes see real architectural treasures hidden in these buildings.
Visit the Mosque-Cathedral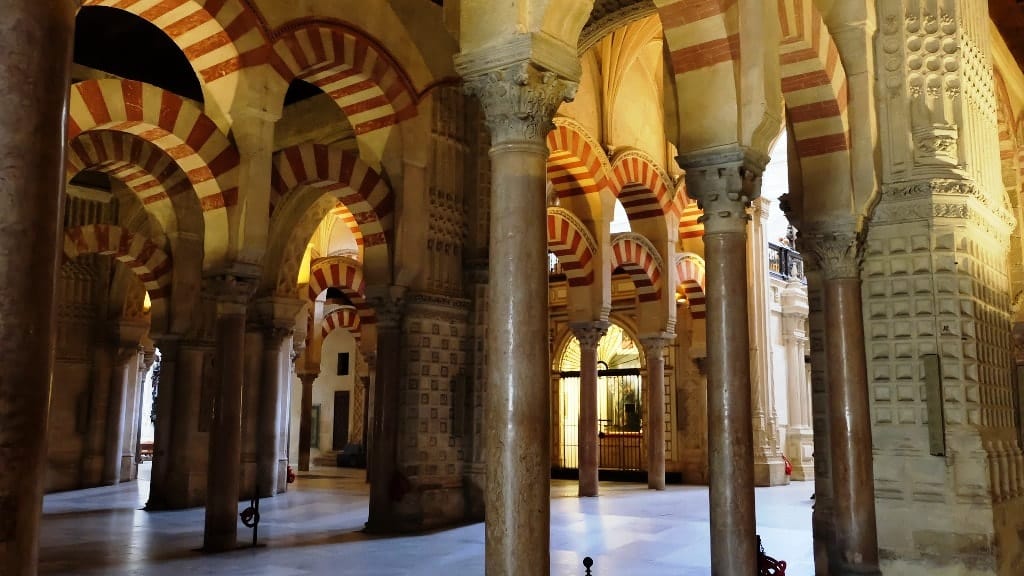 During your stay, you really should visit the impressive Mosque-Cathedral of Córdoba! You can't miss it, it's huge and this is really considered as the epicenter of the city. If there were just one thing to do in Córdoba, it would be this one.
The monument was first a Mosque and was transformed into a Cathedral. However, inhabitants of the city have never been able to call it Cathedral because its architecture is reminiscent of the old mosque. The result is a strange but beautiful combination of moorish and renaissance architecture which is today an invitation to religion tolerance. You can spend a good hour visiting this UNESCO site, taking a tour or by yourself. There are also night visits giving you a magical experience of the place.
Entrance costs 10 € but early birds can enjoy the monument for free from Monday to Saturday from 8:30 to 9:30 am.
Try its most emblematic food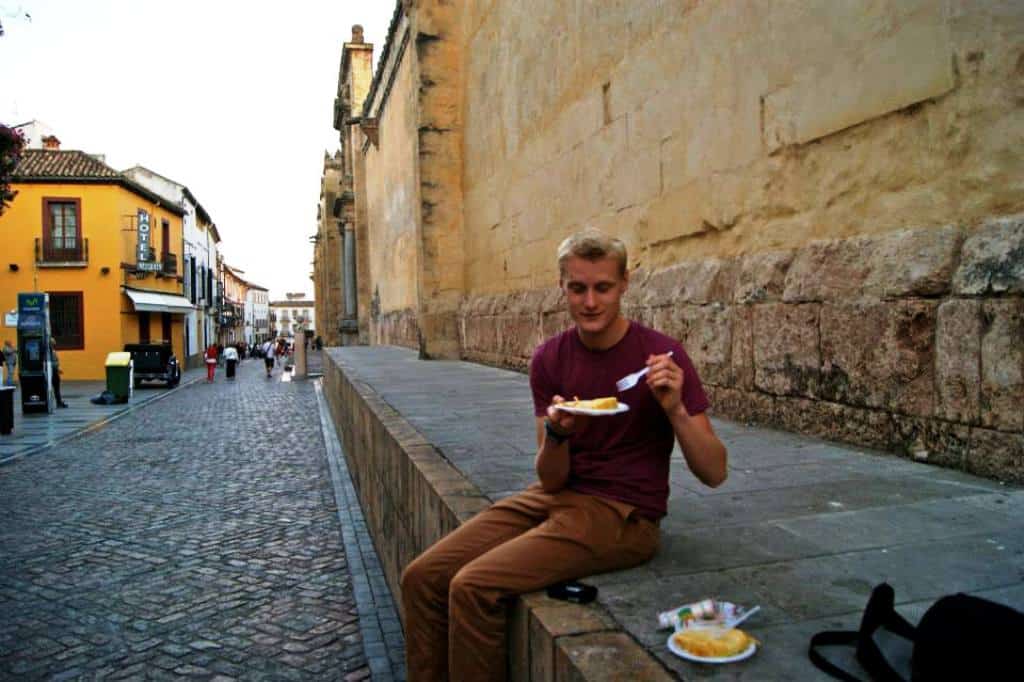 So much history! It's time to relax and eat something. Córdoba and Andalusia have one of the most delicious culinary specialties in Spain and offer a big range of tapas. In most traditional restaurants, you can decide the size of nearly any dish. You can order a full plate, half a plate or just a tapas. This is perfect to try different flavors in just one lunch or dinner.
But what is typical from Córdoba?
The flamenquin from Cordoba is very similar to the cordon bleu and consists of slices of serrano ham wrapped with pork loin in a shape of a sausage which is coated with breadcrumbs and then fried.
After the flamenquin, let's try something healthier. This cold soup can be compared with the gazpacho and is made of tomatoes, bread and olive oil.
Aubergines fried with honey
Yes, everything is the name. It's delicious as tapas or side dish.
These are just a bit of the large choices the Andalusian cuisine offers.
If you want a quick snack, I recommend you Bar Santos, near the Mosque, which offers slices of a giant Spanish omelette. Otherwise, you can find typical and less expensive restaurants a bit outside the city center, in the neighborhood called Ciudad Jardin. For instance, you can find the restaurant called Moriles Pata Negra which has amazing local and cheap food!
Have a (digestive) visit of the Castle of the Christian Monarchs (and its gardens!)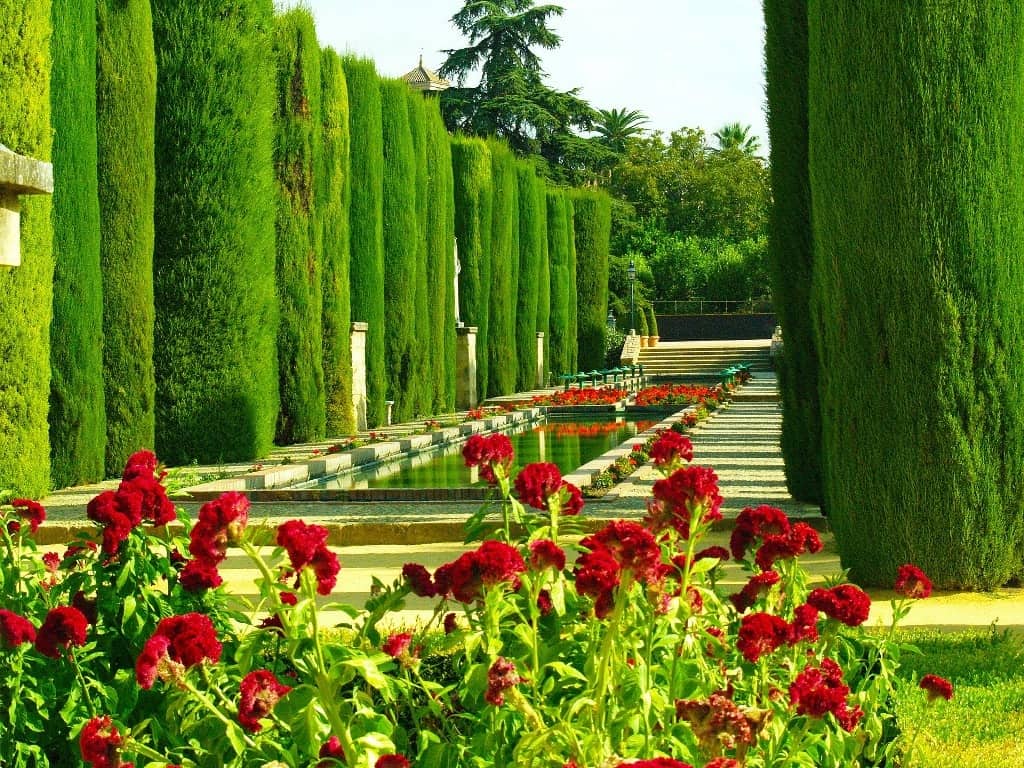 Both a palace and a fortress, the Castle of the Christian Monarchs is the perfect example of the Cordoban architecture and its evolution. The castle is smaller and less impressive than the one of Seville but the visit is still worth it. As a fortress, it has thick walls and represents a massive and defensive construction. Inside, there is not much to see as it was used as a prison but it is very nice to stroll around the fountains and the gardens. Moreover, the view from the top of the tower is one of the most beautiful of the old town.
Explore a city of colorful patios
If you're still looking for the right time to visit Cordoba, I'll definitely recommend you the month of May. During this period of the year, all the city is blooming! Flowers, especially geraniums, can be seen at every corner and also inside the courtyards called patios. The most beautiful patios of the old town are not open to public except during the Festival Courtyard of Córdoba. It's also during the last weeks of May that the major celebrations of the city are organized, best known as the Feria.
If you're not visiting Córdoba during this time, don't worry. You can visit the Palacio de Viana, a superb illustration of a former palace with its numerous patios.
Breath and relax in an arabic bath
The city was under Arab domination during more than 700 years. Besides the architectural print left on the city, some rituals from this time also transcends the ages such as arabic baths. Originally made for hygiene issues, there are still some places offering relaxing arabic bath combined with spa and wellness services. A magical spot to spend a timeless moment and a good option if you're visiting on a rainy day.
So, what convinced you to visit the eternal city of Córdoba? Is there anything you'd like to add on this one day itinerary of Córdoba?
Thinking of extending your stay in Spain? Check out the following posts:
Leave a comment below and if you've been there, share with us your most beautiful memories in this city.