Majorca (also "Mallorca") is a popular island destination off the eastern coast of Spain. One of the Balearic Islands, it's often called the jewel of the Mediterranean for its azure seas, white-sand beaches, and charming towns. Majorca is the largest Balearic island, and its largest town of Palma de Mallorca is the archipelago's capital.
Little is known of Majorca's early history, although there's evidence of habitation in the Neolithic period (6000 – 4000 BCE). Remains of some of the talaiots, or stone towers, can be seen across the island.
Later inhabitants, during the Phoenician and Roman eras, established towns and colonies on Majorca. Arab Moorish invaders from North Africa conquered the island in the early 10th century. Until the mid-13th century, when the Spanish re-conquered the Balearic Islands, Majorca was under Moorish rule.
The islands prospered under the Spanish, although Majorca suffered during the 1930s Spanish Civil War. Following the Second World War, the island grew as a tourism hot spot. Palma in particular thrived and today is the largest town on the island.
Disclaimer: This post contains affiliate links. This means that should you click on certain links, and then subsequently purchase a product, I will receive a small commission.
You might be interested in this one week Mallorca itinerary.
Things to See and Do in Majorca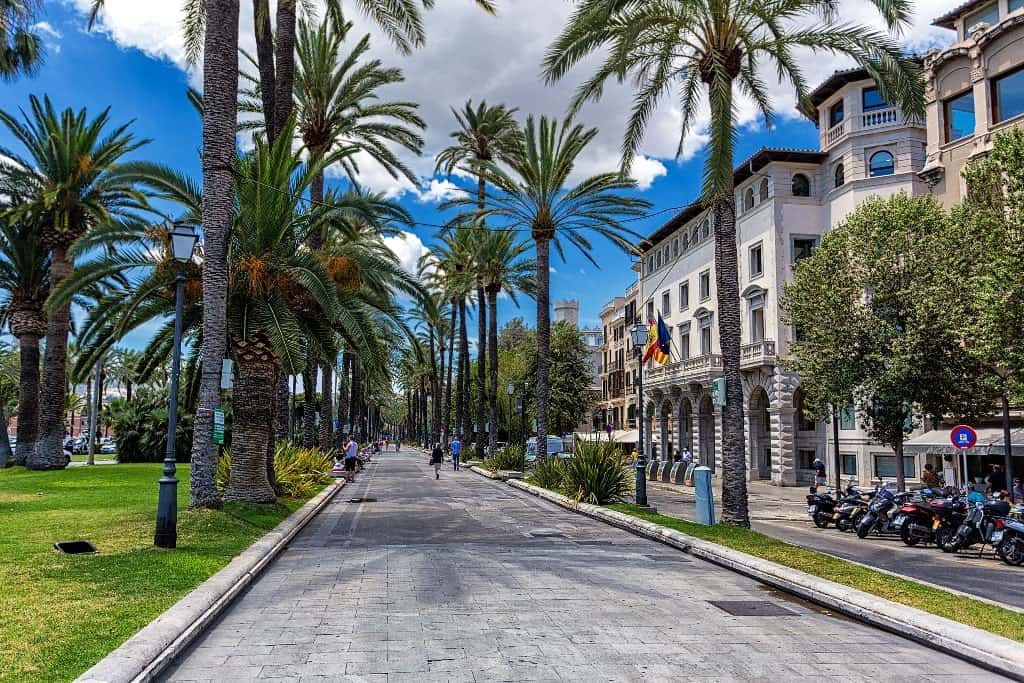 1. Palma de Mallorca town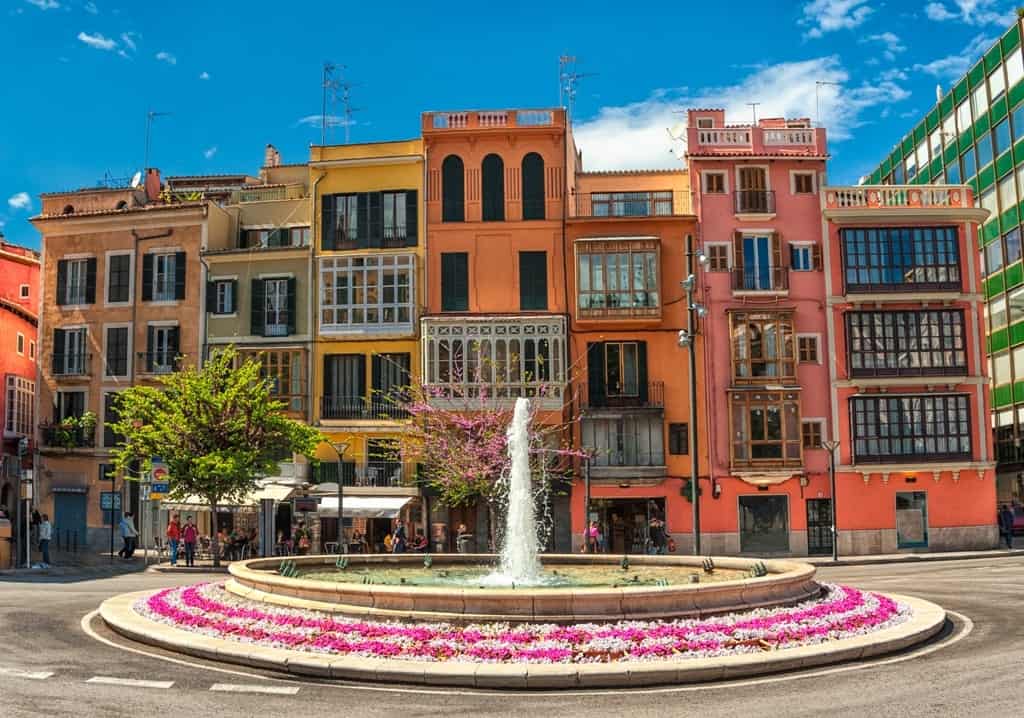 Palma de Mallorca, the island's capital, is a bright medieval town with plenty to see and do. It was founded by the Romans, sacked by Vandals, and finally reconquered by the Byzantines and then the Moors. Under James I of Aragon, Palma, and the Balearic Islands became Spanish.
Palma has long been a port town and is popular with tourists who spend time here before heading on to Ibiza or Menorca. The original town centre is home to several small churches, the Gothic Cathedral of Majorca, the Alcazar (fortified Royal Palace), and narrow, winding streets worth exploring.
With the growth in tourism, Palma has a plethora of things to do with kids and a number of luxury hotels, restaurants, cafes, bars, and shops.
2. Palma Cathedral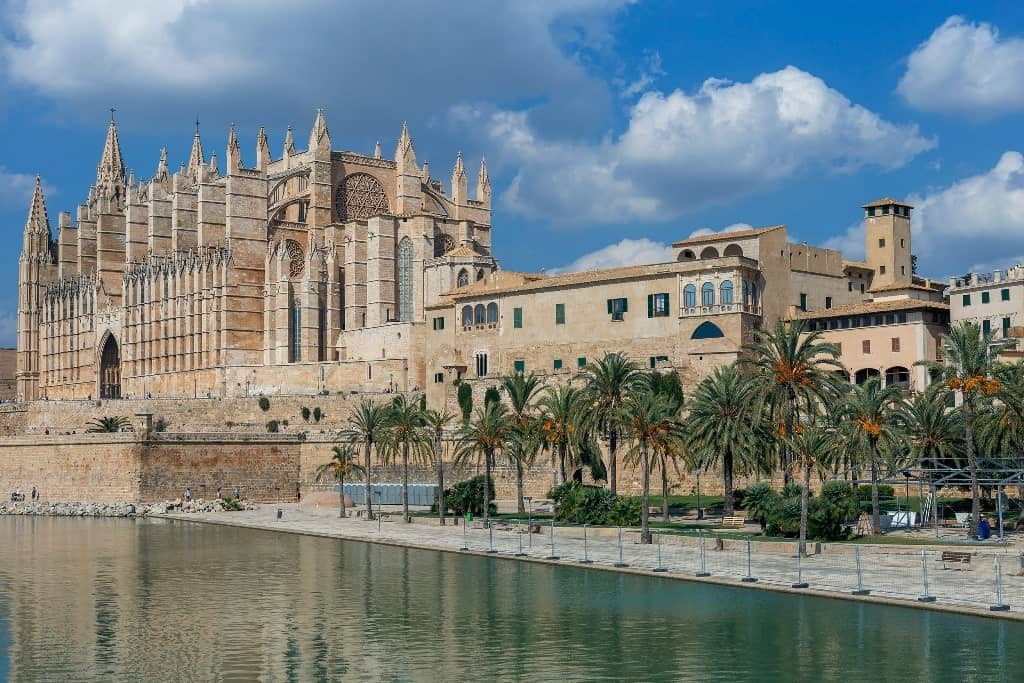 The Cathedral of Santa Maria of Palma, more commonly called La Seu, is an enormous Catalan Gothic cathedral located in the old city of Palma, adjacent to the Parc de la Mar and the Mediterranean. James I of Aragon began construction in 1229, but the cathedral was not completed until 1601. It has the second-highest nave of all European Gothic cathedrals, standing at 44m tall.
Check out the best things to do in Palma, Majorca.
3. Road to Sa Calobra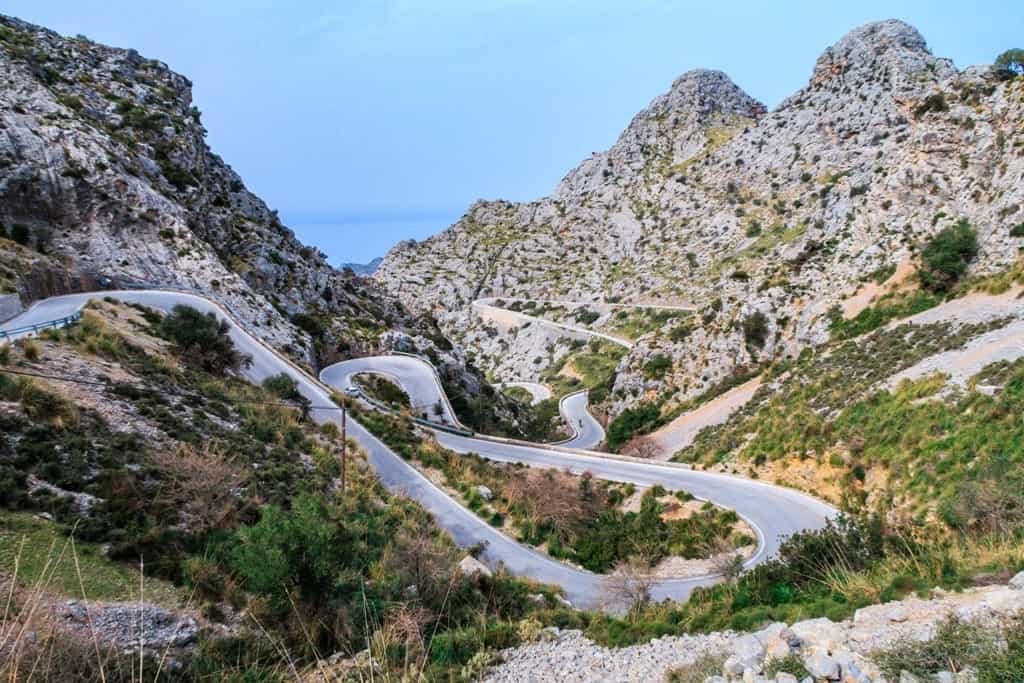 The road to Sa Calobra twists and winds its way 13 kilometres along the mountains into the bay at Sa Calobra. It is one of the most dangerous roads in Spain as it does not have any guardrails or lines in the centre of the road, however, it is also an exciting road. It features plenty of hairpin turns, a 360-degree curve that winds around and under itself, and a 720m elevation gain.
Selected Tours in Majorca
Get Your Guide is a great company to book your tours and tickets.

Palma de Mallorca Hop-On Hop-Off Bus Tour explore Palma de Mallorca at your own pace with a 24-hour hop-on and hop-off bus ticket.

From Palma de Mallorca: 5-Hour Catamaran Cruise along the spectacular south coast of Mallorca by catamaran, and drop anchor in Portals Vells or Cala Vella to swim and snorkel in the turquoise waters while a delicious barbecue meal is prepared on board.

Quad Bike Off-Road Tour with Snorkeling explore the area around Palma during an exciting quad bike tour through rough terrain and take advantage of the opportunity to cliff jump, snorkel, and swim.

Palma de Majorca: Guided Tour of the Old Town enjoy a two-hour walking tour to the major sights of Palma de Majorca.

Scenic Full-Day Tour of Mallorca from the North explore Mallorca's breathtaking landscape on a full-day tour by bus, train, tram, and boat. Get the best views of the island as you drive through the dramatic Tramuntana Mountains, and sail along the west coast.

1-Hour Hot Air Balloon Flight take in amazing aerial views of the rugged coastline and Tramuntana mountains on a sunrise or sunset flight.

Sunrise At Sea & Dolphin Watching Tour discover the coast of Mallorca at sunrise on this 2.5-hour from Alcudia. Enjoy the extraordinary sight of the dolphins that inhabit the area.

Old Town Tour of Palma and Tapas Bar by Night explore Palma by night see the major sights and discover the best tapas bars.
4. Visit Coves dels Hams and Coves del Drach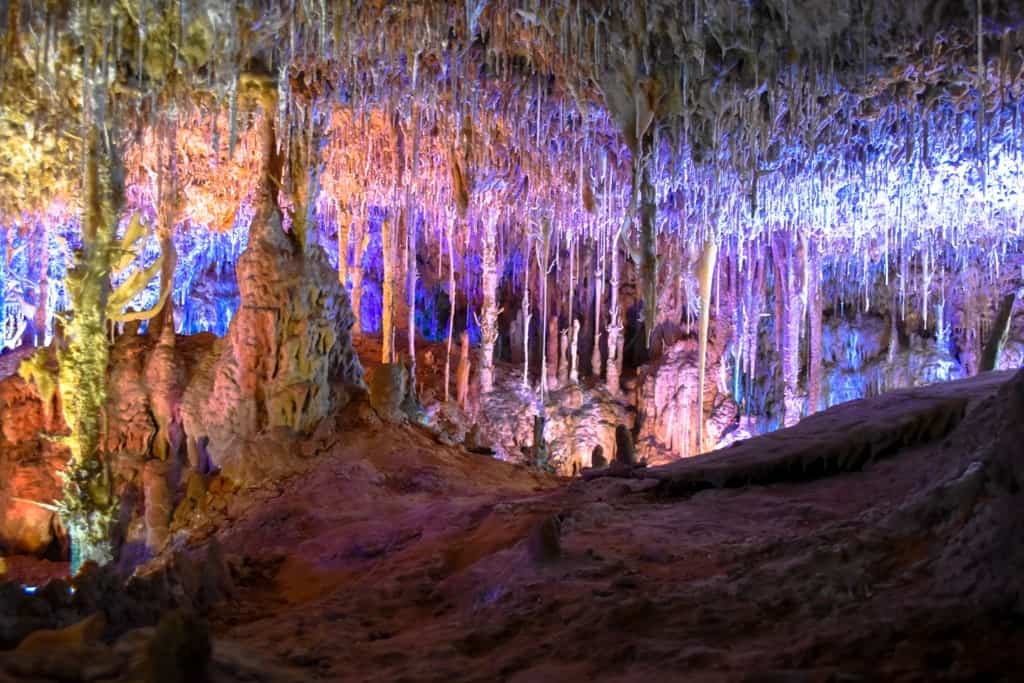 Palma has plenty of caves on both land and sea, two of the most popular are Coves del Drach and Coves dels Hams. They are both located in the eastern region of the island near the town of Porto Cristo. Tours depart daily with several operators from Palma and Porto Cristo.
Click here to book a full day tour to the Caves of Drach and the East of Mallorca.
5. Visit Port de Soller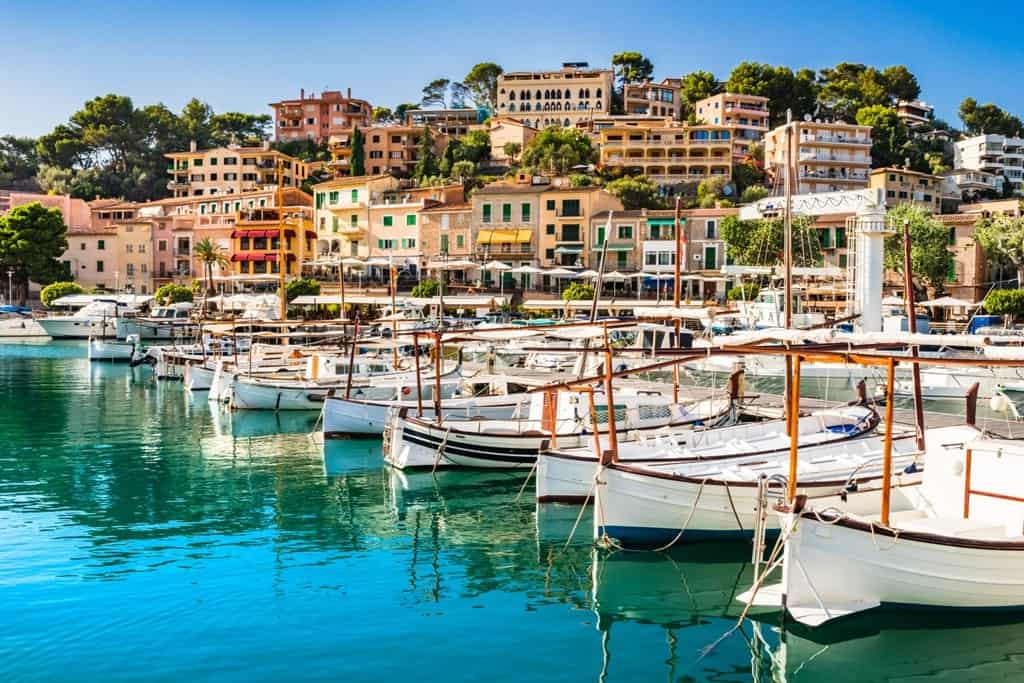 Port de Soller, a small town at the western edge of the Serra de Tramuntana mountains, on the far side of the island, was up until recently a hidden gem. The town was very hard to access, but with the opening of the new tunnel in the 1990s, it has opened up tourism to the beach town.
It's a traditional fishing village with plenty of seafood restaurants, boutique shops, and local tavernas. There is a tram line that runs to Soller, an inland heritage town.
6. Palacio Real de La Almudaina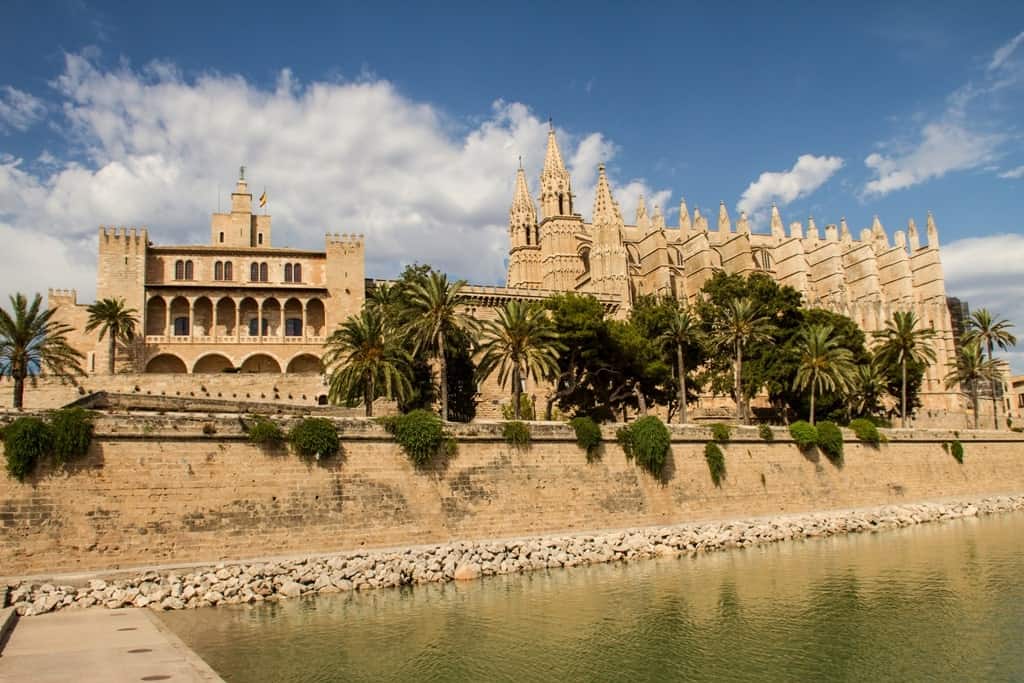 The Palacio Real de La Almudaina is also known as the Alcazar, the Moorish fortified palace. It was built by the Muslim caliphates following the Arab conquest in the 11th century but was rebuilt in 1309 by James II of Majorca.
It was the royal palace of the Kingdom of Majorca until it passed to the Crown of Aragon under Peter IV in 1349. The palace, although converted to the Gothic by James II, retains Islamic elements and a very well-laid out courtyard (14th century) and garden (which was rebuilt in the 1960s).
7. Fundació Pilar I Joan Miró in Majorca
The Fundació Pilar I Joan Miró in Majorca is a museum dedicated to the work of Spanish artist Joan Miro. Miro's wife, Pilar, and his mother were from Majorca, and the couple created the foundation in 1981.
He used a nearby studio from the late 1950s until his death in 1983; it is now part of the museum. The collection includes over 6000 pieces from Miro, including sculpture, paintings, and a library.
8. Castell de Bellver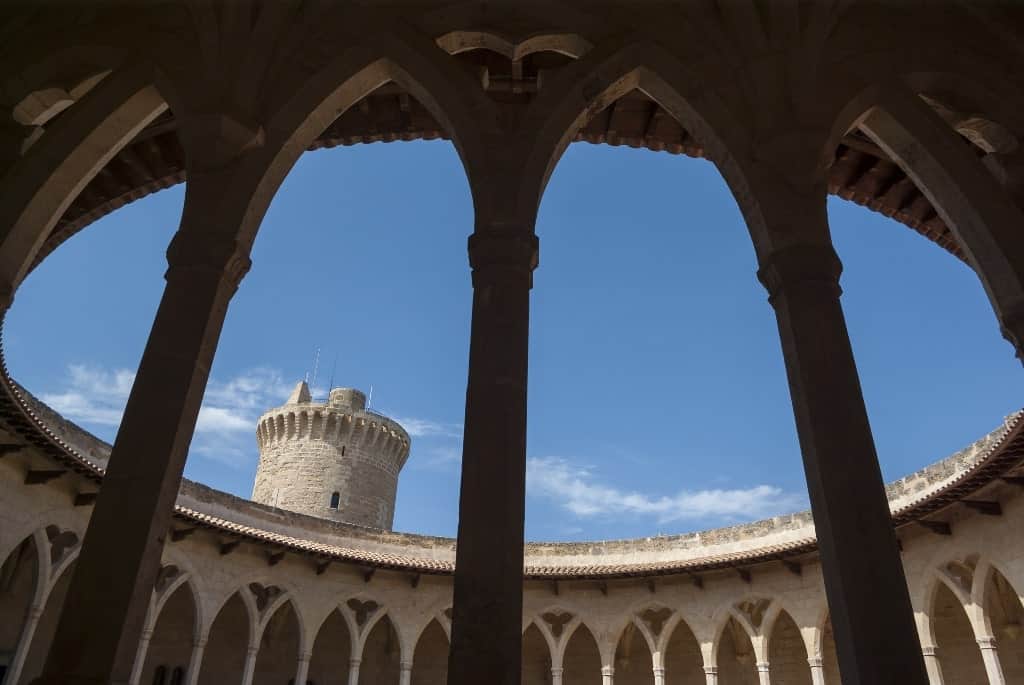 This huge 1300s castle on the edge of Palma, Majorca is one of the highlights of the island. It was once used as a royal residence before serving as a military prison in the 18th Century.
The fortification is well kept and is now used as a history museum. The castle is interesting thanks to its circular design, one of just a handful of castles like this in Europe. This is definitely a must for all travellers to Majorca!
9. Cap de Formentor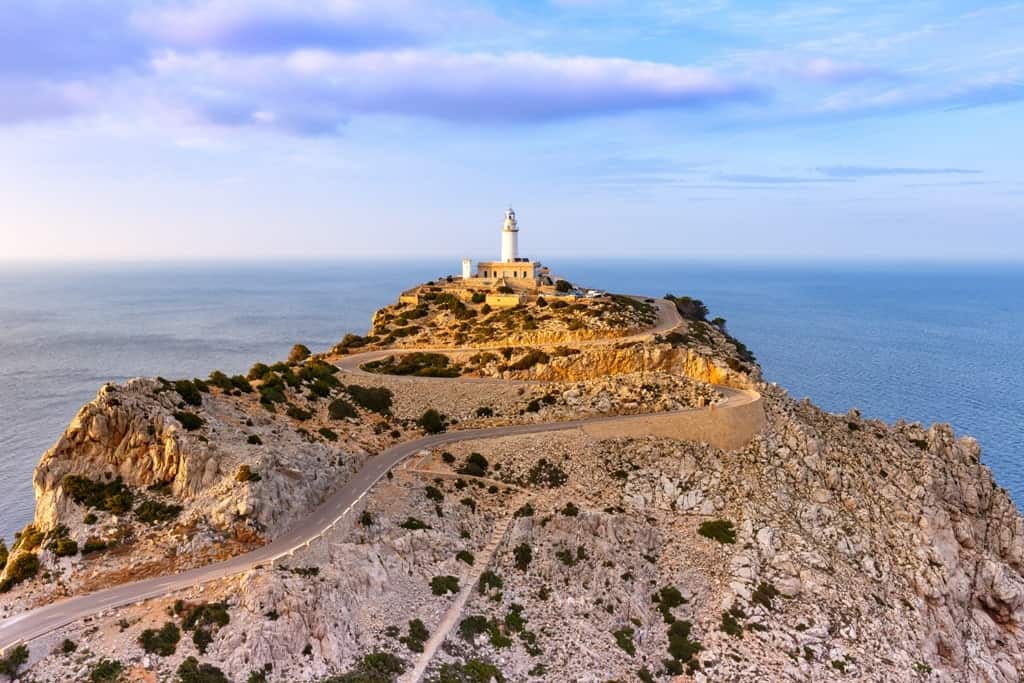 The Cap de Formentor (also known as the Formentor Lighthouse) is a stunning spot on the north of the island that is famed for its wonderful views across the surrounding bays.
The lighthouse is perched on the cliffside at around 300m and is truly picture-perfect. Visitors can easily reach the lighthouse along the main road from Port de Pollença and it is well worth the trip.
10. Santuari de Lluc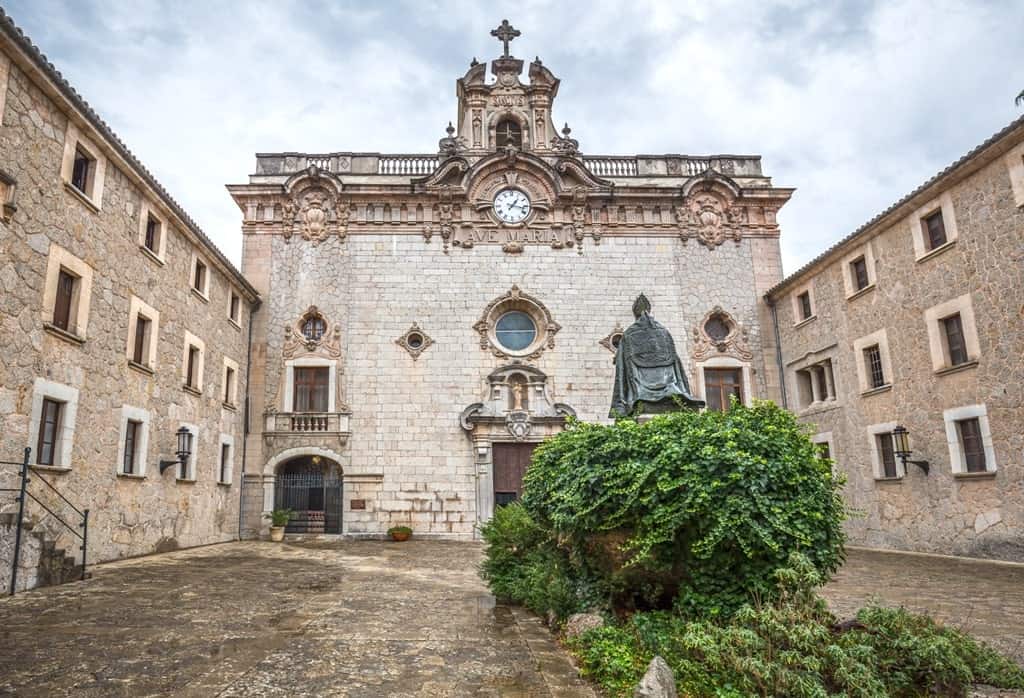 The Santuari de Lluc monastery in the north-west of the island is another work of architectural beauty and is a famous site of pilgrimage.
While the outside of the building is relatively rustic, the gold-plated alter and intricate frescoes of the interior are a sight to behold! If you're lucky you may catch a performance by the world-renowned Santuari choir, Els Blauets. You can even stay in one of the former monks' cells for a unique overnight experience.
You might also want to check out how to spend a weekend in Mallorca.
11. Castle of Capdepera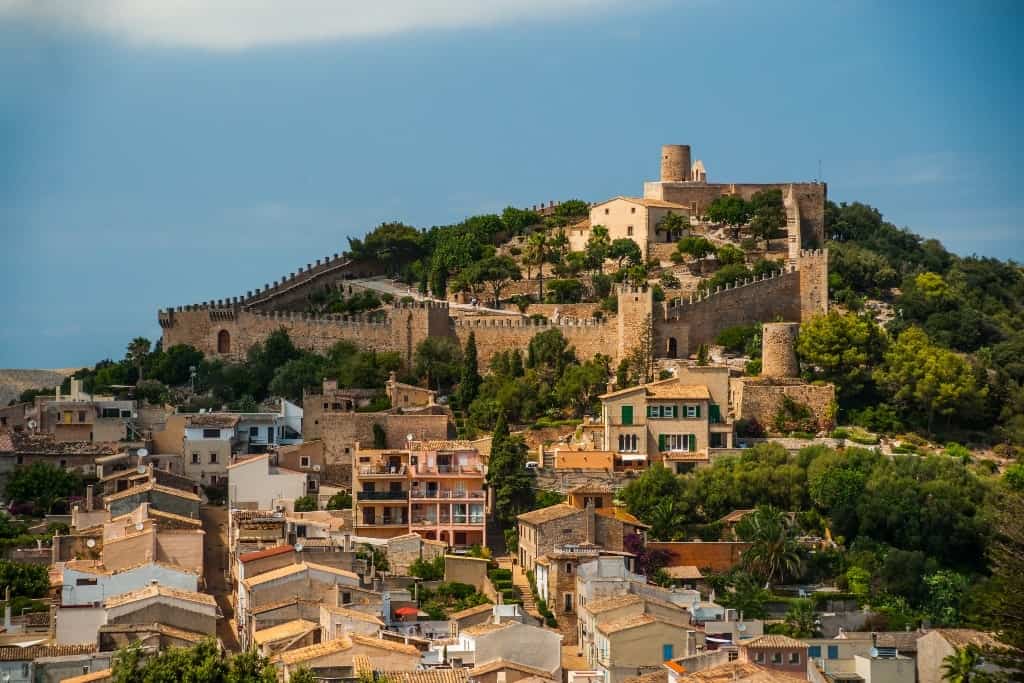 Another site of importance on the island of Majorca is the Castle of Capdepera. This fortress has had a fairly tumultuous past with the Romans, Moors, and Christians all taking control at various points in history.
The castle also played an essential role in the surrender of Menorca, when King James I of Aragon ordered large fires to be set in the castle grounds (which could be seen on Menorca) in order to convince the Saracen Menorcans that an army had invaded and was set to encroach on Menorca too!
12. Valldemossa Charterhouse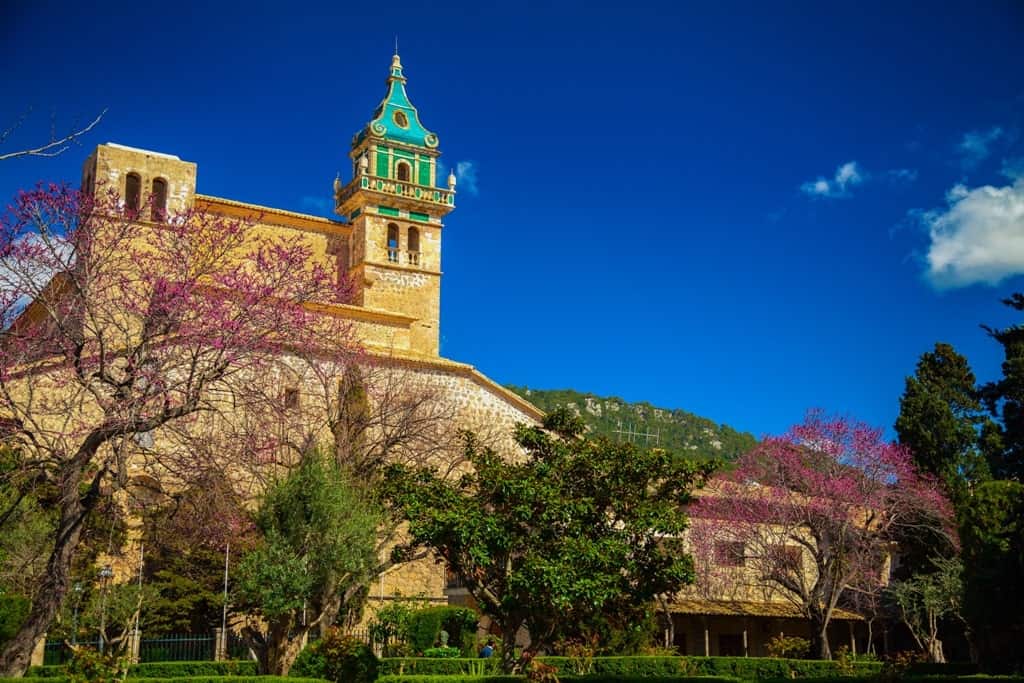 The Valldemossa Charterhouse (also known as The Royal Carthusian Monastery or the Royal Charterhouse of Jesus of Nazareth) is another former royal residence and monastery that is well worth a visit. Not only is the building beautiful but the surrounding vistas of the Serra de Tramuntana are epic too!
The Charterhouse has a history of art and culture, with Chopin having spent a winter creating music here and a fine art museum on-site with works by the likes of Picasso and Miro.
13. Caló des Moro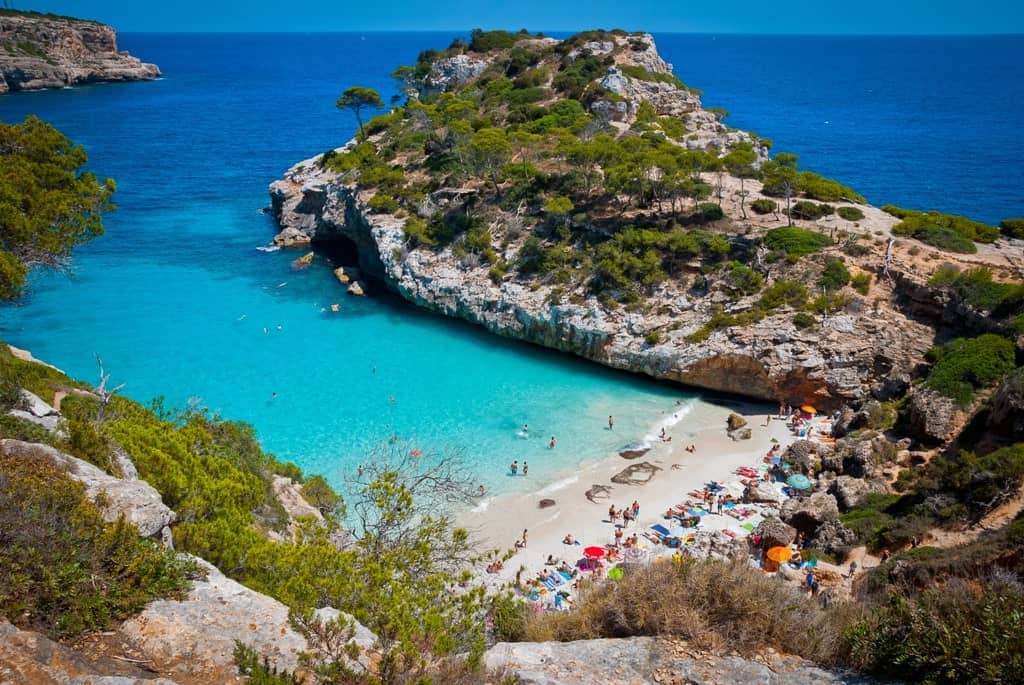 This secluded cove on the southeast of the island is surrounded by rocky verdant cliffs that protect the bay from prevailing winds. This makes the sea and shores a tranquil space to while away a few hours during your trip.
The waters here are a stunning shade of turquoise that lure in even the most reluctant swimmers for a dip. The beach itself is quite small and require a bit of clambering down rocks to reach it, but the views and crystalline waters make it worth a visit.
You might also like: The best beaches in Mallorca.
14. Cala Figuera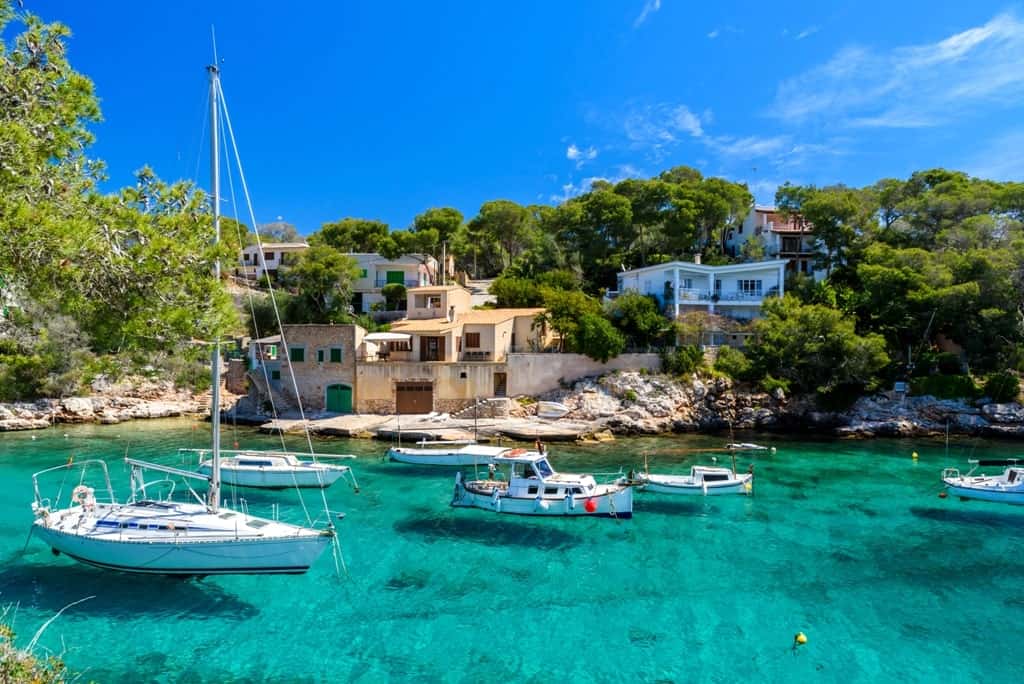 This quaint fishing village retains its small-town charm while still offering travellers a great range of restaurants and cafés from which to watch the world go by. Fishermen return regularly with the daily catch so you know you can expect the freshest seafood on every menu.
While Cala Figuera doesn't actually have a beach of its own, the port waters may draw you in or you can head to Cala Santanyi just a short drive away.
15. Mondragó Natural Park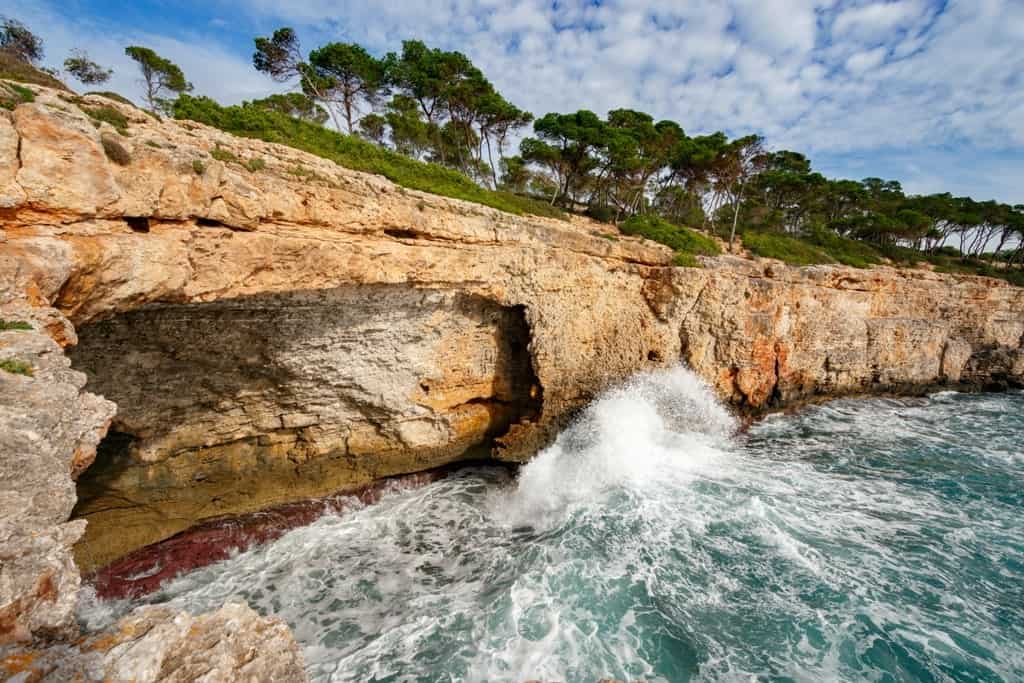 The coastal reserve of Mondragó Natural Park offers travellers one of the best days out on the island with wetlands, beaches, trails, and cliffs to explore. Despite being a popular spot, Mondragó Natural Park is still peaceful and allows you to fully appreciate Majorca's natural beauty.
Mondragó Natural Park is ideal for walking in spring when the temperate climate allows you to walk the trails of varying distances and degrees of difficulty. The colours here are simply stunning with the lush green trees and the natural cliffs contrasting with the splendid azure waters!
16. Platja de Muro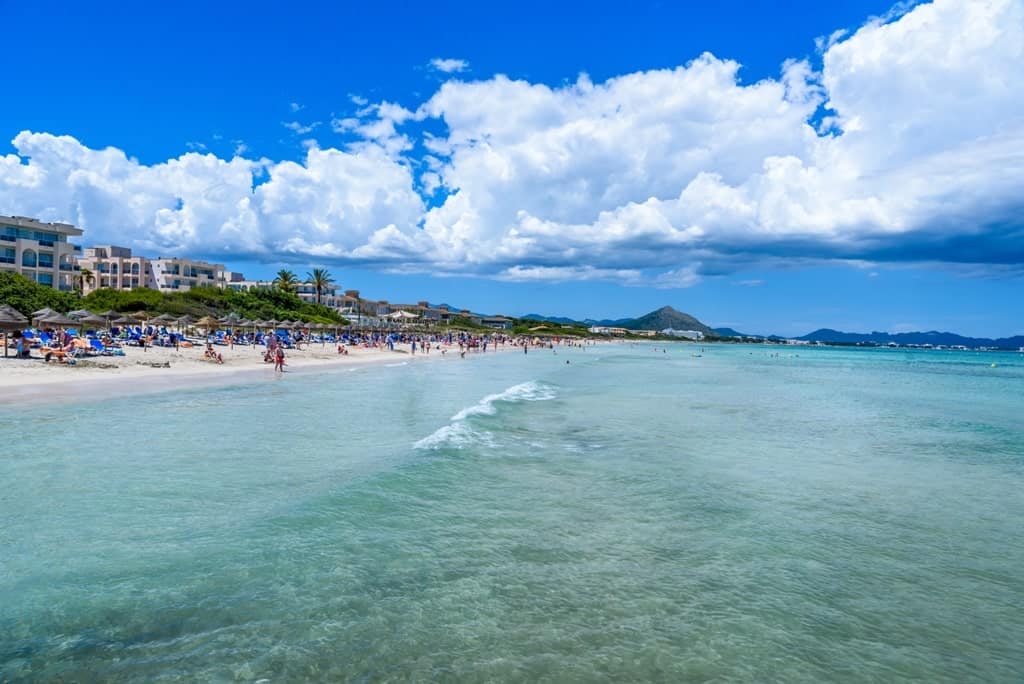 Another spectacular beach to visit during any trip to Majorca is Platja de Muro, this time in the north of Majorca. This sandy strip stretches around 6km, with patches of popular parasols and other quieter sections so you can find a spot to suit you.
The Es Comu section is particularly striking, with rolling dunes and aromatic pine trees creating a beautiful backdrop. The majority of Platja de Muro is of Blue Flag standard so you know it will be clean and well-kept.
17. Palma Aquarium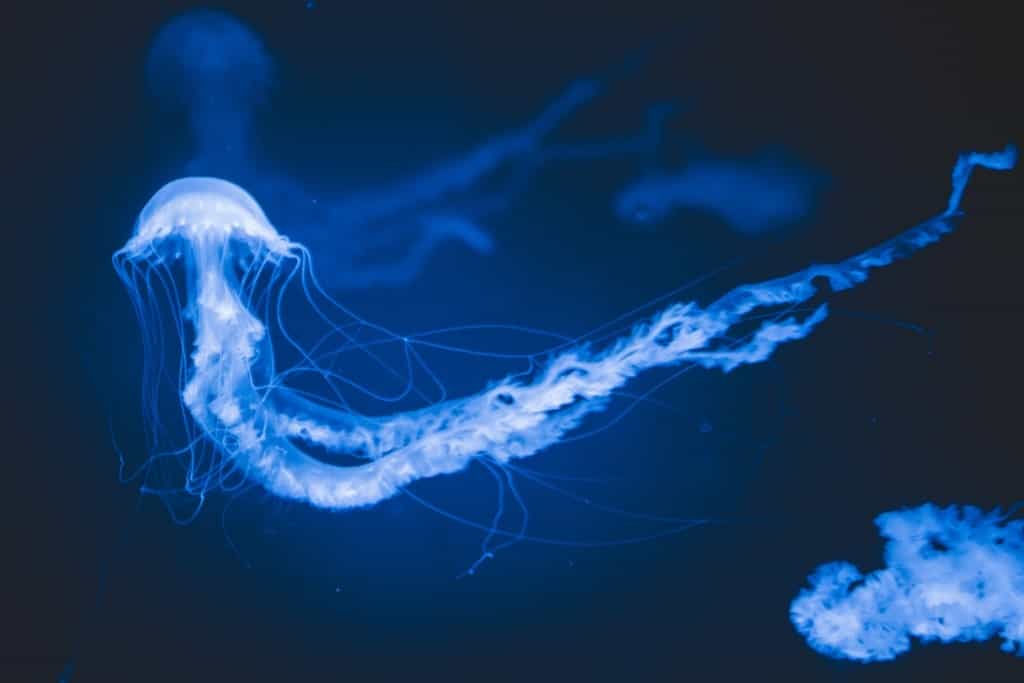 Palma Aquarium is the perfect place for a fun family day out away from the sun. The aquarium is filled with an array of underwater creatures, from sea horses and starfish to rays, eels, and octopuses.
There are plenty of activities for both kids and adults to enjoy such as a touch pool, shark vision boat, and extensive outdoor playground. The aquarium is open every day so you're sure to squeeze in a visit during your holiday.
18. Western Water Park
Another fun spot in Majorca is the Western Water Park located near Magaluf. This aquatic park offers exciting rides and slides to get your heart racing as well as a relaxing lazy river that you can float along when it all gets too much.
The Beast is the highest park in the park (and 11th highest in the world!) and is a must for slide lovers! Queues can be long in high season but visits in May or September allow you to go round and round on the slides all day with very little waiting time.
19. Puig de Massanella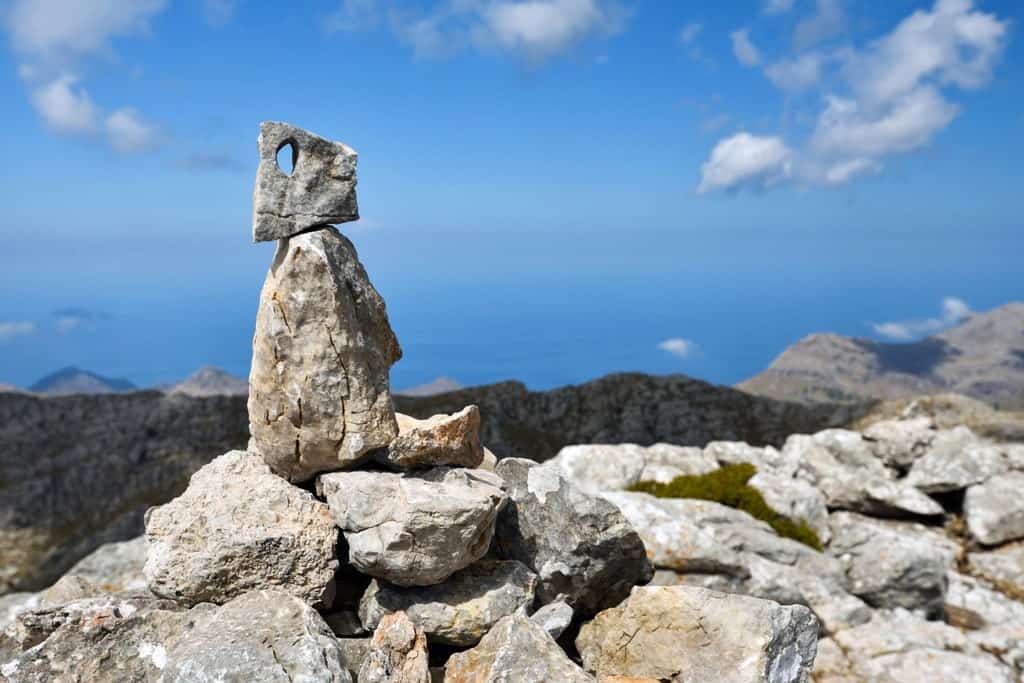 While Puig de Massanella is not the highest peak on the island, it is the most accessible and arguably the most breath-taking! The mountain lies in the Serra de Tramuntana range on Majorca and is popular among hikers seeking a new route on the island.
The peak is 1,364m high so it is a fairly decent trek but the views across the island and out to sea are definitely worth it. The mountain is best hiked in spring or autumn so as to avoid the searing temperatures of summer!
20. Sa Dragonera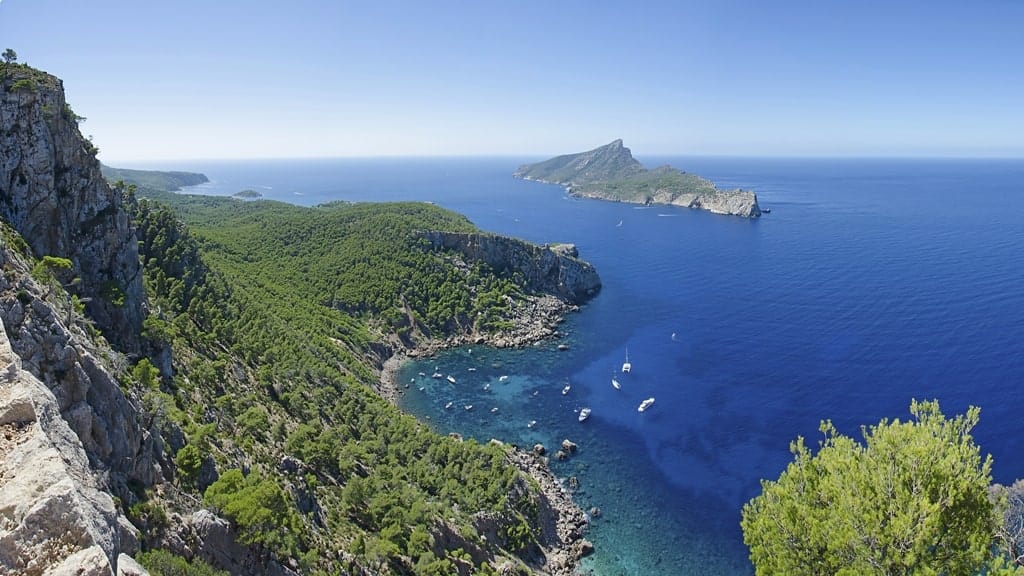 The islet of Sa Dragonera is an uninhabited natural park on the coast of Majorca that travellers can enjoy by boat, kayak or on foot.
There are two arguments as to why the three small islands are called Dragonera, firstly that the spiky shape of the peaks on the islands look dragonesque, and secondly the there are numerous lagarto or lizards that roam around the islands. Whichever you prefer you're still sure to enjoy a day trip exploring this stunning spot.
When is the Best Time to Visit Majorca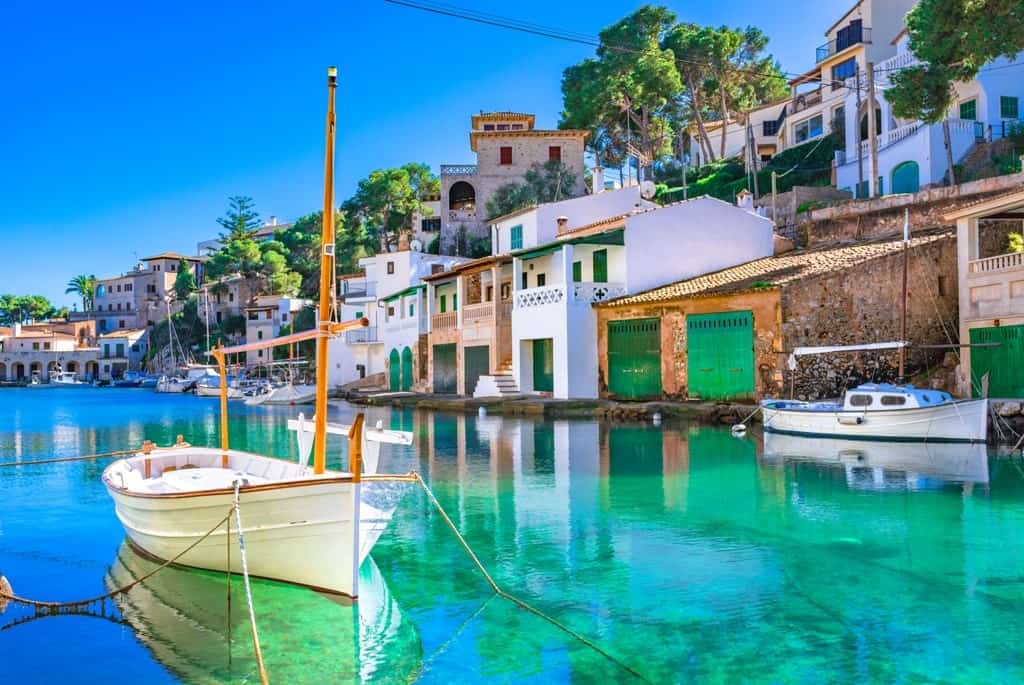 Majorca is a fantastic year-round destination that offers something a little different in every season. Firstly, you'll need to decide what you hope to experience during your Majorca holiday and what temperature you can handle, and then you can choose when to visit.
Majorca in Spring
Spring in Majorca is a stunning season, with a temperate climate, lush landscapes, and fewer crowds so you can enjoy the top spots in peace. This is the best time for hiking as you can witness the wildflowers covering the landscape and be able to choose longer walking trails without the worry of melting in the heat!
Majorca in Summer
Summer, of course, is the most popular time of year in Majorca and is the best for beach relaxation. Temperatures sit between the mid-twenties and early thirties, and with around 12 hours of sunshine per day you can while away hours basking on the beach.
Summer does mean that the longer treks are off-limits (unless you can really handle the heat) and the tourist attractions are busy, but if you have a family then Majorca is ideal for a summer holiday.
Majorca in Autumn
For slightly cooler temperatures (but still early-twenties), you should visit Majorca in Autumn. The crowds begin to dwindle throughout September and October but the sea remains warm and welcoming!
The Nit de l'Art event every September is a must for culture lovers, during which the museums and galleries of Palma open their doors for free.
Majorca in Winter
While Majorca isn't a major winter sun destination in terms of balmy temperatures, is it still relatively warm and bright compared to much of Europe and North America.
Temperatures sit in the mid-teens so it is a lovely time for a city break. Wander around the towns and cities, enjoy the café culture and take in the sights and attractions in relative peace and quiet.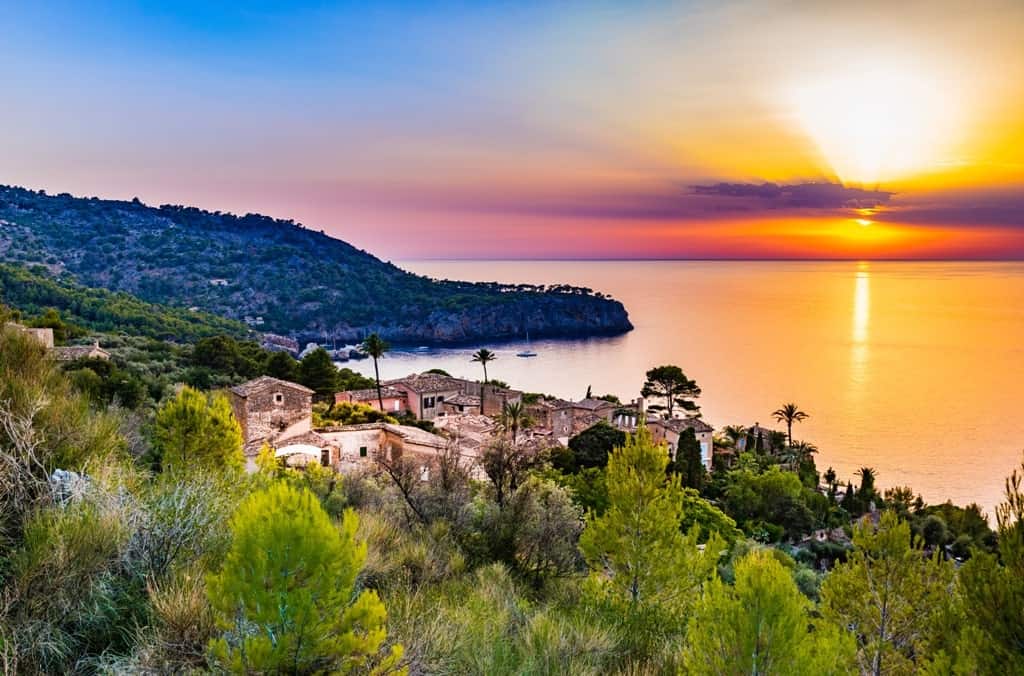 How to get Around Majorca
How to get Around Majorca depends on how much of the island you want to visit and how many of you are travelling together. If you're going to be spending most of your time sitting on the same beach, you can probably just get away with just getting a bus or taxi to and from the airport.
If you want to explore further however, you might want to think about renting a car or scooter or researching the bus service around the island.
The roads in Majorca are in fairly good condition and you can easily rent a car for a few days or your whole trip from the airport or any resort town.
Scooters are also great for shorter journeys (like beach hopping) but may be a tougher to ride on the longer mountain roads.
Finally, buses and trains are great forms of public transport in Majorca as the systems serve almost all the towns and villages across the island. More information about the buses can be found here and rail schedules can be found here.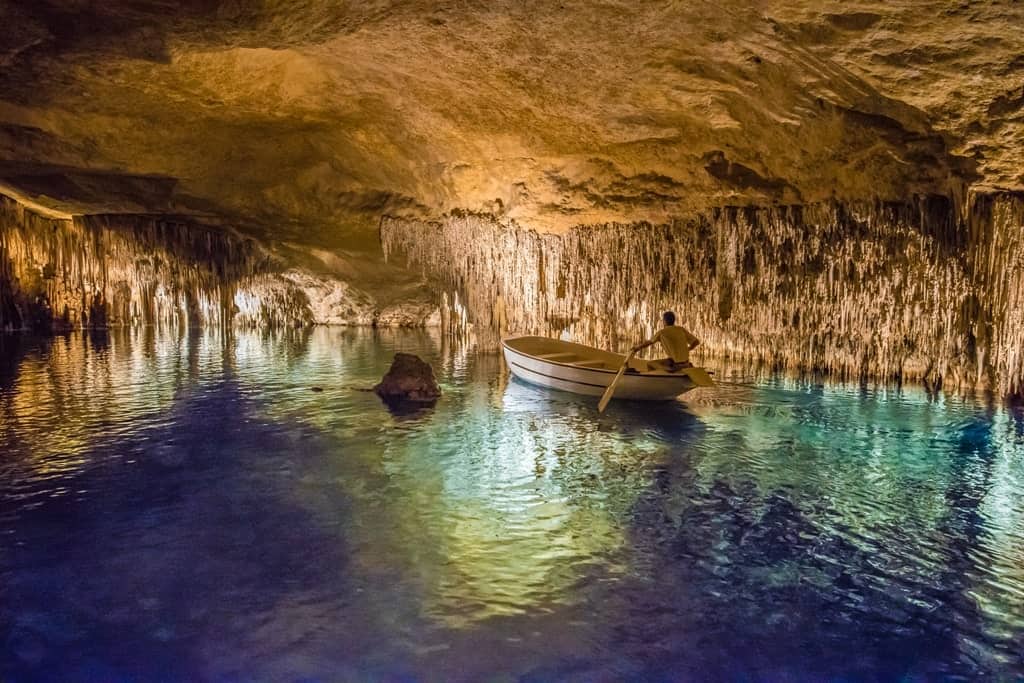 Where to Stay in Majorca
Palma
While many travelers overlook Palma in favor of the larger, all-inclusive resorts, it is, in fact, an excellent location for a summer holiday as it offers the best of both worlds: culture and the buzz of city life as well being close to the beach. Mallorca's capital is rich in architecture, galleries, and museums and also provides travelers with plenty of options when it comes to shopping, eating out and partying. Whether you head here for a long weekend or spend weeks getting under the skin of the place, you won't be disappointed!
Nakar Hotel, Palma: The modern, stylish Nakar Hotel is ideal for those seeking luxury accommodation with excellent views of the city. The rooftop pool looks out over Palma cathedral and out towards the coast, so you can plan your day from the comfort of your own sunbed! Each room is bright and airy throughout with high-quality furnishings and facilities, and Deluxe rooms even have their own private hot tub!
Boutique Hotel Calatrava: Boutique Hotel Calatrava is another gorgeous hotel that makes the most of its stunning central location. The relaxing hotel, spa, and restaurant can be your safe haven away from the hustle and bustle of the city and yet is close enough for you to easily walk to the main city sights. Each room features modern décor and boasts a balcony or terrace from which to take in the views.
Valldemossa
Valldemossa is a traditional mountain village just inland from the coast, the features of blonde stone buildings nestled into the countryside. This is a quiet spot in Mallorca that is ideal for those wanting a relaxing vacation in the heart of the hills. Opt to stay in the center of the village to soak up the community atmosphere or choose a more rural boutique Finca for added peace and serenity. The main tourist attraction here is the Real Cartuja de Valldemossa, an old Carthusian monastery that once hosted famous artists and composers such as Frederic Chopin.
Mirabo de Valldemossa: Mirabó de Valldemossa is a picture-perfect boutique farmhouse that has been converted into a luxury couple's retreat on the edge of Valldemossa. The hotel is nestled into the hills overlooking the countryside and is ideal for those who want to spend some days exploring the town and the beach and others simply relaxing within the hotel grounds.
Es Petit Hotel de Valldemossa: As the name suggests, this hotel is a small family-run property located in the heart of Valldemossa set within a stone house traditional to the area. Rooms are simple and comfortable with splashes of color along with welcoming communal areas where you can kick back with a book or enjoy a drink or snack.
Sant Llorenç
Sant Llorenç des Cardassar is located in a valley on the east side of the island of Mallorca (around an hour from Palma) not far from beaches such as Cala Millor and S'Illot. This charming town features some interesting baroque architecture as well as a great range of shops, bars, and restaurants and a weekly market selling local produce and gifts. Sant Llorenç is ideal for those wanting to soak up Mallorcan culture while also being close enough to explore the 8km of coastline that visitors have come to know and love.
Es Lligats: Es Lligats is an adults-only villa-style property with luxurious two-bedroom villas sleeping up to four guests in each. Villas are equipped with private kitchen and lounge facilities as well as modern furnishings throughout. The property also boasts a swimming pool and communal lounge and terrace dining areas where an exceptional breakfast can be enjoyed each morning.
Can Solaies: Can Solaies is a chic bed and breakfast hotel located in a central townhouse in Sant Llorenç des Cardassar. Each room features stylish interiors which, when mixed with the rustic exposed stone walls gives it a really modern feel.
Artá
Artá is a charming market town in the north-east of the island of Mallorca known for having a whole host of attractions that bring in tourists from around the world. The most famous sights include the Ses Paisses Bronze-Age settlements, the walled fortress, the Santuari de Sant Salvador and the Caves d'Artá, a magical network of underground caverns filled with stalactites and stalagmites. The coast is located around 10km from the town of Artá which makes it the perfect place to enjoy both culture and beach relaxation.
Hotel Forn Nou: Petit Hotel Forn Nou is a rustic hotel in the heart of Artá with traditional rooms having been updated with modern interiors. Each room features air-conditioning, WiFi, and a flat-screen TV and there is a small pool and roof terrace for guest relaxation.
Jardi d'Arta: Hotel & Restaurant Jardi D'Artà feels like a tropical haven within the village setting, with palm trees and a swimming pool nestled into the lush gardens. Each guest has their own place to relax, while the restaurant boasts a gently buzzing atmosphere each evening. Bedrooms are spacious and comfortable and each is equipped with complimentary toiletries and plush towels.
Alcúdia
The region of Alcúdia is split into two main sections: The Old Town which is the more historical, cultural part and the resort area (Port d'Alcúdia) which features a whole host of family-friendly hotels and beaches. The Old Town, inland, has a distinctly medieval center with narrow winding streets, battlements, and ancient houses, while the newer port area, Puerto Alcúdia, is a bustling hub of seaside tourism. Each part of the region of Alcúdia will suit different travelers, so choose your area accordingly. Alcúdia itself boasts a wealth of history and often features local festivals and markets which give you a taste of local life. Puerto Alcúdia, on the other hand, is better for those wanting to be right on the waterfront with a fantastic selection of bars and restaurants available.
Cas Ferrer Nou Hotelet: Cas Ferrer Nou Hotelet offers guests a great combination of old and new with color pops offsetting traditional stone walls. The hotel features modern lighting, plants, and artwork as well as a comfortable lounge and rooftop terrace on which to relax.
Caprice Alcudia Port: Caprice Alcudia Port is a great family option with a swimming pool, garden, and spa on-site and the beach being just a few minutes away. The rooms have suites here have been designed with a bright, Nordic style and there is an on-site restaurant offering local and international cuisine.
Majorca is super easy to get to from gateways across Europe, and it's a wonderful family vacation destination. There is plenty to do in Palma, the largest town, as well as around the island. Stay at one of these fantastic Iberostar properties for a comfortable, luxurious experience in the Spanish Balearic Islands.
Thinking of extending your stay in Spain? Check out the following posts:

How to spend 3 days in Madrid

One day in Seville

10 days in Spain

One day in Cordoba

Things to do in Cordoba

2 days in Granada

2 days in Seville

2 days in Barcelona

2 days in Valencia