Planning to spend 10 days in Spain, a country bursting with life, color, passion, and fire? Spain is a country that caters to the needs of every traveler. From the staggering landscapes, the bustling plazas, the cities that never sleep, and the unparalleled gastronomic and cultural experiences – you'll be spoilt for choice.
The country of Spain needs at least a few months to get around and see everything and get to actually experience the diversity that it offers, but this 10 day Spain itinerary can be a great introductory trip to get a gist of the country.
Disclaimer: This post contains affiliate links. This means that should you click on certain links, and then subsequently purchase a product, I will receive a small commission.
10-Day Spain Itinerary: Barcelona, Madrid, Toledo, Seville & Granada
Day 1- 3: Barcelona
Day 4 – 5: Madrid
Day 6: Toledo
Day 7: Seville
Day 8-9: Granada
Day 10: Fly home
Barcelona Go City Pass
A good way to save time and money is to invest in a Barcelona Pass. With the pass, you can save up to 50% on the top Barcelona attractions.
The Barcelona Pass is all-inclusive and provides access to popular attractions, like:
Casa Batlló
Sagrada Familia Guided Tour
La Pedrera
Park Güell Guided Tour
Barcelona Bus Turístic
FC Barcelona – Immersive Tour
Click here for more information and to book your Barcelona Go City Pass.
Day 1 Barcelona
Your 10-day Spain itinerary starts in Barcelona. After settling down at your hotel, get ready for the first sight of the city. Barcelona is a city that teems with life unlike anywhere else in the world…A city that truly has it all.
From the azure beaches to the pumping life to the spirit of Gaudi looming over the city and manifesting itself into the city's hypnotic façade…Barcelona will never fail to enchant you. Colorful, lively, youthful, and so international – I can guarantee that Barcelona will end up being one of your favorite cities.
Tip: Barcelona is a big city get around comfortably with a 2, 3, 4, or 5-day public transport ticket.
Where to stay in Barcelona
Petit Palace Boqueria Garden: Situated right in the Boqueria of Barcelona, this gorgeous hotel combines all the amenities needed and a central location. It's simple, beautiful, and has a genuine atmosphere to it. Click here for more information and to check the latest prices.

Ciutat de Barcelona: Huge sunlit windows, a rooftop terrace, a swimming pool, and all amenities you might need in a hotel, the Ciutat de Barcelona is a 15-minute walk from the beach and only 1 minute away from the Gothic Quarter. Click here for more information and to check the latest prices.

The One Barcelona: Extremely sleek and super luxurious, the One is located in the prestigious Passeig de Gracia. The hotel looks directly at La Pedrera and boasts spacious rooms, a restaurant, and a cocktail bar, and a spa. Click here for more information and to check the latest prices.
Check here for a complete guide on where to stay in Barcelona.
Placa de Catalunya
Placa de Catalunya is the pumping heart of the city, the place where all life begins, all nights end, and where LasRamblas and the Gothic Quarter also start and end. Impressive fountains, elegant statuary, large squares dotted with shops, and hoards of people from all over the world meet, greet and leave….Spend a little bit of time checking out the different shops and then head over to Las Ramblas.
You can check this Northern Spain itinerary for more inspiration.
Las Ramblas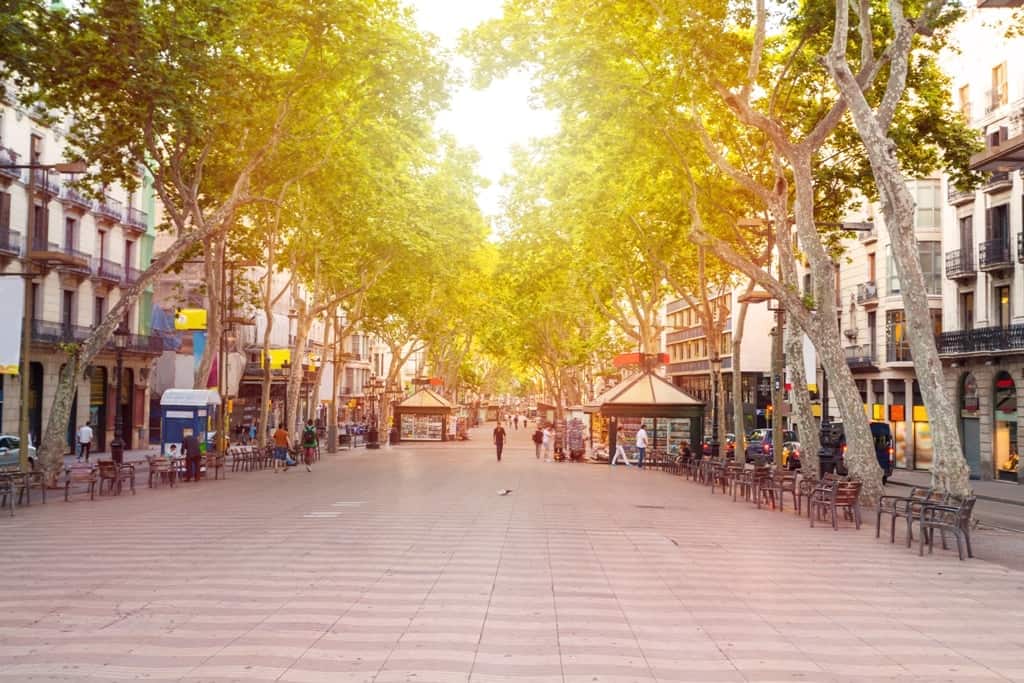 The main street in Barcelona, Las Ramblas is as energetic and as lively as it gets. It's one of the most energetic boulevards in the world, throbbing with life, with soul, and with an array of activities, you can do. Starting at Café Zurich, you'll be able to really get yourself into the mood where dancers, tourists, performers, and locals all mingle together to enjoy the bustle of Barcelona's heart.
Looking for a great tapa place in Barcelona? Check out the Tickets Barcelona Restaurant.
La Boqueria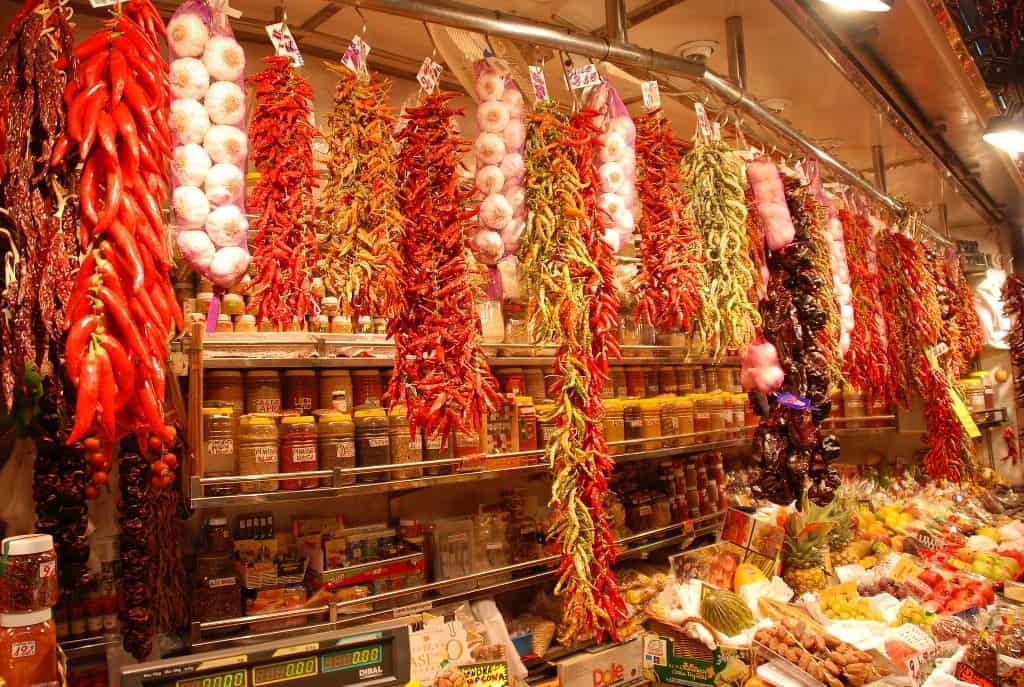 To further get a true taste of Barcelona's culture, you need to live it like a local. Head over to La Boqueria market in the middle of Las Ramblas, where you'll be able to catch a glimpse of a plethora of colorful food stacked on top of each other. From exotic herbs and spices to vegetables – you'll find it all.
Do you want to plunge deeper into the culinary repertoire of Barcelona?
🍲 Learn about the history and cuisine of Barcelona by looking at the counters at the La Boqueria food market and then walking through the alleys, squares and back streets of the Gothic Quarter and the El Born quarter on this tour
Gothic Quarter
You'll see that Las Ramblas hides dozens of different alleys that take you to hundreds of winding streets….Let me introduce you to the gothic quarter. An unbelievable blend of medieval architecture contrasting modern shops, streets that have been there for thousands of years, and a charm that will make you forget that you're in Barcelona. This was originally the place of a Roman settlement and has now been transformed into a place dotted with bars, shops, and cathedrals.
Get your walking tour here
Barcelona Cathedral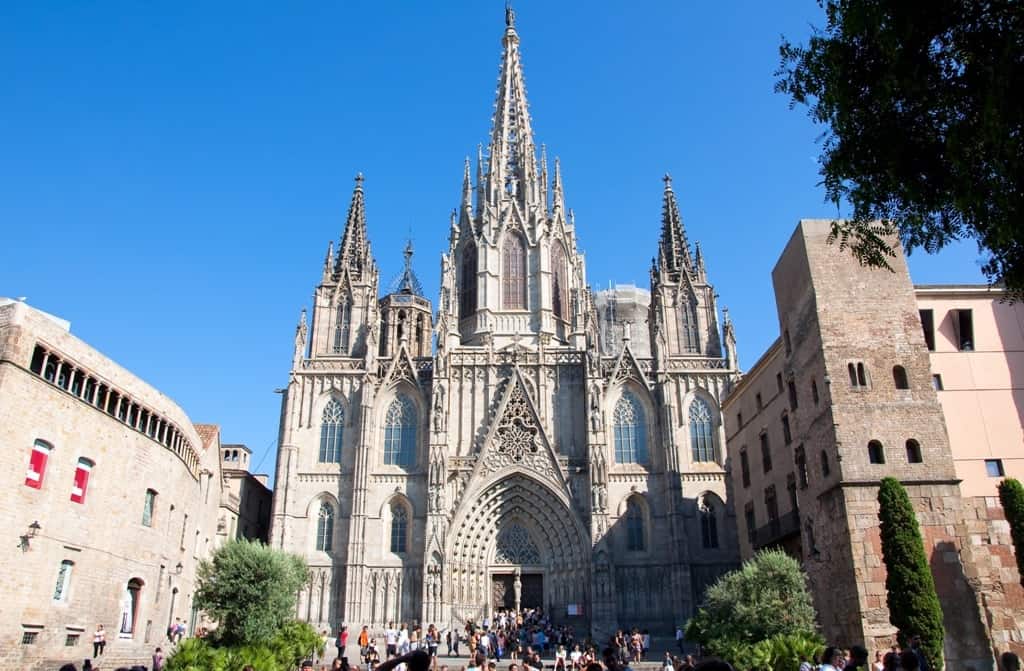 In the middle of the Gothic Quarter is the Barcelona Cathedral – soaring proudly into the sky; make sure you go there just before the sun sets. People are all huddled around the cathedral, violin players set the mood, the church bells ring, and the mood is beautiful.
Get your entrance ticket here
You might also be interested in: Essentials travel tips to know before visiting Spain.
Day 2 Barcelona
Your second day will be all about Gaudi – after all, he had the main inspiration for what Barcelona looks like, and an iconic symbol to not only Barcelona but to Spain as well.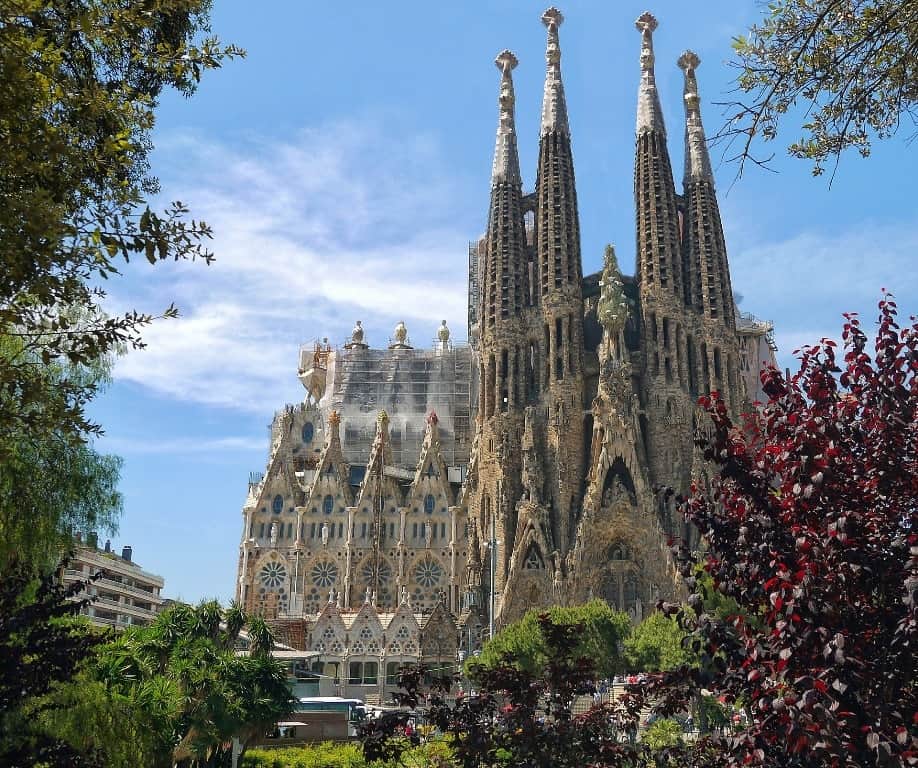 Start your day by going to Sagrada Familia first thing in the morning as the lines get extremely long and the place gets incredibly crowded. I highly suggest that you buy your skip the line tickets online or book a tour in advance to avoid disappointment.
Sagrada Familia is Barcelona's iconic symbol, it's the Eiffel Tower of the city, a symbol of Gaudi, his masterpieces, and of both spirituality and design. Make sure to check the different exteriors that depict different stories (crucifixion, life and death, and even the birth of Jesus).
Tip: Looking for a Gaudi tour? I highly recommend the following:

Complete Gaudí Tour: Casa Batlló, Park Guell & Extended Sagrada Família
Next, head to both, Casa Milà and Casa Batlló. They are a 6-minute walk away and are both the perfect reflection of Gaudi's eccentric architecture. Curvy walls, weird alleyways, polychromatic colors, hypnotic paintings, and much more, you'll be able to truly get a taste of Gaudi on a more intimate level than ParcGuell. It's a legend of architecture, of creation, the true meaning of letting your creativity run wild.
Click here to book your Casa Milà skip-the-line ticket and here to book your skip the line tickets to Casa Batlló.
Placa Reial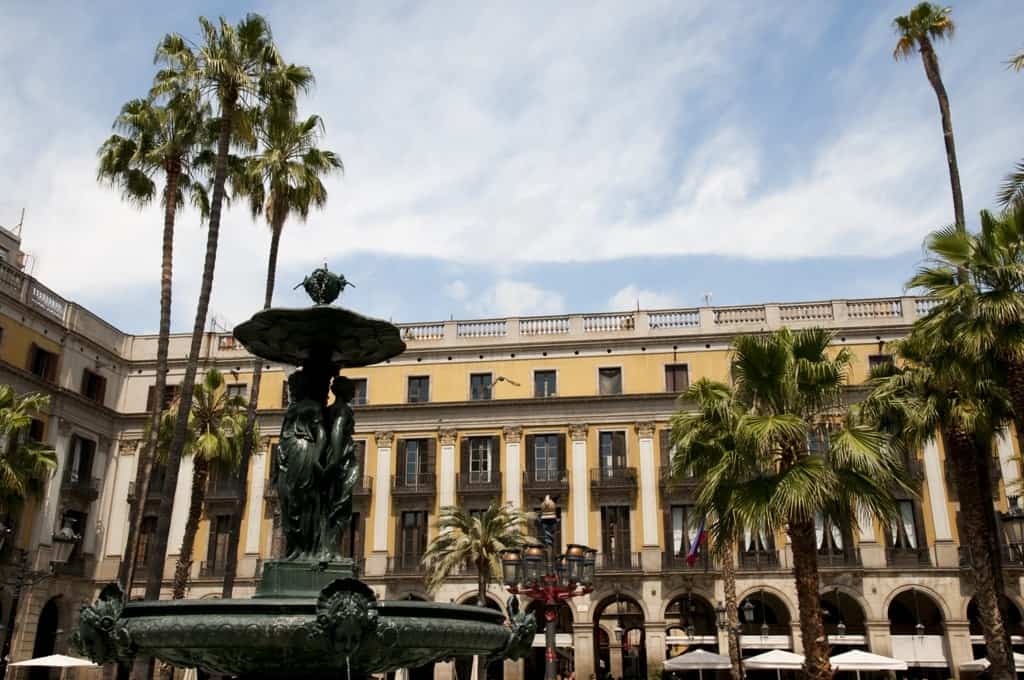 Just off La Rambla, Placa Reial is a square that is known to be filled with bars, clubs, restaurants, and all sorts of performances, people, and life. Jazzy tunes echo from the bars and twirl around Gaudi-made lamps, and cafes and restaurants keep the place booming with life. Have your lunch here, grab a cold glass of beer, and enjoy the live performers!
El Palau de la Música Catalana
El Palau de la MusicaCatalana is only a 12-minute walk from Placa Reial. This is one of the most important concert halls in the world and an incredible reflection of Catalan art. Bright colors, intricate mosaics and a chance for you to watch a show as well!
Click here to book your Palau de la Música Self Guided Tour.
Day 3 Barcelona
Start very early in the morning and go to Park Guell and then Museo Picasso so you can have time to go to the beach later!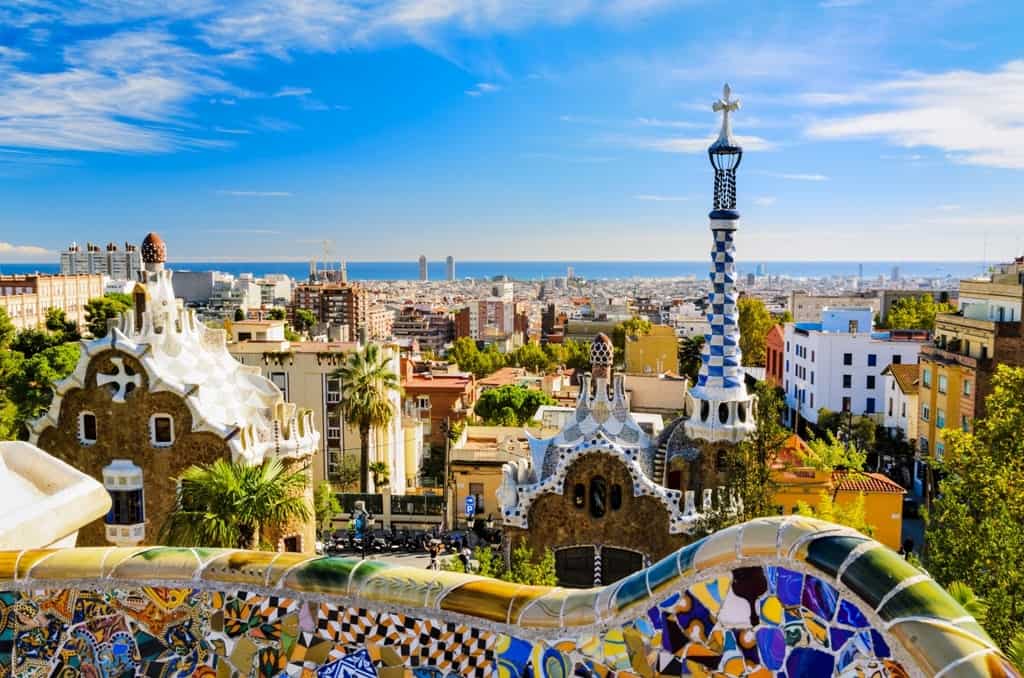 Offering the most incredible panoramic vistas of Barcelona and the beach, Park Guell is one of the most well-known attractions in the world. Quirky designs, colorful mosaics, great architecture, and dozens of columns with little poems on them.
Click here to buy your skip-the-line tickets to Park Güell.
Museo Picasso
An incredible look into the life of Picasso, and how Barcelona has been a major inspiration to him and his art you'll even get to enjoy the scenic Gothic building in the museum is situated into. Hundreds of works of art by Picasso will give you that artistic fix you need!
If you are a fan of Picasso you can check the Picasso Walking Tour & Picasso Museum of Barcelona.
Head to the beach – La Barceloneta
It should be afternoon by then – the perfect time to take a stroll by the beach. Hundreds of people in swimsuits, swishing around in rollerblades and skateboards, and dozens of beach bars filled with life, clubs, bars, volleyball, and all sorts of activities are only a glimpse of what you get by being on the beach. Enjoy a cold mojito on the beach, let the sun warm up your soul, and have lunch at one of the many cafes there.
Plaza de España
Try to go to Plaza de España before the sun sets and visit MNAC – the Museum of National Art of Catalunya. If you don't want really to go through the gallery, then this palace is enough to put you in awe. Gorgeous fountains dance around the classical façade of the MNAC, the Montjuic mountains rise beautifully in the distance, and the views you get of Barcelona are absolutely unparalleled.
You might also like: How to spend 2 days in Barcelona.
Madrid Go City Pass
A good way to save time and money is to invest in a Madrid Pass. With the pass, you can save up to 50% on the top Madrid attractions.
The Madrid Pass is all-inclusive and provides access to popular attractions, like:
Prado Museum guided tour
Bernabeu Stadium Tour
Madrid Royal Palace tour
Madrid hop-on hop-off bus tour
Museo Nacional Thyssen-Bornemisza
Reina Sofía Museum guided tour
Toledo and Segovia full-day tour
Click here for more information and to book your Madrid Go City Pass.
Day 4 Barcelona – Madrid
Now it's time to take the plane or a high-speed train to Madrid. The train takes about 2 hours and 30 minutes, and the plane about 45 minutes.
Where to stay in Madrid
Here are my favorite accommodation options in Madrid.
Francisco I is located 250 m from Plaza Mayor and Puerta del Sol. It offers simple rooms with a private bathroom, TV, and free Wi-Fi. Click here for more information and to check the latest prices.

Hostal Central Palace Madrid is centrally located and overlooks the Sabatini Gardens in Madrid's Plaza de Oriente. Rooms have free Wi-Fi, toiletries, and a flat-screen TV. Breakfast is served in a nearby cafe. Click here for more information and to check the latest prices.

Hotel Círculo Gran Vía, Autograph Collection by Marriott is an adults-only hotel located in Gran Via just 400 m away from Puerta del Sol. It offers stylish rooms with air-conditioning, flat-screen TV and coffee facilities, bathrobes, and toiletries. Other hotel amenities include a restaurant, bar, and business facilities. Click here for more information and to check the latest prices
First, settle in your hotel and then embark on your journey around Madrid in 2 days!
Plaza de España
This is where you should start your day in Madrid. A place that has been there since the 18th century, you'll get to start your trip by watching the large monument dedicated to Miguel de Cervantes, and then the stone sculpture of Cervantes – two of the most prominent Spanish people to date.
Gran Via
The Gran Via is the Times Square of Madrid. Art Deco façades blend with large moving billboards, elegance juxtaposes with cobbled alleyways, and of course – an endless of cafes and shops dot the street. This is your shopping hot stop – sales, hundreds of shops, and a great variety of both international and local brands.
Palacio Real
One of the most elegant and biggest palaces in Western Europe, this palace made of stone is a symbol of Madrid. Iconically perched on top, the palace overlooks the hills that are to the west of Madrid and embodies the true meaning of royalty. You'll be exploring over 3,418 rooms (not in the same go of course!), be led by vast staircases, and explore different halls (Hall of Columns, Hall of Mirrors, and even King Charles's room!).
Click here to book your skip-the-line tickets and tour of Madrid's Royal Palace.
Plaza Oriente
You now get to walk to the park next to the Palacaio Real – the Plaza Oriente. An exotic park that is lined by plants, trees, and 44 statues of previous Spanish monarchs that start from the Gothic period.
Mercado San Miguel
A trip to Madrid would not be complete without the Mercado San Miguel, where you'll be taking a journey the gastronomic vibe of Spain, and the culinary culture there. Enjoy dozens of different stalls of food – from tapas to sushi to sugary snacks. End your night with a sparkling glass of champagne!
Plaza Mayor
An old historical rectangular square that is right in the middle of the city – Plaza Mayor is perfect for enjoying the Spanish gathering culture, where people enjoy good food, good beer and live performers by sunset.
Puerta del Sol
A great place to spend an afternoon or an evening – this place is the perfect way to check out shops, bars, restaurants and nearby parks. Whether you want to take a picture of the country's kilometer 0, or enjoy the quintessential Casa de Correos or El Oso y El Madroño, you'll be able to do both there!
Chocolateria San Gines
If you're in Puerta del Sol, then you have to pass by Chocolateria San Gines. A churros place that looks the same since 1894 (yes, you heard that right!)and is open for 24 hours a day. Perfect for either a quick snack after a night out, or just a break from exploring…Who would say no to a rich and smooth chocolate that you can dip your churros in?
Day 5 Madrid
Retiro Park
Retiro Park is the breathing lungs of Madrid, once a royal park, El Retiro now houses exhibition halls, gardens, and palaces. After soaking in the sun and the abundant greenery, make sure to visit these places:
Velazques Palace
Crystal Palace
Monument to Alfonoso XII
Walk of Argentina or the Walk of Statues
Jardines de Cecilio Rodriguez: an enclosed garden with a lot of peacocks.
Palacio Cristal
There are many museums in Madrid. I don't think you will have time to visit all, but you can choose one or two depending on your taste. My favorite is Prado.
One of the most important museums in Madrid, the Reina Sofia is a great place to get a taste of Spanish contemporary art and get your dose of art and culture. From Dali to Miro to Juan Garis – there are over 20,000 works of art that it will be impossible for you to finish in just a day. You have to choose which floor you want to explore or which sort of artwork you want to get into.
Book a Reina Sofia Museum Tour.
The breadth of the collection is unparalleled as well. 1000 paintings that range from the 13th century up until the 20th century. You have to explore Museo Thyssen from the top floor and work your way downwards. You'll find medieval art, Italian, German, and Flemish works by Monet, Picasso, Juan Gris, and much more.
Book your Museo Thyssen- Bornemisza tickets.
El Prado is easily the most famous museum in Madrid, hence why you save the best for last! 8600 paintings dot the place that ranges from 18th-century neo-classical sculptures to some of the most famous paintings in Europe including Las Meninas and the Triumph of Bacchus by Velazquez, the Naked Maja by Goya, the Garden of Delights by Bosch.
Click here to book your skip-the-line tickets or guided tour.
Now if you are a football fan, definitely visit: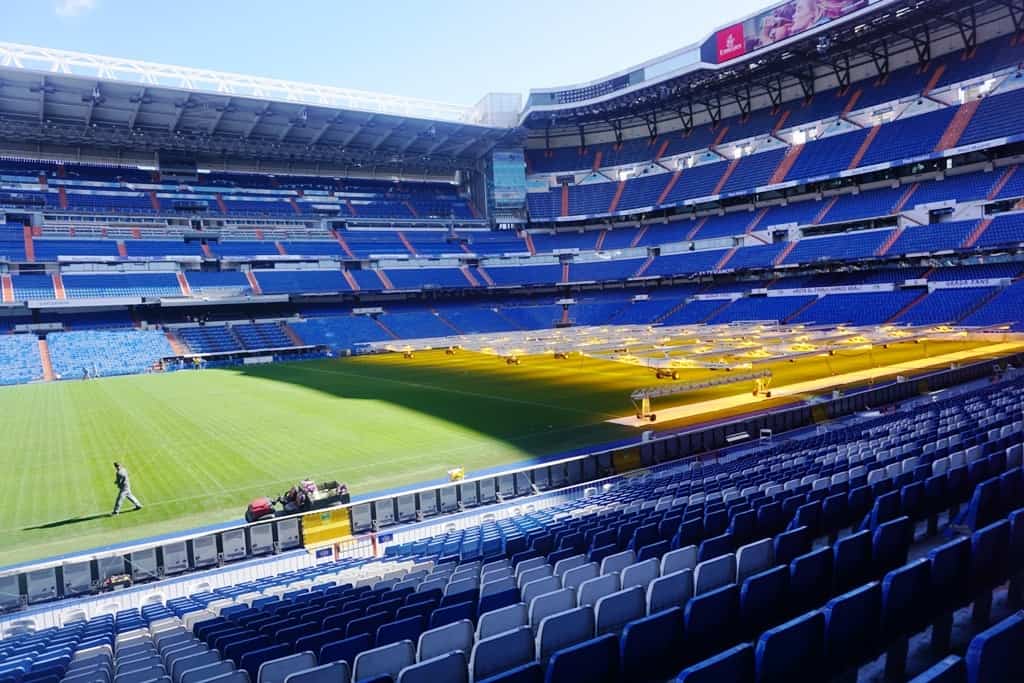 One of the world's most elite stadiums is Bernabeu, a UEFA-classified stadium that is essential to every football fan in the world. From touring around the presidential box to getting panoramic views of the whole stadium – if you're a football fan you'll find this a treat!
Book here your skip-the-line tickets and tour to Bernabeu.
You might be interested in: 3 days in Madrid.
Day 6 Day trip to Toledo
Take the train from Madrid to Toledo, which will take you about 33 minutes!
Alternatively, you can book a guided day trip from Madrid.
Toledo Full-Day Tour from Madrid.

Toledo & Segovia Tour from Madrid with Alcázar Ticket
Here are some of the things you can do while you're there:
The city of three cultures: Christian, Muslim, and Jewish, Toledo is a magnificent city that effortlessly blends mosques with gothic cathedrals; canvases of el Greco contrast the city's glory and the city oozes in picturesque charm.
The Toledo Cathedral
The Toledo Cathedral is an incredible place in Spain and is one of the three 13th-century High Gothic cathedrals in Spain and is considered to be the epitome and personification of Gothic architecture and culture in Spain. You can check out the Chapter House, Choir, Treasury, and Sacristy. The cathedral took 286 years to build, and it towers 100 meters into the sky, creating a backdrop to the Plaza del Ayuntamiento.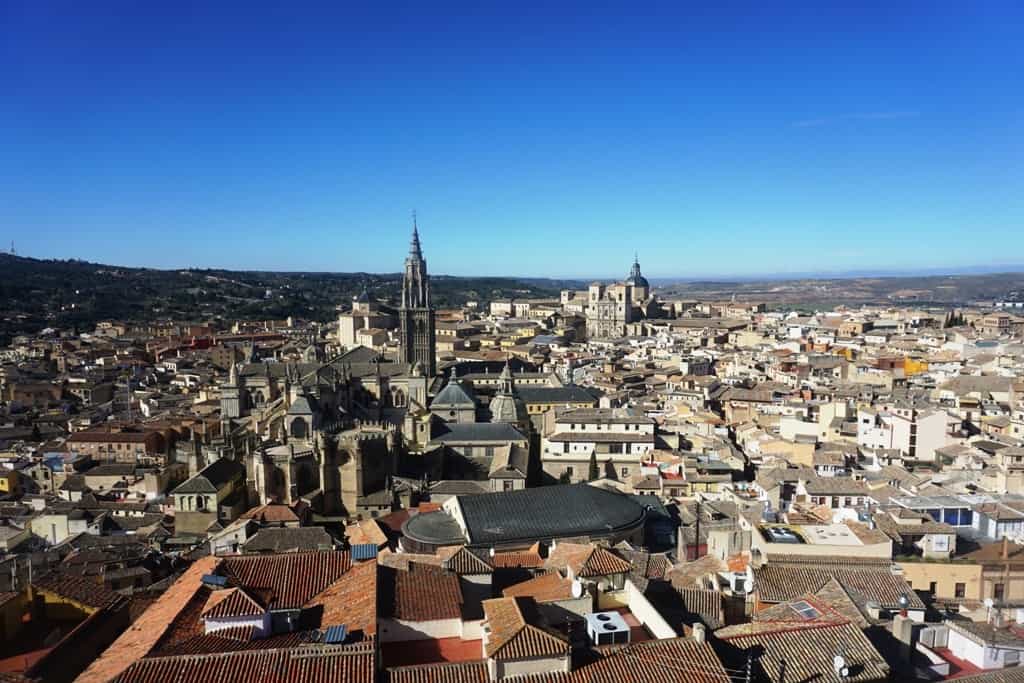 Alcazar
Once a stone fortification, Alcazar de Toledo is located at the highest point of Toledo. A roman palace that has been renovated multiple times – this place contains such an immense amount of history you will love the overload of it all.
You'll find displays of uniforms, medals, military artifacts and a mixture of Islamic and Christian architecture and monuments blending together. You'll even see the central patio, Moscardo's office with bullet holes, and a lot more!
Museum of El Greco
A museum that contains all sorts of paintings by artists from the Spanish Golden Age, the Museum of el Greco is not only rich with artifacts, but it is also housed in a gorgeous Gothic house with a courtyard. You'll find, of course, works by El Greco himself, along with a dozen other painters. This is how you get to explore the era of the 16th and 17th centuries with its furniture, ceramics, and travesties.
Day 7 Madrid – Seville
You can either fly to Seville (1 hour) or take the train (2 h 20 minutes). Seville, home to flashy flamenco skirts, dancers, tapas, and a fiery passion unlike any other – Seville is so quintessentially Spanish. No other place in the world embodies the Spanish culture, as well as Seville, does. The perfect place to truly enjoy some good old Spanish authenticity.
Where to stay in Seville
Hostal Plaza Santa Cruz For the easy-going traveler, this is the perfect place to be in. free luggage storage, free Wi-Fi, a guest-house feel, and access to rooftop terraces all the time – this place is the definition of cozy. Click here for more information and to check the latest prices.

Hotel Fernando: Located right in Seville's historic center, you get the perfect mixture of hotel amenities including free WiFi and modern rooms, along with your perfect dose of history. The hotel also has a rooftop terrace that offers incredible city views, a swimming pool for those hot summer days, and rooms with balconies! Click here for more information and to check the latest prices.

Hotel Alfonso XIII Outdoor swimming pool, a gym, garden fountains, and beautiful elegant rooms that boast Arabic designs, this hotel is the personification of Seville's heart and soul. Click here for more information and to check the latest prices.
Plaza de Espana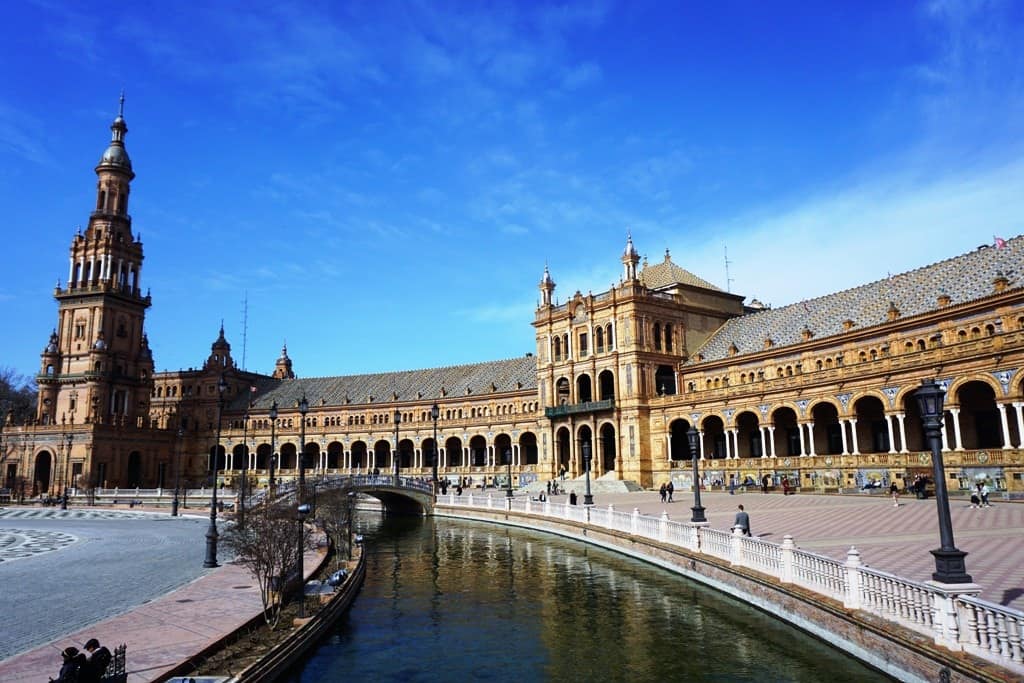 Built in 1929, this plaza is home to some of Spain's biggest accomplishments when it comes to architecture and when it comes to boasting the accomplishments of the industry.
The plaza is a quintessential Spanish paradise with orange bridges, artifacts that reminisce over kings that long died, 48 pavilions that decorate the beauty of the place, and archeology museums that steal the show.
Cathedral of Seville
The Cathedral of Seville is a gothic church that was actually once a mosque and was transformed into a church. You'll find all the evident Moorish influences with their sculptures, artifacts and paintings, and fountains but you'll also find all the signs of a church, making it an otherworldly, eccentric, yet beautiful mixture unseen anywhere else.
The Giralda Bell Tower
The Giralda Bell Tower is what's left of the Moorish Seville cathedral. A beautiful entrance that's decorated with an ornate fountain, you'll find that the cathedral is a great religious monument mixing both religions together. Renaissance influences blend beautifully with Moorish splendor.
Alcazar
The Alcazar is one of the most beautiful royal palaces in all of Spain – an iconic monument that shows the effects of the historical evolution of the city of Seville and of Spain in general. It was developed by Moorish Muslim Kings and the Mudejar architecture is at its most intricate everywhere in the palace. This is actually one of the most visited complexes in the world, a place where culture and educational activities both blend together to put you in awe!
Tip: The lines are huge to enter the Alcazar, I had friends who didn't even get in after waiting for hours, so book your tickets and tour in advance.
Check here for more information and to book your guided tour to the Alcázar.

If you are interested in a guided tour that includes the Alcázar, the Seville Cathedral, and La Giralda I recommend a guided tour of the Alcázar, Seville Cathedral, and La Giralda.
Las Setas
Setas directly translate to mushrooms and lie in the center of Seville. This is one of the biggest wooden structures in the world and has a museum, a marketplace, and even a public park. You have to watch the sunset from there, where you'll get to enjoy some of the best views of Seville from up there.
Torre del Orro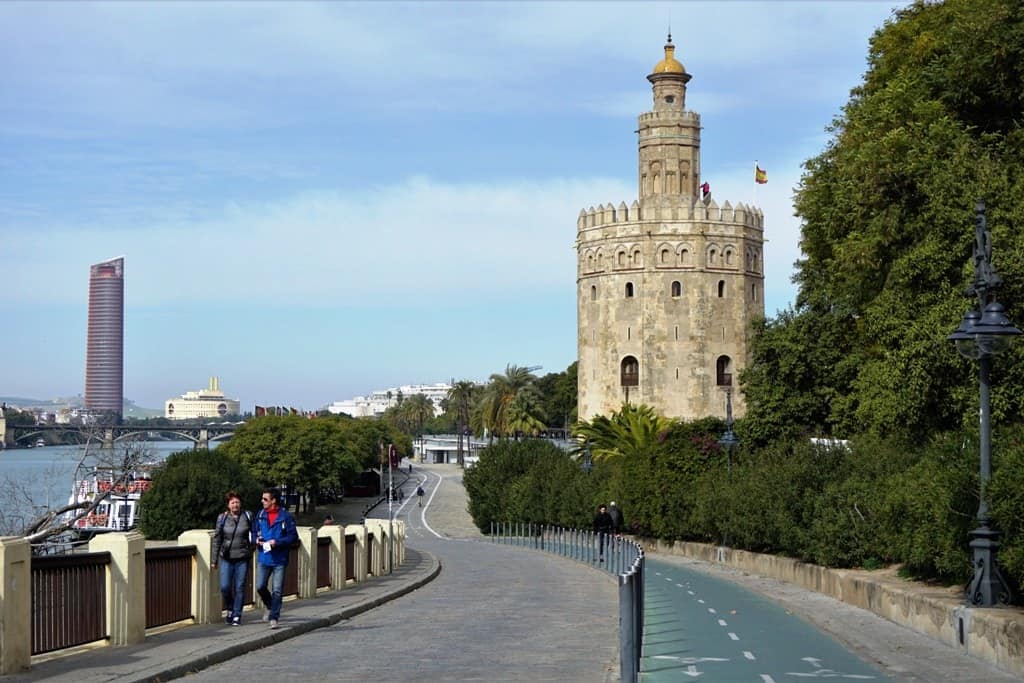 This military watchtower is right in the heart of Seville as well. Back then, it was supposed to protect Seville from Christian attacks. Built in the early 13th century, it remains one of the most important monuments in Seville up to this day.
If you have time, you can cross the river and stroll in the Trianna neighborhood. A great place to watch a flamenco show.
Trianna neighborhood
The Trianna is an emblematic neighborhood in Seville, beautifully typically Spanish, and is definitely one of the best places to eat, drink and shop! You'll get to eat tapas like a local, watch some good old flamenco, and even visit the Museum of Tolerance r the ruins of the San Jorge Castle. It's actually known as the "independent Republic of Triana."
Attend a flamenco show.
It would be a waste of time if you went to Seville without enjoying some of its amazing flamenco, so better head to a flamenco bar and enjoy the melancholic yet energetic form of dance and culture!
Book your tickets for the Pura Esencia Flamenco Show in Triana.
You might also want to read: How to spend one day in Seville and how to spend 2 days in Seville.
Day 8 Seville – Granada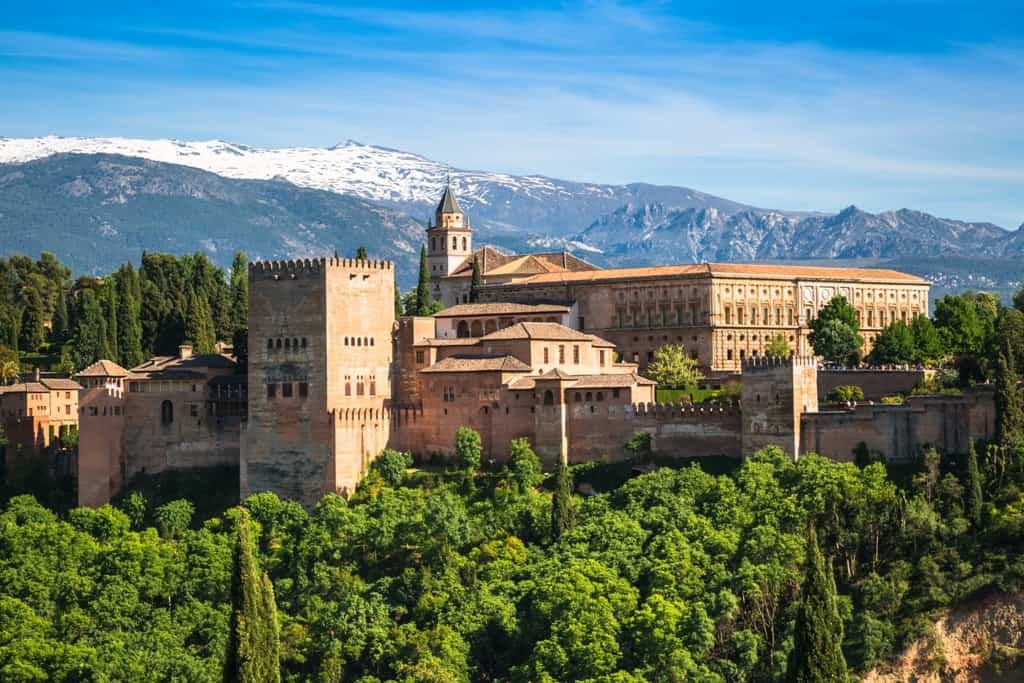 Take a train from Seville to Granada, which will take you about 4 hours, and then find some time to settle down at your hotel. You have two days in Granada, so you don't need to be in a rush!
Where to stay in Granada
Gar Anat Hotel Boutique It is a cozy hotel that gives off a vibe of Granada's architectural spirit but also has calm, cool, and beautiful rooms with a Granada-styled courtyard for your morning cup of coffee. The hotel is also 5 minutes away from Granada Cathedral. Click here for more information and to check the latest prices.

Hotel Granada Center One of the most renowned hotels in Granada, the Hotel Granada Center is only 10 minutes away from the old town and has free Wi-Fi, great rooms, and an a la carte restaurant. You'll also be 10 minutes from the Granada Cathedral! Click here for more information and to check the latest prices.

Alhambra Palace This hotel has a location unlike any other. You'll be enjoying the Moorish-inspired décor in the hotel while being minutes away from the massive walls of the Alhambra Palace. Mediterranean cuisine, a terrace with a garden and panoramic views, and the perfect reflection of Moorish architecture and Arab designs. Click here for more information and to check the latest prices.
Granada Cathedral
This is simply the fourth largest Cathedral in the world, an incredible personalization of the true meaning of Spanish Renaissance architecture and mixing with Gothic styles. This cathedral was built in 1523 and was actually the place of a previous mosque.
Royal Chapel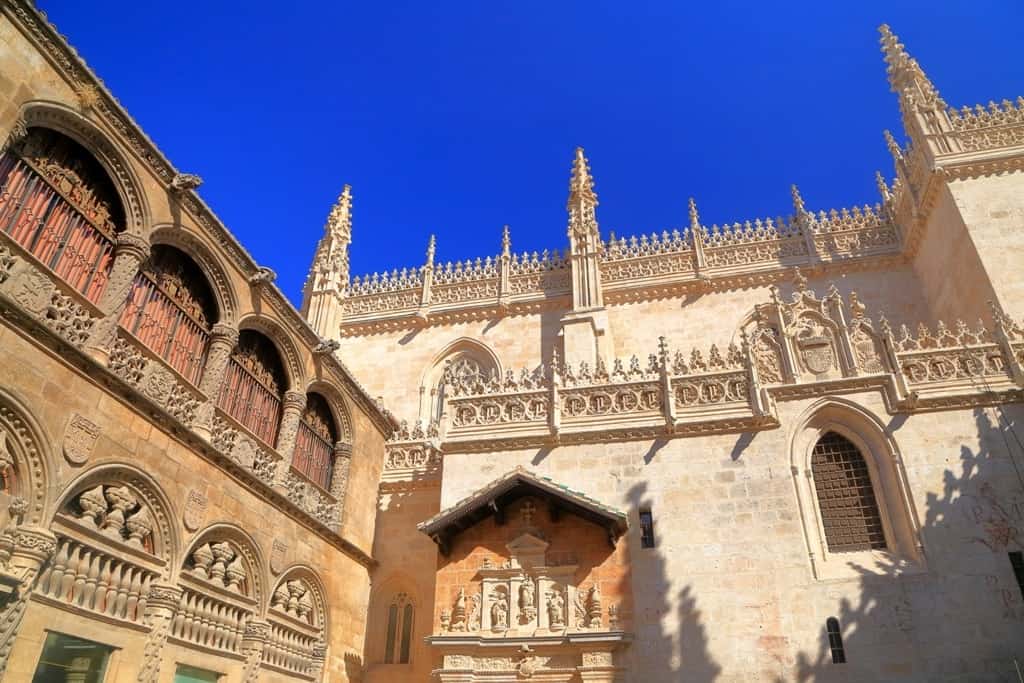 The Isabelline-style building contains the tombs of the monarchs: Isabel, Ferdinand and Juana, and Felipe. Intricate designs, gold altarpieces, and beautiful interiors all make the Royal Chapel a quintessential piece of Granada's architecture.
Albayzin Neighborhood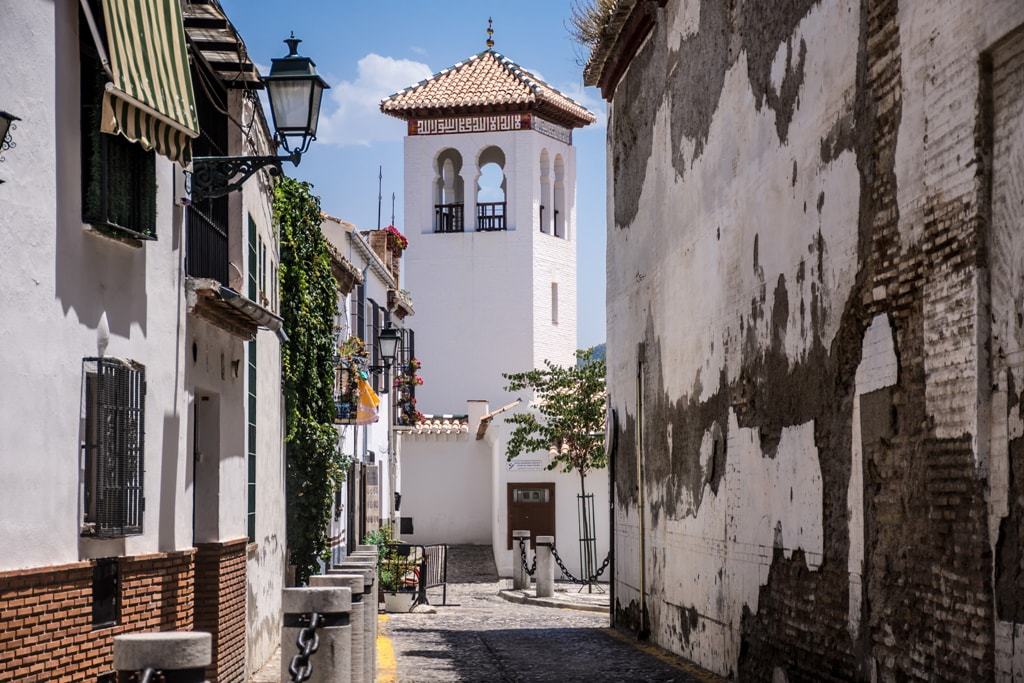 Head over to the Albayzin neighborhood after you're done exploring the church and the chapel. Get ready to be transported to one of the most typically Arab souqs in the world – one where the smell of Arab spices seeps through the thousands of clashing colors, and where you can have little strolls around spice shops, have the ultimate Arab experiences, watch traditional houses and get the typical smell of Arabian coffee.
Day 9 Granada
The Alhambra
A 700-year-old fortress, an icon of Spain, an icon of Islam and Christianity, and even of Europe – the Alhambra is one of the most magnificently striking monuments you will get to see in the world. Majestically standing over the city with the snow-peaked Sierra Nevada in the backdrop, the Alhambra is iconic in every way.
From the lush landscapes and the rustling leaves, there is no Muslim palace as old as the Alhambra, and you even get to indulge in the major history lesson you'll get just by being there. The palace was built in the 13th century, ruled by Nasrid Dynasty for 250 years, and then taken over later on.
You have to check out:
The Alcazaba (the oldest part of the fortress)
The Courtyard of the Lions
The Nasrid Palaces
The Sala de los Anencerrajes
Sala de los Reyes
Museo de Bellas Artes
Generalife
The Quran very accurately describes what heaven would look like, and it's a major part of the Islamic religion for all Muslims. That's why the Palacio de Generalife was modeled according to the depiction and description of paradise in the afterlife. The place is teeming with terraces, grottoes, flowerbeds, and fountains and is blessed with the backdrop of the Alhambra behind it.
Tip: The lines are usually big; to save time and get to see the Alhambra book your tickets and tour in advance.
Book your Skip-the-Line Alhambra & Generalife 3-Hour Guided Tour
Bañuelos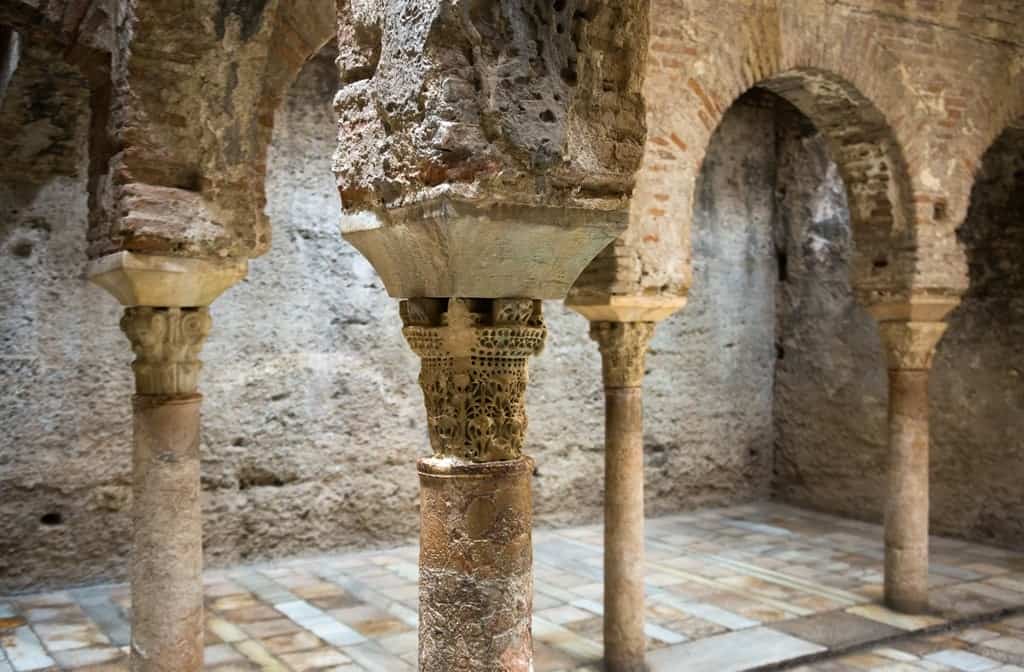 The Bañuelos was a major part of the Muslim community. That was where locals used to go hang out; people got haircuts, and women got a chance to actually get outside of the house. You can see the 11th-century Arab baths and also visit the three different rooms:
Plaza Nueva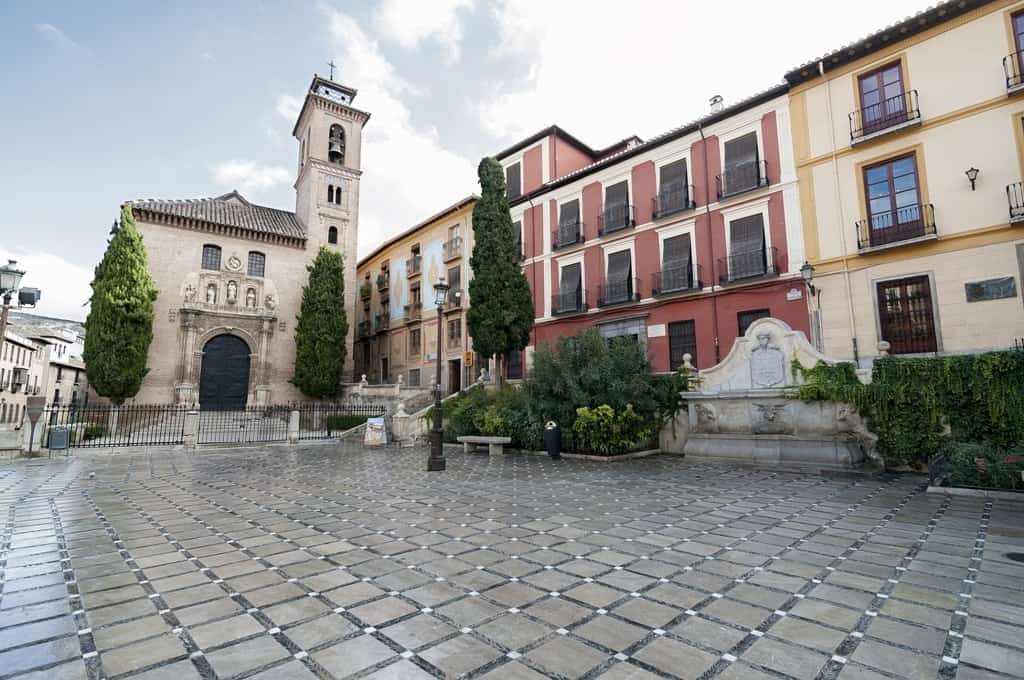 This is the oldest center in Granada and is the absolute center of the city from a touristic point of view. On one side, you have Torre de le Vela, and on the other you have Alhambra. It was formerly one of the most important parts of the cities and is now a meeting place with several fountains and cafés.
Check out: How to spend 2 days in Granada.
Day 10 Flight back home
This is the day you finally fly from Granada and Spain back to your home! I hope you enjoyed your 10 days in Spain and will come back for more.
TRAVEL TIPS
🚗 Rent your car in advance
with Rentalcars and make your trip as convenient as possible
✈️ Book your flight in advance
To find the cheapest flights and most suitable option, use WayAway
🧾 Get your tickets and tours
with Viator and get the most out of your journey