With nature blossoming in a profusion of marvelous colors and fragrances, May is one of the loveliest months in Europe. Many popular European destinations are as stunning as in the summer without being overrun by crowds of tourists.
Besides the pleasant weather and the affordable accommodation prices, many European cities host unique events in May, which can provide visitors with a much more immersive experience than typical sightseeing. If this appeals to you, but you still don't know where to go to Europe in May, this is a comprehensive list of our top choices.
Best Places to go to Europe in May 2020
London, England for the RHS Chelsea Flower Show
19th of May 2019 to 23rd of May 2020
Every year in May, one of London's most interesting neighborhoods becomes the host of a colorful, world-class event: the RHS Chelsea Flower Show. The world's best garden designers, plant specialists, horticultural experts, and florists combine their boldest and most innovative ideas to create stunning botanical displays on the grounds of the Royal Hospital in Chelsea.
This world-famous gardening event features original garden designs, exhibits of rare, exotic plants, and exuberant floral artworks, which attract around 150,000 visitors each year. Thankfully, you can be one of them.
Besides, a trip to London it's impossible not to be outstanding, considering the range of sights, landmarks, and events available in one of the world's most cosmopolitan and eclectic city. From museums and galleries to outdoor markets and hip neighborhoods, London packs all in.
You might want to check how to spend 7 days in London here.
Munich, Germany for the Springfest Frühlingsfest
23rd of April 2020 – 11th of May 2020
If you missed Oktoberfest but you are looking for a similar experience, Munich hosts Frühlingsfest in May. This is a springtime beer festival as fun as Oktoberfest but not as busy or overly touristic. Established in 1965, Frühlingsfest happens on a much smaller scale, with only two large beer tents, whereas the Oktoberfest features fourteen tents.
This is the only major difference, since the spring festival takes place on the same site as Oktoberfest, with the same joyful atmosphere and abundance of fun activities. Needless to say, if you go to Munich in May, you'll experience the best facet of the Bavarian capital and get the chance to bond with its fun-loving residents.
Outside the festival site, there are plenty of beer gardens to visit where you can sample beer from local breweries. The weather is also lovely so you can spend some time exploring Munich, one of Germany's most interesting cities, where you can find loads of things to do.
You might be interested in my 3-day Munich itinerary.
Cannes, France for the Cannes International Film Festival
12th of May 2020 – 23rd of May 2020
Renowned for being a place of cultural sophistication and artistic refinement, France has no shortage of interesting events, but nothing tops Cannes International Film Festival, one of the most prestigious film festivals in the world, taking place every year on the gorgeous city of Cannes, on the French Riviera.
Although most events are invitation-only, visiting Cannes in this period will bring you around the world's most popular filmmakers, actors, and celebrities from the entertainment industry. Parties, receptions, and screenings will run continuously throughout the city, some accessible to the general public as well.
If you cannot get on the red carpet, don't worry. There are plenty of things to do in Cannes. The city abounds in natural and cultural attractions and you can take your pick, from exploring chic historic neighborhoods to relaxing on the stunning beaches.
Oslo, Norway for Constitution Day
17th of May 2020
May is an excellent time to visit Norway, not just because the weather is lovely, but also because it is a great time to get a good glimpse into the Norwegian lifestyle by witnessing the National Holiday celebrations. On the 17th of May, Norwegians celebrate the Oslo Constitution Day.
On this date in 1814, Norway was officially declared an independent nation, but the National Holiday is less about nationalism and more about celebrating the country's unique heritage and culture with an open-air party. The most important moment of this special day is the children's parade when thousands of Norwegian children take over the streets dressed in traditional folk costumes, accompanied by marching bands.
The spectacular festivity includes people of all ages and the atmosphere is incredibly welcoming and joyful. If you visit Oslo in this period, don't forget that there are some amazing cultural and architectural sights in the Norwegian capital, including The Viking Ship Museum, the Oslo Opera House, the National Gallery, and the 13th-century Akershus Fortress.
Gardens of England – stately homes with gardens in Full Bloom
Although England is known for its unpleasant weather, surprisingly, the country is one of the best places to visit in Europe in May. With their centuries-old preoccupation for mastering the art of gardening, the English have some of the finest gardens in Europe and there is no better time to take a tour of the most beautiful English gardens than May.
It's safe to say that this is the month when flowers are in full bloom and can provide the most colorful backdrop to your photos. Moreover, hundreds of charming historic English gardens are open to the general public.
Designed in varying styles by top horticultural experts, the gardens combine lush landscapes with intoxicating fragrances and vibrant colors. Some of the most famous English gardens are Chelsea Physic Garden, Bodnant Gardens, Buscot Park, and Tresco Abbey Gardens.
Spain for the Camino de Santiago
Camino de Santiago has been a popular pilgrimage since the 9th century. Thousands of pilgrims make the journey on foot or by bicycle today, finding the experience one of the most fulfilling of their lives. Traveling the entirety of the Camino de Santiago from the Pyrenees Mountains to Santiago de Compostela takes around a month, but you are free to walk only the chunks that are most convenient to you.
During the summer months, Camino de Santiago is extremely crowded and scorching hot, so May is one of the best times to go on this popular pilgrimage. You will avoid the crowds, yet still, get plenty of company on the road.
Plus, wildflowers come out in this period and the lush vegetation will offer you a respite from the distractions of city life. In May, the picturesque landscapes of Northern Spain are even lovelier than usual and the weather is also very pleasant.
Bath, England for the Bath Festival
15th of May 2020 until the 24th of May 2020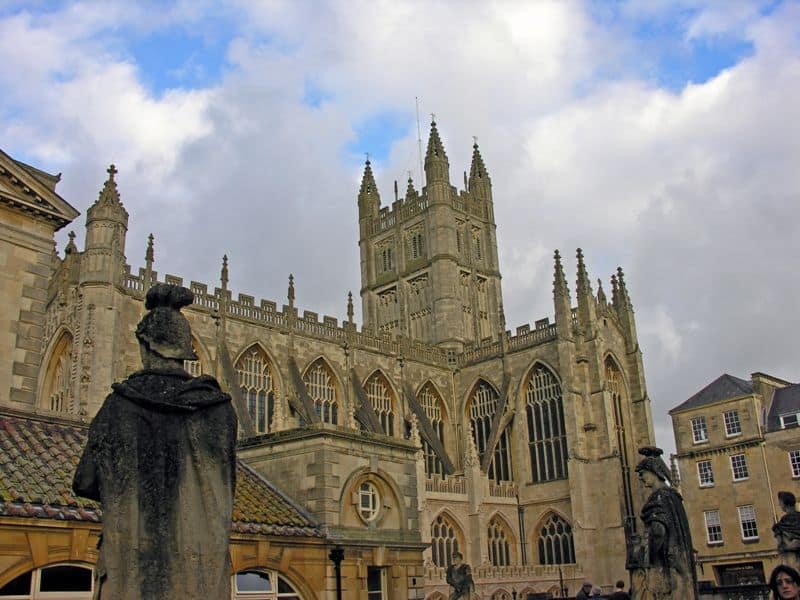 Due to its preserved Roman heritage, Bath is one of the most unique spots to visit in England, and if you want to explore this charming historic city, it's best to go in May when the city really comes to life thanks to the Bath Festival.
In 2017, the Bath International Music Festival merged with the Bath Literature Festival, creating this new eclectic hybrid known as the Bath Festival. A wide celebration of music and literature with over 130 events, the festival brings to the stage classical virtuosos, world musicians, and folk and jazz singers, both local and international.
Besides numerous concerts, the program includes film screenings, exhibitions, talks, and dance performances, many of them free. On top of that, Bath in itself is an amazing place, where you can visit the Roman Baths, a historic spa spanning millennia, the medieval Bath Abbey, and other architectural gems.
Check out: Things to do in Bath.
Madeira, Portugal for the Flower Parade
30th of April 2020 – May 24th, 2020
Madeira Island, which is a small Portuguese island situated in the North Atlantic Ocean is a perfect destination for any season, but one of the best months to visit is May. This is the month when the island celebrates spring, and its famous, beautiful Flower Festival.
Madeira Island Flower Parade
, or Festa da Flor, takes place each spring, and this year the exact dates are April 30th to May 24th. For a couple of weeks, every May, the island looks even more beautiful than ever. Small towns, as well as the main city – Funchal – are beautifully decorated with flower arrangements. There are concerts, performances, and exhibitions and on one of the main streets of Funchal, you will find a local flower market selling flower bulbs, exotic fruit, and local food and drinks.
The highlight of the festival is, however, the main parade, called Cortejo Alegórico. Local residents, adults and children alike, parade in their carefully prepared flower costumes through the main avenue of Funchal. They are dancing, singing and presenting their carefully prepared choreographies and amazing parade platforms and installations. The atmosphere is great, and both the spectators as participants are truly enjoying this special event. It is a beautiful and unique experience and it is worth to see it at least in a lifetime.
Athens, Greece
When considering May holiday destinations in Europe, Athens should be one of your top choices. Since in the summer Athens is unbelievably hot, spring is the best time to enjoy the Mediterranean sunshine without suffering due to extreme heat.
In May, Athens is sunny and warm, and there are no overwhelming crowds of tourists to navigate through. Also on the plus side, the accommodation and airfare are much cheaper. While there might be an occasionally chilly or rainy day, for the most part, the weather will be consistently good.
The long hours of daylight are a huge advantage since you will have plenty of time to explore the complex and rich heritage of Athens. Whether you prefer museums and archaeological sites, or bustling markets and scenic views, every experience is much more pleasant in May.
You might also be interested in: How to spend 3 days in Athens, what to do in Athens, where to stay in Athens.
Cruise the Norwegian Fjords
The Norwegian Fjords are a major attraction for nature lovers, outdoor enthusiasts and in general for people who love breathtaking scenery. Going on a cruise in May opens up amazing possibilities because the natural sights are more impressive in the spring when trees and flowers are in blossom and contrast with the snow-capped mountains, glaciers, and waterfalls.
Although it's still cold in May, avoiding the high season is a major plus when cruising the fjords because Norway is known for being highly expensive. Some of the most picturesque places are Stavanger, Flåm, Hardangerfjord, Geirangerfjord, and Bergen, and there is a wide range of cruises to choose from, from luxury to budget-friendly, with various lengths. The cruises start running in May and since they're incredibly popular, going at the beginning of the season will be less busy.
The Scottish Highlands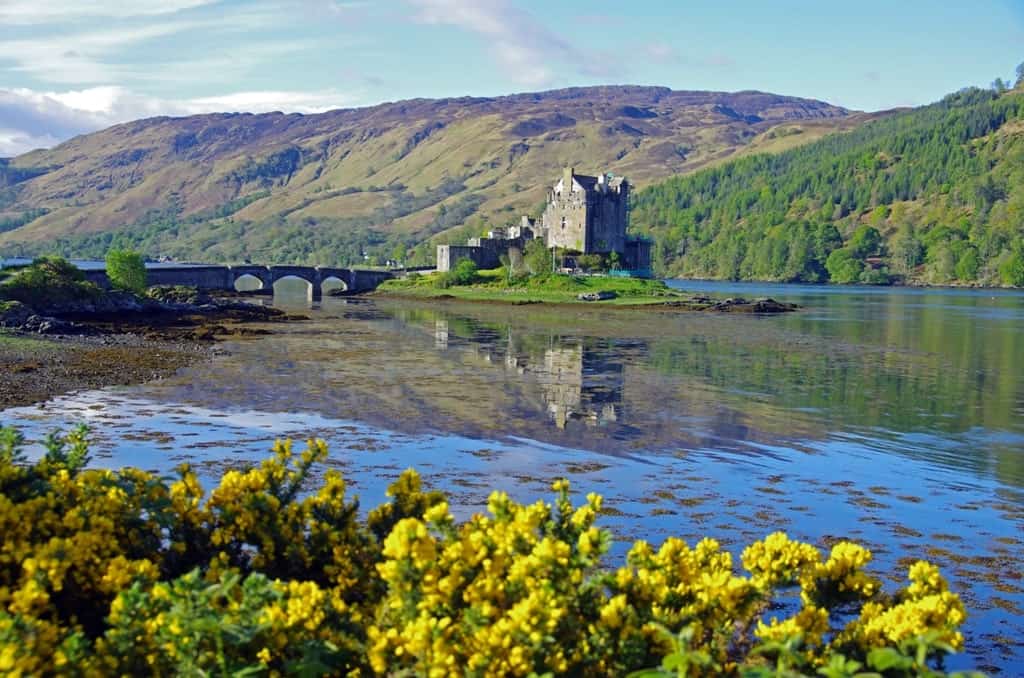 Rain is ubiquitous in Scotland, but April and May are the driest months, so if you plan your visit for May, you're going to enjoy the best weather and the most daylight hours. Although some spring showers are inevitable, the landscapes in the Scottish Highlands are gorgeous in May, with roaring waterfalls, green grass fields, and colorful wildflowers.
The scenic nature combined with the amazing historical heritage of the place and the renowned friendliness and hospitality of the Scottish will make your journey memorable. Going in May is overall the wisest decision you can make if you want to explore the best hiking trails undisturbed by the crowds.
Check out my post on how to spend 3 days in Edinburgh here.
If you're looking for places to travel in Europe in May, I hope you find this list inspiring. Whatever your final choice is going to be, a trip to any of these European destinations will prove a rewarding and refreshing experience. From nature to culture and history, Europe really has it all.
You might want to check out:
Where to fo in Europe in June 2020.
Where to go in Europe in July 2020.
Where to go in Europe in August 2020.
Where to go in Europe in September 2020.