September announces the end of summer in Europe when many are forced back to work or school. There are, however, plenty of reasons why September can be a great time for a holiday. If you're wondering why and where to go in Europe in September, you may be happy to discover that there are gorgeous destinations that are far more pleasant and inexpensive in September. Besides low prices, splendid weather, and fewer crowds, Europe in September hosts many unique festivals and events which can transform into memorable experiences.
Please note a lot of the below events have been canceled or might get canceled due to the COVID 19. 
I suggest that you also read the below posts for places you could travel in September in Europe.
Disclaimer: This post contains affiliate links. This means that should you click on certain links, and then subsequently purchase a product, I will receive a small commission. It costs nothing extra to you but helps keep my site running. Thank you for supporting me in this way.
Best Places to Go in Europe in September 2021
Munich, Germany for the Oktoberfest
18th of Sep 2021  – 5th of October 2021 (to be confirmed)
A legendary folk festival, Oktoberfest attracts millions of visitors to the beautiful Bavarian city Munich for what counts as probably the largest celebration in the world dedicated to beer. Spanning a bit over two weeks, the festival begins, despite its name, in September, and takes place in a meadow outside the city center, called Wiesn, where massive tents are set up.
During these two weeks of continuous partying, fun-loving Bavarians and enthusiastic tourists consume millions of liters of beer from local Munich breweries and a similarly impressive number of traditional grilled sausages and giant pretzels. Besides drinking and eating, there is also a lot of dancing and singing involved.
The festival features bustling parades of carriages and people dressed in traditional Bavarian costumes, live folk music, and fairground rides. In addition to being the host of Oktoberfest, Munich is popular on its own, boasting a wealth of attractions, including world-class museums and art galleries, charming architectural gems, and a vibrant nightlife.
Where to stay in Munich
Hotel Excelsior: The Hotel Excelsior is located in Ludwigsvorstadt and is situated near many iconic city spots. This modernly designed hotel incorporates many historical elements into it which adds a unique atmosphere. The hotel allows pets to stay and features a restaurant that has a special vaulted roof which is designed to make you feel as if you're sitting in a German beer hall. There's even a wine shop where you can visit and cooking classes you can sign up for. The rooms here each have their own unique flair like the Alpine Room and JS Classic and offer spacious bathrooms and helpful amenities like Wi-Fi.
Arthotel Munich: Located in Ludwigsvorstadt, the Arthotel Munich is situated near the Munich Central Station and features creative pop art pieces throughout it. The rooms here have soundproof walls, free Wi-Fi, and minibars. The hotel also has a restaurant that serves many mouthwatering dishes you can try. You can even spend some time wandering around the hotel looking at the art exhibitions it has scattered around it. Besides fantastic art, the hotel also offers a gym and bar you can use.
You might be interested in: How to spend 3 days in Munich.
Basel, Switzerland for the Art Basel
23rd of Sep 2021 – 26th of September 2021
A week that celebrates all that is great in art. Basel has played host to this annual event where the art world gets together in the City all that time and it has grown along the way.
Events are held throughout the week in the City and the surrounding region with modern and contemporary art on view from all over the world. As many as 4,000 artists are represented with a selection of gallerists available in person or on video to reveal their story. It is a truly international event which art lovers should visit at least once on their travels.
Venice Italy for the Regata Storica
5th of September 2021 (to be confirmed)
If you're searching for an authentic, unique experience, Venice is one of the best places to visit in Europe in September due to an event known as the Regata Storica. Consisting of a historical boat parade, followed by a series of rowing races, the Regata Storica is one of those traditions that Venetians hold most dearly.
In fact, regattas have always been an important part of the history of Venice, with the first records about this type of event dating from the 13th-century. The Regata Storica, however, was first organized in 1841, as an annual boat race on Canal Grande, with the goal of allowing the best gondoliers to show off their skills.
Today, thousands of boats of all types gather in St Mark's Bay to participate in the most popular race of the event, the gondolini regatta. If Venice is on your bucket list, this is a great time to visit to immerse yourself in the magic of the city.
Where to stay in Venice
Hotel Al Codega: This hotel has been rated as one of the best over and over again and it's a great choice if you want to immerse yourself in a little bit of art and culture. This hotel has one of the best locations in Venice and also offers normal amenities – heaters, flat-screen TV, and much more.
Hotel Rio:Hotel Rio is right in the center of Venice, so of course, you're in extreme proximity to attractions like the Rialto Bridge and Venezia Santa Lucia Train Station. This is a perfect place to stay in if you're in Venice to shop and the hotel has a satellite TV, WiFi, toiletries and a hairdryer.
Check out: my 2 day Venice Itinerary.
Barcelona, Spain for the Festes de la Merce
22nd of September to 26th September 2021 (to be confirmed)
Every year around the 24th of September, Barcelona hosts its biggest annual festival in honor of Mare de Déu de la Mercè, the Patron Saint of Barcelona. Les Festes de La Mercè, as it is known in Catalan, has been the official city holiday since 1871.
A lively street party lasting five days, La Mercè features hundreds of large and small events centered on Catalan culture and heritage, and not only. One of the most interesting traditions is the parade of the Devils, which are groups of locals dressed up in various scary costumes who run up the streets with handheld fireworks.
Another highlight of the festival is the fire runs, or Correfoc. A tame version of the performance is dedicated to children while in the evening, adults can enjoy a much more complex show. There are also numerous live music shows and parades that keep the atmosphere animated at every moment. Besides the festival, there are plenty of things to explore in Barcelona, from the amazing architectural works of Gaudi to beaches and flamenco bars.
Where to stay in Barcelona
Petit Palace Boqueria Garden: Situated right in the Boqueria of Barcelona, one of the most important monuments of the city, the Petit Palace Opera Garden is a gorgeous hotel with all the amenities needed and a central location. It's simple, beautiful and has a genuine atmosphere to it. You have an area with a buffet, a picturesque courtyard, and modern furniture.
Ciutat de Barcelona: Huge sunlit windows, a rooftop terrace, a swimming pool and all amenities you might need in a hotel, the Ciutat de Barcelona is a 15-minute walk from the beach and only 1 minute away from the Gothic Quarter. The perfect location and the best of both worlds. It even has a tapas-style restaurant where you can have all meals.
Galway, Ireland for the International Oyster Festival
24th of September 2021 –  26th of September 2021
The Galway International Oyster & Seafood Festival is the second most famous Irish festival after St. Patrick's Day and one of the longest-running food festivals on the continent. This popular festival welcomes visitors with an outstanding variety of mouth-watering events, such as oyster opening championships, oyster-eating competitions, cooking demonstrations, cooking contests, culinary tours, and food tasting in some of the finest restaurants in the city.
During the festival, Ireland's best musicians come up on stage as well. The program includes the World Oyster Opening Championship, a Marty Grass Party, and a beauty contest, among other exciting events. The newest addition to the festival is a Seafood Trail which takes guests to the city's best restaurants where they can serve locally inspired cuisine and various delicacies.
The festival has already a long tradition, and the number of participants who seem to love the combination of oysters and champagne grows every year. Eating delicious food while exploring Ireland's most artistic city is a great combination as Galway is known for its amazing folk musicians and great traditional Irish pubs.
If you're a foodie, Galway is one of the best places to experience in September. Seafood- see food, eat food.
Berlin, Germany for the Lollapalooza
4th of September 2021 – 5th of  September 2021
Originally from the USA, Lollapalooza is a music festival that has been taking place in various locations in Berlin during the past few years. The festival is hugely popular and manages every year to surpass everyone's expectations with quality acts by internationally famous bands, DJs, and solo artists.
The program is highly versatile, trying to match all preferences and there is a great selection of entertainment going on at the same time so guests can choose their favorites. Incredible dancers perform in the background. Besides music and dancing,
Lollapalooza also features art corners and creative spaces where guests get lost exploring the beautiful designs and creating things by themselves. Some of the highlights are Fashionpalooza and Lolla Fun Fair with incredible performances from acrobats and actors.
Where to stay in Berlin
Hotel Johann:This charming hotel is on a quiet side street near the Landwehr canal in Kreuzberg. The rooms are comfortable, with a mix of modern and vintage décor. Great breakfast as well!
Regent Hotel:If five-star luxury hotels are more your style, then check out the Regent Hotel. This hotel has elegant furnishing, impeccable service, and a fabulous location directly overlooking the historic Gendarmenmarkt.
You might be interested in: How to spend 4 days in Berlin.
Budapest, Hungary for the wine festival
23rd of September 2021 – 26th of September 2021
The Budapest International Wine Festival is dedicated to world-renown Hungarian wines, but it's not an event exclusively for wine lovers. People interested in gastronomy, local traditions, and cultural programs find the festival wonderful as well. Held on the grounds of the beautiful Buda Castle, with stunning views over the city, the festival quickly seduces participants with its unique historical setting.
The International Wine Festival has slowly become a prestigious event on Hungary's cultural agenda due to its expansive program, which includes wine auctions, artistic performances, and live folk music. Guests get the chance to discover the art of winemaking and to sample excellent Hungarian wines and delicious culinary specialties. Each year, the festival focuses on a guest country's wine culture.
The main highlight, however, is the Harvest Procession to the Buda Castle. Outside the festival grounds, it's worth checking out the famous thermal baths of Budapest, the amazing Gothic architecture of the Parliament, and the numerous historical and cultural sights that the Hungarian capital packs up.
Where to stay in Budapest
Hotel Kempinski Corvinus: I had the pleasure of staying at this stylish hotel. It is in a great location; only minutes walk from the station. Within the hotel are restaurants and bars as well as a spa, an indoor pool, and a gym.
Hilton Budapest: Formerly an old 13th-century monastery, this hotel is located opposite The Fisherman's Bastion and provides full amenities including a restaurant, bar, gym, and sauna.
Check out: How to spend 3 days in Budapest.
Lisbon, Portugal
Due to its geographical position on the western coast of Europe, Lisbon is the sunniest capital on the continent, which makes it one of the most perfect September holiday destinations in Europe. Even though the high season is almost over, the weather remains splendid with an abundance of sunshine all throughout September.
While it does start to cool off a bit, going to the beach is still feasible until at least the middle of the month. The main advantage is that with fewer tourists, you will enjoy significantly lower prices and shorter waiting times at restaurants or at various attractions.
Sightseeing is definitely more pleasant in September and since Lisbon is one of Europe's most vibrant capitals, you can still enjoy a lively atmosphere, especially in places frequented mostly by locals, such as Barrio Alto and Alfama.
You might want to check out: 4 days in Lisbon.
Greek islands
In the Greek islands, September is seen as the last month of the summer season, and if you want to avoid scorching heat, massive crowds, and high prices, this may be the perfect time to visit. At the beginning of September, crowds start to slowly dissipate and the temperatures are milder, which means that September is one of the most pleasant and serene months in the islands.
Although transportation schedules start to change around September 15, this is also the period when many cruise lines offer generous discounts before ending the European season and moving to warmer climates for the winter. Hopping from island to island can be, therefore, much cheaper in September.
Moreover, most of the islands enjoy at least 11 hours of daily sunshine, which makes outdoor activities that were impossible in the heat of the summer be an ideal option in September.
You might also like:
Amalfi Coast, Italy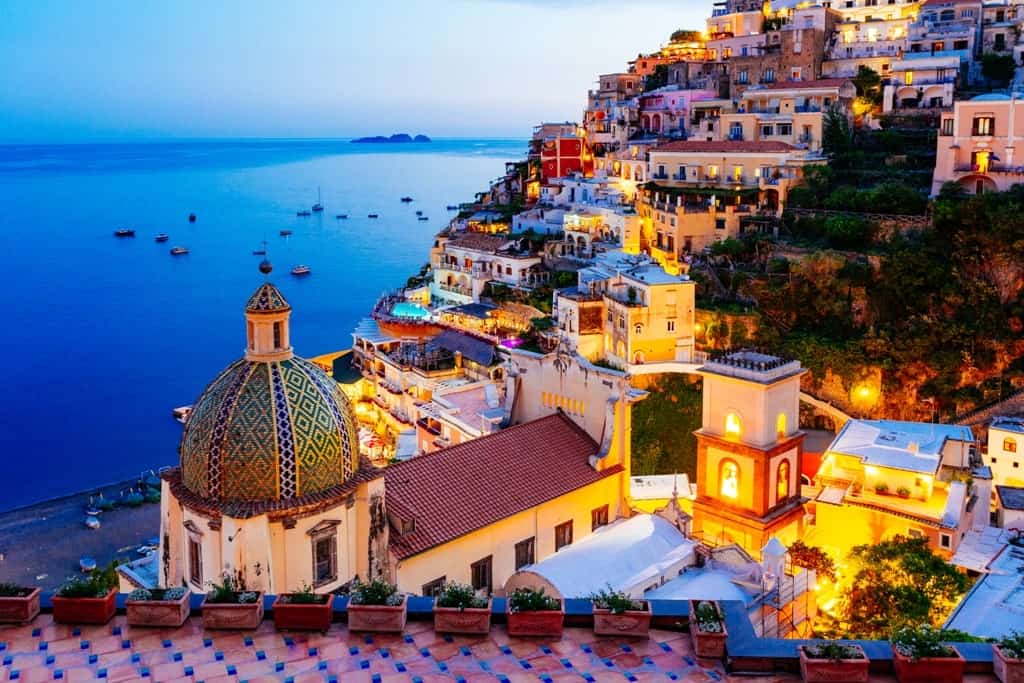 September is considered the end of summer holidays in Italy, but if you want to visit the Amalfi Coast, this is great news because it means you can enjoy some relative peace and tranquility during your visit. A trip in September means far fewer crowds and reduced prices. Although towns and villages along the coast quiet down, hotels, restaurants, and bars are still open.
All the things that make the Amalfi coast so splendid, such as the scenery, the wealth of history and culture, and the delicious cuisine, can be more comfortably enjoyed in September. The weather remains pleasant throughout the month, and the water is warm.
While it does start to slowly cool off, it's still warm enough to go to the beach and swim in the sea. Expect, however, cool evenings. The huge plus is that avoiding peak prices means you can spend more time on the trip on the same budget.
You might also be interested in:
Castle hunting in the Rhine River, Germany
A visit to the Rhine River region in Germany will reveal an impressive range of fabulous castles that will transport you back in time. From medieval fortresses to highly elaborate architectural wonders, the surprises abound as there are more than 50 castles, palaces, and stately homes to discover in the area.
The romantic beauty of the Rhine and its castles is even more enchanting in September due to the changing colors of the landscape as autumn approaches. One of the best ways to explore the castles is to take a cruise along the Rhine.
Around each bend of the river, you will discover a new castle, surrounded by woodland, vineyards, and green hillsides. The most beautiful palaces are Augustusburg and Falkenlust, both listed as a UNESCO World Heritage Site.
Click here for the best castles in the Rhine.
If crowds and heat deter you from visiting some fabulous places in Europe, going in September is one the best solutions. A European city-break in September will always be much more rewarding and tranquil, and you won't break the bank for it.
You might also like: