September is an idyllic time to visit the Greek islands whether you want a last-minute top-up on your tan, one last chance to partake in some epic island nightlife, or simply some time to unwind amongst nature before the chill of winter takes hold.
You might think you could pick any Greek island and come out trumps, but with 227 Greek islands to choose from, each with their own characteristics, and varying open seasons, it's not quite that simple, that's why we've compiled this list of best Greek islands to visit in September.
9 Greek Islands You Can Visit in September
1. Milos
Do you want to be in a Greek island where you can enjoy a peaceful and relaxing escape away from the hustle and bustle of other tourists? Milos might be the island for you! Less crowded than the likes of Santorini and Mykonos and cheaper too (even in peak Summer!), beautiful volcanic Milos is a paradise for visitors looking to kick back and relax in nature.
Milos is known for its beautiful beaches and has more than 70 black, red, and golden sand beaches to choose from. The moonscape of Sarakiniko Beach and the rock formations at Kleftiko are must-visit places and with sea temperatures remaining high at 23c in September, there's no better time to swim, snorkel, or scuba-dive.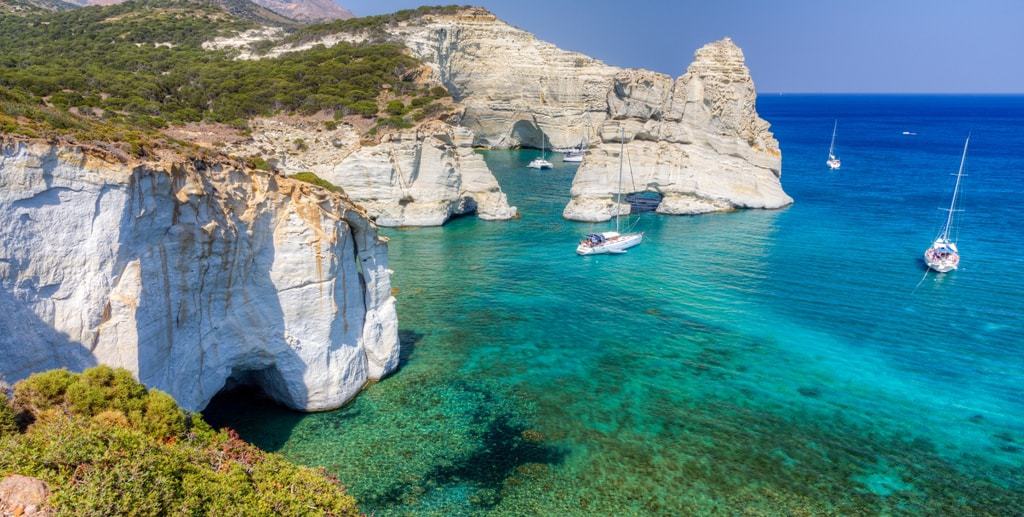 Culture vultures might find themselves a little bored on Milos as there aren't that many museums or historical sights of interest but if you're happy to spend your days pottering around the picturesque towns and villages, hiking in the countryside, soaking up the sun on the beach, taking a wine tour, boat excursion, and enjoying leisurely lunches and dinners you'll be in heaven.
The resort towns on Milos do start to shut down from the middle of September so if visiting in those last 2 weeks you should expect tavernas and shops to be closed or offering limited services but the main town of Chora is always bustling and the port town of Adamas still a delight.
Daytime temperatures in September are warm enough for sunbathing with highs of 26c but you might want to pack a sweater for the evening as temperatures can dip to 20c. It's unlikely that you'll get any rain but you should be aware that the strong Meltemi winds that plague the Cycladic islands from May are still around until mid-September lasting 2-3 days at a time.
Check out:

What to do on Milos Island
The beaches in Milos
The best areas to stay in Milos
2. Ios
A party island during July and August when the 18-25 backpacking crowd descend, Ios returns to its sleepy roots in September welcoming a more mature group of travelers in the 35+ age bracket though if you search for it, the nightlife can still be found in the narrow backstreets of Chora. Just don't expect any epic beach parties after the first week.
With daytime temperatures still reaching 26c, the perfectly picturesque backstreets of Chora are delightful in September if you hate crowds during the day.y You'll have these steep winding streets pretty much to yourself – A photographer's dream come true.
After perusing the boutiques which have their end-of-season sales in September, make your way up to the church of Panagia Gremiotissa and the 4 hilltop churches to take in the amazing view – This is the iconic spot for sunset but it's equally jaw-dropping during the daytime too.
You can also visit the ruins of Skarkos, see the old windmills, visit the amphitheater, and pop into the archaeological museum. When you've had enough of the sleepy September streets, head down to the port and people watch as the ferries arrive and depart or indulge in beach time – the sea temperature still reaching 23c-24c during the afternoon.
Ios can feel sparse since Chora is the town where everything is concentrated, this not helped by the very limited bus service which only runs between the port, Chora, and Mylopotas Beach. So, if you want to explore off the tourist trail and find a hidden cove all to yourself, you'll need to use your own steam either by hiking there or hiring a quad bike.
Check out:

Things to do in Ios
Best Beaches in Ios
3. Mykonos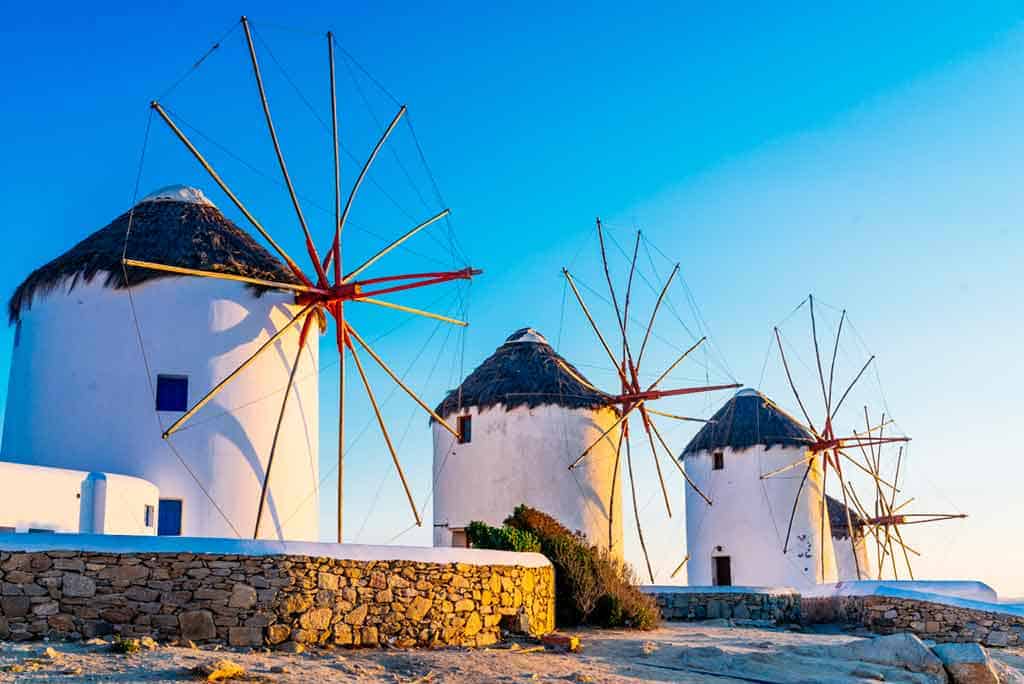 The top spot for non-stop partying in Greece from June-August, cosmopolitan Mykonos shows visitors its serene side in September with the end of party season in sight resulting in a less crowded, more relaxed island with prices dropping significantly though not temperatures with highs of 28c still to be expected.
September in Mykonos provides visitors with that perfect goldilocks effect – not too crowded and not too quiet. If you want one last chance to party at Paradise and Super Paradise beach or in one of the large clubs, get to Mykonos early to mid-September before party season closes.
On the other hand, it's not difficult to avoid the party places but for the quieter experience, visit at the end of September, unlike the smaller islands you'll find things stay open until the last week of the month.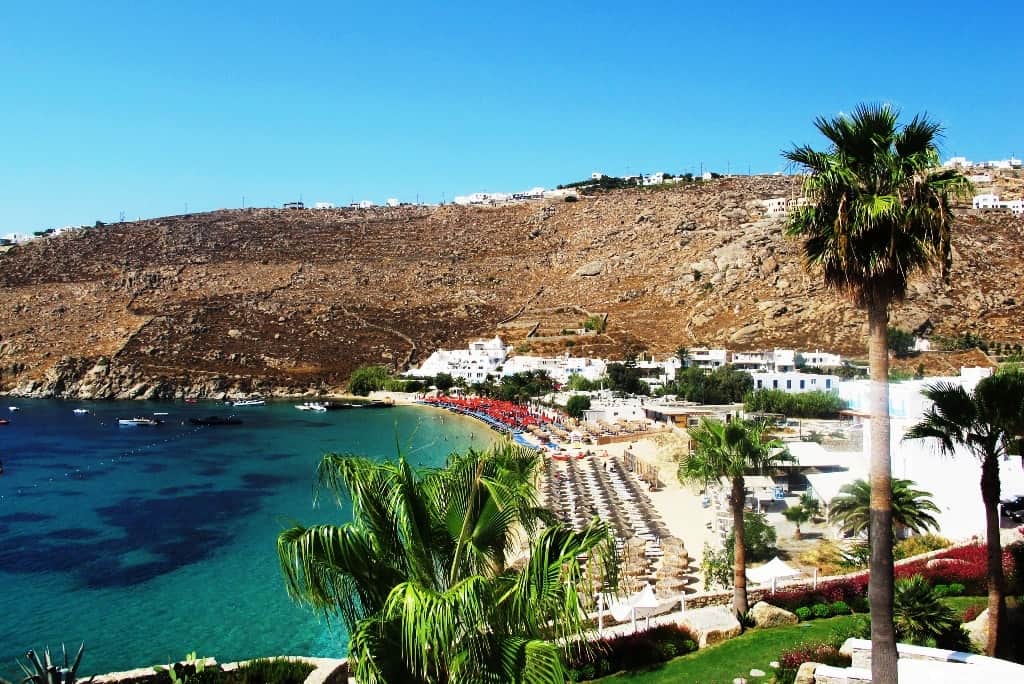 The maze of white-washed cobbled streets in Mykonos Town are near impossible to enjoy properly in July and August due to overcrowding, but in September you can truly appreciate these quint-essential Greek streets including the iconic waterfront area named 'Little Venice', the place to watch the sunset.
Mykonos' most picturesque and peaceful beaches are North of Mykonos Town so hire a car or quad and find your own piece of secluded sand for the day at Agios Sostis Beach or Fokos Beach – Water temperatures are ideal at 25c, just perfect for swimming and snorkeling, or you might even enjoy some surfing at Ftelis Beach if those Meltemi winds hit.
Check out:

What to do in Mykonos
Where to stay in Mykonos
The best beaches in Mykonos
3 days in Mykonos
Mykonos on a budget
4. Thassos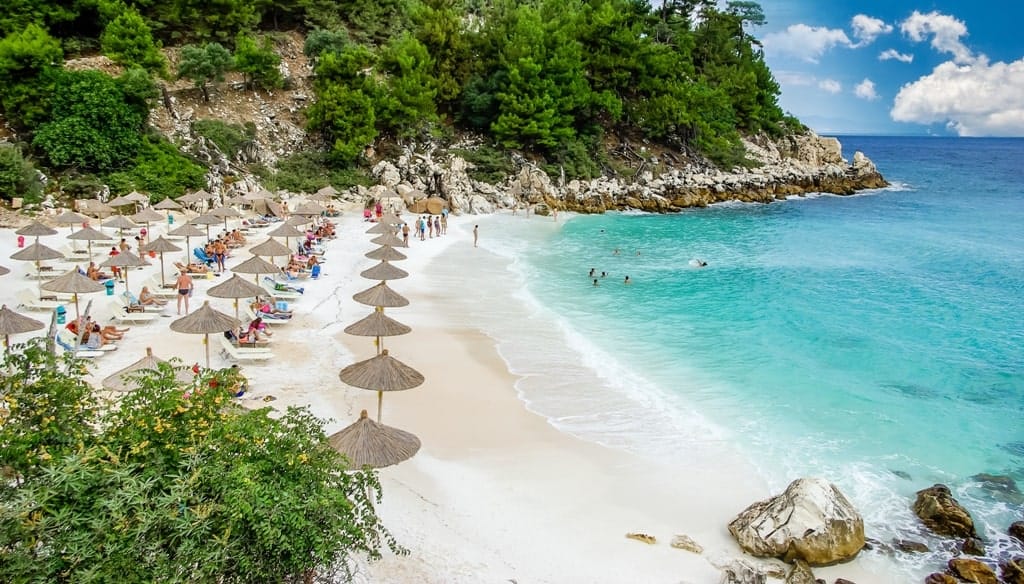 The most Northerly island in Greece, Thassos is one of the last remaining hidden gems of the Greek Islands. Compact yet packed with variety – things for the history-loving culture vulture, the hiker, road-tripper, and beach babe – Thassos is a picturesque island to escape to when you want that quintessential Greek experience without the hoards of other tourists spoiling the occasion.
Due to its location, the dry, sunny season on Thassos is shorter than the islands in the South, therefore, the later you visit, the iffier the weather. Temperatures range between highs of 24c and lows of 14c with the weather generally a lot nicer in the first half of the month than the second when cooler, cloudier days are to be expected with some rain and wind.
Sea temperatures are still high throughout September though at 24c so even if it's not warm enough for a suntan, it'll be warm enough for a swim.
Thassos Town which is also known as Limenas is open all year so if you're worried about tourist resorts being too quiet for your liking, stay in the main town – Here old and new merge together with the old city walls and remains of Grecian temples coinciding happily with the modern world.
There is a regular bus service to the towns/villages around the island thanks to the coastal ring road though, from the middle of the month, services do decrease so a hire car can provide more freedom to see the ruins at Aliki Beach, Archangelpos Monastery, the remains of the medieval castle at Theologos, and the old marble quarries in the South-east.
For hikers, the island is crisscrossed with trails – use the village of Panagia as your gateway to exploring forests that perch on the side of Mount Ipsarion.
You might also like: Things to do in Thassos.
5. Naxos
The largest of the Cycladic islands, Naxos has something for everyone. Beach lovers will want to explore the South East coast with its pristine cedar wood beaches but if the Meltemi winds are blowing (a possibility until the middle of September) and you don't relish the thought of sand blowing in your eyes, find shelter below the chapel of St George at Agios Georgios of Aliko beach.
Naxos, like other Cycladic islands, does start winding down towards the end of September but if you're staying in Naxos Town (Chora), you'll still find enough to see and do – Start off by exploring the cobbled backstreets around the Venetian Castle area known as Kastro before making your way to the iconic Portara for sunset – the 'doorway' ruin from the unfinished temple of Apollo.
Hikers will find plenty of hiking trails passing through the scenic mountain villages, but you can also hop on a bus or in a hire car to admire the scenery with a visit to the picturesque villages of Halki, Filoti, and Apiranthos.
Archaeology fans will want to visit the 2 Kouros Statues on the island and there's also the Temple of Demeter but check bus times carefully as from the middle of the month they will be reduced and you could find yourself stranded at one of these places for more hours than you'd like.
In September, you can expect temperatures to reach 25c with the nights dropping to 20c – At the start of September there's still plenty of sunshine to enjoy and the sea temperature is still high at 23.5c ensuring plenty of swim time but as the month progresses you do run the risk of encountering some overcast days and a sweater or jacket, especially once the sun sets, is highly recommended.
Check out: 

What to do in Naxos island.
Where to stay in Naxos.
The best beaches in Naxos. 
6. Paros
With the same weather conditions as next-door Naxos, this slightly smaller island provides that quintessential peaceful Greek escape but also provides nightlife in the fishing village of Naoussa, the bars remaining open here until mid-September should you seek a last-minute dose of island fun.
Parikia is the main town on Paros, a maze of picturesque white-washed streets with snoozing cats, souvenir shops, cozy cafes, and bright bougainvillea flowers all hidden behind the commercial waterfront. It's here that you'll find the famous Byzantine 'Church of 100 Doors' (Panagia Ekatonapiliani) from the 4th century and the archaeological museum.
The fishing village of Naousa, with its idyllic backstreets and inner harbor, becomes a party place at night and is still bustling in early September, but by the middle of the months, the nightlife scene has moved to Parikia leaving Naoussa much like a ghost town, albeit a very pretty one!
Unlike other party resorts in Greece, Naoussa is well worth visiting during the daytime – there's little sign of the party scene save for the closed bars and clubs so don't be scared off from visiting!
Visitors can explore the hilly interior on foot by following the farmer's trails that criss-cross the island – the Lefkes-Prodromos trail is a short 1-hour walk along paved marble stones perfect for an introduction walk, alternatively explore the island by horseback, Naxos having not one but two horseback riding centers.
There is a good bus service to the villages on the island, though a reduced service from the middle of the month. A trip to the village of Lefkes is recommended, and for history fans, a visit to the marble quarries of Marathi – famous for the extraction of Parian marble from the 3rd millennium BC right up until the 19th century.
Check out:

Best things to do in Paros
Best beaches in Paros
Day trips from Paros
Paros or Naxos?
7. Kefalonia
Becoming popular after Captain Corelli's Mandolin was released at the cinema, Kefalonia is a gorgeous island located in the Ionian Sea west of the mainland. Made up of golden sand beaches, sapphire bays, and white cliffs with a rugged mountainous interior, September is the perfect month to explore this island when it's cooler, less crowded, and less costly too!
Kefalonia benefits from a slightly longer season than the Cycladic islands though being on the West side of Greece it does experience more rain and storms earlier in the season.
When packing you should prepare for some short yet sharp rain showers during the day with thunderstorms overnight, especially if visiting from the middle of the month. Don't despair though – it's warm rain with temperatures reaching highs of 25c and sea temperatures the same so you'll still get sun and swim time. The rain showers can be very localized meaning it could be stormy in Lassi but sunny in Skala so consider hiring some wheels to escape the rain clouds.
Argostoli, the capital of Kefalonia, is nestled on a hillside overlooking a stunning narrow harbor and makes the perfect base for most travelers who plan on spending their days' sightseeing, however, the cosmopolitan fishing village of Fiscardo can also provide a tranquil stay.
A day trip to the village of Assos is a must along with a trip to Myrtos Beach, the most iconic beach on Kefalonia with its limestone cliffs and white sand and pebbles. In stark contrast to Myrtos Beach, Xi Beach also has to be seen with its reddish-brown sand set against the white cliffs – Do as the locals do and give yourself an exfoliating mud bath right there on the sand!
A range of events take place in Kefalonia throughout September with the Ionian VolksFest running until the 4th September, a range of concerts and events taking place at the Municipal Theatre of Argostoli, and a number of feast days and religious events, September is a wonderful time to immerse yourself into Greek culture rather than purely exploring the touristic side.
Check out:

Things to do in Kefalonia
Where to stay in Kefalonia
The best beaches in Kefalonia
8. Zante
Otherwise known by its Greek name Zakynthos, Zante is the third largest island in the Ionian Sea. Similar to nearby Kefalonia with its limestone cliffs with white, golden and, brown beaches, Zante, however, provides something for everyone with peace and picturesque scenes as well as some amazing party places.
Party animals will still be able to catch the buzz of Laganas if visiting in the first 2 weeks of September, the clubs won't be buzzing as they were in July-August but there are plenty of end of season events to enjoy up until the 15th – Be sure to book tickets for the Rum & Raybans end of season boat party! If visiting in the 3rd week of September and beyond you'll find Laganas growing more and quieter by the day but the lively resort of Tsilivi remains open until October.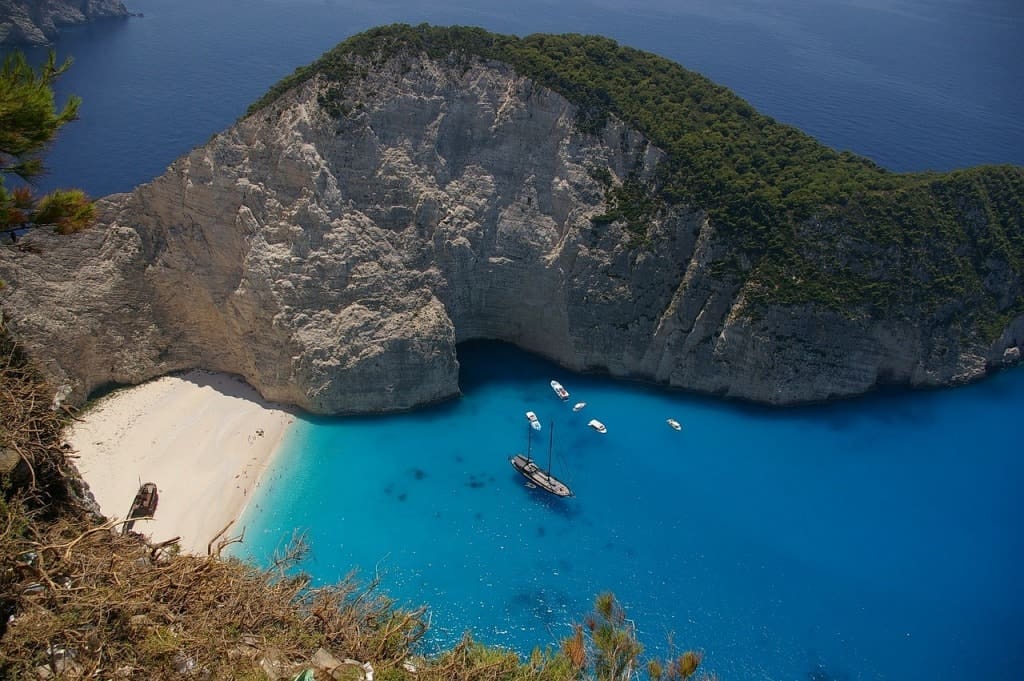 The weather in September starts off glorious with highs of 28c though the temperature drops at night with lows of 14c and a noticeable difference in weather between the first 2 weeks and the last 2 when some short yet sharp rain showers should be expected along with some overcast mornings though the cloud cover has usually burnt off by midday allowing a tanning session on the beach some afternoons.
Two of the most memorable things to do on Zante are to take a boat trip around the island and to visit Navagio Beach aka Shipwreck Beach which is the most famous beach on the island, only accessible by boat. September makes a great time to visit this iconic picture-postcard beach as it can be overbearing in August since there is no natural shade and the sand/rocks are burning hot. You also benefit from fewer crowds – perfect for getting those postcard shots.
Check out:

Things to do in Zante
Best beaches in Zante
9. Corfu
Known as Kerkera by the locals, Ionian Corfu is a unique Greek island due to its blend of Italian, French, and British heritage – Nowhere else on Greece will you find the islanders playing a game of cricket! In fact, it's Venetian heritage almost lets you enjoy a 2 for the price of 1 vacation as you look out across the terracotta tiled roofs thinking you're in Italy whilst tucking into a tasty Greek salad – truly the best of two countries rolled into one and best of all, no early closures, Corfu remaining open for business through September and beyond.
Chic and elegant, Corfu Town has something for everyone but culture vultures will find themselves truly spoilt for choice – Walk around the 26-hectare palatial estate of Mon Repos taking in the sights and smells of the gardens, explore the winding backstreets, look down on the town from the viewing platform at the Church of Saint Spyridon, and then, if you're not ready for the beach, hit up the wealth of museums – seriously, there's so much to do here that you won't get bored.
Temperatures on Corfu in September range from highs of 28c during the day but drop down to lows of 17c at night so a sweater should be packed. Short yet sharp rain showers should also be expected as the weather is changeable in September – one minute you're laying on the beach topping up that tan, the next you ask yourself where the sun went as you run for cover or dive into the sea, water's water after all!
This rainfall makes Corfu a very green island, so much so that it's known as Greece's emerald island, and mid to late September is a glorious time to explore it whether you're on foot or have a hire car. The picturesque Venetian streets in the mountain village of Palia Peritheia are a delight to explore since the oppressing heat and crowds of tourists are a thing of the past in September.
Check out:

Things to do in Corfu
The best beaches in Corfu
Hikers can begin their journey along the trails to the summit of Mount Pantokrator from this picturesque village too but if you want the views without the effort, just head to Mouse Island aka Pontikonisi or take in the views from Kalami which are sure to remind you of the Italian Lakes.
Check out more guides to the Greek Islands:

Best Greek Islands to visit in October

Best Greek Islands to spend your honeymoon

Best Greek Islands for families with kids

Best Greek Islands for Couples

Best Greek Islands for Beaches

Best Party Places to visit in Greece.