It goes without saying that a Greek Island honeymoon will be remembered for a lifetime thanks to the stunning scenery with crystal clear waters, golden or white sand beaches, fine-dining, and unbeatable Greek hospitality. But with each island having its own distinct identity just as you do, you'll want to make sure you and your island are as much a match made in heaven as you and your beloved are.
10 Islands to Spend Your Honeymoon in Greece
1. Santorini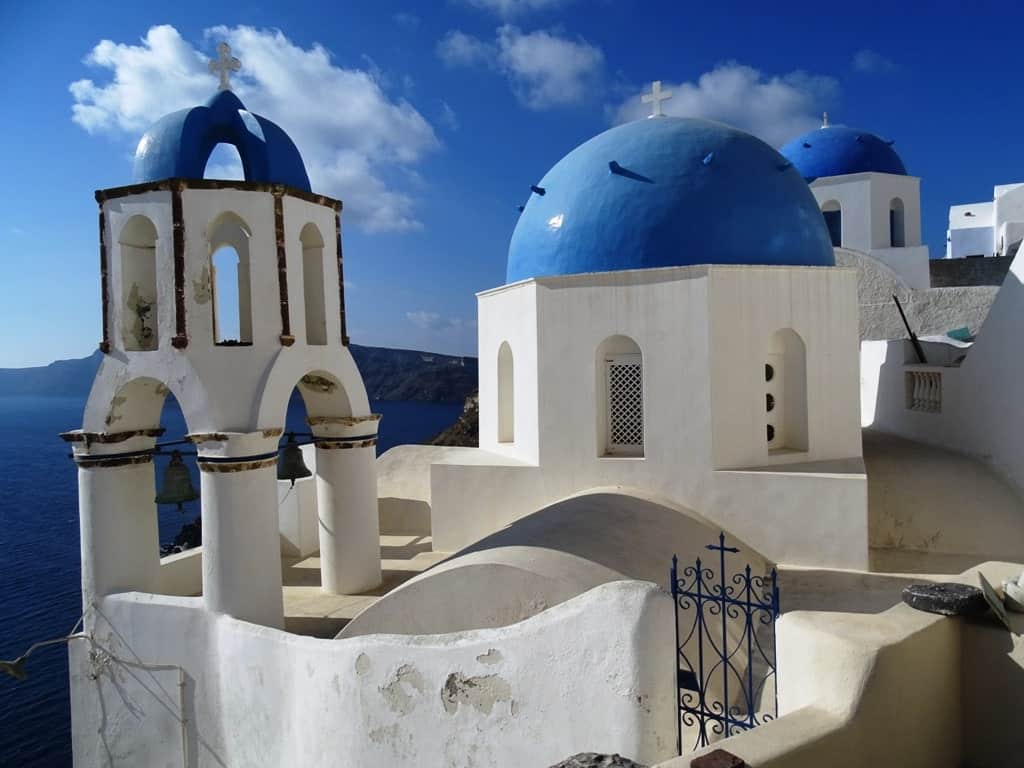 There are few places more romantic than stunning Santorini with its sunsets over the volcanic caldera, whitewashed houses, blue-domed churches, brilliant blue sea, luxury boutique hotels, and fine dining opportunities.
No other place on Earth is quite like this Cycladic Island, not even its closest neighbors, thanks to the uniqueness of the collapsed caldera that, due to the volcanic activity, formed a picturesque lagoon that is known the world over for being the number one must-see sunset spot.
Just imagine snuggling up to your beloved, drink in hand, as you watch the sun go down from your own private balcony with its own hot tub or infinity pool, it's the stuff made of dreams but on Santorini it's real. Hotels and villas with caldera views located along the cliffside of Thira, Firosteffani, and Imerovigli as well as the iconic picturesque village of Oia in the North are where dreams come true.
Choose whether you want a black sand beach, red sand beach, or golden sand beach and when you can drag yourself away from the sea views, there's plenty of culture to uncover. Take a boat trip across to the caldera, visit Akrotiri archaeological site, go on a wine-tasting tour, shop at the designer boutiques, and dine on the fresh Greek cuisine. If you want to see/do more, rent yourself some wheels and explore the island, escaping the crowds to find a secluded corner of paradise all to yourself.
You might be interested in:

Best beaches in Santorini
What to do and see in Santorini
The best time to visit Santorini
How to spend 3 days in Santorini
2. Crete
The largest of all the Greek islands, Crete is open year-round and has something for every couple to enjoy, no matter what your age, budget, or interests. Whether you're happiest by the beach or in the mountains, hiking, swimming, or driving, Crete has so many memories waiting to be made.
Make a splash as a newlywed couple as you admire the pink sand at Elafonissi beach and the varying shades of blue and turquoise at Balos Lagoon, go scuba diving together, or watch as baby sea turtles hatch and take their first steps down to the sea on a moonlit night, the waves gently crashing against the shore.
Rent a car and go on your first road trip as a newly married couple visiting the most famous historical sites including Knossos Palace, Spinalonga island, and the Venetian towns of Chania and Rethymno before winding your way up through the picturesque mountain villages. Hike Samaria Gorge hand-in-hand marveling at mother nature, then take some time to unwind on the laid back South Coast toasting each other, your marriage, and the Cretan hospitality with raki.
For 5 star luxury with sea views to match, you can't go wrong with Elounda but equally, the Venetian towns of Chania and Rethymno with their winding backstreets and wealth of shops and tavernas ensure you'll never be bored. If you prefer seclusion, find a love nest on the wild and rugged South coast and enjoy life under the Cretan sun.
You might also like:

What to do in Crete
The best Crete beaches
Where to stay in Crete
What to do in Lasithi.
The best time to visit Crete
Crete itinerary
3. Mykonos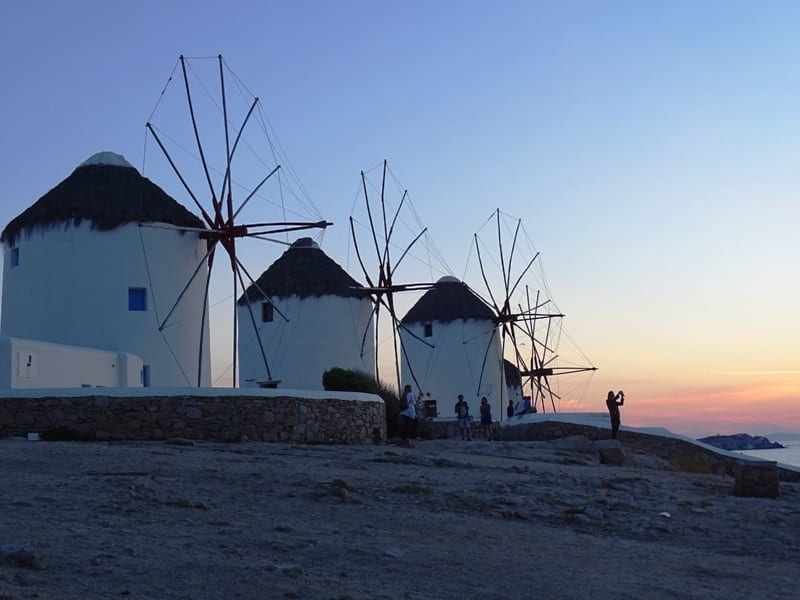 You might have dismissed Mykonos as a honeymoon destination, thinking that its reputation as the top party island in the Cyclades would make it more suitable for a hen or stag party than a romantic honeymoon. Don't judge an island by its reputation as Mykonos does have a romantic side when you steer clear of the main resorts and avoid the months of June-August.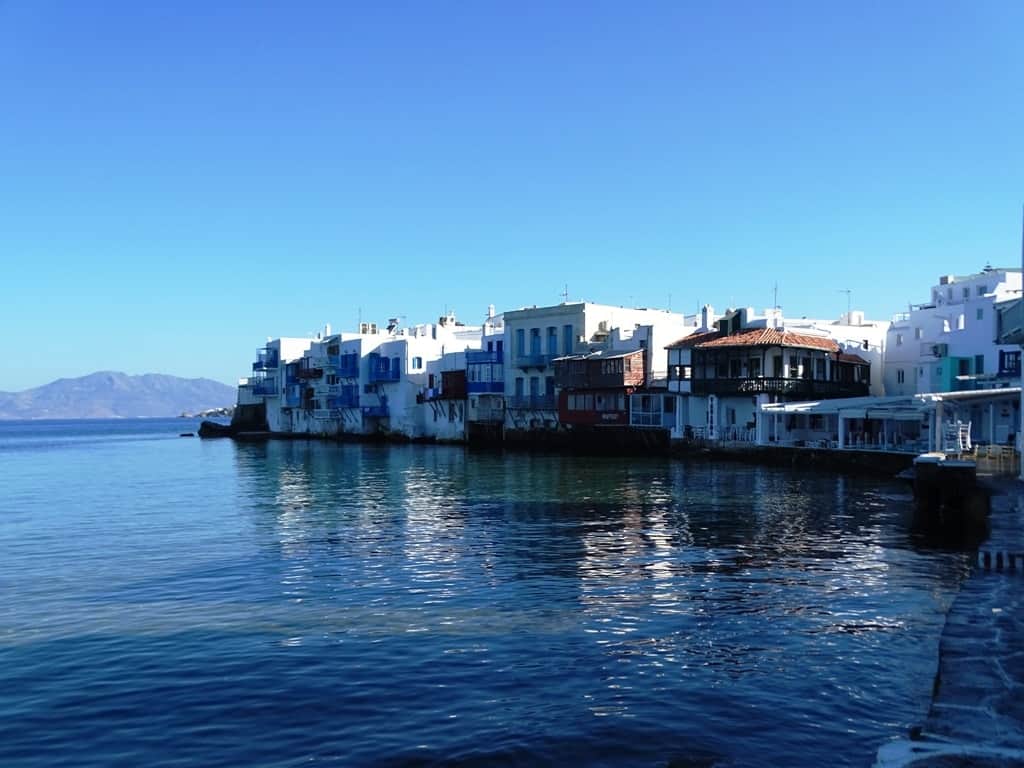 Known as the island of windmills, you'll discover prestigious hotels, quaint villages, stunning landscapes, sandy beaches, and historic sights with the archaeological island of Delos just a short boat ride away. Of course, it's also the home of "Little Venice", the waterfront lined with romantic restaurants where memories are made – a candle-lit seafood dinner is a must.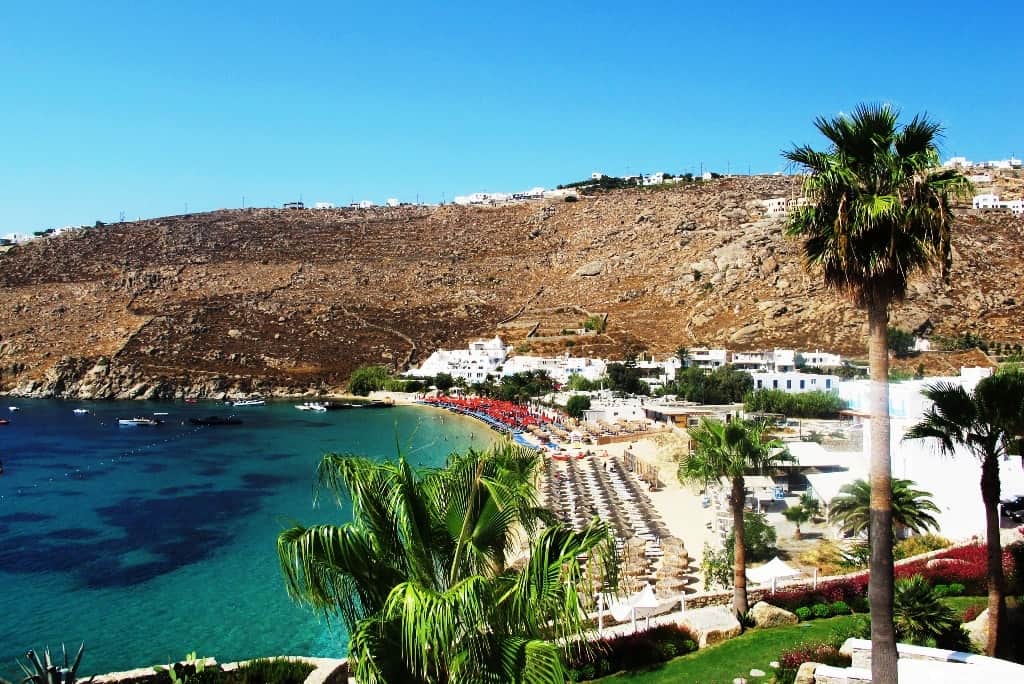 Sure, Mykonos is never going to be the love nest that Santorini is but it does have those quintessentially Greek whitewashed houses and maze of backstreets to explore plus its beaches are actually better. If you're a trendy fun-loving couple who like to be seen amongst the 'it crowd' and enjoy letting your hair down on occasion, Mykonos might be for you.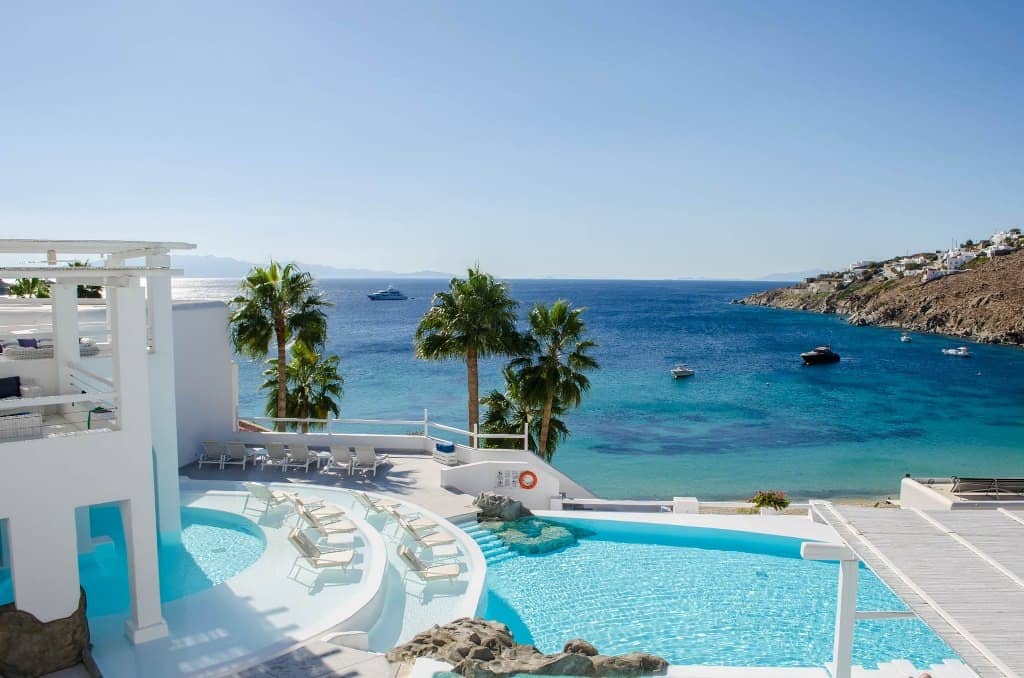 Equally, you can avoid the nightlife and spend lazy days enjoying the view from the hotel's infinity pool, shopping at the hip boutiques, or get off the tourist trail by renting a scooter, with the wind in your hair and your cheek pressed into your loved ones shoulder, it doesn't take long to find a secluded spot on Mykonos that you can enjoy without the crowds.
You might like to read:

Things to do in Mykonos
3 days in Mykonos
The best Mykonos beaches
The best places to stay in Mykonos
Best time to visit Mykonos
4. Spetses
You may have never heard of it before, but that's what makes Spetses a truly special Greek island for celebrating your honeymoon. Escape the crowds of tourists that descend on the more popular Greek islands during the Summer months and enjoy a stay at one of the glamorous boutique hotels where you can get pampered like King's and Queen's.
The laid-back vibe of this unspoiled island, which has few cars, acts as a retreat for Athenian's so you can rest assured that any lingering wedding day stresses will soon melt away – put your phone down, let the family drama go, and just remember what matters most, the love you and your spouse have for each other.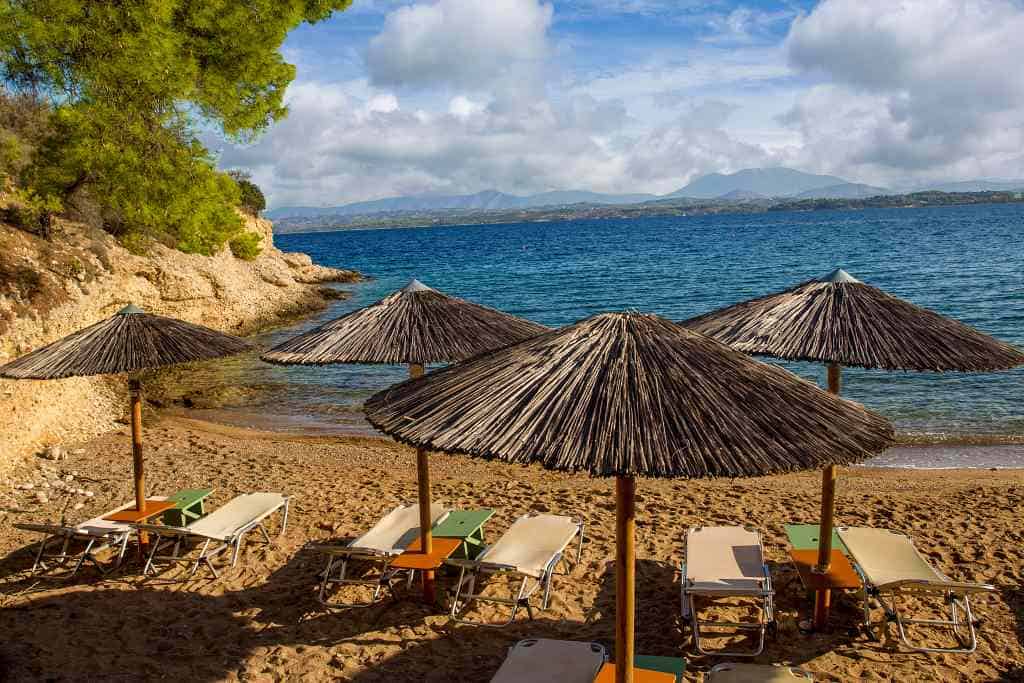 Spend your days at secluded beaches or exploring the villages and picturesque ports with their whitewashed and neoclassical architecture. Visit neighboring islands on day trips if you feel the need to see and do more, but ultimately just sit back and relax. Spend the evenings enjoying romantic meals topped off with a moonlit walk or horse-drawn carriage ride around the harbor – Bliss.
5. Rhodes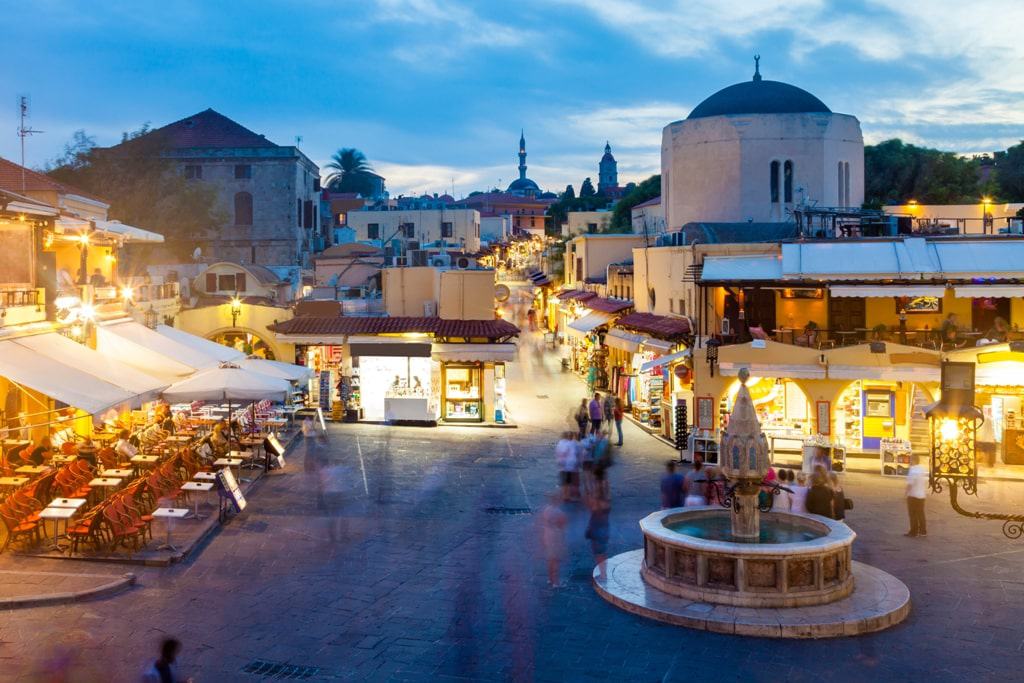 Rhodes is a great island if you're a couple who like to sightsee and explore, needing more than 'just' the beaches and a luxurious resort to keep you content. Rhodes is a large island in the Dodecanese with a large local community meaning even if you visit off-season, you'll have plenty to see and do.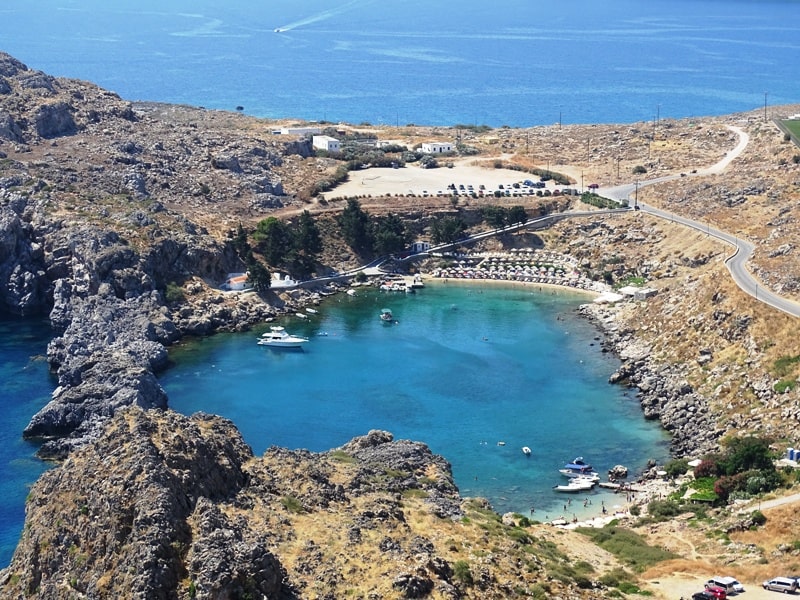 Within the Medieval walls of Rhodes Old Town, you'll discover a maze of romantic backstreets and alleys filled with tavernas, museums, and stunning architecture. It doesn't have the white-washed houses (keep reading if that's what you're after) but if you've just married your Prince you'll feel right at home in this fairytale town, once home to the Knights Hospitaller.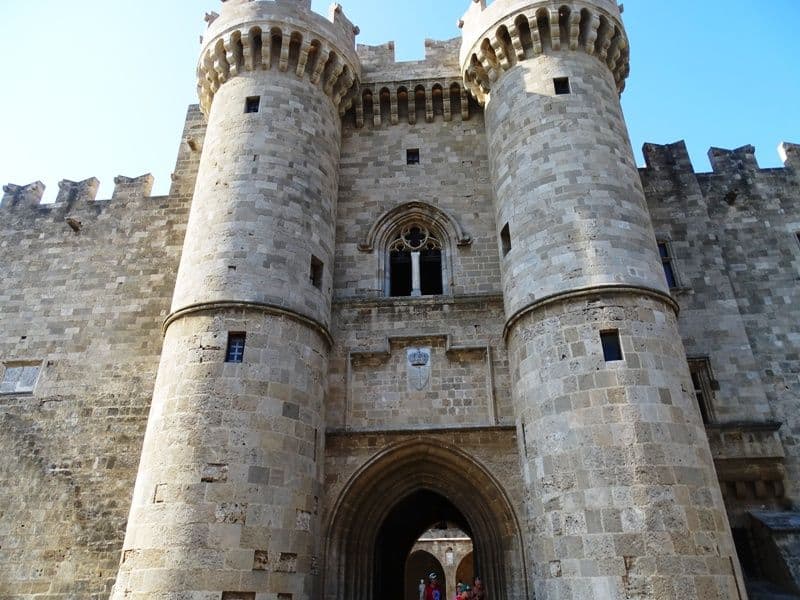 If you want to surround yourself with white-washed architecture, bougainvillea flowers, and stunning sea views (St Paul's Bay is out of this world!) then the quintessential Greek town of Lindos, home of the 3,000-year-old Acropolis of Lindos, might be the perfect choice for you. It's only about 1 hour away from Rhodes Town so you can easily go off and see the sights elsewhere for the day before returning back to your beautiful base at the end of the day.
You might be interested in: 

Things to do in Rhodes, Greece
Best beaches in Rhodes.
Where to stay in Rhodes. 
6. Corfu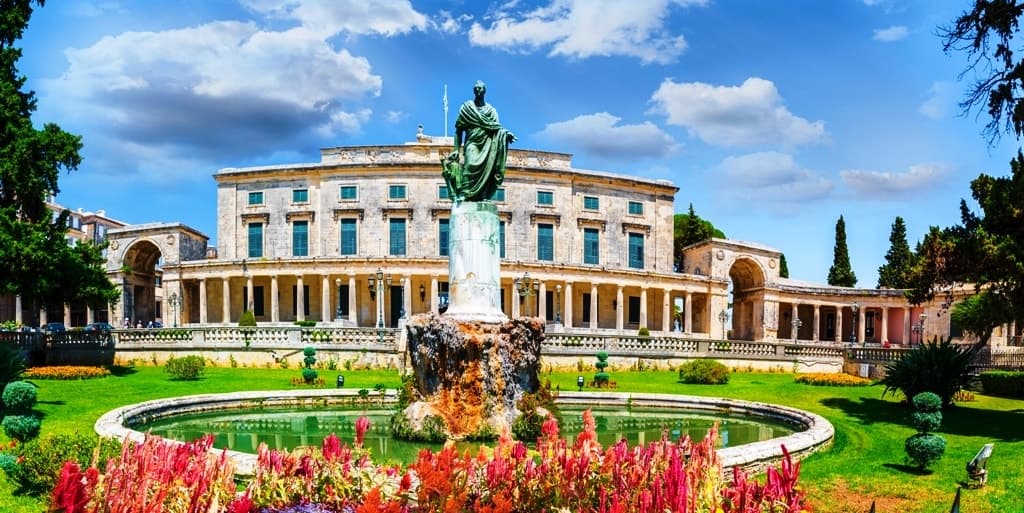 This Mediterranean marvel will have you wondering if you're in Italy or Greece – The food is Greek, the people are Greek, but the architecture is most certainly Venetian – Bellisimo! If you love Greece but your lover prefers Italy, Corfu could be the perfect compromise for the pair of you whether you're culture vultures, nature lovers, or just want that ultimate romantic getaway where time stands still as you alternate between the beach, the bedroom, and the bistro!
Best of all, unlike the Cycladic islands, it's open all year so you don't need to delay that wedding simply so you can take a Summertime honeymoon!
Chic and elegant Corfu Town is a delight with its winding alleys filled with its warm-hued Venetian architecture with terracotta tiled roofs whether you're staying here or visiting for the day, remain 'on top of the world' as you climb the tower at the Church of Saint Spyridon to admire the view.
The picture-postcard views overlooking Pontikonisi aka Mouse Island and the scenic seclusion at Kalami will make you think of the Italian lakes, stay around here if you want to while away your days by the sea wrapped up in your love for each other. Otherwise, rent a car and see as much as you can, you'll discover numerous castles and fortresses, as you weave your way around the coast and inland passing picturesque olive groves and traditional villages en-route.
You might be interested in:

The best things to do in Corfu island. 
The best beaches in Corfu. 
7. Milos
This diverse yet often overlooked Greek island is surely worthy of being called the epicenter of love since it was here that one of the most famous works of ancient Greek sculpture was uncovered; the statue of Venus.
Only just gaining popularity, think of Milos as a quieter version of Santorini or Mykonos. Take the time to enjoy its beautiful unspoiled volcanic beaches (with black, red, or golden sand), sail around its scenic coastline, feast on the fantastic food, taste the wine, and sightseeing at the historical sites until your inner culture vulture can take no more.
Whether you stay in a boutique hotel in the upmarket seaside town of Pollonia or find a charming love nest tucked away in the backstreets of inland Plaka, Milos has something for everyone. Those who love the water and admire mother nature will want to spend time lazing on the rocky moonscape of Sarakiniko beach before hopping on a boat to marvel at the Kleftiko rock formations.
Snorkel or scuba diving hand-in-hand to explore the underwater caves here, or go and relax in the thermal springs. Rent a car and explore the quaint villages, or go hiking through the countryside or along the coast. Explore the Christian catacombs, go on a wine-tasting tour, and enjoy each other's company over a candlelit dinner in a different picturesque harbor taverna every night of your stay.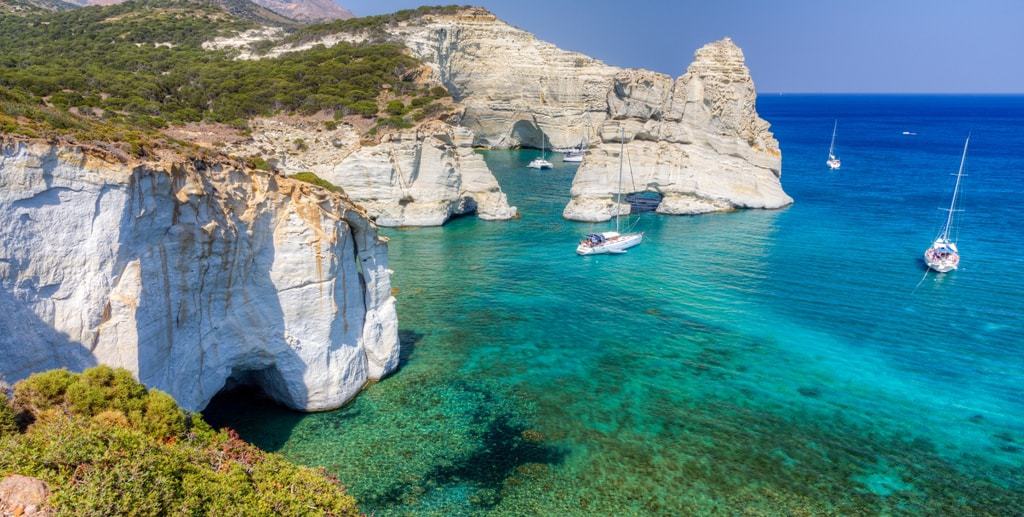 No matter what your interests are as a couple, whether you want to relax and feel pampered, are adventurous and want an action-packed honeymoon to remember, or just want something simple that doesn't break the bank, you'll be over the moon with a honeymoon on any of the above Greek islands.
You might be interested in:

What to do on Milos island.
The best Milos beaches
Where to stay in Milos
8. Paros
Paros is an ideal honeymoon destination for those who want a bit more going on in terms of nightlife or atmosphere. This chic island features boutique hotels, beach bars, epic sunset spots, and plenty of excursions to make your honeymoon a trip to remember. Choose from stylish suites with private pools or opt for a more traditional family-run guest house and while away your days eating sumptuous seafood, basking on Greek beaches, and discovering picture-perfect villages across the island.
You might be interested in:

Things to do in Paros
A Guide to Parikia Paros
A Guide to Naousa Paros
Best beaches in Paros
Paros or Naxos?
9. Hydra
Hydra is a picturesque, peaceful island that is ideal for a honeymoon as the carless, calm atmosphere allows you to really unwind and take life at a slower pace. The crescent harbor welcomes arrivals with its stunning Greek beauty, and boutique hotels and guest houses, quaint tavernas with their mouth-watering menus, and gorgeous beaches that enable you to relax offering everything you need for the perfect honeymoon getaway.
Travellers can easily reach Hydra from Athens in just a couple of hours and there is plenty to see and do whether you simply take a day trip to the island or stay for a few weeks!
You might be interested in:

Things to do in Hydra
10. Folegandros
The island of Folegandros is a tranquil, untouched island with a laid-back way of life that is perfect for honeymooners. The off-the-beaten-track beaches, local tavernas serving up tasty traditional dishes, and photogenic towns all create a wonderful atmosphere for a romantic break. Honeymoon travelers can enjoy visits to churches, castles, museums, and more, or simply kick back and enjoy sunset drinks and lazy beach days.
You might also be interested in:

The best party places in Greece

The Greek Islands to visit in September

The best Greek Islands to visit in October.

Romantic Places to visit in Greece.