Fira, the main town in the gorgeous Santorini, is a magical destination. Imagine stunning white-washed buildings nestling winding narrow stairways, quirky bars and cafes, and magnificent views of the astonishing caldera. Fira is an ideal destination for anyone, regardless of whether you are a family, a couple, or a solo traveler, there is an abundance of incredible things to do, as well as natural scenery to explore. Here is a list of the top places to see and visit in Fira, so that you can make the most of your visit.
Disclaimer: This post contains affiliate links. This means that should you click on certain links, and then subsequently purchase a product, I will receive a small commission.
A Guide to the Best Things to Do in Fira
Museum of Prehistoric Thira
The museum is home to an extensive collection of prehistoric artifacts, ranging from the Neolithic to the Cycladic. You could spend hours exploring this museum's incredible selection of fossils, figurines, jewelry, and even more; it is the perfect place to spend a hot, summer afternoon if you wish to escape the crowds and learn a little about the local history.
Archaeological Museum of Thira
If you are a lover of culture and history, the Archaeological Museum of Thera should be high on your list of places to visit in Fira. The museum includes exhibitions dedicated to an array of eras, including the Roman period, the Hellenistic, and the Geometric; there is a ton of artifacts to discover, and interesting facts to learn.
Megaro Gyzi Museum
This seventeenth-century family mansion has, since 1980, been a center for spiritual development and cultural improvement for the locals of Santorini. You can visit the museum for an array of different reasons, such as music events, lectures, and film evenings.
Walk to Skaros Rock
One of Santorini's five fortresses, and having been occupied since Medieval times, Skaros Rock is a great place to visit for its breath-taking views and incredible hiking trails. If you visit Skaros Rock, make sure you bring your camera with you, because you will undoubtedly be wanting to take pictures of every angle!
Enjoy the nightlife
A thing you may not have realized about Fira is that it has great nightlife; if you someone that enjoys clubs, make sure that you visit Koo Club and Enigma Club! If you prefer a quieter night, there are plenty of beautiful bars and restaurants to spend the evening. Fira is great for jazz and cocktail bars.
Visiting Santorini? You might also be interested in the following posts:

What to do in Santorini

Best Airbnbs to stay in Santorini.

The best time to visit Santorini

Things to do in Oia, Santorini.

The best beaches in Santorini

How to get from Athens to Santorini.

Mykonos or Santorini? Which one to choose?

How to spend 3 days in Santorini.

What to pack for your holidays to Greece.
Watch the sunset
Like everywhere in Santorini, Fira is famous for its astonishing, unforgettable sunsets. There are so many bars, cafes, and restaurants to watch the coastal sunsets from, as well as an abundance of top sights, such as Skaros Rock to watch it from. For anyone visiting Fira, this will undoubtedly be one of the highlights of your trip.
Walk down to the Old Port
Connected Fira to the Old Port is the immense 600 step stairway. The steps themselves are enjoyable, and a good way to stretch your legs! Once you reach the Old Port, you will be amazed and impressed by the beautiful, tranquil scenery and a slow, relaxed pace of life; it is a great spot to grab something to eat.
Take the Cable Car up from the Old Port
If you don't fancy walking back up the 600 stairs from the Old Port back to Fira, there is a Cable Car that you can ride up again. This is a great way to return to Fira, as it offers beautiful views, and is a fun experience too. This charming journey saves time and energy and is reasonably priced as well.
Do not ride the donkeys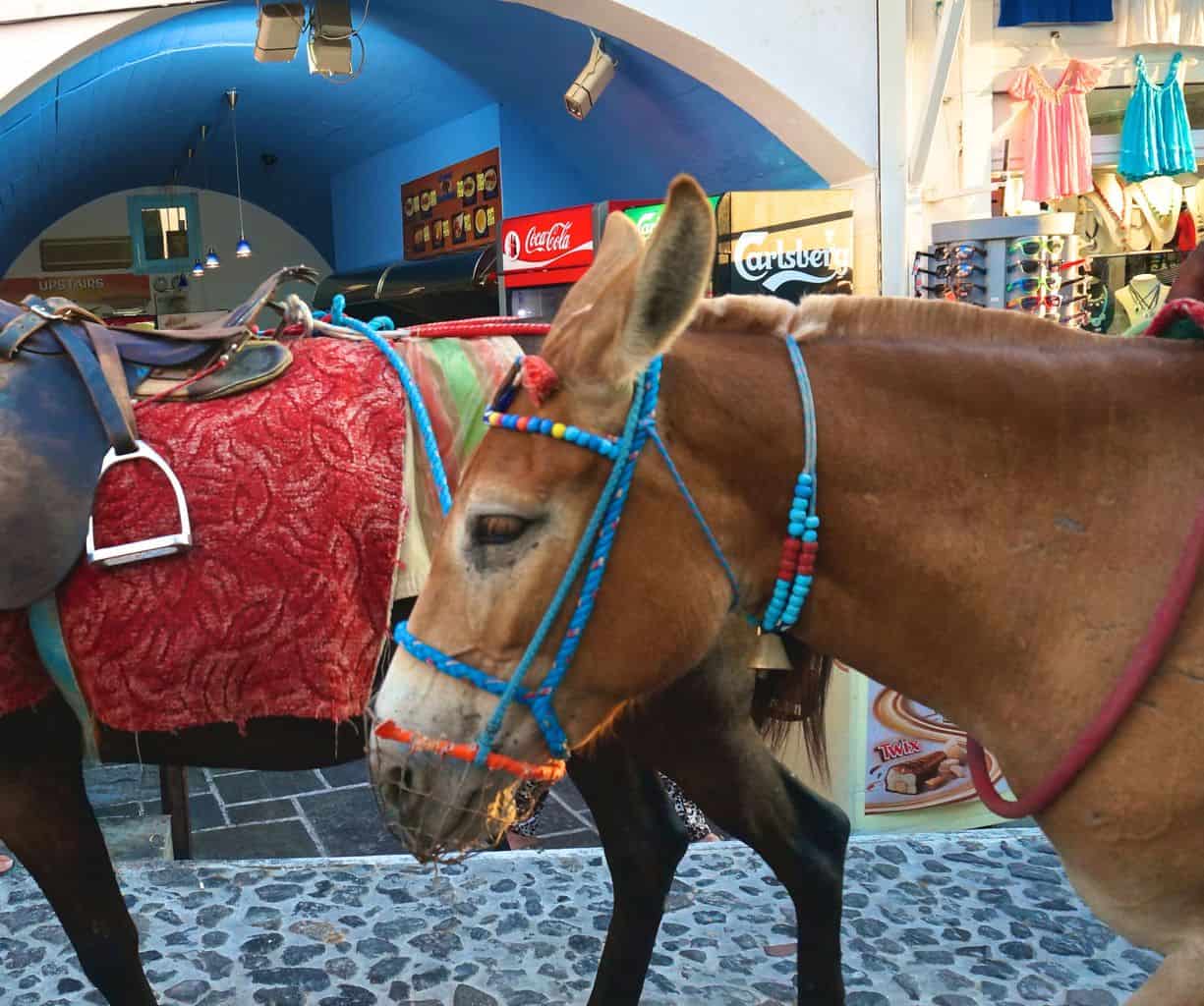 In a lot of places in Fira, and the rest of Santorini, there are a lot of companies so sell donkey rides, particularly up steep hills and stairs. However, these donkeys should not be ridden, as they are often working under strenuous and hard conditions, and are sometimes abused as well. If you do not like walking uphill, many attractions have cable cars, and there are taxis and buses as well.
Shop for souvenirs
To remind yourself of your incredible trip, make sure you spend some time shopping for souvenirs; there is a lot to choose from, such as local pottery, magnets, clothes, and postcards, as well as local beers, wines, and foods.
Explore the art galleries
A surprising thing about Fira that you may not have known is that it has a wide variety of art galleries. One of the best to visit is MATI art gallery, which exhibits work by local artists, and is very cozy and welcoming. Also, make sure you visit the Art of the Loom Gallery, which is bursting with quirky artifacts, paintings, and sculptures.
Explore the many churches
Fira is full of beautiful little churches, that are stunning on both the inside and out. For example, the Cathedral of Saint John the Baptist is mesmerizingly gorgeous, with its blue and golden exterior, and colorful interior. Also make sure you visit the Metropolitan Orthodox Cathedral, to discover its beautiful white exterior and ambient inside, which is bursting with incredible artworks.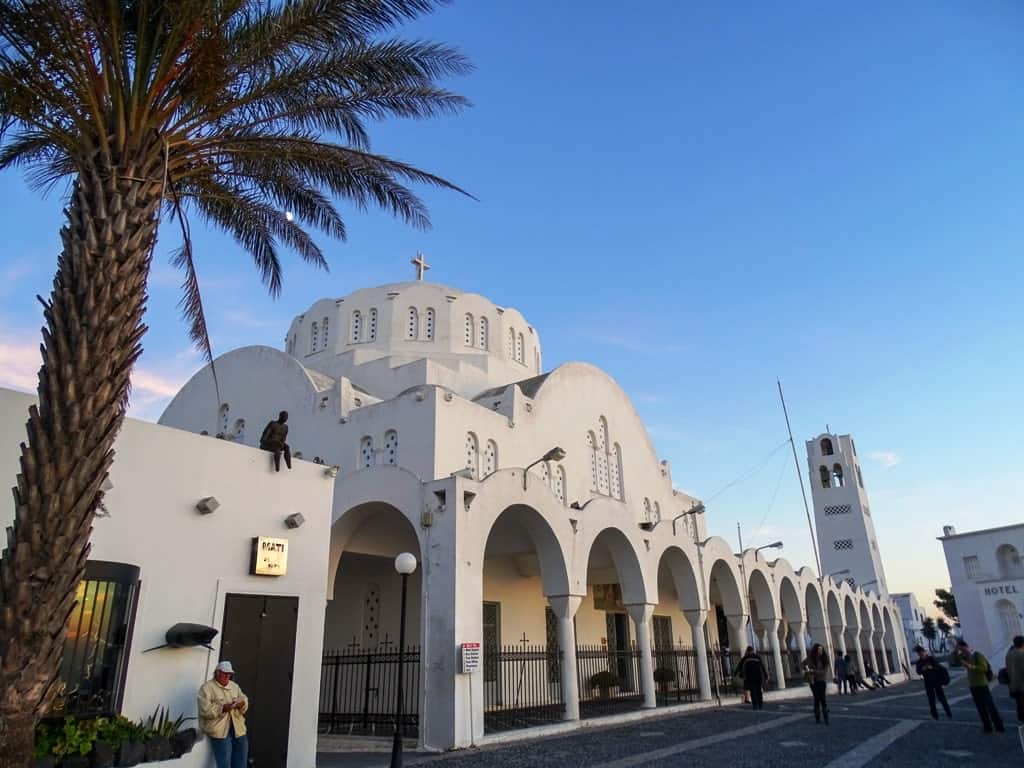 Where to stay in Fira, Santorini
Luxurious hotels

Volcano View by Caldera Collection – The most incredible thing about Volcano View is like the name says, is its spectacular views of the sea. More than this, the rooms are modern and spacious and have quirky little touches to them making them friendly, personal and welcoming. There is also a great restaurant and bar, that offers beautiful views. Click here for more information and to check the latest prices.

Mythical Blue Luxury Suites – These magnificent suites truly do feel mythical; each room offers a unique design and color scheme, as well as a huge amount of space. Perhaps the highlight of the hotel is its incredible swimming pool, which provides stunning views of the sea. Also make sure you try the food at the restaurant, as it combines beautiful unique flavors with a magnificent presentation. Click here for more information and to check the latest prices.

Aria Suites – Aria Suites offer large, spacious suites that provide you with a huge amount of flexibility and space when visiting Fira. Many of them also come with individual pools, that offer incredible views. One of the highlights of Aria Suites is its incredible position, which in the evening, is perfect for viewing the famous sunsets of Santorini, from the comfort of your own room. Click here for more information and to check the latest prices.

Mid-range hotels

Alizea Villas and Suites–Alizea offers beautifully designed, simple and cozy villas and suites that are situated in an ideal location, central to all of Fira's key attractions. For the price tag, Alizea offers many luxury features, has a beautiful pool, great rooms, as well as friendly service; it has everything you need for a wonderful trip to Fira. Click here for more information and to check the latest prices.

San Giorgio –San Giorgio is a simple, cozy hotel that offers great rooms with no frills. The rooms have their own unique charm with friendly touches that make for an unforgettable stay. This is the perfect place to base yourself on your visit to Fira because it offers excellent service and a great location.
Click here for more information and to check the latest prices.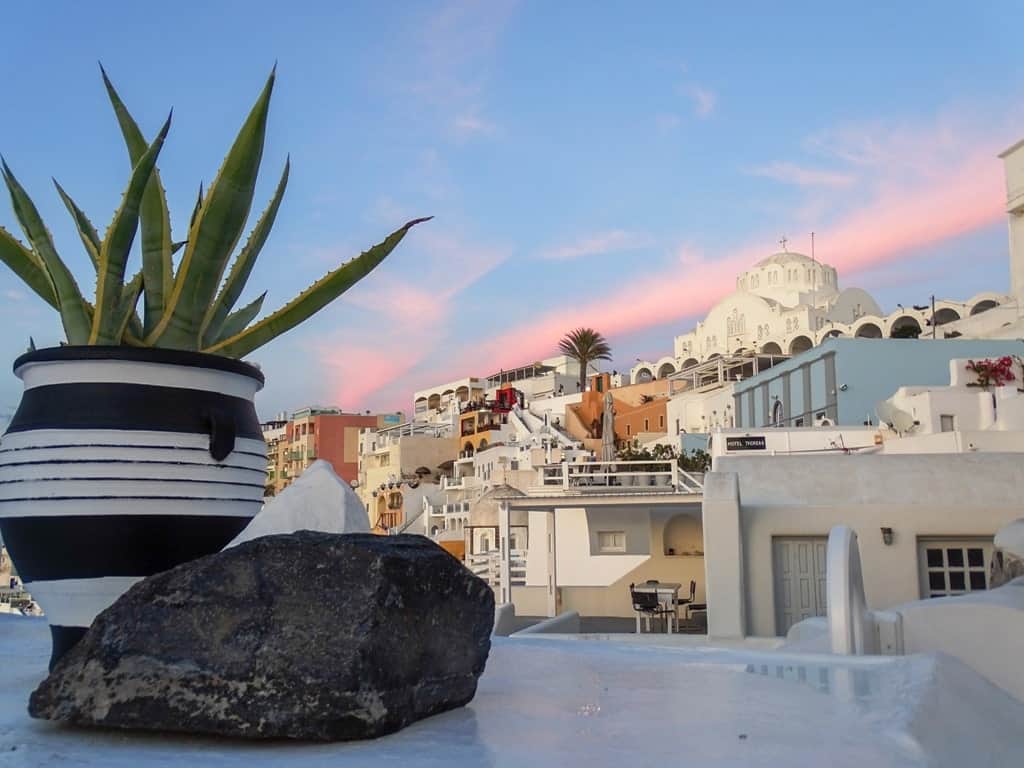 Where to eat in Fira, Santorini
Koukoumavlos– If you are one for fine dining, Koukoumavlos is the ideal place to eat in Fira. This restaurant has won an abundance of awards, and offers the ultimate gastronomical experience, providing its guests with new, original flavors, and dishes that look too good to eat.
Argo Restaurant – If you are someone who enjoys food with a view, Argo restaurant should be high on your list. With breath-taking views of the Caldera, and incredible authentic Greek food, as well as beautiful Mediterranean dishes to dine on, Argo is an unforgettable place to eat.
Naoussa Restaurant–Established in 1992, Naoussa Restaurant continues to serve the most beautiful Greek food and drinks. It is a family run business and has a very friendly, welcoming atmosphere. If you like cozy restaurants with brilliant food, make sure you visit Naoussa during your trip to Fira.
Santorini, and Fira in particular, is one of the world's treasures; it offers everything from natural, volcanic beauty and charm, to an incredible and interesting culture, all the way to mesmerizing architecture and narrow, winding alleyways and staircases.
Not to mention, the breath-taking sunsets, which are one of the key factors as to why many people visit Fira and Santorini. What is guaranteed, when you visit Fira, is that you will have an unforgettable time, and feel as though there is always something new to experience or discover; it is a destination that keeps on giving.