Are you planning a trip away in September, once the kids are back at school and both flight and accommodation prices start to drop? It's a beautiful time of year to take a holiday, just as the temperatures are starting to dip back home, but where should you go to get that much-needed dose of the Summer sun? Read on!
Disclaimer: This post contains affiliate links. This means that should you click on certain links, and then subsequently purchase a product, I will receive a small commission.
16 Best Places to Visit in September for Sun
1. Greek Islands
Pretty much any of the 227 inhabited Greek Islands make a great sun holiday in September if visiting in the first 2 weeks of the month but if you're seeking nightlife and a ton of activity you do need to choose carefully due to many of the smaller islands starting to shut down from the 2nd week of September – see my post-Best Greek Islands To Visit In September for help!
The southern islands such as Rhodes and Crete are generally warmer with daytime temperatures hitting the 80's and very little chance of rain whilst the most Northern island of Thassos is cooler with temperatures in the mid-'70s. The Cycladic islands which include Santorini, Mykonos, Paros, and Naxos are also hot but suffer from the strong Meltemi winds until the middle of the month, these lasting a few days at a time which can cause ferry disruptions.
The Greek islands over on the West including Corfu and Zante get rain towards the end of September with thunderstorms overnight through this rain is usually short-lived allowing you to be back on the beach in the afternoon.
2. Amalfi Coast, Italy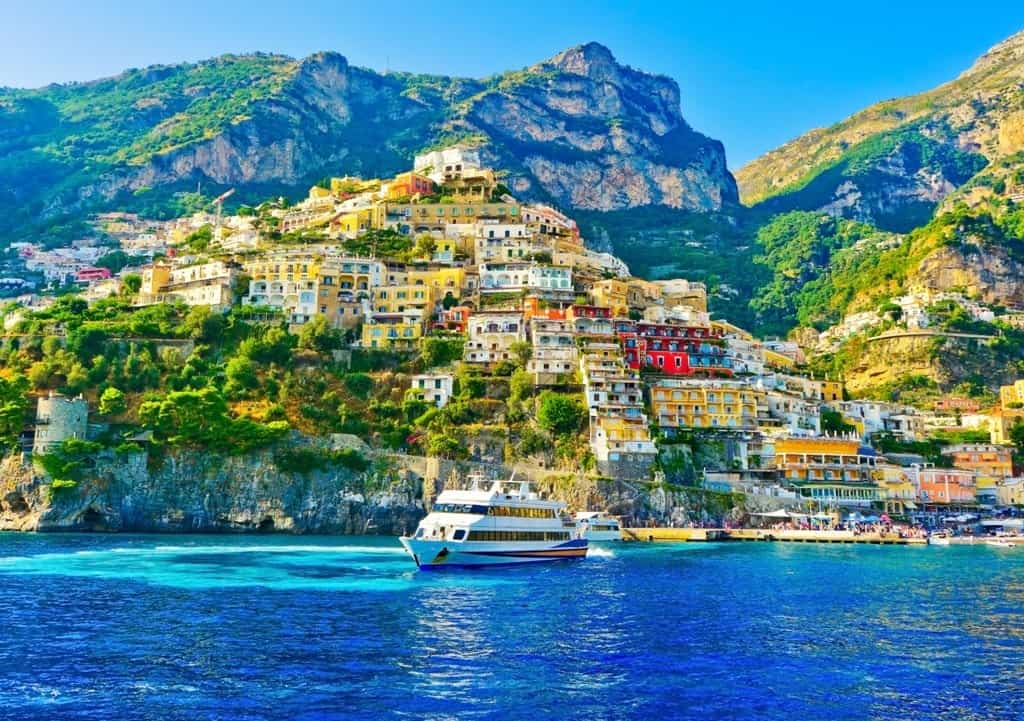 The perfectly picturesque Amalfi Coast is delightful in September when the majority of the Summer crowds have departed so that you can enjoy the iconic cliffside villages such as Sorrento without having to battle the crowds.
At Amalfi and Ravello you can follow in the footsteps of the 19th-century coastal painters, relax on the beautiful beaches of Maiori and Minori, take in the incredible views, and explore the gardens before diving into history, the Amalfi Coast is your gateway to Pompeii.
Whether you charter a yacht to see the sea caves and the cliffside villages from below or get your hiking boots on to climb the summit of Vesuvius, September is one of the best months to visit this stretch of UNESCO coastline as the temperature is still very comfortable with daytime highs of 70°F -80°F and sea temperatures in the mid 70's too.
In the evening, though cooler than August it's still warm enough to dine al fresco, finishing your night off with the famous and delicious limoncello liqueur – Bellisimo!
You might also want to check:
3. Malta
It might be small but the island of Malta is mighty when it comes to its historic sites and coastal scenes. The Romans, Moors, Knights of St John, French and British have all left their mark on Malta making it a great place for culture vultures to explore with the Ħal Saflieni Hypogeum from 4,000 BC and Hagar Qim temples just two of many must-see places.
With daytime temperatures in the mid-high 70's at the start of September, dropping to the low 70's at the end of the month, September is a great time to sightsee whether you're wandering the backstreets of the capital city, Valletta, exploring Marsaxlokk fishing village with its picturesque boats bobbing on the turquoise water, or getting enjoyably lost in the 'silent city' of Mdina.
Malta is also a top diving location and with sea temperatures still in the mid 70's in September, now is the time to dive in whether scuba diving to see the shipwrecks and underwater sea caves or keeping your head above water at St Peter's Pool.
There are plenty of events happening in September too – visit early to witness the Zabbar Festa that takes place on the 10th September or visit late in the month to see the International Air Show that takes place on the 23rd and 24th September.
You might want to check out:
4. Sicily
The largest island in the Mediterranean, located just off of the bottom of Italy's 'foot', Sicily may have received a bad rap in the past thanks to the Sicilian Mafia but is now putting its best foot forward, allowing visitors to hike Mount Etna, explore its world-class archaeology with 7 UNESCO World Heritage sites to visit, and to relax on its empty golden sand beaches.
September is the end of Sicily's tourist season so prices drop but the temperatures remain delightful for sightseeing with daytime highs of 78.8°F and sea temperatures also in the mid 70's making it the perfect time for swimming in the clear turquoise water.
Culture vultures and foodies will devour all of the special events and festivals that take place in September with an abundance of food and wine festivals taking place across the island along with a four-day film festival known as Festival del Cinema di Frontiera and Calatafimi-Segesta Festival which sees 57 events taking place in September covering jazz concerts, theatre, and more.
You might want to check:
5. Sardinia
This large Italian island boasts 2,000km of coastline and between its white sand beaches and rugged mountainous interior with oak forests, blue-eyed albino donkeys, and herds of wild horses is a haven for those who appreciate Mother Nature whether you're into sailing, hiking, cycling, or road trips.
Hikers, cyclists, and road trippers will want to see the mysterious Bronze Age beehive-shaped stone ruins known as nuraghi that dot the island whilst divers can explore the underwater Roman ruins of Nora.
All of this natural and historic beauty doesn't mean Sardinia is without its fun side though, just head to the cosmopolitan Costa Smeralda aka the Emerald Coast, the place where the celebs and supermodels hang out if you want to let your hair down!
September is a great time to explore the idiosyncrasies of stunning Sardinia, the weather pleasant rather than sweltering with temperatures averaging 71°F which allows you to make the most of the stunning natural surroundings and wealth of coves, caves, castles, plus culture in its low season when the hoards of Summer tourists have departed, ferry and plane fares are low, and there's finally a place to park your car without driving round in circles!
6. Corsica
Despite belonging to France, this mountainous Mediterranean island (which has astonishing geographical diversity for its size!) is uniquely Corsican with an Italian feel to it. Corsica is the ultimate playground for nature fans since almost half the island is a designated national park – Enjoy hiking, cycling, horse riding, canyoning, snorkeling, and of course soaking up the sun on the iconic sandy beaches with clear turquoise water.
Aside from exploring the natural beauty of Regional Natural Park of Corsica, taking a boat trip to explore the coastal Scandola Nature Reserve with its red cliffs, sandy coves, sea stacks, and volcanic headlands is a must.
September is an ideal month to enjoy all that Corsica has to offer since it's not too hot, temperatures averaging just above 70°F though night time temperatures do drop to 57°F, as an added bonus, it's not too crowded and the locals are more relaxed and friendly after the rush of French tourists that descend in June-August and best of all, the prices drop.
There are a great selection of hilltop villages, coastal towns, and city museums to explore too and if your limbs are hurting from all the sightseeing and physical activities, simply hop on the train, making use of 1 of the 3 train routes, and watch the breathtaking scenery unfold from your window seat!
7. Balearic Islands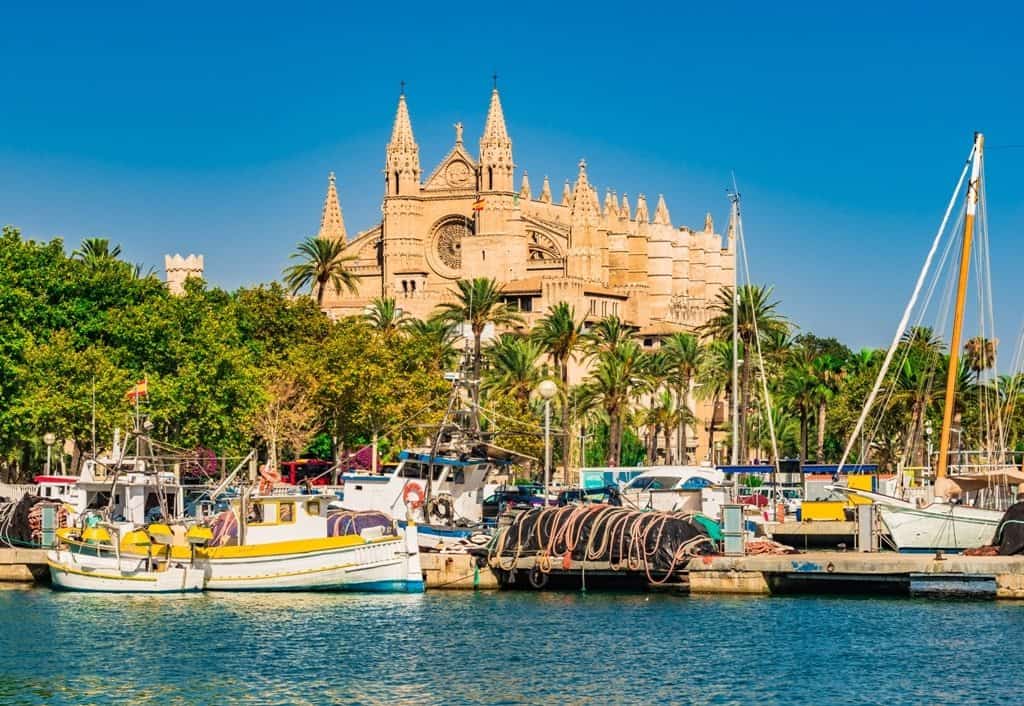 Consisting of 4 large islands; Majorca (known as Mallorca in Spanish), Menorca, Ibiza, and Formentera, the Spanish Balearic Islands also include a number of minor islands and islets such as Cabrera, Dragonera, and S'Espalmador. Each island has its own unique character, Ibiza is well-known for being a party island but that's not to say it's without charm as history and architecture fans will enjoy exploring old Ibiza Town and many other things.
Majorca is a cosmopolitan island with superb beaches that draw in the sun worshippers yet its Tramuntana Mountains are also a great place to explore by bicycle. Menorca is more rustic and draws in the hikers with its Cami de Cavalls footpath that goes around the whole island whilst Formentera, the lesser-known of the 4 main islands, is a place of untouched beauty perfect for enjoying nature with a relaxed hippy vibe to it.
September sees fewer crowds as the party animals and families head back home and the weather becomes more comfortable after the heat of Summer with temperatures hitting highs of 80°F at the start of the month but dropping to lows of 65°F by the end of the month when the rain starts to fall too.
It's worth noting that Formentera is normally a few degrees warmer so if you're planning an island-hopping trip and seek the warmest weather possible, leave this location until last.
You might want to check out:
8. Canary Islands
Located off the northwest coast of Africa but owned by Spain, the Canary Islands consist of Tenerife, Gran Canaria, Lanzarote, Fuerteventura, La Gomera, and La Palma. Each has their own character but ultimately are known for their volcanic ruggedness with black and white sand beaches, each one a paradise for outdoor adventurers.
Tenerife is the largest island and has something for everyone with nightlife, shopping, beaches, an astronomical observatory, and the large Teide National Park with an active volcano. Gran Canaria is another island that has a lot to offer everyone from sun worshippers to hikers whilst families tend to flock to Lanzarote.
La Gomera is the most authentic Canary Island with quaint villages and the most breathtaking landscape whilst La Palma and Fuerteventura are the best for beaches and snorkelling…
Why not island-hop so you can soak up the best bits of each?! You can expect temperatures to hit highs of 82.4°F in September with Tenerife and Gran Canaria usually the warmest islands, Lanzarote and Fuerteventura the windiest which can make it feel cooler.
9. Costa del Sol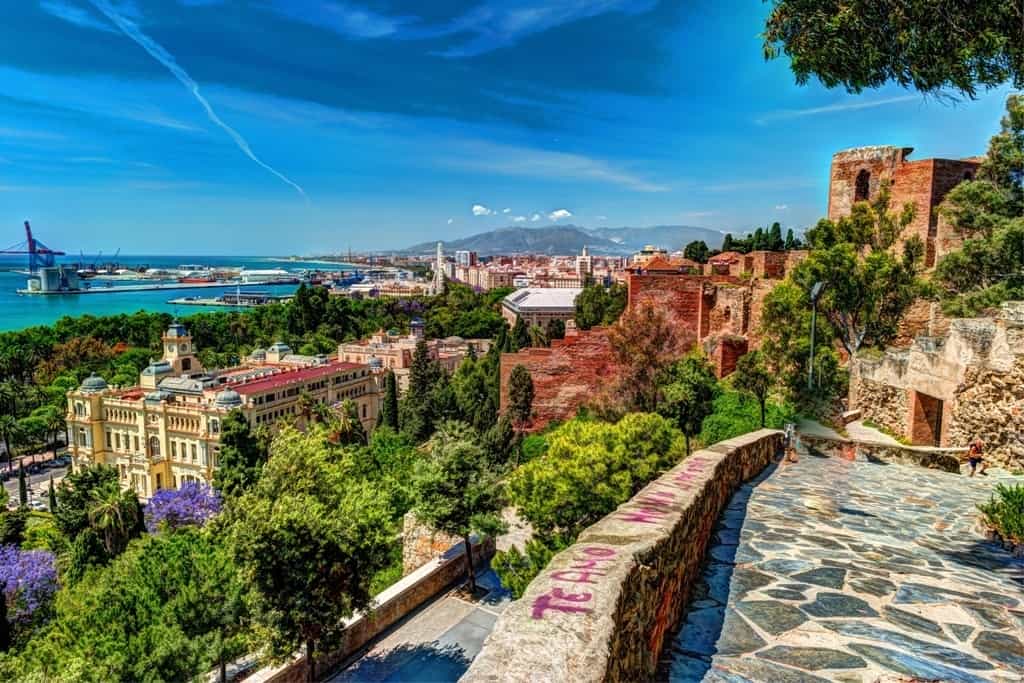 Spain's Andalusian southern 'Sun Coast' is one of the most popular tourist resorts in the country stretching 159km from Manilva to Nerja. The end-to-end resort towns encompass cosmopolitan Marbella, the playground of the rich and famous, the former party-capital of the country Malaga (it has reinvented itself from the 18-30 club capital of the '90s to a cultural and gastronomic centre!), flamboyant gay-friendly Torremolinos, and kid-friendly Benalmádena with its wealth of theme parks, aquariums, and other activities.
If this is beginning to sound like your worst nightmare, read on – the Costa del Sol still has an authentic side if you know where to look – the town of Estepona and the white-washed villages which include cliffside Casares and Ojén with its viewing platform that allows you to look out over the sea and mountains are all great retreats if you need to get away from over commercialism.
Wherever you choose as your base you'll have no worries with the weather as September remains glorious, perfect for sunbathing and sightseeing, with temperatures in the 70s.
10. Costa Brava
Spain's Catalonian coastal region in the Northeast is Xkm long and stretches from Blenes (just North of Barcelona) all the way to the French border. Known for its party towns which include Benidorm and Lloret de Mar, the Costa Brava isn't all 'Brits and Beer' as you'll find natural parks with hiking trails, quaint fishing villages, picturesque white-washed towns, old castles, the iconic Romanesque Sant Pere de Rodes monastery, and a wealth of quiet coves to lay your beach towel down on, and that's just for starters – Costa Brava also encompassing the city of Girona with its Medieval Old Town and is a delight for art fans, this being the former home of Salvador Dalí.
September 11th is the National Day of Catalonia, a day of defeat rather than victory when Barcelona fell to the Spanish forces in 1714 so don't be surprised if you come across some pro-independence marches and a sudden increase in Catalan flags along with dancing in the squares.
Throughout your days of sunbathing and sightseeing you'll enjoy clear blue skies overhead, the first half of the month warmer than the second with highs of 82.4°F dropping to 60°F at the end of the month at which point the water is slightly too chilly for swimming unless you're hardcore!
You might want to check my: 2-day Barcelona itinerary.
11. Algarve Portugal
The most Southern region in Portugal as well as the most famous, the Algarve is known and loved for its stunning Atlantic coast white-sand beaches, its golf resorts, and its areas of outstanding natural beauty with the Ria Formosa national park, a lagoon with beautiful sandbars islands.
If you seek a beach holiday, buzzing fun-filled Albufeira, Vilamoura with its long stretches of sand and beautiful marina, and mesmerising Lagos that has history (the place from which Portuguese expeditions departed during the 15th and 16th centuries) as well as breathtaking scenery are all top places to stay but if you're a culture vulture or nature lover, the Old Town of Faro could be just the ticket as it allows you to experience a slice of authentic Portugal.
September is the ideal time to visit as you'll beat the worst of the crowds, the worst of the hot dry summers that can make sightseeing almost unbearable, plus you'll still be able to take advantage of the warm sea temperatures. Temperatures keep high averaging 86°F until the middle of the month when they drop to the mid-high 70s so it can pay to delay a visit to the Algarve until mid-late September.
Check out some off the beaten path places to visit in Algarve.
12. Agadir or Essaouira in Morocco
Don't limit yourself to the Mediterranean when 1,200 miles of Moroccan coastline await! Forget the souks and Medina of Marrakesh, the cities of Agadir and Essaouira are both beautiful beach holiday destinations that provide a luxury experience without breaking the bank. Agadir is located on the Southern Atlantic coast in the foothills of the Anti-Atlas mountains and is a resort destination (mostly offering all-inclusive accommodation) popular with golfers and sun worshippers.
The seafront is lined with cafes, restaurants, and bars, the wide crescent beach the perfect place to relax, and with plenty of nightlife you'll be dancing till dawn. Essaouira, on the other hand, is a smaller city with more culture to explore and enjoy. Located on the Atlantic coast, North of Agadir, this working port city has a delightfully picturesque old town surrounded by 18th-century Portuguese fortifications with the seafront on the other side of its city walls.
Essaouira is a haven for surfers due to its strong trade winds and offers a more authentic Moroccan experience to travellers who want more than sun, sea, and sand. In September you can expect high daytime temperatures hitting 80°F in Agadir, with slightly cooler temperatures of 75.2°F in Essaouira, those strong trade winds helping to take the heat off.
13. Hurghada or Sharm El-Sheikh in Egypt
If you seek sandy beaches, turquoise water, reliable weather, good value luxury all-inclusive hotels, along with scuba diving and snorkelling, one of Egypt's Red Sea resorts might be just what you're after! Sharm el-Sheikh is the hotter of the two places with temperatures hitting highs of 96.8°F in September with Hurghada slightly cooler with daytime temperatures of 91.4°F.
Located on the far east side of Egypt, on the southern tip of the Sinai peninsula, sprawling Sharm el-Sheikh is now re-open for business, the ban on non-essential British travel to this area now being lifted. Sharm, as it's known for short, comprises a number of popular resort areas reaching from the historic Old Town to lively boho Nabq Bay which is a gateway for scuba divers.
When Sharm el-Sheikh was off-limits to British visitors, Hurghada grew rapidly in popularity, the traditionally German holiday-resort, becoming a hot-spot for everyone. Stretching from El Gouna down to Soma Bay, Hurghada has more distinct resorts than Sharm el-Sheikh due to the areas of barren desert between but the gaps are shrinking with new developments including Makadi Bay and the luxurious Sahl Hasheesh which resembles a cross between Dubai and Las Vegas leaving this place looking a little like a concrete jungle.
In terms of sightseeing, Sharm el-Sheikh provides visitors with an entry point to Petra in Jordan and to the Dead Sea in Jerusalem whilst Hurghada makes the better base if you want to take a day trip to Luxor and enjoy a cruise down the Nile.
14. Cyprus
Known officially as the Republic of Cyprus, this culturally and historically rich island country with its ancient ruins, picturesque harbours, and windswept beaches is located in the Eastern Mediterranean and is the 3rd largest island in the Mediterranean. Hotter than the other Mediterranean islands, exactly how hot it will depend on where you base yourself with temperatures hitting the high 80's on the South-east coast, the mid 80's on the West coast and around 75°F in the mountains.
The city of Nicosia is the only divided city in the world with the Turkish Cypriots inhabiting the North and the Greek Cypriot's the South – Crossing the border is a must to see the difference between the two halves, the South very cosmopolitan with a European feel with the poorer North giving you a glimpse of Turkey and a look at the authentic side of Cyprus, how it used to be before tourism took over.
However, for a beach holiday, most visitors stay in the South at one of the many resorts that line the Eastern coast. Agia Napa is the party town of Cyprus, popular with the 18-30 crowd though it does have its cultural points of interest too. Commercial yet family-friendly Limmasol makes a good option if you seek nightlife but without the craziness of the 18-30 clubs.
Paphos in the SouthWest is a culture vulture's dream come true full of archaeological sites including the 4th century BC Tombs of the Kings and the sprawling Kato Paphos Archaeological Park, there's even a mythological site with Aphrodite's Rock at nearby Petra Tou Romiou whilst Larnaca gives good access to the salt lake and the Hala Sultan Tekke mosque. Alternatively, you might steer away from the coast and stay inland to make the most of hiking and cycling routes through the mountainous valleys with vineyards, pine forests, and monasteries.
15. Turkish Riviera aka The Turquoise Coast
This area of outstanding beauty in Southwest Turkey has ancient cities and stunning sandy beaches with dazzling turquoise waters in front and serene forested mountains behind. Stretching 1,500km from Lycia to the eastern border of Turkey it includes the city of Antalya and a number of top tourist resorts with something suitable for every type of traveller.
Belek caters to outdoor adventurers with its golf courses, Jeep safari's through the Taurus mountains and rafting excursions through the rapids of the Koprulu Canyon whilst chic Bodrum with its mix of old and new parts is a great base for culture vultures. Bodrum does have a great nightlife scene with a huge amount of bars to choose from but if you're an 18-30 party animal, Gümbet is the resort for you.
Those who seek luxury and glamour should head to Lara Beach, Turkey's answer to Las Vegas but visitors who plan on alternating between sunbathing and watersports should head to Oludeniz with its famous Blue Lagoon and water taxi's that can whisk you off to different coves should you get bored of the beach you're on. In September you can expect temperatures to be hitting 87.6°F each day with the weather remaining delightful right through the month, no chance of rain!
16. Cot D Azur
Otherwise known as the French Riviera, this stretch of seductive Southeastern Mediterranean coastline starts at Menton and ends at Cassis. The playground of the rich and famous, the Cote D Azur is most well known for its glamorous beach resorts of Cannes and Saint-Tropez, along with Nice, and the independent microstate of Monaco.
It's not all yachts, supercars, and casino's though, you'll discover many smaller picturesque coastal towns and historic hillside villages when driving along the clifftop roads on the trail for art and architecture, perfect if you want to admire the azure coastline without the glitz and glam.
In September, particularly the later in the month you leave it, you'll enjoy less crowds and a more relaxed feel with weather pleasantly warm rather than unbearably hot, temperatures reaching the high 70's at the start of the month and dropping to the mid 60's by the end of September with the chance of a few rainy days though sea temperatures remain a pleasant 66.2°F.
We hope this list of some of the best places to go in September for sun has whetted your appetite, let us know in the comments where you'll be heading off to!