The island of Ortigia, which is connected to the land by the Umbertino bridge and Santa Lucia bridge, is the most ancient district of the Sicilian city of Siracusa. It's a sort of "city within the city" and "island within the island" so that it's one of the most special places in Southern Italy and it's definitely worth a visit! It's also part of the UNESCO's World Heritage List.
This island was inhabited since ancient times thanks to its natural springs and it experienced its greatest splendour during the Greek period. This corner of Sicily has much to offer: Baroque buildings, beautiful churches, amazing views, ancient ruins, and picturesque alleys.
Disclaimer: This post contains affiliate links. This means that should you click on certain links, and then subsequently purchase a product, I will receive a small commission.
Things to do in Ortigia, Siracusa in a day
1. Maniace Castle
This former military fortress is located on the Southern tip of Ortigia island and its impressive appearance was meant to be seen from miles away. It was built by Federico II, King of the Swabians, in 1240. The castle owes its name to General Giorgio Maniace, who saved the city from the Arab army in 1038 thanks to the fortifications he built in this exact point.
Over the centuries, the castle became a prison, a portion of the city walls and a deposit for weapons during World War II. After long restoration works, the castle was reopened in 2015 and it now hosts the Antiquarium, which is a permanent exhibition about its ancient history and the archaeological findings that occurred during the restoration works.
Opening hours: every day from 8.30 a.m. to 7.45 p.m. On Mondays from 2.30 to 7.45 p.m. Cost: 4 euro.
2. Arethusa Spring
You'll encounter this natural spring in the oldest part of the island. It is located just a few meters from the sea and it forms a small lake surrounded by some papyrus trees and populated by fishes and ducks. It derives its name from the nymph Arethusa, who was one of Diana's handmaids according to the myth. The legend says that she once left the group to have a bath in the Alfeo river. The spirit of the river fell in love with her and did not want to let her go. She tried to resist but the waters became roughs. Diana came to save her and turned her into a spring. The spirit of the river was happy too because they would be together forever.
3. Cathedral
A baroque gem in the heart of the old town. There is a surprise inside: the ancient temple of Athena! The temple is well preserved and you can still see its columns and some parts of the external walls. It was incorporated into the church in the VI century A.C. when the Byzantines built a Christian Basilica in honour of the Virgin Mary.
Today you can see a mix of different styles in architecture and decoration and learn something about each historical period. Something you should closely watch is the floor: it is made of colourful marbles and it dates back to the XV century. The elegant Baroque façade is also one of the most photographed spots of Ortigia.
Opening hours: October – March from 9 a.m. to 5.30 p.m. April – June, and September from 9 a.m. to 6.30 p.m. and July – August from 9 a.m. to 7 p.m. Cost: 2 euro.
4. Temple of Apollo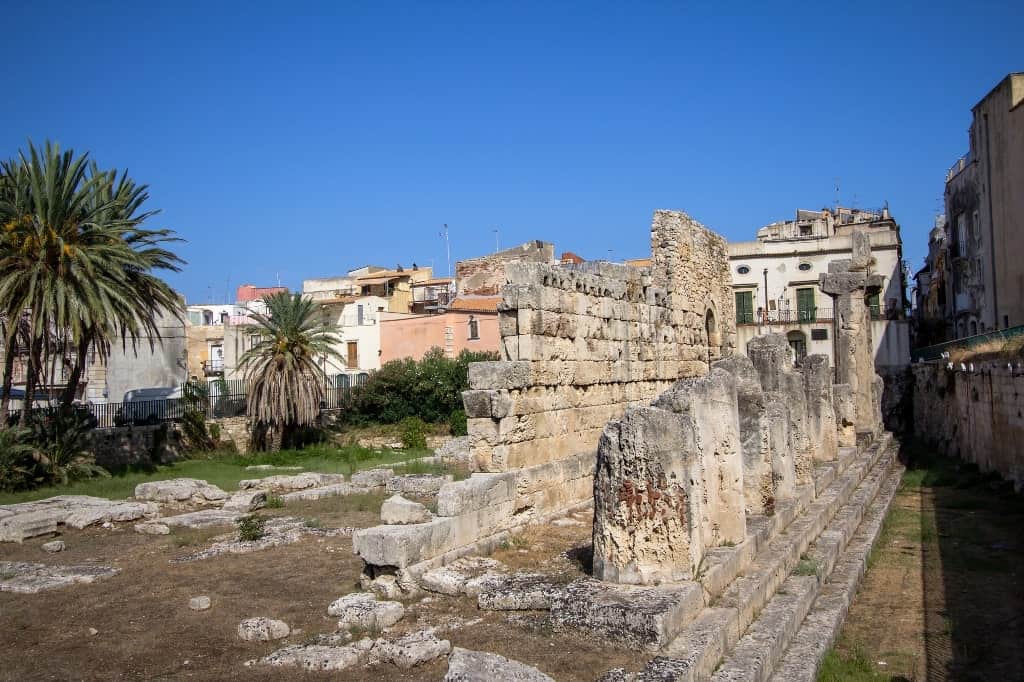 It dates back to the VI century B.C. and it's the oldest temple you'll find in Sicily. One of the most unique features of this temple can be seen on the upper step of its eastern side: you'll see the name of its architect, which was something that never occurred at that time. This means that the building was considered exceptional and somewhat special. Today the areological area is closed but you can still watch it from the outside.
5. Alleys of the old town
A labyrinth of picturesque little streets, nice squares, hidden courts, and Baroque buildings. A pleasant walk will make you enjoy the local atmosphere. Discover local craftsmen's shops, small cafés and restaurants hidden at every corner and take some pictures of this typically Sicilian place.
6. Fountain of Diana
It is located in Archimede Square and it dates back to 1878. It's been recently restored and it tells the myth of Diana and Aretusa. The represented scene shows Aretusa being turned into a spring to escape Alfeo.
7. Church of Santa Lucia la Badia
It is close to the Cathedral and, even if it's smaller and simpler, you cannot miss it. You'll love its beautiful Baroque facade, a famous painting by Caravaggio and its maiolica floor dating back to the XVIII century. This church is very important to the locals because it's dedicated to Siracusa's Patron Saint Lucia.
Opening hours: from 11 a.m. to 4 p.m. Cost: free.
8. Alfeo Promenade
A nice waterfront offering a beautiful view and a number of cafés and restaurants. Everyone comes here at least once during their visit to Siracusa! To take the most amazing pictures, come here at sunset and enjoy the landscape.
Things to do in Ortigia like a local
Take a tour of the local market
Local markets are always the best places to better understand the spirit of a town and see some everyday life scenes showing what's like living there. It's also a good way to start your day as a local and not as a tourist. Watch the rich fish stalls and smell the local products. You can also buy some gourmet souvenirs! Some ideas? Local cheese, cold cuts, olives or caponata.
Enjoy a show at the Pupi Theater
Pupi are Sicilian puppets telling the stories of Charlemagne and his knights. The Pupi Opera is a real dramatic genre that is widespread throughout Sicily and it's very much appreciated by both adults and kids.
Taste the original Sicilian granita
It's more than a refreshing snack. It tastes like a sorbet and it can be served together with some whipped cream and warm brioche. The most typical flavours are lemon, almond, mulberry and pistachio.
How to plan your one-day trip to Ortigia from Siracusa
How to get there: there is a special bus taking locals and tourists from Siracusa to Ortigia.
Best period: May and September
Longer itinerary: enjoy a long weekend in Siracusa to fully explore this beautiful city. You can also spend a week in a nearby seaside resort, for example, Avola, Fontane Bianche or Marzamemi: they are close to Siracusa and they'll provide you with a relaxing seaside holiday together with the chance to go sightseeing.
Restaurants in Ortigia:
Fresh fish is a must here! A few addresses? Bistrot Bella Vita in via Gargallo 60 or Sicilia in Tavola in via Cavour 28
For a typically Sicilian dinner: Scialai in via Cavour 25
Cafés, bars, and street food in Ortigia:
Enjoy an Italian aperitivo (happy hour): Angelina Panini Siciliani in via Landolina 22
Try local street food: Fisheria in via dell'Amalfitania 6
One of the best granita in town: Pasticceria Artale in via Landolina 32
Shopping
Hand-painted maiolicas are one of the most popular handicraft products in Southern Italy. Here you can visit the laboratory Ceramiche Dolù in via Larga 7
For a gastronomic souvenir choose some non-perishable products like local olives. You'll find them at Olive in via Cavour 27
The main shopping street in Ortigia is Corso Matteotti
Where to stay in Ortigia
Your one-day itinerary of Ortigia
Get off the bus at Riva della Posta/Pancali stop and head to the Temple of Apollo;
Take a morning tour of the local market and watch the people and the fresh goods on the stalls;
Take Corso Giacomo Matteotti and head to Archimede Square to see the Fountain of Diana;
Take via dell'Amalfitania, turn left in via Landolina and reach Duomo Square. Start from the visit of the Church of Santa Lucia;
Enjoy the inside and the outside of the Cathedral;
It's lunchtime! Enjoy the view on Duomo Square sitting at a table of the Gran Caffè Duomo;
Head to Aretusa Spring. Take via delle Vergini just behind the Church of Santa Lucia, then turn right in via Capodieci;
Have a walk on the Alfeo Promenade and have a break at one of its cafés to taste a refreshing granita;
Reach the Maniace Castle and spend some time visiting it and taking some pictures of the sea;
Enjoy a relaxing walk through the ancient alleys of the city center and grab the chance to buy some souvenir;
If you feel like spending your evening in Ortigia, there will be plenty of events for any time of the year. A few examples? The local film festival in July or Pupi Day in November!
PIN IT!