As the days draw in, the clocks go back and the temperature plummets into single figures, you might be starting to dream about the best beach holidays in December so you can start planning your trip to enjoy some winter sun! I've scoured the globe for you to find a whole host of warm beaches in December so you just need to pick one of the following destinations and start planning your getaway.
As the northern hemisphere starts cooling down throughout autumn and winter, you need to start looking slightly further afield to get your sunshine fix. Check out tropical destinations like Goa, Belize and Malaysia for your next December vacation.
Just think, while everyone else is wrapped up in their slippers with a cup of tea you could be kicking back on the beach with a cocktail in hand! What's not to love?!
Best beach holidays in December
1. Mexico
As Mexico is such a huge country it makes a fantastic year-round destination as you can always find somewhere with some sun no matter the time of year. If you fancy seeking out the sunshine in December, you're best off visiting Puerto Vallarta or the Yucatan Peninsula as these receive the highest temperatures which will allow you to while away your trip on the beach.
Tulum, Playa del Carmen, and Cancun all boast average daytime temperatures well into the 20s (Celsius), with the weather rarely dropping into the teens, even overnight! As the Yucatan region has a fairly tropical climate, however, it does receive a certain amount of rain throughout December, with somewhere between 7 and 15 days a month. But fear not, these are usually quick, heavy downpours rather than long drizzly days so they shouldn't affect your trip too much! The Yucatan boasts the perfect mix of pristine beaches, great temperatures, incredible local cuisine, stunning cenotes and intriguing Mayan ruins which allow you to have the best of all worlds during your December vacation.
Puerto Vallarta is located on the other side of Mexico (on the Pacific Coast), with a warm but much less tropical climate. PV is ideal for a relaxing beach holiday in December as it receives highs of 30C and lows of 20C, with an average of just four days of rain a month. The sea temperature is a balmy 25C which is perfect for a dip when the heat of the day gets too much. Spend your days reclining on the warm sands, drinking, dining and dancing along the boardwalk or taking day trips to the surrounding mountains and countryside for some more adventurous activities.
Check out more excursions from Playa del Carmen. 
You might also be interested in the Xpu Ha Beach which makes a great day trip from Playa del Carmen.
2. Fiji
If your idea of a beach holiday in December involves kicking back on a paradise island in the sun, then look no further than Fiji, the spectacular island state in the South Pacific. This collection of islands is geared up to create an awesome beach vacation, with warm waters, idyllic palm-fringed beaches and coral reefs that could keep you entertained for weeks on end! When you're not enjoying the attractions of the underwater world, you can glide across the top of the water on a kayak, hike through the island wilderness, or get to know the friendly locals that live and work on the islands.
While Fiji does receive quite a lot of rain throughout the month of December, this again is likely to come in heavy downpours, so you can chill out inside eating local cuisine or enjoying a massage while you wait it out. With temperatures in their high 20s and 30s, the landscape will dry out in no time and you can be back out on the beach soaking up the sun.
As December is the height of summer in Fiji, the country receives 13 hours of daylight, giving you plenty of time to explore and enjoy the island. Fiji can also be a great beach add on to a trip to Australia or New Zealand.
3. Southern Sri Lanka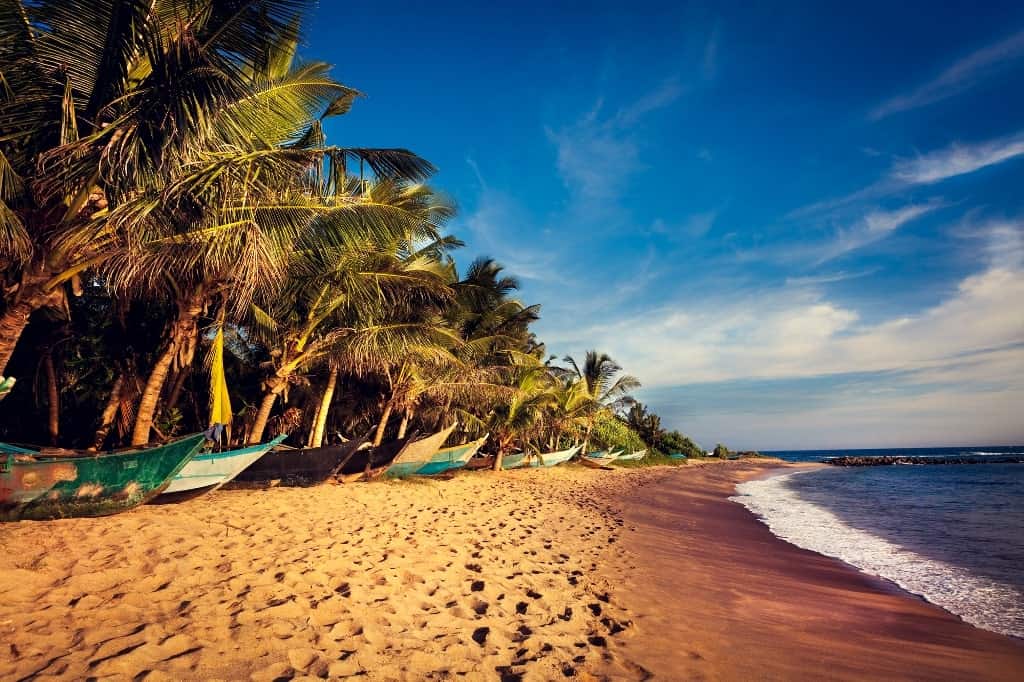 The small island of Sri Lanka has a variable climate throughout the year depending on where you are in the country. Thankfully, the south of Sri Lanka receives the best weather in December, which is ideally where some of the most beautiful beaches are located!
The beachside destinations of Mirissa, Galle, and Hikkaduwa receive average daily highs of around 31°C, which is perfect for relaxing on the sand or taking a quick dip in the water. While there will be the occasional downpour, the rain shouldn't really affect your trip.
With evening temperatures sitting around 24°C, Southern Sri Lanka is ideal for dining on the coast, eating fresh seafood with your feet in the sand!
December is also the beginning of the season for climbing Adam's Peak, so if you want to add some adventure to your beach vacation you can include some hiking and safari-going too!
The area around Colombo and Negombo also receive good weather in December, so you can easily spend a couple of days in a beach hotel here at the beginning or end of your trip.
4. Jamaica
The Caribbean offers some of the best beach holidays in December, with Jamaica being up there are one of the top destinations for a beach break over Christmas and the New Year. Temperatures range from 22-29°C with an average of 9 hours of sunshine a day! This weather makes it ideal for unwinding on Jamaica's beaches, sipping cocktails and reading books to your heart's content.
The sea temperature is usually around 28°C in December which makes the Caribbean Sea feel like a bathtub as you head in for a dip!
Thanks to the coastal location of many of Jamaica's hotels, visitors are blessed with a cool sea breeze which enables you to stay on the beach for the whole day without overheating.
Although rain frequency intensifies somewhat throughout December in Jamaica, the afternoon downpours actually bring a bit of respite from the heat.
5. Australia
If you live in Europe you might just be dreaming of the other side of the world when the autumn leaves begin to fall. If so, you may well be wondering whether December is a good time to visit Australia. Well, the answer is a resounding yes! Australia, in particular, the Gold Coast, is absolute epic at this time of year, with the southern hemisphere sun beaming down on the beaches all the way from Sydney to Port Douglas.
Visitors can opt for a city/beach combo trip with the likes of Sydney or Brisbane, or just go all out beach with time spent at Byron Bay, Coff's Harbour, Cairns or the Whitsundays! Australia's Gold Coast has so many beaches to choose from that it's often hard to pick just one, so a road trip may well be your best bet.
Temperatures along the Gold Coast range from around 20-30°C throughout the month of December, with Cairns receiving the highest temperatures and Sydney a little lower. There may be some rain on and off throughout the month but nothing to stop you having a great time exploring the beaches, snorkeling the coral reefs or surfing on some world-class swell.
6. Goa, India
December is a delightful time to travel to Goa in India thanks to its excellent climate making it seem a million miles away from the cold winters of Europe. Average daytime temperatures in Goa are 27°C and the state receives an average of just one day of rain per month in December so you won't have to worry about rain affecting your holiday.
Goa is definitely one of the best beach destinations in December as the sun, sea temperature, culture, and cuisine all work together to create the perfect vacation! While December may be a little warm for practicing yoga in one of Goa's many retreat centers, it is ideal for lounging around on the beach and going for a swim.
Each year on the 19th of December, Goa celebrates Liberation Day, recognizing its separation from Portugal. The region celebrates with parades and parties that end at the Campal Ground in Panjim and are not to be missed! December in Goa also sees the Serendipity Arts Festival spring into action, the nesting of Olive Ridley sea turtles and the flow of the Dudhsagar Falls powering down the cliffside! There is therefore plenty to keep you entertained throughout the month of December in Goa and there really is no excuse not to go!
7. Philippines
The dry season is well underway in the Philippines by December so you can expect long sunny days, clear skies and a drop in humidity that makes the daytime temperatures of 22-32°C more than bearable. As the majority of the country has been drying up since the start of November, pretty much all islands and remote regions are fully accessible by December, so you have free rein as to where you can travel.
Palawan is arguably the most famous and most impressive beach destination in the Philippines, with sights such as the Puerto Princesa Underground River, Honda Bay, and El Nido being must-sees. The landscapes and lagoons here are absolutely mesmerizing and they certainly make for one of the best beach vacations in December!
While many destinations across the Philippines receive more rain in December than say, January or February, it is still a fantastic destination for Christmas and the New Year with guaranteed warm weather.
Visitors can spend December diving among shipwrecks, exploring coral gardens and lounging around on picture-perfect beaches with the turquoise waters lapping at the shore – dreamy!
8. Mauritius
On the whole, Mauritius has pretty fantastic weather in December, with hot, balmy days and bath-like sea temperatures that will lure you in at any time of day or night! Daytime highs reach around 28-30°C while evenings are a little cooler (around 22°C) which makes it comfortable for sleeping.
Although December does have around a 50/50 chance of rain, it is likely to be tropical downpours with sunshine either side rather than full days of showers. This means that you can pop inside for an afternoon siesta while it rains and then head back out to enjoy the rest of the 8 hours of glorious sunshine a day!
The joy of traveling to Mauritius in December is that the inland temperatures (such as in the Chamarel Mountains) are cooler, allowing you to add some hiking in the verdant landscapes to your itinerary if you so desire.
Be aware that the sun can be extremely strong in Mauritius in December so you'll need to lather up with plenty of sun cream throughout the day to avoid getting burnt!
9. Belize
If you're searching for winter sun this December, then why not head to Belize where you can enjoy 11 hours of bright daylight, temperatures in their 20s and more attractions than you could ever dream of!
Caye Caulker is one of the most idyllic beach destinations out there, with azure water, well-kept coral reefs, spectacular dive sites and miles of palm-fringed coastline for you to recline on and top up your tan. The beach resort has a real laid-back atmosphere where you can chat with locals, drink rum cocktails and dance the night away with your new-found friends!
Add to this a range of Mayan ruins, some intriguing wildlife and tons of incredible trekking trails and you have the perfect December vacation destination.
Each Christmas the Garifuna community get together to perform their traditional Joncunu dance which is followed by a Grand Ball for those who want to enjoy some elegant festivities. Most beach resorts in Belize also put on fun New Year's Eve celebrations so you can ring in 2020 while watching fireworks with your toes in the sand.
10. Cuba
While Cuba is known for its extraordinary history and culture, it is also home to a number of stunning beaches which are the perfect place to take a break in winter. Cuba sees just 7 days of rain throughout December (with only 36mm for the whole month), so you can expect long, hot days and plenty of sunshine!
The average maximum temperature throughout December is 27°C and sea temperatures are a soothing 26°C, so it is perfect for a beach vacation. The best beach destinations in Cuba in December are Varadero, Cayo Coco, Cayo Guillermo, and Playa Los Pinos.
For the ideal Cuba holiday, combine your beach break with a couple of days in the capital, soaking up the atmosphere, dancing salsa, drinking rum, driving around in vintage cars and seeing Havana's awesome architecture.
If you happen to be in Cuba on Christmas Eve, listen out for locals celebrating Noche Buena with feasts and dancing into the wee hours!
11. Langkawi, Malaysia
The island of Langkawi in Malaysia is another tropical beach destination that offers glorious sunshine and warmth throughout the month of December. While there will potentially be more days where you have some rainfall than not, that doesn't mean that there won't be time to hit the beach! You can expect frequent afternoon downpours but also at least 7 hours of sunshine a day that will keep the smile on your face.
Temperatures in Langkawi in December range from 23-32°C with lovely averages of around 28°C (both in and out of the water).
Unlike some of Malaysia's other destinations, Langkawi is all about the beach, with resorts perched right on the shore and plenty of restaurants where you can hear the sound of the sea while you dine. The island features a wonderful selection of bars, restaurants, shops, and hotels so there really is something for everyone and it makes the perfect place to get away from winter!
12. South Africa
While most people think of safaris when they think of South Africa, it's important to point out that both Cape Town and the Garden Route have some beautiful beaches that are just begging to be explored. December is a fantastic month for this as you can enjoy 11 hours of sunshine, less than 7 days on rain per month (on average) and comfortable temperatures of around 26°C which is both ideal for sunbathing and walking through some of South Africa's breath-taking landscapes.
The list of South Africa's beaches is pretty much endless but Arniston Beach, Kommetjie, Camps Bay, Hout Bay, and Boulder's Beach are just a few to help you get started! Although November and December are molting time for the penguins at Boulder's Beach (and therefore not the cutest time of year) it is still fascinating to see these creatures in such close quarters!
The further up the coast you go, the cooler the temperature and the more the average rainfall, but either way the weather will still be much better than that of North America and Europe at this time of year!
You might be interested in some great beach destinations in South Africa like Knysna and Mossel Bay. 
13. Panama
Panama is well and truly located in the Tropics so you can expect balmy year-round temperatures and on-and-off rain throughout the year. The main dry season runs from December to April though, so by visiting Panama over the festive period you're likely to miss the wettest months.
On the whole, the Pacific side of Panama is drier than the Caribbean side but you are sure to enjoy gorgeous temperatures and sunny days in both throughout December. Temperatures in both Bocas del Toro and The Pearl Islands range from 25-31°C which is ideal for relaxing on the beach.
As most of the country is just coming out of the wet season, landscapes are likely to be lush and verdant which makes hiking and day trips an excellent addition to any beach vacation.
It's worth noting that Christmas Day is a public holiday in Panama and pretty much everything shuts down so you'll want to make sure your hotel has some sort of food offering as you don't want to go hungry on Christmas Day!!
14. Aqaba, Jordan
Aqaba is the only coastal town in the country of Jordan which makes it an interesting alternative beach destination for those seeking a mix of culture, weather, and beach relaxation.
Unlike many of these tropical destinations, Aqaba also only has an average of one day of rain throughout the whole of December so if you're looking for somewhere with pretty much-guaranteed sunshine and dry days this could be the place for you! Temperatures are lower than elsewhere though – mostly in the high teens – but there are usually 7 hours of sunshine a day which is great for enjoying cafe culture and coastal walks.
Of course, as Jordan is mainly a Muslim country there may not be many Christmas celebrations, but if you're looking to spend time with family or just want to get away from it all there are many things to do in Aqaba.
You might want to check out: A 7 day Jordan itinerary. 
15. Puerto Rico
While Puerto Rico isn't the hottest destination in December it is certainly warmer than most places in Europe with daytime temperatures ranging between 16°C and 21°C. The island receives between 6 and 9 hours of sunshine a day throughout December which gives you plenty of time to get out on a kayak on the water, walk through the cobbled streets of Old San Juan or to ride the somewhat crazy El Monstruo zip-line in the El Toro Adventure Park!
When you're not out exploring you can pick the warmer days to relax on the beach and maybe take a dip in the water. While the sea temperatures may be a little chilly for some (around 21°C) they will feel balmy compared to Christmas day swims on the beach in Britain!
December is the beginning of the high season in Puerto Rico which means that prices will start to rise (and availability decrease) but it just goes to show that it is a great beach vacation destination for Christmas.
So, there you have it, the best beach destinations in December! Whether you fancy something tropical, cultural, paradisiacal or pristine, there is a beach location for you. Now you have absolutely no excuse not to escape the winter blues and enjoy some sunshine.