Planning to spend 7 days in Spain and looking for the best places to visit? On this 7 day Spain itinerary you'll be starting off in Barcelona before moving onto Madrid, Spain's capital city. It's not all about bustling cities though, we've also included a trip to Toledo into this Spanish itinerary so read on and get excited for how you can spend a week in Spain. It's the perfect introduction to the country for 1st time visitors – Get ready to sip the sangria!
Disclaimer: This post contains affiliate links. This means that should you click on certain links, and then subsequently purchase a product, I will receive a small commission.
7 Days in Spain an Itinerary to Barcelona, Madrid and Toledo
Day One – Barcelona
Today's the day that you arrive in Spain! Despite the tiring flight, we think you'll be ready and raring to explore the city on your first day, but first…
Barcelona Go City Pass
A good way to save time and money is to invest in a Barcelona Pass. With the pass, you can save up to 50% on the top Barcelona attractions.
The Barcelona Pass is all-inclusive and provides access to popular attractions, like:
Casa Batlló
Sagrada Familia Guided Tour
La Pedrera
Park Güell Guided Tour
Barcelona Bus Turístic
FC Barcelona – Immersive Tour
Click here for more information and to book your Barcelona Go City Pass.
How To Get From Barcelona Airport to the City Centre
Barcelona International Airport (El Prat Josep Tarradellas or simply El Prat Airport) is located 14km (8.5miles) southwest of the city center and is connected to the city via metro, buses, RENF train, and of course taxi or private transfer.

Metro: Both terminal 1 and terminal 2 are connected to the L9 Sud (L9 South) orange metro line. To get to the city center you will need to change lines at one of the following stations depending on your destination.

Torrassa Station – connection with L1 Metro red line
Collblanc Station – connection with L5 Metro blue line
Zona Universitària – connection with L3 green line

The metro station at terminal 1 is accessible from inside the airport building and at terminal 2 the entrance is outside the building, next to the train station. Trains run every 7 minutes (more often during peak hours) from 5 am until midnight Monday-Thursday, from 5 am-2 am Friday, and 24 from 5 am Saturday to Sunday.

RENFE Train: RENFE trains depart from the station outside of Terminal 2 every 30 minutes between 5.42 am-11.38 pm traveling to Clot, Passeig de Gràcia, or Barcelona Sants (Sants Estació). Each of these stations is connected to the metro to make your onward journey to your hotel easier.
Note: If arriving at terminal 1 you will need to catch one of the free shuttle buses to the train station.

Aero Bus: 2 express bus lines serve terminals 1 and 2 independently of each other. Both travel to Plaça Catalunya with stops at Plaça Espanya, Gran Via-Urgell, and Plaça Univsitat. Aero buses (the blue ones) run every 5-10 minutes from 5 am-12.30 pm from terminal 1 and 5.30 am-1 am from terminal 2. Tickets can be purchased on the bus (cash only) or online.

Private Transfer with Welcome Pick Ups: You will find taxi stands outside all the airport terminals. Always use the official taxi services and do not take offers from drivers inside the terminal. Trip duration up to 30 minutes depending on traffic. You can also try an alternative to a taxi the Welcome Pick Ups. It costs slightly more than a regular taxi, only now you will have already prepaid for it, your driver will be waiting for you at the arrivals hall holding a sign with your name on it, a bottle of water and a city map. You will not have to worry at all about the language as all drivers speak English. There is a fixed price of 37 € each way. Click here for more information and to book your trip.
Where to stay in Barcelona
Petit Palace Boqueria Garden: Situated right in the Boqueria of Barcelona, one of the most important monuments of the city, the Petit Palace Opera Garden is a gorgeous hotel with all amenities needed and a central location. It's simple, beautiful, and has a genuine atmosphere to it. You have an area with a buffet, a picturesque courtyard, and modern furniture. Click here for more information and to check the latest prices.

Ciutat de Barcelona: Huge sun-lit windows, a rooftop terrace, a swimming pool, and all amenities you might need in a hotel, the Ciutat de Barcelona is a 15-minute walk from the beach and only 1 minute away from the Gothic Quarter. The perfect location and the best of both worlds. It even has a tapas-style restaurant where you can have all meals. Click here for more information and to check the latest prices.

The One Barcelona: Extremely sleek, extremely modern, and super luxurious, the One is located in the prestigious Passeig de Gracia. The hotel looks directly at La Pedrera and boasts marble bathrooms, spacious rooms, a restaurant and a cocktail bar, and even a spa and limousine service. Click here for more information and to check the latest prices.
Tip: Barcelona is a big city get around comfortably with a 2, 3, 4, or 5 day public transport ticket.
Placa de Catalunya
The most central point in the city, and a favourite meeting point for both locals and travellers, Placa de Catalunya is a huge (5 hectare) bustling square that acts as the main transport hub in the city. Surrounded by monumental buildings, it contains statues and sculptures, fountains as well as a large shopping mall with department stores. It's the place where old Barcelona meets new Barcelona.
Las Ramblas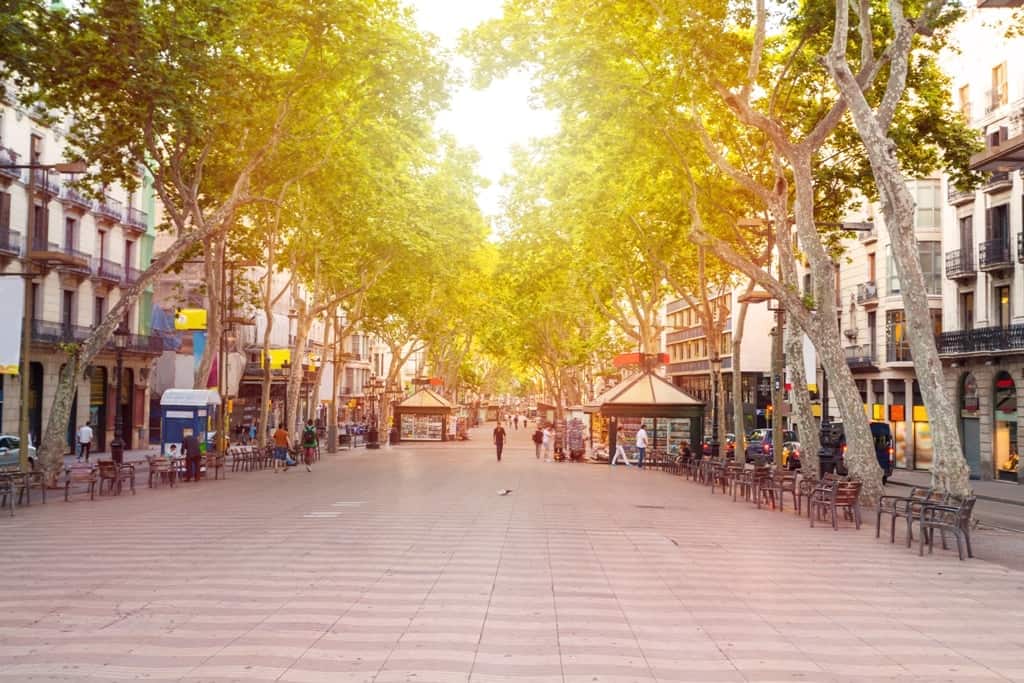 The main street/boulevard in the city, La Ramblas is an iconic tree-lined pedestrian street that runs for 1.2km, cutting the old town in two. Enjoy the energetic vibe as you walk from top to bottom watching the street performers, admiring the ornate 18th-century architecture, and soaking up the lively atmosphere– You'll either love it or hate it but you certainly can't miss it!
La Boqueria
The most famous food market in the world, and the oldest one in Barcelona, step through the wrought iron gates off of Las Ramblas and experience the culture of Barcelona through its cuisine with 200 market stalls.
Gothic Quarter
Dozens of alleys with charming Medieval architecture now housing modern shops and bars lead off of Las Ramblas taking you further and further into the maze of winding backstreets that makeup Barcelona's Gothic Quarter. Originally a Roman settlement, the Gothic Quarter is now a hive of activity and a delight for photographers and architecture fans – Don't worry about where you're walking (although you will certainly not want to miss Barcelona's very own Bridge of Sighs aka The Bishop's Bridge) just enjoy the amazement of what you find around every corner.
Barcelona Cathedral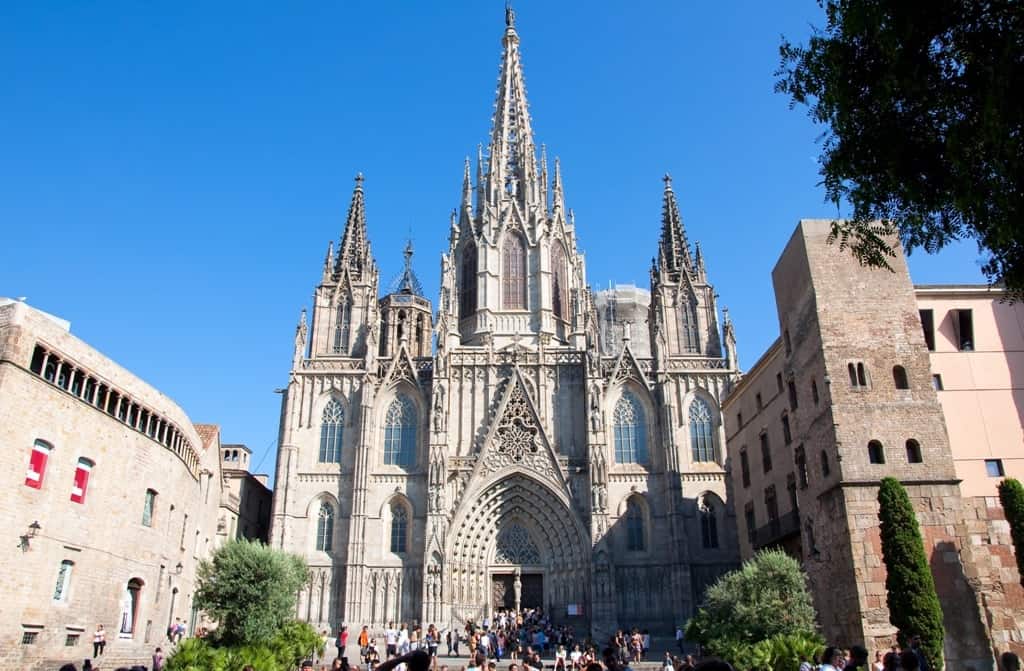 Not to be confused with the famous Basilica de la Sagrada Familia, Barcelona Cathedral (aka The Cathedral of the Holy Cross and Saint Eulalia) is a Gothic masterpiece that was built between the 13th-15th centuries. A popular meeting place, and resting place after all that walking, be sure to step through the historical wooden doors to relish in the peace and quiet whilst discovering the story of the 12 geese.
Day Two – Barcelona
Day 2 is all about delighting your eyes with the amazing one-of-a-kind Catalan Modernism architecture of Gaudi.
Visit the symbol of the city, the iconic yet controversial Basilica of the Sagrada Família as early as you can in the morning as the lines to enter the church are long and the area around the church gets extremely crowded with everyone wanting to see and get photos of this still unfinished masterpiece.
Tip: A visit inside is highly recommended so a skip the line ticket or a guided tour is a must.
Alternative Option – If you simply cannot get out of bed to beat the crowds early in the morning, delay your visit until late afternoon / early evening when the sun is setting and the colours in the stained-glass windows truly dazzle.
Casa Milà & Casa Batlló
A hop, skip, and a jump from the basilica you'll find 2 of Gaudi's eccentric houses. Each a masterpiece in their own right (and both UNESCO sites), Casa Batlló with its curvy walls and bright mosaics, is a remodelled Art Nouveau building that really makes your head turn. Whilst Casa Milà is the shyer of the two, a block of apartments where you have to look deeper to appreciate the unique architecture.
If you only go inside one, choose Casa Batlló as it's like stepping into a glittering jewellery box and the carved staircase is like nothing you've ever seen before. If you love Gaudi's mosaic work the interior patio will blow you away too with its shades of blue reminding you of the different depths of the ocean.
Tip – Both houses put on Summer events on the roof terraces during the Summer, admire the architecture as you sip on a drink and listen to some jazz whilst looking down on Barcelona, so why not come back one evening to step inside?
Click here to book your Casa Milà Skip-the-Line Ticket with Audio Guide.
Click here to book your skip the line tickets to Casa Batlló.
El Palau de la Música Catalana
One of the most important and certainly one of the most eye-catching concert halls in the world, El Palau de la Musica Catalana is an incredible reflection of Catalan art inside and out, architect Lluís Domènech i Montaner, taking the credit for this beautiful building. Admire the bright colours and the intricate mosaics on the columns from the outside as well as the inside, and if you can afford it, don't hesitate in getting a ticket to see a show – It'll be a night to remember!
Click here to book your Palau de la Música self Guided Tour.
Day Three – Barcelona
There's still plenty more to see in the city! Start the day by seeing more Gaudi architecture before heading to a museum and then the beach to relax.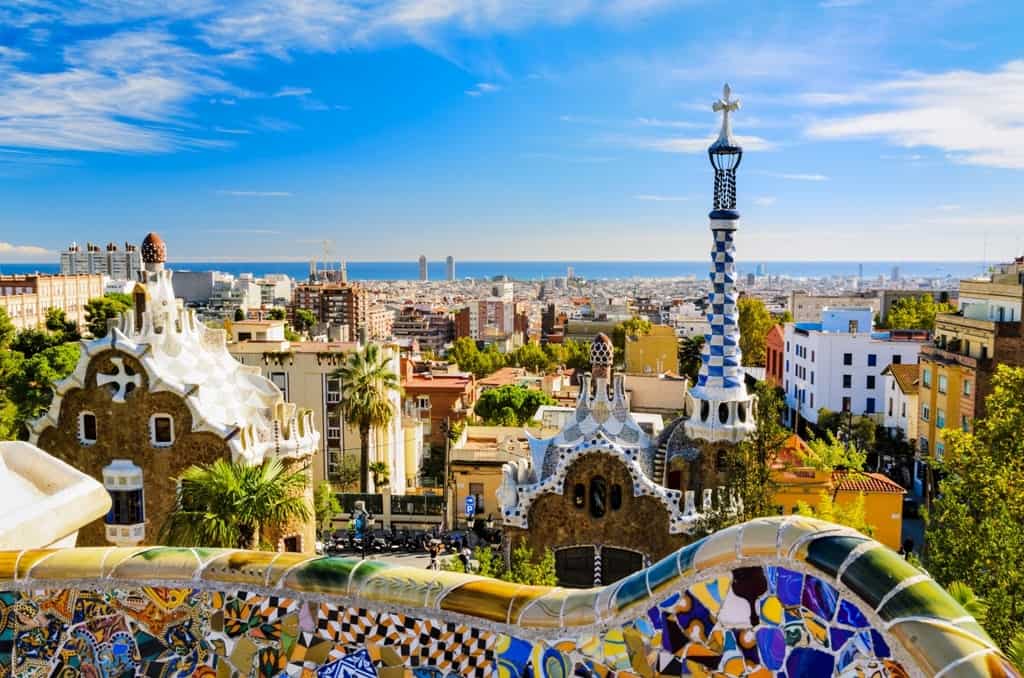 You may not instantly recognise the name, but you're sure to have seen photo's of this stunning architectural playground that houses more of Gaudi's cool and quirky mosaic masterpieces. As well as admiring his creativity in what was meant to be a marketplace, you'll be able to admire the panoramic views across the city to the beach too.
Be one of the first people in when the gates open (and buy a skip the line ticket to save even more precious time) so that you can admire the artworks without the hoards of people taking selfies!
Museo Picasso
Step inside the Picasso Museum to learn how much of an influence Barcelona had on his life and his work. Housed inside a stunning Gothic building, the museum houses one of the most complete permanent collections of his works boasting 4,251 works by the 20th-century Spanish artist.
Alternative – Love art and Picasso's work in particular? Take the Picasso Walking Tour which includes a tour around the Picasso Museum.
La Barceloneta – The Beach
You're probably feeling a bit weary now – Don't worry, you've almost seen all the best bits of Barcelona's historic and cultural side, now it's time to chill for a while! Head to the seaside neighborhood of La Barceloneta and swim, sunbathe, surf, or simply relax with a beer or cocktail.
You'll find plenty of al fresco seafood restaurants and tapas bars. After some food, wander along the beach, past the fancy yachts filling the marina, or jump on the Port Cable Car that goes up to Montjuïc hill providing panoramic views across the city.
Plaza de España and MNAC
One of the most important squares in the city, Plaza de España is a bustling transport hub containing shops and restaurants with two iconic red towers known as the Venetian Towers that lead to Montjuic Palace.
Located on the edge of the Park of Montjuic, which has great city views against the backdrop of mountains, the palace houses the Museum of National Art of Catalunya (MNAC) and has a fountain with a musical light show taking place each evening.
MNAC is open until 8pm Tuesday-Saturday between May and September so if visiting during these months it makes sense to have a lazy afternoon at the beach and then explore the palace grounds before entering the art gallery in the evening. By the time you've over-indulged in Catalan Art it should be nearing the start time of the fountain show – shows take place from 8pm-9pm, 9pm-10pm, or 9.30pm-10.30pm depending on the time of year.
Tip – Not a fan of art, or don't want to do 2 art galleries in 1 day? Skip going inside MNAC but don't skip seeing the exterior of the palace, admiring the views from the park, and staying to watch the fountain show.
Day Four – Barcelona to Madrid
It's time to leave beautiful Barcelona behind and go explore marvellous Madrid! Whether you choose to fly, go by train, or by bus there's a transport option to suit every type of traveller and every budget.
Madrid Go City Pass
A good way to save time and money is to invest in a Madrid Pass. With the pass, you can save up to 50% on the top Madrid attractions.
The Madrid Pass is all-inclusive and provides access to popular attractions, like:
Prado Museum guided tour
Bernabeu Stadium Tour
Madrid Royal Palace tour
Madrid hop-on hop-off bus tour
Museo Nacional Thyssen-Bornemisza
Reina Sofía Museum guided tour
Toledo and Segovia full-day tour
Click here for more information and to book your Madrid Go City Pass.
How to get from Barcelona to Madrid
Plane: Direct flights on airlines including Vueling, Iberia, and Air Europa depart from Barcelona International Airport regularly each day, the first flight departing at 7 am and the last one departing at 8.30 pm. You may initially think that flying is easier but take into account extra costs for checked baggage and the cost/time of getting to the airport and consider the train instead. Time: 1 hour 20 minutes flight time

RENFE AVE High-Speed Train: High-speed direct trains depart Barcelona for Madrid roughly every hour, the first is at 6 am and the last at 8 pm with night trains also available. Trains are modern and comfortable with overhead baggage storage for smaller suitcases and bags plus limited space for larger cases at the end of carriages. Time: 2.5 hours

Express Bus: Comfortable coaches take passengers by road directly from Barcelona (Estació Nord bus station) to Madrid (Avenida de América transport hub or the Estación Sur bus station) with regular departures day and night. The coach company ALSA has 14 departures, the first bus leaving at 1am and the last at midnight. Time: 6 hours
Where to stay in Madrid
Francisco I is located 250 m from Plaza Mayor and Puerta del Sol. It offers simple rooms with a private bathroom, TV, and free Wi-Fi. Click here for more information and to check the latest prices.

Room Mate Laura is centrally located 350 m from Puerta del Sol and the Royal Palace. It offers a range of accommodation options (double rooms, family rooms) all with satellite TV, free Wi-Fi, and air-conditioning. Click here for more information and to check the latest prices.

Hostal Central Palace Madrid is centrally located and overlooks the Sabatini Gardens in Madrid's Plaza de Oriente. Rooms have free Wi-Fi, toiletries, and a flat-screen TV. Breakfast is served in a nearby cafe. Click here for more information and to check the latest prices.
Plaza de España
There's only one place to start your exploration of Madrid, and that's at the large and lively 18th century square known as the Plaza de España which marks the start/end of Gran Via. Catch your breath after your journey with a drink and snack at one of the cafe's dotted around the square and do some people watching. Eye up the Torre de Madrid skyscraper and the Edificio Espana neo-baroque building, see the large monument dedicated to Miguel de Cervantes and the sculptures and then, once rested, make your way down Madrid's most famous street…
Gran Via
Gran Via is a bustling boulevard with beautiful buildings that have Art Deco facades ensuring your eyes are always straying up to admire the architecture. When your eyes aren't admiring the architecture, they'll probably be eyeing up the goods in the shop windows – This famous street being a shopping hot spot containing all the top Spanish and international chains.
Palacio Real
One of the largest palaces in Western Europe, Palacio Real is a symbol of the city and is the official residence of the Spanish Royal Family though is now only used for state ceremonies. Admiring the white architecture by walking around the outside doesn't do it justice as inside you'll discover some of the 3,418 rooms that exude elegance. Rooms not to miss include the Hall of Columns, the Hall of Mirrors, and the King Charles' Room. Don't miss the landscaped neoclassical Sabatini Gardens (free entry to the gardens) where you can get an iconic selfie shot in front of the water fountain with the palace behind you. You might also want to see the 44 statues depicting the past Spanish monarchs located at Plaza Oriente, on the East side of the palace.
Tip: Consider booking the Madrid Royal Palace 90-minute Guided Tour for an in-depth understanding of the history of the Royal Palace.
Catedral de la Almudena
Opposite the main entrance gates to the palace stands the Almudena Cathedral, an impressive Catholic church that was only completed in 1993 despite construction starting in 1879. Since you're quite literally on the doorstep when viewing the palace, you might as well take some photos on the cathedral steps and, perhaps take a quick look around inside too, revelling in the peace and quiet for a few moments as you admire the Neo-Romanesque crypt and the 16th century image of the Almudena Virgin.
Mercado San Miguel
It must be time to stop for a drink or snack now, so call by the famous indoor market, a true gastronomic delight. Dozens of different stalls sell everything from tapas to sushi, sandwiches to sugary snacks. A real treat for the foodies though don't expect a cheap local produce market as Mercado San Miguel has turned into a high-end tourist attraction.
Plaza Mayor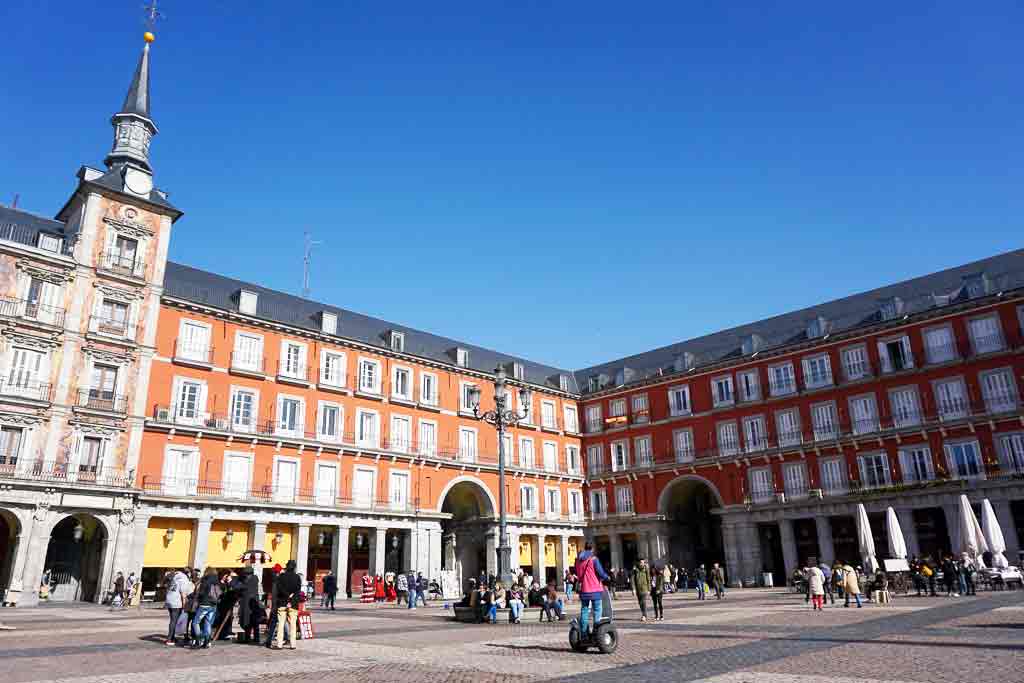 This historical portico-lined-square (the centre of Old Madrid) is a gathering place for locals and tourists alike and despite being busy, is a good place to sit and people watch as you enjoy the sounds of the street performers whilst admiring the architecture of the 4-storey Casa de la Panaderia with its angular towers and the bronze statue of King Philips III on horseback in the middle of the square.
Puerta del Sol
Make your way up to Puerta del Sol, passing shops and restaurants along the way as well as the plaque in the pavement that marks Kilometer Zero. Once in Puerta del Sol, another large square bustling with activity, take a moment to admire the red and white architecture of the Royal House of the Post House (Casa de Correos), the equestrian statue of King Carlos III, and the modern statue of a bear and a strawberry tree (El Oso y El Madroño).
Chocolateria San Gines
Ready for a calorie filled break after a busy day? Stop by the most famous churros place in the city, San Gines Chocolateria. Open 24/7, this chocolateria has been serving up churros and hot chocolate (literally a cup of hot melted chocolate – no water or milk added!) since 1894 and doesn't look much different to this day. Sip it as a drink and/or dunk your churros (long, thin strips of fried-dough pastry) in and enjoy.
Day Five – Madrid
Retiro Park
El Retiro is so much more than 'just' a park containing exhibition halls palaces, monuments, sculptures, a boating lake (watch out for the turtles!), and yes, greenery where you can kick back and relax whether enjoying a picnic in Summer or a stroll in Autumn to admire all the colours of the leaves – No matter what time of year you visit, Retiro Park is ready for you.
Be sure to see:
Palacio Cristal – The iconic Crystal (Glass) Palace is a huge conservatory made of glass and iron that looks out onto a lake. Designed in the shape of a Greek cross, wander around looking at the modern art exhibitions on display from the Reina Sofia Museum as you admire the sunlight streaming through the glass panes creating fascinating patterns. Don't let a lack of money put you off going inside, it's free entry!
Velazques Palace – This red-brick domed pavilion was built by the same designer as the Crystal Palace for the 1883 National Exhibition, this particular building used to house the exhibition of mining, metallurgy, ceramics, glass-making and mineral water industries. Today, is also houses temporary exhibitions from the Museo Reina Sofia.
Paseo de la Argentina – Better known as 'The Walk of Argentina' or 'The Walk of Statues', combine culture with a walk in nature as you wander down this path looking at the 18th century statues of Spanish Royalty.
Jardines de Cecilio Rodriguez – These enclosed gardens contain peacocks and are a bit of a secret spot, easily missed if you don't know about them.
Tip – If visiting in May, be sure to visit the nearby circular Rose Garden (La Rosaleda) to see 4,000 roses in full bloom in fairytale-like surroundings.
Madrid Museums
There are so many museums in Madrid that you won't have enough time to visit all of them in 1 afternoon so weigh up your options on which of the 3 museums that make up the 'Golden Triangle of Art' you'd like to concentrate on. My personal favourite is the Prado Museum.
Spain's National Museum of 20th-century art is filled with more than 21,000 pieces from Spanish contemporary artists including Dali, Miro, Picasso, and Juan Garis. Do some research before you go and focus on 1 floor, perhaps opting to spend your time on the 2nd floor enjoying the works of art from 1945-68. Or, pick a few highlight pieces and jump from room to room to see 'Guernica' by Picasso, 'House with Palm Tree', 'Painting', and 'Man with a Pipe' all by Miró, and 'Face of the Great Masturbator' by Dali.
Remember – This museum is closed Tuesday's
Scared of missing the important things and wasting time getting lost? Book a Reina Sofia Museum Tour and be led around by an art historian.
The Thyssen art museum contains 1,000 paintings that date from the middle ages right up until the 20th century with a mix of Spanish, Italian, German, and Flemish painters. One of the largest private art collections in the world, masterpieces include 'Venus and Cupid' by Rubens, 'Les Vessenots in Auvers' by van Gogh, 'Portrait of a Peasant' by Cézanne, and Dali's 'Dream Caused by the Flight of a Bee'.
Skip the queue and Book your Museo Thyssen- Bornemisza tickets.
The National Art Museum of Spain is 200 years old and contains more than 8,00 paintings plus more than 700 neo-classical sculptures making it a true treasure trove for art fans. It includes works of art from the Spanish, Italian, and Flemish masters including 'Las Meninas and The Triumph of Bacchus' by Velazquez, 'The Naked Maja' by Goya, 'The Garden of Delights' by Bosch, 'The Crucifixion' by de Flandes, and 'The Nobleman with his Hand on his Chest' by El Greco.
Click here to book your skip the line tickets to the Prado museum.
Alternative Afternoon – Switch Art for Football! You could skip the art museums and visit one of the world's most elite football stadiums instead.
Bernabeu is the home stadium of Real Madrid and is one of the most elite football stadiums in the world. Step inside to learn the history of the club and the stadium at the interactive museum before visiting the press room, the presidential box, and the changing rooms, before making your way down the tunnel and onto the benches before standing on the sidelines.
Book your Tour Bernabéu Tickets
Day Six – Day trip to Toledo
Toledo is a magnificent walled city where medieval Arab, Jewish, and Christian cultures can all be seen. Visit the historical mosque, admire the Gothic cathedral, see the Alcazar and pass through the Moorish Mudejar style city gates the separate the old town from the new.
How to get to Toledo from Madrid
You have 2 options: Make your own way to Toledo by train, or book a day trip by coach with a tour guide, the guided tour option could also allow you to visit Segovia too.

Independently By Train: Taking the train is a fast and convenient way to reach Toledo from Madrid's Atocha train station with all trains direct so you don't have to worry about changing. Trains depart every two and a half hours from 6.50 am. As a bonus (that the coach people miss out on!) Toledo train station is absolutely stunning with its Moorish tiles and stained glass windows, it's worth waiting for the train passengers to go through the doors ahead of you so that you can linger and get photos of the waiting room!

Guided Tour: Toledo & Segovia Guided Tour from Madrid: Want to fully maximize your time in Spain and see not one UNESCO world heritage city but 2? This could be the tour for you, especially if you like the safety of moving around a new city with a guide to ensure you don't get lost! See the top attractions of both cities on a guided tour with a bilingual guide.

In Toledo, you will visit the Cathedral, the Monastery of San Juan de Los Reyes, and the San Martin Bridge before stopping to admire the iconic view from the Mirador del Valle. You'll then jump back on the coach and travel to Segovia where you'll visit the historical aqueduct, the Alcazar, and the Cathedral.

Book the Toledo & Segovia Tour from Madrid with Alcázar Ticket
Mirador del Valle
This is the viewing point where you can take in the iconic panoramic views of Toledo. Look down to admire the curving river Tagus, look straight ahead to see the spire of the cathedral and the mighty Alcazar rising up over the picturesque old town. Picturesque in the daytime, the view is even more magical at sunset and once the city lights have been turned on so you might want to get a late train back to Madrid.
Toledo Cathedral
Considered the epitome and personification of Gothic architecture in Spain, this 13th century cathedral took 286 years to build and towers 100 metres into the clouds. Don't just admire the fine architecture and carvings from the outside, step inside to see the Chapter house, Choir, Treasury, and Sacristy.
Alcazar de Toledo
Originally a fort, and then a Roman Palace, Toledo Alcazar has been remodelled many times and blends Islamic and Christian architecture into one. Today the Alcazar houses the army museum with displays of military artefacts including medals and uniforms.
Monastery of San Juan de los Reyes
Built by the Catholic Monarchs in the Isabelline/Franciscan style, this stunning 15th century monastery combines Mudejar architecture on the upper level and Gothic architecture on the lower level. It's a must-see with its beautiful two-level cloisters with stone carvings and wooden ceiling and orange trees in the central courtyard.
Museum of El Greco
Located in a historical Gothic house in the Jewish quarter, this museum not only contains works by El Greco but includes other artworks from the masters of the Spanish Golden Age along with ceramics, furniture, and other items from the 16th and 17th centuries.
Toledo Road Train
Allow your legs to rest and hop on the little road train that takes passengers on a fun commentated tour around most areas of the city. If you don't want to hop on and off, the tour takes 40 minutes.
Day Seven – Flight Home
How to get to Madrid Airport from the City
Madrid International Airport (Adolfo Suárez Madrid-Barajas, or Madrid-Barahas Airport as it was formally known) is located 12km (7.5miles) from the city centre and is the largest airport in Spain with 4 terminals that are linked by a free 24-hour bus service. Find out how you can get to the airport from the city for your flight home.
Express Buses: The yellow 203 airport bus (Exprés Aeropuerto) leaves from O'Donnell and Doctor Esquerdo, Plaza de Cibeles, and Atocha train station and stops at terminals 1, 2, and 4 at Madrid airport. Buses depart every 15-20 minutes running between 6 am and 11.30 pm, 365 days a year.
A night bus, N27 Exprés Aeropuerto operates between 11.30pm and 6am with buses departing every 35 minutes from Plaza de Cibeles.
Another express bus, number 200 departs from the main transport hub; Avenida de America. Buses run every 10-20 minutes from 5 am until 11.30 pm stopping at terminals, 1, 2, 3, and 4.
Metro: Make your way to Nuevos Ministerios, Colombia, Piar del Rey, Mar de Cristal, or Campo de las Naciones and get onto line 8 which goes to the airport. The airport has 2 metro stations, one serving terminals 1-3 and another serving terminal 4. Trains run from 6 am until 2 am daily.
Beware! There is an additional stop between terminals 1-3 and terminal 4, this is called Barajas and is the town metro station, not the airport – Do not exit here by mistake!
RENFE Train: The "Cercanías" C1 and C10 lines connect the city center (ground floor of Atocha train station) with terminal 4 of the airport. Trains run every 15-20 minutes between 5.30 am and 11.30 pm.
Private Transfer with Welcome Pick Ups: Welcome Pick Ups allow you to book a taxi and online and pre-pay so that you don't have to worry about getting ripped off or not having enough cash at the end of your travels! Your driver will pick you up from your hotel and put your luggage in the car.
Click here for more information and to book your trip.
7 days in Spain is a great introduction to the country but don't by any means think you've seen it all since you've visited both Barcelona and Madrid on this itinerary! You haven't even started to scratch the surface with all of Andalusia still to explore, the coastline, not to mention the Northern cities. It's safe to say you'll be back so until then, Buen Viaje!
PIN IT!