Barge cruising in France is very popular. Vastly different from river cruising and ocean cruising, barge cruising has steadily gained in popularity since the 1980s. This unique way to travel highlights some of France's least visited regions offers incredible gastronomic experiences and allows for a slow-paced trip with plenty of activity.
The canals of France get far less recognition than the European rivers, but their history is just as important. Over 3,000 kilometers of canals crisscross France.
Many of the canals were built in the 16th and 17th centuries, when the roads were extraordinarily primitive, as ways to transport grains and coal from village to village and into Paris.
Women and horses helped to pull the barges along by way of walking alongside the locks, hence the well-traveled footpaths that line the canals.
Canals fell largely by the wayside at the advent of the railroad and were almost forgotten. In the 1960s, many of France's inland waterways were "discovered" by hippie travelers, and over the last fifteen to twenty years the barge cruising industry has become as luxurious – if not more luxurious – as the river cruising industry.
I recently spent a week on a barge in Burgundy with European Waterways, and I can honestly say that it was one of the best travel experiences of my life.
What is Barge Cruising?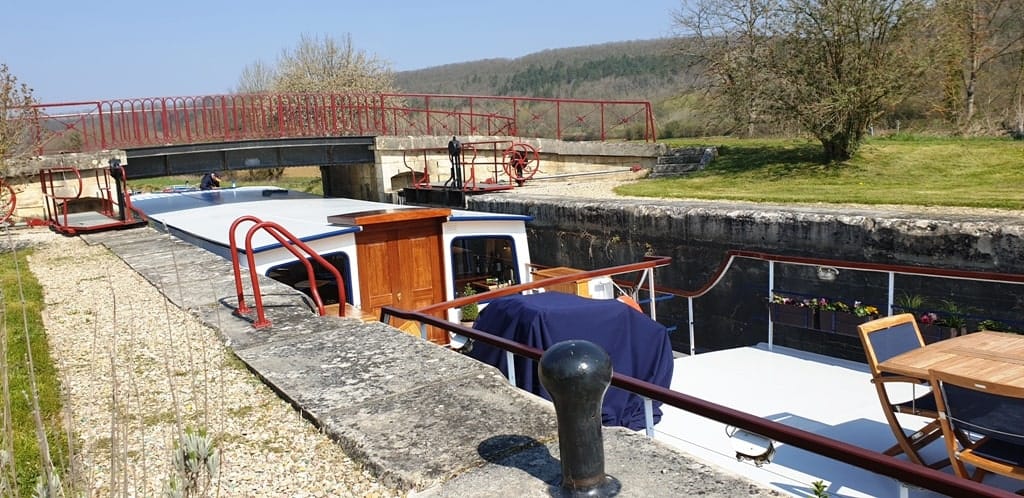 Barge cruising means enjoying the road less traveled. Unlike the river cruising season, which goes all year round, barge cruising in France is usually between April and October. Popular areas to barge include Burgundy, Canal du Midi, Alsace & Lorraine, the Loire Valley, Champagne, Gascony, Picardy, and Bordeaux.
Depending on your interests, you can experience springtime – and an explosion of flowers – along the Canal du Midi or late harvest season in Burgundy.
Travelers who enjoy history and culture will find the UNESCO World Heritage Site of Canal du Midi and the Languedoc immensely fascinating while those who prefer to be a bit more active will love cycling along the canals in the Loire Valley.
And of course, you're in France, so the wine regions of Burgundy, Champagne, and Bordeaux draw those in search of award-winning vineyards and sensational French cuisine.
What are the Differences Between Barge Cruising and River Cruising?
Barge cruising is much smaller and compact than river cruising – even the smallest river cruise boats have more than 50 passengers. River cruise boats are long and skinny, to accommodate more passengers and to navigate under the bridges on the long rivers they cruise.
They also usually have multiple decks, and offer cabins with verandas. A barge, by contrast, has maybe one and a half stories, and compact cabins. The cabins on a river cruise boat are also much larger than cabins on a barge. Riverboats are purpose-built for the rivers; barges are repurposed older boats turned floating luxury hotels.
On a barge, everything is included, from the food and wine to the daily activities. On a river cruise, wine and beer may be included at lunch, but not during the rest of the day. Premium liquors might be excluded. Here on a European Waterways barge in France, I could have made myself a drink if I wanted. River cruises also sometimes cap the number of "included" excursions, while on our barge I participated in every daily activity.
Barges move much slower than a river cruise boat, covering only about 50 to 70 miles in one single trip. To put this in perspective, many of us travel 50 to 70 miles in just one hour on any given day. River cruises, by striking contrast, often visit multiple countries in one week-long trip. Barge cruises are much more unique than a river cruise, for a larger vessel cannot access the canals that these barges do.
Both the pace and the small size allows for more unique and immersive experiences than a riverboat can offer. Barges travel just feet from the path and are more capable of experiencing the local culture and history than a riverboat. And because the barges don't travel at night, you'll never have to fear that you're missing out on a part of the journey.
Here are 5 Reasons to Choose a Barge Trip in France
1. There are a small number of people on board
Unlike river cruises, which can have up to 200 passengers on board, a barge usually has less than 15. The European Waterways barges are for a maximum of 12 passengers, depending on the type of the barge. Some barges have just two or three cabins, for a maximum of only six passengers. This means that not only are you traveling with a lot fewer people than on the river, but you are also in an intimate environment.
Barges sell by cabin, meaning you'll be with others, but such a small ship allows you and your family or friends to charter the boat and travel in style together. In fact, many people choose to charter the boat for a family or group of friends. And in the small spaces of a barge, getting along with your travel companions is key.
Barge cruises in France also offer a relaxing atmosphere. Although the service on board is five-star, the atmosphere is casual, and there's often no dress code. You'll feel right at home, and that's the goal.
2. Unique Destinations and Insider Experiences
Barge cruising in France focuses on a small part of the country, in part because barges don't travel very fast or very far. At most, barges travel about ten miles per day, meaning that it's very easy to walk or bicycle at any point during the day. Imagine getting off the barge at one lock, walking down the towpath, and reboarding at the next lock.
These locks are just as ancient as the waterways themselves and are still maintained by lock keepers. Barge captains and crews have in-depth knowledge of the areas. And they don't go to the main tourist attractions but instead to more unique ones.
Some of the insider experiences offered by European Waterways include meeting a lock keeper and spending time at his family home, meeting cave dwellers in the Loire Valley, or visiting an artisan chocolatier and learning about her process in her small shop.
3. Excellent First-class Service
Despite what you may think of when you think of a barge, these barges are highly luxurious. On a 12-passenger barge, there are 6 crew members, and on an 8-passenger barge, there are 4 crew – a two to one ratio! These two types of barges are the most common.
The crew on a barge cruise consists of a captain, master chef, steward, and deckhand. All of the crew are English-speaking. They have a passion for the region they work in and are both educated and interested in sharing their knowledge with guests.
Most come ashore with the guests to share their local stories in a town or along a path, although there are also tour guides who lead the excursions, drive the vans, and assist in pointing out the best ways to explore along the way.
The chef and hostesses have a passion for the local flavors, be it wine or food, and are willing to share culinary history, recipes, or even wine tips with guests. Essentially, they cater to everyone's needs and whims.
The luxury cabins onboard the barges are all different, and all reflect not just the barge but also the region in which it travels. Cabins on board a barge, though, are different from cabins you may be used to on a large ocean-going ship or river cruise. They are designed to be slept in, but not much else.
Every cabin has a private bathroom and space for a small amount of luggage. Comforts like air conditioning and central heating are standard in each cabin. European Waterways offers accommodation and amenities to suit every need and taste.
Much of the days are spent either in the common spaces – the dining or living rooms, the sundeck – or off the ship at a chateau, winery, heritage site, or village.
4. Activities
There is one planned daily activity, which could be a guided tour of a chateau, village, or vineyard depending on the cruise you choose (you are in France after all). Some of the activities are really unique – like the lunch, we had in the vaulted kitchen of a chateau with the baron and baroness.
Each activity lasts between three and five hours, and there's usually a luxury minivan that takes guests to and from the barge.
When the barge is travelling you can either relax in the living room or on the outdoor deck, soak up the sun in the outdoor jacuzzi, or cycle or walk between two stops, exploring the landscape and villages as you do so.
The most any barge will travel is 6km per hour, but it also depends on the level of water. You can get on or off the barge in any dock along the way.
5. Incredible Gastronomy on Board
The barge's master chef prepares fresh, seasonal, regional cuisine daily. Food is locally sourced using the best local ingredients depending on the season. Breakfast buffets include fresh pastries and bread from a local bakery, cheese and charcuterie platters, fresh fruits, freshly squeezed juices, and cereal with milk or yogurt. Chef also has a different special every day, like pancakes, crepes, waffles, etc, and can also prepare eggs to order.
Lunches are a three-course meal, typically an appetizer, main course, and a dessert. Dinners are four courses (appetizer, main course, cheese plate, and dessert). Both meals include French wines, both red and white. Over the course of our week onboard the barge in France, we tried more than twenty wines during meals and many more at private tastings in the vineyards. We also tried more than twenty different kinds of French cheese!
And you'll never go hungry should you need something to eat in between meals – every afternoon there were tea and sweets, while in the evenings they served cocktails with canapes. Tea and coffee were always available too.
I was so impressed at how outstanding barge cruising in France was. It truly was an exceptional experience. From the beautifully appointed cabins to the exquisitely prepared foods and the exceptional service, the cruise itself was pure perfection.
Traveling slowly through the French countryside was much nicer than I had expected, and I thoroughly enjoyed the relaxing pace at which we moved. It was pleasant to step off the barge and walk alongside it or tour a nearby village practically untouched by tourism.
I can't say enough amazing things about my trip with European Waterways on the canals of France and definitely suggest considering a barge cruise for your next unique vacation.
I was a guest of European Waterways but as always opinions are my own.