Have you heard of the Azores? It sounds pretty exotic, doesn't it? The Azores is a cluster of nine beautiful islands located in the Atlantic Ocean. Somehow the Azores aren't very well-known and remain off the tourist radar.
I have to admit I also didn't know a single thing about the Azores before booking a last-minute ticket to Sao Miguel, the biggest island in this pretty archipelago.
However, the pictures on Google looked stunning so I didn't think twice about booking a trip. I wasn't disappointed, Sao Miguel turned out to be one of the most beautiful islands I have ever seen!
I spent several days marvelling at the rugged coastline, hiking along stunning but deserted trails and walking through the beautiful cobbled streets of Sao Miguel's many pretty villages. No matter if you are travelling around Europe with kids, a couple looking for a romantic getaway or a solo adventurer, Sao Miguel is an undiscovered gem with something to offer for everyone.
Sao Miguel itinerary
In this post you'll find:
Things to know before planning a trip to the Azores
How to get to Sao Miguel
How to get around on Sao Miguel
The best things to do on Sao Miguel during a three-day trip
Important things to know when you are planning a trip to the Azores
What and where are the Azores?
The Azores is an autonomous region of Portugal and consists of nine islands:
São Miguel
Pico
Terceira
São Jorge
Faial
Flores
Santa Maria
Graciosa
Corvo
The biggest and most visited islands are Sao Miguel, Pico, and Terceira. Flores and the tiny island Corvo are the furthest away from the mainland, located almost 2000 kilometres off the coast of Portugal!
The islands are sparsely inhabited, the total population is around 250.000 people. Of course, such an isolated location isn't for everyone, but the Azores certainly are a beautiful place to live.
What is the best time to visit Sao Miguel?
Temperatures on the Azores range between 12 (winter) and 25 (summer) degrees Celsius. The best time to travel to the Azores is between April and October because these are the driest months.
While winters on the Azores don't get that cold, this isn't a very popular time for tourists because it's generally quite windy and rainy. Also, you will miss out on one of the most beautiful sights on the Azores, the abundant flower fields that come to life in springtime.
Which currency is used on the Azores?
The Azores belong to Portugal, meaning the official currency is the Euro. There is an ATM at Sao Miguel airport and several in Ponta Delgada. While credit cards are accepted at larger hotels and restaurant, it's best to carry enough cash as well to pay in smaller shops or cafes.
How to get to Sao Miguel?
There are several airlines flying to Ponta Delgada, such as Tui, Easyjet, Ryanair, Sata Air Açores and Sata International as well as TAP Portugal. I always use Skyscanner or Momondo to find the best ticket prices.
Transport from Sao Miguel airport to Ponta Delgada city centre
Unfortunately, the airport shuttle bus that used to run between the airport and the city is no longer available. However, you can rent a car at the airport or take a taxi into town (around €10).
How to get around on Sao Miguel
Public transportation on Sao Miguel is very limited, therefore I recommend getting your wheels. In my opinion road trips are the best way to explore a place anyway, whether it's a road trip in Iceland in winter or a campervan tour around Ireland, I love having my own transportation.
In any case, to explore Sao Miguel, I rented a scooter for two days (€50 in total) and a Smart for one day (€40). Petrol for the scooter was €5, petrol for the Smart was €15 and my total transportation costs were €105.
There are plenty of rental companies on Sao Miguel, but I was very happy with the service of Auto Ramalhense, the local company that I used. They brought the scooter to my hotel and two days later they picked up the scooter and dropped of the Smart. A member of the staff also came by to pick up the car at the end of the day, which was very convenient and altogether the rental process was very easy.
The best things to do on Sao Miguel during a 3-day trip
While there are nine islands that belong to the Azores, I only visited one during my trip, the island Sao Miguel. Sao Miguel is the biggest island of the archipelago and easily accessible from the European mainland.
While I only had a couple of days to explore the Sao Miguel, I managed to see quite a large part of the island because I had my own transportation.
I rented a scooter for the first two days of my trip when I was exploring the south and west part of the island. On my third day on Sao Miguel, I exchanged my rental scooter for a tiny Smart, because I wanted to explore the eastern part of the island, which is a bit further away from Ponta Delgada (where I had based myself during my trip). Read along to learn more about my day-to-day itinerary and the must-visit highlights on Sao Miguel.
Sao Miguel attractions day 1: The South
Sao Miguel itinerary day 1: Ponta Delgada – Caloura Bay – Bahia Palace – Hike to Lagoa do Fogo
During the first day of your Sao Miguel trip, explored Ponta Delgada on foot, drive along part of the south coast and hike to Lagoa do Fogo.
Ponta Delgada: Ponta Delgada is the capital of the Azores and the perfect place to base yourself on your Sao Miguel trip. The city centre can easily be navigated on foot and there are lots of restaurants, cafes and bars to grab a bite or a drink.
R 1-1 road: this spectacular winding coast road leads from Ponta Delgada to Agua de Alto. Along the way, you'll pass through sleepy little villages and beautiful bays. Be sure to allow yourself plenty of time to stop along the way and to take a few pretty pictures at one of the picturesque towns dotted along this road.
Caloura Bay: be sure to make a stop at Caloura Bay, a tiny harbour with gorgeous views. You will most likely see several old men at the pier, fishing with simple rods while chatting to each other. A sight that hasn't probably hasn't changed much over the past decades.
Hike to Lagoa do Fogo: this 4 to 5-hour hike involves a steep climb starting at Bahia Palace hotel, but is definitely worth the effort! About halfway into the hike, you'll come across a levada, a water channel with clear and fresh water. The trail runs parallel to the levada for the most part of the hike. I loved this trail; the landscape was really varied and offered beautiful coast views! Wear sturdy shoes, this isn't a trail for flipflops or other light footwear!
Sao Miguel highlights day 2: The West
Sao Miguel itinerary day 2: Viewpoints Lagoa Verde & Lagoa Azul – Ribeira Grande – Caldeira Velha
During the second day of your trip around Sao Miguel, explore the West of the island and loop back to Ponta Delgada via Ribeira Grande.
Sete Cidades: this area is the most famous and most visited place of the Azores. But that understandable, because the views over Lagoa Verde and Lagoa Azul are truly breathtaking There is a tragic legend explaining the difference in colour the two lakes, you can read it here. There are several hiking trails in this area, more information about these can be found here.
R 1-1 road: it's an absolute delight to drive from Sete Cidades to Ribeira Grande. The views over the oceans are stunning and you'll pass through lovely villages like Ajuda da Bretanha and Remédios.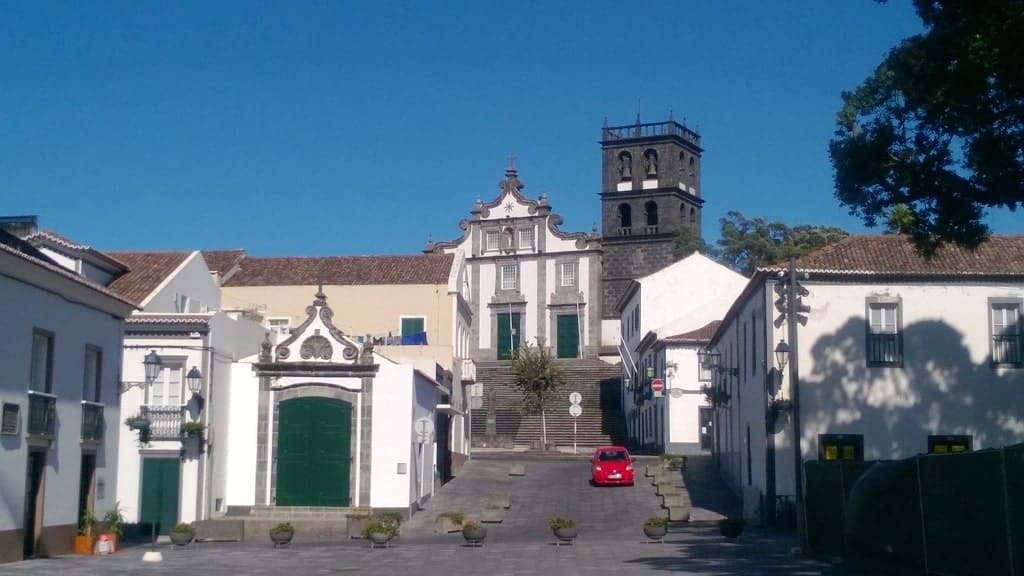 Ribeira Grande: another lovely town with many historic buildings and one of the oldest churches of the Azores. Allow yourself plenty of time to stroll around the village and to grab a drink or lunch at one of the many restaurants.
Caldeira Velha: this is a natural hot spring in the middle of the forest where you can soak and relax while surrounded by lush green forest. At the sight there are showers and dressing rooms, the entrance fee is a mere €2 per person.
View over Lagoa do Fogo: if you continue driving road R 5-2, you'll ascend to a 950-meter-high pass where splendid views over Lagoa do Fogo await. There are lots of twists and turns in this road, so drive carefully. From the pass, the road goes back down to sea level where you can make your way back to Ponta Delgada via R1-1.
Sao Miguel must-see attractions day 3: The East
Sao Miguel itinerary day 3: Lagoa das Furnas – Calderas – Povoação – Ponte dos Sete Arcos – Chá Gorreana
During the third day of your Sao Miguel trip, explore the East of the island and visit a tea factory.
Lagoa das Furnas: at the south side of Lagoa das Furnas you'll find an abandoned church slowly crumbling to pieces. It's a nice place to stretch your legs and to take some pictures of the dilapidated church.
Sample a bolo levado in Furnas: when on Sao Miguel, more specifically when in Furnas, you have to eat a warm bolo levedo, a regional delicacy. A bolo levado is a sweet flatbread, typically eaten with butter or homemade jam.
Calderas: in Furnas village, you can explore an area of thermal activity. Be careful when walking around the calderas and steaming vents! Also, the pungent sulfur smell takes some getting used to.
Povoação: spend some time exploring Povoação, a cute village on the Southeast coast of Sao Miguel, with a car-free village centre and beautiful cobbled streets.
Chá Gorreana: this is the only remaining tea factory on the Azores. Well, actually in Europe because the Azores are the only place in Europe where tea is grown! This factory has been in use since 1883 and I highly recommend to visit. You can follow a tour, sample the tea and buy some tea souvenirs.
Sao Miguel: in conclusion
That's it, my recommended travel itinerary for Sao Miguel! I hope you've enjoyed reading about the thing to do on Sao Miguel and that this post has inspired you to plan a trip to this beautiful island in the wild Atlantic Ocean.
About Lotte
Lotte is a thirtysomething adventurer from the Netherlands who tries to combine a fulltime job and traveling the world with her husband and their 1y old son. She writes about their adventures on her blog Phenomenal Globe.