Thailand is a spectacular country, and it has so much to offer for every type of traveler. If you are interested in being surrounded by gorgeous nature, meeting gentle animals, and discovering delicious local food then a good way to start your trip in the Land of Smiles is by spending 3 days in Chiang Mai.
Remember that 3 days won't be long enough to fully explore the city, but it will give you a taste of what else Thailand has to offer.
This 3-day Chiang Mai itinerary will give you a brief introduction into the relaxed northern city, showing off its beautiful architecture, to begin with. Learn how to cook authentic Thai food and get up close and personal with one of the biggest land animals on earth!
A Detailed 3-Day Chiang Mai Itinerary
The best time to visit Chiang Mai
As Chiang Mai is in the far north of the country, you might need to have some warmer clothes packed depending on what time of year you visit. The weather can change drastically as the city is surrounded by mountains, so bring light summery clothes for daytime and warm long-sleeved items for the evenings!
Visiting in November to February means that you will enjoy glorious sunny days with daytime temperatures of up to around 32°C/90°F but the nights will be much cooler at around 16°C/61°F.
The hot season runs from around March until June – be prepared for 40°C/104°F and sticky humid air.
July – October brings the rainy season but don't let that fool you into thinking you'll be cold! Temperatures range from around 23°C/75°F overnight to 32°C/90°F during the day.
The thunderstorms are fierce but don't typically last very long so it usually won't ruin your whole day if you spot a grey cloud moving towards the city.
3 Days in Chiang Mai – Day One
On your first full day in any busy city, I always recommend getting your bearings and not doing anything too planned or structured so that you can be flexible with your plans.
A great way to get a feel for Chiang Mai on day 1 is to wander around the city and explore either at your own pace or on a guided walking tour.
If you're interested in seeing a more historical side to the city, then take a walk to Tha Phae Gate and wander around the local area. The gate was built in the 13th century, to bring together the walls of the Old City. It's been restored since then and is now surrounded by bustling markets, restaurants, and accommodation options.
Chiang Mai is famous for its many beautiful temples, so you could spend all day visiting the different ones, comparing their style and history. You might be 'templed out' if you've been in Asia for a while, but I would recommend going to see at least one or two of these incredible buildings as they play such an important part in Chiang Mai's history.
Often, there will be no admission price, or you'll need to pay a small fee of around 20THB ($0.60/ £0.50).
I recommend seeing Wat Phra Singh and Wat Chedi Luang if you don't want to spend the whole day finding temples.
As the evening draws in, make sure you are hungry because the food at the night markets in Chiang Mai will not disappoint! Fresh, cheap, and tasty, some of your best Thai meals will come from a market stall!
There are a few that occur on different weeknights, so make sure you check which event coincides with your visit.
You will also find some great stalls for shopping too. Most of the clothes being sold here aren't made to last, but you can find some great things here that will such as shawls (mine is still beautiful and strong after 4 years of regular use!), candle holders, and paintings.
The Night Bazaar happens every evening from 6 pm – 11 pm, and here is where you'll find your standard fake sports products, tacky souvenirs, and rip off DVDs!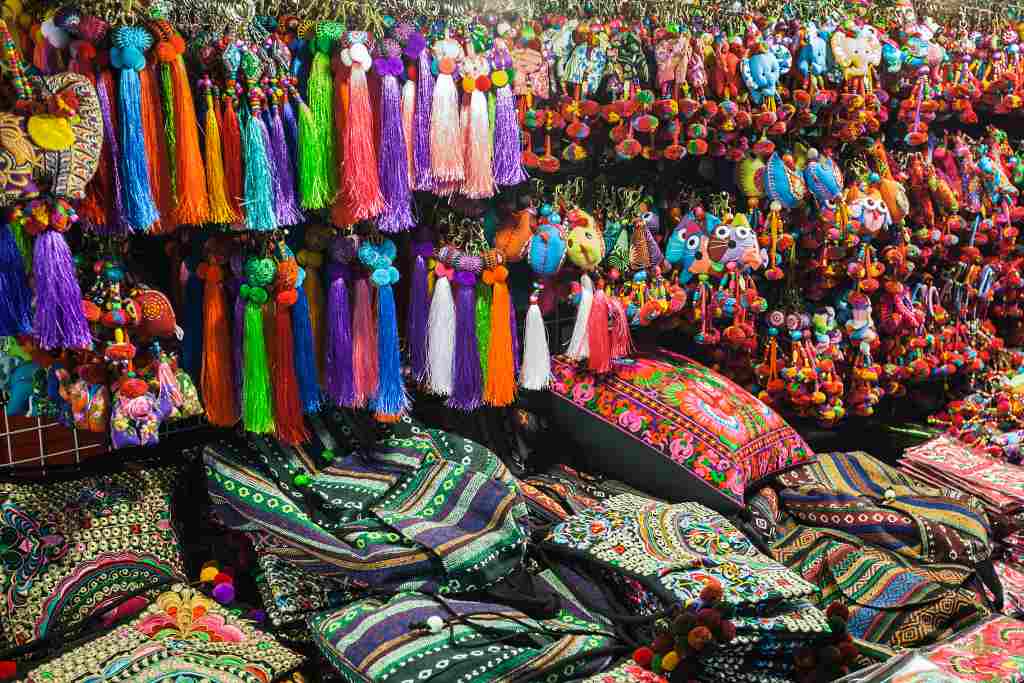 The Sunday Walking Street starts at 4 pm and ends at 10 pm. There are always lovely handicrafts available, like homemade soaps, jewelry, and portraits. There are plenty of food stalls here too, including places selling fresh fruit, juices, ice cream, and crepes!
You can haggle prices at these markets, so don't get ripped off, but equally don't try and bargain down everything to silly amounts. These people need to make a living and that $1 is likely to make more of a difference to the sellers than it will to you!
As your evening will be spent wandering around the markets in this itinerary, it's a good idea to wind down your evening with one or two cheap Chang beers and head back to your accommodation to be ready to get up early the next morning!
3 Days in Chiang Mai – Day Two
Learning new things from a country you're visiting is a great way to understand a little about it and the people who live there. A perfect way to ease yourself into the local culture is by taking a cooking class in Chiang Mai.
There are several options for every type of foodie across the city to take part in their perfect cooking class, but there is a typical routine for an all-day activity.
You can often take a half-day class instead, but this is only for people who have something else to do during the afternoon, or just don't want to spend all day cooking. The prices don't usually vary hugely between a half and a full day cooking class so if you're trying to save money I wouldn't bother going for the cheaper option.
Usually, you'll be picked up from the city center (either from your accommodation or a designated pickup point) and driven to the cooking school. These schools tend to be out of the city so it's easier for them to pick everyone who is participating up together rather than waiting for people to rely on public transport.
Many cooking schools give you the option to visit a local market to pick up the day's ingredients and to fully understand the whole Thai cooking process. You can chat with the vendors, discover new unfamiliar spices, fruits, and vegetables, and learn how to ask for simple ingredients.
Once you make your way to the cooking school, you'll be shown to your cooking station and the action will begin! Often, places will have different menus on alternate days, so you get a small amount of choice in what you cook. If you have any dietary requirements, make sure that you let the school know in advance so that they can accommodate you.
You also have some flexibility during the cooking because you will be the one putting in the ingredients and eating the meal after. If your teacher tells you to put in 3 chilies but you don't like spice, you can leave them out. If you hate the taste of ginger, just don't add it to your dish. Obviously, this will affect the final result but as long as you enjoy yourself and the food, who cares!
Once you've cooked a dish, there should be members of staff waiting to clean up, which allows you to go off and eat our delicious concoction. You'll then return to your station and cook the next meal – so don't be put off because you think you'll have to wash up!
These cooking classes are a lot of fun – the teachers know how to get everyone talking and relaxed, and the food is always insanely good.
I really can't recommend taking a Thai cooking class enough! Once you have finished, most places will give you a recipe book so that you can recreate your masterpieces at home. You might want to pop back to one of the markets to pick up some of those amazing spices so you can use real authentic ingredients!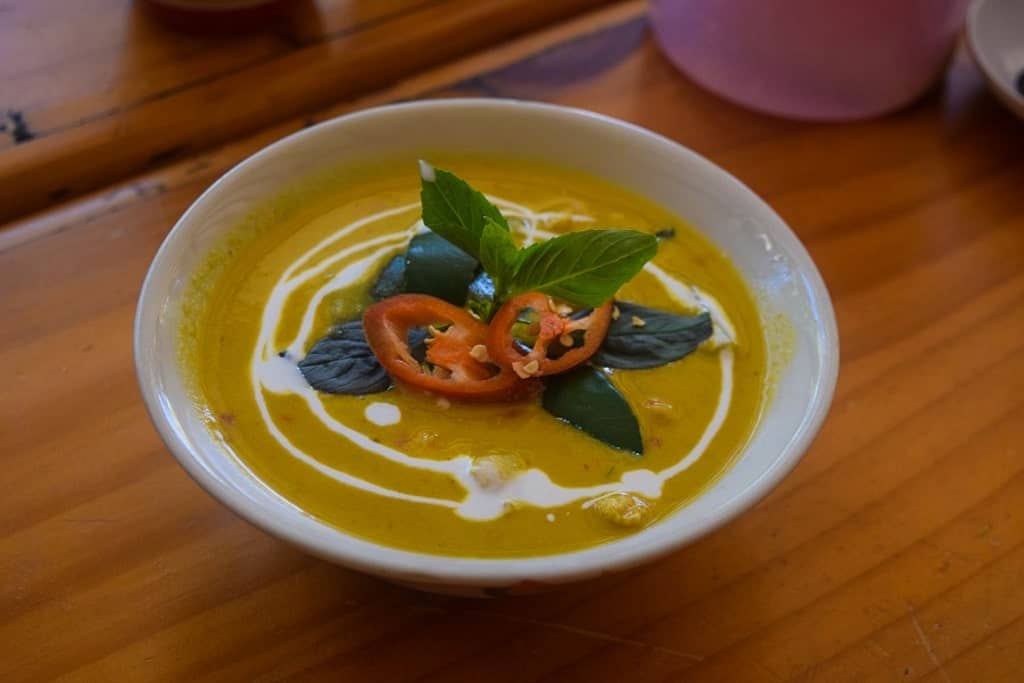 After a long day of cooking and eating, the only thing to do now is to relax.
Go and have a wander along the streets of Chiang Mai and find a massage parlor. You really cannot leave Thailand without having a massage, and it's the perfect way to round off your second day in Chiang Mai.
You can opt for an authentic Thai back massage (you might need to tell them to go easy if you're not used to it because these masseuses are strong!), a full-body oil massage, or just a quick foot rub to relieve some tension.
Thai massages are cheap and usually very good. If you are uncomfortable at any time, don't be afraid to say so – everyone ha a different preference on the amount of pressure they want or the body parts that they don't like to be touched.
3 Days in Chiang Mai – Day Three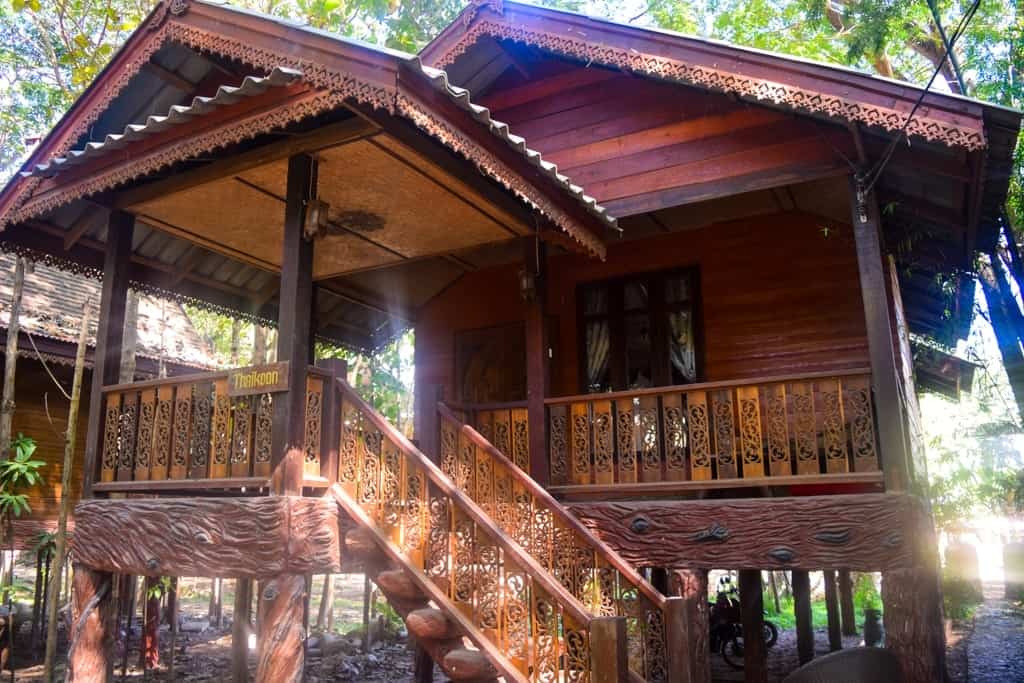 Your final day has the best activity saved until last – spending all morning and afternoon learning about, watching, and feeding elephants!
You will almost certainly have heard about the unethical aspect of elephant tourism in Thailand – there are no laws preventing animal cruelty there so people can buy elephants and do to them as they wish. This means that elephants are being ridden, painting pictures, and performing tricks – all of which are BIG no-nos.
If you want to meet elephants who have been rescued from this terrible lifestyle, then take a day trip to a sanctuary like Elephant Nature Park.
The elephants are purely here to be looked after and to enjoy the rest of their days in plenty of safe space. Babies are kept with their mothers and adults are left free to roam how they please.
There is absolutely no riding allowed, no whipping, no malnutrition, and no work for the animals.
As a guest, you can get up close and personal to feed the gentle giants, and depending on the program you pick, you can also watch them bathe and play in the water.
Remember that these elephants cannot be released back into the wild because they will likely get caught again and forced to work for humans. This is the best place for them where they can stay healthy, safe, and live long enjoyable lives with others in the same species.
You'll be taught about the logging industry, and how it abuses elephants. You will be shown injured animals (many elephants have been rescued from country borders where they have stepped on landmines) and you will get to know that each elephant you meet has a unique personality, level of trust, and intelligence.
Not only are there elephants at the park, but rescue cats and dogs too! There are many stray animals on the streets of Thailand, but often they are brought to Elephant Nature Park (and a few others sanctuaries around the country) to be nursed back to full health and then hopefully adopted by a loving visitor! You can take the dogs for walks, find a cat to cuddle, or just learn about the incredible works the vets, staff, and volunteers do here on a daily basis.
You can spend half a day, a whole day, or even overnight here for a variety of different experiences. Food is included in the price (you'll be treated to a fantastic vegetarian Thai buffet for each meal!) and you'll also be picked up from your city accommodation.
Spending 3 days in Chiang Mai is something that I fully recommend if you have the time! Thailand is a beautiful country and has so much to offer – don't miss out on the gorgeous northern countryside!
Bio: Jade and Kev have spent the past four years traveling and teaching English in China. They are currently planning around the world trip to anywhere and everywhere! You can read more about their adventures at Two Tall Travellers.