Taiwan advertises itself as the "heart of Asia" and we couldn't agree more. Rarely have we felt so welcome in a foreign country as we did in Taipei. Not only is the city full of friendly people but it's also where you can find some of the best food, especially street food! We've put together a 2-day itinerary for Taipei that will have you on top of the once tallest building in the world and also take you on a tour of its lively districts and some amazing food!
A 2-day Taipei itinerary for first-time visitors
Best Time to Visit Taipei
But before you pack up and go, have you thought about the best time to visit Taipei? We've experienced Taipei in the dead of summer as well as late fall and early winter; however, our recommended time to visit is in the fall. Odds are that the weather will be a bit more on the cloudy/rainy side but it's a more pleasant kind of rain, not the stormy downpour.
During the summer months, not only are the heat and humidity extreme, but typhoons are a frequent occurrence. While there's no guarantee that a typhoon will hit Taiwan, they are constantly forming in the Pacific and passing by. We were fortunate enough to avoid several typhoons that occurred in August and September; they passed the island and hit nearby countries instead.
But there's more than just weather to take into account here. What about fellow tourists? There are definitely more travelers during the warmer months, which is another reason we prefer an October-December visit. Fewer tourists and more pleasant temperatures equate to an awesome time in Taipei!
Getting to and from the Airport in Taipei
Taoyuan Airport is likely where you'll be landing and it's located well outside of Taipei. So, how do you get from Taoyuan Airport to Taipei central? You have plenty of options and they're all affordable!
Firstly, you can just hail a taxi and let the driver do all the work for you. If this is your choice, ensure you have plenty of cash on hand. Avoid currency exchangers in the airport! The rate is never as good as an exchanger outside of the airport. An ATM is probably your best bet and if you have a good checking account (like Charles Schwab) then your bank will refund the ATM fees and foreign exchange fees. Woo hoo!
Secondly, you can opt for public transportation. This is our preferred method since it's much cheaper than a taxi and easy to use. When you arrive at the Airport's MRT station (metro/subway) there will be some very friendly folks who will help you purchase your tickets at a kiosk. If you don't need their assistance then just keep moving!
After hopping on the train, it'll take a good 30 minutes to get to Taipei Main Station. And from there, you're connected to the rest of the city!
If you've never been to a bustling hub in Asia before then be prepared! It will be insanely busy, especially during rush hour, but don't panic! We were helped by a very kind stranger who saw the panic and confusion in our eyes and we're certain that someone will do the same for you! Taiwan is known for having a very friendly and helpful population.
How to Get Around Taipei
The best way for travelers in Taipei to get around? The MRT!
The MRT is Taipei's metro (subway) system and it's one of the most efficient and clean metros we've experienced in the world.
Lines are differentiated by color and single rides run very cheaply! When in doubt, look lost and a local will try to help you. Don't actually look lost; all we mean to say is that the people are very friendly and would love to help.
If you plan on using the MRT or other public transportation a lot then you should look into a travel pass. They have ones that include just the MRT or the MRT and buses.
2 days in Taipei – Day One
Taiwanese Breakfast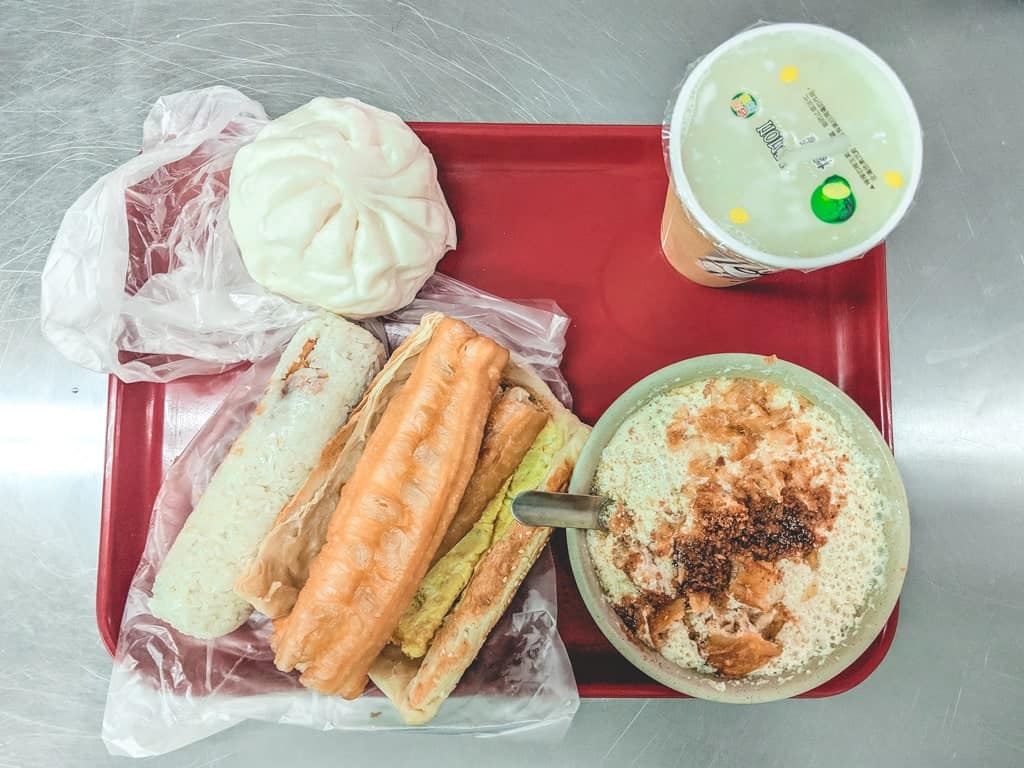 Start your two days in Taipei by sampling some of the best food in town: soy milk!
Known as a "Taiwanese breakfast", soy milk restaurants offer up salty, sweet, and savory and in many forms.
There are some must-order items at soy milk restaurants:
Shao bing – A flat, sesame bread covered in flaky perfection. You can stuff it with pork and egg too!
Xiao long bao – A savory pork dumpling filled with steamy broth. You can find this in all overnight markets too!
You tiao – A stick of fried dough. Add this to your Shao bing for the ultimate Taiwanese breakfast.
In addition to the food listed above, you can order salty or sweet soy milk (we prefer the salty!) to wash it all down.
With so many restaurants to choose from in this sprawling metropolis, we've done the hard work for you! Check out our list of best soy milk restaurants in Taipei for some of the tastiest spots in town.
Chiang Kai-Shek Memorial Hall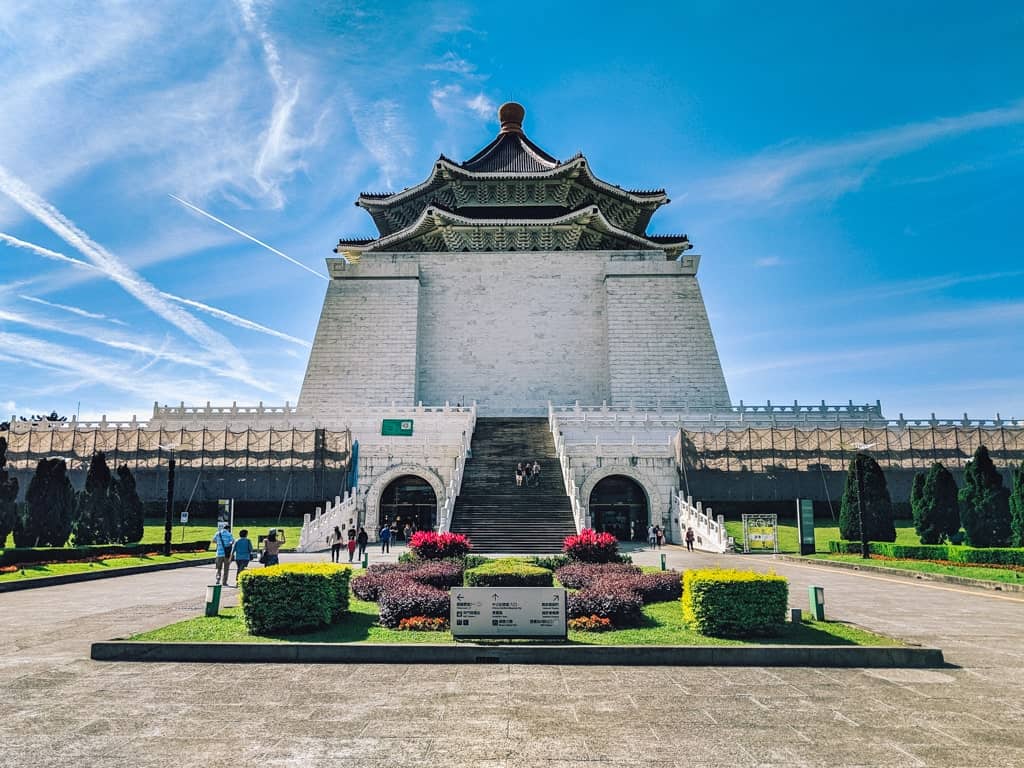 One of the most important buildings in Taipei, Chiang Kai-Shek Memorial Hall turns your gaze upward and keeps it there. Chiang Kai-Shek was once the leader of the Republic of China and moved the government to Taiwan in 1949.
After wandering around the surrounding gardens and getting as many pictures of the building as you can, venture inside for a look at the free museum on the ground floor.
However, the real show is at the top. You can reach it by the massive set of outdoor stairs or you can opt for the elevator (or more stairs) inside. Find a large statue of Chiang Kai-Shek and keep an eye on the guards.
The changing of the guard happens every hour on the hour until 4 pm. We think an early morning visit (after soy milk!) is the best time to go. The changing of the guard can get extremely crowded during peak times.
Taipei 101: Best Views Of and From the Tower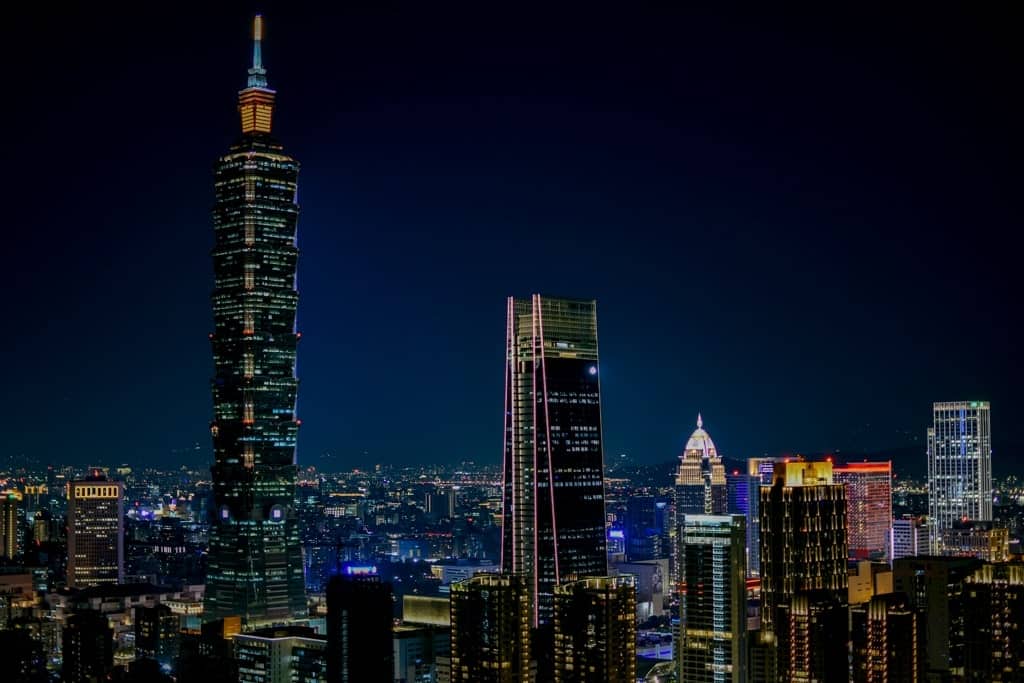 Taipei 101 is the most recognized building in the city. It was once the tallest building in the world for six years, eventually dethroned in 2010. However, it has retained every bit of its magnificence, regardless of current rankings.
You can head to the top on one of its high-speed elevators, reaching your destination in a matter of seconds. Tickets for this are not budget-friendly, as it costs around NT$600 ($20 USD) for a general admission adult.
The views upstairs give you 360 degrees of spectacular views, day or night, so its money well spent.
However, even though Taipei 101 should be seen from within, we think there's another must-see spot nearby that offers a great view of the building itself.
Bring your best walking shoes! Elephant Mountain only takes about 10 minutes to climb but it's stairs all the way. Your legs will feel the burn but the view is more than worth the effort! We recommend a sunset and evening visit so you can watch the city lights come to life. It would be a great way to end your first day!
Read our complete guide to hiking Elephant Mountain for one of the best views of Taipei 101 and the whole city!
Din Tai Fung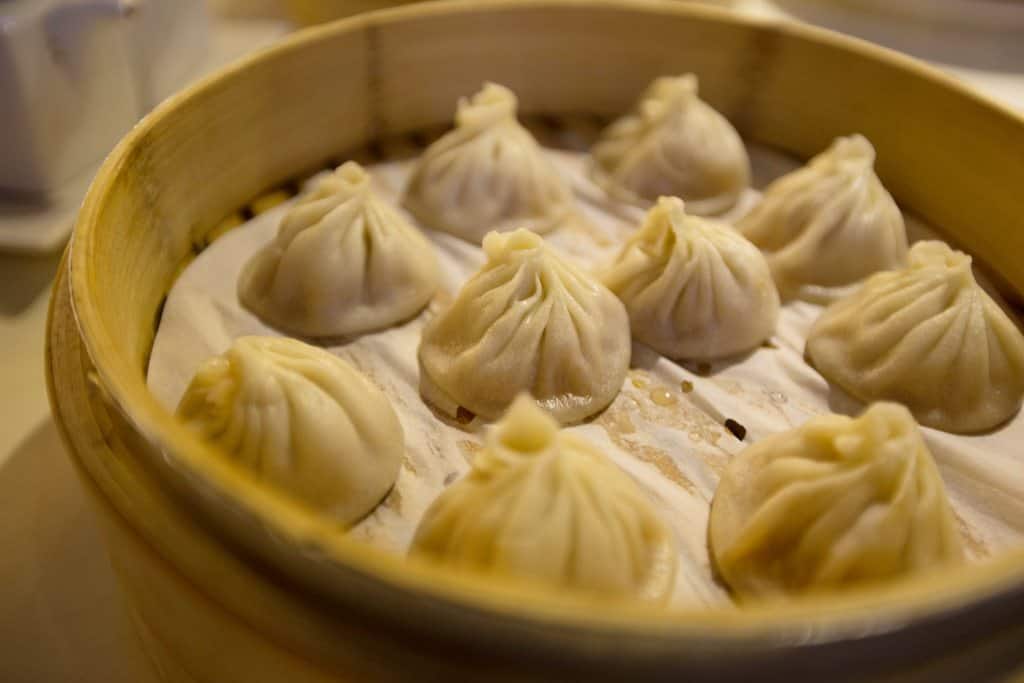 Even though there are many locations nowadays (and in multiple countries) it's still a requirement for first-time visitors to dine at Din Tai Fung. It originated in Taipei, after all!
There's a Din Tai Fung inside Taipei 101 but you can find the original restaurant on Xinyi Road, near Chiang Kai Shek Memorial Hall.
Stop at Din Tai Fung for some of the best dumplings and xiaolongbao of your life! For those unfamiliar with the process of eating xiaolongbao, instructions are provided on how to eat them. Don't let the directions deter you! It's quite simple to learn and you don't have to eat them a certain way.
Most importantly, try your hand at some of the best dumplings in the world. Enjoy!
2 days in Taipei – Day Two
More Taiwanese Breakfast!
Ok, if soy milk restaurants weren't your thing or you just want to branch out, then don't fear! You can have another famous Taiwanese Breakfast on just about every corner of the city.
7-Eleven and FamilyMart! Convenience stores for breakfast? Seriously?
Yes, seriously!
Jump in line with locals and grab some tea eggs (boiled eggs soaked in tea), fruit, milk tea, and have the cashier warm up a breakfast sandwich for you.
It will be super cheap and super delicious and provide you with some great fuel for your day!
Maokong Gondola and Tea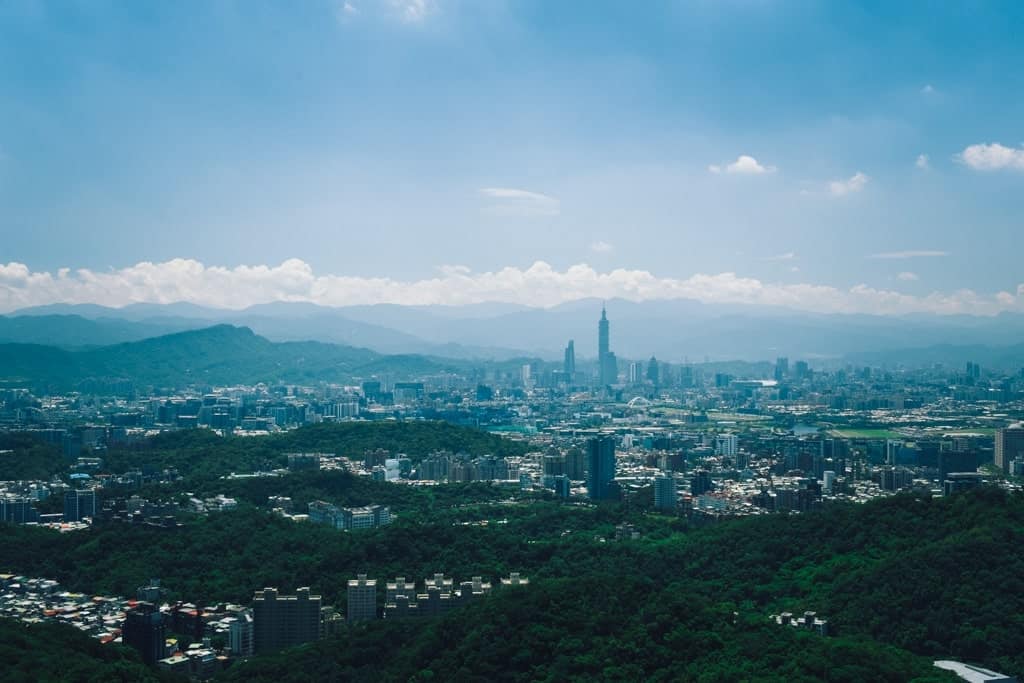 It feels like a day trip but you're never that far from Taipei central when you take the Maokong Gondola. Head up to a serene and peaceful spot in the lush, green hills, and look for Buddhist temples along the way.
The Maokong Gondola is a scenic trip up to what some call "Tea Mountain". Of course, you will find a tea house after tea house so your itinerary up here is simple: drink tea! Lots of tea!
There are plenty of tea houses as soon as you depart the gondola, some touristy and some not so much. Maolan Tea was our tea house of choice. Granted, it's a little more expensive than other houses but the beautiful view was worth the cost. Enjoy some tea in the sun or shade on their upper floor patio and peek over the hills at the top of Taipei 101 in the distance.
You can hop on the gondola near the Taipei Zoo entrance (you can mix the zoo and gondola into the same day). Tickets are NT$120 (around $8 USD) roundtrip.
There are hiking trails all around so if you're feeling adventurous in terms of nature, you have a lot of options here. Otherwise, save your energy because there's a lot of time left in the day!
Gua Bao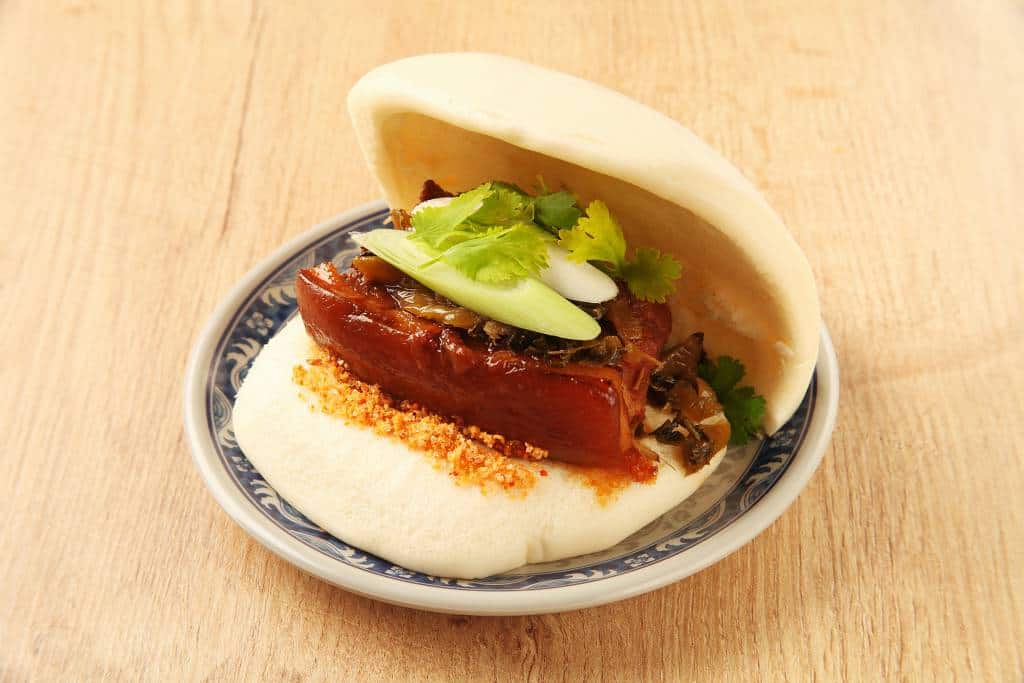 It's time to mention another famous Taiwanese food: gua bao. Known as a "Taiwanese snack" or "Taiwanese hamburger", gua bao is a steam bun that's cut open, oozing with braised pork.
You can find the best gua bao at Lan Jia Gua Bao. Prepare for a long line near dinner time but it moves quickly! Grab some bubble milk tea before you hop in line so you have something yummy while you wait!
Taipei Botanical Garden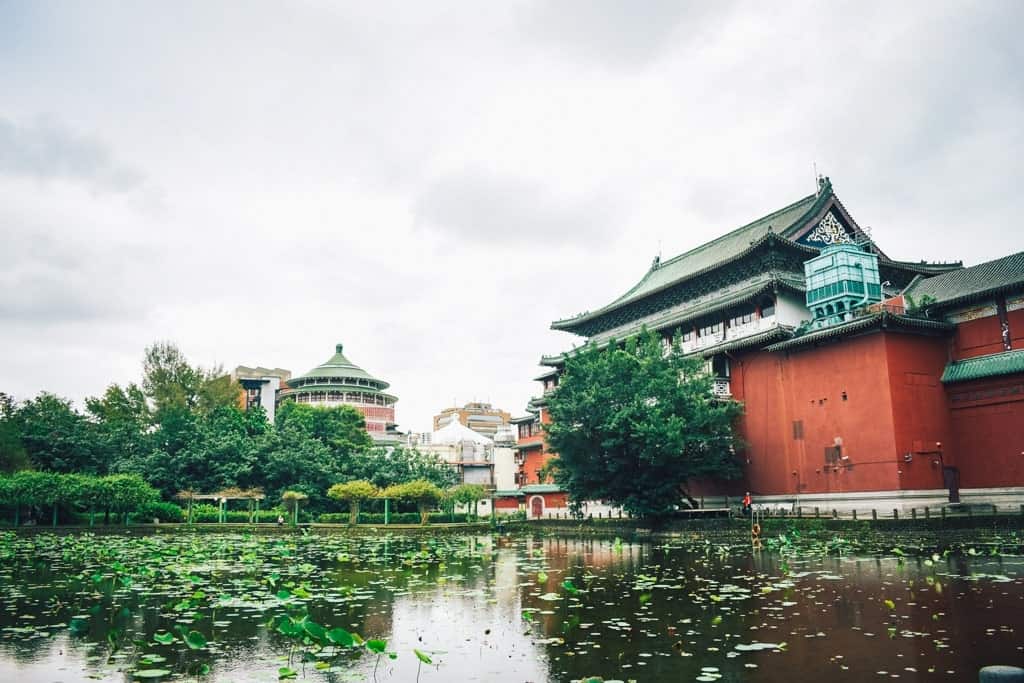 This park is a quiet escape in the middle of the city. Wander around the many paths or find a shady bench to sit and have a rest. You'll find plenty of locals going about their day, sharing in some quiet time with you.
This is a very diverse botanical garden and best of all, it's free! One of the best spots in the park is the lotus pond, which is located at the back of the National History Museum.
Longshan Temple
Your next stop is Longshan Temple. This 18th-century icon has had a turbulent history, being destroyed multiple times. However, it has always been rebuilt. Join locals and tourists alike as they appreciate this important structure.
Of course, be respectful to those worshipping but feel free to wander through and observe the intricate architecture of it all.
Night Markets
Lastly, you cannot leave Taipei without sampling some of the best night market food around. From touristy to true local spots, you can find all sorts of food, games, and fun at every night in Taipei.
If you're looking for just a one-night market to try, we recommend visiting one of the larger ones since you'll have more options for food. Rahoe or Shilin are perfect options for first-timers. These will be very crowded but will have the biggest sample of street food (like stinky tofu!).
If you're looking for a more local experience, we recommend Ningxia or Banqiao Night Market. Ningxia is packed to the brim with people, as this market is quite small but centrally located. You will smell the stinky tofu here. There is no escape!
Banqiao is located just outside of Taipei central and is definitely frequented by more locals than tourists. This was our favorite market, as it was never too crowded but always had something delicious.
Fried shrimp and cheese on a stick, flaky onion omelet, bird eggs, fresh juice, and some of the strangest seafood concoctions, you can find whatever you're stomach desires in a Taipei night market.
The best part, besides the friendly faces that are serving you, is the price! We went crazy at a night market, sampling as much food as we could, and only spent around $10-15 USD. Not bad at all!
So, try your hand at something you've never thought of trying before. It might be your next favorite food.
We hope this 2 day Taipei itinerary has helped you in your trip planning. Taipei alone is worthy of an extended visit but don't forget about the rest of Taiwan as well. Yangmingshan National Park, Taroko Gorge, Kaohsiung, Keelung, the island is full of beautiful places to discover.
Happy travels!
Author Bio: We're Darah and Garrett, the food-obsessed travelers from Where Food Takes Us and we believe in sharing budget-friendly travel tips and seeking out the road less traveled.