This post is also available in: French
Scotland evokes images of lush green hills shrouded in mist, crumbling castles surrounded by still lochs, whisky distilleries set among the oldest cities, and ancient pubs with smoked-stained walls. During my recent trip to Scotland, I took a day trip into the West Highlands with Rabbies, a popular local tour company. The tour encompassed various castles and lochs, all set into dramatic Scottish scenery.
About Rabbies
Rabbies is a Scottish tour company with offices in Edinburgh, Glasgow, Inverness, and Aberdeen, as well as in London and Manchester, England. They offer small group day tours to some of Scotland's lochs, villages, and castles, as well as multi-day tours to the Highlands, Islands, and England's Lake District.
Each small group is a maximum of 16 people, meaning you get to know the people you are with, the tour guide, and the locations in depth. The departures are guaranteed, even with just one person, and Rabbies also guarantees the experience, or your money back. They travel in eco-friendly vehicles and work to support the local communities they visit.
You might also like: How to spend 3 days in Edinburgh.
My Day Trip in Scotland
I met my tour group at the Rabbies Cafe in Edinburgh, where we boarded our 16-passenger van. The first stop was at the Kelpies, located in Falkirk. Kelpies are mythological creatures in Scottish legend; it is said they have the power and strength of ten horses. These metal horse-head sculptures are at the juncture of the Clyde and Forth Canals, between Glasgow and Edinburgh. They are the largest equine sculptures in the world and were designed by Andy Scott in 2014 to honour Scotland's horselord past.
After a brief photo-op at the Kelpies, we reboarded our van and continued to Doune Castle, near Stirling. Known primarily today for its feature in both Monty Python and the Holy Grail and Outlander, Doune Castle was once the home of the Duke of Albany, Regent of Scotland, and the Earls of Moray. At one time, Doune Castle was a dower house for several Dowager Queens, including Margaret Tudor, sister of Henry VIII.
It was originally built in the 13th century, but restored in its current form in the 14th, and is one of the best-preserved medieval castles in Scotland. Rabbies does not include entry fees on any of their tours, but they allow enough time for guests to spend some time walking through the interior of the castles, which I did.
The third stop on our tour was a rest area along the shores of Loch Lubnaig, in the Loch Lomond and Trossachs National Park. It is nestled between two Bens, or Scottish mountains, and is a picturesque place to stop for a short rest.
After stretching our legs, we boarded our minivan and headed through the Highlands to Kilchurn Castle, on the banks of Loch Awe. Kilchurn Castle was a fortress, and later a garrison, and the seat of the Campbell Clan. It was built in the 15th century and in use until 1760, fifteen years after the second Jacobite Rising (1745). The castle fell into disrepair following the Scottish defeat at Culloden Moor, when the English terrorised the Highlands and made a systematic effort to destroy the clan system.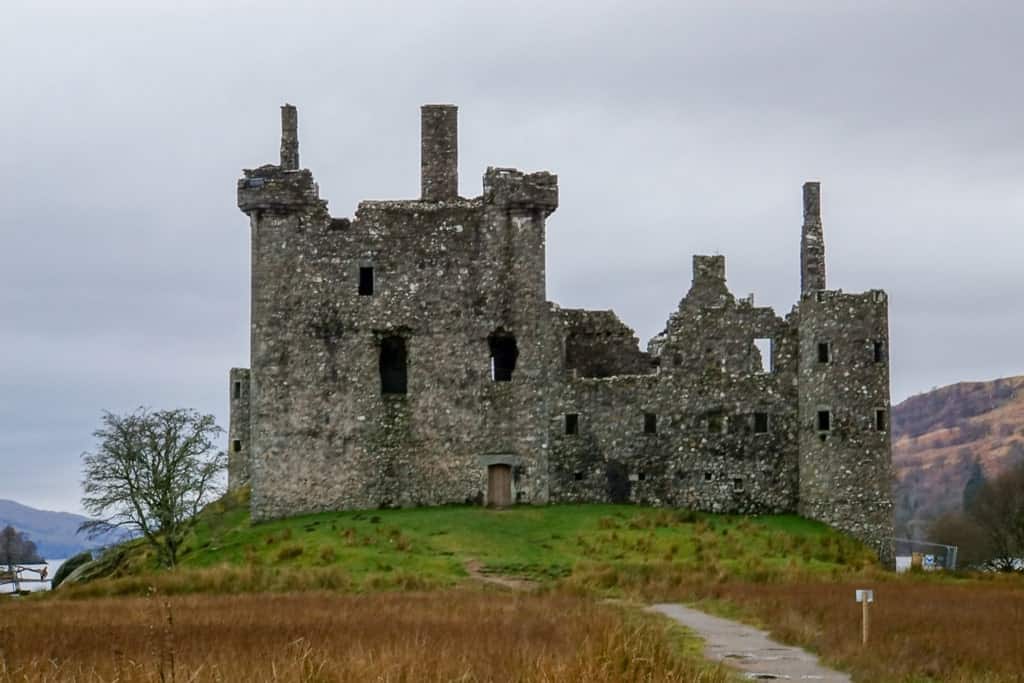 After exploring the ruins of Kilchurn Castle, which is owned and operated by Historic Scotland, we went south to the nearby 18th century village of Inveraray for lunch at a local hotel pub. Following our restful lunch, we stopped at Inveraray Castle, but did not go inside. It is closed to visitors during the winter, only open from April to October.
Our final big stop was Luss, a conservation village on the bonnie banks of Loch Lomond, on our way back to Edinburgh. Luss is known for being the location of a popular Scottish TV show, Take the High Road, which is no longer on the air. It is popular with visitors due to the picturesque houses and town centre, and is also the jumping off point for boat trips along Loch Lomond.
On the way back to Edinburgh, we stopped to see the lit up Stirling Castle against the hills of the low Highlands. It was a brief stop, but very pretty.
Why I Chose Rabbies
I really enjoyed my day trip with Rabbies. I chose to do a tour with Rabbies because they take their guests off the beaten path while still highlighting some of Scotland's most iconic sights. Rabbies also hires friendly, personable guides who know the local history, the legends, and the secrets. Our guide shared stories and legends, talked about the history of each place we visited, and was able to introduce us to locals in the villages.
I was also impressed with Rabbies' sustainable travel approach, from encouraging guests to take public transport to meet their guide and van, to promoting conservation efforts in both villages and restaurants. I would highly recommend Rabbies for anyone wishing to spend time in Scotland on an organised tour.
For more information: Rabbies Website.
I was a guest of Rabbies but as always opinions are my own.