Welcome to my new travel series where local's share their tips and advice about their hometowns. In this guide, you'll learn what to see, where to eat and drink, what to buy and all the information needed to make your holidays unforgettable.
On this post, Sianna shares her top things to do in Sofia, Bulgaria and other tips.
Pin this for later >>>>>>>>>>>>>>>>>>>>>>>>>>>>>>>>>>>>>


A local's guide: Things to do in Sofia Bulgaria
Hello, my name is Sianna, and I am Bulgarian and I am currently based in Sofia – the capital of Bulgaria where I've been living for the past five years. I will try to give you the most important information for your future visit to my lovely city.
Top 5 things to do in Sofia Bulgaria
Most of the landmarks are concentrated around the very heart of the city which makes sightseeing really easy. Have a walk around the city and the smaller streets in the centre.
If it is summer go to one of the parks in the evening to have a drink and socialise. The National Theater Park and the Crystal Park are a popular spot for young people and are literally packed in the summer nights.
The main pedestrian street Vitosha will bring you to the National Palace of Culture and the park around it. St. Nedelya church has a rich and bloody past. Close to it is the Central Department Store, the mosque, and the former Bath House – now a museum. The whole area is full of important administrative buildings, churches and even a lot of ruins around the central metro station.
The biggest church is St.Alexander Nevsky Cathedral, and it is absolutely gorgeous! Pay a visit to St.Sofia church with the archaeological complex of ruins underneath it where you can learn a lot of the history of the city.
Two off the beaten path things to do in Sofia Bulgaria
Vitosha mountain and Pancharevo lake just outside of Sofia are places that tourist don't usually know or have time to visit, but they are lovely especially in the summer. In the centre – there is a church (St. Paraskeva) that houses a flea market in its basement. Quite a curious place that not many people know about, so consider it an insider tip!
You might also like: How much does it cost to live in Bulgaria?
Top 3 restaurants to eat in Sofia
"Bistro Pesto" is a lovely small family owned restaurant that has the best Italian sandwiches in town.
"Raketa Rakiya Bar" is great for trying the most famous Bulgarian drink –rakiya. It is a strong fruit brandy-like drink that is popular around the Balkans in different variations. Pair it up with some traditional food.
"Made in Home" and "Made in Blue" are two restaurants that have a cosy, rustic interior that everyone likes. You can find nice homemade and a bit of gourmet food here. It is on the more expensive side.
Top 3 bars to drink in Sofia
"Colibri Cocktail Garden" is a great place for the summer while its sister venue "65 Fireflies" (65 Svetulki) work all year long.
"Sputnik" bar is a great mix of modern design, ethnic motifs and amazing creative cocktails.
"Hambara" is a very underground bar in a former printing house that is hidden and a bit hard to find.
The best area to stay in Sofia
The best area is definitely the centre. Everything is there – bars, restaurants, parks, landmarks. There are some hostels and hotels that are not expensive and can make it very convenient to see the centre only by walking around.
You might be interested: Is Bulgaria safe to travel?
Traditional dishes to try in Sofia
Bulgaria's national dish is called "banitsa", and it's a pastry made of phyllo dough filled with cheese, eggs and yoghurt. In the summer the best thing you can get is "tarator" – a cold yoghurt soup with cucumbers.
"Shopska salad" is one of the most popular dishes that foreigners love because of the addition of Bulgarian white cheese that makes the simple salad taste incredible.
The best way to get around Sofia:
Sofia has a good metro system that can bring you all the way to the airport or the bus and train stations. Most of the landmarks and important places are in the very heart of the city and in a walking distance. Unless you are really tired or lazy, you could easily walk in the centre. Single tickets are 0.80 euros so for longer distances you can take the metro or trams. Buses are a bit old, but there are many connections – just ask the locals!
The best spot to see Sofia from above:
Vitosha mountain can give you some breathtaking views including to the whole Sofia from above. "Kopitoto" area on the mountain the best place to go to enjoy the view and have a little picnic for example.
In the city itself, we don't have high towers you can climb, but there are a few bars and restaurants with a good view. Just to name a few that are easy to find though not particularly in the centre – ""Tavan", "Sense Rooftop Bar", "The Corner". Usually, the view is the only good thing in these places so better go to the mountain if you have the time.
The best souvenirs to buy from Sofia
I am not really a souvenir type of traveler but in the main metro station Serdica there are a lot of shops where you can buy traditional spices, magnets and postcards, souvenirs and even clothes.
Bulgaria is famous for producing rose oil. You can get a rose jam, organic rose water or rose oil in a bottle. When I travel, I love to get food to take home if I can transport it safely. If your travels allow it you can get "liutenitsa" (a tomatoes and peppers dip) or yoghurt in a glass jar. You won't regret it!
The best day trips from Sofia
My first choice for a day trip would be Plovdiv – European capital of culture for 2019 and one of the oldest cities not only in Bulgaria but the world as well. It has a gorgeous old town guarded by hills from where you can have an amazing view of the city. Don't forget to visit the "Kapana" creative district in the city centre.
Rila Monastery and the Seven Rila Lakes are also a must visit if you have enough time. Each of them could be a day trip, but you could also sleep in the monastery.
Koprivshtitsa is an authentic small town that will captivate you with its architecture and old houses.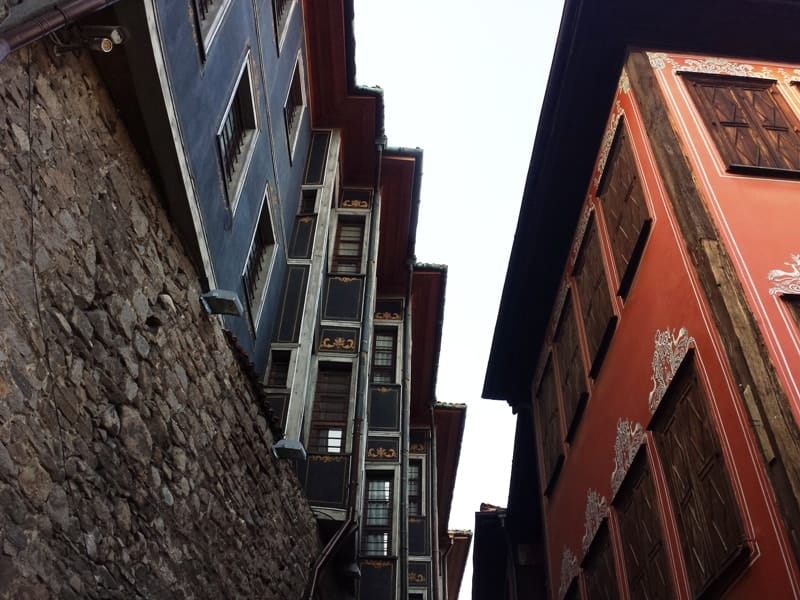 Tourist traps to avoid in Sofia.
There isn't anything in particular that would be a specific tourist trap only in Sofia. One should be careful with taxi rides and get only the officially approved ones. Also, as pretty much anywhere – beware of pickpockets and shady change bureaus. I think with enough common sense Sofia can be one of the safest capitals in Europe.
Have you been to Sofia? Do you have any other things to do in Sofia Bulgaria recommendation?
What did you enjoy the most?