Everyone who goes to Bulgaria falls in love with its breathtaking mountains, its lush forests, its beautiful sandy beaches, and its rich and vibrant history. There is great food and wine, hospitality, and folklore to make for an unforgettable experience without being overwhelmed with big, teeming masses of tourists.
It is no easy thing to discover Bulgaria, however! There is so much to see and do that it can be hard to get a true taste of all that Bulgaria has to offer. The best way is to have a bit of everything and enjoy this beautiful country's multiple facets in one exciting vacation: a road trip through Bulgaria.
The perfect Bulgaria road trip
A road trip in Bulgaria can offer you a bit of everything if you know where to go, and with the itinerary that follows you will get to do just that! This itinerary needs at least three days but the more days you afford in each place on it the better. Consider that rushing from place to place can be tiring and even stressful, so make sure you have allocated enough time to relax and rest as you enjoy Bulgaria's good food and lovely hospitality.
The itinerary is designed to be suitable for winter or summer, so depending on what type of vacation you prefer, you can drive through verdant forests and enjoy the coolness of summer or you can drive through a winter wonderland that should probably exist in a storybook rather than reality.
You'll start from Sofia, one of Europe's oldest cities and Bulgaria's vibrant capital and end up in Plovdiv Bulgaria's cultural capital with the iconic atmosphere of Roman, Greek, Ottoman, and Persian influences.
In your travel, you will go through gorgeous landscapes with breathtaking views of rolling hills and tall, green mountains. You will see monasteries and historical places that will make Bulgaria's long history of nearly 1,300 years. Combining lush, virgin nature with beautifully historical cities of iconic architecture, your road trip will be full of adventure, history, cosmopolitan flair, and the essence of all that makes Bulgaria unique.
Where is Bulgaria?
Bulgaria is in southeastern Europe. It is in the heart of the Balkans, with its eastern side being part of the Black Sea coastline.
Bulgaria shares its borders with five other countries: Romania at its north, Serbia and North Macedonia at its west, and Greece and Turkey at its south.
There are many ways to get to Bulgaria and its capital, Sofia. You can go by plane, car, bus, train, and ferry.
If you opt to go by plane, you will land at Sofia's international airport. There are many direct flights to Sofia Airport from all over the world by many airlines, including Bulgaria's own, Bulgaria Airlines. The flight to Bulgaria varies depending on where you take off. For example, a flight from Athens to Sofia takes just over an hour, while from New York it takes around 11 hours.
If you opt to go by bus, you can find several itineraries from all of Bulgaria's bordering countries that will get you to Sofia. You can even find coaches from London to Bulgaria which will take you through all of Europe before you get to Sofia. Just keep in mind that you will be changing coaches from city to city in your travel so make sure to have everything preplanned and prepaid. This trip takes roughly two days.
Getting to Bulgaria by car is also possible through one of the many highways of Europe leading there. Just make sure to be prepared to pay a vignette (which is a road tax) once you enter Bulgaria's borders. The trip time varies depending on where you start from. If you are in one of Bulgaria's bordering countries it could take anything from 10 hours to just 3 or 4 hours.
There are also international train lines into Bulgaria and Sofia. There are several going from all the Balkan countries but you can also find other ones from further away in Europe, including traveling to Bulgaria from the UK. The trip from London to Sofia takes 48 hours.
Finally, if you are in any of the countries with a Black Sea coast, namely Georgia, Ukraine, Romania, Russia, and Turkey, you can take the ferry to Bulgaria. Travel times vary from a few hours to three days, depending on whether you get to cross the Black Sea or not!
Road Trip in Bulgaria a Perfect Itinerary
Sofia (1 -2 nights)
Sofia is one of the oldest cities in Europe, with a staggering 6,000-year-old history of continuous habitation. It has always been a strategic and geopolitical hub, from Roman times to Byzantine times. Since it was captured by the Bulgarians in the 9th century AD, it has remained part of the Bulgarian influence even through the harsh Ottoman times.
Sofia's architecture is an iconic amalgam of Austrian, French, and German architecture from its parliamentary monarchy era, austere soviet styles from its time behind the Iron Curtain until the fall of the Berlin Wall in 1989, and modern and post-modern styles as Sofia became part of the EU family.
To best savor this unique blend of history that is etched into Sofia's neighborhoods, you can take one of its many walking tours which will take you to all its famous landmarks and places to visit, from churches and synagogues of stunning beauty to iconic parks and museums. But even if you don't opt for that, the must-see places are:
St. George Rotunda and St. Alexander Nevsky Cathedral: Travel through time from the earliest of Sofia to its modern times by visiting these two churches. St. George Rotunda is the oldest building in Sofia, built in the 300s AD, with gorgeous frescoes from early medieval times, while St. Alexander Nevsky is one of its most resplendent and modern places of worship built in the late 19th century after Bulgaria gained its independence from Ottoman Turkey.
While St. George Rotunda is a small Late Antique church, St. Alexander Nevsky is a gigantic Neo-Byzantine cathedral with a 10,000 people capacity and stunning interiors, including its crypt.
Vitosha Boulevard and Borisova Gradina: This is Sofia's fanciest, most cosmopolitan street. It is lined with high-end shops and houses, as well as great places to have your coffee, great views of Vitosha mountain, and elegant Art Nouveau tones. Borisova Gradina is Sofia's oldest and most beautiful park. It is an excellent specimen of the Bulgarian Revival architectural and artistic movement.
Sofia's Museums: There are several important museums to visit in Sofia, including the National Institute of Archaeology and the National Historical Museum.
There are several great neighborhoods to choose accommodation in Sofia, from its downtown area (Centrum) to Vitosha and NDK (National Palace of Culture) to Studentski Grad. Depending on your budget and style of vacation, you may opt for a low-budget, versatile hostel at Studentski Grad or a high-end hotel in Vitosha or Lozenets.
Since you will be staying only a night or two, you might want to pamper yourself with great service and an even greater view by staying at the Hyatt Regency Sofia hotel. It is located in the heart of the city at Vasil Levsky square, within walking distance of all the important sights. The view of the city from its various lounges is astounding, and it's very well priced considering its 5-star ranking.
Bulgaria is also famous for its excellent cuisine, and Sofia is the best place to sample it. Visit Shtastliveca Vitosha Sofia for timeless classic dishes from Bulgaria and Europe and a time-capsule, turn-of-the-century feel once you step into the restaurant.
To sample Bulgarian cuisine with more local color, Moma Restaurant is where you want to go. Authentic dishes and folklore merge seamlessly with modernity, with an interior that is faithful to traditional Bulgarian imagery and ornaments.
Sofia to Bansko (1-2 nights)
Leaving Sofia, you will drive to Bansko with a stop at Rila Monastery. In this part of your road trip, you will experience Bulgarian history and cosmopolitan flair in one beautiful mix.
Rila Monastery is a UNESCO World Heritage site and one of the most important specimens of the Bulgarian Revival. Its full name is Monastery of St. Ivan of Rila, and it was founded in the 10th century AD but additions were made as recently as the 19th century. Bulgarians consider it one of Bulgaria's most sacred jewels and it truly is stunningly beautiful.
Rila Monastery is a cultural, historical, and architectural monument. Its complex consists of the church, the residential wards, and the monastery's museum. Rila boasts gorgeous frescoes from various centuries and stunning decorated domes. You can climb the tower and take in the sweeping views of the mountains all around.
Rila is a place of pilgrimage for many, so you can stay there if you intend to have a spiritual experience and stay for longer than a day. Facilities in Rila Monastery are sufficient but basic and are not intended to be hotel-level since they are there to serve pilgrims only.
After Rila Monastery you will drive on to Bansko town with the beautiful Pirin mountains looming over it, offering shade and a challenge to visitors. Whether you choose to come in winter or summer, Bansko has adventure packed for you- or if you are not the adventurous type, beauty and folklore for you to bask in.
Bansko is one of Bulgaria's top ski resorts with 16 ski runs of various difficulty levels. There is an affordable ski school if you are a beginner or have children that want to start, and a great network of ski lifts that will take you to the slopes. The ski station is fully equipped with gear and has several restaurants to choose from.
During the summer, Bansko is great for mountain biking and summer hikes, with breathtaking views and gorgeous nature surrounding you. There is also a great variety of rock climbing walls if you are into that.
If you are not as adventurous, Bansko has you covered: visit Velyanova House and its murals as well as the Neofit Rilski Museum for a time travel back to the Bulgarian Revival era. After you explore the town and its beautiful church, hit Pirin street for great food and coffee as you admire the mountains or a Bansko traditional Mehana for traditional Bulgarian food with dancing and live music.
A great Mehana to visit would be Mehana Vodenicata at the center of Bansko, with its beautiful garden, live music, and traditional Bansko cuisine. Its interior is plush with wood and stone, in a warm and welcoming atmosphere you won't forget!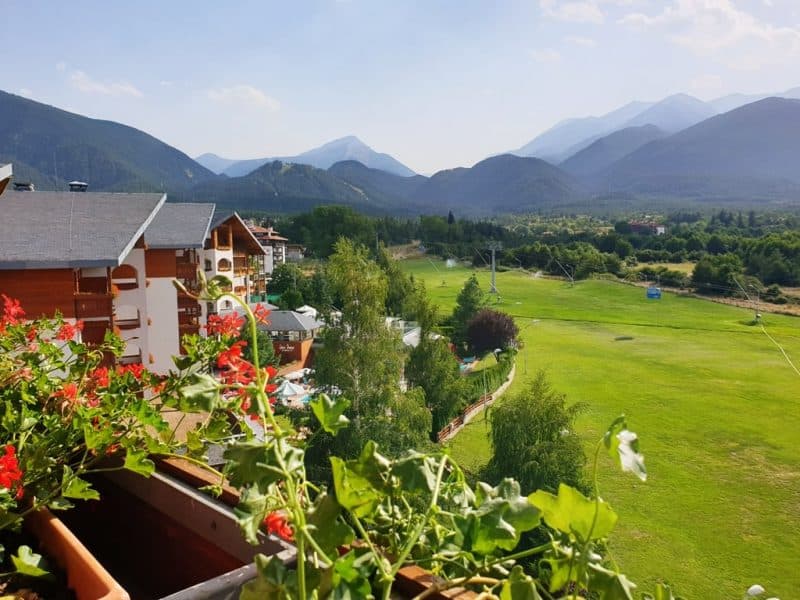 A great place to stay in Bansko is Kempinski Grand Arena Hotel at Pirin Street. As in Sofia, for its 5-star ranking, it is remarkably affordable! You will be treated to gorgeous views of the mountains while having quick access to the ski gondola that will take you to the ski station. Its Alpen style architecture and thematic food buffets, its extensive spa resort facilities, and great international corners will make you reluctant to continue on!
Bansko to Melnik (1-2 nights)
From Bansko, you will drive on to Melnik with a stop at Rozhen Monastery.
Rozhen Monastery is the biggest monastery in the Pirin Mountains. Its full name is St. Nativity of Mother of God and it was founded in the 13th century AD at the latest. Rozhen monastery has been destroyed a few times but always restored, so what you will be visiting is restoration work dating from the 16th century AD.
Rozhen is very near Melnik, and originally had no roads leading to it, so one had to climb up slopes to get there. Rozhen is said to house an icon of the Virgin Mary that is said to miraculously cure the sick, so annually there are waves of pilgrims going to the monastery to pray before it.
Rozhen itself is beautiful, with stunning frescoes, buildings representing different centuries' of the monastery's life scattered across the complex, and a yard of lush vegetation with iconic medieval stone and woodwork.
Melnik is called the smallest town in Bulgaria, with only 25 people registered as residents there. However, it is renowned for its gorgeous natural landscapes and unique geological formations: the Melnik Pyramids.
The Melnik Pyramids are sand pyramids that were created by erosion, and which are still changing. They can be up to 100 meters high and something you can't see anywhere else as they jut out harshly through the green of Melnik's lush vegetation.
If you can handle the trek, it's an experience you must have if only for the sweeping view and the gorgeous sunset.
While you are in Melnik, make sure to visit its wine museum as Melnik is famed to have Bulgaria's best wine. You can taste and buy wine there while seeing displays of how the process is done. Visit the 18th-century Kordopulov house, which is preserved as it was in its heyday in the 1700s.
This house museum originally belonged to an affluent Greek merchant named Kordopoulos. Its architectural style is a mix of Bulgarian Revival and Ottoman and it features a big underground wine cellar.
Stay at Zornitsa Family Estate Relais and Chateaux for a great experience of Bulgarian traditions and modern facilities. You will be treating yourself to gorgeous views of the mountain and Melnik's general area as well as to a heated pool and other top-of-the-line amenities.
Melnik to Leshten, to Kovatchevitsa, to Plovdiv (2 nights)
Leaving Melnik, you will then drive on to two of the most culturally important villages in Bulgaria, Leshten and Kovatchevitsa. Bulgarians consider them important heritage sites of historical importance for the Bulgarian national identity.
Both villages are very popular with tourists as they are living museums. Many of their houses are fully restored and turned into museum houses. There are also natural activities you can do, from mushroom and herb picking to hiking and fishing. There is also a balneological resort near Leshten to complete the total relaxation these villages can offer, with pastoral sounds and views of gorgeous nature.
Leaving the villages you will drive to Plovdiv, Bulgaria's remarkable cultural and artistic hub often considered the cultural capital. Plovdiv is one of the oldest continuously inhabited cities of the world, with nearly 8,000 years of history, from Ancient Thracians to Romans to Byzantines, Ottomans, and Bulgarians.
There are many things to see and do in Plovdiv. You can start by visiting the 2,000-year-old Ancient Theater which is still intact and in use today. Then walk the cobbled streets of Plovdiv's Old Town with the Roman Stadium ruins, the iconic half-timbered, brightly colored houses, and the Stepan Hindliyan house museum with the sgraffito designs at its windows and extravagant murals.
In the Old Town, you will also see the impressive Ethnographical Museum, housed in yet another perfectly preserved, opulent house. Lastly, visit the ancient ruins of Ancient Philippopolis and its stunning complex of forum and odeon.
Plovdiv to Sofia
Return to Sofia from Plovdiv with a stop at Koprivshtitsa village. This is yet another village that has been preserved to its authentic look and feel of the 19th century. The village is surrounded by the Sredna Gora mountains, adding to its beauty.
Walkthrough Koprivshtitsa's cobbled streets and narrow byways to yet again enter the time capsule back to Bulgaria's important historical moments, such as the houses of important figures of the Bulgarian intelligentsia and revolution against Ottoman rule. Of these, the must-see ones would be the Oslekov House, the Georgi Benkovski Memorial House, the Todor Kableshkov Memorial House, and the Lyutov House. Get the best view of the village from the Georgi Benkovski monument at its top.
If you have a few more hours to spare, make sure you visit Koprivshtitsa's St. Virgin Mary church and the Cyril and Methodius school house for even more specimens of that crucial period of Bulgarian history.
You might like: The best villages to visit in Bulgaria.
The drive back to Sofia is a little over two hours, through very scenic routes so time your travel accordingly if you want to enjoy them before night falls!