With its ancient cities of art and its beautiful natural landscapes, Italy has always fascinated the film industry and many worldwide famous movies have been shot in Italy through the years.
Let's explore a non-exhaustive list of movies you can watch to daydream about Italy and start planning your next holiday!
Disclaimer: This post contains affiliate links. This means that should you click on certain links, and then subsequently purchase a product, I will receive a small commission.
10 Movies Filmed in Italy
1. Letters to Juliet (2010)
Starring: Amanda Seyfried, Gael Garcia Bernal, Vanessa Redgrave
Genre: romance
Plot: Sophie is an aspiring journalist and she is on holiday in Verona with her boyfriend. While visiting the famous Juliet's House, she finds a love letter that was written 50 years before by an English girl who was in love with an Italian man. Sophie decides to write back to her and help her find her lost love.
Main Italian places: Verona & Tuscan countryside
How to revisit the movie: plan a romantic weekend in Verona and start your exploration of the city right at Juliet's House (via Cappello 23, Stop for a coffee in the beautiful Piazza delle Erbe, the main square of the city, and watch its colorful market. Head to the Arena (Piazza Bra 1) and possibly get the tickets to attend a concert there in the evening. If you feel like having another romantic weekend in Italy, choose a farm or a B&B in the beautiful Tuscan countryside. The second part of the movie was shot in Vagliagli, which is a very good choice for a short stay thanks to its position allowing you to explore the beautiful hilly countryside.
The main Italian scenes: https://www.youtube.com/watch?v=sM4wxg1GsSY
2. Under the Tuscan Sun (2004)
Starring: Diane Lane, Raoul Bova, Sandra Oh, Lindsay Duncan
Genre: romance
Plot: Frances is an American writer who receives a trip to Italy as a gift from her best friend who wants to cheer her up after the divorce from her husband. During her holiday in Tuscany, she decides to buy an old villa in the countryside and to completely renovate it. Over the weeks, her life begins to change thanks to her new experiences and encounters.
Main Italian places: Cortona (Tuscany)
How to revisit the movie: plan your next holiday in Tuscany and choose Cortona (near Arezzo) as a base to explore the whole Region. Cortona has a nice Old Town whose main point of interest in the ancient City Hall (in via Roma 7) dating back to the XIV century and including an iconic staircase and a clock tower. This area of Italy was the heart of the Etruscan domain, so you can spend some time in the MAEC, which is the local Museum of the Etruscan Civilization (Piazza Signorelli 9). Close to the town, you'll also see Villa Bramasole, which is the actual mansion used for the shooting!
The main Italian scenes: https://www.cortonamia.com/en/under-the-tuscan-sun-cortona/
3. Eat, Pray, Love (2010)
Starring: Julia Roberts, James Franco, Richard Jenkins, Javier Bardem, Billy Crudup
Genre: comedy
Plot: After her divorce, Liz is not so sure life is all about work, home and family and she decides to take a year off to travel the world. She plans to spend 4 months in Italy, 4 months in India and 4 months in Indonesia. Every stop of her journey will let her see life from another perspective and she'll learn more about some aspects she firstly ignored like good food in Italy, meditation in India and the importance of feelings and love in Indonesia.
Main Italian places: Rome & Naples
How to revisit the movie: an itinerary between Rome and Naples is one of the most typical trips to Italy. While offering an overview of the most iconic places, it might be more of a cliché than insight into the true local lifestyle. Anyway, if you like this movie, there's no better way to reinterpret it than starting with a walk through the most famous places of Rome: Piazza Navona, the Spanish Steps, Campo de' Fiori and Villa Borghese.
A more original way of revisiting the movie is planning a food tour in Rome in the restaurants you saw on the screen. A few examples?  Old Bear in via Gigli d'Oro 3, Santa Lucia in Largo Febo 12, and the ice cream parlor San Crispino in via della Panetteria 42. When in Naples, focus your wanderings in the Forcella district where the main scenes were shot. This area of the city center has a folk atmosphere where you can immerse yourself in the chaotic and busy Neapolitan life.
The main Italian scenes: https://www.youtube.com/watch?v=7pr2IsSv2TA
4. The Tourist (2010)
Starring: Johnny Depp, Angelina Jolie, Paul Bettany
Genre: thriller
Plot: the widowed Frank is on holiday in Venice where he meets Elise, the ex-girlfriend of an international fugitive accused of tax fraud. Due to her former relationship with him, she is also under special surveillance by the Intelligence Service. After this unexpected encounter, Frank is involved in a series of adventures and dangers.
Main Italian places: Venice
How to revisit the movie: you can either reach Venice by train or by plane, because the shootings were done both at St Lucia train station and at Marco Polo airport. Of course, you should start your visit from Piazza S. Marco, where you can spend half a day between the Basilica, the Bell Tower and Palazzo Ducale. Visit also the Marciana Library, which is another location you saw in the movie, and go there on Sunday when the entrance is free! Save some time for a walk on the elegant Giudecca Island too! To completely revisit your favorite movie, treat yourself with a stay in the luxurious Hotel Danieli (Riva degli Schiavoni).
The main Italian scenes: https://www.youtube.com/watch?v=q0gY9xANv9Q
5. Only You (1994)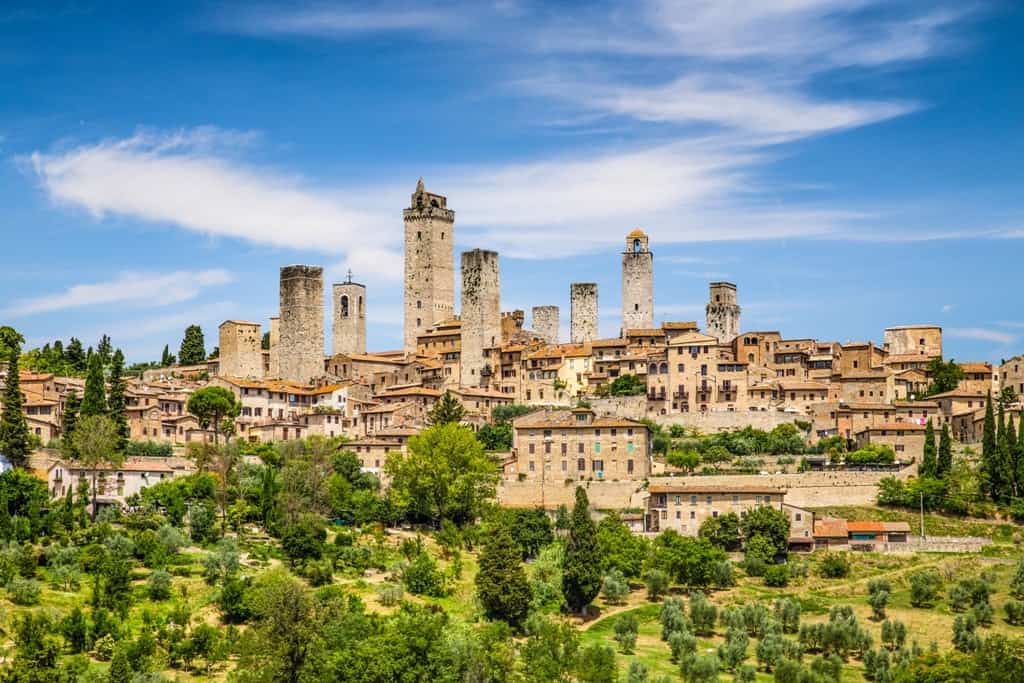 Starring: Marisa Tomei, Robert Downey Jr, Billy Zane, Bonnie Hunt
Genre: romance
Plot: as a kid, Faith asks twice about her future love to some fortune-tellers and she always got the name of a certain Damon Bradley. She spends all her youth in search of this man but she cannot find him, so she settles down. Just before her wedding, she receives a mysterious call by a man called Damon from Italy. She then decides to leave and look for him there.
Main Italian places: Venice, San Gimignano, Rome and Positano
How to revisit the movie: you can plan a road trip lasting about 10 days and letting you discover Italy from the North to the South. Start in Venice, where you can spend about 3 or 4 days fully exploring every corner of the city. You can then rent a car and enjoy a 3h drive leading you to Tuscany and the nice town of San Gimignano. You can spend a weekend there and immerse yourself in the hilly countryside scattered with farms, vineyards, and historical villages.
After this stop, another 3h drive will take you to Rome, where you should spend at least 4 days to see all the main monuments and points of interest. If you closely follow the plot of the movie, you'll have the chance to also see some lesser-known monuments and places like the Mascherone Fountain or San Bartolomeo all'Isola Square. The last stop of your road trip will take you to the Amalfi Coast: in about 4h, you'll reach Positano to spend a relaxing weekend on the beach!
The main Italian scenes: https://www.youtube.com/watch?v=zLrqyfkXt_A
6. Inferno (2016)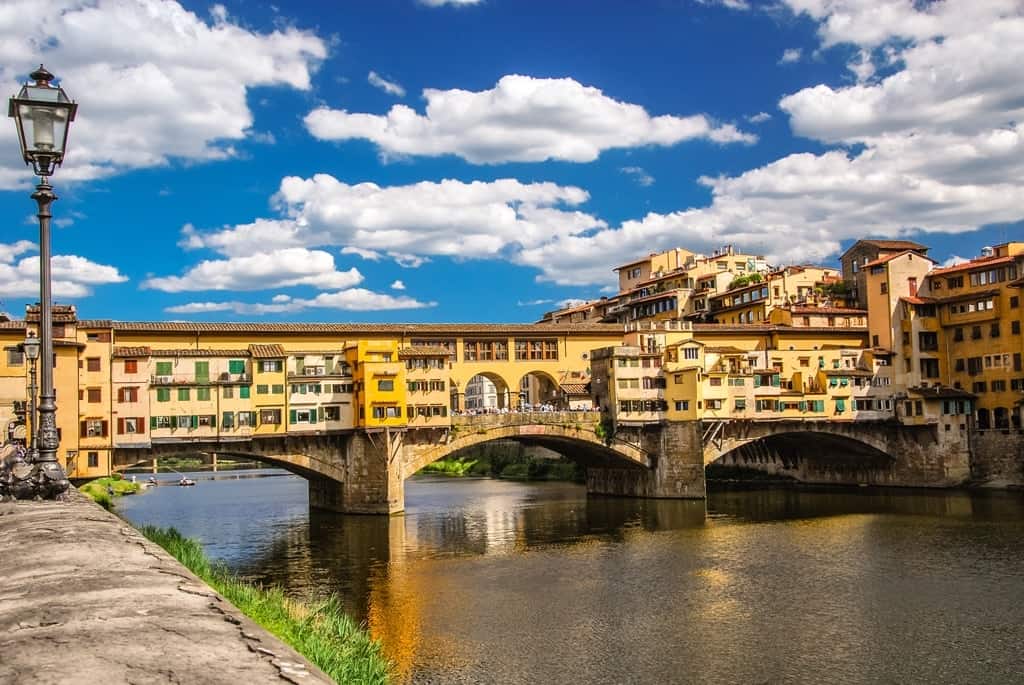 Starring: Tom Hanks, Felicity Jones, Omar Sy, Ben Foster
Genre: thriller
Plot: Professor Langdon investigates the threat of a pandemic caused by a virus created by a mad man inspired by Dante's works. He gets involved in a series of adventures and dangers that will take him to find out where the vial containing the virus was finally hidden.
Main Italian places: Florence & Venice
How to revisit the movie: plan a 1week stay in Italy and visit both cities! You can spend 4 days in Florence and then reach Venice with a high-speed train to spend 3 days there too. When in Florence, make sure you don't miss the Piazza del Duomo complex (you can visit all the monuments with an all-inclusive ticket. Another unmissable stop is Palazzo Vecchio, in Piazza della Signoria: here a famous scene was shot in the Salone dei Cinquecento. Spend at least a couple of hours in nature in the beautiful Boboli Garden, then head to the famous Vasari Corridor connecting Palazzo Pitti and Palazzo Vecchio and passing above the iconic Ponte Vecchio. Before your stay is over, make sure to book a guided tour of the Uffizi Museum. Once in Venice, you shall include the Crypt of S. Marco Basilica in your visit: it's not always open and the best way to have access to the underground is by taking a guided tour like this one here.
The main Italian scenes: https://www.youtube.com/watch?v=RH2BD49sEZI
7. Angels & Demons (2009)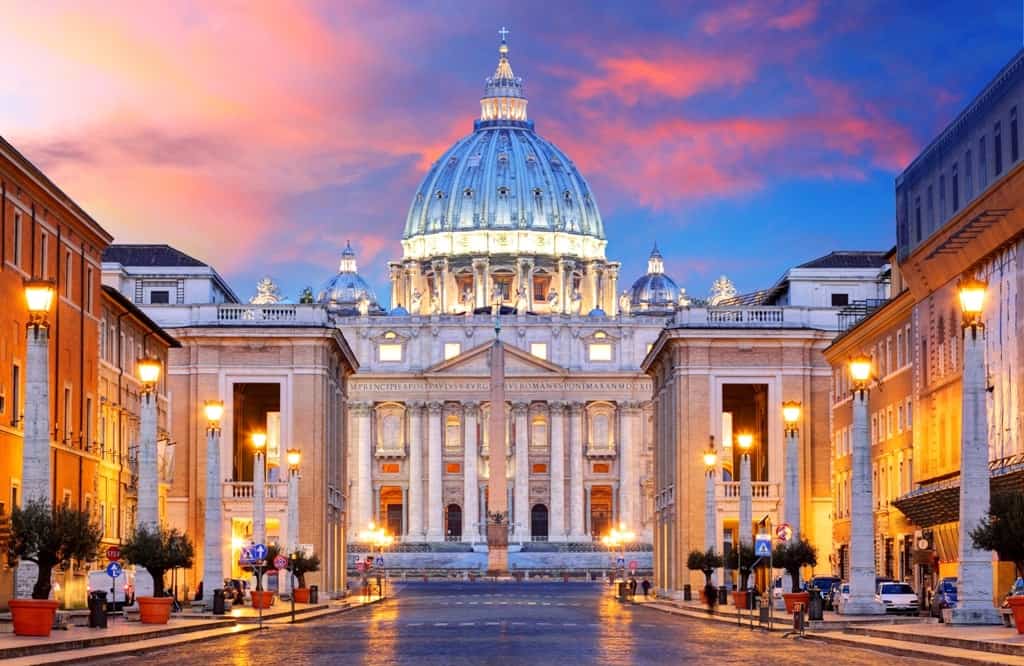 Starring: Tom Hanks, Ewan McGregor, Ayelet Zurer
Genre: thriller
Plot: Professor Langdon discovers the existence of a dangerous sect planning to destroy the Catholic Church by placing a bomb in Vatican City. He will be involved in many adventures and dangers taking him to decipher some strange and mysterious symbols.
Main Italian places: Rome
How to revisit the movie: your trip to Rome can follow an itinerary based on the places you saw in the movie and a great part of it will involve a thorough visit to the Vatican State. Anyway, you should start with the first place that is shown on the screen, that is the iconic Pantheon in Piazza della Rotonda. From there, you can easily reach Piazza Navona (5 minutes' walk) where you can admire the Fountain of the Four Rivers by Bernini. Other than S. Peter's Basilica, there are two other churches you should absolutely visit: Santa Maria del Popolo (Piazza del Popolo 12) and Santa Maria della Vittoria (via XX Settembre 17). Now you're ready to lose yourself inside S. Angelo Castle but not before having crossed the Tevere River by walking along the mysterious S. Angelo Bridge. If you really want to closely follow the steps of Professor Langdon, there's another city you should visit! The actual Vatican staircase you see many times throughout the movie is located inside the Royal Palace of Caserta!
The main Italian scenes: https://www.youtube.com/watch?v=dhMQVeL8Kqw
8. Roman Holiday (1953)
Starring: Audrey Hepburn, Gregory Peck, Eddie Albert
Genre: romance
Plot: Princess Ann is on a diplomatic journey in Europe and, being fed up by the official receptions and parties, decides to escape for a night while in Rome. She then meets an American journalist with whom she discovers the city and the Italian lifestyle.
Main Italian places: Rome
How to revisit the movie: plan a weekend in Rome to follow the steps of Princess Ann! On your first day start from S. Peter's Square, where you can have a stop to visit S. Peter's Basilica. You can then book a guided tour of the Roman Forum and the Colosseum to save some time. Princess Ann stayed in an Embassy near Quattro Fontane street, so you can choose a hotel nearby to be close to the beautiful Barberini Square. On your second day, follow the movie itinerary and head to the Spanish Steps, then reach Margutta street, just below the Pincio belvedere. Climb up to the terrace to take some pictures and spend some time in nature in Villa Borghese park. On your way back to the hotel, make a detour to see the iconic Trevi Fountain and the Pantheon. On your third day, visit S. Angelo Castle and end your trip at Piazza Venezia to visit the Altar of the Fatherland and the elegant Colonna Palace (via della Pilotta 17).
The main Italian scenes: https://www.youtube.com/watch?v=Lvu52ESt0Ks
9. The Talented Mr. Ripley (1999)
Starring: Matt Damon, Gwyneth Paltrow, Jude Law, Kate Blanchett
Genre: thriller
Plot: Tom Ripley is a typical American boy who goes Italy to bring back home the son of a wealthy industrialist who is having the time of his life there with his girlfriend. Once there, the three young people become friends and share some carefree days in a glamorous environment. During an argument, Tom kills his friend and he assumes his identity. From that moment on, he is involved in a series of adventures with many twists and turns.
Main Italian places: Ischia Island, Procida Island and Naples
How to revisit the movie: plan a relaxing and glamorous beach holiday on Ischia Island. From there, you can easily enjoy a couple of day trips to Procida and Naples. If you want to sunbathe on the same beach you saw in the movie, head to Bagno Antonio (lungomare Cristoforo Colombo 34)! During your stay, don't forget to visit the ancient Aragonese Castle. Book a 1day trip to Procida like this one here so that you do not miss this picturesque small island with its beautiful views. Naples would need at least a weekend to be fully visited, but if you just have a few hours you can directly head to Galleria Principe (in via Ettore Bellini 1) and to the S Carlo Theater (in via San Carlo 98), which are the two main places shown in the movie.
The main Italian scenes: https://www.youtube.com/watch?v=h4e-Si4oGEw
10. The Godfather saga (1974 -1984-1990 -2004-2006)
Starring: Marlon Brando, James Caan, Al Pacino, Robert Duvall, Diane Keaton, Richard Castellano
Genre: crime story
Plot: this saga starts with the story of Vito Corleone, a Sicilian immigrant in the USA who is in charge of a crime family. The whole saga tells the story of his descendants and relatives.
Main Italian places: Sicily
How to revisit the movie: plan an unusual Sicilian holiday to discover the inland and the island's wildest landscapes. Corleone is a real town, but the actual shooting took place in other villages like Motta Camastra (perched on a rocky peak in the Alcantara Valley), Forza d'Agrò (overlooking the Ionian Sea and offering some amazing views) and Savoca (a medieval village located on top of a hill). The only "famous" town you can see in the movie is Acireale, which is renowned for its vibrant Carnival celebrations and its baroque Old Town.
The main Italian scenes: https://www.youtube.com/watch?v=sY1S34973zA