Welcome to my new travel series where local's share their tips and advice about their hometowns. In this guide, you'll learn what to see, where to eat and drink, what to buy and all the information needed to make your holidays unforgettable.
On this post, Ben shares his top things to do in Salzburg, Austria.
Pin this for later >>>>>>>>>>>>>>>>>>>>>>>>>>>>>>>>>>>>>
A local's guide: Things to do in Salzburg, Austria
I'm Ben, I was born and raised in Salzburg and have lived there for most of my life up until my 20s when I decided to leave the city to travel the world.
Top 5 things to do in Salzburg Austria

There are many things to do in Salzburg, but the Hohensalzburg Fortress, Mirabellgarten, Salzburg Cathedral, Panorama Museum and DomQuartier Salzburg are some of the highlights that every traveler should visit.
You might also like: One day in Salzburg, things to do.
Two off the beaten path things to do in Salzburg Austria
Hike to the top of the Untersberg and take the cable car back down or vice versa, depending on how fit you are, or rent a bike and follow the Salzach River for about 45 minutes until you reach the beautiful countryside.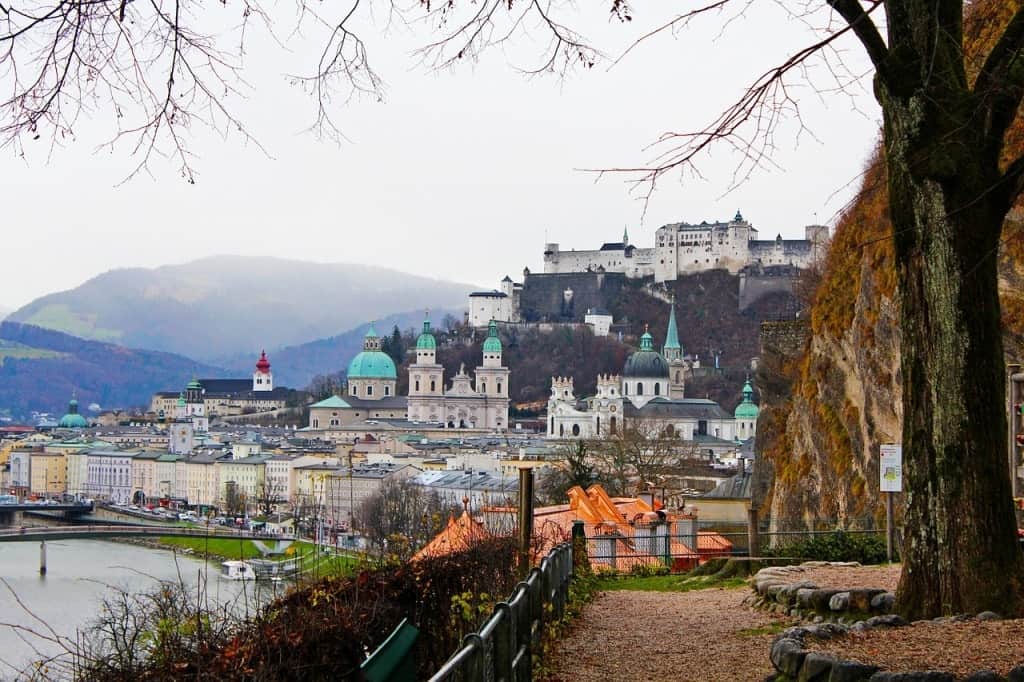 Top 3 restaurants to eat in Salzburg
For some traditional Austrian food either head to Sternbräu, Augustiner Bräu or Zum Zirkelwirt. My favorite of the three is Sternbräu.
Top 3 bars to drink in Salzburg
I recommend Steinterrasse for the best view of the old town and the surrounding mountains, Monkeys Bar for a Hugo cocktail or a cold beer and Die Weisse for more than one beer and an authentic beer garden experience.
The best area to stay in Salzburg
The best area to stay in Salzburg is in the city center, near the old city. From the city center, you get pretty much anywhere you would want to go to.
Traditional dishes to try in Salzburg
Austria has many must-try dishes but my personal favorite is Schweinsbraten (roast pork). I eat it whenever I go home to visit family. If you are vegetarian, I recommend Kasnockn (kind of like mac n' cheese but not really), as it is one of the only dishes that does not contain meat. Austrians love their meat.
The best way to get around Salzburg
If you are staying in the center of the city, which you probably will, you can easily walk from sight to sight except for places that are located outside of the city. I recommend getting a Salzburg Card. The card not only gives you free rides on all public transportation, but also free entrance to all the popular attractions in Salzburg.
The best spot to see Salzburg from above
The best spot to get a nice view over Salzburg is from Kapuzinerberg. It's a small hill on the opposite side of the old city.
The best souvenirs to buy from Salzburg
My favorite souvenir is the "No kangaroos in Austria" t-shirt. Sometimes I wish I had one myself so I wouldn't have to explain to people all the time that Austria and Australia are two different countries. If you want to support Austria and raise awareness about our little country, please buy one of those shirts and wear it around your hometown.

The best day trips from Salzburg
My favorite day trips from Salzburg are the Werfen Ice Cave and Fuschlsee. The Werfen Ice Cave is the largest ice cave in the world with some amazing natural ice sculptures and Fuschlsee is one of the most beautiful lakes in Austria. Both are easy to get to and are only about an hour away from Salzburg City.
Tourist traps to avoid in Salzburg
The Sound of Music Tour. It is a tour based on an American movie that has very little factual value. The majority of Austrians have never even heard of the Sound of Music. So how authentic can it really be?
Selected Tours in Salzburg
Ben and Jazzy run the blog Road Affair. You can follow them on Instagram and Pinterest.
Have you been to Salzburg?
Disclaimer: This post contains affiliate links. This means that should you click on certain links, and then subsequently purchase a product, I will receive a small commission. It costs nothing extra to you but helps keep my site running. Thank you for supporting me in this way.