Paris, la vie Parisienne, the glimmering lights, the bohemian alleys, and the grand monuments – this city never fails to inspire. Centuries-old churches with stained glass windows dominate gorgeous quartiers, a classic allure permeates the entire city, and world-class showcases of architecture are seen at every turn. From the historical, jazzy neighborhoods to the ultra-contemporary plazas, Paris is bound to give you an enthralling experience. The city knows how to work its way through your heart with its hilly streets of Montmartre to its Tour Eiffel.
The enchantingly picturesque city can be explored in one day or an entire month, and every visit is bound to unveil more of its secrets. In this 7-day itinerary to Paris, I will show you how you can utilize your time to be able to see the most important attractions while also being able to get a taste of local Parisienne life.
Disclaimer: This post contains affiliate links. This means that should you click on certain links, and then subsequently purchase a product, I will receive a small commission.
How to get From Airport to City Center
Before you figure out how you're going to get from the airport to the city center, consider first which airport you're going to be landing in. The main airport in Paris is Charles de Gaulle International Airport. Even though the airport itself is huge and might first seem as intimidating, it has a lot of transportation options to get you to the city center.
Note: If you have a lot of luggage during your week-long Paris itinerary, I recommend either take a shuttle bus, a taxi or an Uber straight to the hotel. It will be a major hassle for you to take the luggage to the metro station as the metro only has stairs and rarely escalators.
Charles de Gaulle:
By Train
Every 10 minutes, you can take the train, and it's one of the easiest and cheapest ways to get to the city center. The ride will take you about 30 minutes but might take longer if the train stops at multiple stations within Paris. The price is 10 EUR one way.
Bus
There's a bus that runs directly from Charles de Gaulle to the Paris Opera, and it takes 45 minutes to 1.5 hours. The cost is 11.5 EUR and is the cheapest option to use if you have a lot of luggage on you.
Taxi
Taxis are expensive, and the ride can range from 50 to 70 EUR, and it will take you from 40 to 60 minutes from the airport.
Private Transfer with Welcome PIck Ups

The easiest and most comfortable way to get to the city centre is by a private transfer service like Welcome Pick Ups. It costs exactly the same as a regular taxi, only now you will have already prepaid for it, your driver will be waiting for you at the arrivals hall holding a sign with your name on it, a bottle of water and a city map. You will not have to worry at all about the language as all drivers speak English. There is a fixed price of 60 € each way.
Find here more information and book your private transfer.
Orly
The second most important airport in Paris also has a wide array of transportation options.
Train
Even though you can take the train, there are no direct train lines from Orly to the city center. Therefore, you will need to take the train to Anthony Train Station and then switch to the city center. The journey will take an hour, and will cost 12.5 EUR.
Bus
The bus will take you 45 minutes and will cost you 8 EUR for a one-way ticket. Luckily, this option is one of the best and will be able to fit all your luggage if you have a lot.
Taxi
A taxi will cost you 40 EUR and will take about 30 minutes.
Private Transfer with Welcome PIck Ups
The easiest and most comfortable way to get to the city centre is by a private transfer service like Welcome Pick Ups. It costs exactly the same as a regular taxi, only now you will have already prepaid for it, your driver will be waiting for you at the arrivals hall holding a sign with your name on it, a bottle of water and a city map. You will not have to worry at all about the language as all drivers speak English. There is a fixed price of 40 € each way. Consider this option for hassle-free transportation in your Paris itinerary.
Find here more information and book your private transfer.
Where to Stay in Paris
If you're staying 7 days in Paris, it's important to choose hotels that are comfortable, convenient and budget-friendly. Here are a few hotels you can consider:
Hotel Gustave
Hotel Gustave is conveniently located. A 15-minute walk from the Eiffel Tower, the hotel is a comfortable boutique hotel that guaranteed a relaxing stay. Hotel Gustave is also set in a very typically Parisian building, the rooms are inspired by the Belle Époque, and there's a continental breakfast served every day. The River Seine is a few minutes away on foot, the Petit Palais and the Place de la Concorde are also a metro ride away.
Find here more information and book Hotel Gustave.
Hotel Saint Paul Rive Gauche
This 17th-century residence was once the home to monks and is now an authentically beautiful hotel. There are shared living areas, a great buffet breakfast every day and free Wi-Fi everywhere. There's a metro station only 5 minutes away from the hotel, and you'll be able to visit most of the monuments quite easily.
Find here more information and book Hotel Saint Paul Rive Gauche.
Le Bristol
One of the six hotels in Paris awarded the "Palace" status. The whole hotel is styled with 18th-century furnishings and architecture, and there is a lot of emphasis on old-style doors, antique 1940s lift, and traditional personal service.
Find here more information and book Hotel Le Bristol.
Shangri-La Paris
This hotel was originally the private mansion of Ronald Bonaparte, who was the nephew of Napoleon. You should expect incredible services, Michelin-starred Shang Palace with some of the best cuisine in town. Some of the rooms have incredible views of the Eiffel Tower.
Find here more information and book Shangri – La Hotel.
How to spend 7 days in Paris, a comprehensive itinerary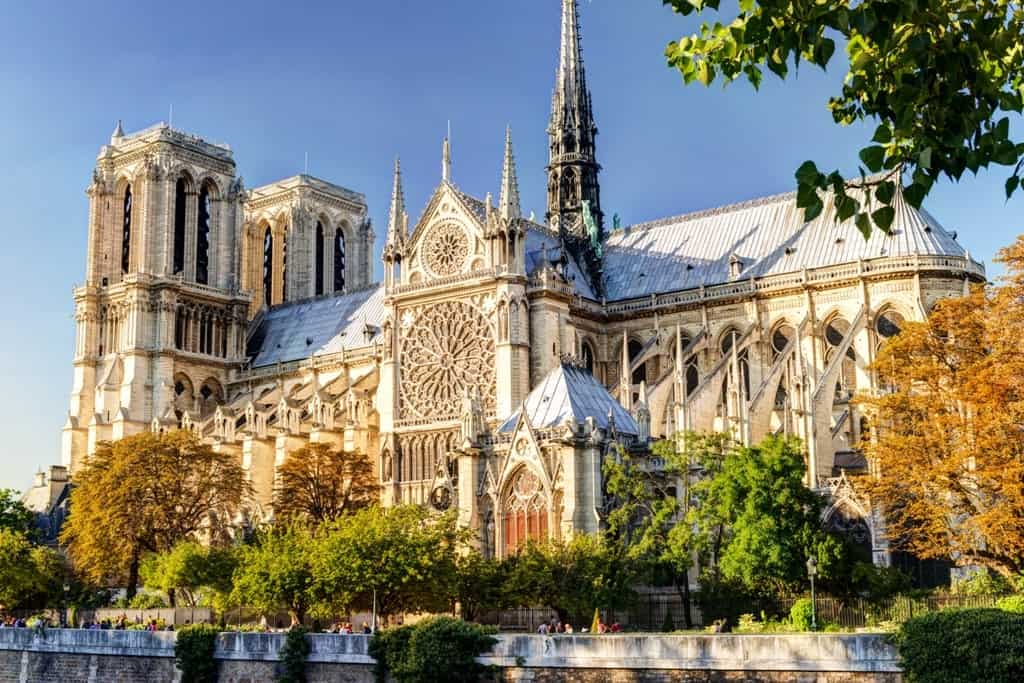 Paris Itinerary: Day 1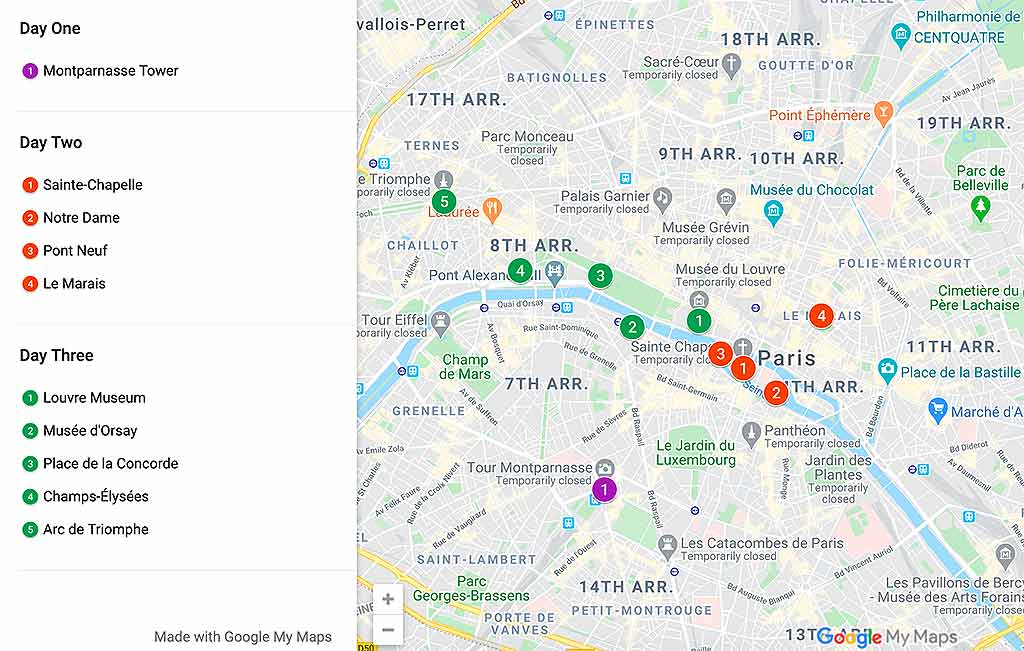 Your first day should be one of relaxation and lazy exploration to prepare you for the hectic sightseeing of the upcoming few days. Seven days in Paris is a lot, and it's advisable to spend your first day idly getting used to the city. Set your bags at the hotel, maybe even cherish those fluffy beds and embark on a discovery of Paris.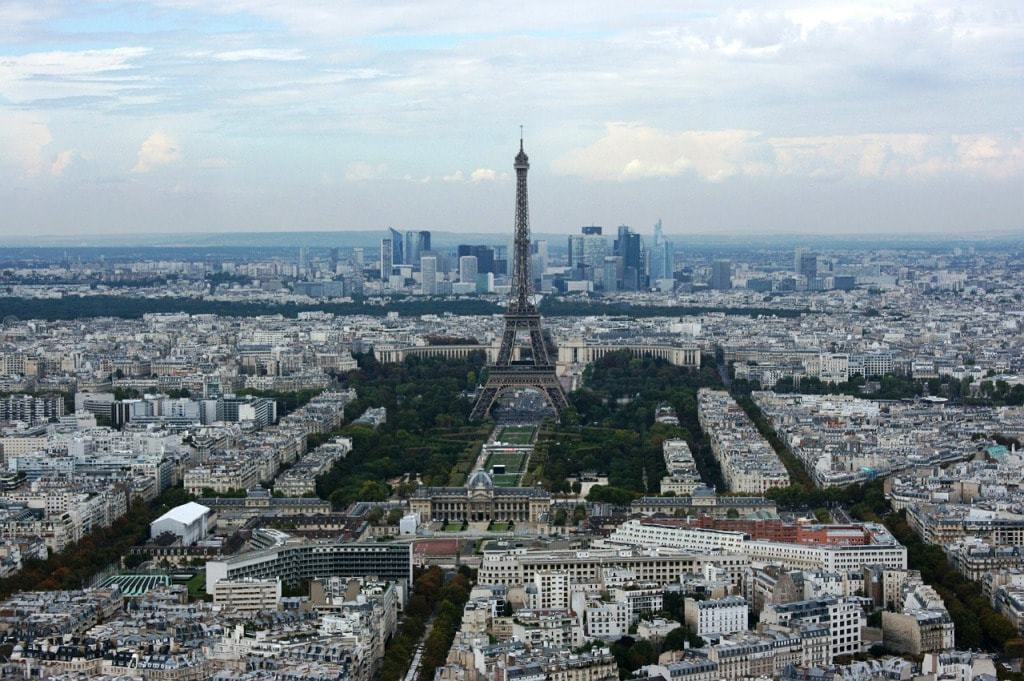 On our first day, we decided to embrace the creative roots of Paris and head to Montparnasse. This neighborhood is where creativity is left to run wild, where streets buzz with local life, and where you'll find quintessential reflections of arts and literature scenes embedded in the streets. Quaint shops, cozy cafes and brasseries are not the only beautiful things about Montparnasse. There are quite a few attractions, from the Catacombs museums to the Parc Montsouris.
The main attraction that we thoroughly enjoyed, however, was the Montparnasse Tower. A true symbol of Paris second to the Eiffel Tower, this tower pierces the sky and is the tallest skyscraper in all of France. Climb up the tower on a clear day, and you'll be met with spanning views, vistas, and the gorgeous skyline of Paris. It's a good way to start your trip as this way you'll be orienting yourself to all there is to see ahead.
Click here for more information and to book your terrace tickets.
Paris Itinerary: Day 2
In this seven day itinerary, you'll be spending your second day exploring different historical attractions in Paris.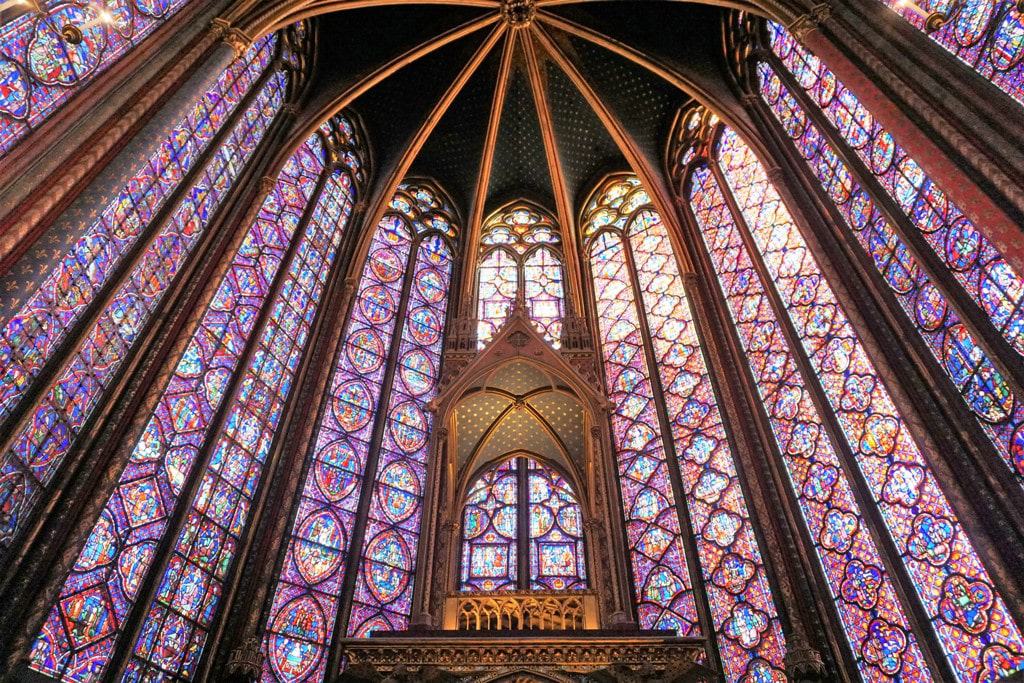 Saint Chapelle is nothing short of an architectural wonder with the aesthetic marvel that hides behind the Palace of Justice. Climbing the spiral staircase to be surrounded by glorious stained-glass walls, the vaulted ceilings, and the relics is itself a magnificent experience. You'll get to see jewel-encrusted goblets, rich colors and beauty that seems to be alive. With the light streaming through the windows, the elaborate decorations and the spiritual vibe – Saint Chapelle is the perfect place start to your trip.
Tip: The queues are long for Saint Chapelle so get there as early as possible or buy a skip the line ticket.
Opening Hours:
From 2 January to 31 March: Open every day 9.00-17.00
From 1st April to 30 September: Open every day 9.00-19.00
From 1st October to 31 December: Open every day 9.00-17.00
1 January, 1 May and 25 December: closed
Tickets:
Full Price: 10€
Reduced Price: 8€
Free entrance with the Paris City Pass/ Museum Pass
More info: Sainte Chapelle
Notre Dame
After the recent tragic events the Notre Dame is no longer open for a visit.
Embark on a journey to one of the world's most renowned gothic cathedrals of all time. The Notre-Dame embodies the soul of Paris in its walls and its 13th century architecture. The true meaning of medieval is symbolized in this iconic gothic sanctuary and you will be able to see and experience the beauty at full force. Make sure to visit really early, as the doors open at 9 am and the lines by then are already daunting. With its gargoyles and chimerical sculptures, you'll feel like you've been transported to gothic times in the 13th century, so it will be worth the visit.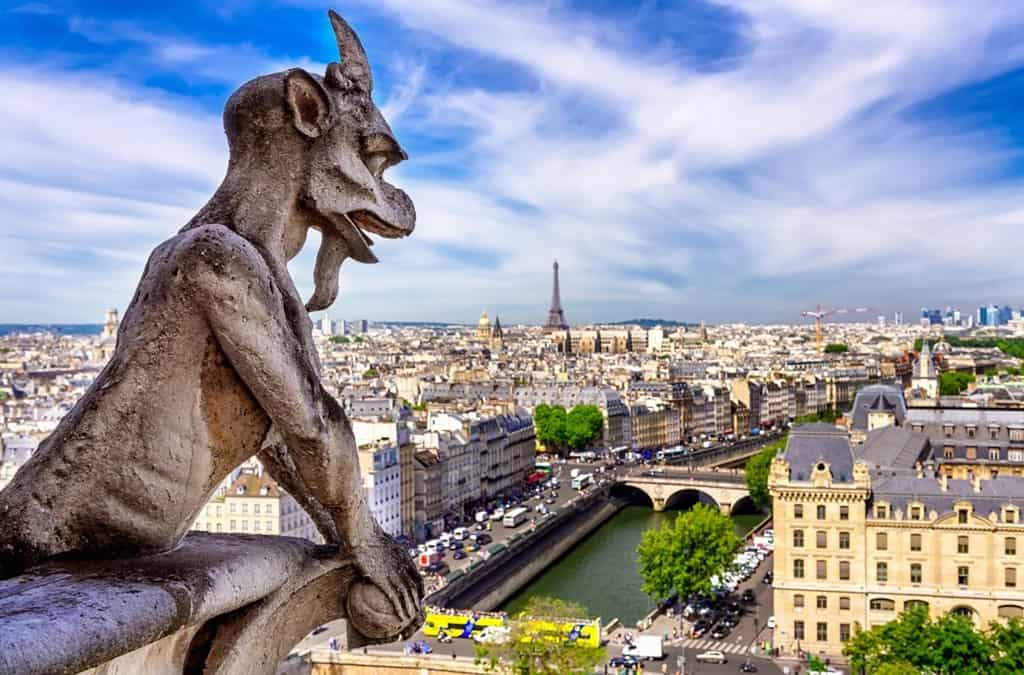 Head over to The Towers, where you can climb 387 stairs up to be rewarded with sweeping views of Paris. From there, you'll be surrounded by bell towers and gargoyles with a view of the Louvre, the Sorbonne, the Panthéon, and the Ile Saint-Louis.
Pont Neuf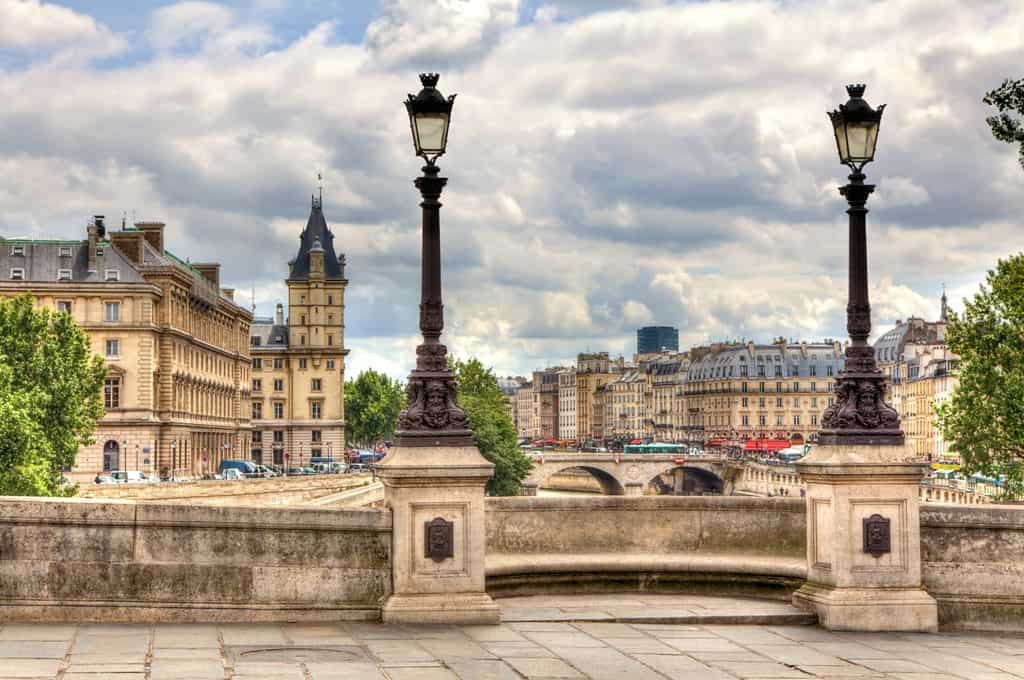 Despite its name, Pont Neuf – which directly translates to New Bridge – is actually the oldest bridge in all of Paris. Elegant arches reflect beautifully on the rushing River Seine, gargoyles and grotesque creatures decorate the edifice, and the skyline of Paris gloriously finishes the image…Walking the bridge is simply enchanting. Also try going there by sunset when the sun paints the bridge and the surroundings in hues of orange and red.
Le Marais
The closest you can get to what to Paris was like in medieval times is by exploring Le Marais. This highly progressive community has come a long way since its industrial times and today it serves as the melting pot for the Jewish community, the Chinese, the LGBT and all things progressive. You'll also find that it's not a major tourist hub so you can experience that little bit of Parisienneamore in the streets. Vintage boutiques, cozy sidewalk cafes and great bars – Le Marais is worth roaming around in.
Pay a visit to Place des Vosges, one of the oldest squares in Paris, and one of the most beautiful and immerse yourself in the different facades, the lively atmosphere and the different museums. You can visit Victor Hugo's house, author of the Hunchback of Notre Dame, or learn about Picasso at Musee de Picasso.
7 days in Paris Itinerary: Day 3
Of course, with seven days in Paris, you'll have time to visit its most iconic symbols comfortably. On the third day you're going to be going on the ultimate tour of Paris. All the highlights you've been dreaming about and the symbolic attractions can be visited in a day, albeit a hectic one.
We started off with Le Louvre, a museum that puts all others to shame. Unparalleled when it comes to its collection, its sense of grandeur and its diversity – Le Louvre is one of the most renowned museums in the world. It's more of a monument, than a museum with a staggering 35,000 pieces of artwork that span some of the world's most important civilizations. From European artists, to Egyptian mummies – you can find everything at Le Louvre. Gawk at the Mona Lisa, take pictures in front of the giant glass pyramid, relish the Egyptian antiques or learn about Islamic in the Islamic arts section.
Tip: The lines at the Louvre are big, book a timed entrance ticket or a guided tour in advance to skip the lines.
Opening Hours:
Daily (except Tuesdays): 9 a.m.–6 p.m.
Wednesday, Friday: 9 a.m.–9:45 p.m.
Closed on Tuesdays, January 1, May 1 and December 25
Please note that on December 24 and 31 the museum will close at 5 p.m.
Tickets:
Full Price: 15€
From October to March: access to the permanent collections is free for all visitors on the first Sunday of each month.
Free entrance with the Paris City Pass/ Museum Pass
Tip: The museum is huge so plan ahead what you want to see. Also, take advantage of the late opening on Wednesday and Friday.
More info: The Louvre
Recommended tickets and tours for the Louvre with skip the line entrance:
If you are visiting the Louvre Museum with kids then this private tour is designed especially for families
With a fascinating history, Musee d'Orsay has transformed multiple times throughout the course of history. From being a railway station to a mail center – this museum has finally settled for its final form. A rich collection of both impressionist and post-impressionist paintings are showcased in the museum in all forms. You'll find all sorts of sculptures, furniture displays, paintings and a lot more!
Tip: Another busy museum in Paris you can buy a Reserved Access 1-Day Admission Ticket and head straight at the entrance for visitors with pre-bought tickets.
Opening Hours:
Open daily open from 9.30am to 6 pm, except Mondays
late night on Thursdays until 9.45pm
Closed: Mondays, on 1 May and 25 December
Tickets:
Full Price: 12€
Reduced: 9€
Free entrance with the Paris City Pass/ Museum Pass
More info: Musse d' Orsay
Place de La Concorde
Unwind after those two museums at one of the fountains in Place de La Concorde, or sip on some coffee at a sidewalk café. The main attraction there will be a 23-meter Egyptian obelisk magically adorned with hieroglyphs that date back to 3000 years ago. Sit by fountains devoted to the seas and rivers, walk around the same place Marie Antoinette was executed and take postcard-worthy pictures at this plaza!
Champs-Élysées
The acclaimed streets of the Champs-Elysees are known for their glamour, posh boutiques, and high-end shopping, but visiting them before Christmas was an entirely different experience. The streets were drenched in gorgeous flickering lights that adorned the buildings, the spirit of festivity oozed out of every alley, and dazzling displays created an unparalleled happy vibe. You could actually feel Christmas with every step you took.
Arc de Triomphe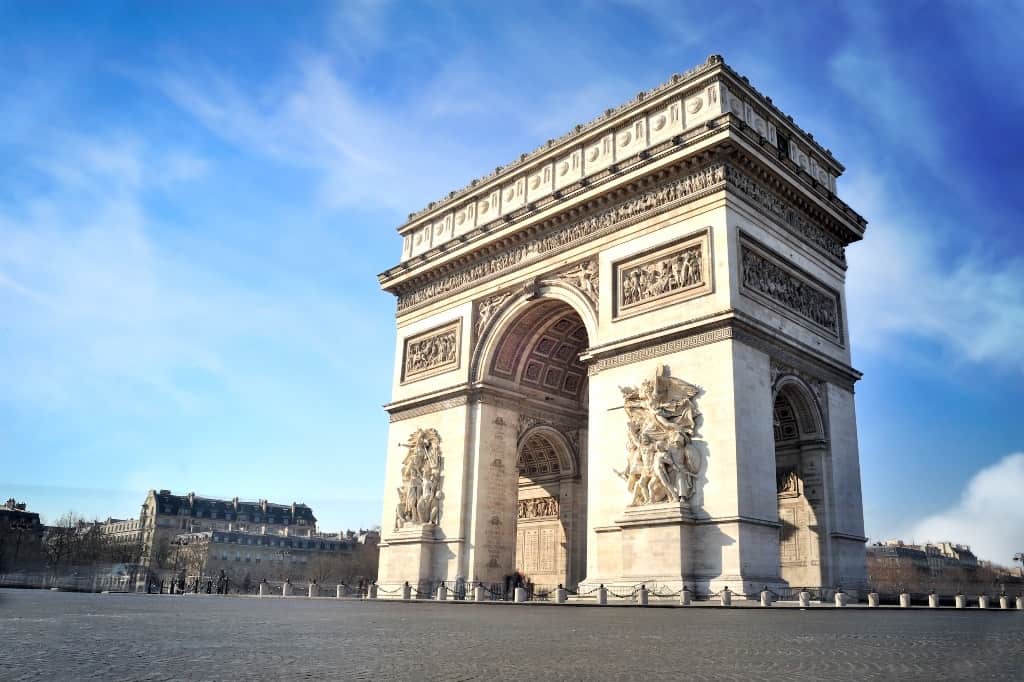 Elegance and prestige emanate from one of Paris's most symbolic icons – the Arc de Triomphe. This colossal architectural edifice acts a central masterpiece to the Champs Elysees and has a significant place in the history of Paris. You can visit the first floor for free, but word of warning: the queues are tremendous. We always resorted to booking the skip the line ticket to avoid wasting our time.
Tip: To avoid the queues you can buy a Skip-the-Line Arc de Triomphe Rooftop Tickets.
Opening Hours:
From April 1 to September 30: 10 a.m.-11 p.m.
From October 1 to March 31: 10 a.m.-10:30 p.m.
Closed on January 1, May 1, May 8 (morning) July 14 (morning), November 11 (morning) and December 25
Tickets:
Full Price: 8€
Students (18 to25 age): 5€, Free for children and students up to Age 17.
Free entrance with the Paris City Pass/ Museum Pass
More info: Arc de Triomphe
7 days in Paris Itinerary: Day 4
Palais Royal
Start your day at the quietest, most quintessentially French Parisian garden and enjoy the surrounding atmosphere. Sunshine creeping its way through the trees, the sounds of rushing fountains in the background, and the arcades that line the garden. You can spend your time relaxing or strolling through galleries that border the garden – whatever it is, make sure to enjoy your morning coffee at this tranquil place. To the north of the gardens, there is the Galerie Vivienne, a passage with an array of cafes, little sidewalk bars and beautiful mosaic floors. Try to have breakfast either there or at Galerie Colbert with its statues and architectural designs.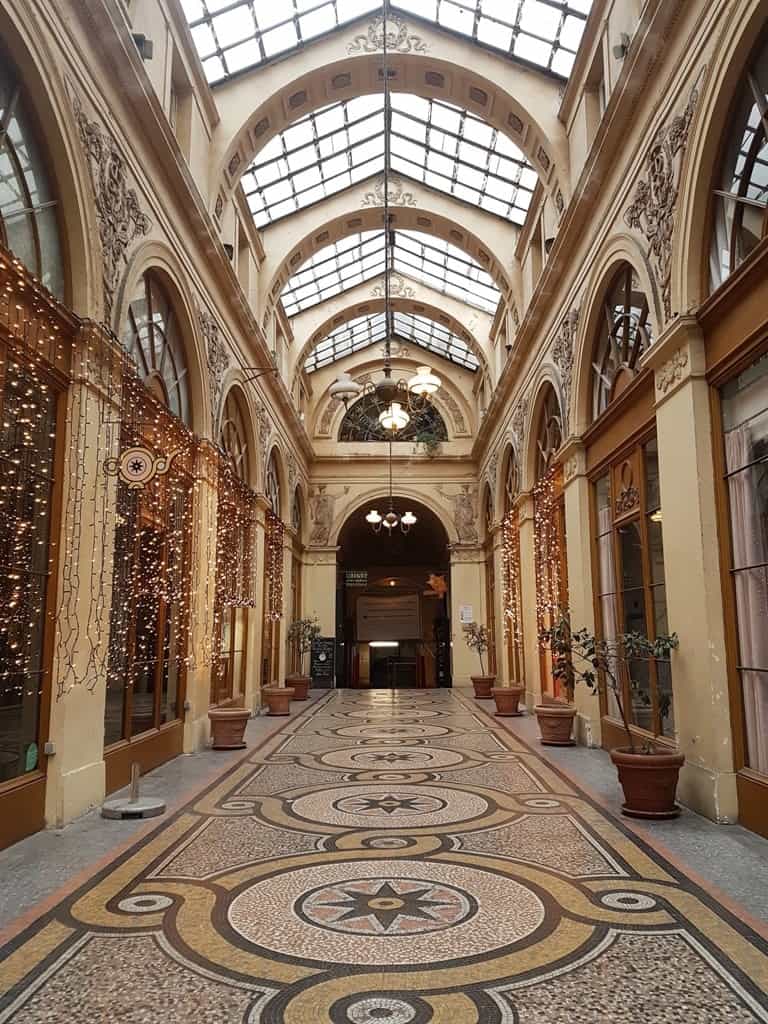 Place Vendome
If you're even slightly interested in jewelry, head over to the Place Vendome. This is without a doubt, the most luxurious of all the squares in Paris. Envision classical architecture, mansions, jewelry shops, luxury everywhere and crystal boutiques – this is where you go to get a taste of all things glitzy and glamorous!
Opera Garnier
Not only is the Opera Garnier an architectural treasure – but it's also a central spot for classical music and ballet. Home of the Phantom of the Opera, the inspiration to countless of paintings, and one of the most visually stunning spots – the Opera Garnier is magnificent! A ceremonial staircase takes you between lavish gold and marbles, and literature and art all find their snake their way through the edifices of the Opera. Try to enjoy a performance amidst this spectacle of high society! The guided tour of the Opera was one of the highlights of my visit to Paris.
Opening Hours:
Open every day from 10 am until 4.30 pm (10 am until 5.30 pm 17 July to 11 September inclusive) excepting matinee performance days and exceptional closures.
Tickets:
Full price: €11
Reduced price: €7 (under 25s)
Free: children under 12, the disabled and those accompanying them, unemployed.
Free guided tour with the Paris City Pass. (You need to go to the opera a few hours before the tour starts and book your tour – a valid ID is required)

More info: Opera Garnier
Book a self guided tour of the Opera Garnier.
Paris Story
Next to the Opera Garnier is a theater of 140 seats that showcases a movie about the entire history of Paris. You'll be able to learn about the secrets of Paris, be whirled through the scenes of the most famous landmarks and how they came to be, take a voyage of time to the foundations of this contemporary city and much more. You'll be fully immersed in an unexplainable French ambiance, and you'll come out much more knowledgeable than you were before.
Opening Hours: Tuesday to Saturday from 10 AM to 5 PM
Closed: December 25th and January 1st
Sessions are scheduled for every hour. Duration: 50 min
Tickets:
Adults: €9.50, children (6-12 years): €6, children (4-5 ): Free admission, Family (2 adults, 2 children): €25
Free entrance with the Paris City Pass.
More info: Paris Story
Galerie Lafayette
The Belle Époque architecture isn't the main attraction here; it's the insanely extravagant shopping you're about to be met with. Designer clothes, men's fashion, home furnishings, fashion shows, jewelry and much more are all displayed in one of the world's most important fashion institutions. It's a must-stop for all fashion enthusiasts, and if your budget is a little tight, a little window shopping can't hurt!
Printemps Department Store
After visiting Galeria Lafayette, we headed to the Printemps department. What caught my eye at first was the beguiling Christmas decorations that filled the entire department store. Whether I was planning to buy something or not did not matter at this point, the Christmas vibe alone made me want to stay there all day. All window displays almost compete on who can become more Christmas-y.! The stained glass, mosaic tiles, and Belle Époque designs all intertwine with the decorations to create an incredible ambiance.
7 days in Paris Itinerary: Day 5
Montmartre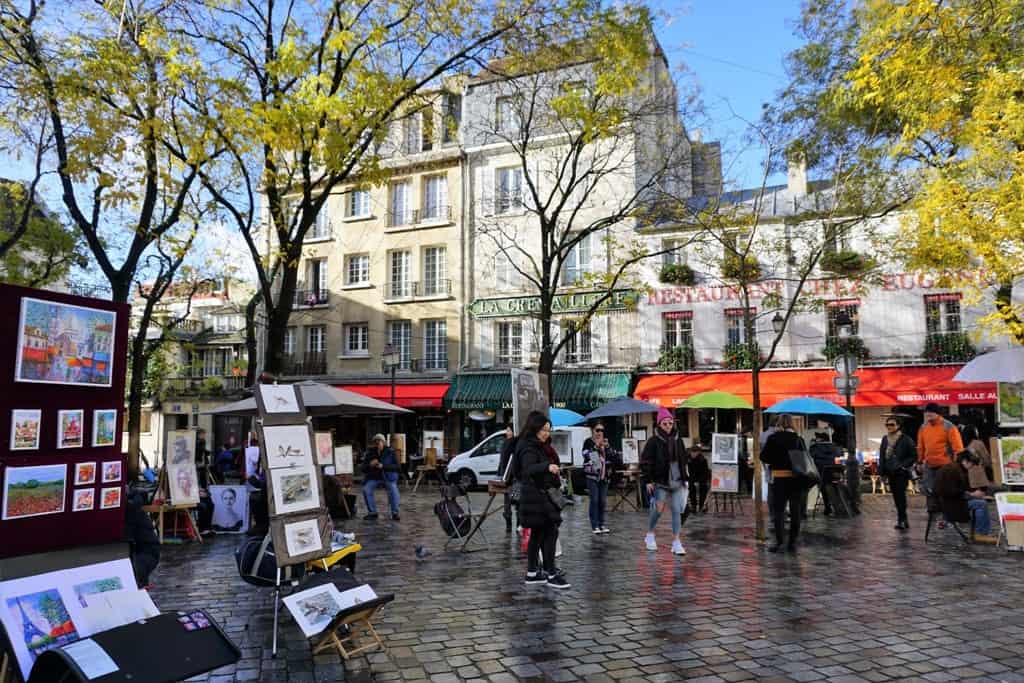 Hilly, historic and hipster – three words that accurately describe the Montmartre neighborhood. Perched on top of the highest hill in Paris, Montmartre is a world on its own. Walking through the streets of the neighborhood is like walking through an old French village with winding narrow alleys, cobbled streets, house still as rustic as ever, and staircases that disappear into the dark. We walked around Montmartre for a while, enjoying its little alleys and then headed over to Sacre-Coeur. If you're feeling a little bit adventurous, visit the renowned Moulin Rouge at night.
Sacre-Couer
Sacre Coeur is an enchanting fairytale that has come to life. A Roman-Byzantinian design takes over the church from its exterior while magical spiraling steps, bells, mosaics and stained glass windows all steal the show from the interior. For incredible views of Paris, try to climb up to the Basilica's Dome.
The Eiffel Tower
The Eiffel Tower does not need an introduction. Piercing the sky proudly, the tower makes it hard not to stop and stare. Glimmering into the sky, the Eiffel Tower is there with all of its clichéd glory for you to explore.
You can climb up the stairs, or take an elevator up to the third floor where you can get gorgeous views of the city above with the hoards of tourists below, or watch an educational movie about the tower's history. For the cherry on top, you can visit Gustave Eiffel's office.
After you're done exploring, head over to the restaurant 58 Tour Eiffel and have the meal of a lifetime. You'll be enjoying lunch from inside of the Eiffel Tower with the best views you'll ever have in your lifetime.
Opening Times:23 December to 30th December: 9:30 – 0:45
15 June – 1st September: 9:30 – 0:45
Rest of year: 9;30 – 23:45 (lifts) -9:30 – 18:30 (stairs)
Tickets:
2nd floor ticket with lift: Adults: 16€, young people 12-24 years 8€, Concessions: 6€, Children under 4: free
2nd floor ticket with stairs: Adults: 10€, young people 12-24 years 5€, Concessions: 2.50€, Children under 4: free
tickets to the top with lift: Adults: 25€, young people 12-24 years 12.50€, Concessions: 6.30€, Children under 4: free
tickets to the top with stairs up to 2nd floor and then lift : Adults: 19€, young people 12-24 years 9.50€, Concessions: 4.80€, Children under 4: free
More info: Eiffel Tower
Tip: The queues to enter the Eiffel Tower are long and you might have to wait for hours to enter especially in high season. A great way to skip the lines is by taking a guided tour or buying a skip the line ticket. Please book your tickets in advance (even weeks) to avoid disappointment.
Here are some recommended tickets and tours of the Eiffel Tower (all with skip the line access):
Another great idea is to combine your priority ticket to the Eiffel Tower with a Seine Cruise.
Seine Boat Cruise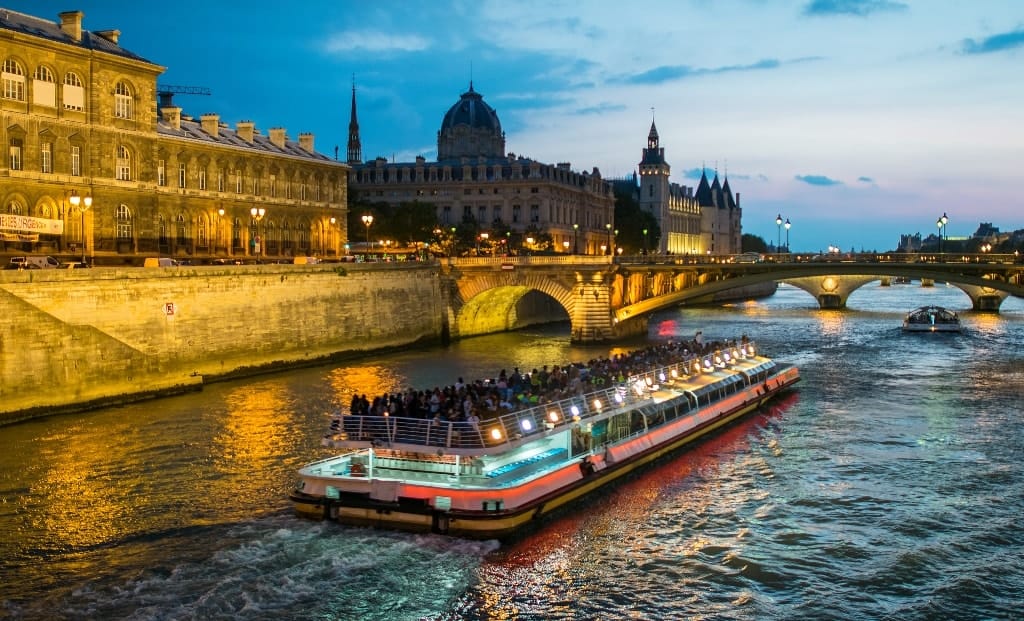 What better way to end your day than by floating on the waters of the Seine, the city of Paris reflected unto the water, the distant sound of a violin playing, the intertwining of foreign chatter in the background? We ended our day by sitting back and relaxing with a glass of wine and a 4-course meal – all while passing the most important monuments in Paris. We did a dinner cruise with Bateaux Mouches and it was one of the highlights of our visit.
You can read about my Dinner Cruise along the Seine with Bateaux Mouches River Cruise here.
7 days in Paris Itinerary: Day 6
Take a day trip to Versailles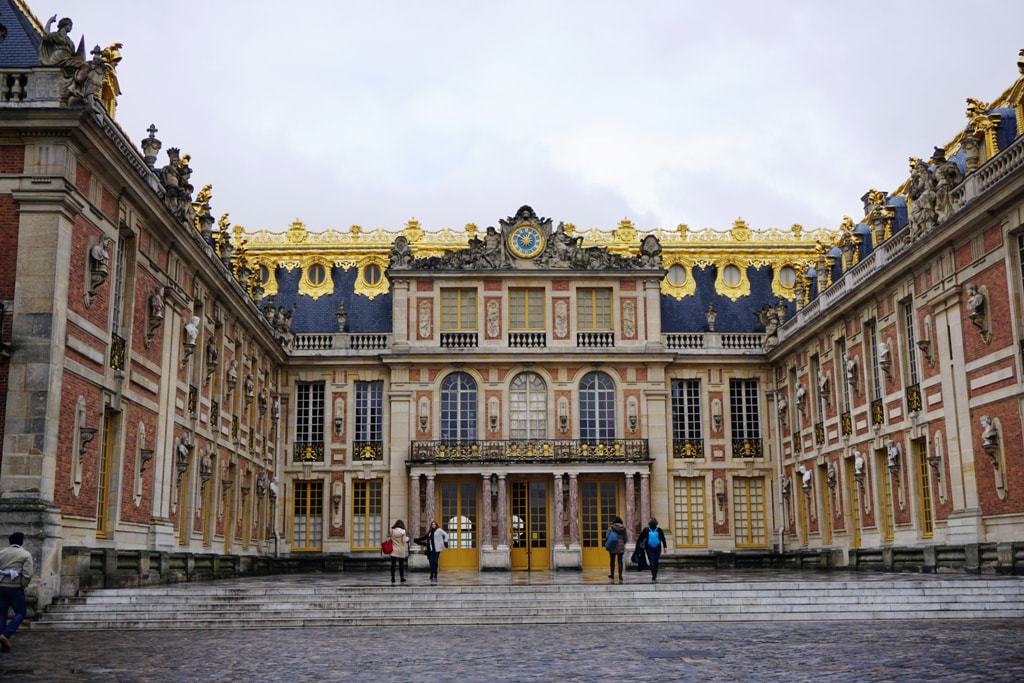 Reflecting the power of King Louis XIV, the Palace of Versailles is an embodiment of French architecture and art. Even though it's outside of Paris, the monument is still one of the most visited in all of France. The chateau is grand, a little bit intimating and quite exhausting. But nothing should stop you from exploring the exquisite interiors and exteriors of this palace. We checked out the Hall of Mirrors, the landscapes, the Chapel, the auditorium, the Grand Apartment, and Marie Antoinette's apartment!
The queues at the Palace of Versailles are huge. It is recommended to buy a priority admission ticket.
Opening Hours: Palace: 9:00 – 17:30
The estate of Trianon: 12:00 – 17:30
The Gardens: 8:00 – 18:00
The Royal Stables: 12:30 – 17:30
Mondays: Closed
The Gardens and the Park are open every day. On days with Musical Fountains Show or Musical Gardens, access to the Gardens is free only for children under 6.
Tickets:
Tickets start at 18€ (Palace only)
More info: Palace of Versailles
Free entrance with the Paris City Pass/ Museum Pass -no skip the line

The queues at the Palace of Versailles are huge. It is recommended to buy a priority admission ticket.
Crazy Horse Show
Risqué, posh, glamorous and intimate – the Crazy Horse is one of the most renowned cabarets in France. Acting as an ode to all things sultry, feminine and intimate – this cabaret is what you'd imagine you'd see in a French movie. Girls with scarlet lips choreographed dance and burlesque shows, this is how the French entertained themselves years ago.
Find here more information and book your tickets.
7 days in Paris Itinerary: Day 7
While seven days in Paris may first seem like a lot, on your last day, you will realize how fast the time went by and how much you absolutely need one more month at least to get a real gist of all what Paris has to offer. Spend your last day exploring neighborhoods, unwinding at palace gardens and going on food tours.
St. Germain Neighborhood
An artistic hub but also the classiest neighborhood in Paris, we visit St. German for its chic shops, historical sights, window shopping and small art galleries. It was beautiful walking around the alluring neighborhood, the actual literary heart of Paris.
Did you know? Most of the scenes in Midnight in Paris were actually filmed in this neighborhood! This should just convince you why even a simple stroll in this place is worth it!
We actually did a food tour there with Paris by mouth where we got to sample the best bread, cheese, charcuterie and the best fine wines. Read about my experience here.
Jardin de Luxembourg
The beautiful French gardens mix Latin quarters with Italian architecture, Parisian space with greenery and the modern with the old to create a heavenly garden. Perfect for escaping the hustle and bustle of the city, the Luxembourg garden is a place to unwind by the lake, go pony riding, or read a nice book while a free live band plays their music.
Pantheon
Sitting atop the hill in the Latin Quarter, this former church forms an iconic silhouette in Paris's skyline. Including a necropolis, a crypt, sculptures, and tombs – the Pantheon is vast. Originally a church and now a mausoleum, it's worth checking out the impressive architecture of this edifice.
Opening Hours: From 2 January to 31 March: Open every day 10.00-18.00
From 1st April to 30 September: Open every day 10.00-18.30
From 1st October to 31 December: Open every day 10.00-18.00
Closed: 1 January, 1 May and 25 December. On 17 June, the morning.
Tickets:
Full Price: 9€
Reduced Price: 7€
Free entrance with the Paris City Pass/ Museum Pass
Paris City Pass
Visiting a city for the first time is usually an overwhelming experience. You're met with hundreds of attractions and a lot of planning. You need to think of what attractions to see, how much to pay for each, where to book tickets, admission fees, and long, long lines.
To reduce that incredible amount of stress and have a carefree trip, we decided to purchase the Paris City Pass, and it made our entire trip so much easier. Basically, you get an all-inclusive pass to experience the best of Paris – with over 60 attractions and museums and the chance for us to skip most lines. You'll see through the article why the "skip the line" option is essential!
This way you can purchase discounted tickets, you save a lot of money, and you get to spend more on other expenses during your vacation while also having more time in general.
The Paris City Pass also offers free transportation around the city.
Check out more information and book your Paris City Pass.

Best Time to Visit Paris
Paris is an incredible vacation destination year-round thanks to its changeable climate and its varying events throughout the year. Whether you explore Christmas markets in the snow in December or bask in the summer sun in the jardins throughout Paris, you're sure to enjoy your time in the city of lights and love.
Thanks to Paris' relatively small size and great public transport system, it is easy to get around the city come rain or shine both on foot and under cover. Plus, this awesome city has both outdoor sights to see as well as tons of indoor activities to keep everyone entertained. Therefore, there's no reason to use weather as an excuse not to visit.
Springtime in Paris is unsurprisingly beautiful as days start to warm up and the trees and flowers across the city are in full bloom. Make the most of dry days with long slow walks meandering along the banks of the seine; taking in the sights and street markets before stopping to enjoy the café culture in the bistros that have opened their pavement dining tables after the cold of winter. Paris in spring boasts blue skies but fewer tourists, so is probably the best time to visit the city.
N.B If you think you might visit Paris in May, find out when the Nuit de Musee (Night of Museums) is and try to plan your trip around this. It is a night when all of the city's galleries and museums open their doors to the public free of charge and is a wonderful way to spend an evening.
Summer really starts to hot up in Paris and tourists from all over the world start to flock in to explore Le Louvre, the Champs-Elysées and the Eiffel Tower. While we all want a little sun sometimes, summer in the city can be a bit much. The metro system becomes stifling and the queues unbearable so a visit to Paris in summer is probably best reserved for those who have visited before and would rather take slow strolls around the city and discover some unknown spots. Many of Paris' citizens head out on holiday during July and August but their numbers are definitely replaced by the thousands of external visitors.
As the colours of Autumn come into play in Paris you're in for a real treat. The avenues and boulevards are lined with burnt orange leaves and the golden light makes for stunning photographic opportunities around the city. Tourist numbers start to die down, allowing for a much more relaxing trip and prices are lower than the rest of the year. This is the perfect time of year to explore the city of lights before spending long, slow evenings dining out French-style on indulgent meals with friends and family.
Winter months in Paris are marked by generally crisp, clear days with temperatures mostly in single figures. This is a wonderful time to wrap up warm, dip in and out of cafés for steaming cups of chocolat chaud and discover the city's amazing collection of museums. Christmas markets pop up along the Champs-Elysées around the end of November and the ice rink at the Hotel de Ville is truly magical.
How to Get Around Paris
Paris' metro system is easy to understand with colours and numbers pointing the way. The metro snakes its way throughout the city and connects with overland trains and national TGV (high-speed) services so you can explore both the city and its surrounds without any hassle or confusion. Nearly all stations have automatic ticket machines that operate in a number of languages and there are a range of tickets to purchase depending on the length of your stay. Either buy a book of 10 billets which are each valid for a single journey (on the bus or metro), purchase a day pass or invest in a multi-day ticket which you can use to hop on-and-off public transport around the city with ease.
While the bus system is a little more difficult to understand, it does serve some places that are not on the metro line, so research your route first or ask in your accommodation about the best way to get around by bus.
Another option for exploring the city of lights is by bike. Paris was one of the first cities in the world to set up the pick-up/drop-off bicycle system and there are bikes available throughout the city. This is a great way to get around quite quickly, while still being able to see the sights along the way.
Finally, if the weather allows, discovering the city by foot is arguably one of the best options. Paris' architecture and city design are truly stunning and with parks and gardens popping up all over the place it's a beautiful space to stroll. Plus, by walking around the city you are able to find some real gems like vintage shops, quirky cafés and unknown museums, as well as being able to watch daily Parisienne life go by.
How to Save Time and Money in Paris
The elegant city of Paris is one of the most luxurious places to live and visit in the world, with high-end dining, exquisite hotels and perfect patisseries that are just calling out to be bought and devoured. However, this does mean that the cost of a trip to the city of lights and love can start to rack up quite quickly. That's not to say there aren't budget options though, so here's a few tips on where to save and when to splurge.
Accommodation:
While you may want to spend on a five-star hotel if you're on a romantic break to Paris, there are plenty of cheaper options for groups of friends travelling on a budget. The city has some great hostels and budget hotels that are still well-located for exploring the city. Plus, if you visit in the shoulder season such as September and October, you are much more likely to get a great deal on your accommodation.
Dining:
Of course, dining out in Paris is a must, but thankfully delicious French cuisine comes at every budget. Rather than sitting down for breakfast, head to a boulangerie to pick up some fresh pastries and eat them as you wander around the city to save some pretty pennies first thing. Then find a prix-fixe menu for lunch which offer two or three courses for under 20 euros! These are quite common, especially around the Latin Quarter.
Transport and Tickets:
As mentioned above, walking and public transport are both great options in Paris and multi-day tickets are bound to save you money if you think you'll be exploring all corners of the city. The Paris City Pass includes both attraction tickets and transportation so you can have everything you need in one pass for a fantastic price. Major museums such as the Lourve and Musée D'Orsay and the Arc de Triomphe are included which are a must for anyone visiting Paris for the first time, so it's worth the investment. This pass also offers queue-jump privileges, so you will be saving both time and money!
Free Things:
While shopping on the Champs-Elysées is most definitely expensive, many other attractions and sights across the city are free and making the most of these is essential. Wandering along the Seine is one of the free highlights as you can see many of the main sights while walking in a beautiful setting.
Churches too are mostly free and with Notre Dame and Sacre Coeur being some of the most stunning works of architecture in the world, visiting is a must. If you're European and under 26 a number of museums and attractions are free of charge as long as you have your passport or identity card on hand! Plus, many museums open their doors free or charge on the first Sunday of the month, so plan your trip accordingly if you want to save!
Spending seven days in Paris is guaranteed to give you the trip of a lifetime with memories you cannot create elsewhere. You'll be able to visit all of Paris's different sides – the glamorous, the historic, the medieval, the natural and the symbolic. You'll have time to get lost in neighborhoods or enjoy museums almost every day!
Travel Passionate is a participant in the Amazon Services LLC Associates Program, an affiliate advertising program designed to provide a means for sites to earn advertising fees by advertising and linking to amazon.com, amazon.co.uk, amazon.ca. Amazon and the Amazon logo are trademarks of Amazon.com, Inc. or its affiliates.