Planning to spend 2 days in Paris France, and looking to see as much as possible? There are so many things to see in Paris on weekend. This 2-day itinerary will help you make the most out of your stay in the city.
Paris, the City of Lights, one of the most beautiful cities on earth, one that is hard not to fall in love with, one with class, elegance, history, and one of the richest cultures in Europe, is a destination that cannot be missed. It is one of the most popular tourist destinations in the world and is the world capital of art, fashion, literature, and food, thus drawing millions of tourists every year.
In those 2 days you spend in Paris, experience what it's like to live in a myriad of the little things – the smell of croissant, the sound of the many different languages overlapping, the blend of modernity with classical French architecture, get lost in museums, or hang out at a park mid-day and allow the atmosphere of Paris to take over you.
You might also be interested in the best arrondissement in Paris.
If you want to spend more days in Paris on a budget you will find this one week Paris itinerary very interesting.
Here is how you should spend two days in Paris to be able to make the most out of it!
Disclaimer: This post contains affiliate links. This means that should you click on certain links, and then subsequently purchase a product, I will receive a small commission.
Two Days in Paris: Where to Stay?
Hotel Ekta: This hotel is only 200 m away from the Champs Elysees and 400 m from the Arc de Triomphe, has free WiFi all over, has rooms that offer a city view, and will make you feel like you're in a different era. Click here for more information and to check the latest prices.

Hotel Tourisme Avenue: A five-minute walk from the Champ de Mars and 10 minutes away from the Eiffel Tower, this is a cute hotel in the heart of the 15th district in Paris, with a small patio right in front of the hotel. Click here for more information and to check the latest prices.

Le Bristol: One of the six hotels in Paris awarded the "Palace" status. The whole hotel is styled in 18th-century furnishings and architecture, and there is a lot of emphasis on old-style doors, antique 1940s lift, and traditional personal service. Click here for more information and to check the latest prices.

Prince de Galles: Stylish 1920s hotel located in the heart of the 8th district. 159 rooms are available looking at a central courtyard, and the architecture is mainly Art Deco-influenced, from mosaic bathrooms to beautiful furniture. Click here for more information and to check the latest prices.

Shangri-La Paris: This hotel was originally the private mansion of Ronald Bonaparte, who was the nephew of Napoleon. You should expect incredible services, Michelin-starred Shang Palace with some of the best cuisine in town. Some of the rooms have incredible views of the Eiffel Tower. Click here for more information and to check the latest prices.
How to spend 2 days in Paris, A Detailed Itinerary
Paris in 2 days: Day One
The Eiffel Tower is one of the most recognizable landmarks in Europe and the world, and one of the most visited as well.
There are three levels of the Eiffel Tower that you can visit. You can climb up the stairs to the second floor (704 steps to be exact!) and then take an elevator to the third floor, or you can use the elevator to go directly to any of the floors.
Try visiting the gallery with the Panoramic tables to watch beautiful uninterrupted views of Paris, or enjoy a meal at the 58 Tour Eiffel restaurant or the cafeteria for a quick snack.
The most important part of the tower though is the Top Level. There not only can you get wonderful views of Paris at the height of 276 meters, but you can also check out Gustave Eiffel's office.
Tip: The queues to enter the Eiffel Tower are long and you might have to wait for hours to enter especially in high season. A great way to skip the lines is by taking a guided tour or buying a skip the line ticket. Please book your tickets in advance (even weeks) to avoid disappointment.
Here are some recommended tickets and tours of the Eiffel Tower (all with skip the line access):
Skip the Line Eiffel Tower Tickets: Summit Level or Second Floor Direct Access
Another of Paris's distinctive landmarks stands at 50 meters tall and 45 meters wide, Arc de Triomphe is the largest of its kind in the world, and one of the most beautiful.
It is a triumphal arch that was erected by Emperor Napoleon to his troops due to their victory at the battle of Austerlitz. It reflects French elegance and pride. As you walk closer to the Arc, you will realize that it's adsorbed with several intricately carved sculptures.
To avoid the queues you can buy Skip-the-Line Arc de Triomphe Rooftop Tickets
Champs-Élysées
Now you can head over to the most famous avenue in Paris and Europe. It stretches for more than a mile, from Place de la Concorde until the Arc de Triomphe. It's part of three streets that form the Golden Triangle which is a shopping district consisting of Avenue Montaigne and Avenue George V.
You can walk around and check out the epitome of glamour, wealth, and luxury shopping in the streets – there's essentially everything you could want along the Champs-Elysees.
Place de La Concorde
This beautiful public square is located right at te end of the Champs-Elysees right along the River Seine. It was created in 1772 and was actually once the public square where more than 1300 people were executed during the Reign of Terror – including Marie Antoinette and Louis XVI.
You can check out the 23-meter Egyptian Obelisk that stands proudly at the center of the square.
You can also check out the two fountains designed by Jakob Hittorff, one devoted to rivers, while the other devoted to seas, along with statues that represent Lyon, Bordeaux, and Nantes.
Musée d'Orsay
Housed in a former railway station, this museum's building has a fascinating history. From once being a railway station, to a mail center, to eve becoming a hotel, it was finally classified as a historical monument and was eventually turned into a museum.
Musée d'Orsay contains one of the richest collections of impressionist and postimpressionist paintings divided into its three floors.
Another busy museum in Paris book your skip-the-line tickets or guided tour here.
Seine Boat Cruise
The Sine Boat Cruise is the perfect way to end your day. The Seine River is the third-longest river in France and it runs through the heart of the city. By getting on a boat cruise, you get to sit back and relax with a glass of wine as you pass by Paris's most important monuments. You'll have a completely different experience than you would if you were just walking around those monuments.
There are also some great options that include dinner on board.

Bateaux Parisiens 2.5-Hour Dinner Cruise
Paris in 2 days: Day Two
Notre-Dame de Paris
One of the most stunning gothic cathedrals of all time, Notre Dame is the heart and soul of Paris. It was built in the 13th century and was considered an important monument of medieval Paris and is now considered an icon of Paris. Unfortunately, the church suffered a fire in 2019 and is not open to visits. It is expected to re-open in 2024.
Le Louvre
The word "museum" does not do justice to Le Louvre, it's simply not only the largest art museum in the world but also a historical monument. It is vast, enormous, breath-taking, and completely overwhelming.
There are over 35,000 works of art covering almost every civilization on Earth. You'll find masterpieces by top European artists and Egyptian, Greco-Roman, and Islamic art collections.
You have to check out:
The Mona Lisa – the top draw of the museum
Venus de Milo
Winged Victory
The giant glass pyramid outside.
The largest display of Egyptian antiques outside of Cairo
The Islamic art section
Tip: The queues in the Louvre are huge, save time by booking in advance a skip the line ticket or a guided tour.
Recommended tickets and tours for the Louvre with skip the line entrance:
Click here to book a skip-the-line timed ticket.

Louvre Museum Skip the line ticket and Guided Tour – you will get to see the highlights in just 2 hours.

If you are visiting the Louvre Museum with kids then this private tour is designed especially for families
Louvre Museum Skip the line ticket and Private Family Tour
You might also be interested in: A review of the Museum Pass and if it is worth it.
Montmartre
A little neighborhood perched high on the highest northern hill in Paris is one of the romantic parts of the city. It's like a whimsical village sitting atop a hill, reminiscent of the time when it actually was a village dotted with vines and windmills!
Quiet stairways, narrow alleys, cobbled streets, and rustic houses are all in Montmartre, adding to this quirky neighborhood a beautiful atmosphere that has inspired artists, writers, and actors since the Belle Epoque. You can admire the houses spiraling around the Sacre-Coeur Basilica, the atmospheric cafes like Rues de Abbesses, Rue des Trois Freères and Rue des Martyrs.
Clos Montmartre is the last remaining vineyard in Paris, and it is worth visiting and checking out the 27 different wine varieties available there. You can visit the St-Ouen market, or the art gallery of Place du Tertre, or the museums around the neighborhood.
Sacre-Coeur Basilica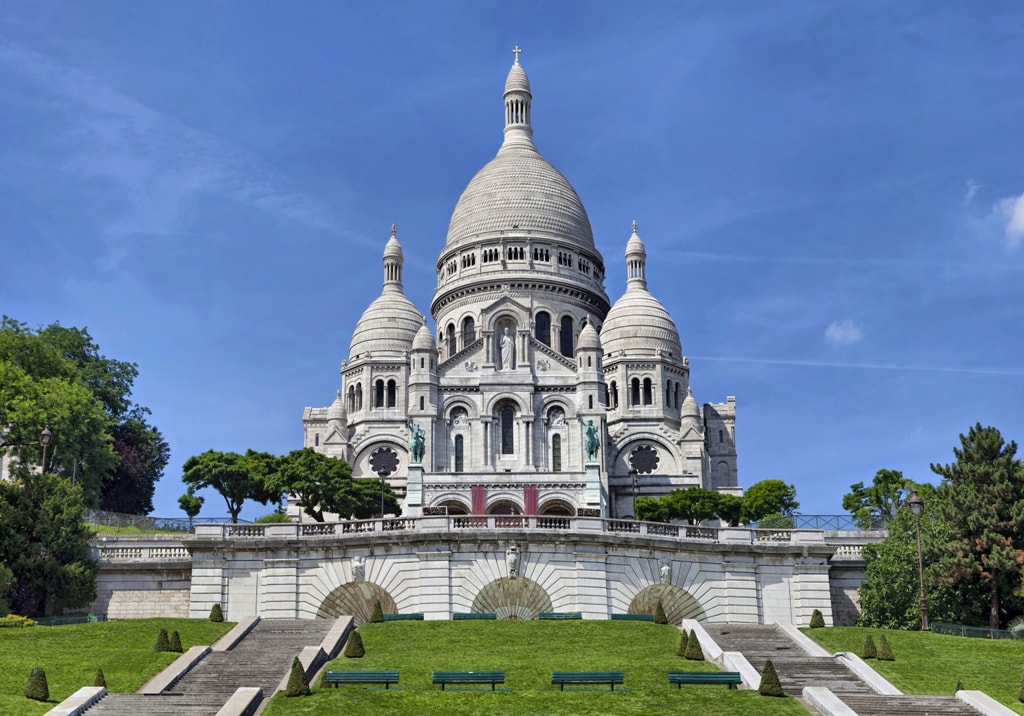 After you're done getting lost in the Montmarte neighborhood, it's time to check out the Sacre-Coeur Basilica.
This magical basilica is designed after the Roman-Byzantinian style with its famous white exterior. You'll feel like you're going up to heaven, or a magical palace as you climb the 300 spiraling steps leading to the Basilica's Dome, perched atop Montmarte. After that, you'll reach the most spectacular panoramas of Paris where you can see up to 30 km on a clear day.
End the day with….
The Moulin Rouge cabaret in Paris was built in 1889 and has been in the center of Montmartre for a very long time with over 600,000 visitors every year. The show at Moulin Rouge called Feerie will make your evening a dazzling one, as four scenes are presented by exotic dancers wearing feathers and sequin costumes and performing on moving staircases and swings.
You'll have to treat yourself to this ultimate Parisian experience, and embrace the Belle Epoque ambiance and all the history that comes with Moulin Rouge!
Click here to book your Moulin Rouge show with champagne.
More than two days in Paris? The best day trips
The exhilarating magical Kingdom is only 40 minutes away from Paris. This immersive experience is perfect for families, where endless fun can be had in its five magical lands, the attractions, the meet and greets, and of course, the Disney characters and parades.
Click here to book your Disneyland Paris 1-Day Ticket
Palace of Versailles
This is one of the largest and most extravagant castles in the world that reflects the power of King Louis XIV. It's the perfect example of 18th-century French architecture and art and is one of the most visited attractions in France. You can check out the Hall of Mirrors, the landscapes, the Chapel, the auditorium, the Grand Apartment, and Marie Antoinette's apartment!
Click here to book your skip-the-line ticket with audio guide.

Alternatively, you can book a Versailles Palace & Gardens: Skip the line Ticket, Audio Guide & Transfer with bus from Paris
Another great trip idea is the town of Chartres with the medieval Cathedral.
Practical Information for your 2 -Day Paris Itinerary
The Best Time To Visit Paris
There's no wrong time to visit the city of love, however, if you visit between June-October you'll be able to enjoy the city at its best due to the good weather bringing out the best vibes on the city streets. Each season has its pros and cons and when to visit will ultimately depend on your budget and your likes and dislikes.
In Spring, Paris can look beautiful with the blossom on the trees and the Jazz Festival might be to your taste but the weather is still unpredictable with temperatures averaging 12c in March, climbing up to 20c in May but still with 12 days of rain in May compared with 14 days of average wet weather in March and April.
In Summer the weather is perfect with temperatures averaging 25c though rain is still common (averaging 11 days per month) and there's a buzz in the air but the crowds of tourists can become unbearable with lines into the attractions huge.
Autumn sees cooler temperatures of between 16c-20c but the least rainfall and with many free exhibitions thanks to Nuit Blanche, and the Montmartre Wine Festival, it might be perfect for you.
Lastly, Winter can be a magical time with all the Christmas lights and New Year celebrations however, temperatures average 7c but can drop down to 1c and December is the wettest month of the year.
How To Get To/From The Airports
There are 2 main airports serving the center of Paris, Charles de Gaulle airport (CDG) and Orly airport (ORY)
Charles de Gaulle Airport
Train: The fastest way to reach the city centre is by regional train (RER B) which runs every 10-20minutes from 04.56 to 23.56. It stops at 3 stations; Gare du Nord (where you can connect to the metro), Châtelet-Les-Halles and Denfert-Rochereau. Duration: 50minutes Cost: €11.40

Bus: The Roissy Bus is a direct shuttle bus that goes between CDG and Opera every 15-30minutes between 06.00-00.30 (starting at 05.15 from Orly>CDG).

Bus 350 runs every 15-35minutes from 06.05-22.30 going to Porte de la Chapelle. Bus 351 runs every 10-40minutes from 07.10-21.40 going to  Paris-Place de la Nation. Night buses take over from the day buses these being numbered N140 and N143. Duration: 60-70 minutes depending on traffic Cost: €2-€6

Taxi: Paris taxis have a flat rate fee from Charles de Gaulle airport – If your destination is on the Right Bank the charge is €55, if on the Left Bank, €60. Be sure to have enough cash on you, most do not take cards.

Private Transfer: With a flat rate, English-speaking drivers, private transfer by Welcome Pickup's allows you to pre-book online including the option to pre-book children seats. Duration: 45minutes Cost: €60
Orly Airport
Train: There is no direct train service between Orly airport and the city centre. You must switch trains at Antony Station, using the dedicated Orltval train and then getting the RER B train to your final destination ie Gare du Nord station, St-Michel Notre Dame Station, Luxembourg station, or Denfert-Rochereau station all of which are connected to the metro. Trains run every 10 minutes for RER B and every 4-7 minutes to the airport. From the airport, the trains run from 06.00-23.00. From Paris the trains run from 05.15-22.23 for Gare du Nord or 08.10-22.30 Luxembourg. Duration: 35-40 minutes Cost: €12.10

Metro + Tram: Take metro 7 from Orly airport to Châtelet Station then switch to tram T7 which goes to Athis-Mons or Villejuif-Louis Aragon. The metro and tram run daily from 05.30-00.30 with trains and trams every 6 minutes during peak hours. Duration: 65 minutes Cost: €4

Bus: The airport shuttle Orly bus goes between the airport and Place Denfert-Rochereau daily from 05.35-00.05 every 15-20minutes. There is also a cheaper express bus connecting Orly airport with Saint-Quentin-en-Yvelines train station, via the TGV Massy station every 30-60 minutes between 05.30-23.03 Monday-Friday and 06.00-23.03 Saturday-Sunday. A 3rd bus, number 183, connects Orly airport with Porte de Choisy every 30-40minutes from 05.35-23.54. Duration: 30-35 minutes Cost: €2-€9.50

Taxi: There is a flat rate from Orly to the city centre and vice-versa with a flat rate fee of €32 if travelling to/from the Left Bank and €37 to/from the Right Bank to Orly airport. Have cash on you as most drivers do not take cards.

Private Transfer: Welcome Pickups will send an English speaking driver to meet you outside the arrivals hall, helping you with your luggage if needed. You can book online, selecting child seats at the time of booking. Duration: 25 minutes Cost: €50
How To Get Around Paris
The best way to move around Paris is by metro as it's easy, extensive (300 stations across 16 lines) fast, and cheap, however, the city is walkable if your feet can handle it. As an example, it takes 45minutes to walk from the Eiffel Tower to the Louvre or 60minutes to walk from the Eiffel Tower to the Notre Dame Cathedral.
Alternatively, you might choose a 24-hour or 48-hour ticket for the hop-on-hop-off sightseeing bus which gives you the added benefit of better views of the city (from the top deck) and learning about the places you're passing with the audio commentary.
There is so much to see and do in Paris but with this itinerary, you can cover the city's major attractions in just 2 days.
Do you have anything to add to this 2-day Paris itinerary?
Did you like this post? Pin it!