If you love wine tastings, romantic landscapes, and outdoor activities, plan your next weekend trip to Rüdesheim am Rhein, a lovely town in Hesse State, Germany.
Like many other picturesque towns and villages on the Rhine River, it has a historic old town, some traditional half-timbered buildings, and plenty of typical restaurants and cafés. Moreover, you'll have the chance to explore the most iconic places of German Romanticism by ferry!
Disclaimer: This post contains affiliate links. This means I will receive a small commission if you click on certain links and subsequently purchase a product.
When to visit Rüdesheim am Rhein
The best time to plan a trip to Rüdesheim is summer, and you can easily spend 3 or 4 days in town since there are many attractions to visit, and you can organize several day trips from there. Rüdesheim is also a great destination for outdoor enthusiasts, wine lovers, couples, and families with kids.
How to get to Rüdesheim am Rhein
By plane: if you plan to fly to Germany, choose Frankfurt as your base.
By train: Rüdesheim is well connected to the main cities nearby. The journey takes 2h from Frankfurt, 1h40 from Koblenz, 1h30 from Wiesbaden, 1h10 from Mainz, and 45 minutes from Bingen.
By car: just rent a car and explore the Rhine River Valley at your own pace! You can also plan a trip involving both a car and a ferry ride.
By ferry: check the schedule here.
Where to stay in Rüdesheim am Rhein
Hotel Felsenkeller – 3 stars: it also has a typical restaurant offering a wide selection of local wines, and it's located in the picturesque old town in central Oberstrasse. Click here for more information and to check the latest prices.

Hotel Rüdesheimer Hof – Superior: 3 stars: close to the old town, but in a quieter area, it also has a restaurant and plenty of parking lots nearby. Click here for more information and to check the latest prices.
Things to do in Rüdesheim am Rhein
Enjoy the view from the Niederwald monument.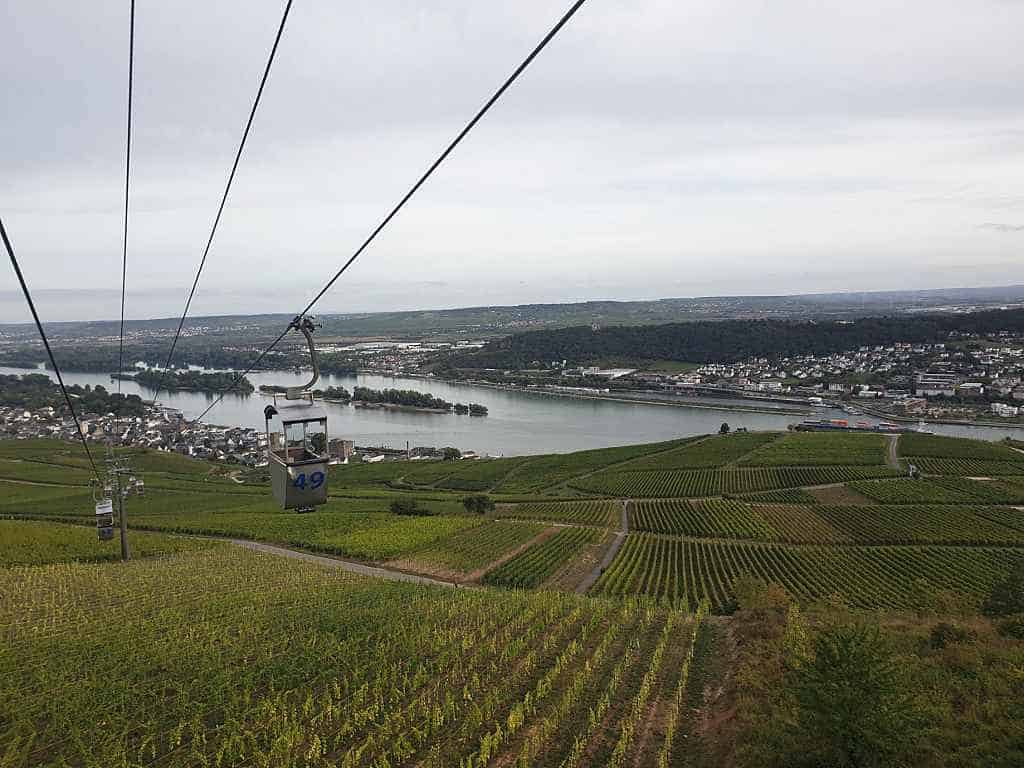 Take the best view of the Rhine River from the Niederwald Monument, the most famous landmark of Rüdesheim. It was built between 1877 and 1883 to celebrate the victorious German Empire after the Franco-Prussian War.
The central statue represents Germany holding the imperial crown and sword. This place can be easily reached by a pleasant walk among the vineyards, and the trail starts right in Oberstrasse.
Otherwise, if you don't feel like walking uphill, take the cable car at the Oberstrasse station! For more information, click here.
Have a walk in the Niederwald forest
Once on top of the hill, you'll be able to choose among several trekking trails perfect for a day trip in nature. The best one is a 15 km loop offering some fantastic views. This trail starts at the railway station of Rüdesheim.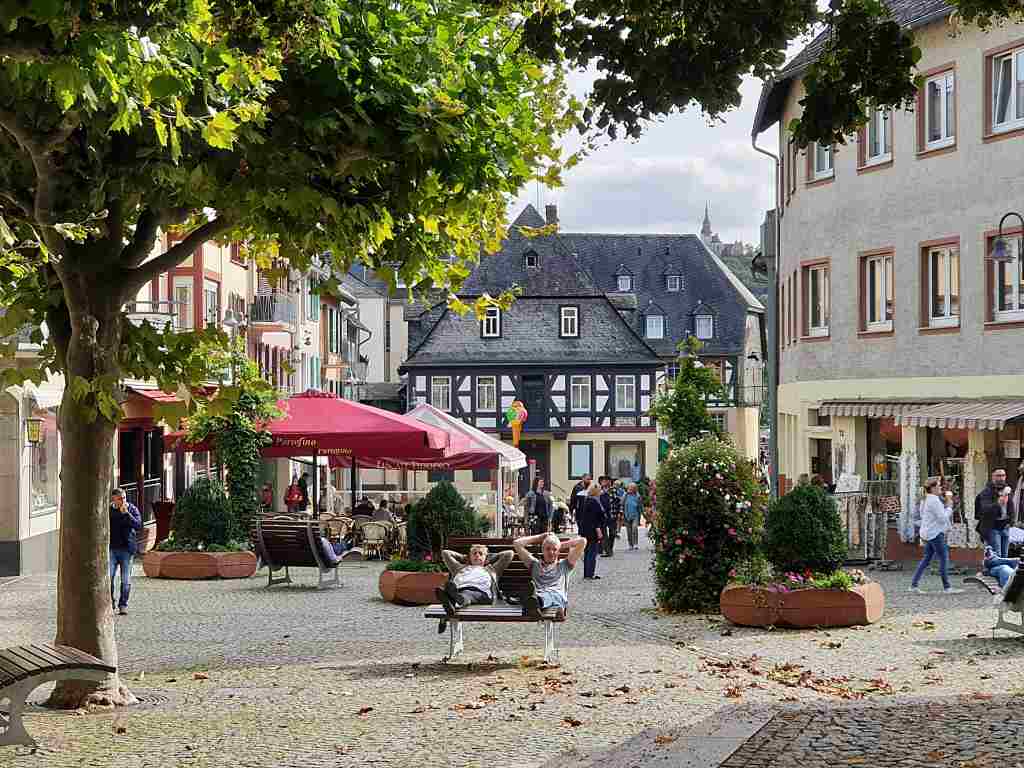 Enjoy a night out in Drosselgasse.
The most picturesque street in this town is just 144m long and 2m wide, but it's worth a visit! It's full of wineries, wine bars, and restaurants, and it's the perfect place to enjoy a night out and listen to traditional live music too!
Take a picture of the best Rüdesheimer Adelshöfe.
Several elegant and traditional aristocratic houses can be found all over the old town. You can start your visit from the central Oberstrasse to get a glimpse of the ancient local nobility. The most beautiful ones are Frankensteiner Hof, Ritter'sche Hof, and Bassenheimer Hof.
Don't miss Brömserhof, too: it houses the interesting Siegfried's Mechanisches Musikkabinett, displaying a collection of mechanical musical instruments that will surely please both adults and kids! For more information, click here.
Taste some Rüdesheimer Kaffee
In addition to wine, there's another drink you shall taste once in Rüdesheim: a local specialty made of coffee, whipped cream and brandy. It was created in 1957 by a famous brandy producer and it soon became very popular among locals. It can be found in any café, and its recipe involves a flambé sugar cube soaked in brandy, some coffee, and a generous amount of whipped cream.
Find the Klunkhardshof
This large half-timbered house is built in traditional style, and it belonged to a wealthy family (the Klunkhards) living in the XV century in Rüdesheim. It's much bigger that the other similar buildings in town, and its four floors make it look like a sort of ancient apartment building! It's still privately owned, so it cannot be visited.
Remember the town's glorious past in front of the Eagle Tower (Adlerturm)
This Gothic tower dates back to the XV century and was once part of the city walls. During the XIX century, it housed an inn where Goethe loved to stay! Now it's privately owned by a banking group.
Learn more about wine-making and wine history at the Brömserburg Castle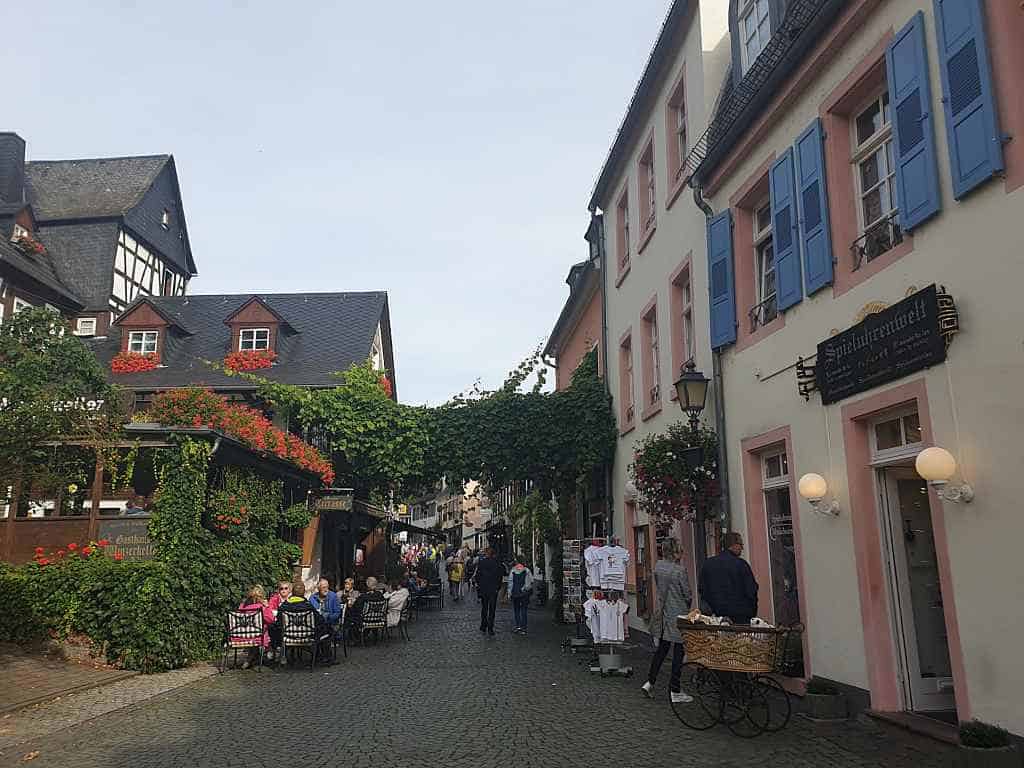 This castle was inhabited by the Archbishops of Mainz until the XIX century, and it was conceived as a fortress being able to resist any attack. It was used until 1937, but it's now owned by the town of Rüdesheim, and it was turned into the Rheingau Wine Museum.
The exhibition aims at illustrating the history of wine through drinking vessels, wine bottles, paintings, old machinery, and barrels. For more information, click here.
Listen to the Glockenspiele
Rüdesheim has two chimes: one can be seen on the tower of the Breuer's Rüdesheimer Schloss in Drosselgasse (now a 4-star hotel), and it rings every hour, while the other one is located in the Siegfried's Mechanisches Musikkabinett and it rings every 30 minutes. The first one represents the main wine vintages of the XXth century, while the latter is made of some precious porcelain bells.
Visit the Zauberhöhle
The so-called "Enchanted Grotto" is an old hunting lodge in the former hunting reserve of the Niederwald forest. It was built between 1760 and 1790, and it consists of a long and dark corridor giving access to a large round room that was once covered in mirrors it also featured the statue of a magician. You can easily reach this weird place with a short walk from the Niederwald Monument.
Reach Ehrenfels Castle
It's a ruined castle standing on top of a hill just outside Rüdesheim. It was built around 1200 by the Archbishop of Mainz, and its location was so strategic it had a major role in the Thirty Years' War. It was burnt down in 1689, and it was never rebuilt. Its ruins can be easily reached with a scenic walk among the vineyards, offering a great view too!
Reach Eibingen Abbey
Despite its old look, this beautiful abbey in the countryside dates back to the XX century. It houses the relics of St. Hildegard, a winery, and a shop selling local specialties and souvenirs!
Enjoy some wine
Wine is all over the Rhine River Valley! One of the best wine tours you can enjoy (and one of the cheapest ones, too!) is the Wine Experience organized by the local Tourist Office: you can have three wine tastings, including snacks and a guided tour, at the cost of 12 euros.
For more information, click here. If you're planning to visit the Rhine River Valley in the summer, stop in Rüdesheim around mid-August to attend the local wine festival!
Join a river cruise
You cannot visit the Rhine River Valley without spending a few hours on a ferry watching the river banks and the medieval castles on the hills! Take this to discover the most iconic places of German Romanticism: From Rüdesheim: 1.5-Hour Boat Cruise with Wine Tasting. Rüdesheim am Rhein is also one of the main stops of every KD ferry cruise.
Plan a day trip to Assmanshausen
This small village is on the other side of the Niederwald hill, and it's easily reachable by cable car or by a trail winding through the forest. You can also go back to Rüdesheim by ferry.
Planning a trip on the Rhine? You might also like the following:

Ultimate Guide to Bacharach, Germany

Ultimate Guide to Braubach, Germany

Ultimate Guide to Boppard Germany

The Best Rhine River Castles and Towns to Visit