Bulgaria is a beautiful country with amazing nature, tasty local cuisines, friendly people and can offer you plenty of things to do. But what to do in Bulgaria? This is a question on which you can find many answers. Everyone who travels to Bulgaria is likely to find something to fit their tastes.
But in this post let's turn out attention to the things NOT to do in Bulgaria. We often forgot to research that matter. And I think that is important as planning your activities, etc.
Why do you need to know what NOT to do in Bulgaria, or in every other country, city? Sometimes it can be difficult to tell you're doing something wrong because of politeness people may not say anything (well, if you do something wrong in Bulgaria, they will tell you). It can be also frustrating trying to figure out some of that thing on your own.
This list of things NOT to do in Bulgaria is made to help you to make the most of your stay.
So, what are some of the things you shouldn't do when traveling in Bulgaria?
Don't limit your stay in Sofia
Sofia is the capital city of Bulgaria. It's a fast growing, multi-cultural and vibrant European city. Sofia has a lot to offer. The city has a great and long history, mountain just 30 min away from the city center, beautiful and interesting street art around the whole city, lovely cafes, nice parks and so on, and so on. But!.
No matter how awesome Sofia is, Bulgaria is so much more than just that.
Do you like beautiful beaches?
Do you like well preserved old towns?
Do you like amazing mountain landscapes?
Do you like history?
Do you like impressive castles and fortresses?
Bulgaria has is all, and a lot more. So, when you travel to Bulgaria don't limit your stay just in Sofia. Give Bulgaria a chance and explore more of the country, and I'm sure you will fall in love with it.
However, if you travel only to Sofia, least take the time to do some day trips. Some of the best day trips ideas are the Seven Rila lakes, Rila Monastery, Belogradchik, Plovdiv, Buzludzha, Koprivshtitsa, Melnik…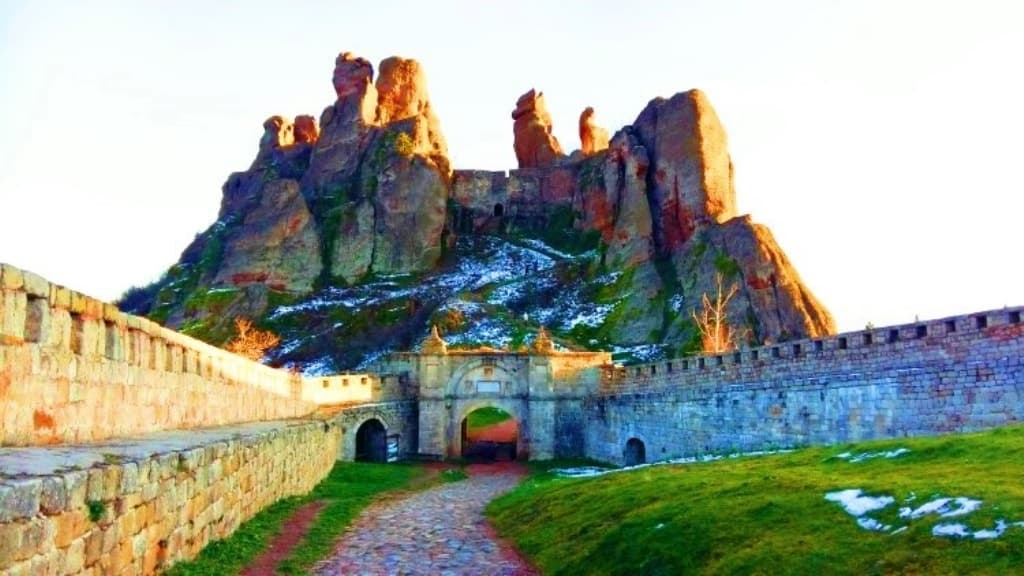 Don't go to Sunny Beach
Maybe you've heard about Bulgaria things only about Sunny Beach. Sunny Beach is the summer party center of Bulgaria.
Well, party sounds good, sounds fun, why not to go there you will ask.
First, tourists from all over the world go there because it's a cheap summer destination for them and they can drink a lot. True story, unfortunately.  I don't know about you, but I don't like walking around and continuously meet drunk and inadequate people who vomit everywhere. And yes, this is how the streets in Sunny Beach looks like.
However, if you want to experience that kind of party and have fun then sure go, but know that this is not what is like around the whole coast of Bulgaria. There are so many beautiful and peaceful places on the Black Sea coast. There are also many other places where you can have fun, enjoy the sun and have a fabulous time.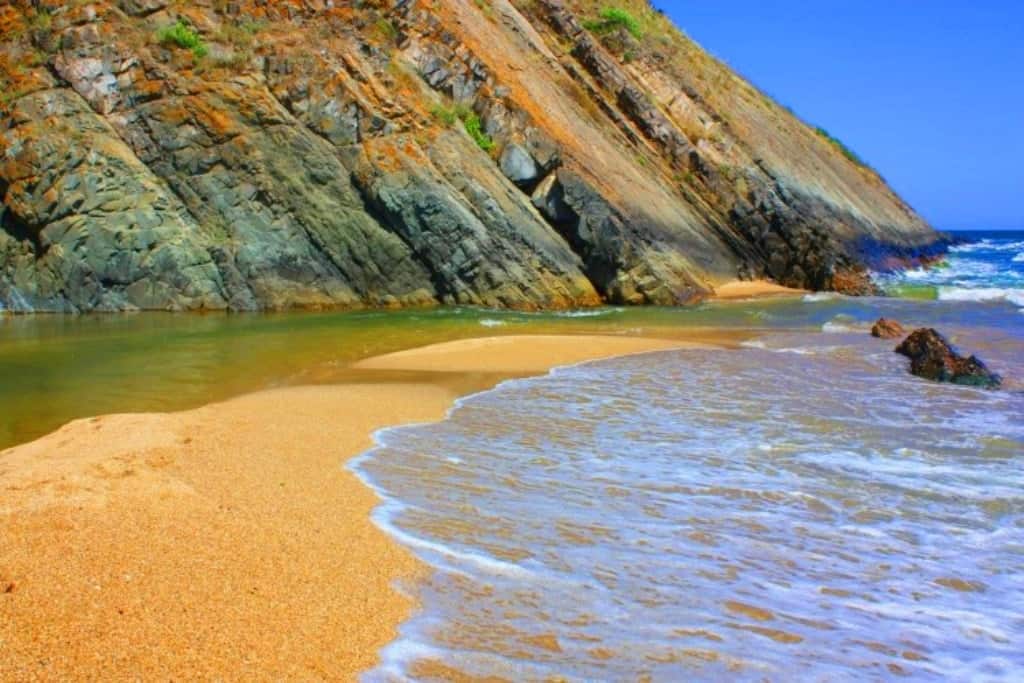 Don't talk about communism with old people
The communism times in Bulgaria has left a durable trace in the Bulgarians. Me, personally I was born after the fall of the communist regime and I don't know what it was like. But I have heard many stories from my parents, and from other people. There are people who will tell you the communism was good, and other who will tell you the opposite.
With that being said, I won't recommend you to raise this topic. Nowadays people don't really like talking about those times.
The communism though has left a big mark in the Bulgarian history.
Although I don't recommend talking about communism with old people, I definitely recommend you to visit the Buzludzha Monument  who was erected as a home for the Bulgarian Communism Party. The monument is often listed as one of the creepiest/ beautiful abandoned buildings in the world. And it's very impressive…
Don't trust taxi drivers
In general, the taxi services in Bulgaria are cheap and you can find taxi almost everywhere. They are passing every couple of minutes and you can stop them just by waving at them.
But be aware of the lying taxi drivers. Of course, this is no surprise, this happens everywhere.
To avoid that always check the prices before you enter the car. The taxi drivers in Bulgaria always starts conversations and they may try do distract you. If you feel that this might be a scam and he is trying to lie to you don't hesitate to tell him to stop.
Don't buy bottled water
Why not saving the nature? Why giving money for something you can get for free?
The country has more than 225 deposits of mineral springs. There are fountains all over the country where you can fill your bottle.
So, don't buy bottled water, the healing properties of the Bulgarian mineral waters are known from antiquity.
Don't make fun of the country
Seriously, don't do this. You can hear us doing it, but if you do it, we will get offended.
Bilyana is a dreamer, travel addict, and mountain lover. She follows her dreams and wants you to do the same. Her goal is to help you to travel more & worry less and inspire you to get out of your comfort zone and see this beautiful world we live in. You can follow her adventures on her blog Owl Over the World. You can follow her on  Facebook.
Did you like this post? Pin it >>>>>>>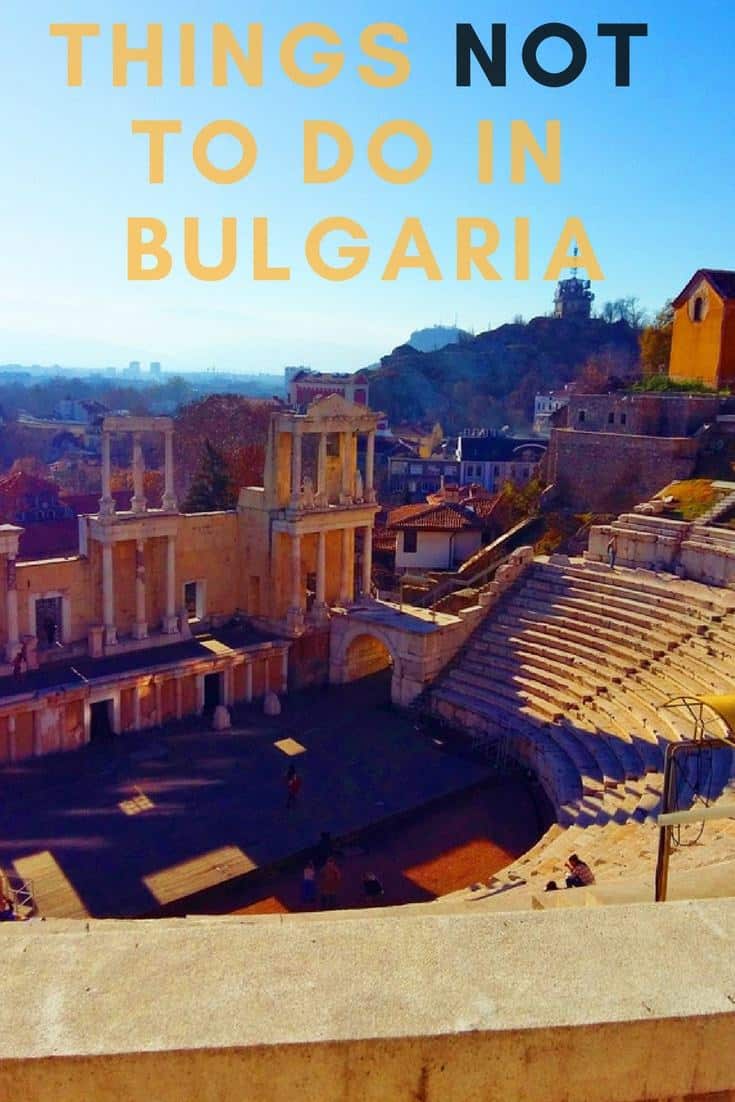 Have you been to Bulgaria? Do you have anything to add to the list?