In the Northern region of the second-most populous province in Costa Rica, Alajuela, you will find the small town of La Fortuna. Although the town has a population of just 15,000 people, it is thought that a staggering 1.5 million people visit annually.
This begs the question: why? How could this sleepy hamlet attract such a sheer quantity of tourists? The answer lays slightly West.
Protruding from the foothills below, Volcan Arenal, or Arenal Volcano, is a stratovolcano that rises tall and proud. At a whopping 1700 meters, Arenal volcano is one of the largest volcanoes in all of Costa Rica. Many people flock to Arenal to marvel at the beauty of this geological spectacle.
With its perfectly conical slopes, and bountiful lowland rainforests all around, the region of Arenal and La Fortuna is one of Costa Rica's top tourist destinations.
Disclaimer: This post contains affiliate links. This means that should you click on certain links, and then subsequently purchase a product, I will receive a small commission.
Recommended activities in Arenal:

Arenal Volcano, La Fortuna Waterfall, and Hot Springs Tour

La Fortuna: Horseback Riding at Mistico Park, Arenal Volcano

La Fortuna: Guided Twilight Wildlife Safari

La Fortuna: Sloth Tour in the Wild

La Fortuna: 6-Hour Arenal Volcano Observatory & Lake Tour
A Guide to Visiting Arenal in Costa Rica
History of Arenal, Costa Rica
Arenal is the youngest and, up until 2010, the most active of all 67 volcanoes found in Costa Rica.
The infamous eruption of 1968 ended a dormancy period of 400 years and claimed the lives of 87 people. Without warning, the volcano violently erupted over a period of a few days. Towns were buried in a thick layer of ash, large numbers of livestock were killed and crops were destroyed.
The eruption spewed rocks for miles around, some weighing many tons. To this day, the devastation from this eruption can still be seen from the scaring on the Western slopes.
It is a popular myth from the region that the neighboring town El Borio was renamed La Fortuna, after the eruption. Meaning "the fortunate", it is thought that this town was one of the few that escaped destruction. Yet this myth is widely disputed.
Since 1968, the mighty volcano erupted almost daily and displayed mild explosive activity from the summit crater. This, coupled with lava flows, has attracted tourists from around the world. Arenal was officially declared dormant once more in December 2010. Today, although it is highly unlikely to see any explosive activity, a buzz of excitement can be felt from all around the region.
Heading West once more, you will find Lake Arenal. In 1979, the naturally occurring lake was expanded to nearly three times its former size. The town of Arenal was flooded to allow for the expansion, and can now be found on the Northern shores as Nuevo Arenal.
Now, it is the largest freshwater body in Costa Rica and a variety of recreational activities, from fishing to boating, can be found here. However, the main function of the lake serves as a dam and hydroelectrical plant which is thought to power 12% of Costa Rica's electricity demands.
What to do in Arenal, Costa Rica
Arenal Volcano National Park
Due to the volcanic uncertainty of the region's nature, climbing the slopes of Arenal is strictly forbidden. Having said this, one of the key attractions to Arenal and the surrounding areas is the spectacular hiking on offer.
Many tourists flock to the Arenal Volcano National Park to observe the incredible views of the dominating volcano and the high biodiversity of the lowland rainforest ecosystem. Some trails, such as Sendero Colada and Tucanes pass through some stunning scenery, including the solidified lava views.
To optimize your visit to the National Park, it is worth considering booking a guided tour with a specialist naturalist. Many of the guides have spent their entire lives around Arenal and La Fortuna, thus have a rich understanding of local flora and fauna – and where to find them.
Some of the most frequently observed wildlife sightings within the National Park are white-faced capuchin monkeys, coatis, parrots, and sloths.
One of the best ways to appreciate the jungle is to book a night tour. This is a great way to discover how life has adapted to the twilight hours; a time when most of us are tucked away in bed. The Twilight wildlife safari offers fantastic and unique tours via Rio Peñas, a nearby river, where you will have the opportunity to observe nocturnal animals in their natural habitat.
Check out: La Fortuna: Guided Twilight Wildlife Safari
Lake Arenal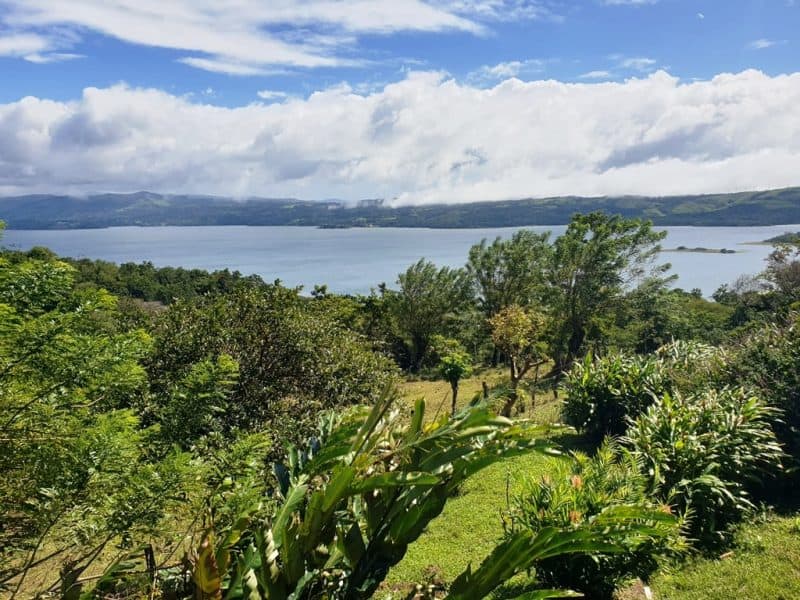 Situated at the base of the mighty volcano, the large body of water that forms Lake Arenal can be found. The largest lake in Costa Rica, there is a wealth of activities on offer here, from kayaking and fishing to cycling and hiking.
Fishing is a large industry to be had on the lake, with visitors catching a variety of local fish species, such as machaca and rainbow bass. The shores around the lake are also teeming with life and attract a large diversity of some of Costa Rica's most iconic animals. Shoreside hikes and cycle trails can be found, with well-conserved paths meandering through lake-side sections.
Check out: La Fortuna: 6-Hour Arenal Volcano Observatory & Lake Tour
Hot Springs
After a day of strenuous activity – perhaps from hiking within the National Park or cycling around Lake Arenal – muscles can soon become achy. If only there was a nice, hot bath you could soak in. Fortunately, you're in luck!
Underground thermal vents heat the water, which bubbles to the surface to form the world-famous Arenal Hot Springs. The high abundance of volcanic minerals found within these rivers and pools are therapeutic, having been used by indigenous tribes for millennia.
With a variety of hot springs to choose from, and depending on your budget, there is something for everyone. Such examples of local hot springs include Tabacon, Baldi, and The Springs, however, there are more in the area, waiting to be discovered.
Soak in the warm waters and listen to the jungle melodies reverberate around you. Feel the refreshingly cool rain on your skin and the steam rising up. The tropical ambiance here is otherworldly. Many of the privately-owned hot springs stay open late into the night, so guests can enjoy this relaxing experience at their own leisure.
La Fortuna Waterfall
The waterfall sits in 210 acres of premontane tropical wet forest. Fortunately, there is a path within the reserve to reach an exceptionally beautiful lookout, offering views of the surrounding jungle and, of course, the mighty falls themselves.
The way is paved with over 500 steps. Unlike some of the other excursions around Arenal, the hike only lasts 15 minutes, each way. Not only are you rewarded with spectacular views, but a refreshing swim in the cool pools formed at the base of the falls. Perfect on a hot day.
Check Out: Arenal Volcano, La Fortuna Waterfall, and Hot Springs Tour
Mistico Hanging Bridges
West of Arenal Volcan and North of Lake Arenal, you will find the exciting Mistico Arenal Hanging Bridges Park. Located between two different ecosystems, highland, and lowland rainforest, you will be fully immersed in the wondrous world of the two.
Within the park, you will find approximately 5 miles of trails and 16 hanging bridges, as well as a tunnel and beautiful waterfall, all spread within a park of 620 acres.
The hanging bridges are the best way to appreciate the pristine scenery and timeless beauty of Arenal. Observe the high diversity of epiphytes, birds, mammals, butterflies, and more from this aerial perspective.
Check out:

Arenal: Hanging Bridges Walking Tour

La Fortuna: Horseback Riding at Mistico Park, Arenal Volcano
Ziplining
One of the more distinctive ways to witness the sprawling mass of verdant green rainforest is to hit the skies. Offering incredible views extending for miles in all directions (if the weather allows), ziplining rewards you with encounters with local wildlife; including spectacularly colored birds and insects, in a thrilling, wild-hair adventure.
Ziplining is an exhilarating experience for all to enjoy. As you whiz down the suspended cables, you will feel a thrilling adrenaline rush you would be pushed to find doing any other activity. On a clear day, the views are unprecedented, however, there is a mysterious and magical excitement to be had if you happen to shoot down the ziplines in cloudy and murky conditions – you just don't know what to expect in the gloom of the jungle.
Sloth Tour
Arenal is one of the only places in the country where you will be able to spot both species of sloth. Due to the perfect climatic conditions, both species (two-toed and three-toed sloths) thrive in the jungle ecosystems here and live harmoniously together.
Many companies offer wildlife tours that seek to spot elusive, often nocturnal creatures. With knowledgeable guides, who know exactly where to look, spotting these camouflaged, balls of fur in the canopy have never been easier.
Check out: La Fortuna: Sloth Tour in the Wild
White Water Rafting
This is another one for the adventurers at heart. There are three main rivers found near Arenal and the surrounding areas: Toro, Balsa, and Peñas Blancas – with each catering to a different level of rafting expertise. Out of the three, Peñas Blancas is probably the slowest flowing, offering leisurely trips floating down the river and the best chance of spotting wildlife.
For the thrill-seekers and avid rafters, a trip towards the highlands of Poas may yield the best results, with exciting and fast-paced rapids, and large sweeping waves. For the best of both worlds, the best option would be to explore the Balsa River. Along this stretch, you will encounter both calm and rapid sections of the river.
Check out: Arenal Rafting Upper Balsa Class 3 and 4 Rapids.
How to get to Arenal
Being one of the most touristic destinations in the country, accessibility to Arenal and La Fortuna is pretty easy. There are multiple ways in which travelers can arrive in Arenal.
By car, the journey time is approximately 2.5-3 hours from the capital of Costa Rica and a similar time from the capital of Guanacaste, Liberia. From San Jose, follow signs on the Pan-American highway towards San Ramon. From San Ramon, it is a straight (or windy) road directly into the town of La Fortuna. It is always advisable to carry spare change with you, as there are tolls along the highway.
Traveling by bus takes slightly longer, although it is a good option if traveling on a budget.
For those short on time, you can fly directly into Arenal from San Jose. This domestic flight can be pricy, with flights starting from $80 one way, however, the journey duration is considerably less, at just 20 minutes.
Alternatively, you can book an organized day trip from San Jose like this one: Arenal Volcano, Hot Springs, & Zip Lining with Meals.
Where to stay in Arenal, Costa Rica
Hotel Magic Mountain
One of the larger hotels in La Fortuna, Hotel Magic Mountain offers world-class hospitality, with exceptional views to match. Throughout the compound, there are different areas to cater to all needs – from chill-out spaces to multiple swimming pools. Guests will be treated to comfortable guest rooms, spectacular views of Arenal Volcano, and an on-site spa.
Away from the hustle and bustle of the main strip in La Fortuna, you will find Tifakara Lodge. An adults-only, boutique lodge tucked away in the foothills of Arenal Volcano, Tifakara offers idyllic private rooms surrounded by gardens. Indulge in the jungle hot tubs and listen to the sounds of nature all around. Daily night walks around the property, hosted by knowledgeable staff, expose just how much life can be found around the property.
Arenal Observatory Spa and Lodge
Another popular place to hike is within the Arenal Observatory Spa and Lodge. Encompassing an astonishing 870 acres, this rainforest lodge is set in the foothills of Arenal Volcano and offers some of the best views of both the volcano and the lake in the entire region.
Expect to find a variety of ecosystems, including primary rainforests and freshwater rivers, which boast an incredible diversity of life. With the formation of the National Park back in 1991, the boundaries bordered part of the current property. Consequently, no other hotel in Arenal can be found as close to the National Park as Arenal Observatory.
Check out my other posts for Costa Rica:

Visiting Poas Volcano

The Village of Sarchi in Costa Rica

A Guide to Tortuguero, Costa Rica