Europe is a stunning continent filled with unique destinations for travelers to visit. While many flock to it during the summer months, the winter is especially a great time to tour the different countries as well.
December particularly is a highlight as many countries are celebrating the holiday season with festivals and beautiful decorations that can't be seen any time else during the year.
However, it can be difficult to pinpoint the best European countries to visit in December. Below you'll find some of the top countries to venture to while touring Europe during this month.
Disclaimer: This post contains affiliate links. This means that should you click on certain links, and then subsequently purchase a product, I will receive a small commission.
The 8 Best Countries to Visit in Europe in December
1. Germany
Germany is a popular destination during December for many reasons, but especially for its famous Christmas markets. The country is home to hundreds of different markets that each have their own unique personality and goods.
You might like: Best places to visit in Germany in winter.
Some of the best Christmas markets to explore while here are the Cologne Christmas Market (which rests beneath the majestic Cologne Cathedral), the Aachen Christmas Market (known for its traditional printen- – a type of spicy gingerbread), and the Frankfurt Christmas Market (one of the largest in Germany).
Besides the markets, you can also go skiing on its mountains, ride a steam train through the snow-covered forests, or stop by the Stollen Festival to try some of this iconic German dessert for yourself.
Check out: The best Christmas Markets in Germany.
You might be interested in the following tours:

Munich: Christmas Markets and Christmas Village 2-Hour Tour

Cologne: Kölsch Beer and Christmas Market Tour
2. Norway
The Land of the Midnight Sun is one of the most magical places to visit in December. Because the days lack adequate sunlight, this provides you with plenty of opportunities to view the colorful Northern Lights.
Check out: The best places to see the Northern Lights in Norway. 
You can also sign up to go dog sledding with a professional through the snowy forests to see landscapes you would otherwise be unable to. Some other popular winter activities to try in December are snowshoeing at night, whale watching tours in its fjords, or exploring the local towns to try some warm traditional meals, like Lefse.
If you're looking for special cultural experiences, you can visit an elegant ice hotel or take a reindeer sleigh through the snow to see the Lyngen Alps. However, keep in mind that December does tend to be the chilliest month of the year here, so make sure to bundle up when out.
You might like: Things to do in Norway in winter. 
You might be interested in the following tours:

Tromsø: Self-Drive Husky Dog Sledding Adventure

Tromsø: Whale Watching Tour by Hybrid-Electric Catamaran

From Tromso: Small-group Snowshoeing Tour

Tromsø: Sámi Reindeer Sledding and Sami Cultural Tour
3. Finland
While many think of Finland as a tranquil place to visit during the summer to enjoy lush forests and strawberries, it's just as beautiful during December. While here, you can venture to Lapland, Ylläs, or Levi to view the dazzling Northern Lights unobscured.
In addition to this, you can also venture to Rovaniemi. This city, the capital of Lapland, is not only one of the top places to view the Northern Lights but is home to the iconic Santa Claus Village. Rovaniemi is considered to be the official home of Santa Claus and you can explore his village to see elves hard at work, take reindeer rides, learn how to make igloos, and enjoy some soothing hot chocolate.
You can also sign up to take a Lapland Safari at the village where you'll be taken by a tour guide on a snowmobile around the local forest.
You might be interested in the following tours:

Rovaniemi: Northern Lights Hunt and Arctic Circle

Rovaniemi: Snowman World Entrance Ticket

Rovaniemi: Reindeer, Huskies & Santa Claus Village
4. France
One of the most sought-after places in Europe at any time during the year is France. This romantic country is known for its Christmas decorations in December that grace the streets, such as lamp posts covered in garlands and strings of twinkling lights hung above the sidewalks. You can also stop by its capital Paris to go window shopping at department stores, such as Galeries Lafayette and Printemps, which is known to create some of the most spectacular holiday window displays.
Chcck out: The best Christmas Markets in France. 
Besides window shopping, you can visit the Alsace region famous for its Christmas Markets. The region is transformed into a Christmas Wonderland and you can explore each of the Christmas Markets to find handcrafted goods to buy or try some traditional Christmas food. Famous Christmas markets in the area are the ones in the cities of Strasbourg and Colmar.
However, if you're looking for something a bit more adventurous during your time in France, December is also perfect for skiing. The Alps are home to many ski resorts you can stay at, such as Val d'Isère, which features some of the largest amounts of snow in Europe. You can also check out Val Thorens which offers spectacular views of the Alps and is one of the highest ski resorts on the continent.
You might also like: Strasbourg in winter. 
You might be interested in the following tours:

Strasbourg: Christmas Market Tour
5. Austria
Austria is another beautiful destination to venture to during December. The country features many Christmas markets you can attend, most of which offer scenic views and homemade goods you can buy. One of the most popular is the Vienna City Hall Christmas Market. Situated in front of the historic City Hall, this market is known for being illuminated with nothing more than strung lights and candles. It also features choirs singing traditional Christmas carols and plenty of Christmas cookies you can taste test.
Another popular Christmas Market to visit in Austria is the Salzburg Christmas Market. Believed to have been started in 1491, it's considered to be one of the oldest markets in the country. The market rests beneath the shadow of a historic church that rings its bells occasionally as you shop through the stalls. It's also known for its selection of roasted chestnuts, baked apples, and nativity scenes.
Besides the Christmas markets, Austria is also home to plenty of ski resorts you can stay at. Hintertux is ideal for skiing thanks to its reliable amount of snow throughout the year. Obergurgl is another great ski resort to check out. While it uses both natural and artificial snow, it offers stunning views of the Alps and has a large portion of land you can easily ski around on.
You might be interested in:

Vienna: Christmas Markets Walking Tour with Hot Punch and Traditional Snack
6. Italy
December is also a great time to visit Italy, especially Northern Italy and the Dolomites. These areas are home to plenty of beautiful ski resorts that provide you with breathtaking views of the surrounding mountains. For instance, Cervinia is a reliable place during December for even snow cover and is known for its towering height making it perfect for ski enthusiasts.
The Carezza Ski Resort is also ideal as it provides plenty of winding trails for you to enjoy and has a small inn where you can grab a warm meal when you're done exploring the outdoors.
You'll also find a good variety of Christmas markets you can shop at in Italy, especially in the Dolomites. For instance, the Bolzano Christmas Market is one of the largest in Italy and contains many unique handcrafted items you can buy, such as ornaments and knitted clothing pieces. There's also the Brunico Christmas Market which is known for its emphasis on Advent traditions and delicious culinary treats.
Besides these, there are Christmas parades throughout the country, a light festival in Florence you can attend, and plenty of living Nativity scenes you can view. You'll also find that many of the popular attractions in the country, such as the Trevi Fountain, are much less crowded during December making this month ideal to visit Italy.
You might also be interested in: Winter in Italy, a complete guide. 
7. United Kingdom
The United Kingdom is a charming place to visit during December. You can stop by London to view some of its intricate Christmas decorations and go shopping in its small stores. You'll find many of the local streets have been converted into a winter wonderland you can explore and buy goodies at. You can also stop by historic Harrods to find unique toys and gifts to buy as well as its Christmas Grotto.
Check out: The best Christmas Markets in the UK.
While in the United Kingdom you can also visit the Edinburgh Christmas Market. This six-week festival is not only filled with numerous stalls you can shop at, but rides, concerts, and many events as well. One popular event at the market is the "24 Doors of Advent." This is where you'll be taken on a guided tour through the city and "open" a local door each day of Advent.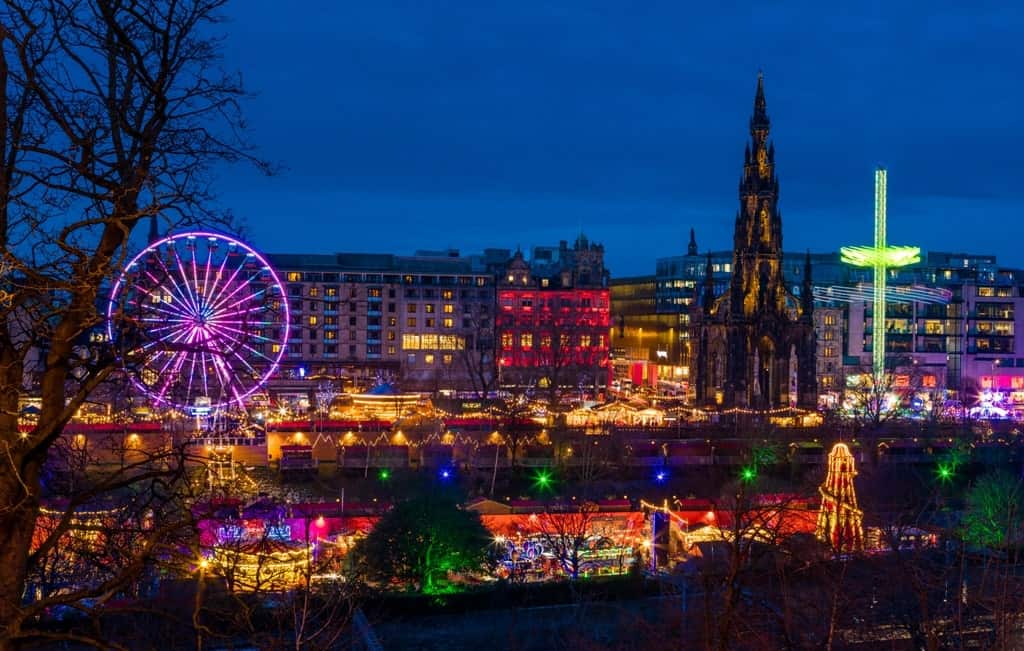 For New Year's Eve, you can also celebrate Hogmanay in Scotland which celebrates the upcoming year with fireworks and lively parties.
You might also want to check: Three days in Edinburgh.
8. Switzerland
While a small country, Switzerland is one of the best destinations to venture to during December thanks to its rich culture. You'll find plenty of outdoor activities you can do, like skiing and tobogganing. One of the best places to enjoy winter sports though is in the Interlaken area. This resort town lies beneath the Alps and offers a handful of forests and glaciers you can explore.
You might be interested in: Zurich in winter.
The town is also home to St. Bernards which sometimes roam around with their famous barrels around their neck. Switzerland is also home to plenty of Christmas markets you can shop at. You'll find various types of chocolate and fondue dishes you can taste and handmade goods you can buy while at one. Many choirs also stop by and sing traditional carols.
You might like:

From Zurich: Mount Titlis Snow Adventure Day Trip
If you want to experience Europe in a unique way, definitely consider stopping by during the month of December. While it might be a little chilly, the crowds tend to be much smaller providing you with plenty of opportunities to view and experience things that would otherwise be too crowded and expensive to visit.
These countries also host many festivals during this time to celebrate the holiday season, like Christmas markets. Because of this, visiting Europe during December is one of the best-kept secrets for travelers.