Christmas is one of the most festive times of the year throughout the world. In France, you'll find plenty of celebrations leading up to this holiday that include making delicious dishes and handcrafted items for all to enjoy. France is also known for its multiple Christmas markets that are scattered throughout the country. These markets, held from late November through December, are must-stop places when in the country, but the vast amount of them can make finding the best ones to visit difficult. To help you out, this article will explore some of the best Christmas markets in France you can visit.
The Best French Christmas Markets
France boasts many beautiful Christmas markets, which makes it difficult to find the best ones to visit. This section will highlight six of the top Christmas markets you can explore while in the country for the holiday season.
The Christmas Market of Colmar
The Colmar Christmas Market is an extravagant place that transforms this town into a magical land during this festive time of the year. The streets are lined with various types of stalls that are nestled beneath ancient trees lit up with twinkling lights.
Here you'll find plenty of goodies for sale, like local wine, spiced gingerbread, art, and ornaments. While wandering around the stalls, you'll also be able to see the city's architectural marvels, like the St. Martin Collegiate Church that towers over the city below. The city takes decorating for this holiday season seriously, so you'll be able to experience a remarkable holiday atmosphere while here.
In Colmar, you'll find many different types of markets. Besides, the main market above, one of the most popular is the Place des Dominicains which is set against the background of historic buildings with stained glass panels. It's home to over 60 stalls that are lined up beneath towering trees outlined with delicate sparkling lights.
There's also the Place de l'Ancienne Douane which is situated in the middle of a Renaissance-inspired square that is known for its magnificent staircase. The Christmas market here lines the nearby Lauch River and offers a terrific mixture of old and new styles that guests can enjoy.
If you're interested in the culinary aspect of France, you'll want to check out the Place Jeanne-d'Arc. This market is situated in the middle of a traditional village and hosts stalls that are filled with native food selections like foie gras, wine, and cookies. You'll also find stalls you can eat in to try fresh meats and cheese with their charcuterie creations.
The Christmas Market of Amiens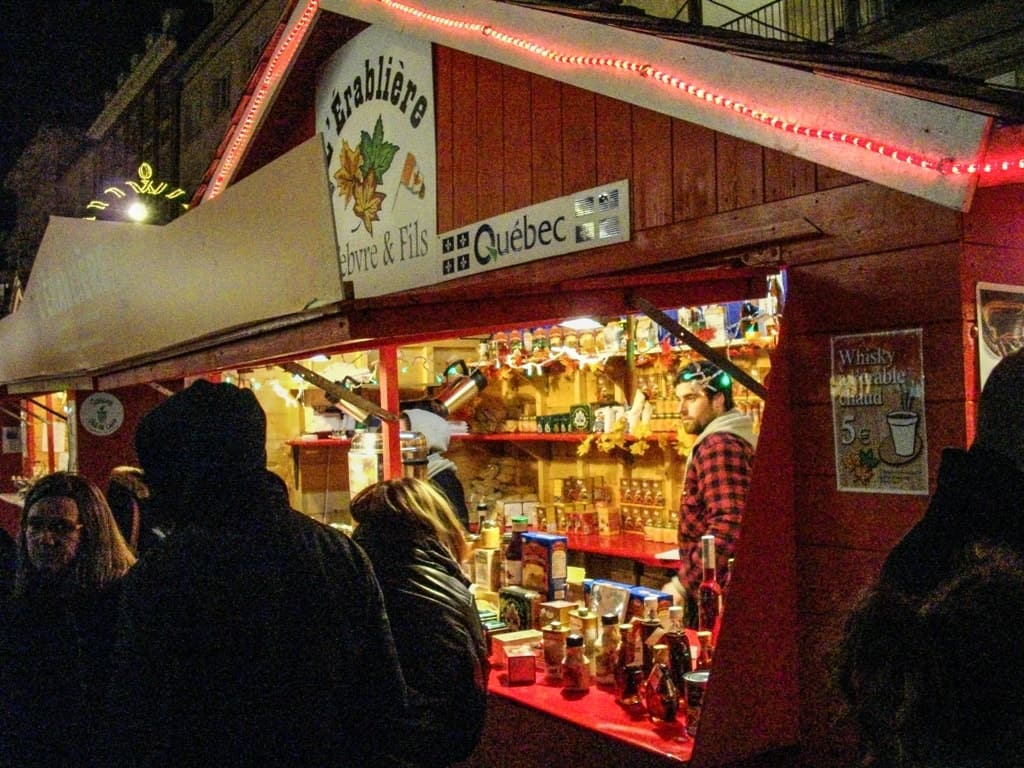 contributed by Thomas Dowson of Archaeology Travel
From the last weekend in November to the end of December each year, the city of Amiens plays host to the largest Christmas market in northern France. With over two kilometers of stalls, traders come not only from all over France but from as far as Canada to the west and India in the east. They offer foodie treats to suit all tastes, gifts of many shapes and sizes, as well as delicious hot snacks and drink to enjoy on the spot.
While adults do a bit of Christmas shopping, children are able to enjoy Christmas themed fun rides. A train ride through an enchanting winter wonderland for the youngest ones, and a ride that goes a bit faster and a tad higher for the older kids. In 2017 Amiens was amongst 20 cities to be nominated European Best Christmas Market.
One of the highlights of this time of the year in the city is the sound and light show at the Cathédrale Notre-Dame d'Amiens – one of the finest Gothic cathedrals in western Europe. At 7:00 pm each night the cathedral's beautifully decorated front façade is lit up to look like it did when the church was built in the 13th century.
Each and every figure painted in brilliant colors. Watching the colors take over the church, wrapped up warmly on a winter's evening with a cup of mulled wine, is a truly special experience.
The Christmas Market of Strasbourg
Strasbourg, France is situated on the northeastern section of the country. It hosts plenty of quaint Christmas markets visitors can enjoy, most of which have been held for hundreds of years near UNESCO sites. Each market has its own theme so as to provide plenty of new things to do for visitors while here.
One market is the traditional Christmas market which is decorated with classic French Christmas items and focuses on the true meaning of the holiday. There's also an alternative market to the traditional one that focuses on fair trade and eco-friendly products and decorations. If you plan to bring children along with you, you'll find a market geared especially toward them with Santa roaming the grounds.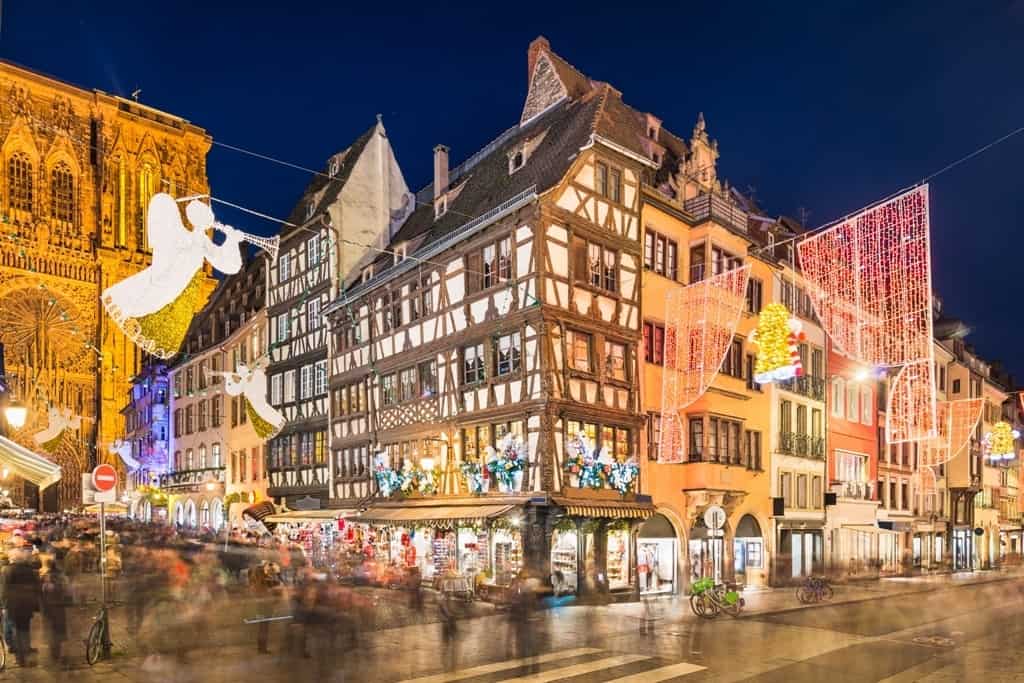 Nearby the Christmas market you'll be able to hear the echoes of Advent choirs that sing to welcome in the holiday as well as a live nativity scene you can stop by at. The market also has a special "Village of the Country Invited" section where it decorates that part of the square with Christmas ornaments and other items that honor a certain place in the world.
Each year the market features a different country which adds a fun atmosphere to it. There's also a small market that's dedicated to selling local food and wines. You'll be able to meet native farmers and help support them by buying the items they have for sale.
Check out this two-week road trip to France and Belgium that includes Strasbourg.
The Christmas Market of Paris
As the capital of France, Paris is one of the most sought-after places to visit in this country. It's home to many wonderful markets that are located through the winding streets of the city and near iconic landmarks, like the Notre Dame Cathedral. Here you'll find skating rinks, choirs, and delicious treats you can try while browsing through the various stalls that offer many unique items. The city is completed transformed into a winter wonderland which is sure to delight the imaginations of all who visit.
One popular Christmas market to try out in Paris is the Christmas market at Champ de Mars. While here, you'll be able to view the Eiffel Tower while browsing through the various artisan stalls which are known for their delicate woodwork and crafts. It also specializes in handmade food items, like fresh mulled wine and traditional French Christmas cookies that are sure to please your taste buds.
You'll also find the Noisy le Grand Market which is one of the biggest Christmas markets in Paris. It's known for its breathtaking decorations, stalls packed with treats to buy, and horse-drawn carriage rides that will take you on a peaceful trip around the market square. If you're looking for a traditional market to visit, this is definitely one you'll want to check out.
Check out my post How to spend 7 days in Paris here.
The Christmas Market of Lille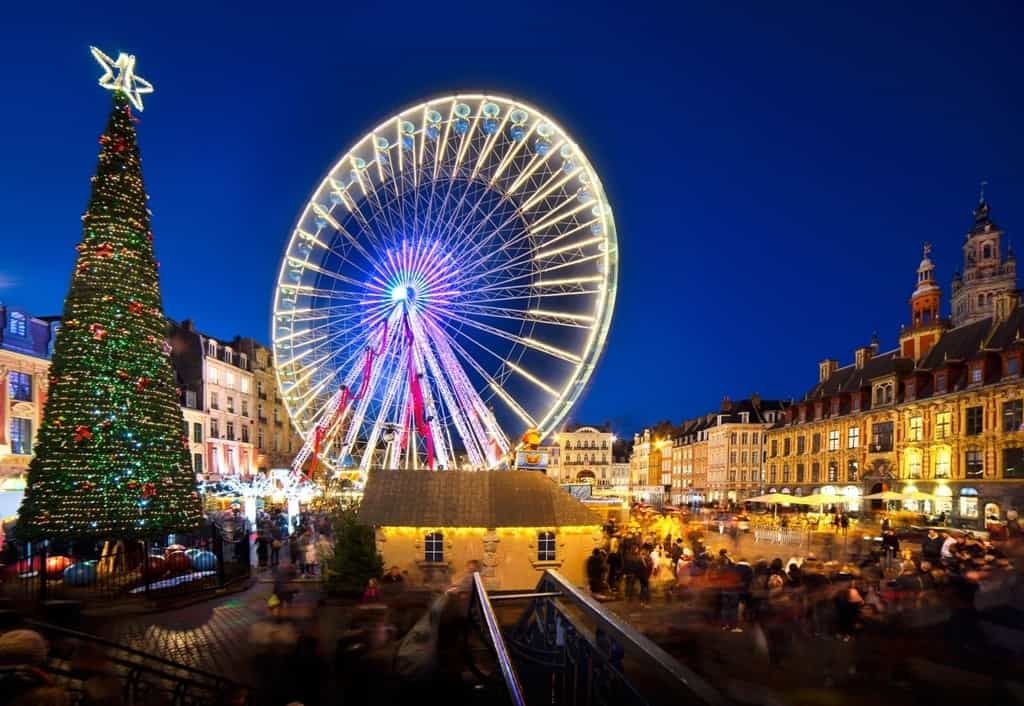 Situated in northern France, the city of Lille is a charming place to visit year-round, especially during this time of the year. Lille decks the entire city out in dazzling lights and creates a spectacular market guests can shop at for Christmas gifts and food. The market offers over 90 stalls you can visit which not only sell locally created items but also ones from around different parts around the world.
You can grab a freshly brewed cup of mulled wine while browsing through the stalls and smelling the fragrant scent of the garlands hanging everywhere. There's also a large Ferris wheel that you can hop on to get panoramic views of the market and city below, as well as intricately carved nativity figurines you can gaze at. To top it all off, there's a magnificent Christmas tree set in the middle of the market decorated with lights and ornaments to help ring in this joyous time of the year.
After browsing through the market, you can stop by one of the many restaurants and cafes nearby that offer a mouthwatering menu you can order from. This isn't one of the larger Christmas markets in the country, but it has a very cozy and romantic atmosphere that makes it a very nice place to explore.
The Christmas Market of Nice
If you're looking for a somewhat calm place to visit during this time of the year without worrying about freezing temperatures, Nice is the spot you should consider. Nestled beside the stunning French Riviera, this city is known for its amazing light shows that adorn the local trees and shops near the sea in a beautiful collage of colors. The Nice Christmas Market features over 60 stalls, many of which sell handcrafted objects you can't find anywhere else in the world.
The market offers an ice skating rink, Ferris wheel, and carousels guests to the market can enjoy. The market also boasts an incredible exhibit of fresh fir trees (600 to be exact) to make a large enchanted forest that you can wander around in once you're done shopping.
In addition to this, you'll also find intricately carved ice sculptures you can gaze at and concerts that play traditional Christmas music you can enjoy listening to while browsing around the stalls. This market is one of the most popular places in France thanks to its location and delicious selection of champagne, seafood, and foamy hot chocolate.
Check out my post: Nice in winter here.
The Christmas Market of Bordeaux
Bordeaux is a delightful city in France to enjoy the Christmas season in. At the Bordeaux Christmas Market, you'll find the city completely transformed into a captivating winter scene that features tall fir trees, soft twinkling lights, and the piquant scent of spices and garlands that fill the air. The market here offers over 100 different stalls you can explore to shop for things like wine, perfume, linens, handmade glass, and chocolate.
The market also offers handcrafted pieces of pottery from Saint-Faust which are sure to amaze any art lover. The market also has a unique feature where you can take a tour of the route that pilgrims often took to Santiago de Compostela. You'll also find a small section that features Santa and a remarkable carousel people of all ages can enjoy.
It's important to keep in mind that this market can get to be very busy during this time of year, so it's a good idea to arrive as soon as you can so you can find a place to park if you're driving. You can also reach the market by train which is often the recommended method of transportation to take when traveling here.
France is a beautiful country to visit, especially during the Christmas season. All of these markets celebrate the holiday but in their own unique way. If you're planning to travel to France during this time or want to experience an incredible adventure, you'll definitely want to consider venturing to these beautiful French Christmas markets.
You can also check out:
The best Christmas Markets in Germany.
The best Christmas Markets in Austria.
The best European Christmas destinations.