With Christmas just a few months away, now it's the best time to plan your holidays in one of Europe's best Christmas markets.  In this post, top travel bloggers from around the world share their favorite Christmas destinations in Europe.
The best 14 Christmas Destinations in Europe
1. Nuremberg – Germany 
Contributed byViv Chapleo & Jill Hoelting from WAVEJourney.com. 
Nuremberg in Bavaria, Germany gets our stamp of approval for being our favorite European Christmas destination. This unofficial Franconian capital city holds a Christmas Market – Christkindlesmarkt – every year, and has been doing so since 1628; a time when Christmas gift-giving to children started in the region.
The city's Christmas Market is located in the quaint and charming Old Town Hauptmarkt (market square) where 180 stalls await visitors. The Christmas Market typically runs from the last week in November up to Christmas Eve. Visitors to the market can enjoy all sorts of things, such as horse carriage rides; regional foods (be sure to try the Nuremberg sausages – 3 on a bun); libations such as Gluhwein (mulled wine); handmade local products; souvenir and gift shopping; the children's Christmas market where the Christkind visits with kids.
Being part of this festival that is always packed with both locals and tourists is worth taking a trip to Nuremberg. It is a time where everyone there revels in the atmosphere and conviviality of the season.
You can also check the Nuremberg Christkindlesmarkt Website here.
2. Prague, Czech Republic
Contributed by Hannah & Adam from GettingStamped. 
We love to be with our friends & family during the holidays, but if you could take them anywhere in the world for Christmas, it would be Prague. We have visited Prague several times and just last year in December when all the Prague Christmas markets were set up. Prague is the perfect place to travel during the Christmas season. There are a ton of things to do in Prague year-round, and it's magical to see Old Town Prague transform into a gorgeous picturesque Christmas market.
Nothing beats having a cup of hot gluhwein as you wander the streets of Prague. The weather is chilly but very pleasant, we have visited in the summer heat, and we much prefer the cooler temperatures. Stop in the local restaurants and shops to warm with some local treats or do a bit of Christmas shopping. Prague really is the perfect Christmas destination.
3. Berlin, Germany
Contributed by Oksana & Max from Drink Tea & Travel. 
Berlin is without a doubt one of the most exciting European destinations to visit over Christmas. This cosmopolitan capital puts on quite the celebration during the holiday season, drawing thousands of visitors to marvel over its elaborate Christmas decorations.
In addition to being decked out in lights and embellishments, Berlin also plays host to over 60 Christmas markets in the months of November and December. Each market is unique but full of beautiful stalls with great food, delicious mulled wine, souvenirs, Christmas decorations, crafts, and so much more. We've only had a chance to visit a few markets during our brief visit to Berlin in 2012, so we can't wait for a chance to one day go back to Berlin for more Christmas fun.
You might be interested in: 4 days in Berlin and The best Christmas Markets in Germany.
4. Dresden, Germany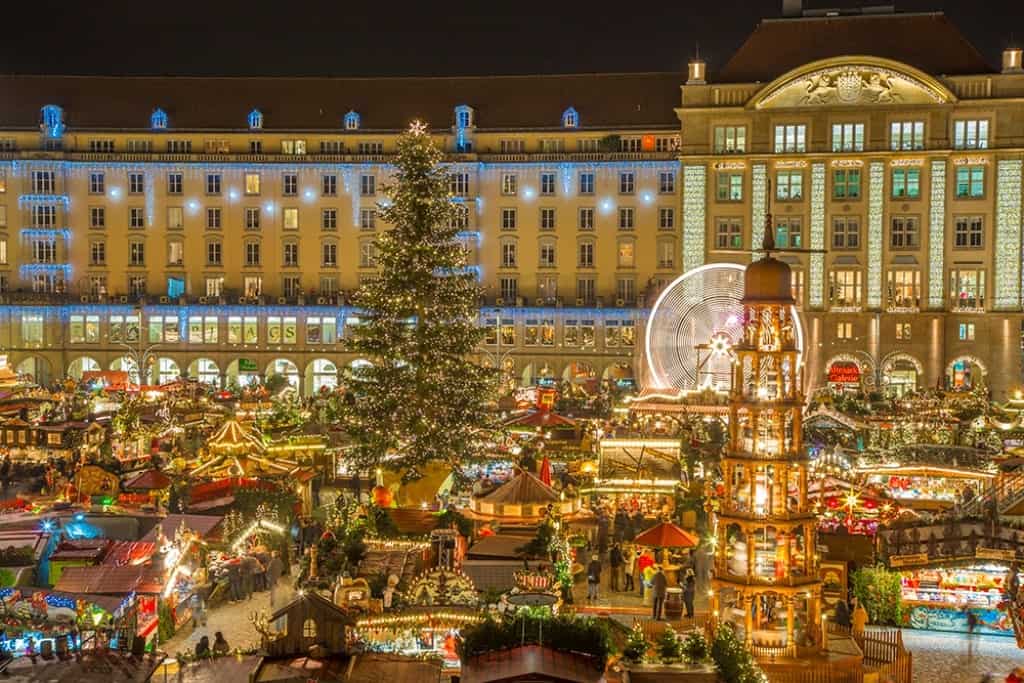 Contributed by Siddhartha Joshi from The Wanderer. 
Home to Germany's oldest Christmas Market, Dresden is a must-visit destination during the festive Christmas season. The top draw in the city is Striezelmarkt, the famous market which came up in 1434 and has been around ever since.
Located in the center of the city at Altmarkt Square, the visit to the market is incomplete without trying out the traditional hot wine, Gluehwein, and the German Christmas Cake, Hefestriezel, which also gave the market its name. There is something for the kids too, and these are famous Christmas toys from the Ore Mountains like nutcrackers, incense smokers among others. Despite the cold, the markets are open till late and are a great place to end your day with a local meal.
However, this is not the only market to be explored, and other recommended markets include Medieval Christmas Market and Frauenkirche Christmas Market, both within walking distance to each other in the heart of the old city.
5. Brussels, Belgium
Christmas is a time to be with family, so for as long as I can remember I`ve always been home for Christmas. In Belgium, we always celebrate with a large family dinner and by visiting a nearby Christmas market. Almost every city has it's own Christmas market so there's a lot of good choices!
Brussels organizes one of the biggest Christmas markets in Europe. Besides the impressive spruce tree in the middle of the Grand Place, the main attractions are the Sound & light show, the Ferris wheel and the numerous Christmas stalls around the Fish Market.
Most people visit the
Brussels Christmas market
for the great atmosphere, the lights, the chalets full of Christmas presents and, of course, the genever and gluhwein! On Saturday, there's also a large Christmas Parade!
So if you are thinking of visiting Europe in Winter, I would suggest visiting some of the many Christmas markets, especially the one in Brussels!
6. Copenhagen, Denmark
Contributed by Marianna & Liam from Rucksack Ramblings. 
Far up north, in the Danish capital of Copenhagen, the month of December is full of old traditions, delicious food, and snow-covered Christmas trees. The city is most beautiful after dark when the cobblestone streets light up in the glow from thousands of Christmas decorations. In the city's old port, Nyhavn, the charming wooden ships in the frozen canals make for some excellent Christmas pictures.
It's not really Christmas, though, until you've had the Danish version of mulled wine and pastries called gløgg and æbleskiver. The best place to get this is at the traditional Christmas market in Tivoli, a 150-year-old amusement park in downtown Copenhagen. Once a year it turns into a magical winter wonderland full of elves and strolling families. In the market, you find anything from home-knit slippers to delicious Danish sweets and possibly also the coziest Christmas atmosphere you've ever experienced.
You might want to check out how to spend 2 days in Copenhagen and things to do in Copenhagen in winter.
7. Edinburgh, Scotland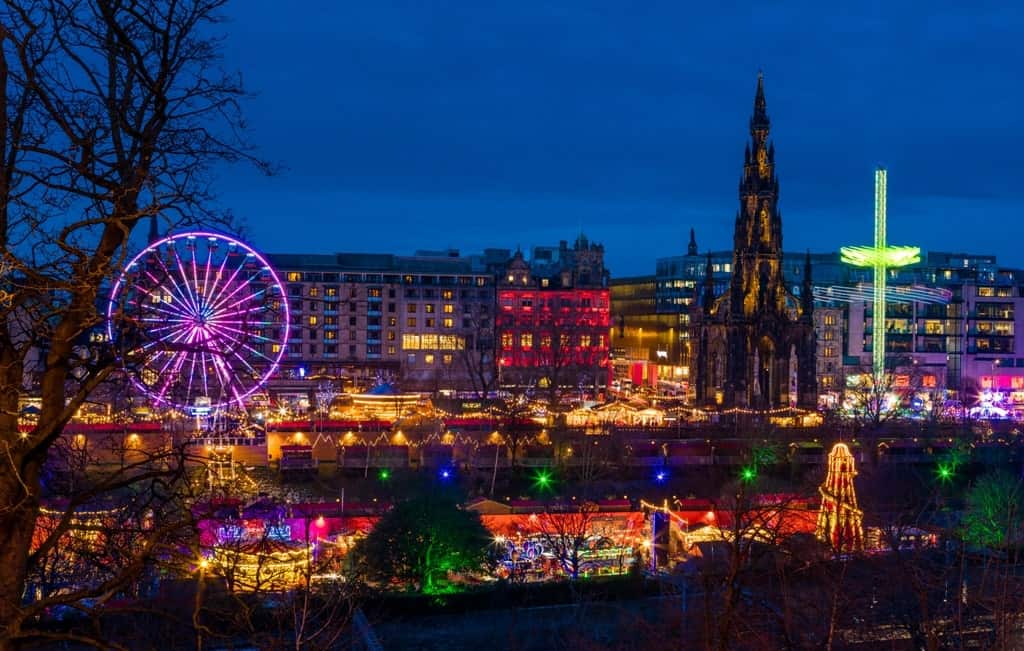 Contributed by Gemma & Craig from Two Scots Abroad. 
Scotland really sparkles at Christmas time, and one of the hottest destinations in December is the capital, Edinburgh (pronounced, Edin – bruh / Edin – bur – uh). The city is littered with the typical lodge-style wooden huts that serve European style mulled wine and sell Scottish trinkets and crafts which make nice souvenir festive gifts.
The Christmas market also boasts of adult chair-o-planes, an ice rink, and Santa's grotto. I would strongly advise sticking around Scotland for the biggest celebration of the year, Hogmanay. Hogmanay is New Year's Eve to all you none – Scots out there. Bring in the bells with a bang with Edinburgh Festival's firework display, live music, and street ceilidh. Big kids coming to Scotland, check out my favorite bars in Edinburgh!
You might be interested in:  How to spend 3 days in Edinburgh.
8. Florence, Italy
Contributed by Cameron & Natasha from The World Pursuit. 
Spending a Christmas in Florence Italy last year was one of my most incredible travel experiences in Europe. The streets of Florence are filled with people, bright from the millions of lights, and smells great from all the delicious food on every corner.
We spent four days here last Christmas in an old AirBnB and couldn't believe how the Christmas feeling just lingered in the air before and after December 25th. One of our more memorable moments was heading to a Christmas night mass and watching all the Italians come together with their family. We can't speak a word of Italian, but it was still wonderful to experience!
9. Krakow, Poland
Contributed by Karolina & Patryk from KarolinaPatryk.com. You can follow them on Facebook and Instagram.
One of our favorite places to spend Christmas in Europe is the city of Krakow. It is the most beautiful city in Poland. There is always a lot going there!
In December, there is a
Christmas Market at Krakow
's Old Town and the other (smaller) next to Galeria Krakowska shopping mall. You can eat there traditional Polish food like bigos, golabki, and pierogi or drink Grzaniec Galicyjski; Polish mulled wine.
In contrary to the popular Xmas destinations of Europe, like Paris, London or Berlin, Krakow is not that crowded, and it's definitely cheaper. For an apartment in the heart of the city, you will pay $70 or less.
Bremen is also known for having one of the best Christmas markets in Germany. If you want to find out more about the city read these top things to do in Bremen.
10. Rovaniemi, Finland
This is considered to be the best Christmas destination in Europe thanks to its unique setting and culture. As the capital of Lapland, Rovaniemi is the official home of Santa making it a great place to visit for the Christmas season. You can visit his home, called the Santa Claus Village, which is decorated with ornaments and lights and even stop by the Santa Claus Main Post Office, run by elves, where you can write and send a postcard from the magnificent Arctic Circle. Besides this, you can also take a tour of some local reindeer farms or spend some time hiking to a dark spot to catch the glowing Northern Lights illuminating the sky.
You can even stop by the Ranua Wildlife Park which is a zoo filled with native arctic animals, like polar bears and owls. If you're looking for more outdoor activities, you can try snowshoeing in the nearby forest or head out to a secluded lake to go ice fishing with the locals to catch herring and pike. On the other hand, if you're feeling adventurous, you can even try to make your own igloo, under the guidance of a professional, which you can later sleep in. You can also take a quick swim in Ounaskoski Beach where many locals enjoy venturing to for a chilly winter swim.
11. Hallstatt, Austria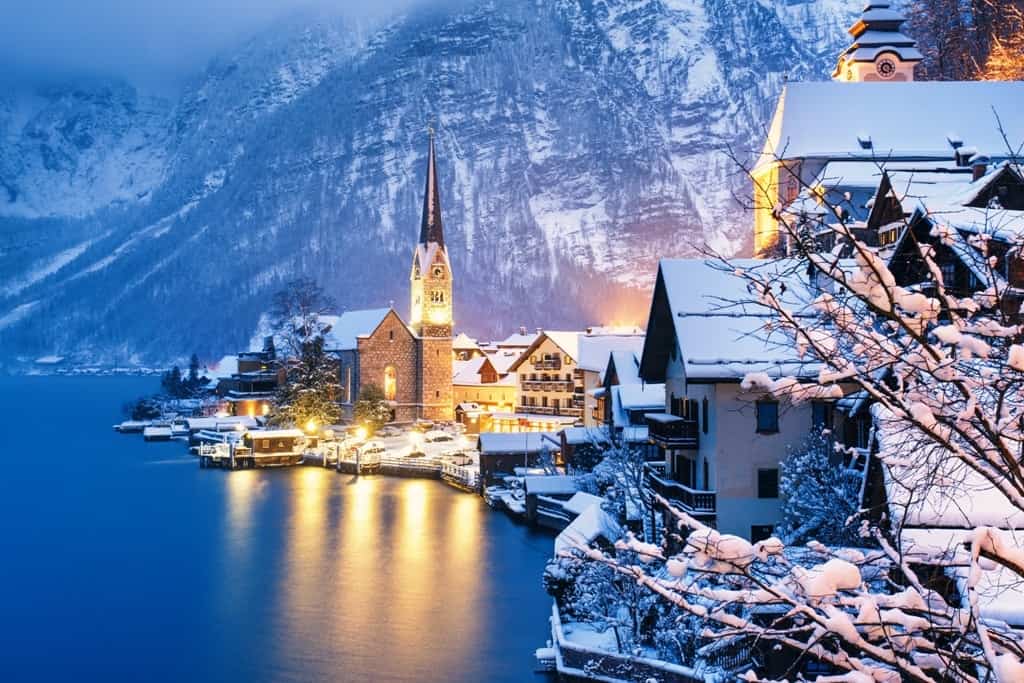 Hallstatt transforms into a magical place for the Christmas season. Often covered in fresh layers of snow, this village features traditional Austrian houses scattered around the hillside as well as a large lake that freezes over and becomes a popular spot for ice skating. Hallstatt offers many festive stalls at its Christmas market you can shop at to buy goodies like fresh gingerbread and cider. You'll find fragrant Christmas trees lined up around the area and can try a local specialty – spicy smoked fish caught fresh from the nearby lake.
This UNESCO region features plenty of outdoor activities you can partake in like snowshoeing and skiing. You can also visit the Hallstatt Museum which holds ancient artifacts uncovered from the local salt mines, like the Altaussee Salt Mine which is the oldest one in the world. At night, you can catch a horse-drawn carriage which will take you around the village so you can experience the Christmas season here even better.
You might also be interested in: The best Christmas Markets in Austria.
12. The Dolomites, Italy
This mountain range is a stunning place to venture to during the Christmas season and is one of the top Christmas destinations in Europe for many reasons. Usually covered in snow, you can walk around the area to visit local Christmas markets that sell handmade items and homemade food. The area features five different markets which are located in Bressanone, Vipiteno, Merano, Trento, and Bolzano.
The market in Bressanone is situated in the midst of a medieval city and known for its selection of handmade glass, barley soup, and mulled wine. You can walk around the area for a romantic evening stroll while listening to the faint voices of carolers and smelling the aroma of fresh garlands and cinnamon. If you're looking for some other unique things to do while in the Dolomites, you can try bobsledding at the Cortina Adrenaline Center or sign up to go on a sled ride during the night through the majestic mountain range while stargazing.
13. Swedish Lapland
When many think about the best Christmas holidays in Europe, their mind might wander to the Swedish Lapland. This area is often a tranquil place filled with freshly fallen snow on pine trees with reindeer trotting around. Situated near the Arctic Circle, the Swedish Lapland is the best European Christmas destination thanks to its rich history and cheerful Christmas spirit. While here, you can get around by walking or taking a sleigh. You can also go skiing or snowmobiling through its fragrant forests.
This area is very traditional so you'll find many old Christmas markets and scenery to enjoy. Once you're done shopping at some of them, you can stop by one of the nearby village restaurants or cafes where you can eat some traditional food like smoked salmon, mushroom salad, and cinnamon rice pudding while sitting by a crackling wood fire. Some other things you can do while enjoying the Christmas season here is to hike up to the Aurora Sky Station to see the Northern Lights or stop by the Gammelstad Church Village which is a UNESCO site featuring a 15th-century church surrounded by bright red buildings.
You might also be interested in 3 days in Stockholm and Things to do in Stockholm in winter.
14. Zermatt,  Switzerland
This small spot in Switzerland is one of the best places in Europe to spend Christmas thanks to its majestic mountain views and impressive holiday décor. While in Zermatt, you can catch a glimpse of the famous Matterhorn while walking around the main square which is decorated with twinkling lights and fresh garlands.
To get around, you can catch a ride on a horse-drawn carriage which will take you around to various areas in Zermatt. One unique thing to do while here is to take the Gornergrat Cog Railway up to the top of the Alps where you can go skiing or just get amazing panoramic views of the area below.
While at the top, you can also check out the Matterhorn Glacier Paradise which features incredible ice sculptures made in the shapes of cars, dragons, and even a throne.
When you're done exploring, you can stop by one of the many small restaurants to try some fresh fondue and chocolate. You can also try traditional rösti, a dish made out of potatoes and butter.  If you happen to visit during the last few days of December, you can also listen to Zermatt's Christmas concert which plays classical music pieces.
For those looking for some adventurous things to do while here for the season, you can try walking down the Charles Kuonen Suspension Bridge which is one of the largest in the world. You'll be able to view the mountainous region even better while walking across it making it a great place to snap some pictures.
Keep in mind, Zermatt doesn't allow cars, so to get around you'll either have to walk, use a carriage, or hop on a train.
So where are you spending Christmas this year?
Do you have a favorite Christmas destination?
Did you like it? You can pin it for later>>>>>>>>>>